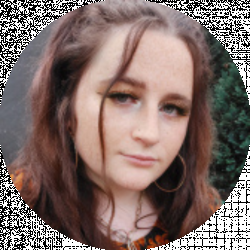 Latest posts by Lou Siday
(see all)
Over the last ten or so years, manicures have become a go-to beauty treatment for many people around the world. Of course, painted nails and manicures have been around for a while. Yet, we have recently seen this form of expression reach new heights. Manicures are now an art form in themselves, with creativity at its core.
Before 2020, I loved visiting my local nail salon to get a manicure. I would spend ages talking to the artist, discussing styles, colors, and nail art. However, when the pandemic hit, nail salons closed. Yet, without my nails done… I didn't really feel myself. So, I decided to get a UV lamp, a few gel colors, and attempted to do my own manicures!
Over the last two years, I have loved experimenting with nail art. My manicure box is now full of gemstones, stickers, brushes, pens, and colors. There is something extremely satisfying about doing my own nails. I can do them exactly how I want, in my own home. I love nothing more than spending hours doing my nails with some terrible reality TV show on in the background.
If you are new to nail art, especially DIY manicures, it can all feel a bit overwhelming. So, I wanted to create this ultimate guide to nail inspiration and ideas. I will look at different things to consider with nail art, from how to do your own manicures to what to pick when at a salon.
Why Is Nail Art So Popular?
From interviews with pop stars in nail salons to celebrity nail artists who have over a million Instagram followers, there is no denying the popularity of nail art. A manicure has evolved to become something more than a beauty treatment. A manicure represents your personality and is an expression of creativity. Nail art is art, just like paintings in frames.
But, why has this form of art become so popular?
It is useful to know the history of nail art and manicures when wanting to understand this. Nail paint has been around for centuries, with ancient Egyptians dying their nails to indicate social status. The link between nail art and status has never really left. In the 20th Century, visiting a nail salon was something only the elite and wealthy could do. Traditional colors and shades were fashionable, such as deep reds and baby pinks.
Then, towards the end of the 20th Century, a shift occurred. Nail salons started popping up across the globe, creating an opportunity for everyone, no matter their status, to get their nails done.
The rise of nail art seemed the antithesis of the traditional manicure. Instead of demure, subtle tones, nail art became a source of inspiration and creativity. A lot of this was, and still is, rooted in black culture. The athlete Florence Griffith-Joyner made headlines in 1988 with her four-inch-long tiger striped manicure. As she broke the 100-meter record in the Olympic trials, she also broke down stereotypes and beliefs about nail art. Black nail art was a stark contrast to the middle-class white French manicures of the day. In the nineties, glamorous nail art was sported by many hip-hop legends. Black women stood up and expressed themselves with their nails, developing the nail art we see today.
Since then, people around the world have fallen in love with the expressive and out-there nature of nail art. Nail art is able to showcase your personality and identity, allowing you to express who you are.
Nail Inspiration and Ideas: What to Consider
I remember my first appointment at a nail salon. There were so many things to choose from, I felt a bit like a kid in a candy shop! From colors, shapes, and embellishments, I felt pretty overwhelmed with it all.
If you are going to a salon to get your nails done, it is super important to have an idea of what you want. So, let's look at what things you need to consider before getting a manicure!
Types of Manicure
Before getting creative with colors and shapes, you should figure out what type of manicure you want. There are three main types of manicures: gel, acrylic, and dip.
A gel manicure uses gel nail paint that is applied to the nails and then cured under a light. They are a popular choice for many people who do their nails at home as they create strong, long-lasting nails. When getting your nails done at a salon, a gel manicure takes around 45 minutes.
Gel manicures will usually last two to three weeks before chipping.
An acrylic manicure uses a combination of powder and liquid to shape the nail. It creates a hard coat on the nail and is often used with tips to extend the nail. They can take a few hours to get done, but last two to three weeks.
Lastly, a dip manicure uses a base coat, a powder, and a top coat. The color of the nails comes from dipping them into a powder. It is then sealed with a top coat. It takes around 45 minutes to do a full set and lasts up to four weeks.
So, which to pick? Honestly, it is totally down to you and your own personal preference. A lot of people go for acrylics as they can add a lot of length to their nails. However, dip manicures tend to last longer.
Shape
The next thing to consider when getting your nails done is what kind of shape you are after. Are you wanting big extra vibes with your nails? Or, do you like to keep them short?
Round Nails
Round nails are a simple and sophisticated shape. It follows the natural nail shape, providing a base for color and style. You can keep your nails short with round nails. They also elongate the fingers, creating a smooth edge to the nails. Round nails are the perfect choice if you are new to manicures!
Square Nails
Square nails create a dramatic edge, filed straight across the top. They create a bold and fresh look, and feel super modern and chic! You can have square nails in a variety of lengths. They look stunning at a short length, but very cool when long. This shape looks fantastic with bold, minimalist artwork and design.
Here are some square nails inspo:
Coffin Nails
Coffin nails are tapered at the side to create a curve, with a square tip. This kind of nail shape is becoming super popular, with a load of celebrities sporting this style!
Coffin nails are classy and dramatic, perfect for nail art and decals.
Here are some coffin nails inspo:
Almond Nails
This shape elongates the nail with a curved tip. They are a great choice if you are new to manicures, as they can be kept short and are easy to work with. They are a classic shape, oozing class and sophistication.
Almond nails are perfect for block colors and small decals.
Here are some almond nails inspo:
Stiletto Nails
Stiletto nails are super long and super dramatic! These nails are filed to a point, creating a daring look.
They are great if you are wanting a bold look. However, they are a bit more high-maintenance than other shapes. This is because they may snap or break.
Here are some stiletto nails inspo:
Lipstick Nails
Another bold nail shape, lipstick nails are square with a slanted tip. They are perfect if you are wanting to get something a bit different from your usual manicure.
Arrowhead Nails
If you like the look of stiletto nails, but think they are too long for you, consider getting arrowhead nails. These are short, pointed nails that are filed to a tip. They are perfect for bold, block colors.
Colors
Ahh, colors. I am sure I am not the only one who takes hours deciding what color to go for when painting my nails. I love pastel colors, but I am also a big fan of dark, gothic shades. It takes me forever to pick the perfect shade!
Here are some ideas to help you pick the right color that suits you.
If you love anything bright and bold, neon shades may be the perfect choice for your manicure! Pinks, yellows, and greens bring fun and life to your look.
Adding gemstones to neon nails brings their edge to the next level, creating an extremely bold look.
Here are some neon-colored nail inspo:
Pastel shades are cute and light, perfect for the spring and summer months. I love pastel shades when doing my nails, using them with floral decals.
Monochrome Colors
Monochrome shades, such as white and grey, bring sophistication to your nails. They are a great choice when wanting a manicure that will suit any event or outfit.
Adding small decals to monochrome nails, such as gold stickers, creates a classy look.
Here are some monochrome colors nail inspo:
Dark Colors
Dark colors are perfect for the autumn and winter months, and look super classy! I will often go for brown shades for my nails as they are simple yet look great.
Nudes are pretty popular right now, and always give me big Kardashian vibes! Opting for nude shades oozes sophistication and allows you to experiment with decals and shapes.
Metallic Shades
Metallics look fabulous and feel super futuristic. Bang on trend, going for a metallic manicure adds shimmer and shine to your nails.
Here are some metallic nails inspo:
Styles and Trends
What I love about the nail art world is the amount of amazing styles and trends. There is so much to choose from, and so there is a manicure for everyone!
Let's look at some styles and trends for you to consider for your next manicure.
French tips are a classic design and refer to when the tips of the nails are painted. The rest of the nails are either left without paint or in a contrasting shade. The traditional French tip is white, but you can experiment with different colors!
You can have a French tip on any nail shape. They look amazing on almond and oval nails. If you like getting long nails, you can also experiment with angles and shapes with your French tips.
Here are some french nails inspo:
Baby Boomer Nails
Baby boomer nails are basically a softer version of the French tip, using white and pink blended together. They create a sophisticated and neutral look, perfect for special occasions!
Ombre Nails
Ombre nails are super popular, and for a reason! This design blends two or more colors together to create a gradient over the nails. They are usually blended from the tip to the nail bed, but there are loads of variations of this style!
You can go bold with ombre nails, choosing bright neon shades. Or, you can keep it simple with neutrals.
Here are some ombre nails inspo:
Cat eye nails are very cool and feel magical and celestial. They are typically created by using magnetic nail polish. What I love about these is how easy they are to do at home. They look incredible, having a super interesting design. However, all you need is a cat eye nail kit with the right nail polish and magnet stick to get this look at home!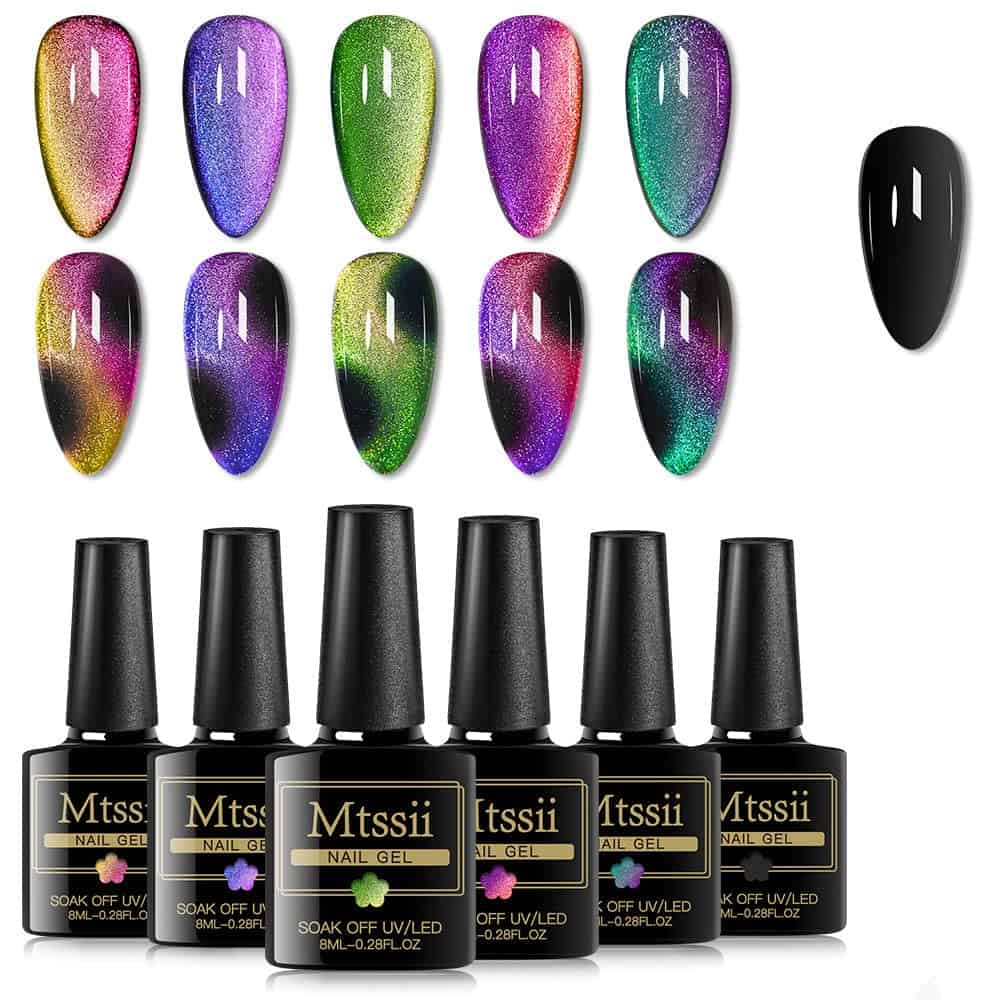 Matte Nails
This manicure has a smooth shineless finish, achieved by using a matte top coat. Matte nails look great in deeper tones, so perfect if you are going for dark nail polish. What is great about the matte nail trend is that you can put the matte top coat on any nail polish you want! It instantly transforms the look, creating an edgy and sleek manicure.
Floral Nails
I am a big fan of floral prints, especially when it comes to nails. This trend pays homage to the natural world with colorful and bold designs. Perfect for the spring and summer months, I love to match my floral prints with pastel colors.
If you are wanting to create a floral manicure at home, I recommend buying decals or stickers. These are super easy to use, you simply stick them on and apply a top coat!
Abstract nails are HUGE right now. There are so many different takes on this trend, too, meaning that there is an abstract nail design for everyone. Abstract nails are a fun way of experimenting with colors and shapes, and this means that every manicure is unique.
Another fun trend, the swirl nail design is exciting and modern. Playing with feature nails and different swirls allows you to create a unique manicure.
If you want to do these nails at home, get yourself some nail art brushes. This means you can paint the swirls on yourself.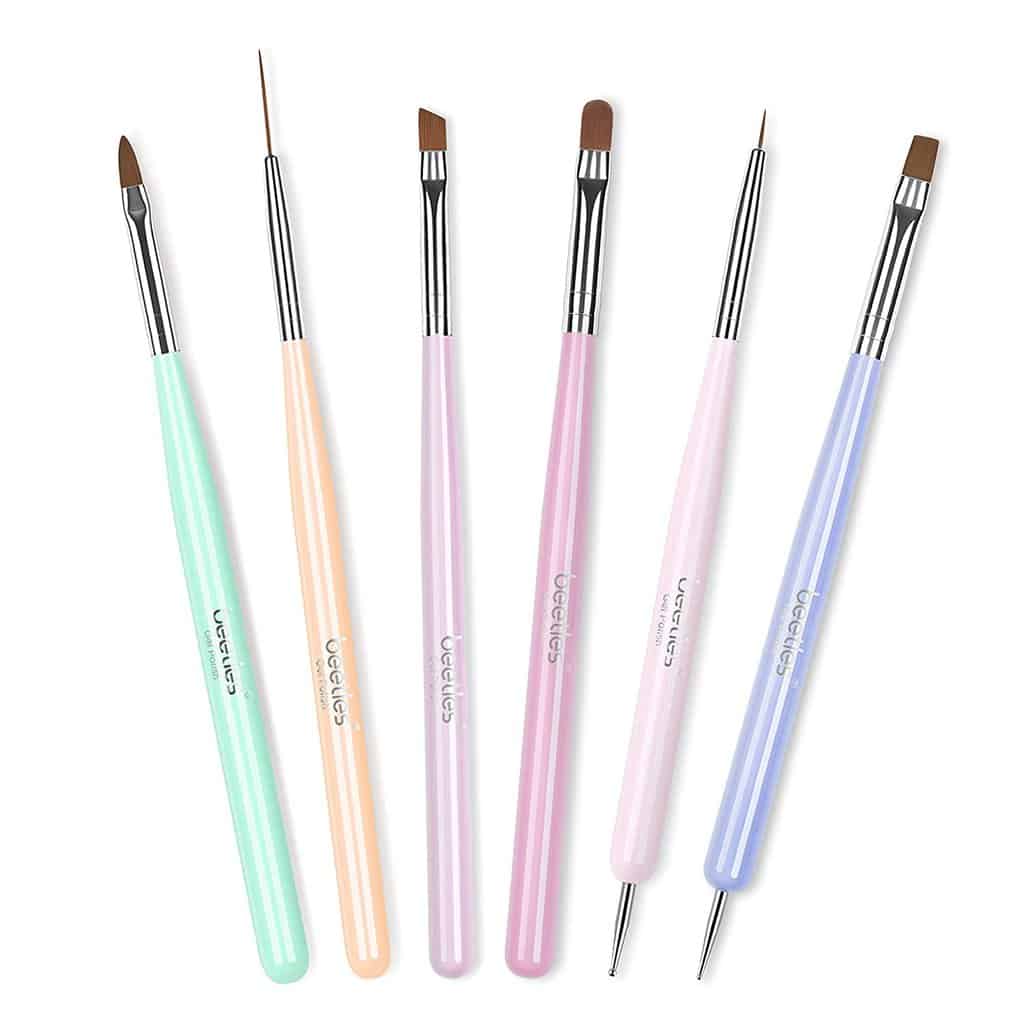 Animal Print
Animal prints will never go out of style. From the classic leopard print to the chic cow print, there are so many fun ways to incorporate this trend into your manicure.
Marble Nails
Marble nails are super cute, and can be recreated at home using water.
This nail trend brings the colors and designs of mermaids to your mani! Hues of blues and greens, glitter, and scale prints are all used to create these fantastic manicures.
Checkerboard Nails
Another modern trend, checkerboard nails bring something extra to your usual manicure. They look great in loads of shades, from pastel tones to darker colors. Oh, and with some nail art tape, you can totally do these at home!
Glitter Nails
Adding a few glitter nails to your manicure is always a good idea. More glitter, more fun! Glitter nails look great as a feature nail, with block colors on the rest of the nails.
Here are some glitter nails inspo:
Evil eyes are a symbol of protection, commonly found in the Mediterranean and East Asia. When worn, it is said to protect you from the evil eye. This is a bad look that can cause harm to the person who receives it. It is a highly historical and spiritual symbol, used for centuries.
Incorporating the evil eye design into your manicure brings an interesting look to your nails. Oh, and hopefully it will keep you safe, too!
Flame nails are a really fun trend, and feel properly retro. I really love the classic red, orange, and yellow flame design, but there are so many colors you can have with this trend. Neon colors look amazing, especially with a fun ombre effect over the flames.
Mix and Match Nails
My Instagram feed is full of mix-and-match nails, and I love this trend. It really showcases the talent of the nail artist and is really unique. Opting for mix-and-match nails means that you can pick your favorite trends and put them all together in your manicure!
DIY Manicures Guide
Doing your nails at home allows you to create your own style. Oh, and it is super fun. So, what do you need for DIY manicures, and what are the best ways to do them?
What you will need:
Nail file
Buffer
Nail primer
Lamp
Bottom coat or builder gel
Top coat
Gel paint
If you are new to DIY manicures, there are kits you can buy that include everything you need.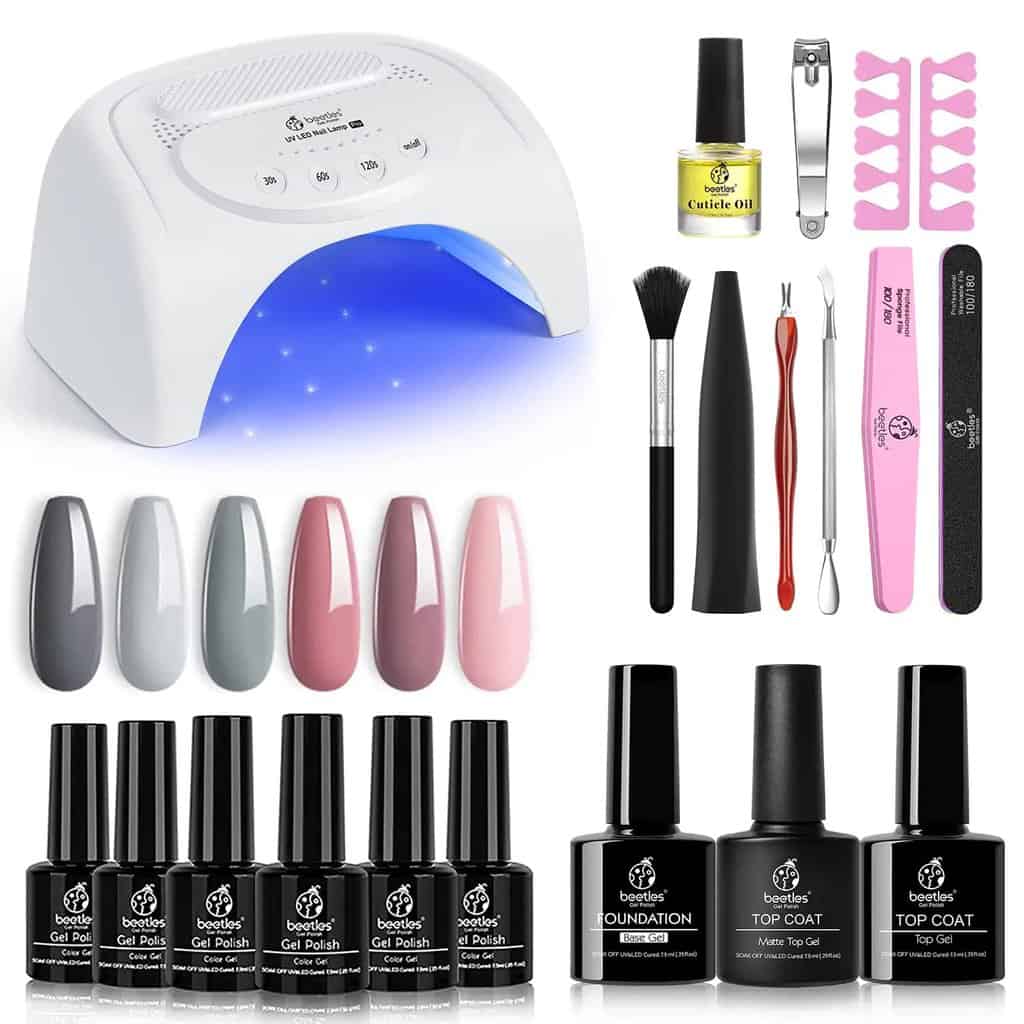 This starter kit by Beetles contains a nail lamp, six different colors, two top coats, and a base coat. It also includes all you need to properly prep your nails for a manicure.
I also really recommend buying a builder gel to use in your manicures. These help your nails stay strong. I always use the 5-in-1 builder gel by Saviland. It is pretty cheap to buy and really adds strength to your manicure.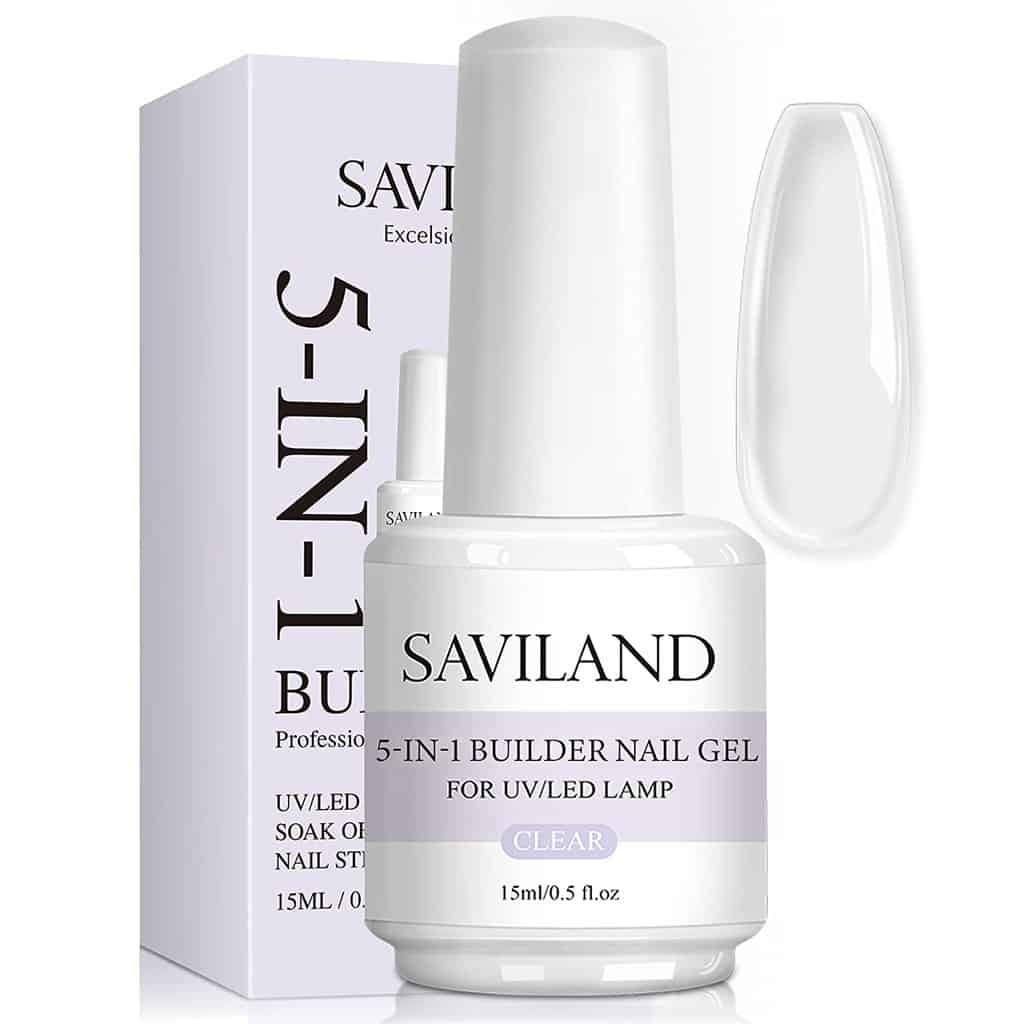 Prepping the Nails
The first step in a DIY manicure is probably the most important. If you don't prep your nails properly, your manicure will not last.
Firstly, shape your nails with a nail file. Then, push back your cuticles. You may wish to trim off any excess skin on your cuticles, but be careful when doing so!
When you have done this, it is time for buffing. Take your time buffing each nail, as this will get rid of any oils or dirt that will affect how the gel sticks to your nails. It is important not to over-buff them, though. If you buff them too much, they may start to get damaged.
Apply the Base Coat
After you have prepped your nails, give them a wash to get rid of any excess oils or dust. Then, apply your base coat onto your nail. If you are using a builder gel, you can use that at this point instead of a base coat.
Apply the Colors and Design
When the base coat is dry, it is time to paint on the colors! I recommend applying two or three coats of nail gel and waiting a few minutes between each layer.
After applying the color, it is time to add any embellishments you want! Place any stickers, gems, or designs onto your nails.
Apply a Top Coat
Finally, it is time to apply a top coat. I usually apply two top coats onto my nails to ensure that they are sturdy and strong!
Best Nail Art Tools
If you want to add designs and trends to your DIY manicure, there are so many tools out there that will help you get the nails of your dreams.
Here are some of my favorite nail art tools that I swear by.
Nail Art Tape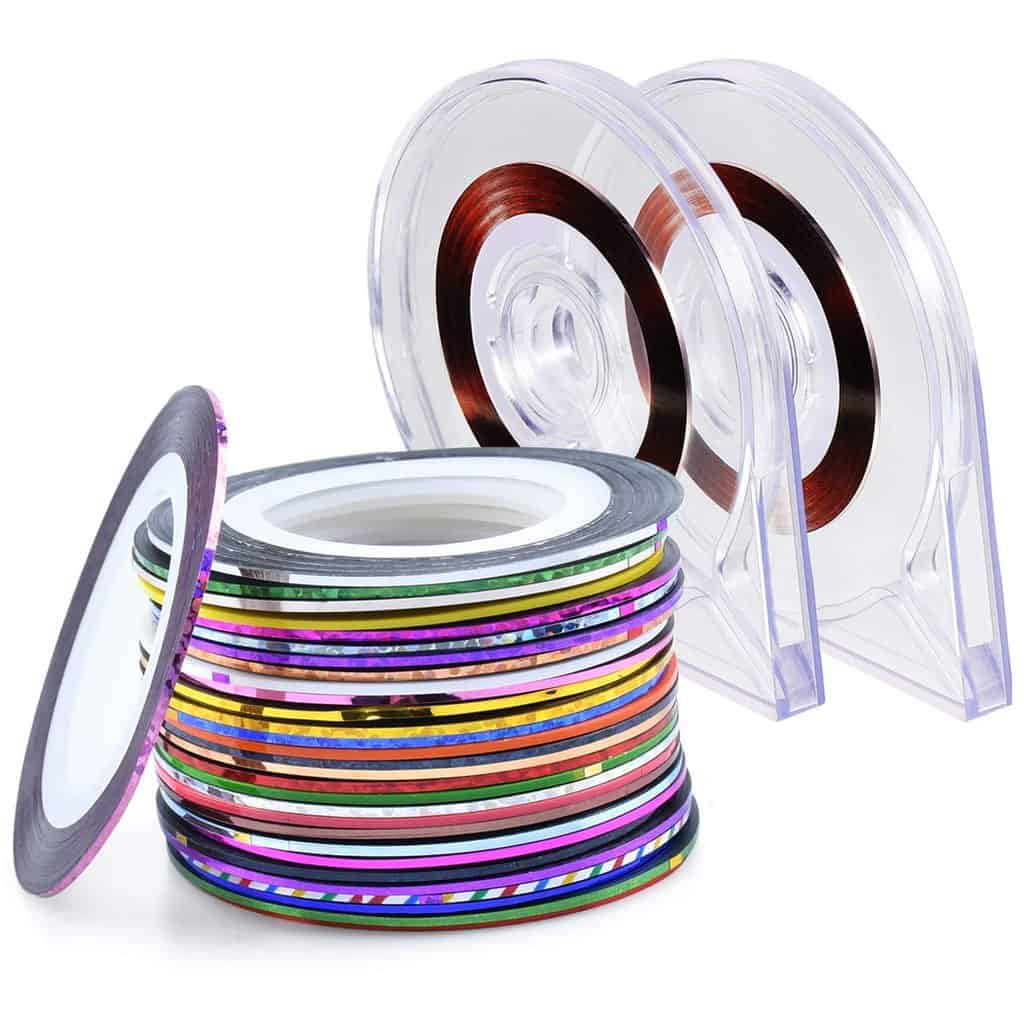 Nail art tape is a necessity for many people who do their own nails. This tape acts as a stencil for designs, allowing you to create different looks.
Nail art tape is perfect for abstract designs and checkerboard manicures.
French Tip Stencils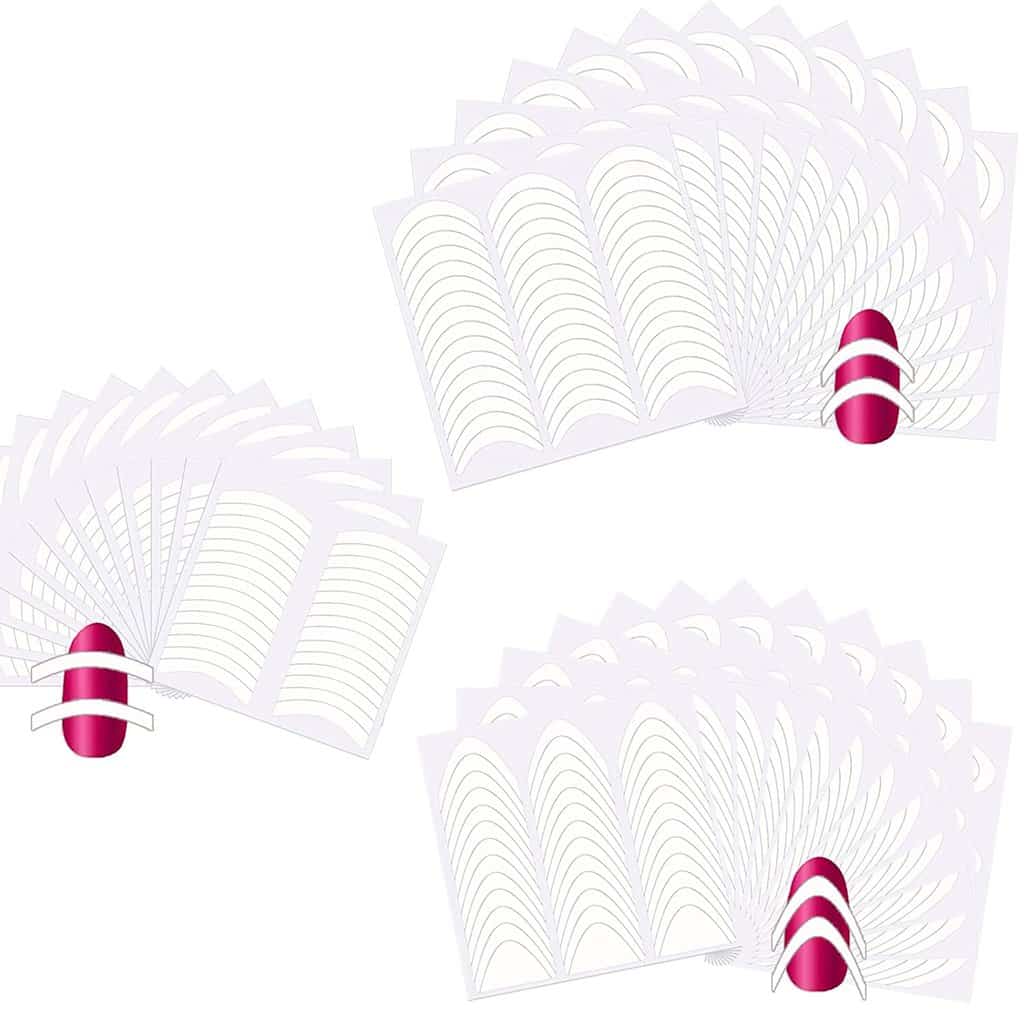 Want to get the French manicure look but aren't that steady with your hands? French tip stencils are a brilliant way of creating a neat French tip for your nails. All you do is put them on, paint the tip, and then remove the stencil!
Nail Art Stickers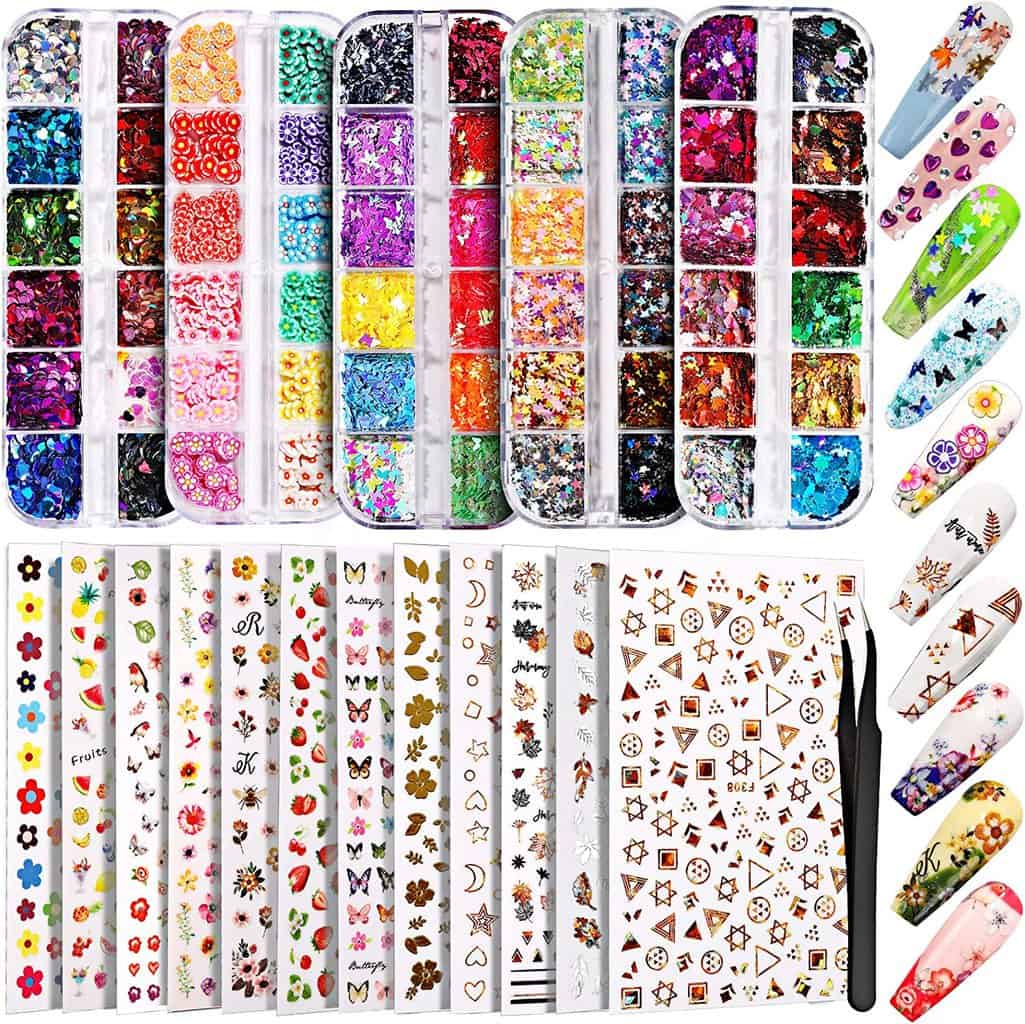 I am a huge fan of nail art stickers. I am creative, but definitely not talented enough to add my own art to my nails! Nail art stickers allow me to create interesting designs on my manicures with ease. You simply stick them on and apply a top coat to keep them in place.
Gemstones and Sequins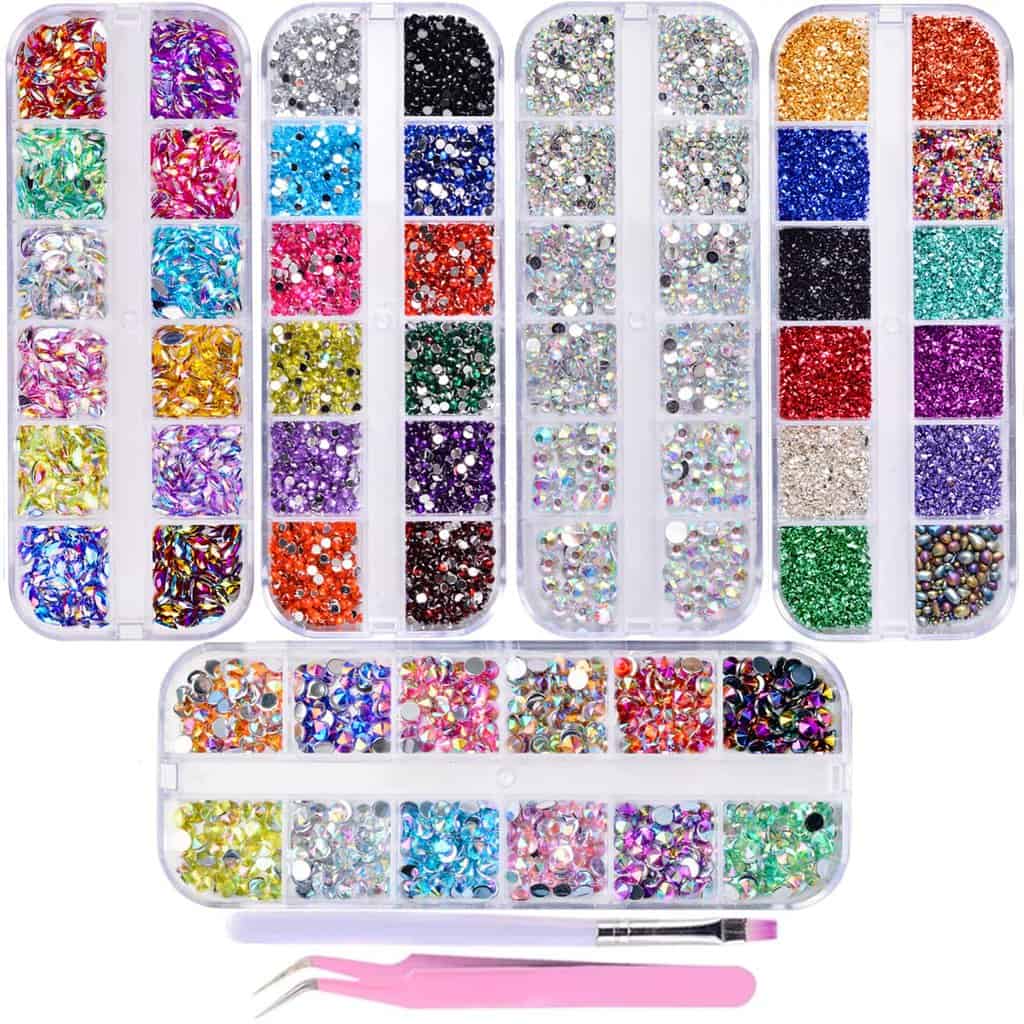 No manicure tool kit is complete without a box of gemstones. Gemstones add that little extra glam to any manicure, always looking fancy!
Nail Dotting Tool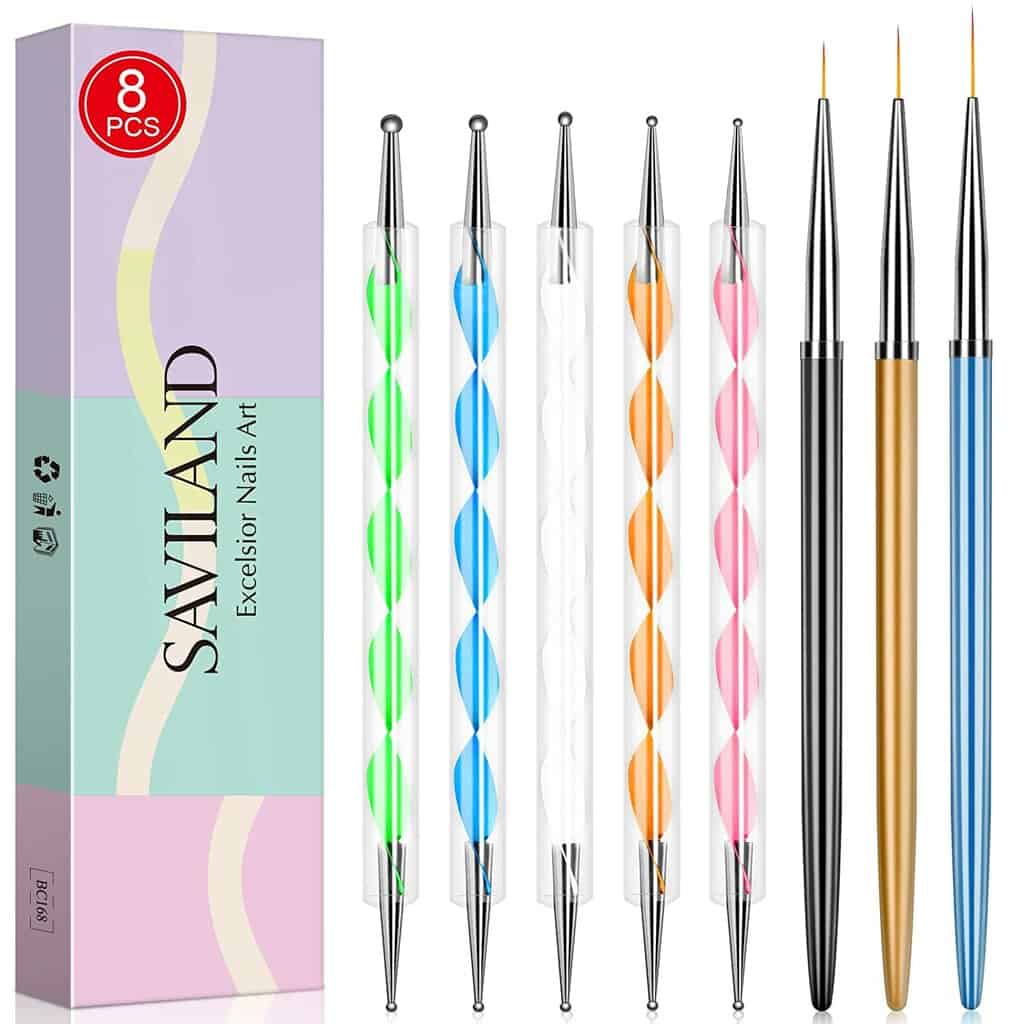 Nail dotting tools are great when wanting to add designs to your nails. They can be used to create floral prints or abstract designs.
Here is a stunning floral print created with dotting tools. As you can see, the nail artist has used dots to create the flowers.
Nail Art Foil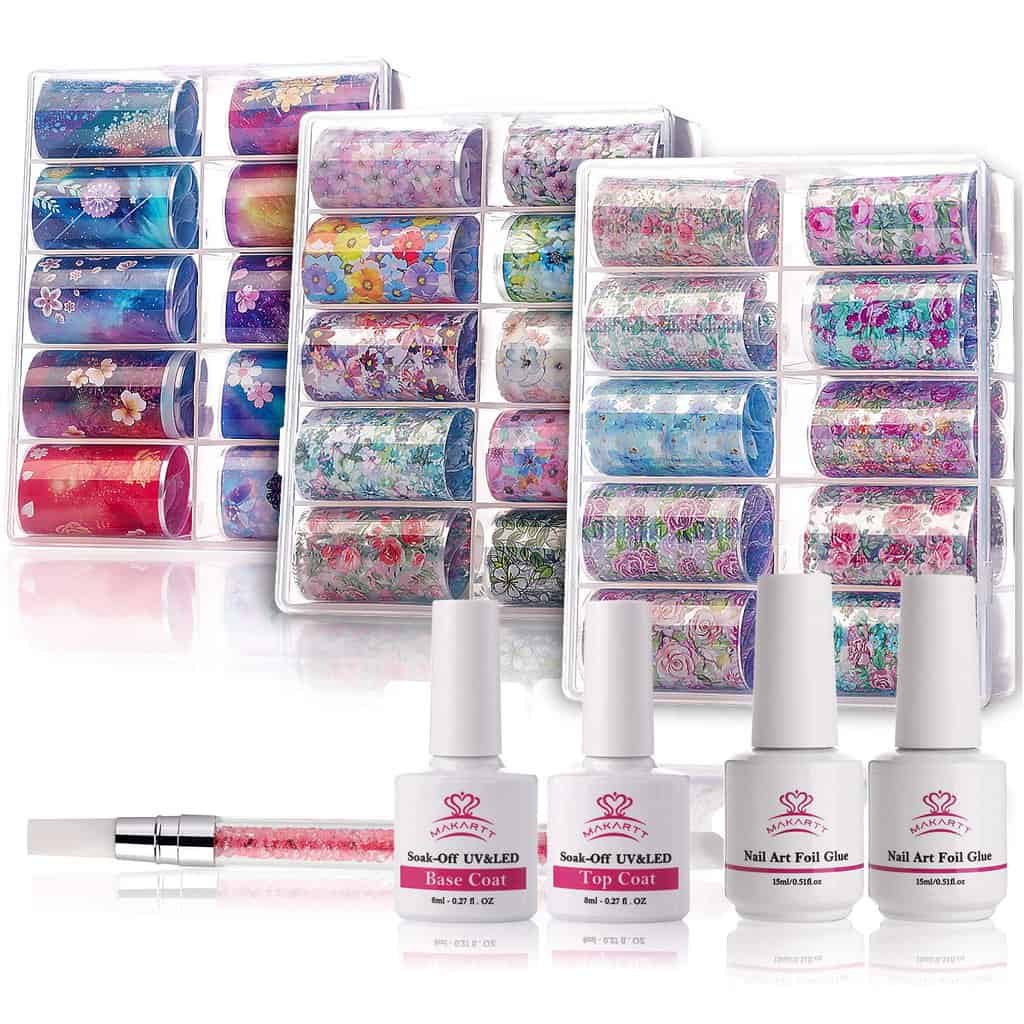 Nail art foil is a great tool to add design to your nail. You cut them to your nail shape, place them on, then cure them with a top coat. Easy to use, and look amazing!
Nail Ideas and Inspiration Top Tips
Finally, let's look at my top tips when it comes to nail ideas and inspiration.
Think About Practicality
I am probably not the only person who has gone to a salon to get acrylics and then discovered I couldn't do anything with them. If you are new to manicures, it can be tempting to get super long coffin nails. They do look fabulous! But, have a think about what you do as a job and how practical longer nails are.
Use Cuticle Oil
In order for your manicure to last and for your nails to stay healthy, use cuticle oil daily. I swear by it and use it in my daily post-shower routine. It totally shows when I haven't been using it, as my manicures will break quickly. Nail health is super important!
Use Hand and Nail Creams and Moisturisers
Just like cuticle oil, using creams and moisturisers on your nails really help to keep them healthy. These will mean that your nails stay strong and looking great!
Do Your Research
If you are going to get your nails done at a salon, make sure you are going to a reputable place! Check out the reviews and website before you book, so you know your hands are in good hands.
You should also research what colors and trends you are wanting for your manicure. Going into your appointment with an idea of what you are after means that you won't be disappointed with the result.
Wear Gloves When Cleaning or Washing Up
After you have your nails done, it is really important to look after them. I will always put on gloves when doing my washing up or cleaning as this protects my manicure.
Reapply Top Coat
Reapplying your top coat every four or five days helps keep your manicure looking good and your nails strong.
Ultimate Guide to Nail Inspiration and Ideas: FAQs
Let's look at some questions you might have about nail art and ideas.
Question: Should I get Gels Nails or Acrylics?
Answer: It is really up to you and your preferences. Acrylics are perfect for adding dramatic length to the nails. However, gels tend to look glossier. They both last the same amount of time.
Question: Can I do Manicures at Home?
Answer: Yes! DIY manicures are super easy, and perfect if you are looking to save a bit of money. Buy buying a gel manicure kit, you are able to recreate your favorite designs at home.
Question: What Kind of Manicure Lasts the Longest?
Answer: Dip manicures last the longest, lasting up to four weeks.
Question: How do you do Nail Art for Beginners?
Answer: By buying stickers and decals, you can do nail art at home with ease. Perfect for beginners!
Question: Are Nail Stickers Bad for your Nails?
Answer: When used correctly, nail stickers are fine for your nails.
Find Your Dream Manicure Today!
I hope this ultimate guide to nail art and inspiration has helped you find your dream manicure. There are so many amazing trends and designs to try out!
Will you go for abstract prints or maybe an iconic marble design? Perhaps glitter and gemstones are for you! Whatever your dream manicure is, it is out there for you to find.
Read More:
• Half-Moon Nails Inspiration and Ideas That Will Make You Feel Over the Moon