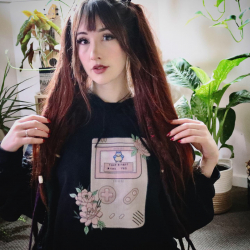 Latest posts by Laura-May Randell
(see all)
A good top coat is like the icing on top of the cake. It seals in all your hard work and adds the cherry on top that makes everything pop.
But although adding a glossy or glittery top coat to finish your manicure always looks amazing, your top coat isn't just a pretty face. It plays a vital role in the longevity of your mani. So, you want to make sure you choose a good top coat that lasts as long as possible on your nails without getting chipped, scratched, or becoming dull.
If you're in the market for a new top coat so you can have your nails sparkling, you've come to the right place. Here, we have compiled the best top coats in a range of different finishes so your nails will stand out from the crowd.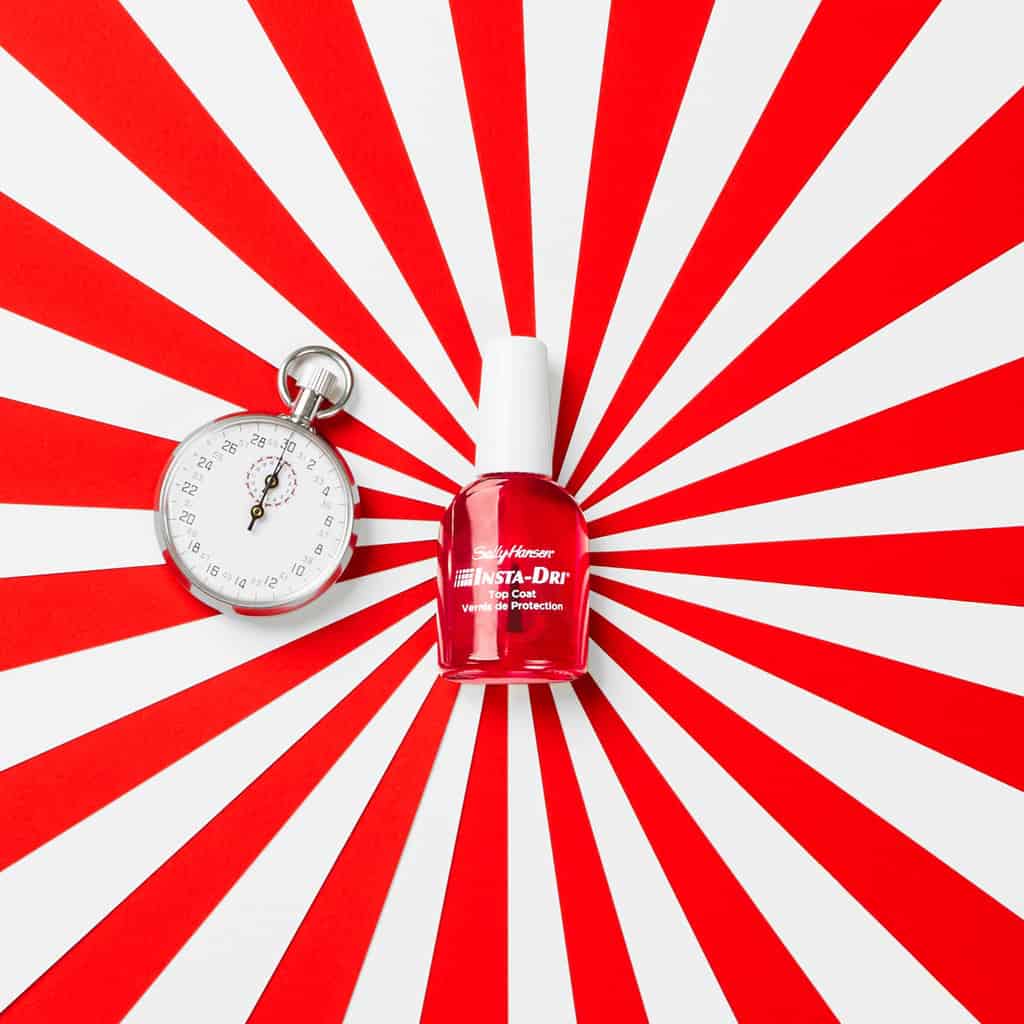 Bottom Line Up Front
A top coat is a final layer of nail polish that you put over your color to lock your design in place and apply some sort of finish to your nails. Most top coats are glossy, but you can get many different types and finishes to make your manicure even more interesting.
There are plenty of nail polish brands on this list, all of which are great. But if you're in a rush and you want to get straight to the point, the best top coat is the Seche Vite Dry Fast Top Coat, but you will have to keep reading to find out exactly why this will be the top coat of your dreams!
Here is the complete list:
Selection Criteria
A top coat does more than look amazing. That is, of course, a matter of great importance and is definitely a box that every top coat on this list had to check, but it wasn't the only one. These top coats had to last at least three days on working hands, apply smoothly and evenly, resist chips and scratches, and avoid yellowing.
Bonus points were also awarded for unique and interesting finishes. Having a top coat that offers something more to your manicure can make the difference between having a good set of nails or a great set. Glossy top coats are classic, but there are plenty more top coats that offer a more out-of-the-box and unique finish to help keep your manicure interesting.
1. CND Super Shiney Top Coat
Price: $8.49
Accessibility: Available online and in stores like Ulta.
Pros
Affordable.
High gloss finish.
Very long-lasting.
Cons
Takes a while to dry.
Formula is quite thin so two coats are required if you're top coating over a glitter polish.
Not a cruelty-free brand.
The CND Super Shiney Top Coat is a great option if you're looking for a classic glossy top coat. It has a very solid formula once it dries down, so it resists scratches and bumps. Scratching your nails on things is inevitable, especially if you live a busy lifestyle, so having a polish that doesn't get dinged when going about your daily business is essential if you want your polish to look shiny and new for as long as possible.
The polish does have a sheer purple tint in the bottle, but don't let that put you off. The product dries down clear, and you won't impact the color you're wearing underneath.
Buy CND Super Shiney Top Coat Nail Polish here.
2. Sally Hansen Insta-Dry Top Coat
Price: $4.00
Accessibility: Widely accessible worldwide.
Pros
Extremely Affordable.
Very fast drying.
Super glossy finish.
Cons
Not a cruelty-free brand.
Not as long lasting as other brands.
The Sally Hansen Insta-Dri Top Coat is an absolute must-have for anyone who does their nails. Even if you only paint them once in a blue moon, it's well worth having in your collection. The Sally Hansen Insta-Dry range dries down in 60 seconds. Well, that's what they say, anyway. I think it's more like 90, but either way, it is extremely quick.
This allows you to continue on with your day without having to sit around for half an hour without touching anything and messing it up. Not everyone has that sort of time, so having a very fast-drying top coat is essential.
Shop for Sally Hansen Insta-Dri Top Coat here.
3. OPI Matte Top Coat
Price: $10.00
Accessibility: Available online and in drug stores worldwide.
Pros
Stays matte.
Gives you a more interesting mani.
Affordable.
Cons
Not a cruelty-free brand.
Can develop some white crusties at the top of the bottle if you don't close it all the way that can get on your nails if you aren't careful.
Must make sure your previous layers are completely dry.
OPI's Matte Top Coat is one of the best I have tried. A lot of matte top coats on the market are matte at the beginning, but then the finish somehow wears off, and the nails look shiny again. Sometimes this happens within a single day. This top coat has given me up to five days of matte coverage, however, which is better than a lot of others I've tried.
Most top coats give you the classic glossy look, but there's something about a matte top coat that looks extremely cool, especially over a darker color like black or any type of fall or autumnal color.
Shop for OPI Matte Top Coat here.
4. Holo Taco Scattered Holo Top Coat
Price: $13.00
Accessibility: Online only.
Pros
Cruelty-free and vegan.
Great quality.
You can make any polish holographic!
Cons
Less easily accessible as the more popular brands you can get in most stores.
More expensive than other brands.
Have you ever had a nail polish color and just thought to yourself, "This would be way better if it were holographic"? That's the best thing about this top coat. You can give any nail polish you have a holographic sparkle. I also enjoy that the glitter is sparse, so it doesn't cover up any beautiful nail art you may have done.
Glittery top coats are perfect for adding a little extra, well, sparkle to your nail look and instantly taking it to the next level. And if you're looking for anything holographic, Holo Taco is the brand you should be checking first. The scattered holographic glitter top coat is my favorite, but there are plenty more holographic top coats available.
Shop for Holo Taco Scattered Holo Top Coat here.
5. Seche Vite Dry Fast Top Coat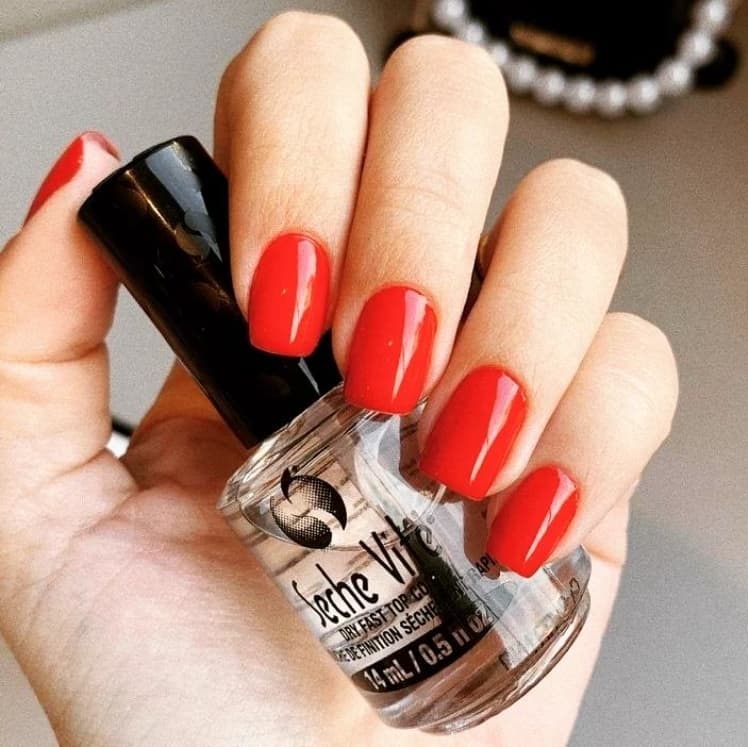 Price: $7.99
Availability: Available in stores and online.
Pros
Extremely long lasting.
Brilliant quality for the price.
Thousands of rave reviews online, so it isn't just me!
Cons
Seche Vite Dry Fast Top Coat is an absolutely incredible product that is extremely hard to fault. It dries quickly, lasts an exceptionally long time (my record is going almost three weeks), and gives a totally smooth and glass-like shine. If I could only recommend one top coat from this list, this is the one.
The Seche Vite top coat has become increasingly popular online recently as more and more people realize how great this product is. I can usually scrounge up at least one con for my nail polish recommendations, but honestly, this one has me stumped. It's cheap and cruelty-free, and the quality is absolutely stunning. It's a solid ten out of ten.
Shop Seche Vite Dry Fast Top Coat here.
6. Hermes Laque De Finition Top Coat
Price: $55.00
Accessibility: Mainly online but available in some stores.
Pros
Glassy finish.
Chip resistant.
Smooth application
Cons
Very expensive.
Takes a while to dry
Hermes Laque De Finition Top Coat is a luxury polish with a luxury finish containing light optimizers to give you the glossy mirror effect that every glossy top coat strives for. It may be expensive, but the formula truly is a step above most shiny top coats on the market.
You can almost always find a polish for a reasonable price that is just as good as a luxury one, and that is also the case here.
I would still recommend the Seche Vite Top Coat over this one, but there is something nice about using a luxury polish with their beautiful bottles, and this one is significantly better than a lot of top coats I've used. So, if you're willing to splurge and want to pick up a more expensive polish, you can go for this one without being nervous about wasting your money.
Shop Hermes Laque De Finition Top Coat here.
7. Habit Strengthening Top Coat
Price: $12.00
Accessibility: Mainly online.
Pros
Supports nail health.
Applies smoothly and evenly.
Cruelty-free and vegan.
Cons
Bottle is a little smaller than average.
More expensive than other brands.
Not as easily available in stores.
We all love a good manicure, but having strong and healthy nails is even better. Doing your nails over and over again without giving them a break can make them dry, dehydrated, and thin. Especially if you're like me and have a chronic nail-picking issue and can't stop yourself from peeling your polish (and usually the top layer of your nail) off instead of removing it properly. It's bad, I know, but it's so satisfying!
In these cases, having a nail product that is designed to help your nails recover while also looking great is an essential addition to anyone's nail kit. Habit's Strengthening Nail Top Coat is my go-to at times when my nails are looking particularly rough.
The formula is infused with Myrhh extract, which works wonders for healing cracked and dehydrated nails. I use it directly over the nail without any color, and it makes them look shiny and healthy even though the reality is that they're far from it.
Shop for the Habit Strengthening Nail Top Coat here.
8. Barry M Plumpy Gelly Top Coat
Price: $6.00
Accessibility: Available both online and in select stores.
Pros
Gel-like finish.
Super shiny.
Incredibly smooth application.
Cons
Takes a while to dry.
More prone to chipping than others on this list.
It's no secret that I am a firm believer that gel nail polish is the best nail polish, but not everyone wants to mess around with a UV lamp and an electric nail file to finish the job. So when I can find a nail polish that truly looks like a gel, I'm all in.
The Barry M Plumpy Top Coat has a super thick, juicy, and glossy finish, and it still looks just as shiny as it did when it was wet when it has completely dried down. I also have to give Barry M nail polishes bonus points for their brushes that make the application process as smooth and easy as possible.
Shop the Barry M Plumpy Gelly Top Coat here.
9. Starrily Magnetic Top Coat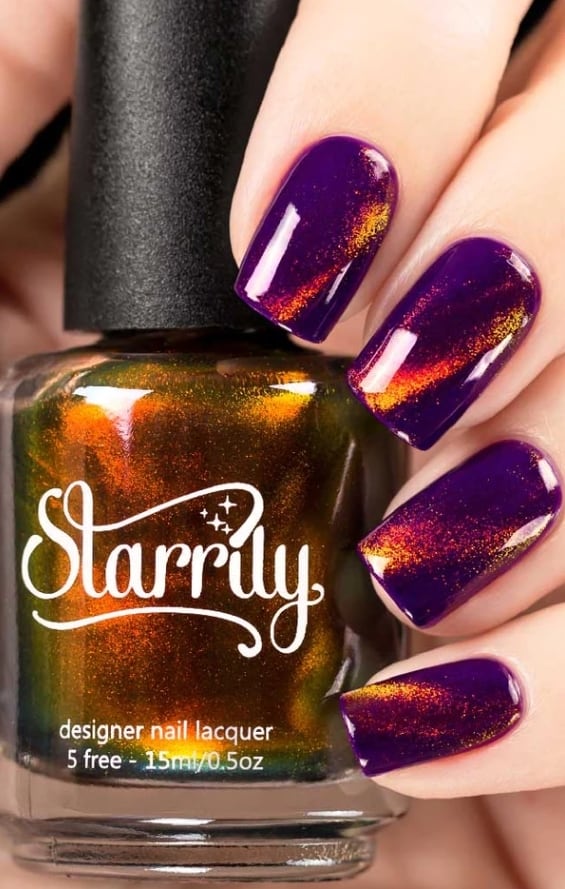 Price: $16.00
Accessibility: Mainly online.
Pros
Incredibly unique finish.
High definition results.
High shine.
Cons
On the expensive side.
Not as universal as a classic glossy top coat.
If you were hoping for a more unique suggestion, I have saved this one, especially for you. Starrily Magnetic Top Coat is filled with incredibly bright magnetic shimmers that you can move around with a magnet. This brings them straight up to the surface of the polish and gives you so much depth and dimension, even if you've only applied one coat.
This option is one of the most interesting top coats on this list because it gives you such a beautiful finish, and you can pair it with any color of nail polish you want. I would recommend a deep purple, burgundy, or black. The magnet is sold separately.
Shop Starrily Magnetic Top Coat here.
10. Revlon Transforming Effects Top Coat: Matte Pearl Glaze
Price: $5.00 – $6.00
Accessibility: Available online and in stores worldwide.
Pros
There are eight different finishes in the Transforming Effects range.
Affordable price.
Unique finish.
Cons
Revlon is not a cruelty-free brand.
Can chip at the edges after a couple of days.
Irridescent material can come out a little streaky, but holding your nails upside down and allowing it to self level for a moment usually fixes the problem.
Revlon has a wide range of beautiful top coats that are all great and do a wonderful job at sealing in your hard work, but the matte pearl glaze option caught my eye because of how unique it is.
Not only is it matte, but it also gives your nails a beautiful pearl shimmer that catches and changes color in the light. The finish is absolutely beautiful and is almost a perfect matte dupe for chrome powder, which has become extremely popular recently.
Chrome powder is a loose pigment that, when rubbed into a semi-cured gel top coat, gives the most stunning mirror finish to your nails. It is a product that is only compatible with gel polish, however, and it's also a tough technique to master.
If your top coat has been cured all the way, the chrome powder won't stick to the nail at all. But if it isn't cured enough, it will turn out dull. My advice is to only cure the nail for 30 seconds maximum and to slowly rotate them so all sides dry evenly to avoid patchiness.
If that all sounds too complicated, fair enough. You can just reach for your Revlon Transforming Effects Top Coat in Matte Pearl Glaze instead!
Shop Revlon's Transforming Effects Top Coat in Matte Pearl Glaze here.
Make Your Manicure Last
Many nail enthusiasts don't even use a top coat on their nails. But I promise you, if you do, you will never look back. Even the most boring or basic glossy top coat can transform your manicure, particularly if you're sealing in a glitter polish.
It covers up any imperfections or accidents you may have had while painting your base color, and it gives your nail polish a much better chance of sticking around for longer than a day.
If you do use top coat religiously, you will know it's always the first polish bottle to run dry. But hopefully, this list has given you some new brands to try out and more finishes to explore so you can make your manicure even more unique.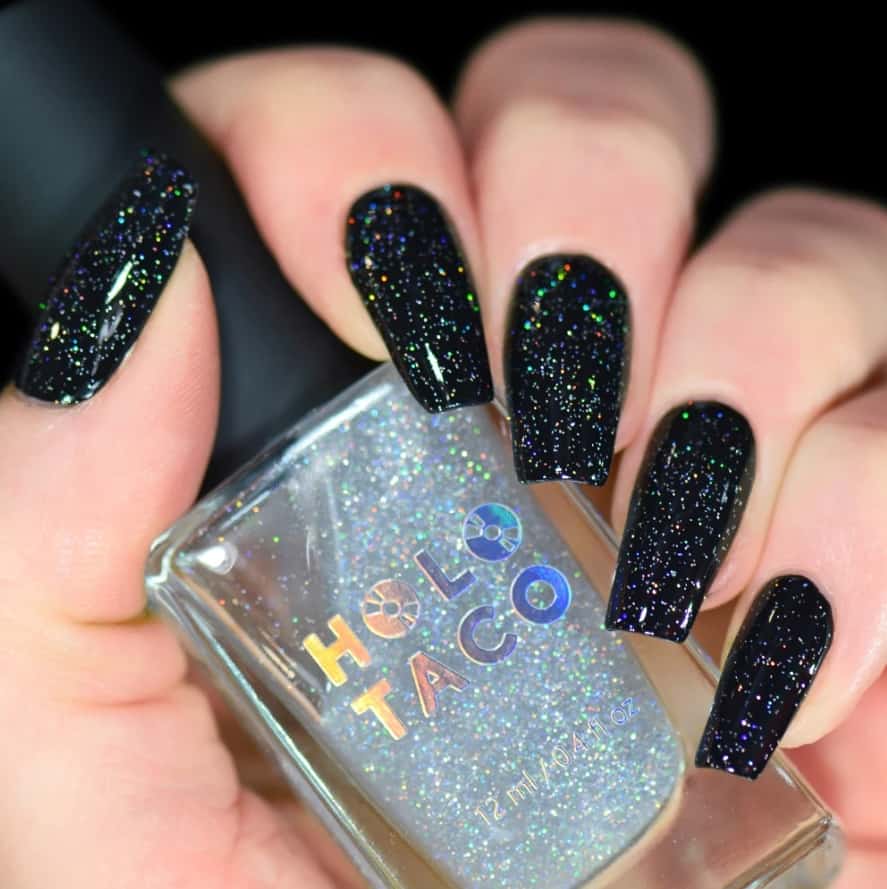 FAQs
Question: Do you have to use a top coat?
Answer: You don't have to use one, but your manicure will be more dull and won't last as long. Regular polish isn't formulated to resist scratches as much as a top coat, so your finish will become lackluster very quickly.
Question: Can you apply a top coat before the polish underneath is dry?
Answer: Not if you want your manicure to look good. It can be tempting to use a fast-drying top coat over wet nail polish to speed up the drying process, but it doesn't actually work. Putting a layer on top of wet polish can prevent the bottom layer from drying properly and create ridges and ripples in the polish. It also gets color on your usually clear top coat brush, which transfers to your next set.
Question: Can I use a matte top coat with glitter polish?
Answer: You can use a matte top coat over glitter polish, but it dulls down the glitter and doesn't reveal any of the sparkle.
Recommended Reads:
• Best Nail Polish Brands Guide
• Best Cruelty Free Nail Polish
• Best Quick Drying Nail Polish: Do Your Nails DIY in a Pinch!