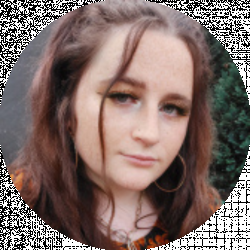 Latest posts by Lou Siday
(see all)
If there is one trend that is making waves in the nail art world, it's swirl nails (waves… swirls… get it?!) I am seeing different takes on this trend all the time on my social media feeds, and I'm kind of in love. They always feel so fresh and stylish, with different colors and styles incorporated into the trend.
So, I wanted to create this swirl nails inspiration and ideas list to bring you the best swirl nails out there. Whether you are doing your nails at home or going to get your manicure done at a salon, there is definitely something for you when it comes to swirl nails!
Swirl Nails Up Front
My favorite pick for swirl nails has to be the orange and blue manicure by Annabel Maginnis. It is a bold, summery design that incorporated stunning colors, glitter, and swirls.
My Other Top Picks for Swirl Nails Include
Red and Pink Short Swirl Nails
Green Short Swirl Nails
Wavy Blue Swirl Nails
Swirl French Tips
Gradient Blue Swirl Nails
Purple and Yellow Swirl Nails
Matte Swirl Nails
Abstract Swirl Nails
Thin Summer Swirls
Forest Green Swirl Nails
Hot Pink Swirl Nails
Purple Swirl Nails
White Swirl Nails
Pink Swirl Nails
70s Swirl Nails
Evil Eye Swirl Nails
Subtle Pastel Swirl Nails
Pink and Purple Pastel Swirl Nails
Pastel Swirl Nails With Shimmer
Yellow Pastel Swirl Nails
Bright Swirl French Tips
Spacey Swirl Nails
Selection Criteria
When I was picking the swirl nail designs to include on this list, I wanted to include a whole range of colors and ideas. There are so many amazing designs when it comes to swirl nails; I wanted to make sure they were all showcased in this article!
I listed a range of manicures that can be recreated at home for all of you people who do DIY nail art, but I also wanted to show off the amazing work from the best nail artists around the world. All the nails on the list are done to the highest standard, with the correct gels and tools.
Short Swirl Nails
I always keep my nails short these days, mainly because of my work. If you are like me and need short nails, you might feel as if you can't really express yourself that much with your nails. But, this isn't true! We can still incorporate stunning and bold designs into short nails.
So, what are some of my favorite short swirl nail designs that are trending right now?
Red and Pink Short Swirl Nails
These nails are actually done by a really close friend of mine, Em, at Real Down to Mars Nails in Stockport. She is a super talented girl, and I am so proud of what she has achieved! These red and pink swirl nails are very cute, with big swirls of bright red and pale pink. The colors look amazing together and are perfect for date night!
Green Short Swirl Nails
Another manicure by Em, again using thick swirls to create an interesting design. I love the choice of colors and the thickness of the swirls.
If you want to recreate this kind of swirls at home, have a go with a nail art brush and apply the big swirls onto a base coat. If you are less confident with the nail art brush, I definitely recommend you get yourself some nail art stencils. These allow you to section off the nails into different shapes and lines to get a neat finish.
Wavy Blue Swirl Nails
I cannot get over how cute these nails are! I love the big trippy vibes that remind me of the ocean and the blue-purple color used as a base.
This is a good option for your swirl nails if you aren't keen on the negative space trend that is often paired with swirl nails. Having a color as a base means your natural nails aren't showing, but you still can get on the swirl nail trend!
Swirl French Tips
I always think the classic white French tip is a pretty boring manicure. Like, there are so many cool styles and colors to choose from, why would you pick that?! So, I absolutely love it when nail artists mix things up with French tips, and I am kind of obsessed with this mani.
I love how the nail artist has alternated the colors, with the dark green a base on some and the light green a base on others. The lines are really fine in these swirls, so make sure you have a really thin nail brush if you want to recreate this manicure.
Gradient Blue Swirl Nails
The nail artist has used a gradient of blues over the nails, starting with a dark blue on the thumbs and ending with a very light blue on the little fingers. I think it's a pretty cool take on the swirl trend; it definitely mixes it up a little bit!
Purple and Yellow Swirl Nails
Purple and yellow are opposites on the color wheel, and this means that they create a very bold design when paired together. I really like this manicure that includes a range of different sized swirls, using negative space to enhance the colors.
Negative space is when some of the nail is left without paint, and it is a really popular style at the moment, especially when it comes to swirl nails. I do really like the trend, however, it means you have to really look after your natural nails in order for them to look healthy and fresh. If your natural nails are damaged, use a nude color as a base. This allows you to incorporate the negative space trend into your manicure but still keep your nails covered!
Almond Swirl Nails
Almond refers to the shape of the nail, where the tips are curved to a slight tip. It is a really popular choice for nails, as they are easy to work with and allow you to incorporate a range of trends into your manicure. Let's look at my top picks for almond swirl nails.
Matte Swirl Nails
These swirl nails are pretty simple but look amazing! I really like the deep swirls used, they look really retro. The nail artist has applied a matte top coat on this manicure, creating a smooth and shineless finish.
Abstract Swirl Nails
These swirl nails use a range of abstract nail art trends in the design, and it looks fab. I love the wide range of colors and shapes used — it feels super arty and creative. Glitter, dots, negative space… these swirl nails have it all!
If you do your nails at home, you may be a bit hesitant to try out a design like this. But, with the right nail brushes, you will be surprised at how well you can create this look! Because all nails are different, you can have fun applying different designs and swirls onto your nails. When it comes to abstract nails, you can't really go wrong. They should look unique and different!
Thin Summer Swirls
I really like these subtle almond swirl nails. They are summery and light, with a range of beautiful colors used in the design. Because all the nails are different, it is a really fun design to try out at home. Get yourself some nail brushes and have a go!
Forest Green Swirl Nails
This manicure is a very chic take on the swirl nail trend. By choosing a stunning forest green for the swirls, the nail artist has created a look that feels classy and sophisticated. I really like the subtle glittery lines that accompany the green swirls, too. You can't really see them at first, but they add a lovely shimmer to the manicure!
Hot Pink Swirl Nails
Hot pink and black always give me big emo vibes, and I am here for it! This manicure is very cool, using a range of different shapes and swirls in the design.
Long Swirl Nails
Do you like to keep your manicures long? Let's look at the best long swirl nail designs out there right now!
Purple Swirl Nails
These coffin swirl nails by Sudan London are gorgeous! They use two tones of purple and beautiful rose gold glitter. I like how the nail artist has taken the swirl to the base, highlighting the shape of the nails.
White Swirl Nails
If you are looking for something a bit simple for your swirl nails, look no further! I really like the coffin shape and length of the nails — they're not too long. The nail artist has then added a few thin, white swirls to a base coat, creating a sleek design.
If you want to recreate these nails at home, I would recommend buying some nail art gel liners. These are much easier to use than nail art brushes and gel, as they are designed to add thin lines to the nails.
Pink Swirl Nails
Another stunning set of coffin swirl nails by Sudan London, the shapes and colors are beautiful! I kind of want to book myself an appointment at this salon ASAP…
70s Swirl Nails
This manicure keeps things cool and retro by using browns and whites to give off 70s vibes. I like the mix and match nature of these nails. Some have deep curved French tips, and others have swirl designs.
Evil Eye Swirl Nails
Evil eyes are another big trend right now in the nail art world and refer to circular eye designs that have a whole load of culture and history behind them. They are said to ward off evil and protect the wearer.
Nuka Nails have mixed the swirl trend with the evil eye trend in this stunning manicure. I love the colors and the addition of gemstones!
Pastel Swirl Nails
Pastel colors are always a good choice when it comes to manicures. They are fresh, light, and fun, perfect if you want to keep things a bit low-key but still incorporate color into your nails.
Let's look at my top picks of pastel swirl nails.
Subtle Pastel Swirl Nails
The nail artist has created this manicure by painting subtle swirls of pastel blue and pink onto a nude base. It is a really delicate design and a great choice if you want something that will be suitable for a range of events and occasions.
Pink and Purple Pastel Swirl Nails
I love these mix and match pastel nails, with block color on some of the nails and French tips on others. The gold and white swirl on the French tip nails are super cool, adding another layer of fun to the design.
Pastel Swirl Nails With Shimmer
I am the kind of person who thinks that shimmer and glitter make everything better. So, of course, I am a big fan of these pastel swirl nails that incorporate a stunning shimmer. The long square shape of the manicure is pretty bold, matching the dramatic deep pastel swirls. Again, the nail artist has decided to mix and match the manicure, with some nails with French tips and others having a swirl design. To finish it off, they have added a later of shimmer dust to the nails.
Yellow Pastel Swirl Nails
I love the simplicity of this design, using just one color on short nails. It shows us that swirls can look great stripped back and simple — perfect if you are not a fan of the over-the-top designs!
Showstopping Swirl Nails
Let's finish off by looking at some showstopping swirl nails. These manicures might be a bit difficult to recreate at home, but they show us the huge talent of nail artists around the world!
What OTT swirl nails are my favorite right now?
Orange and Blue Swirl Nails
I saw this set by Annabel Maginnis last week when she uploaded it, and I haven't stopped thinking about them ever since! The bright colors are stunning, and I love how she has incorporated glitter into the design.
I could honestly look at this manicure for hours. It is so well done. The nail artist is very talented.
Bright Swirl French Tips
How cool are these?! Nuka Nails have used the French tip design but added their own twist, using bold, bright colors to add swirls to the tips. I love how each finger is its own color, with different shades incorporated into the design.
Spacey Swirl Nails
These swirl nails are giving me big space vibes. They look like something you would find in some far corner of the galaxy! I really like how one hand is swirly, with the other black and sparkly. It's a very chic design.
Swirl Nail FAQs
Question: Are Swirl Nails in Style 2022?
Answer: Swirl nails are really popular right now, with loads of people opting for this design for their summer nail look.
Question: How Much are Swirl Nails?
A: Because of their complex design, you may be looking at spending a bit more if you want to get swirl nails. The average cost is around 60 dollars for a manicure with design, but it can cost as much as 100 dollars.
Question: How can I do Swirl Nails at Home?
Answer: Swirl nails can be recreated at home by using nail art brushes or nail art gel liners.
Express Yourself With Swirl Nails
I hope you have enjoyed my selection of swirl nails! I love this nail art trend, and I had such fun collecting all my favorite designs. My favorite design is the orange and blue manicure by Annabel Maginnis. It's just stunning!
Which swirl nail design is your favorite?
Continue reading:
21 Fun Rainbow Nails Inspiration and Ideas
90s Nails Inspiration and Ideas