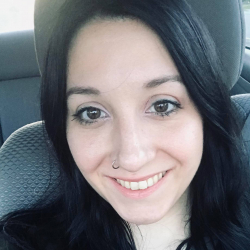 Latest posts by Stephanie Jensen
(see all)
With so many nail trends, it can be difficult to keep up with the landscape. I don't know if you're like me, but I prefer a good ol' fashioned manicure. No acrylics, gel, or anything gems. Just a little bit of polish on my nails, and I'm good to go!
That's why I'm a sucker for drugstore nail polish. They're not only cheap but using drugstore nail polish is convenient. Some of the best nail polish brands are available at my local CVS. And I always buy my own nail polish — when I go in for a manicure, I never use the polish at the salon (unless they have a super chic color that I don't already own).
Since I've been using drugstore nail polish for years (and by years, I mean since I was a teenager), I've found the best brands and the ones you should avoid. Here are the best drugstore nail polish finds.
Bottom Line Up Front
Out of all these brands, I suggest L.A. Colors the most. L.A. Colors is extremely affordable, and you can find their products at nearly every drugstore in the country. Amazon also sells plenty of its nail polish colors. Speaking of colors, L.A. Colors has an impressive color selection, so you can easily create a nail polish wardrobe.
How I Chose These Drugstore Nail Polishes
Before I learned how to buy nail polish, I would browse the aisles and select any color I thought was pretty. Since I've worked in the beauty industry, I'm selective of the brands I use. Here are all the factors I consider when selecting a drugstore nail polish.
Formulation: Some nail polishes have faster drying times, while others contain ingredients to improve nail health. I will also include different types of nail polish, such as lacquer and gel. Choose the nail polish that best fits your needs.
Availability: One thing I noticed with my drugstore nail polish obsession is one drugstore will have a brand, but you won't find that brand at another location. I don't want readers driving around all over town to find the perfect nail polish, so I only chose brands that I'm positive you will find at any CVS, Walgreens, or other drugstores. At the very least, I ensured Amazon carries all these brands if you prefer ordering online.
Color range: We all have different color preferences. I love dark colors, but I also met people who prefer neutral shades while others love neons. All the brands I'm recommending have an extensive color range. And if you love one polish from a brand, you can always search the rest of their inventory.
My Favorite Drugstore Nail Polish Finds
All the nail polish brands on this list sell gorgeous colors and offer high-quality formulas. These are all perfect for a home manicure or if you would rather use your nail polish at the salon. I will list each brand individually and recommend my favorite colors and formulations.

I never expected L.A. Colors to be so high-quality. I remember when they first emerged, their products were toward the back of CVS, and I never gave them a chance. I'm so glad I changed my mind! Their products are high-quality, and they sell so many cute colors. I love their makeup, but their nail polish tops my list.
First, let's talk about the price. If you really want a budget nail polish, I suggest choosing this brand. Each nail polish costs around $3! And don't think the polish lacks quality.
My L.A. Colors manicure lasts five days, on average. Plus, they have a wide range of formulations, such as gel, lacquer, and different types of glitter.
Pros
Long-lasting
Wide color selection
Dries quickly
Cruelty-free
Cons
The color is a little streaky
Some colors are off
Favorite Formulations
Let's Get Wild
Metal Nail Polish
Color Craze
Favorite Colors
Rio
Violet vixen
Rhythm
Hot blooded
Rose mimosa
Best for Reputability: OPI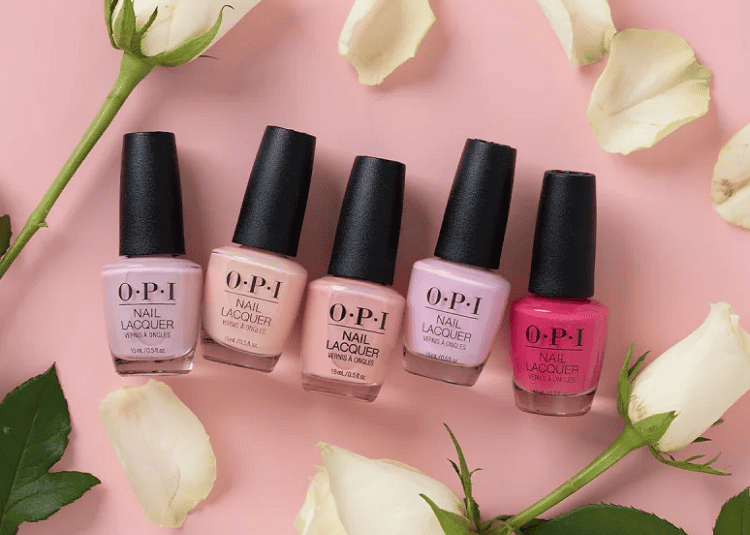 If you haven't heard of OPI, I would be shocked. For most, they reign supreme as far as affordable nail polish is concerned. I swear 75% of the polishes at my nail salon are all OPI. There are just as many amazing lesser-known nail polish brands out there, but OPI still reigns supreme in quality.
I have very few complaints about OPI. Their nail polish dries fast and applies smoothly. Honestly, OPI works better than many high-priced nail polish companies I've used. That, and their polishes last a long time — at least a week for me.
OPI sells various formulas and nearly every nail polish color under the sun. I'm looking at OPI's product catalog on their website now, and I'm even feeling overwhelmed by all the nail polish they offer.
Pros
Applies smoothly
Quick drying
Recognizable brand
Wide color range
Cons
Some colors oxidize
Not all formulations work well
Favorite Formulations
Nail lacquer
Long-lasting nail polish
Favorite Colors
Feelin Capricorn-y
Gelato on My Mind
Lincoln Park After Dark
Less Is Norse
My Very First Knockwurst
Rosy Future
Berlin There Done That
Madam President
I Am What I Amethyst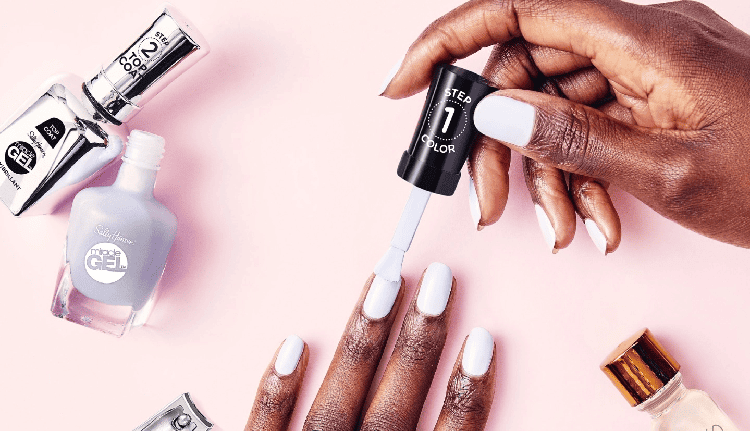 Right next to OPI, Sally Hansen is one of the most recognizable names in nail care. I've been using Sally Hansen's polish since I was a teenager.
I always liked how this polish dries extremely quickly, and every color I've used lasts a long time. Sally Hansen carries nearly every nail care product, including top and bottom coats, nail clippers, filers, and more.
Since Sally Hansen is such a recognizable name, you can find this brand at nearly every drugstore in all cities and states. I even found Sally Hansen's nail products when I was in different countries.
Pros
Dries quickly
Carries nail care products
Long-lasting
Apply smoothly
Cons
Some formulas are better than others
Favorite Formulations
Miracle Gel It Takes Two
Xtreme Wear
Favorite Colors
Onyx-Pected
Bare Dare
Back to Black
Midnight Drive
Rose Beam
Plum Euphoria
Daycream
Red-Ical Rockstar
Fanta-Seas
Knighttime
Best for Drugstore Dupes: Covergirl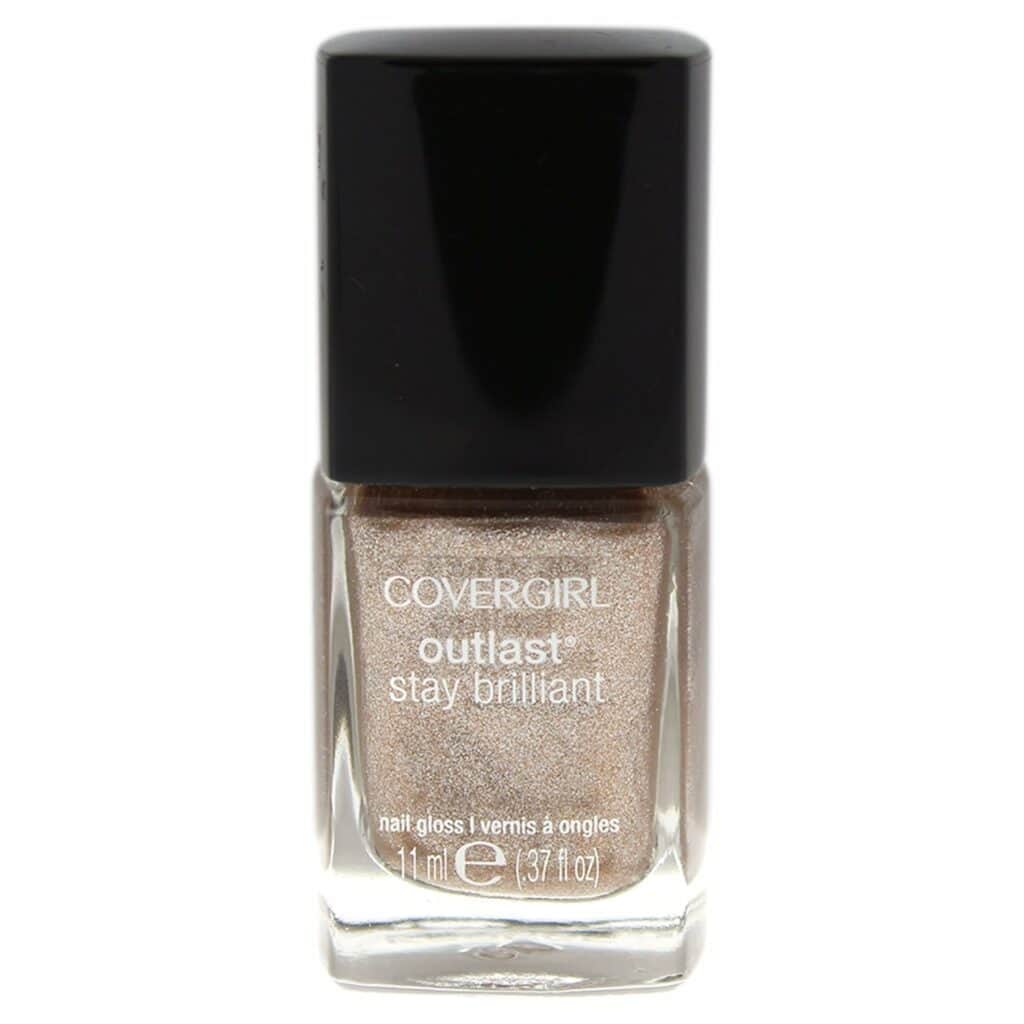 Covergirl isn't the first brand I think of when nail polish comes to mind, but I've liked the polish I've tried. Like many of their products, their formulas and colors make great dupes for prestigious brands.
Their colors are beautiful, and you can find different shades — from classic reds to vampy purples and nude browns. Plus, you can't beat the price — one polish bottle usually costs around $5.
The downside of Covergirl nail polish is their selection is limited. They don't carry many nail care products and don't have as extensive of formulas as the other brands on this list.
I also wish their bottles were bigger. Still, the polishes I tried go on smoothly and last for a long time. I usually find Covergirl nail polish at Walmart but occasionally find some polishes at CVS or Walgreens.
Pros
Wide color range
Applies smoothly
Decent staying power
Cons
Takes a while to dry
Lack of formulations
Favorite Formulations
Favorite Colors
Rose Delight
Nemesis
Black Diamond
Diva at Night
Nuclear
Best for Long-Lasting Wear: China Glaze
So, China Glaze is a little down on my list for a good reason. I own a ton of colors from this brand. The shades that work well are amazing; by far some of the best colors I've used. My nail technician even said she really likes China Glaze nail polishes.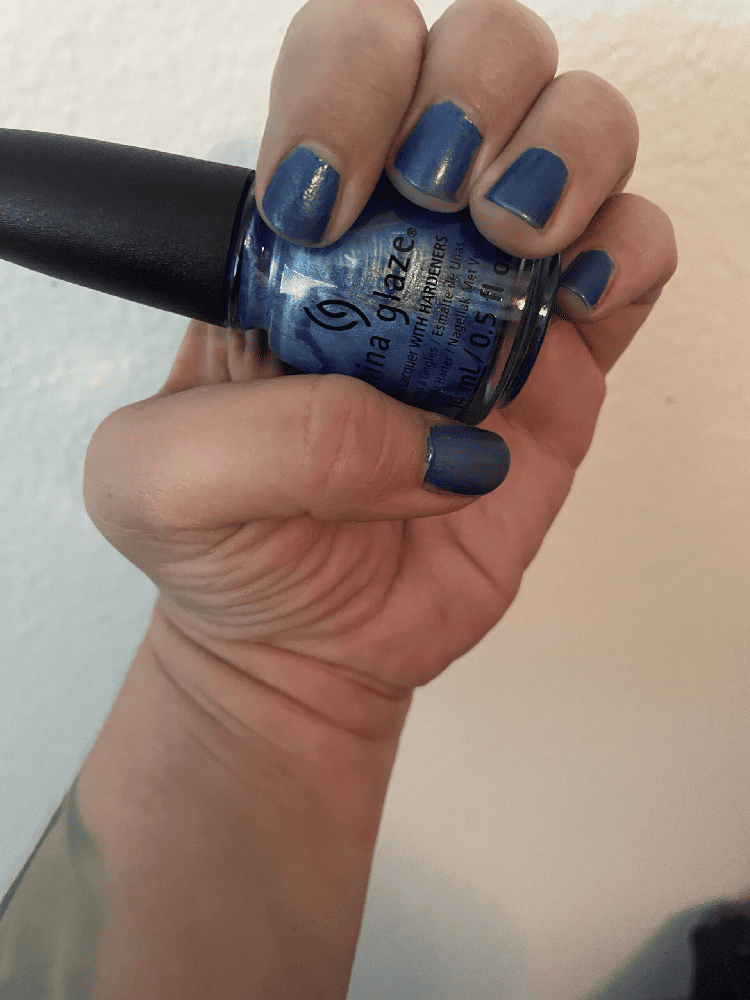 However, not all colors and formulations are good quality. Several months ago, I bought the shade Stay Frosted. It looks electric blue but comes out more like sea blue. The bottle also shows some shimmer, and I don't see any sparkle on my nails. The formula was also wet liquidy, which made it difficult to use.
That said, you can find China Glaze nail polish at nearly every drugstore. I always find mine at my local CVS. Their polishes always last for days; I used this blue color a couple of days ago, and it hasn't chipped or peeled.
China Glaze has a huge color selection. They also have different formulations, though I stick to the classic lacquer. You'll want to read reviews before buying polish since some colors look different in the bottle. Plus, some colors look better on different skin tones.
Pros
Great color payoff
Wide color selection
Long-lasting
Dries quickly
Cons
Favorite Formulations
Favorite Colors
Twilight Desert
Night Dunes
Deadly Desire
Sinful Soul
Evil Queen
Once a Witch, Always a Witch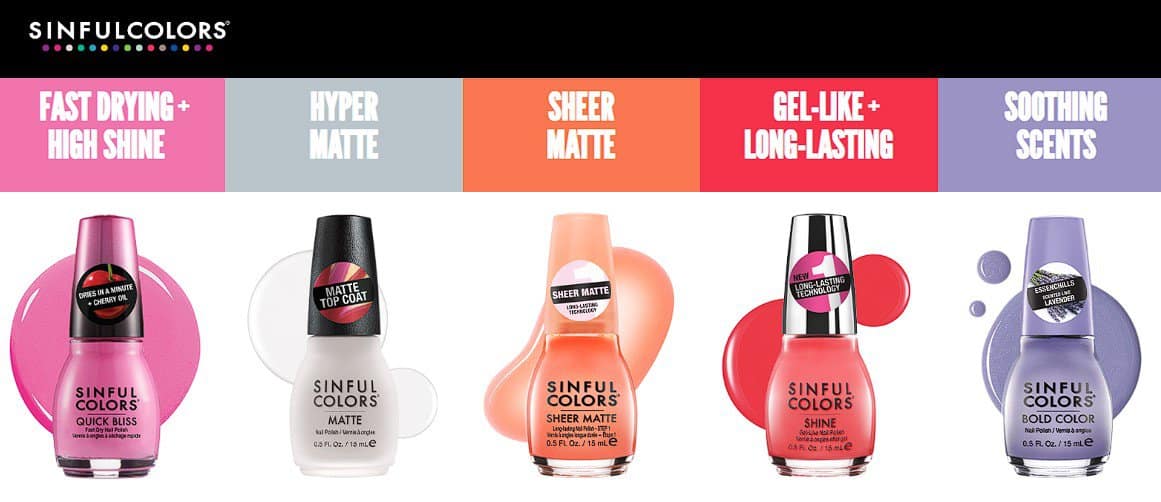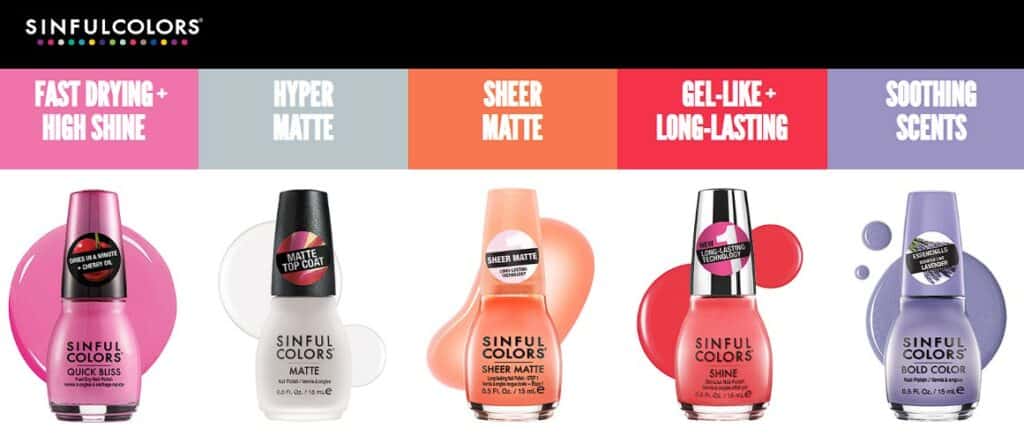 There was a time when I used nothing but Sinful Colors nail polish. Their polishes apply smoothly and mimic the prestigious ones in terms of color. I also see Sinful Colors at my local salon all the time.
They also sell nearly every color, and all their shades are incredibly pigmented. All Sinful Colors nail polishes I used also last a long time. Since I discovered them, Sinful Colors has released so many cool formulas, and they also have an entire nail care line.
So, why am I taking a break from Sinful Colors? I'm branching out and trying new drugstore nail polish brands. I still highly recommend this company.
Pros
Long-lasting
Huge color range
Excellent color payoff
Available at every drugstore
Huge formulation selection
Cons
Not all formulations work well
Favorite Formulations
Favorite Colors
Bitten
Black on Black
Easy Going
Hazard
Pride
Queen of Beauty
Rebel Rose
Vacation Time
Best for Inclusive Color Options: Cirque Colors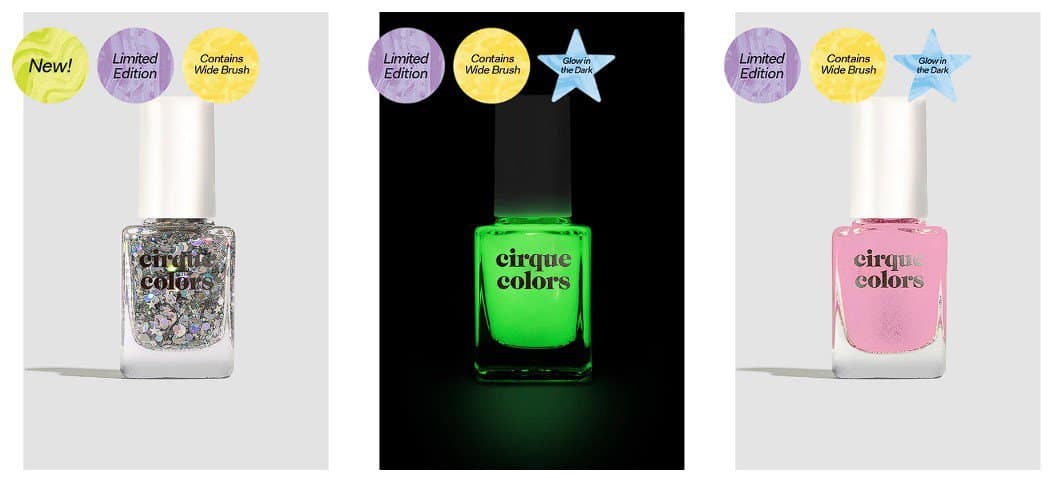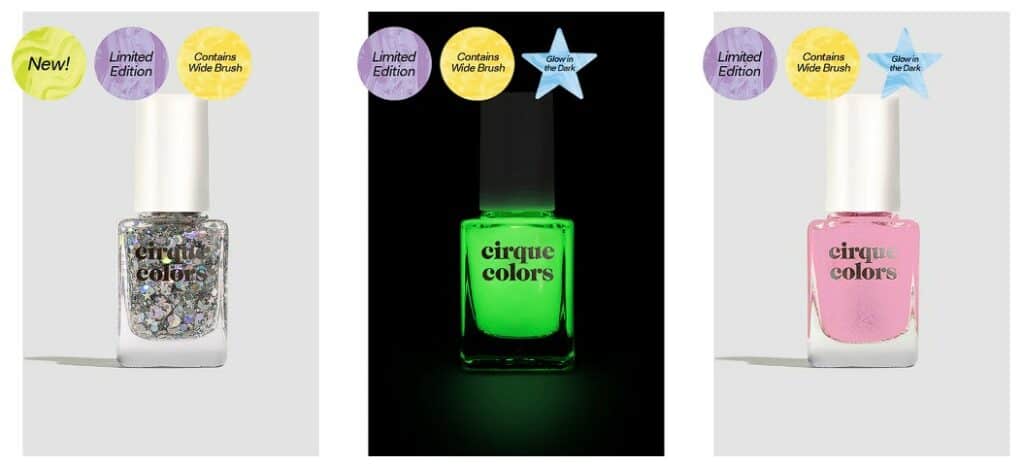 Cirque Colors is a brand that isn't as readily available as the others on this list, but I see them at the occasional CVS or Walmart. I don't think they're the most pigmented brand, especially compared to China Glaze and Sinful Colors.
They're also pretty expensive but still fall within drugstore pricing. One bottle is usually $12; while it won't break the bank, I won't splurge on multiple colors like I would with these other brands.
Still, Cirque Colors has a huge selection of shades. They offer the classics and some colors I don't see often, such as peach. On their website, you can see models with different skin tones and undertones modeling the nail polish. That's amazing since it's difficult to know which colors will look good on us. I also love the effects they offer.
They offer semi-transparent and even pearlescent colors. You can wear them alone or over another color for a cool effect. Plus, Cirque Colors also offers top coats with effects, such as a matte top coat.
Read More: Best Top Coat Nail Polish Guide
Pros
Long-lasting
Wide color selection
Unique shades
Different effects and formulations
Cruelty-free and vegan
Non-toxic
Cons
Not all colors are pigmented–might need three coats
The shimmery formulas are clumpy
Dries slowly
Favorite Formulations
Favorite Colors
Mystic Moonstone
Ghost Rose
Introverde
Memento Mori
Best for Nail Care: Revlon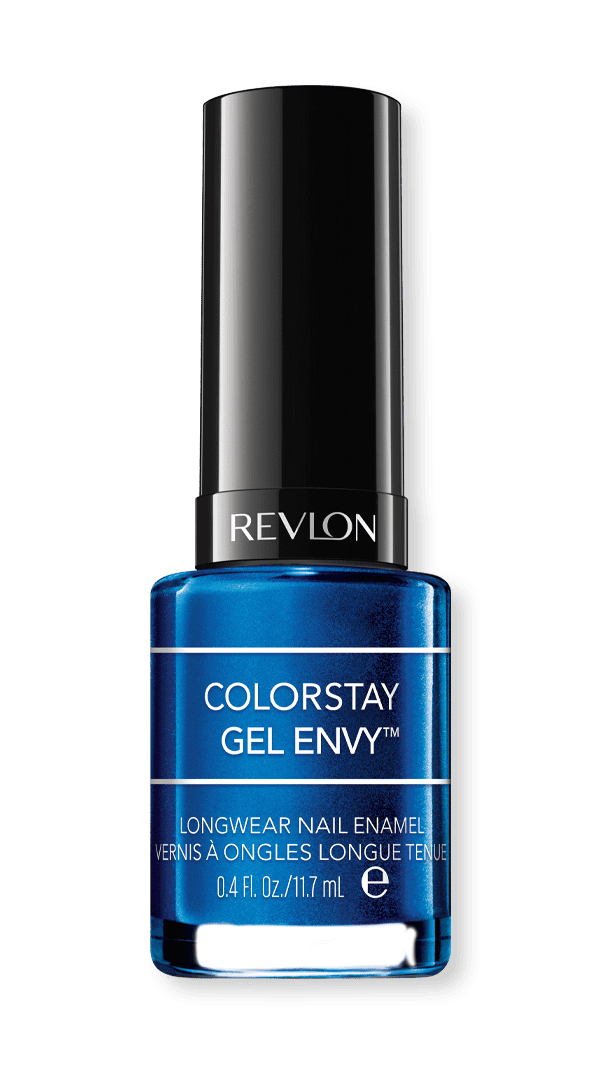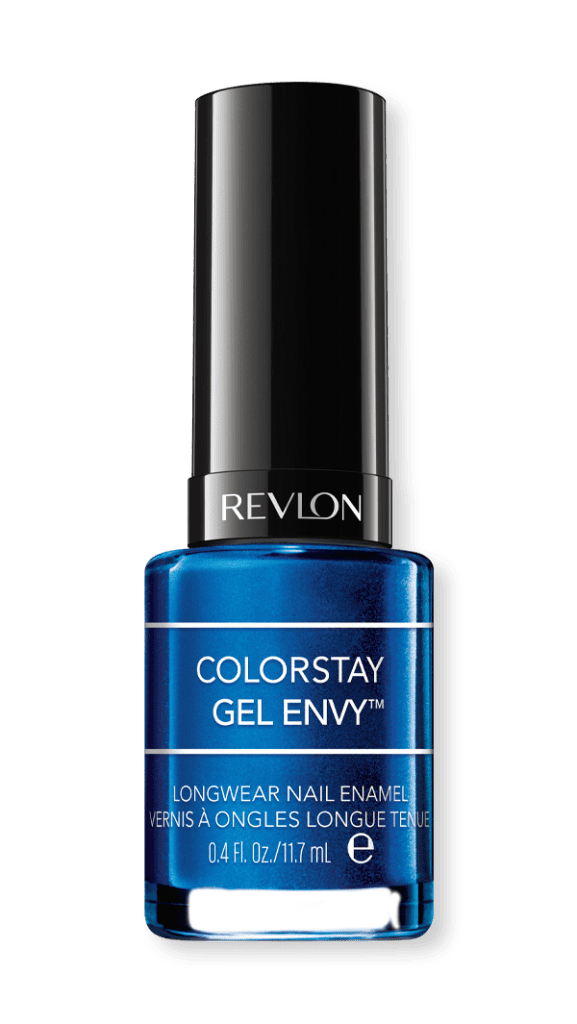 Revlon also isn't the first brand that comes to mind when I think of nail care and polish. I have some Revlon nail polish colors and their nail care items, and they all work really well. The Revlon nail polishes I use dry really quickly and are long-lasting. They come in various colors and have different effects, such as metallics and shimmery.
And since Revlon is one of the biggest global cosmetic companies, you can regularly find all their nail products at nearly every drugstore. Some bottles are small, but the color payoff is pretty impressive.
Pros
Long-lasting
Great color selection
Also sells excellent nail care products
Cons
Not the easiest to apply–can appear pretty blotchy
Favorite Formulations
Favorite Colors
What a Gem
Queen of Hearts


LeChat Nails is a brand that's getting more recognition. I suggest this brand if you enjoy getting creative with your nails. They have a huge selection of nail polish formulas and art. Or, if you're like me and prefer the traditional manicure, LeChat Nails has nearly every nail polish color you can imagine.
Unlike many of these brands, LeChat Nails is consistent with every formula. Whether you use the traditional lacquer, a glitter formula, or gel polish, every item is high-quality. The color payoff is also great; two coats are all you need for beautiful nails.
Pros
Long-lasting
Beautiful color selection
Lots of nail effects and art
Cons
Takes a bit to dry
Color can look different in the bottle
Favorite Formulation
Favorite Colors
Anubis
French Vanilla
The Red Carpet
Best for Unique Colors: Essie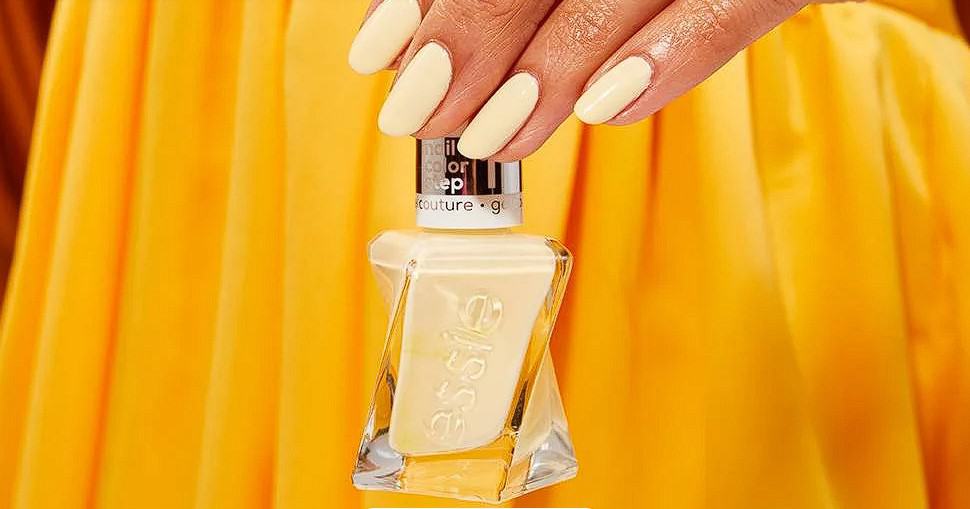 I've also used many Essie nail polishes. When I first discovered them, their colors were limited and fell more on the neutral scale. Since this brand started dominating, they expanded their color catalog and have multiple collections.
Looking through their catalog, they have so many unique shades and in-betweeners. The color payoff is also impressive; I always use two coats when I paint my nails, but one coat is honestly enough. All Essie nail polish colors I used dry quickly, but this isn't the longest-lasting polish brand on this list.
Pros
Dries quickly
Larger shade range
Unique colors
Excellent color payoff
Applies smoothly
Plant-based polish options
Cons
Some formulas chip easily
Favorite Formulations
Favorite Colors
Fairy Tailor
Matter of Fiction
Once Upon a Time
Surrounded By Studs
Putting Myself First
Best Clean Formula: Ella+Mila


I've been into clean nail polish lately, and it's so hard to find the right brand at an affordable price. I felt like I stepped into a gold mine when I discovered Ella+Mila. Their nail polishes don't contain the 17 most harmful chemicals, such as toluene and formaldehyde. Plus, all their nail polishes are vegan and cruelty-free.
While there are (fortunately) more clean beauty companies emerging, not all offer quality. Ella+Mila is different. Their polishes are long-lasting and chip-resistant. They have a large selection of gorgeous nail polish colors and a decent range of collections.
In addition to nail polish, Ella+Mila also sells makeup and body care products. While I technically never saw their products at any drugstore, their prices do fall in that category. They're also available on Amazon.
Pros
Clean nail polish
Cruelty-free and vegan
Long-lasting and chip-resistant
Lovely color selection
Cons
Doesn't dry quickly
Some colors look different
Favorite Formulation
Favorite Colors
Pour the Bubbly
La Vie en Rose
Best Nail Polish Remover: Nailtopia
Like Ella+Mila, I haven't seen Nailtopia's products at a local drugstore. However, they're on Amazon, and all the items I purchased from them are affordable.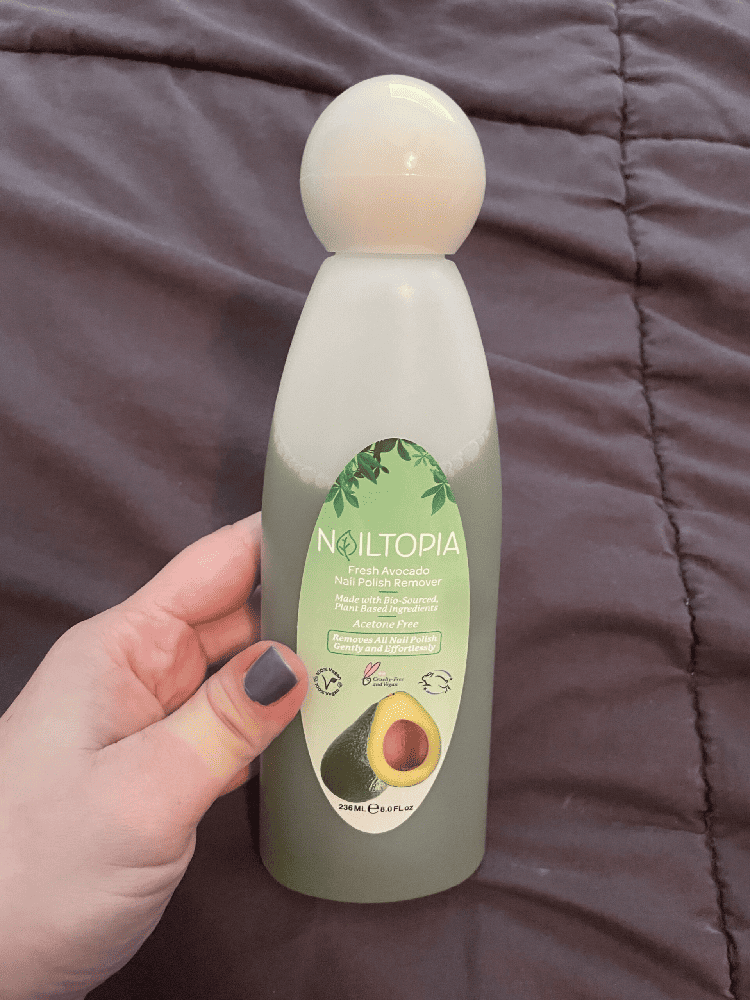 There's one product I will mainly recommend from Nailtopia–their nail polish remover. This is honestly the best nail polish remover I ever used. It takes off my nail polish with ease, even stubborn glitter. It's infused with avocado oil, and my nails feel soft after use.
Otherwise, all their nail polishes are high-quality. Nailtopia is a plant-based and cruelty-free brand, and their polishes are vegetable-based and contain 85% natural ingredients. This is the perfect polish for those with sensitive nails who can't use traditional polishes. My nails always feel stronger after using their products, and the polishes last a long time.
A big complaint I have with natural nail polishes is the brand doesn't offer a versatile color selection. However, Nailtopia offers a huge color palette that will satisfy everyone.
Pros
Long-lasting and chip-resistant
Vegetable-based nail polishes
Amazing nail polish remover
Great color selection
Plant-based and cruelty-free
Excellent color payoff after two coats
Affordable
Cons
Not the easiest to apply
Small bottles
Favorite Formulations
Bio-Sourced Chip-Free Nail Lacquer
Favorite Colors
Slay All Day
Morning Fog
Les Mess
Goodnight Kiss
Stay Inspired
Dream Big
She's Iconic
Read More: How to Find the Best Nail Polish Remover: Plus 3 Acetone Myths
Best for Nail Tools: ORLY


One thing I noticed about these nail polishes is they may have excellent color payoff and last a long time, but the polish itself is difficult to apply. Sometimes, the brush is too thin or thick. Other times, the formula is runny or clumpy.
ORLY is one of the few drugstore brands whose nail polishes have perfect application. The formula is perfect; it's thin enough not to clump but not runny. Their brushes are also wide enough to cover my entire nail. I only need to swipe the brush over my nail a few times, which prevents any mistakes.
ORLY also has some of the most durable nail polishes. They're all long-lasting and resistant to chipping and peeling. In addition to their polishes, ORLY sells an entire catalog of nail tools and treatments.
Pros
Wide brush
Easy to apply
Perfect formula
Also sells nail treatments and tools
Lots of cool collections
Cons
Not the best color payoff
Best to buy this brand on Amazon–don't always see them at my local drugstore
Favorite Formulations
Favorite Colors
Unraveling Story
Endless Night
Embrace Danger
Vintage
Bon Bon
Downsides of Shopping for Drugstore Nail Polish
I understand why drugstore nail polish is popular. It's cheap and accessible — an easy choice for many who need a new nail polish color quickly. Hey, I'm guilty of buying drugstore nail polish. But choosing convenience comes with its downsides, though new brands are bridging the gap between convenience and ethics.
Animal Testing
Do you love animals? I'm the type who loves animals more than humans. Unfortunately, over 100 million animals are used for experimentation annually — and this happens globally.
While animal testing occurs in the food and pharmaceutical industries, cosmetics is also a massive sector that uses bunnies, mice, and monkeys for experimentation. The argument is that animal testing ensures the ingredients and final products are safe for consumers, but animal testing alternatives are actually more effective. Still, not all companies and countries are on board.
Historically, China was one of them. The country required animal testing for imported cosmetics and products also underwent post-market testing. As of January 2023, China ended these requirements.
Still, that doesn't mean these brands stopped testing on animals themselves. For example, Revlon still isn't cruelty-free. As a massive beauty company, they also own smaller brands. Even if the brands are cruelty-free, you're still inadvertently supporting Revlon.
Fortunately, you still have options. For example, Ella + Mila is cruelty-free, and they don't have a parent company.
Harsh Chemicals
Drugstore nail polish brands typically use harsh chemicals and other dangerous ingredients in their products, such as acetone, formaldehyde, toulene, triphenyl phosphate, parabens, camphor, xylene, dibutyl phthalate (DnBP), and ethyl acetate. Some of these ingredients, such as DnBP, are endocrine disruptors, while formaldehyde is a potential cancer-causing substance.
Why do drugstore nail polish brands use these ingredients? These chemicals give nail polish the benefits they're known for. DnBP prevents nail polish chipping, and toulene helps nail polish dry quicker.
Fortunately, many drugstore brands see the demand for clean formulas. For example, Sally Hansen has their line Pure that's 16-free and vegan.
Large Corporations
Do you like supporting small businesses? I know I do! Unfortunately, most companies sold at drugstores are major corporations–or at least they're known by one (called the "parent company"). While buying from a large corporation isn't bad, I think we can all agree that small nail polish companies deserve some love, too.
Fortunately, many small and independently owned nail polish companies are still accessible. For example, I love the brand ORLY! You can find their products on Amazon, and I occasionally see their polishes at major retail stores like Target.
Plus, ORLY is independently and family-owned and has been since 1975. If you want to support a newer company, Nailtopia technically has a parent company (Beauty Partners), but they're still smaller than most of the brands on this list.
FAQs
Question: Does it look tacky if my fingernails are a different color from my toenails?
Answer: If so, then I'm just getting this memo now! When I started working in the beauty industry, the most important rule I learned was that there are no rules to beauty! You can paint your fingernails and toenails the same color or opposite shades.

I get pedicures every three weeks, and I let my technician paint my toenails. But I paint my fingernails more frequently than this.
Question: What is the Nost Popular Nail Polish Color Right Now?
Answer: Right now, electric blue is the trendiest nail polish color. But if you're looking for a classic, you can't go wrong with red. The trendiest colors change with the season. I'm writing this in the fall, and emerald green is the massive seasonal trend.
Question: I'm a Mature Woman. What Nail Polish Color Should I Wear?
Answer: As I said before, there are no rules for nail polish. If you want to wear electric blue, candy apple red, or lime green, wear those colors–regardless of age. But many mature women want to wear a nail polish color that makes their hands look younger. In that case, brighter colors, such as orange or peach, are energetic and will make us feel younger again. Instead of filing them square, make them rounded to make your nails look more slender.
Bottom Line
Out of all these brands, I suggest using nail polish from L.A. Colors. When I first discovered them, they were tucked in the corner of CVS or the Dollar Store. Now, they have become one of the biggest names in budget-friendly beauty.
First, they're one of the most affordable nail polish companies on this list, with each bottle costing around $3. You can find this brand at nearly any drugstore or Walmart, and they're also on Amazon. They have a huge selection of pretty colors, and the formula is good quality for the price.
L.A. Colors may not work for everyone. For example, they have limited nail care products. While they're cruelty-free, this brand isn't 100% vegan. This is why I also suggest trying the other brands on this list.