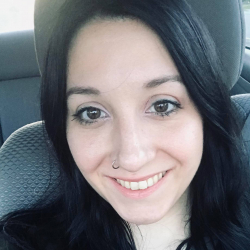 Latest posts by Stephanie Jensen
(see all)
When I think of the perfect manicure, bright red is one of the colors that come to mind. My mom always got her nails done professionally. She would sometimes take me to the salon to get my nails and toes painted. There was always an ad on the nail salon door of a woman's hand with glamorous red nails. Albeit, this was a super 80s-early 90s ad (I'm exposing my age here), but because of that ad, I always considered red and pink nails to be the height of glamour.
My mom had long acrylic nails and often got either bright or dark red polish, so I still see red acrylic nails as one of the most beautiful nail looks.
Today, we have emerged from the 80s-90s style manicure to the baddie nails. A baddie is a woman who is "always on fleek," so you better know that baddie nails are unique and eye-catching. That and coffin-shaped nails have to be my favorite. Coffin nails are long and thin, but the ends are squared off and look similar to a coffin.
Is this inspiring you to get red coffin-shaped baddie nails? Read my coffin baddie red acrylic nails inspiration guide.
Bottom line up front: I like the savage red French tips the best. These baddie nails feature everything you could want in a manicure. They have a shimmery garnet color — some nails feature French tips, and others are full sparkly garnet. Most of the nails also have jewels in various shapes, sizes, and colors.
How I Chose These Looks
There are so many red coffin baddie nails out there. However, I set specific criteria when selecting these looks.
Shade of Red
There are so many shades of red that look amazing on coffin baddie nails. Bright red is an obvious choice, but red maple for the fall, cranberry red, and festive holiday red are other examples that look amazing on baddie coffin nails.
Professionally Done or Press-Ons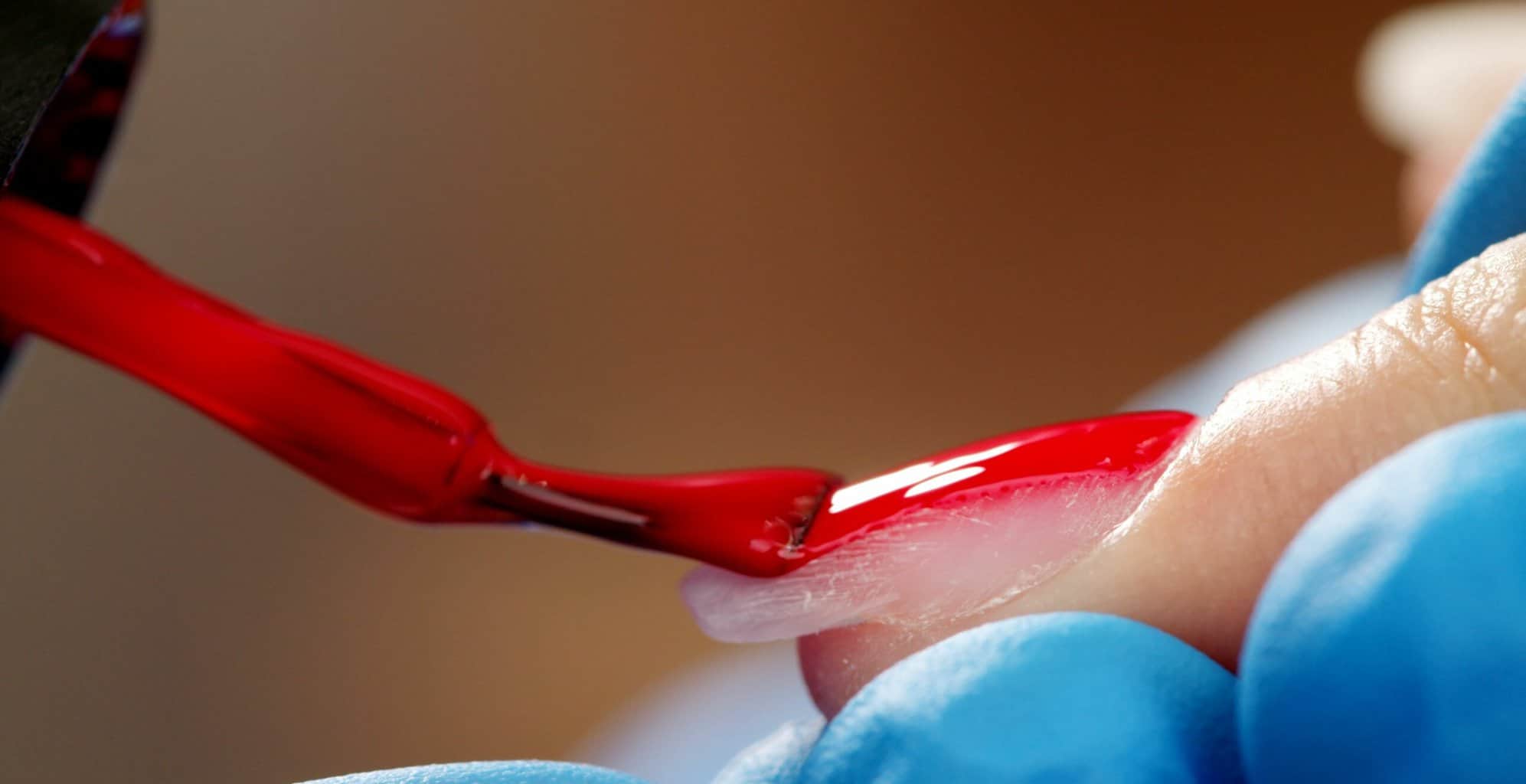 You have two options when getting red coffin baddie nails: getting your nails professionally done or using press-on nails. I tried to include both types here because everyone has their own preferences. Press-on nails are best for those who want DIY baddie nails that they can do at home. However, I would always get my acrylic nails done at a salon. This option is more expensive, but you have more flexibility, salon acrylic nails last longer than press-ons, and there are so many shades of red that you can choose from.
Extra Colors, Designs, or Gems
You have more creative options for your nails now than ever. While certain timeless effects, such as glitter, are still popular, you have many more to choose from. Salons can offer different designs, gems, and crystals to make your nails more glamorous.
Plus, your coffin baddie nails don't have to be just red. You can mix different colors with your coffin baddie nails to take your red nails from simple to chic. I love how black and white look with red, though yellow, green, orange, blue, beige, and gray also look great with the color red.
My Favorite Coffin Baddie Red Acrylic Nail Looks
Are you ready to get the coffin baddie red nails you always wanted? Here are my favorite looks on Instagram!
If you're looking for a Valentine's Day manicure, choose a look like this one. Every nail is different; two feature red heart designs, one has French red tips, and another nail has red gems. These nails are super cute yet luxurious and are festive for Valentine's Day. Keep in mind that you will likely have to get these done professionally unless you can find a similar look available as press-ons. Even so, you'll have to attach the gems yourself. Credit: @xxnailsbyjas.
This look is everything! These nails are in one of my favorite shades of red ever — garnet! Garnet is a dark, strong shade of red. Most of the nails here feature a shimmery garnet color as French tips, while one pinky is full sparkly garnet red. A couple of the nails have different colored and sized gems to make this manicure look fiercer. Since I'm writing this during the fall, I think this is the perfect fall nail look. Credit: @hairlauranails.
This nail look features various different-sized red jewels on different fingers. There are red glitter accent nails on each hand, and one nail has French tips and a white floral design, but the red jewels make this look more extravagant. If you want red baddie nails for spring, I recommend this look for the floral design alone. Credit: @nails.by_drea.
If you want something simpler than the looks I mentioned, I suggest something like this. Some nails are red French tips while others are fully red, and you can find this style of press-on nails nearly anywhere. But the jewels here are really what make these nails stylish; however, you'll have to glue on these jewels yourself. Credit: @baddieb_nails.
If you want a simpler baddie look, the famous red manicure is always a staple. I've had this look several times, and so has my mom. The red manicure will always be my favorite nail look ever. The best part is you can find red coffin press-on nails anywhere — no need to go to the salon. But if you do decide to go to the salon, you still won't be disappointed. Credit: @natutrend_beauty_mua.
All of these nails are different. While you have fully red nails, one is full red sparkle, another has red sparkle tips, and the accent nail has a line of red crystals. I can see this look working as holiday nails. This is the perfect look if you want red baddie nails that are elegant. Credit: @_nailsbynix.
This is a great simple nail look if you want everyday nails that look glamorous. All of the nails are cherry red except for one silver glitter accent nail. If the silver is too much for you, I suggest doing a brown or beige accent nail instead. Credit: @rochanails.
I also love this nail look for the holidays, especially if you still want something on the savage side. These baddie nails are all a beautiful matte shade of red except for one accent nail, which has a gold foil design. The gold foil design will also transition to the New Year well. Credit: @rochanails.
I love these baddie acrylic nails. First, they're not terribly long. Even when I had acrylic nails, I didn't like my nails too long because I'm a writer. These are great nails if you want the coffin baddie look but don't want extremely long acrylics.
The shade of berry red here is one of my favorite colors of all time. Because of the red flower gems, this look is perfect for spring. But you can always forfeit the floral gems and stick to the small rhinestones at the cuticle, which still makes this manicure great for the holidays. Credit: @rochanails.
I love this combination of red with metallic silver chrome. The small rhinestones at the base of the accent nail scream baddie but still aren't too extra. Credit: @rochanails.
If you do want something long, check out these nails! There are no designs, gems, or anything crazy. Just a classic red color, but the long coffin design still counts these as baddie nails. The shade of red used here is a hypnotic fiery red, which is one of my favorite colors ever. Credit: @missnailie.
If you truly want something luxurious, check out these baddie nails. The rhinestone designs really make this manicure stand out, but I also love the red ombre tips. Credit: @cynthia_nails_rodriguez_.
Here's one of my favorite shades of red again — berry red! Two of the nails have a gold foil design with glitter that looks amazing. A couple of the nails also have gemstones. Because of the gold, these nails look perfect for an event like homecoming or prom. Credit: @nailssbycas.
If you love Halloween (like me) and still want baddie nails, I recommend this look! I'm not a fan of long nails, but I may steal this look, too. One nail features spooky Ghostface from Scream, another one has stitched French tips, and the other has what looks like blood stains. You'll definitely want to go to a professional for this look. Credit: @nailedby_lyss.
The alligator nail trend is really interesting. I like how the model has the red alligator print as French tips. One nail is also fully red alligator print, and one nail has corner French tips. These are unique nails and are perfect for a date night or for the fall time. Credit: @nailnesha.
If you want another croc idea, I suggest a look like this. Here, the nail technician actually painted on the croc design. The nails are red, and the croc design is pink. The nails are detailed but are subtle enough for daily wear. The nails are super long, so they have serious baddie energy. Credit: @thanailbarb.
Do any other 90s kids remember that leaf nail design? I would see that leaf design everywhere in the 90s and 2000s. I totally had that design on my homecoming manicure! Either way, most of these nails are solid red coffin nails, with one nail having red triangle French tips and another nail having the 90s leaf design. The nails are also on the short side. They're understated but are still pretty. Credit: @alezcanails.
Who said your red coffin baddie nails need to use red polish? Why not glue red jewels on your nails? There are red jewels are various sizes and shapes here, and they're all attached to nails with black French tips. I used to get black French tips all the time, and I love the way the red jewels look with this manicure. You can always use a different color if black is too intense for you. While this is a great fall manicure, I can see this look working any time of the year. Credit: @sandyzznailz.
I also used to always see that flame design throughout the 90s and 2000s! If you want a red and black baddie nail look without the gems, I suggest a look like this one. These nails feature red and black gradient French tips with one accent nail featuring a black flame heart. This is a great Halloween nail look, but it can also work if you want something edgy for Valentine's Day. Credit: @nailsbylana.
FAQs
Question: How do I Get Coffin Acrylic Nails?
Answer: To get a super sharp coffin shape, I suggest using scissors. Cut the nail down at an angle. Be sure to cut slowly and be careful that you don't hurt yourself. File the nail, so it's smooth.
Question: How Long do Coffin Acrylic Nails Last?
Answer: Coffin acrylic nails last as long as other acrylic nails — two-to-three weeks. I would always get a fill after two weeks; otherwise, my nails would start looking bad.
Question: I Don't Like Coffin Nails. What are Other Nail Styles that You Recommend?
Answer: Here are some of my other favorite nail cuts and shapes:
Square
Round
Oval
Squoval (square-oval)
Almond
Stiletto
Bottom Line
Out of all of these looks, the savage red French tips are my favorite. I love all of the different styles that each nail has. They're so creative, with the shimmery color, French tips, and different jewels. Plus, garnet has to be one of my favorite shades of red of all time. The nails are on the short side, which I prefer.
The only downside to these is you'll have to get them professionally done. If you prefer press-on nails, I suggest going for classic red baddie coffin nails. You can find this look nearly everywhere. I also listed some manicures that work for different seasons, so you should also consider those looks.
Continue reading:
Coffin Ombre Nails Inspiration and Ideas: Add Some Color to Your Nails
Black Coffin Nails Inspiration and Ideas: A Guide to Dominating the World With Your New Nails