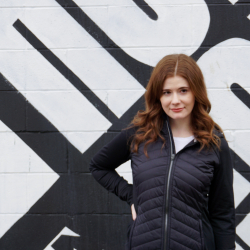 Latest posts by Kelsey Purcell
(see all)
Classic nude nails are timeless, and they're a lot more versatile than you may think. It's so tough to choose a nude nail because so many shades can fit the nude category, and design options are limitless!
Nude nails are easily my go-to choice for color. I love the simplicity and elegance of the style. I love keeping my nails a solid nude with an accent nail, and despite how often I think I'll change it up at my next nail appointment, I always gravitate back to the nudes.
You can get all over nude, or go for embellishments, accent nails, and patterns to add some extra elements to the look. Whichever way you go, it's bound to look fierce and stunning.
Bottom Line Up Front
What's nude to me may not be nude to you! I have fair skin with pink undertones – to the point where I'm basically translucent – so I stay close to light nudes that are slightly tinged with pink. But for someone with olive skin, the pink may look off, and if I used a nude that suits a deep skin tone, it wouldn't look like a nude on me.
So, I'm going to include all kinds of nude nail ideas and inspiration so you can find something for you – no matter where you fall on the spectrum of skin shades and undertones.
I won't leave out any of the unique design elements that you can experiment with and adapt to your favorite shapes!
Criteria for this List
I'm breaking down this list in skin tones – while undertones are important, there is a misconception that all nudes are beige, so I want to make sure you can see how nudes look on medium and darker skin. This includes shades like dark taupe, caramel brown, and milk chocolate brown.
The breakdown goes by:
Nude nails for fair skin
Nude nails for medium skin
Nude nails for deep skin
Even if you're looking for inspiration for your specific skin tone, keep an eye on the other items on the list to draw ideas and apply them to your next nude manicure.
Nude Nails for Fair Skin
Nude and White Swirl Nails

With accent swirls of white on a few select nails, this version of the nude nail is the perfect blend of pinky-nude and delicate design. The end result is a dainty nude nail that fits your everyday life and nights out at events.
You can also change the swirl pattern to a colour that's a little more drastic – something bright, metallic, or glittery for a glamourous statement.
Simple Baby Pink Nude Nails

This nude shade is made for those of us with fair skin with pink undertones. The pink in our skin makes the colour look less pink and more skin-toned, making the colour look completely natural on your nail. For those with darker skin or fair skin with neutral or warm undertones, this shade will look particularly pink, but there are versions of this hue that are light and simple.
Even the strictest of workplaces can't find fault with the professional, understated look of this nude nail.
Peachy-Keen Nude Nails

Nude nails can still be playful – these adorable fruit accents are charming but subtle. You can represent your favourite fruit and go as bold as you want, but I kind of like this minimalist pop of colour.
I like that you have to look closely to see the design; it catches people's eye and makes them want to look more intently, but it is still a fun little secret boost of sunshine to get you through the days.
Gold Tip Nude Nails

No matter what nude you choose – light pink or dark chocolate – a gold tip is a touch of glamour you can't ignore. You can add a thin line of gold or a complete French-tip for a statement design that's simple and minimal.
Gold looks stunning on neutral and warm undertones, but if you have cool pink undertones, you can switch to silver for a steel style.
Glittering Nude Nails

Manicures and glitter go together better than anything else. It adds dimension to your nail and makes a simple all-over colour look anything but boring. This version is the perfect nude with some pink laced in, but there are warmer versions of this look to try.
A youthful play on the nude nail trend, you can make this style your own with accent nails and the size of glitter polish you use.
Nude Nails for Light-Medium Skin
Leopard Print Nude Nails

Leopard print is a nude in my eyes! You can build on this nude base with a leopard or cheetah pattern, depending on which is your favourite animal – it's up to you whether you take all your nails over to the wild side or use accent nails to make a statement.
Add other colourful details, embellishments, or create dramatic shapes to create the ultimate set of nails.
Nude Marble Accent Nails

Warm caramel is one of my favourite nudes – and this style with the marble accent nail is my favourite version! The elegant design uses a mix of white and nude for this version, but you can try to mix other colours to create a marble nail that's unique to your style.
You're not tied to the rectangular shape. This design would look amazing with a long ballerina or stiletto nail or a short almond or squoval shape.
Gradient Nude Nails

It's almost impossible to choose just one nude shade for your manicure! Luckily, gradient styles are on-trend, so you can add different hues on every finger. Choose your colours carefully, or have your nail professional guide you! A colour could look darker or lighter in the bottle than it does on your nail.
Doing your nails in this design a few times is also effective in helping you choose a favourite nude for your future manicures.
Touch of Neon Nude Nails

Just because you're getting nude nails doesn't mean you have to stray away from colour! A touch of neon can brighten up any nude nail, and in this matte version, the small streaks of colour really pop.
If you're not a fan of neon, you can take the concept and adapt it to your favourite rich colours or muted shades. The ballerina shape really gives you more nail space to design, but you can achieve a similar look on shorter nails if you prefer.
Nude Nails for Medium Skin
Milk Chocolate Nude Nails

As skin becomes deeper and deeper, rich nude browns replace light beiges and pinks. These milk chocolate glossy nails suit medium-deep skin perfectly. They're a simple style but are the best choice if you have to have clean nails for your professional life.
If you have warm, dark skin, this light chocolate shade will look fantastic and natural on your skin.
Heart Swirl Nude Nails

Use nudes and browns to create shapes and texture, and if your nails match your phone case, you can't go wrong! These swirly hearts and dark nude tips make a happy, '70s-inspired look – add some gems and jewels to bring a contemporary element to the design.
Change up the texture by using a matte topcoat instead of a gloss.
Sharp Gold Nude Nails

The gold line in the middle of this nail design looks like a shiny, sharp pinpoint. This bright nude and gold are a neutral look you can't ignore. It's a simple look that has a metallic line of luxury. You need a steady hand or some nail tape to get crisp lines, but the meticulous detailing is worth the result.
Replace the gold with a silver, rose gold, or bold black to drastically change the nail's style and suit your mood.
Nude Nails for Deep Skin
Dotted Nude Nails

Adults can pull off the polka dots tool! Your dotting tools will come in handy if you're doing this design yourself – use several sizes to create a beautiful illusion. Stick to a few accent nails or cover all your nails in dots.
These alternating nudes make a cohesive style that looks playful and elegant at the same size. Polka dots also looks stunning on short nails, so don't feel intimidated by long ballerina nails.
Matte Mixed Nude Nails

Who says your nails have to be all the same? This set has a variety of colours and shapes to channel some creativity and embrace a chic style. A matte nude set, this manicure mixes several neutral and nude shades on the short ballerina and stiletto nail shapes.
You can adapt this blend of several nudes to complement any skin tone and create a modern manicure you can try in any shade.
Bright Sparkle Nude Nails

Not every nail needs to be nude! Make the colour you add to stand out even more with a nude base, then add your vibrant hues to a few of your nails. Whether you choose a bright, glittering coral like this or a rich deep colour instead, the nude is a grounding shade that makes the colourful nails even more impactful.
FAQs
Question: Are Nude Nails in Style?
Answer: Nude nails are a timeless style that is appropriate for any occasion. Nude nails are ideal if you're in a strict workplace, but they're also a chic option for weddings, events, nights out, or beach days. They're probably one of the most versatile manicure styles you can get.
You can adopt the traditional all-nude manicure or add modern touches to make the final look more trendy. Either way, you're never going to go wrong with nude nails.
Question: How do I Find the Right Shade of Nude Nail Polish?
Answer: Experts equate choosing a nude nail polish with choosing a shade of blush or lipstick – you should have a basic understanding of your skin's undertones. Looking at your visible veins can confirm it if you're not sure. If you have blueish veins, you have cool undertones, and if they appear green, you likely have olive or warm undertones.
But your nude nail polish doesn't have to match your skin's shade perfectly. A little bit of contrast is appealing to the eye. It's important to play around with multiple shades and different layers of polish coats to find the best fit for you.
You can always go to the salon and ask for advice if you don't do your own nails often – they've seen it all and have every shade you can imagine. They can guide you in the right direction.
Question: Do Nude Nails Make Your Hands Look Younger?
Answer: Nude nails are an ideal choice to keep your hands looking young. Having painted nails keeps the attention on them rather than on your hands themselves – in particular, nude nails go a long way in brightening up your hands.
Keep your hands looking young with lots of moisturizers, cuticle care, and SPF. You'd be surprised how much your hands can show age.
Bottom Line
Nude nails don't have to be basic! If you love the simple styles like I do, they're a versatile choice if you prefer to have your nails done but keep them looking clean. But nude nail designs still let you embrace your most creative self and incorporate nude nails in a fun, stylish, and modern way.
If you want to start small, changing the typical glossy nude nail to a matte version transforms the whole manicure into a daring style of nude nails. Since I always go for the basic all nude with an accent nail with a glossy topcoat, maybe this will be my next nail adventure.
Push the boundaries of your creativity with your next nude manicure by trying something new and unique!
Continue reading:
Matte Nails Inspiration and Ideas
Almond Acrylic Nails Inspiration and Ideas: 25 of My Favorite Designs
Purple Ombre Nails Inspiration and Ideas: Concepts to Check Out Before Your Next Salon Visit