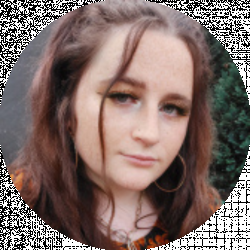 Latest posts by Lou Siday
(see all)
Square nails are always a popular choice when it comes to manicures because of their sleek and sophisticated look. They refer to when the nail is filed straight across the top, creating a square shape. Square nails are a pretty iconic look, and you are able to incorporate a range of designs into the manicure. So, let's look at my top picks for square nails inspiration and ideas that are perfect for the season!
Square Nails Up Front
Square nails are super versatile, and you can create so many different designs using them as a basis. My favorite on this list has to be the dreamy square nails by Nuka Nails. I love the detailing in the clouds, and it really shows us that nail art IS art!
Selection Criteria
When picking what square nails to include on this list, I wanted to showcase the range of trends you can include in this manicure. The square nail shape allows for both long and short nails and is a perfect base for interesting nail designs.
I have included a mix of DIY suitable manicures and more complex designs, so there really is something for everyone when it comes to square nails! The manicures I have chosen have come from the best nail artists around the world, done at the highest standard.
I hope you enjoy my list of square nails inspiration and ideas and find your perfect manicure!
Short Square Nails
The square nail shape is probably the best choice when you want to keep your nails short. They add shape and intrigue to your nails but still allow for a very short manicure.
Let's look at my top pics for short square nails.
Red Short Square Nails
I love this red shade and the subtle glitter in the gel! It is a simple yet sophisticated manicure, using a short square shape as a base. A go-to manicure if you are looking for something a little bit more glamorous than usual.
Hot Pink Square Nails
This manicure is bold and summery, using a vibrant hot pink color for the nails. The short length of the nails creates a low-key vibe, but the bright colors liven things up a bit. The perfect choice if you like a bold mani but need to keep your nails short.
Glitter French Tips
I always think that the French manicure really suits a square nail because of the contrasting shapes. This short square manicure pulls it off perfectly, with the striking square shape enhancing the French tip design. I love the glittery color, too! It is really fun and bold.
If you want to recreate this manicure at home, I would suggest purchasing some French nail tape. This curved sticky tape allows you to section the tips of the nail that you wish to paint, creating a clean line.  Remember to apply a top coat after, too!
White Square Nails
I am not going to lie; I've never really been a fan of white nails. I find them pretty boring, as there are so many fun colors to choose from! However, this manicure is simply stunning. There is something effortlessly cool and modern about it, with a short square tip and a white gel polish.
The nail artist has opted for a matte coat on these white square nails, which adds another level of chic to the manicure.
Gold Square Nails
Just because you are keeping your nails short doesn't mean you can't go extra. I am properly in love with this manicure by Nuka Nails. Every time I check out their page, I am drawn to it, but I have never been able to include it in an article until now! I haven't seen a manicure like it, and I love how the gold square enhances the shape of the nails. Each nail has a different color, with a fun smiley face painted onto one of the nails. It is a really innovative and interesting design!
Tie-Dye Square Nails
This is another manicure from Nuka Nails (you can tell I am kind of obsessed with them, right!). They have blended different rainbow colors together to create a tie-dye effect, then added decals onto each nail.
A playful manicure that is perfect if you are looking for something bold in the summertime!
Long Square Nails
Long square nails are fabulously extra, although maybe a bit hard to get used to if you have just got them done! They are the go-to manicure for so many celebrities and look chic, glamorous, and very cool.
Let's look at my top picks of long square nails that are trending right now.
Light Blue Long Square Nails
I really like this manicure that uses negative space to create a futuristic and fun design. The light blue feels really fresh, and the interesting shapes create a unique design.
This might be a bit difficult to recreate at home, but if you have nail art tools and a steady hand, give it a go!
Cherry Square Nails
This manicure is super cute! The nail artist has applied a white gel to the square nails and then hand-painted the cherries onto the ring fingers. It is a pretty simple idea but has stunning results.
If, like me, you aren't that great at hand painting nail art, get yourself some stickers to add to your manicures. You can pick up some cherry nail stickers pretty cheaply online, and they are easy to apply. Remember to put on a topcoat over the stickers to make sure they stay in place!
Brown and Nude Square Nails
I really like this sophisticated manicure, using a range of brown and nude tones to create a neutral yet interesting design. This manicure is a great choice if you want nails that are versatile when it comes to styles and clothes but aren't wanting anything too boring!
White French Square Nails
This chic manicure uses the French nail design with long square nails, exaggerating the French tip length. They are neutral and simple, perfect if you want to add length to your nails but do not want anything too bold.
Lilac Square Nails
I see the lilac color everywhere right now, from fashion to nails, and I really like it! It is fresh and light and the perfect shade for the warmer months. This square mani is beautiful and so well done.
White and Glitter Square Nails
This milky white color is really interesting and is created with the soft white core powder by Glitterbells. I am a big fan of this store, and the nail artist behind it, as they always seem to be behind amazing nail art trends I see online!
The addition of the glitter around the base of the nail makes the manicure extra glam, and Annabel has mixed it really well into the soft white color. Beautiful!
Rainbow Fade Square Nails
These rainbow fade square nails are stunning, and I would love to have this amount of nail art talent! The nail artist has blended a range of colors together on the tips of the nail, leaving the rest of the nail natural. They have then blended the colors down, creating a beautiful fade effect. A bold, summery look that is party-ready!
Gem Square Nails
This glitzy manicure is the perfect mani if you have a big event coming up and need that extra pop of glam! The nail artist has kept the long square nail nude, then added a range of gems to each nail. I am a big fan of gems and sequins when it comes to nail art and will always add one or two to my DIY manicures. We all deserve some shimmer and shine in our lives!
Square Nails With Designs
Most of the square nails I have included so far are pretty simple and easy to do at home. However, if you are looking for unique designs for your next salon manicure, we have you covered! Let's look at my favorite square nails with designs that are popular right now.
Love Heart Square Nails
These short square nails are super cute, using a nude base for hand-painted love hearts. If hand-painting isn't for you, get yourself some love heart nail art stickers to add to your nails to recreate this stunning design!
Mix and Match Square Nails
I always love to see mix and match nails on my Instagram feed, as they showcase different trends and tend to give me a lot of ideas for my own manicures. This manicure by Sudan London keeps the square nails short and adds a range of trends to each nail. I love the evil eye design on the little fingers, and the cow print French tips are very cute!
Pink Flowery Square Nails
Another short square set by Sudan London, this manicure keeps things fresh and girly by adding cute flower decals onto the middle nails. They have then matched the colors in the flowers with French tips on the rest of the nails, using a range of pinks.
I love the light, bright pinks used in the manicure and how the rest of the nails are left natural!
Retro Flower Square Nails
If all pink flowers are a bit too much for you, there are so many different ways you can incorporate flowers in your square nails manicure! The colors used in these flowers feel really retro and summery, mixing blues, pinks, and yellows together.
If you want to recreate these at home, get yourself thin nail brushes and a nail dotting tool. They allow you to paint the flowers onto your nails if you have a steady hand!
Dollar Square Nails
These nails are super cool, using a nude base for the dollar logo. The manicure is vibrant and fresh, using different colors for each dollar sign. Because of how big the design is, it may be pretty easy to recreate at home with a thin nail art brush. Grab yourself your favorite colors and have a go yourself!
Dreamy Square Nails
I am totally in love with this manicure by Nuka Nails. The cloud background is so stunning, with an amazing amount of detail. I can't believe these were handpainted! So much skill was needed to create this manicure, from the clouds to the swirling lettering. I also really love the Y2K vibes the nails give me — the manicure makes me wish I was flicking through a noughties Smash Hits magazine. I am in total awe right now!
Abstract Square Nails
Abstract nails are super popular right now and refer to when nail artists play with shapes, lines, and dots to create interesting and unique designs. Abstract nails are a great choice when you are doing your nails at home, as they allow you to express your creativity with your nails! Oh, and because they are abstract, they can't really go wrong.
Let's have a look at some cool abstract nails to give you inspiration and ideas for your next manicure.
Monochrome Abstract Square Nails
These nails are pretty edgy and sophisticated, yet stills nod to the abstract nail art trend. The swirling black lines create interesting shapes and patterns on the nails, and I really like the monochrome color choice.
If you want to recreate these at home, I would recommend buying some gel nail art pens. These allow you to apply swirls onto your nails with ease as they have a really fine tip. After adding swirls to your nails, apply a top coat to get a shiny look.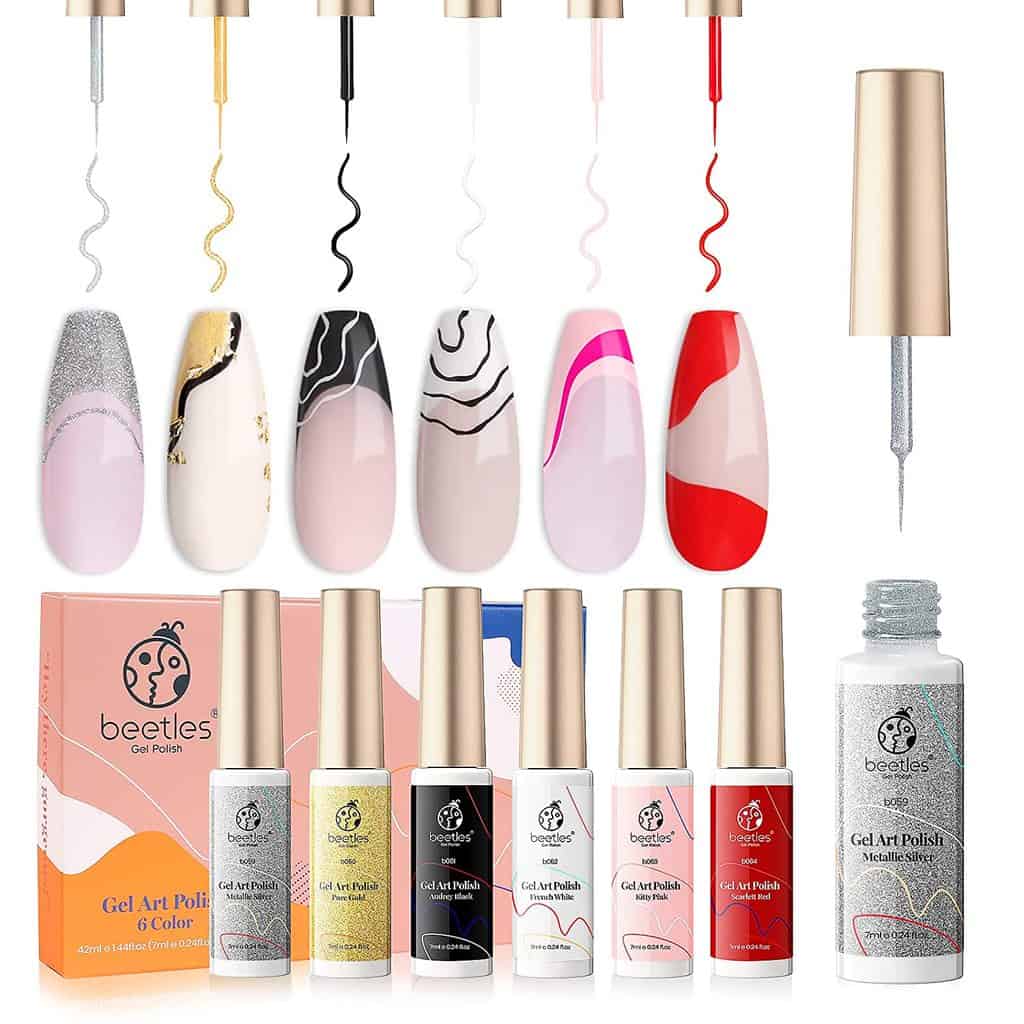 Mix and Match Abstract Square Nails
Another design that can be recreated at home with gel nail art pens, this manicure is really cool. I love how every nail is different yet sticks with the abstract black and white theme. It's very funky and is a really fun manicure to try out at home!
Negative Space Square Nails
Negative space goes hand in hand with abstract nail art and refers to when some of the nails are left without color, with swirls and lines creating unique designs. I am a big fan of this trend and really like this manicure that uses neon colors on the tips and base of the nails.
The nail artist has opted for a nude color as a base of the design instead of leaving the nails natural. This is a good choice when working with negative space nail art as it allows a clean and solid background for the work. Plus, it hides any imperfections that you might have on your natural nails.
70s French Tip Square Nails
I cannot get over this amazing manicure! The nail artist has put a fresh and fun twist on the traditional French tip trend by exaggerating the tips and adding 70s swirls. I love the 70s swirls (I am a big fan of anything retro), and they are done so well! Beautiful stuff.
Square Nails FAQS
Let's look at some questions you might have about square nails.
Question: Are Square Nails More Likely to Break?
Answer: Because of their shape, square nails are more likely to break over oval or almond shapes. However, if you look after them well, they will last a long time!
Question: Which is Better, Square or Round Nails?
Answer: The choice between these two nail shapes is really down to your personal preferences and lifestyle. You may also wish to look at your cuticle line and try out shapes that match it.
Question: Are Square Nails in Style in 2022?
Answer: Square nails are definitely in style! Because of their Y2K vibe, the square shape has been super popular recently.
Question: Can you Change Square Nails to Almond?
Answer: Square nails can easily be filed into different shapes, such as almond and oval. This means that when you get square nails done, you don't necessarily have to stick with the shape!
What Square Nail Trend Will You Try Out?
I hope you have enjoyed this article full of square nail inspiration and ideas! There is so much to choose from when it comes to this nail shape, so I hope I have included a range of trends, so there is something for everyone.
Which square nail design is your favorite?
Continue reading:
Ballerina Nails Inspiration and Ideas
Almond Acrylic Nails Inspiration and Ideas: 25 of My Favorite Designs
Short Almond Nails Inspiration and Ideas: The Hottest Designs for 2022