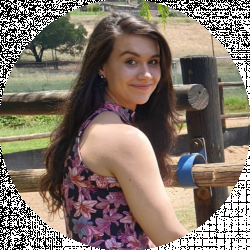 Latest posts by Christine Kent
(see all)
Cats represent all aspects of man's nature, good or bad. This includes strength, elegance, majesty, and other remarkable qualities. It can also portray anger and jealousy. No matter what it illustrates, it has always been a big part of the fashion industry. From drawing cat faces on dresses, skirts, and trousers to wearing big prints of cats, just like Gucci's Pre-Fall 2016 collection. You can witness cat-inspired looks everywhere in all seasons. So, guys, let's start creating a unique version of cats on nails.
As a pet lover, I have many pets in my home, from dogs and birds to cats. So, whenever I think about nail art, I take inspiration from animals or my pets around me. In December 2021, I decided to add a tiger print on my nails, and I failed. #bad experience. Last month I created cat eye nails, taking inspiration from my Persian cat with hazel green eyes. I created this nicely with the first attempt. Trust me, girls, no one can tell you about cat eye nails inspiration and ideas better than a pet lover like me. Before wasting time, let's start.
Bottom Line Upfront 
Cat eye nail designs do not create a print of the cat's skin like other animal nail art designs do. Instead, it aims to introduce a unique version of the cat look. It creates a metallic detailing with a swirly design that cuts the nail from the middle just like the eyes of a cat. I recommend you to try the Galaxy Cat Eye Nail Design. Not only because it looks beautiful, but it makes you look at the world with different eyes. It makes you appreciate the beauty in life. Girls! Let's crackdown on some trendy cat-eye nail inspiration and ideas for you today.
My Top Picks
My Selection Criteria 
I chose the cat eye nails mentioned in this article according to the following criteria:
Cat eye nails that are easy to achieve on your own.

Cat eye nails that you need to visit a nail tech for.

Cat eye nails that are perfect for Halloween.

Cat eye nails that are great for Christmas.

Cat eye nails that are suited for students, boss babes, and house executives.

Cat eye nails that are elegant and perfect for the beach.

Cat eye nails that are perfect for girls who like to add more than one color to their nails. 
Cat Eye Nails Inspiration and Ideas

OMG! What a nail design! I can stare at it for hours and get lost in its beauty. I'm not really a fan of green, but this nail set has definitely changed my mind! Girls! This nail set is for all occasions, literally for all. I would like to get this nail set for Christmas this year. It gives me those Christmassy and comfy vibes, and I know it will look great with all my outfits. 
This cat eye nail design is easy to create, but I will rather head to my nail tech. I can't take any chances with my Christmas nails!

This multi-color cat eye nail set is simply gorgeous! I love the combination of purple, black, and gold glitter that fade into each other. I think the gems and rhinestones added to the nail set are very pretty. It adds charm and elegance to the nail set.
I'm not a fan of the golden skulls added to the ring and thumb fingernails. The golden skulls paired with the stiletto-shaped nail give me witchy vibes. On the positive side, it will make a great nail set for Halloween. 
Sadly this nail set gets a no from me. But I do love the color combination! If you are interested in this nail set, you will need to visit your nail tech to achieve this look. This design is a bit complicated to achieve if you are not an expert. 

This orange cat eye nail design is perfect for those who prefer simple and minimalistic designs but still want to stand out in a way. This nail set is elegant and attractive. It is suited for students, busy boss babes, and house executives. 
I love that it is minimalistic and bright. Sadly, I hate the color! Orange has never been a color that I like. It reminds me of oranges or tangerines. And I don't want to walk around looking like I have fruit on my fingers. This is just my opinion, girls. If you love the color orange, then get this nail design!
Besides, if you know a little about cat-eye nails, you don't need to visit the salon. As this set represents the basic version of cat-eye nails. What are you waiting for, girls? Go try out this nail design! 

The combination of parrot green and black looks so beautiful. Green is now highly in trend. Gone are the days when people were so picky and selective about green. Now green is the new black.
I agree green and black look good together, especially in this cat eye nail design. But it gives me Fiona from Shrek vibes. Don't judge me! It just looks like something she would have worn if she was in the real world. But I think we all can have a Fiona moment here and there. What do you think? 
I will definitely head to my nail tech to achieve this nail set. 

Can I just say, Wow! This is one of my favorite cat eye nail ideas. Why, you might ask? The cat eye nail design is created by using light pink and silver glitters. The perfect combination, in my opinion. This nail set gives me ballerina vibes. Maybe it's because it looks so classy and elegant. I can actually see a ballerina wearing something like this. 
It also reminds me of the famous Hailey Bieber nails. It is definitely the shape of the nail and the shine that makes it appear this way. I absolutely love this nail set. It is a set that I would wear to any occasion. Whether it is to the office for an important meeting or to a classy event. I know this nail set won't disappoint. This nail set is so easy to achieve if you have your desired color and glitters.

This cat eye nail set is so beautiful it is hypnotizing. The colors used in this design remind me of the galaxy. And who doesn't want the gorgeous galaxy at their fingertips? I love how the nail set has basically 3 colors in one. When you quickly look at the nails, it looks black with a little added green glitter. But if you turn your hand, it makes the colors change, and the nails can look purple or green with a black base. Magical! 
It is a bit challenging to create at home. Inspired by the trend, I tried it with my sister's blue nail paints, sky blue, and navy blue. I didn't achieve it and tried again until the bottles were empty(Shhh, let's keep it between us). So, I'm definitely heading to my nail tech to achieve this cat eye nail design to perfection.

How can I forget to add the combination of black and gold to the list? The cat eye nail list will just not be the same without it. It reminds me of the nails I got for my friend's birthday party after graduation. I created it at home without spending money as I lived on my savings. #Harsh reality of life.
If you have these types of issues and you are out of budget, you need to create this. It looks so attractive, beautiful, and mesmerizing, and I hope you definitely love it. Start with a black base, add golden shimmer and adjust with a magnet to the desired place. Get an expensive-looking cat eye nail design for less. It is always the best. 

Like all girls, I am obsessed with butterflies. They symbolize change, freedom, and transformation in life. Since childhood, my bed, pencil cases, dresses, and all my wardrobe were full of butterflies. Now at 23, I still love butterflies, but instead of adding them to my room or clothes, I add them to my nails. 
This is one of my favorite nail arts, and it gives me vibes of Disney princesses. These multi-color butterfly cat eye nails give me the opportunity to get all-color vibes in one nail art. To achieve its perfection, you need to visit your nail tech as it contains significant detailing and some expertise. This nail set does not only bring different colors to your nails, but it brings something magical as well. I love it!

This cat-eye nail design looks like seashells but with royalty sprinkled on top. I adore this set and know that it will make me feel like a queen when wearing it. I love how the golden blue gems look with the gold. The little rhinestones and gold glitter make the nails look more elegant and luxurious. 
The oval shape of the nail just makes it look like royalty even more. I imagine my husband and me walking on the beach while I wear a golden slit dress barefoot with these nails. What a dream! This is a nail set that I will need the help of my nail tech to achieve. A queen's nails need to be perfect, don't you agree? 

Black has the quality to go with every color, whether red, sky blue, or pink. These pink and black cat-eye nails remind me of Barbie. I think the combination of the colors and the glitter gives the nails a gothic Barbie vibe.
I love how all the nails are glossy hot pink except for the ring and middle fingernails. The middle and ring fingernails have a black base with pink glitter added to the nail to form the cat eye design. I love the nail set's color combination, shape, and length. So it gets a hell yeah from me. I'll be right back, guys. I'm just going to put on Barbie in the background while I finish the rest of these exciting designs with you. 

Swirls are the most common style in the nail art world. No matter what idea you are looking for, you will come across swirls somewhere in a nail design. It is usually considered that soft and light colors are for summer, and dark are for winter. Scientifically, dark colors attract more sun rays while light colors attract less. So, if you are going to wear this nail set in summer, just opt for this idea just the way it is. For winter, choose something darker.
This set is easy to create at home with a tiny brush and a steady hand. Start with the purple shimmery metallic base and any other color you choose. Adjust it, then draw swirls vertically with soft colors like light pink and green. I love how the pink and green swirls look together on the light purple base. It is definitely a nail design I would go for. I would just get this art on one nail and keep the rest of the nails plain purple. 

If we create cat eye nails with different colors, the essence of the cat eye nail design will increase by a thousand times. You don't need to be stuck on one color; add all colors you want. Once I created this set for my friend's jungle theme party. After a few days, I had a party at my office. And yes, it suited my office party as well. This set is suited for every theme and event.
One drawback is that these nails are long, which might make your daily tasks challenging. But hey, if you can rock long nails, try out this cat eye nail design and have fun. I'm definitely going to create this nail set again soon. 

Coral stones illustrate happiness, wisdom, immortality, and modesty. Coral gemstones are highly prized, and one can't afford them. When we talk about coral stones on a nail, it is difficult to add them to nails because of their sizes and weight. So, nail artists find an easy way to get the association with these stones in life. They create 3-D patterns of stones and then add these patterns to the nails. Exactly like this nail set. 
The other method to add these stones is to direct metallic polish in a particular way. This way, you will get a stone pattern on your nails and that cat nail design. I think this set is difficult to create at home. So find the best nail tech in your town to create this look. It kind of reminds me of dinosaur skin. And I wouldn't mind having a cute little pink dinosaur on my nails. 

My favorite and my obvious choice for a nail design. As dance organizations save their best dancer for the last, the same way, I did with this nail set. I know girls, you are waiting for pink cat eye nails, so as per the saying, "Patience yields the desired results." I hope you got the desired results with this gorgeous nail set.
Moreover, this nail set is suited for any occasion, from someone's wedding to the most boring formal office meeting. If you are passionate about cat eye nails, create them at home as practice makes perfect. 
This nail design is simple, and anybody with some knowledge of the nail art world can easily create it at home. Start with a dark shade of pink. Then with metallic stone, direct the light shade of pink as per your choice. Lastly, add rhinestones to your ring finger. Simple! 
Frequently Asked Questions
Question: Are Cat Eye Nails Still in Style?
Answer: Since 2020, animal-inspired nails have been in style. Now, we prefer them way more with the mesmerizing cat eye effect. If you want to create a gradient style, just opt for the idea of a cat eye nail. The multi-color cat eye effect creates a great illusion of the galaxy.
Question: Why is it Called Cat Eye Nails?
Answer: It's a million-dollar question! Actually, the cat eye nail has earned this particular name from the horizontal line of light glitters that dissect the nail into two. The cat eye nail designs and effects are still best-selling designs in the market.
Question: How Does Magnetic Gel Polish Work?
Answer: Magnetic nail polish provides a textured effect on your nails. It does this by using metallic particles in the nail paint. The particles are then activated with the use of a magnet that is present in the cap of polish. Cool, right? 
Question: What do you Need for Cat Eye Nails?
Answer: Surprisingly, you don't need a lot of products to create cat eye nails. All you need is a gel base coat, the magnetic polish in your desired color, and a handheld magnet. That's it!
Conclusion
We are done with the cat eye nail designs, girls! You've got to be kitten me! I hope you found the purr-fect nail design that will not only suit your style but give you a confidence boost too. Girl, you deserve to feel like a billion dollars! 
I included a variety of cat eye nail ideas so that every girl out there can have a fun nail design to try out. I suggest you create the Galaxy Cat Eye Nail Design. It is beautiful and will go with most of your outfits. Oh, and the best part is that you have 3 cool colors in one! What was your favorite cat eye nail design mentioned above? Let me know in the comments below. Try out these cat eye nail designs, and have fun, girls! 
Continue reading:
Lavender Nails Inspiration and Ideas: Bring Class and Elegance to Your Nails
Cute Nails Inspiration and Ideas