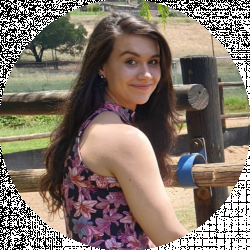 Latest posts by Christine Kent
(see all)
Are your nails looking dull and uninteresting? Then add a splash of neon color to your nails. Neon nail shades are vibrant, fashionable, and ideal for the summer months. Not just that, but elegant celebrities such as J-Lo and Rihanna are fans of this trend. As a result, these nail art are a must-have for A-List beauty and fashion fans. And today, I have a list of the best neon nail inspiration and ideas so that you can be part of this trend. 
If you still don't feel brave enough to add some bright colors to your wardrobe, try getting them done on your nails. 
I don't usually go for neon-colored nails, but when I do, I typically opt for a neon red, a white nail with neon pink detail, or a black nail with neon-colored detail. As I feel these are the colors that best suit me and are the easiest to pair with outfits. But after spending hours on Instagram looking at neon Nail designs, I must say that I have changed my mind and want to try different neon nail colors.  
Whether you're getting ready for the weekly Sunday nail paint session or need some nail inspiration for your next salon visit, I'm confident that I will have persuaded you by the end of this article that neon nails are the way to go. So let us get to the inspiration and ideas.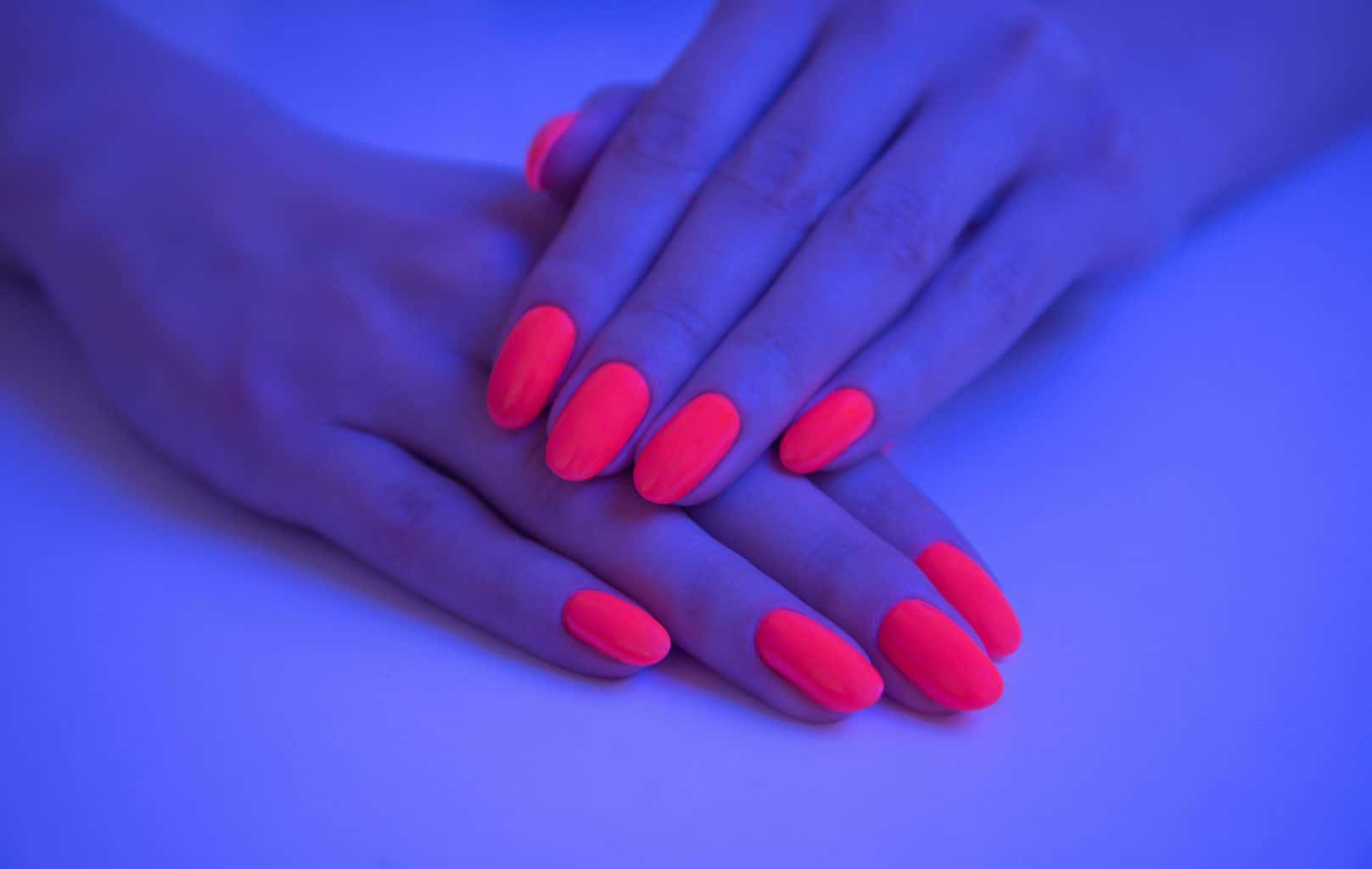 Bottom Line Up Front
Are you someone who loves to wear bright-colored outfits or bright-colored nail polish? If so, you will love this neon nail inspiration and ideas article that I have in store for you today. Not only do neon-colored nails make you look cheerful and beautiful, but it adds a certain je ne sais quoi to your look. My favorite neon nail set in this article is the Neon Yellow Lime Nails because I love limes, and although they are bitter, they make this nail set look sweet. Let us have a look at my other top picks.
Top Picks
Selection Criteria
The nail inspiration and ideas are based on the following criteria:
Being fashionable and trendy – no matter what outfit you are wearing, it will add some spiciness.

Adding classiness to any outfit – Well-maintained neon nails will always make you look put together.

Great for any event or party – you will definitely be the life of the party.

Makes you look young and vibrant – Who needs a highlighter in their makeup routine when they have neon nails that can add that glow to them?  
Neon Nail Inspiration and Ideas
Just look at this gorgeous neon nail polish look. All the nails are painted with this beautiful neon orange color with a slight shimmer as the light falls on them. This look works well on both short and long nails.  
I think that you can agree with me that orange nail polish is now the new black! Hardly anything says summer more than a coral or bright orange nail polish. Bring the warmth of summer to your fingertips!
A navy blue dress will go perfectly with this neon orange nail look in the warmer months.
The great thing about this nail set is that you can achieve the look in the comfort of your own home. I'm not a fan of this neon orange look, as I feel it won't match my introverted personality. I feel that it is better suited for someone who doesn't mind attracting attention to themselves and has a loud personality.
Wow! Isn't this nail set gorgeous? I love this nail look as it is my two favorite colors that are used. The thumb, index, and ring fingernails are a beautiful pink color, while the middle and little fingernails are purple in color. This look just gives me girl boss vibes. It also gives me Barbie vibes with the pink and purple colors that are used. A lady wearing this nail set will just look as if she has everything together and her whole life figured out.
White, pink, purple, and black colored outfits will look amazing with this nail set. What makes me like this nail set even more, is that I can do it at home.
Doesn't this nail set just scream summer? What I love about this set is that all the colors go together. And by just looking at this set, you are instantly filled with happiness. The thumbnail and the ring fingernail are neon pink, while the index fingernail is neon yellow. The middle finger is in a neon orange color, and lastly, the little fingernail is in a neon baby blue color.
This nail set will look fab with a light yellow cardigan with a white crop top, some ripped blue jeans, and some white sneakers. And you can also add some gold jewelry to finish off the look. If you are great at doing gel or acrylic nails, you can easily achieve this look at home as the design is simple.
When I see someone wear a nail set like this, I would think that this is a joyful person who lives their life to the fullest. This is definitely a nail set I would get in the summer season as I just know that it will cheer me up and keep me in a positive mood.
Now, this is a nail set that I'm obsessed with. Why? Because it is neutral with an edge. And I can wear it to work without hurting people's eyes. I love the design of the nail as all of the nails are done with an ombre french with added neon dots in different colors and 2 added gold painted dots on each nail to add that classiness. Because this look is subtle, any outfit will look great with this nail set. 
If you can't decide whether you want a french manicure or a neon manicure, why not combine the two and go for a gorgeous set like this? This nail set is perfect for me to go to work and look professional and still look cute and stylish if I'm heading out for the night with my husband. I love a nail look that can be a 2 in one. Unfortunately, I will need to head out to my nail tech to get this nail look as I can't do an ombre nail effect to save my life.
Purple is indeed a rich color that will make your fingernails look luxurious. The color is mainly associated with authority and elegance. 
This black nail set with the purple neon art is a stunning combination. Wearing this nail set is a simple way to make a statement and prove to the universe that you are a female boss.
The combo can also represent the sky at night and serve as a reminder of the beauties of nature. A plain black or purple sundress with some heels will look great with this nail look. It takes a certain amount of confidence to pull off this nail set, but you can't go wrong with it.
 So will I get this nail set? No. And do you know why? Because the neon detail is a bit too much for me, and I usually just like to add nail art on 2 of my nails, not all of them. I will definitely need to go to my nail tech if I were to get this look. But I can assure you that this won't be a nail set that I'm getting any time soon. Nevertheless, it is still a gorgeous nail set, it is just a bit overwhelming for me, but I know it would look great on you!
This nail set checks that box if you are looking for an over-the-top neon nail look. The thumb, index, and little fingernail are done in a neon yellow color, while the middle finger has a pink leopard print on the side of the nail. And lastly, the ring fingers are covered in spiky rhinestones.
This nail look is definitely too over the top for me. And I think that the rhinestones and leopard print design clash with each other. But hey, everyone's taste is different, and maybe some of you will absolutely love this look. But this isn't a nail look that I will go for. 
You can pair this look with hot pink, yellow, orange, or even black-colored outfits. This is a nail look that you will need a professional nail tech's help with. 
Firstly I need to say that I'm one of those crazy people who likes to take my slice of lime out of whatever drink I'm having and suck on it. No, I'm not like those babies who pull their faces in disgust. To me, sucking on limes is quite enjoyable. But before I get too carried away with my lime addiction, let's get to this neon yellow lime look. 
Can I just say this nail look is absolutely stunning? The 4 fingernails, except for the ring fingernail, are done with a bright neon yellow color. While the ring fingernail's art is so beautifully designed that it looks like a piece of lemon is sitting on the tip of the person's nail. The detail of this lemon nail is absolutely incredible. I could stare at these nails forever! 
This nail set will look perfect with a long black dress with slits on the side with some yellow heels. Again this is a nail set that you will need to visit your nail tech for. 
So this nail set gives me prom vibes. And my best friend from High School actually had a similar nail set for her prom. The thumb, index, and little fingernails are neon orange, while the middle finger and ring fingernails are in a nude that fades into a neon orange french tip. The glitters added to the cuticle and body part of the nails add that cute and extra vibe to the nails.
This nail set will look gorg with a black blazer dress and some orange lace-up heels. I love this set as it looks super stylish and classy, and I love the added glitter detail, but it isn't a set that I would go for, as I hate the color orange. 
But if you love this set and want to get it as your next nail look, you will need to visit a nail tech to achieve this look.
"Yeah, uh-huh, you know what it is? Black and yellow, Black and yellow, Black and yellow, Black and yellow". You can't tell me that this nail look doesn't remind you of the song Black and Yellow by Wiz Khalifa. Jip, if I get my nails done like this, I will be singing this song all day long. 
Do you know what this nail set also reminds me of? A bee. Now you can be a busy little bee at work and have the nails that match it. The index and little fingernails are glossy black, while the middle and ring fingernails are neon yellow. Bee-tiful! Any black or grey formal wear outfit will look gorgeous with this nail look. This nail set is simple and easy to achieve, so I have no need to visit my nail tech and can easily achieve this look at home. 
Depending on what angle you look at this nail set, it can look neon pink with white. Or neon orange with white. The thumb, index, and middle fingernails are neon pink-orange colors, while the ring and little fingernails are white. This look is simple but looks expensive and elegant. An outfit that will look amazing paired with this nail set is a white pencil skirt with an orange bodysuit and a white blazer. And don't forget the black heels with some gold jewelry, girl! 
This nail set looks like my type of nail set. As I mentioned earlier, I prefer neon pink when it is paired with white, so this is definitely a favorite of mine. This nail look is easy to achieve at home. I love the shape as well as the length, as I will be able to do my daily tasks without experiencing any trouble. This nail look gets a yes from me!
These neon green nails are plain and simple but the perfect set to get if you try neon nails for the first time. The length of this nail set is also ideal, as it is not too long and not too short. Black and white formal wear outfits will look great with this nail set. And you can add some silver jewelry to finish off the look. 
This is not a neon nail set that I would go for as I hate neon green and just think that it clashes with my style and personality. But this is just my opinion and doesn't mean that you need to feel the same way about this set. If you were to choose this set, you could either try out this nail set on your own if you have the basic nail skills or go to your nail tech.
Well, they say, "when in doubt, wear red," and I always take the same advice when it comes to my nails, ladies. You can never go wrong with a bright neon red nail set. The color red suits everyone! You can pair this neon red nail look with blue skinny jeans, some black knee-high boots, and a white or black T-shirt. You can add some gold jewelry or a gold belt to finish off the look and add that extra element of classiness. 
Can't decide on your next nail set? I say go for red and make a statement. I love red nails as it always makes you look classy, stylish, and sexy no matter what outfit you are wearing. I love that this nail set is simple, easy to achieve at home, and short, and the shape is also perfect. Now I can look luxurious while doing my daily tasks.
I know Easter is over but who said you can't still have your nails in an Easter theme? So I just had to end these ideas with a bright and colorful nail look. I love this nail look as it is a soft neon color that is used. The left-hand start with purple on the thumb, pink on the index finger, red on the middle finger, and orange and yellow on the remaining fingernails.
While the right-hand start with a purple, moves in different blue shades and ends with green on the little fingernail. If you want to stand out and attract attention to your nails, you can wear white or nude-colored outfits with some silver jewelry. 
I'm obsessed with everything Easter-themed or, let me rather say, anything that has the Easter colors in it. And that's why I love this pastel neon nail look so much. To me, this nail look lets me think of a delicate and sophisticated woman who sees the world with finer detail. I love wearing this nail look with white outfits so that everyone can see my cute Easter Egg nails. I won't just wear it over the Easter season but will love to wear this nail set as my everyday look.
Factors to Consider When Choosing Your Nail Color
For some people, choosing their next nail color can be a challenge. This is particularly true as there are numerous factors to consider when selecting the right color. But don't worry; I have compiled a list of factors that will make choosing your next color easier. 
The Time of Year
The season plays a role in determining the nail color to wear. It's ideal if your preference corresponds to the season. Try dark colors in the winter. Nice bright colors are breathtaking in the spring, while playful and vibrant neon hues are mesmerizing in the warmer months. Eventually, during the late fall, nudes and neutrals are strongly advised.
The Event or Occasion
It is important to consider where you'll be wearing the neon polish. It'd be strange to appear glamorous or over the top at a casual event. As a result, you must match your nail shades to the event. What are your plans for the day? Are you somehow passing the time at the mall? Feel free to dress up in your favorite bright and bubbly shades.
As a general rule, select what is acceptable. If you are going out for the night, consider trying silver, gold, or bronze. Neon colors can also work for a night out. However, if you have an interview or a formal occasion, play it safe and wear neutral tones.
The Color of Your Skin
It probably doesn't need to be said how significant it is to compliment your nail color to your skin tone. You might have noticed a shade or color that looks amazing on your pal but looks horrible when you are wearing it. 
Based on your skin tone, shades may appear mismatched. As a result, the complexion is among the most important factors to consider.
Trends
This is also an important factor to consider. Take note of what is, as of now, trending and prevalent. Evaluate what's hot and what's not. Attempt what's hot, but keep in mind that you also have to consider if it fits you and your fashion. However, you should note that although fashion trends are fantastic, you must not take part in the bandwagon if you're not okay with it.
It is question time, guys!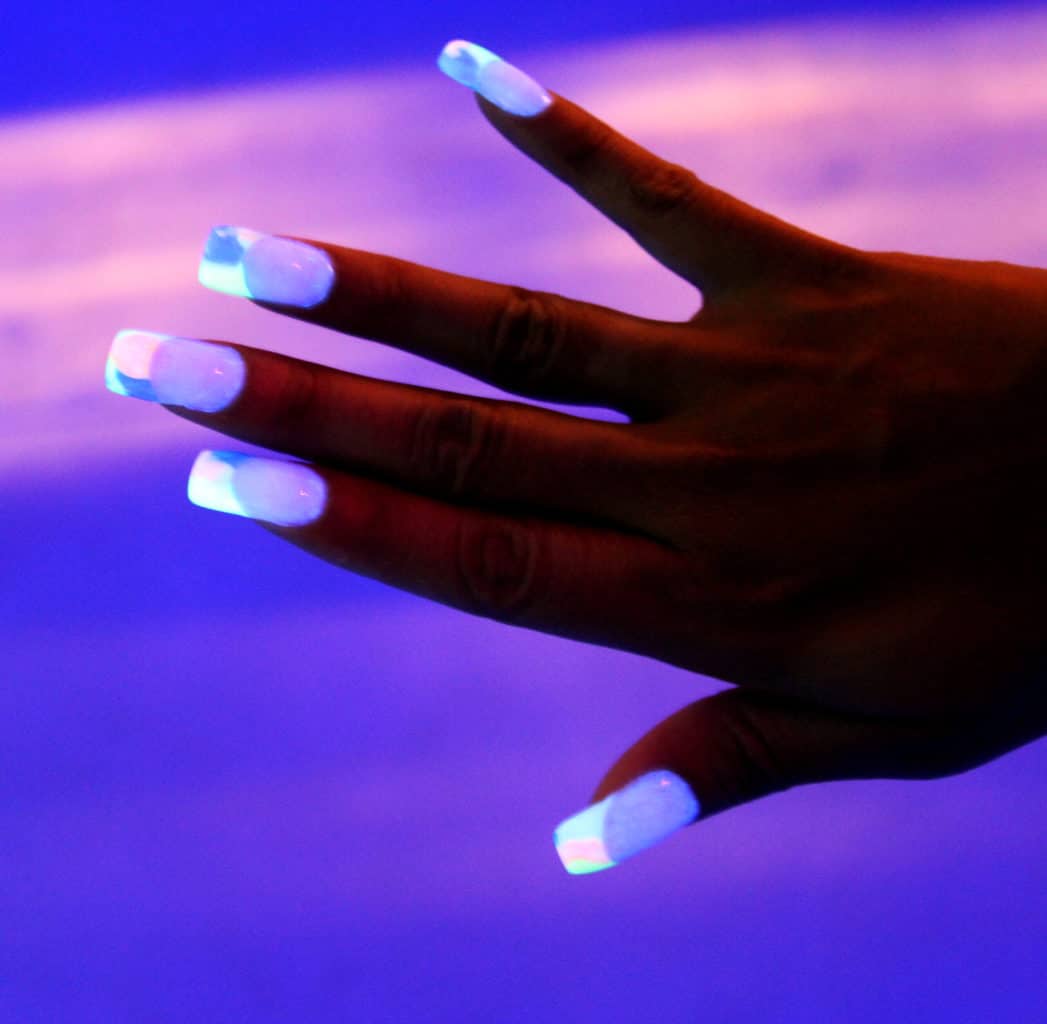 FAQ
Question: Does Neon Nail Polish Fade Over Time?
Answer: Normal nail polishes are more likely to fade than neon nails. However, due to sunlight and normal wear and tear, both of these types of polishes can fade and become dull. But here is a tip: choosing to wear a topcoat or getting a no-chip option nail polish on top of your neon polish will make it stay brighter for longer. 
Question: Are Neon Nails in Style?
Answer: Neon nails will always be trendy and in style, especially in the warmer seasons. So prepare to see a lot of different neon nail designs in the future. 
Question: What do Neon Green Nails Mean?
Answer: When a person has neon green nails, it can mean that they are a happy and excited person. Also, keep an eye on them as they are most energetic and know how to have a great time. These types of people are people that you will also get along with great because they are usually very down to earth. 
Conclusion
Now, these ideas were lit, won't you agree? After reading my article on neon nail inspiration and ideas, you can agree that Neon nail shades have the ability to catch anyone's attention in just about any situation, regardless of the design. They are indeed the best option for girls who enjoy being the center of attention and just standing out and having a great time. This explains why neon nails are so familiar to the younger generations and celebrities. 
What neon nail look was your favorite? Let me know in the comments below. If I had to recommend a nail idea, it would be the Neon Yellow Lime Nails, as it is something that is unique, beautiful, and will definitely grab the attention of the people around you. This nail set is a great option for when you are going to an event, want a unique birthday nail set, or want cute-looking nails for your vacation. So what are you waiting for? Go and get your nails done in neon and "Shine bright like a neon sign."