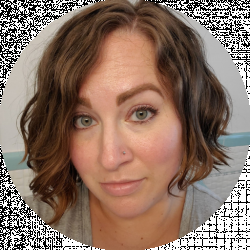 Latest posts by Elizabeth Ramos
(see all)
There are so many nail shapes to choose from these days, but I bet you have a favorite! I tend to go for square or coffin nails. When I started doing my own nails at home a few years ago, I learned how to do coffin nails and loved the fresh look! I quickly fell in love with all the short coffin nail ideas I found!
When coffin nails came on the scene, they were always long. Personally, I prefer short coffin nails because they're much easier to wear all day every day. They're becoming a more popular way for people who prefer short nails to rock a more edgy look.
If you're looking for short coffin nail ideas, I have lots of them to inspire you. From geometric to sweet, solid to blingy, you'll find it on my list. Keep reading for all the best looks!
Bottom Line Up Front
The short, sharp-angled style of coffin nails makes for the perfect palette. They work with all kinds of nail trends. Try one of the following styles:
Solid Nails

French Tip Variations

Matte Nails

Bling and Glitter
What Are Coffin Nails?
Coffin, or Ballerina nails, get their name from their angled, narrow tip. The key with coffin nails is the dramatically tapered corners. Some people prefer to slightly round the sides for a more ballerina toe look, while others like the sharpness of a super straight edge.
Here's a great example of a short coffin shape on a natural nail before this nail enthusiast added dip powder.

No one really seems to know who started them, but they became popular when celebrities like the Kardashians, Rhianna, and Zendaya started sporting them. That was in 2015, and they're super trendy right now with the rise of super long nails being normalized.
Who Should Try Short Coffin Nails?
Many people find long coffin nails to be hard to manage, much like other long nail shapes. For everyday wear, short coffin nails are a great option!
The shape, which goes from wide to narrow as you move down the nail, gives a lengthening visual effect. If you are self-conscious of your hands or want to make them look longer or thinner, the short style is one to consider.
I also think they're a nice change from my go-to, square nails. They can be played down if your job requires you to keep nails simple. Or you can also play up the edges for a more edgy look that's not going to poke an eye out!
How to Shape Short Coffin Nails
Shaping a short coffin nail is all about the angles of the file. Everyone has a different technique that they use, but this is the easiest way I found to get the perfect shape when I was learning:
File the head of the nail so you get a very straight edge. Doing this first will help you decide how to angle the sides.

Moving the free edges (the sides of the nail past the nail bed), file at a 45-degree angle. Stop every few strokes on one side to check your work.

Do the same thing on the other free edge, moving between the sides. This controlled filing will help you get a proportioned coffin shape.

Follow directions 1 through 3 for each nail.
If you are a visual learner, this video shows how you file a natural nail into a short coffin shape. You could also do this with tips or press-on nails.
All of her advice comes from experience. She also mentions that after you finish the nail, you should go back in and clean up the free edges. While she doesn't show this, Young Nails has a great clip on how to do this.
Notice how he files the lowest point of the nail underneath. I learned that this really made a difference in the coffin shape. It plays up the angles and made it look less square.
Selection Criteria
Length
I tried to keep the length no longer than the size of the fingertip to the first knuckle. However, I tried to give priority to obviously shorter examples of a coffin nail, which can be trickier to create.
Trends
The angled shape of coffin nails makes them perfect for geometric designs or line work. Plus, the sharp corners balance well with softer, sugary-sweet looks. Because the coffin is also a newer trend in itself, I looked for the latest trends in nail design used on the coffin shape.
Quality
You can create short coffin nails at home, but once you start adding products, like acrylic or dip powder, it can be difficult to keep the defined shape. While I choose ideas created by professionals and hobbyists alike, they had to be quality examples. All of them needed to have clean lines and the correct shape. I also wanted to see that the artist seemed to have a clear understanding of how to work with the products they used.
Variety
On my list, you'll find examples of acrylic, dip, natural, and also press-on nails. Both gel polish and traditional lacquer were used. I also chose both matte and glossy finished looks.
Short Coffin Nail Looks to Inspire You
Solid Nails
Classic Nude

How stunning are these simple nude short coffin nails? I think they're a prime example of how you can still have a quality coffin shape while still going super short.
White Chrome

A great way to add a little pizzazz to solid nails is to add chrome powders. I do this at home over gel polish. Especially when they're short, it's fun to play around with details that can feel more intimidating with longer nails!
Matte Charcoal Gray

There's just something about a matte set of short coffin nails! I personally love a dark charcoal gray like in the picture, but I advise you to use a really good matte topcoat. A lot of them are streaky and it's really noticeable on dark nails. I use Beetles No Wipe Matte Topcoat.
Solid Blue Glitter

Go solid, but make it glitter! If a set of all-glitter nails sounds like a lot, go with a glitter gel or lacquer instead of loose glitter. It's a little more subtle. I love that this set is in a deep blue with fine glitter, so it feels like it has depth. You get the glam, but it's wearable.
Peachy Dip Powder

Have fun with your shorter nails and go with a peachy pink! Also, notice how these coffin nails have more curved free edges for more of a ballerina toe shape. If you prefer this look, apply the dip powder thick. If you apply it thinly, you're more likely to get a straighter edge.
Classic Glossy Red

Go for a timeless trend, the true red nail! It looks elegant with the short coffin shape. If you've never done red nails before, the key is to find the right red for you. It's kind of like red lipstick: don't just admire it on everyone else. Find the shade that flatters your skin tone and rock those red nails!
Solid Beige with White Caviar Accent Nail

Go with another twist on a classic with this set. The solid beige nails are a statement by themselves with solid gel rather than just a pigmented acrylic or PolyGel. But the winner here is the white caviar bead accent nail! This trend started a few years ago. I love how it adds interest to a solid set.
Solid Gradient Press-Ons

There are so many wonderful press-on nail creators out there these days! I love this set of gradient nails from Beaans Nail Bar on Etsy. It's a great way to have fun with colors while still staying solid. Plus, these press-ons are so sturdy that you can take them off and reuse them a few times!
French Tip Variations
Famous French Manicure

I think the classic French manicure is one of the most recognizable styles ever! It never goes out of style, and there are so many things you can do with it. I've seen it done with every nail shape, but I especially love the effect with the short coffin nail. French tips are especially slimming for the hand, but even more so with this nail shape.
3D Art Painted French

There's nothing better than a hand-painted French manicure. It's sharp and clean. This one is especially bright and cheerful with the addition of 3D art inclusions of flowers and pearls. The flowers here actually look like they were made with a UV nail art mold that you can also use at home.
Black Outline Nails

This modern take on French tips feels like it was made for short coffin nails! The outline gives an intensity that is toned down slightly by the nude background. It looks really cool with long nails, but I love it on shorter nails as well.
Angled French in Black

You'll find angled French manicures, or 'V' French tips, most commonly in both white and black. For a striking look, stick with the black. The geometry of the angles of both the design and the nail give interest to this style.
Yellow Gold French Tips

A dainty yellow gold French tip is a great way to have gold nails without out having robot hands! I don't like having fully metallic nails, but this would be a lovely compromise for a special occasion. Think of the holiday season or even a wedding.
Baby Boomer Coffin Nails

The Baby Boomer, or French Fade, and coffin nails are a match made in heaven! The shape and effect feel like a work of art. You don't need any extra detail or design for these to feel fancy. Plus, they work in every setting, from a professional work environment to an afternoon baseball game!
Glitter Baby Boomer with Accent Nail

Just a little bling takes a Baby Boomer set to the next level! It's the little details, like the glitter in this set. The accent nail even feels understated, even with iridescent butterfly confetti and glitter encapsulated in a clear base.
Matte Nails
Starburst Design in Purple

Sometimes the best way to add an edge to your look is by making it matte. Check out these great short coffin nails! The solid bright purple nails look great with the darker starburst nails. I think the artist used a magnetic nail polish under the design, which gives it a galaxy feel!
Matte Black and Chrome

The contrast of the super matte black with the shiny chameleon chrome is beautiful! Also, the angles on these short coffin nails are lovely. You can have dramatic nails that are also stunning and super cute!
Velvet Sweater Design

A fun trend from the last few years is velvet nails! This texture effect is done using a combination of gel or lacquer and powders on top of a matte nail. You'll see reptile or crocodile nails using the same effect, but I especially love the sweater design for winter or Valentine's Day.
Pastel Matte Outline Nails

How cool is this set? It combines the short coffin nail with the edgy outline detail and pastel colors. The outline is left glossy while the center is super matte. What a beautiful and unique combination!
Matte Pop Art Design

A really cool matte look to try is comic book or pop art nails! It's really impressive when artists can free-hand the designs, but it's very hard to do. This nail tech did her own nails with a combination of gel polish and foils, which is just as impressive!
Bling and Glitter
Multimedia Nail Art

These are stunning! The creator used dip powders for the pink and white nails, and the design is nail stamp art and foils. If you're looking for a sophisticated set of nails that glimmer in the sun, I suggest nail foils! They make your nails look like art and they're super easy to learn how to use!
Diamond Encrusted Accent Nail

A fun diamond nail trend is to cover the entire nail with tiny studs! You can do every nail on your hand like this, or keep it to an accent nail, like with this set. The iridescent diamonds are so pretty next to the lavender solid nails. One trick is to paint the accent nail with holographic nail polish before applying the iridescent diamonds. If you were using white or clear diamonds you would use a silver polish underneath.
Metallic Pink Press-Ons

Some of the cutest short coffin nail ideas can be found as press-on nails. This set by Crowned Tips is adorable with metallic pink striping and nail foils. It also has pink micro-diamonds and metal caviar pearls. The nude nail is matte with a more rounded free edge for a soft touch.
Confetti Encapsulated Alternating Nails

If you've ever worn confetti on top of nails, you know that it can catch on to things. That's the worst feeling! Instead, use it inside of clear acrylic or PolyGel. I love these petite short coffins that switch between the confetti nails and solid purple nails!
Pink Glitter Outline Nails

To me, this look is the epitome of feminine and edgy. It combines an outlined nail with see-through pink glitter. It's just the right amount of bling and modern trendiness!
3D Diamond Accents

A popular Japanese trend is to include over-the-top 3D nail art. If you want to try the trend for the first time, start with something like these large diamonds! I love that this artist included them on solid red nails for a romantic feel. Because they're on an accent nail, you can wear them more easily and still have fun with the style.
Glitter, 3D Art, Glitter, and More

This set left me speechless! If you like blingy nails that are elegant, this is just the right balance of those things. All the designs are here, from French angles and diamonds to 3D flowers and glitter. I think the artist made a great choice to keep the finish matte, which elevates this whole look.
Quarts and Glitter

Quartz nails have made quite the splash in the last few years, and I'm happy to see they aren't going anywhere! What a graceful way to add some interest to your nails. These ones have copper glitter incorporated into the design for a nice touch.
FAQs
Question: What's the Difference Between a Short Coffin Nail and a Tapered Square Nail?
Answer: The difference is the angle of the tapering. When you create a coffin nail, you taper the sides dramatically from the nail bed. Your goal is to achieve a tip that's narrower than the widest part of the nail. With tapered square nails, the sides are very slightly tapered. You're not looking for a perfectly square shape, but you also don't want to angle the sides as sharply as they are done in a coffin nail.
Question: Is There a Difference Between Ballerina and Coffin Nails?
Answer: This is up for debate. Some say that they're the same thing by different names. Others say that the only real difference is that ballerina nails have more curved free edges. They both have the same super straight head and dramatic angles.
Question: What Nail Shape is Good for Short, Chubby Fingers?
Answer: While all fingers a beautiful, some nail shapes can help make your fingers look longer and thinner. The key is to hide the rounded part of the fingertip. So, I suggest sticking to round, almond, square, or coffin nails. They'll hide the widest part of your fingertips and draw the eye to the nail itself. You also don't want to go too long if your nails are stubbier, which can look odd.
Final Thoughts on Short Coffin Nails
If you're wondering if a short coffin nail shape is right for you, consider my examples. As long as you make sure the angles are there, even tiny hands can have fun with short coffin nail ideas!
All kinds of trends and tastes work with this shape. I love to play up the actual angles of the nail with matte or French tip variations. However, blingy and solid looks work just as well and help to balance the sharpness of the nail look.
Continue reading:
Stiletto Nails Inspiration and Ideas
Black Coffin Nails Inspiration and Ideas: A Guide to Dominating the World With Your New Nails
Coffin Nails Inspiration and Ideas
Short Almond Nails Inspiration and Ideas: The Hottest Designs for 2022