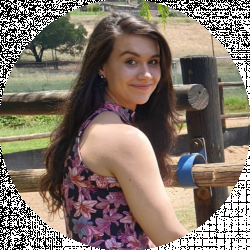 Latest posts by Christine Kent
(see all)
Color psychology associates black with "Power, female strength, revolution, and formality." Girls! Start wearing black to tackle all stereotypes about females. Honestly speaking, I love black. As I feel like it suits me the best and always makes me appear formal and sophisticated. My wardrobe contains 85% of black outfits as I always choose black for all occasions. Moreover, black is always trendy, so I never have a problem wearing it all the time. 
So, when it comes to my nails, black will be on top of my list. And black stiletto nails are the cherry on top of the cake. And today, I want to share my favorite black stiletto nail inspiration and Ideas. So that you can feel and act like a boss babe 24/7. So let's get to it, girl!
Bottom Line Upfront
Black nails you can wear on any occasion, from formal meetings and night-outs to weddings. Without losing their vibes and perfection. 
My all-time favorite is Dark Black Star and Moon Nails because of how beautiful and elegant it is. It reminds me of the beauty of the world. This nail look gives me strength and inspires me to be more positive. I mean, how can you be sad looking at something so unbelievably beautiful. Night time is my favorite time of the day. Because I can relax and look at the beautiful night sky, but with this nail look, I can do it 24/7.
My Top Picks
My Selection Criteria
I chose the black stiletto nails mentioned in this article according to the following criteria: 
Black stiletto nails that are easy to create 

Black stiletto nails that look beautiful for special occasions like birthdays or weddings

Black stiletto nails that are suited for both parties and for formal events.

Black stiletto nails are suited for certain personalities.
Black Stiletto Nail Ideas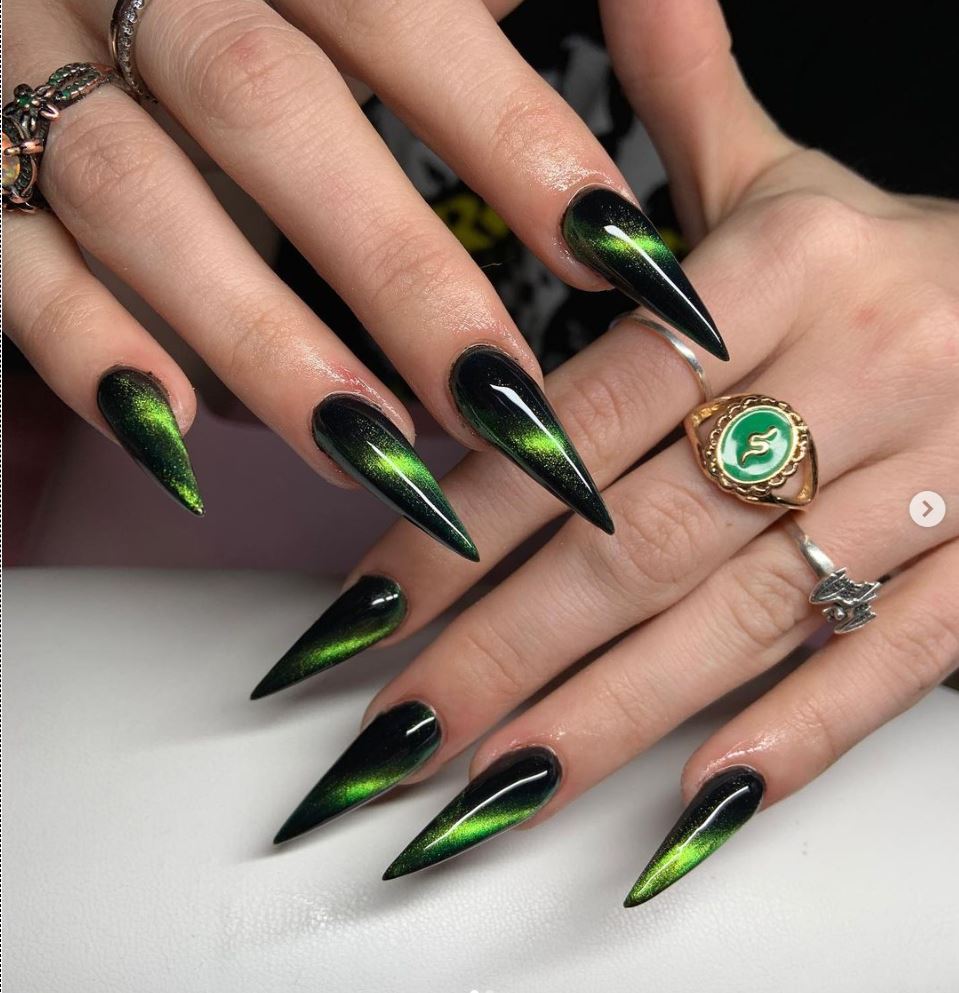 I am not a die-heart fan of these black stiletto nails. As I will have difficulty pairing outfits with the bright green and black nails. Yes, I know most of my outfits are black, but that does not mean I want to wear black clothes all the time. Sometimes I want to opt for pink or red outfits. And I feel that the combination of green and black nails will not match those colors.
For some reason, it also gives me witchy vibes. I don't know if it's the nail shades together with the shape of the nail, but it reminds me of the witch from Snow White. It looks like there is a deadly green poison escaping from the nails. And I don't want to look like I'm on the verge of poisoning someone. 
Besides, the nail set looks gorgeous in its own way. And is perfect for girls who want to grab attention. It is also easy to achieve at home and is more suited for formal occasions.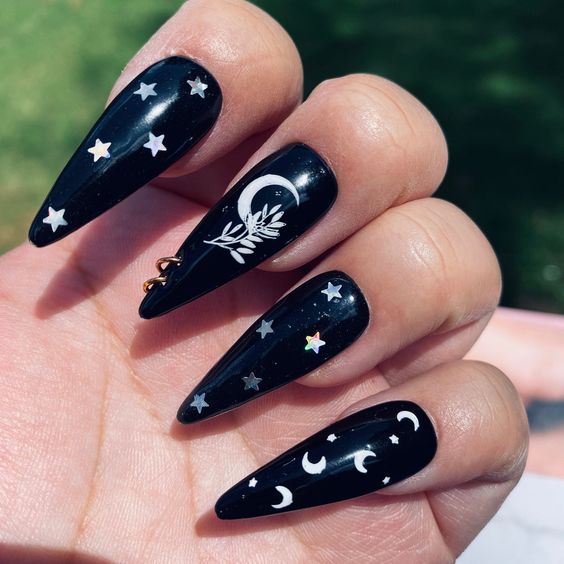 Wow! I just love these dark black star and moon nails! Just look how beautiful, elegant and eye-catching they are. These are my favorite, and I'm sure you will also love them once you create them. I remember I opted for this design for my 20th birthday. And I styled the nails with a cute black bodycon dress and some silver high heels. The look was perfect, and you could say I was the star of the night! Haha, I know I'm so punny. 
But on a serious note, these nails are gorgeous and easy to create. All you need is a black base color and some silver moon and stars stickers. The nail set is very aesthetically pleasing and will be a great set for a date night. Be your partner's moon and stars, and get this nail set.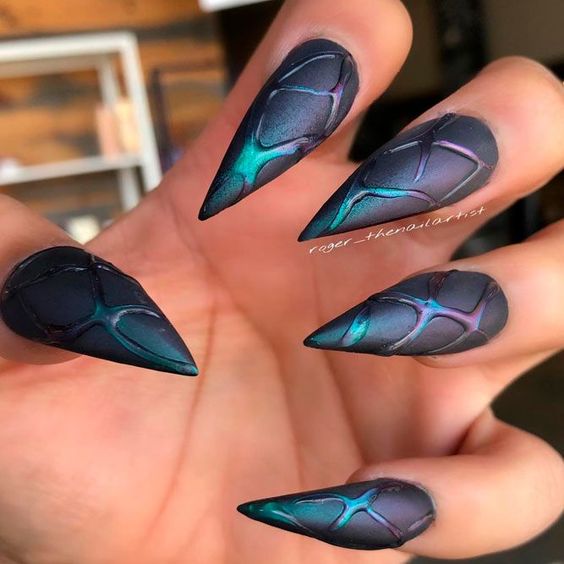 Are you bored with the typical nail design? Want to try something in which you don't need glitters or stickers? Then, my dear, just opt ​​for this idea as we can try crazy things once in life. I love this idea as I can create this design for any occasion, mainly formal events. And I know I will steal the show. 
You can create this at home if you are good at nail art. But, for others, a nail expert is needed as its beauty lies in neatness. The combination of shades is perfect for you when you want your manicure to be something out of your imagination.
This nail set is mysterious, elegant, and sophisticated. And it will go with black, green, purple, and blue-colored outfits. This nail set is my definition of being bold and beautiful. Come on, girls! Life is too short. Make a statement with your nails.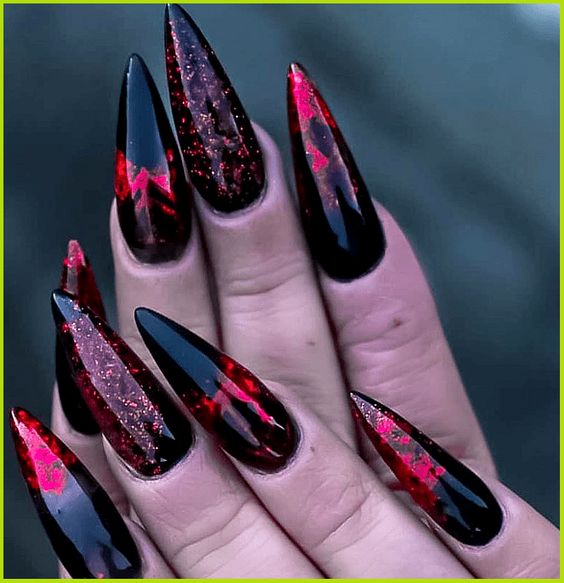 Although the black and red combination is my all-time favorite, I hope many of you also love this combo. But, I am not a fan of this specific black, and red stiletto look as it is a bit loud and dominant. It reminds me of a forest in the nighttime with a fire burning in the distance and a wolf howling somewhere near.
The nail look is gorgeous. It is just not for me. I think it can be the perfect nail set for Halloween when you are playing red riding hood; what do you think? 
The nail set is a bit complicated to achieve, so I would suggest you visit a nail tech for this look.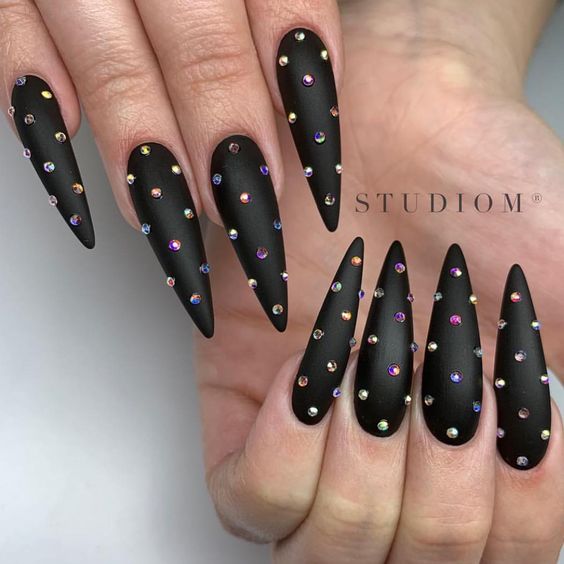 I like to create special nail sets for special occasions. And I feel like this black stiletto nail idea is special and will steal the show. It is elegant and sophisticated, and I see this set worn to a ball with those gorgeous big ball gowns. 
The look is also easy to achieve as the rhinestones make the look. Remember that you will have to take good care of this nail set. Because if the rhinestones fall off, you may lose the entire design.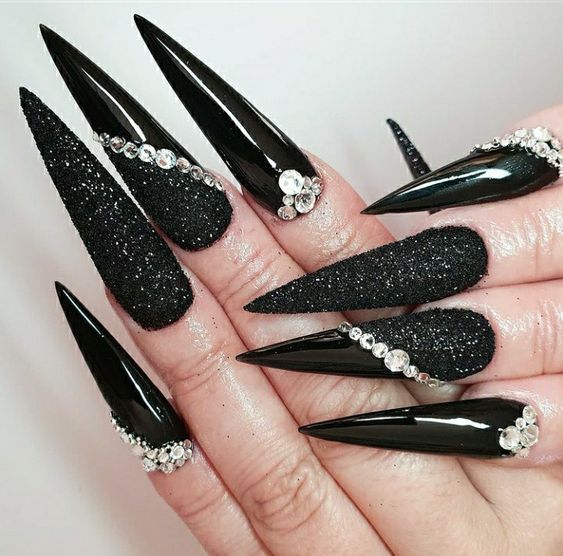 OMG! I love these black stiletto nails as they are attractive, awe-worthy, and elegant. Although I don't prefer long nails, whenever I need to look fancy and want to do something extra, I opt for this idea.
This nail set contains my favorite nail art. Glitter and rhinestones. And what girl would say no to that? And if you are not a fan of these types of designs, I am sure. Once you create them, you will fall in love with them. I usually visit my nail expert as I can't take a risk, at least with this set. 
I just have to warn you to be careful when you go near your face with these babies because you don't want to lose an eye.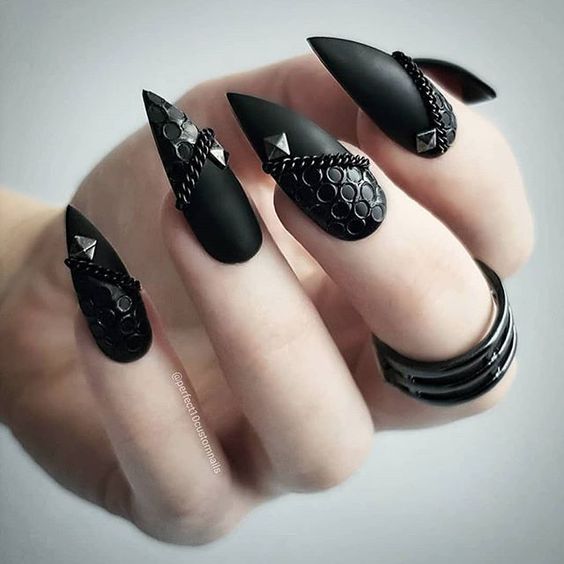 This black stiletto nail set symbolizes power and dominance to me. Maybe the matte black nails with the chain detail create this picture in my mind. I love this nail set as it reminds me that I'm in control of my life. And the chain detail will symbolize that I'm the only one that can hold myself back from achieving greater things. 
This nail set is pure art and very difficult to create and will need the help of an expert. Keep in mind that its beauty also depends upon your nail's length. I remember I created this for a college reunion, and my friend said: Are you living in the Stone Age? I replied yeah! Old is Gold.
So if you want to feel that feeling of confidence, power, and being in control, then opt for this nail set. It will make you look and feel like a bad *bleep*.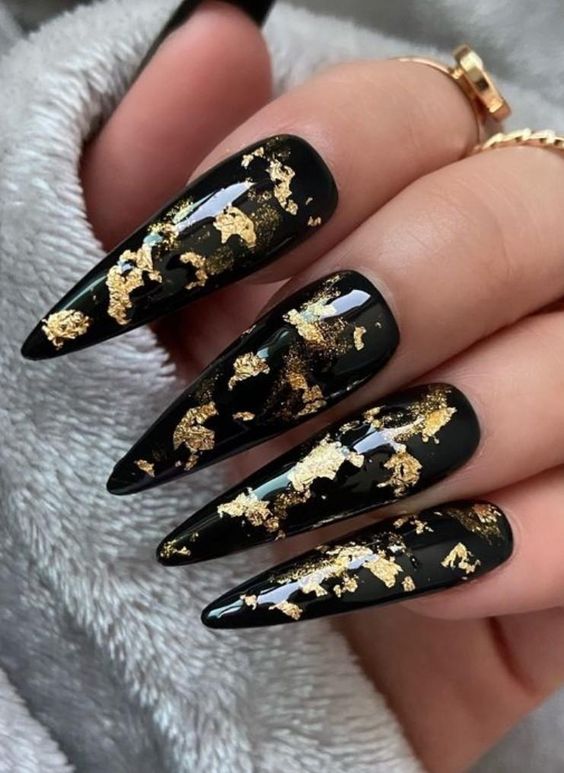 Girls! If you want a versatile way to style your nails. Consider black and gold flakes stiletto nails without a second thought. I created this for a night out with friends, but after two days, I had to attend my neighbor's wedding. It was like hitting 2 birds with one stone. It looked like I had created these nails, especially for the wedding.
This nail set made me feel elegant and confident. It is the perfect nail set to wear to parties, night-outs, and even formal events. I love nails that are suited for any occasion. 
The best thing about this nail set is that you can create this design in the comfort of your home. All you need is your black base color and some gold flakes. And of course, your topcoat and you are all set.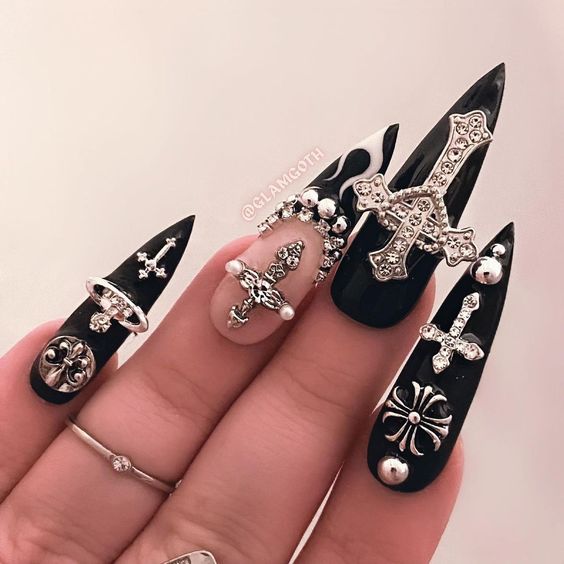 Are you into gothic looks? Well, my friend, then you will love this nail set. The black stiletto nails are decorated with big cross charms on them. This is not a nail set I would go for as I'm not a fan of adding crosses to my nails as it feels disrespectful to me.
That is just me. It also looks like the charms can make your nails feel heavy. And make your daily activities challenging. I also feel that the big crosses take away the elegance of the french tip. 
But if you want to opt for this nail look, it will be quite easy to achieve. All you need is black, white, nude base colors, and some charms to finish the look.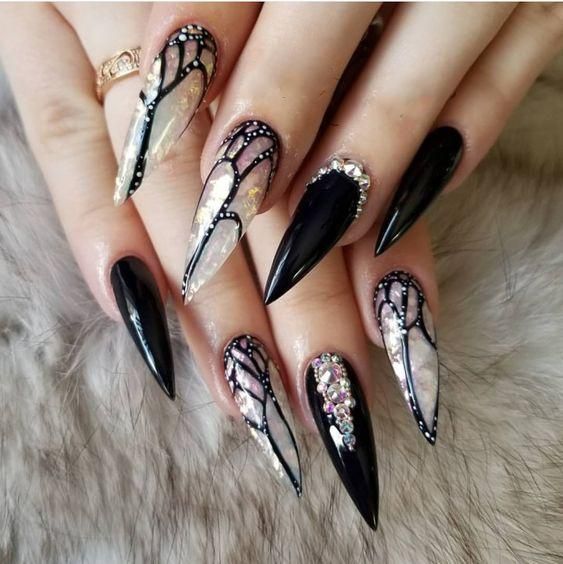 I love this nail set as it looks like a butterfly has come to life on my nails. Ans its wings are shimmering in the sunlight. This look is unique and beautiful and something I would love to get as a birthday nail set. Who doesn't want to feel like a beautiful butterfly on their special day? It is also a great nail set to get as your graduation nail set.
As it can symbolize that you are spreading your wings and moving on to better and greater things. Remember that this nail set is difficult to create on your own. So you will need the help of your nail tech. It might be pricey because it has so much detail. But girl, it will be money well spent! 
Need a nail idea for your next special event or meeting? Girl, I got you! This matte black nail set with the gold outlined flames screams sophistication and success louder than a billboard. 
I love this nail set as it will make me feel sexy, confident, and like a girl on fire. "That girl is on fiiiiiiree!" Yes, sing it with me.
The look is also easy to achieve at home. You just need a black base color, a thin nail art brush, and some gold gel to create those flames. You can also use a stencil if you want to ensure that the flames come out perfectly. Come on, ladies. Be your hot smoking self and steal the show on an elegant night out.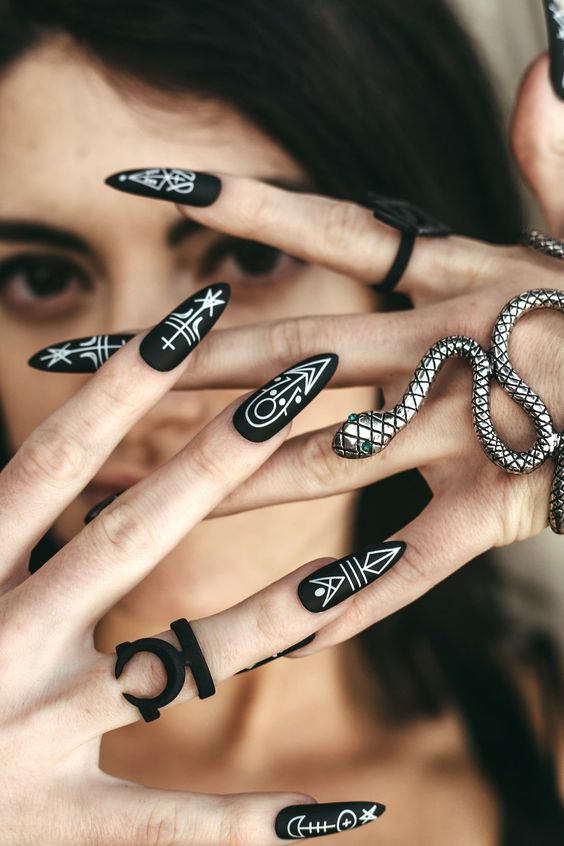 Guys! Don't get confused with the name. I think you may agree or disagree that witches have the symbol of female revolution and strength. Also, it has a strong connection with nature. So, I consider this nail design whenever I feel low and depressed due to a hectic routine. This nail design gives me the power to tackle stereotypes and beliefs. 
Moreover, this idea is so unique that I am sure you will be the only one at a party with this design. Sound interesting? Just consider this nail idea to overcome your depression. I suggest you visit your nail tech to achieve perfection in it.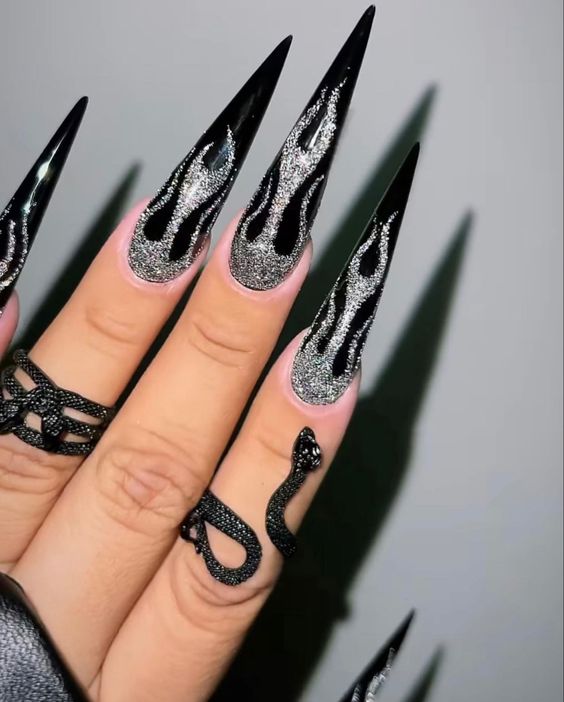 You are talking about girls' accessories, and you forget about glitters. Nope, that is never going to happen. And the same with me. My nail ideas are incomplete without mentioning glitters. I don't like this nail idea, not because of the glitters, but due to the length. They are so long that they will make your daily tasks difficult. I can assure you that I will need a whole extra day to type those documents with these long claws, I mean nails. 
You will need the help of an expert to avoid a glittery mess. If this nail look was on a shorter length, it would be something I would opt for. I think this nail set will look fab with a white tank top, skinny jeans, some black boots, and a leather jacket.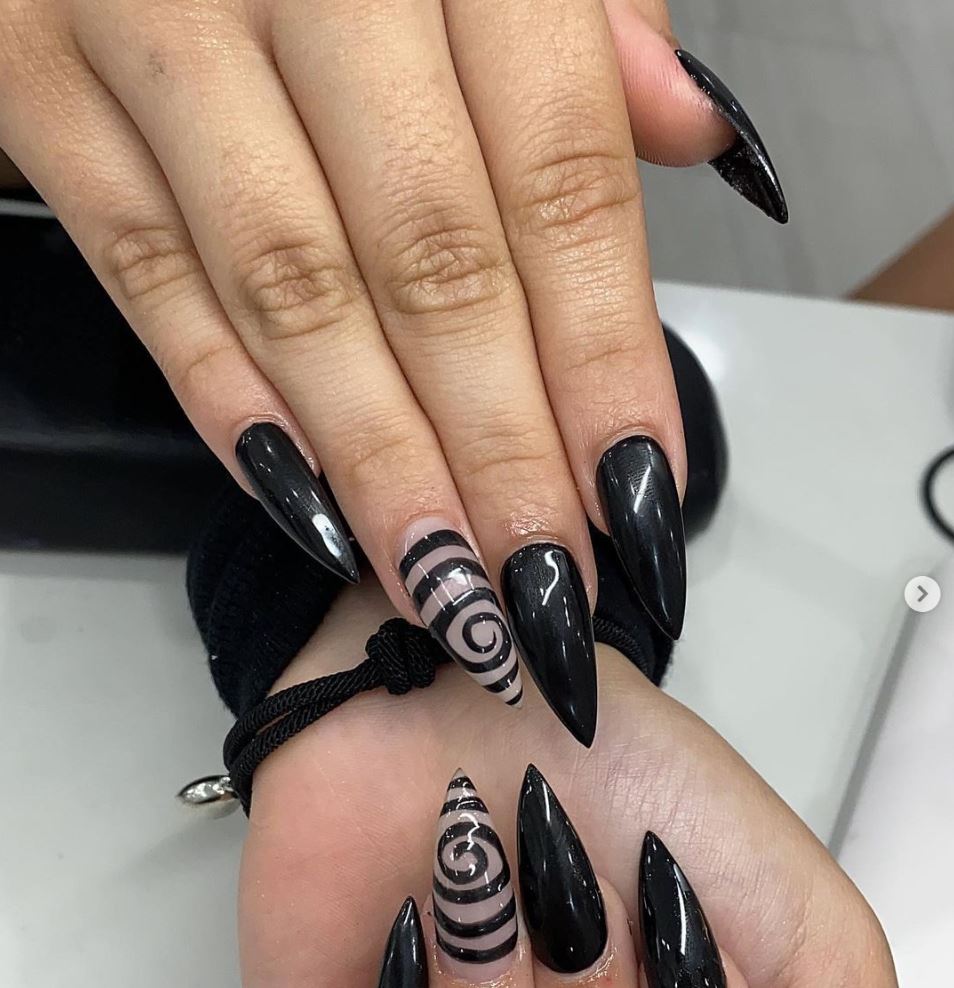 This nail look is simple and elegant. And the nude base color on the ring finger with the black spirals lets me think of a hypnotic circle in which I can get lost. Now, if I need time to relax and get my mind off of things, I can just stare at my nail set and let go. I am a lover of simple black nails. And this nail set is so simple and fun at the same time that you can wear them 24/7.
All I have to do is paint a black base color on all my nail except for the ring finger. I will start with a nude base color for the ring finger, then add black curls to it. Hurrah! I am ready for both formal and party looks. And who knows? Maybe you can hypnotize your partner with this nail set and get him to buy you more nail accessories.
FAQ
Question: What do Stiletto Nails Mean?
Answer: They are nails that have been sculpted or filed to a very sharp thin point. Most people are confused with almond, coffin nails, or stiletto nails, especially online. And call them one style of nails. But there is a difference. The stiletto nails are nails with a sharp thin point.
Question: How Much are Black Stiletto Nails?
Answer: Roughly, stiletto nails will cost you $35 to $90. But it depends on your choice of design, your nail expert, and, most importantly, the quality of your nails. But, trust me, its price is worth it.
Question: Are Lack Stiletto Nails Classy?
Answer: Of course, black stiletto nails have undoubtedly more class than any other design. When making a classy statement with your nails, consider black stiletto nails, as they will never disappoint you.
Question: Are Stiletto Nails Sharp?
Answer: Yes, they are! But if you decide to create this look or go to your nail tech. You will need to take extra care of these nails because you can hurt yourself by cutting your skin or harming your eyes with those sharp thin tips. 
Conclusion
You have reached the end of the black stiletto inspiration and ideas article. I hope this list has helped you find your dream set. What was your favorite nail look mentioned in this article? Let me know in the comments below. I would recommend the Dark Black Star and Moon Nails. This set is so elegant and eye-catching that you will be over the moon when you get it.
I am sure you will also suggest it to your friends and colleagues. Let me know in the comment section what your experience with these ideas is. And if you had suggested my ideas in your social circle. Have fun, guys!