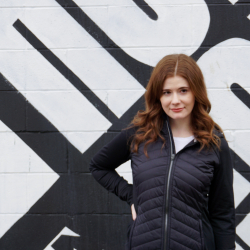 Latest posts by Kelsey Purcell
(see all)
Crisp mint green is an underrated shade. Emerald green always gets the attention, but mint green is a fresh shade that fits into any season. For Christmas, Spring, Easter, or Summer, this shade is versatile – it can be cute and playful or glamorous, chic, and modern. This list of mint green nails inspiration and ideas list will represent them all!
I love cool shades by nature, and mint green is the perfect cool shade in a sea of greens. I don't consider myself a lover of bold, bright shades, but mint green is a subtle way to add a pop of colour to what is usually my neutral uniform.
A trip to my local craft store is what sparked my recognition of this shade. I was looking for photo boxes and landed on a mint green box and realized I don't add a lot of mint green in my décor or fashion. A mint green manicure is the most temporary way to experiment with new colours before you commit to a whole wardrobe, new accessories, or any colourful item. So, I scraped together my favourites to show off all the different ways to introduce mint into a manicure for any season!
Bottom Line Up Front
The mint green French tip is so dreamy! The rounded tip is modern, so it's not your mom's French tip style. The hint of mint against a nude base makes the bright hue jump out. It's like there's a spotlight on your nails with this design! It's definitely one of my favourites on this list.
Selection Criteria
My goal is to give you many options for whatever strikes your style, so I made these selections based on a few criteria.
Minimalist.
Includes seasonal designs.
Stylish, whimsical, and modern.
Suitable for work and play.
1. Mint Green and Baby Pink Nails
A playful spring combo, this mint and pink design use the shades of nature to exude happiness! I would never think to pair blush pink with mint green, but the stunning contrast reminds me of Easter eggs. It's refreshing! I love the alternating solid colour with faux French tips. It makes the mint green look invigorating.
I would never be able to shape my nails like this at home. My natural nails don't cooperate. Gel nails are necessary to keep the shape strong. Since I don't have a steady hand, I wouldn't even risk trying to do the French tip myself – even with nail tape. It would be a messy disaster! I would leave this to the professionals, but it's possible to DIY this simple set.
2. Mint Green Retro Swirl Nails
Swirls are so whimsical! They're soft and impactful while still maintaining a minimalist aesthetic. I love the negative space and white outline – it breaks up the design and makes it easier to read from a distance. The "less is more" approach lets the swirl pattern breathe with solid nails alongside it. I love this nail's length; it fits the swirl like a glove.
It's another design I wouldn't dare try myself. The more green-based mint shade is borderline neon! I would probably stick with a slightly more blue-toned mint, but this bright version is joyful and cute!
3. Mint Green Matte Nails
This is a minimalist's dream look! With a simple coat of mint polish with a matte top coat, the nails are subtle, while the colour packs a punch! Keeping a uniform style across the whole manicure makes it incredibly adaptable. It's a bright accessory at work but still gloriously fun for off-time.
I would totally DIY this look! The beauty is in the simplicity and fits anywhere. It's a quick manicure, so if you want a pop of mint green but you're on a time crunch, this set makes an impact in no time at all!
4. Mint Green and Negative Space Floral Nails
The floral and mint set embodies the spring season! With tiny pink flowers bordering the nails with negative space, it's the set you want as the snow melts. If you don't want to draw the flowers by hand or don't want to sit in a chair as the nail tech does, using nail stickers is the next best option. You can get a similar result at home with stickers.
When I think of mint green, this is the shade I imagine. It's almost pastel, fitting in seamlessly with Easter celebrations. It's a delicate design, so if your style is dainty and feminine, this may be your perfect manicure!
5. Mint Green Snowflake Nails
Proving that mint green doesn't only belong in spring, these snowflake-inspired nails take the shade into Christmas and winter. When I think of green in winter, I think of dark forest green – the colour of a Christmas tree. But this manicure shows how this cool shade can rock the sparkle and snowflake design, just like the traditional baby blue!
Mint green snowflakes are going to be my winter gel manicure this season! A nod to the falling snow with the glitter and intricately drawn snowflakes, this manicure has everything I didn't know I needed in the winter. It will be a far cry from my usual winter shades, but it just goes to show that mint green hues can fit anywhere.
6. Mint Green Yin and Yang Nails
Bring some balance into your life! The yin and yang design is a nod to the old Chinese philosophy – everything is interconnected, especially opposites. The original design is black and white, but I love this spin incorporating mint green. It's the perfect accent nail but still minimalist enough to be office-friendly!
I would love to replace the white polish with black to see the significant light and dark contrast. With the black, I think it would stand out more. But I would have to try at a salon. With a dotting tool, a steady hand could make this work as an at-home manicure, but mine would look like a blob of colour!
7. Mint Green and Glitter Nails
Pearlescent nails are some of my favourites! They're so opulent and luxurious – they totally remind me of the sea, sand, and mermaids! Not only is there mint polish, but the glitter on the pearlescent accent nails is mint green, tying the style together. Everything about this makes my heart sing!
Having a pearlescent finish on the solid mint green nails would turn this look up a notch and make it more elegant, but regardless, The Little Mermaid would be proud!
8. Mint Green Ombré Nails
This is another colour combo I would never think to try together! The cool tone of mint green with the warm peach seem like complete opposites, yet somehow work. The length is a little much for me, but the long ballerina-shaped nails really show off the ombré design. I would be interested to see the peach and mint tones inverted – have the mint green at the base of the nail, fading into a peach ombré tip.
I would love to wear a shorter version of this nail at the peak of spring. It's peach season, and I love themed nails for anything!
9. Mint Green and Animal Print Nails
I will argue until the end of time: animal print is a neutral. This print makes me giggle in the best way! Cow print is underrepresented in manicures, but I can't imagine mint green with any other pattern – the black and white just work best. The alternating patterns keep the design playful and adorable!
This is a mint green nail set that I would take into fall. For some reason, I always think fall goes with farm animals, so this is the most fitting season! This may have to be my early fall nail look this year!
10. Mint Green Abstract Nails
Doing these nails would be so time-consuming but oh so worth it! With every unique nail, there's another cute pattern to enjoy. The abstract grid pattern is beautiful – polka dots and negative space give it an abstract feel. The sky can be replicated with nail stickers, but the unique accent nail is one of a kind.
The beauty of abstract nails is that you can make whatever pattern, swirl, or feature you want, which will be entirely up to you. Using negative space, geometric designs, or a twist on the classic French tip, there's no wrong interpretation!
11. Mint Green and Gold Nails
I always imagine mint and glittering silver, and I didn't realize how luxurious a gold and mint combo would look. With a simple streak of gold polish, the mint green completely transforms into a glamorous manicure that you can wear to work. The simple streaks may seem a little casual, but the gold magically turns the chic factor up several notches to suit any professional environment.
Gold and other glittery colours immediately give me a little confidence boost. When I'm anxious or worried about something, glittering nails are my power accessory! Along with the crisp mint, this warm gold tone complements the cool mint to create a daring, aesthetically pleasing look!
12. Mint Green and Cherry Nails
Tiny nail art is awe-inspiring to me! These little cherries are stickers, but the realism is unbelievable. Cherries are one of my favourite fruits. In the short cherry season, these nails are a recognition of the delicious fruit (or the maraschino cherries in your drinks!) The mint green lets the cherry stickers stand out – the contrast between that and the red looks rich and inviting.
For spring or summer, this manicure design fits in perfectly. But I would also rock them in the fall, just to be slightly contrary. The deep cherry red reminds me of warm fall shades, despite the cherry season being long over.
13. Spring Mint Green Nails
What symbolizes spring more than daisies? The classic flower is on everyone's dining room table for Easter and is one of the most recognizable flowers! The mint green helps the white petals look like they're lifting off the nail and makes them appear more vivid and vibrant.
The bright neon pink is the essential spring colour. What would Easter and spring be without pink? I'd love to try a version of this manicure with a more muted pink to let the bright mint green shine and be the centre of attention!
14. Lemonade Mint Green Nails
A more cartoonish version of a fruit manicure, this lemon and mint green nail design is a refreshing summer manicure. The mint green that this set uses is a darker, more muted mint green, which makes the lemon yellow stand out. This design's artistry is so intense, but my impatience would lead me to track down lemon nail stickers as a cheat!
With nail stickers, I would also try to add a bolder and brighter mint green. In this manicure, anything lighter would lose the legibility of the leaves and little flowers, but I think stickers would solve that problem. Regardless of how you get your lemon nails, it's such a cute and eccentric pattern to wear.
15. Mint Green French Tips
A modern French manicure done right, these rounded French tips are subtle and take up the slightest tip of the nail. The bright, bold mint green is illuminating and stands out. It's the ideal balance of playful and professional – the nude base creates a clean, polished, minimalist look.
There's nothing I would change about this manicure! It's one of my top favourites on this list. It's so adaptable to other shades, so you can really choose any colour you wish, but the cool mint hue is enduring and timeless!
FAQs
Question: What Colour Nails go with Mint Green?
Answer: When you first start to play around with colour combos, other pastel shades will complement mint green best. Pale pinks, lavenders, blue, or nude nails are safe and minimalist shades to start experimenting with. But for a bold pop of colour, bold cherry red, like the Mint Green Cherry Nails on this list, creates a stunning contrast!
Question: Is Mint Green Warm or Cool?
Answer: Most colours fall on either side of the warm-cool spectrum. Mint green falls on the cooler side of the line, but since the colour can differ in tone, it's possible to have a warmer mint green. You can consider mint to be a peppy medium that falls to either side, but most traditional mint greens are cool.
Question: What Season is Mint Green?
Answer: The pastel shade is popular for the spring and summer, but it's not exclusive. Anyone can rock mint green in the fall or winter, but in the cold seasons, typically, mint green is used as an accent nail and not as a primary colour.
Bottom Line
The Mint Green Snowflake Nails on this list is one of the top mint green nail designs ever! It's winter reimagined in a way I've never thought. Cool tones are certainly less common in the winter, but this year, I'm embracing the snowflake design and moving away from the blacks, deep reds, and nudes. Which manicure will you try out?
Keep Reading