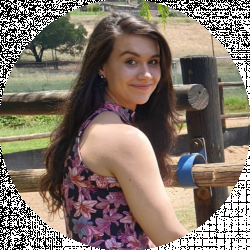 Latest posts by Christine Kent
(see all)
In terms of color psychology, blue is associated with "Inspiration, freedom, imagination, confidence, faith, and open spaces." As it is the color of both the ocean and the sky. As a Campaign designer, I have designed many campaigns for different brands. I recently designed a spring campaign for a clothing brand. For designing, I am always surrounded by colors, especially neutral colors like blue. So, I know how to play with colors and their asssociations.
So girls, when it comes to the color blue, I can tell you what is hot and what is not. That's why today I am sharing with you some fantastic and trendy blue ombre nails inspiration and ideas for you to look hot this summer. So let's get right to it, girls!
Bottom Line Up Front
This summer, everywhere you go, you witness the divine manicure of blue ombre nails that are a sensual blend of colors. Don't stay behind on this trend. Jump right on. Hurry up before it's too late. Capture the ultimate spiritual and calming nail design to lighten up your mood with the best selection of ideas I have chosen for you. My favorite nail idea from this list is the Blue Ombre Smurf Nail Design. As I have loved the Smurfs since I was a little girl. Adding them to my nails just makes things magical. Let us take a look at my other blue ombre nail ideas.
My Top Picks
My Selection Criteria
I chose the blue ombre nails in this article according to the following criteria: 
Blue ombre nails that give Elsa from Frozen vibes.

Blue ombre nails that give beachy vibes.

Blue ombre nails that are perfect for prom.

Blue ombre nails for those who prefer short nails.

Blue ombre nails perfect for a baby shower.

Blue ombre nails that are luxurious.

Blue ombre nails that bring back childhood memories.

Wow! Isn't this blue ombre nail set just gorgeous? The nail design looks classy and elegant. A nail set that I would like to wear out to an important event. The nails start with a milky white base color that fades into a royal blue tip. The nails are then decorated with some lovely royal blue sequins and rhinestones near the cuticle area. 
To be honest, this nail set is giving me the Elsa vibes of Frozen. And me being a big Elsa fan, you just know I can't let this design go. I can't wait to get this nail set and feel all princessy and powerful. 

These long blue ombre nails give me beachy vibes. The nude base reminds me of the sea sand, and the blue tips remind me of the sea. And the little glitter sequences on the tip of the ring finger nail remind me of how the sunlight hits the water and gives that glistening effect. You might call it wild imagination. I call it art.
I love how the nude base color fades into the light blue effortlessly. I like this design because it is minimalistic and beautiful. Something I would love to wear on vacation. Because I think this nail set will look fab with my white and turquoise bikinis. 

Due to the versatility of blue, you can wear it with any nail style. This time I chose a blue ombre with French tip nails with added rhinestones on one nail. The index and little fingernails have a gorgeous ombre effect using nude and light blue. And on the index fingernail are added rhinestones near the cuticle area. The middle fingernails are a plain bright blue. While the ring finger has a white French tip design. 
To be honest, I'm not a fan of these nails, as I feel that the white French tip clashes with the other blue nails. Yes, blue and white do go together. But I feel, in this case, it doesn't match, and the white French tip takes away the beauty of the blue ombre effect. 

OMG! What a length! Before starting, let me clarify that you can't even enter the kitchen area after creating this design. Okay, I'm just joking, but I can't see that you can get anything done with these long babies. The design starts with a light blue that gradually fades into a white tip. The ring finger nail is decorated with tiny pearls and gems. Perfection!
I think this nail design will be perfect for your prom as you will definitely make a statement with them. And because it's your prom, you will not have these nails on for long. Which is a good thing in my opinion because you might harm yourself because they are so long. But other than that, the design is gorgeous. It is just way too long for me. So because of the length, it gets a no from me. 

Okay! Guys, I have included a few long blue ombre nail ideas, so adding a short nail design is only fair. Because I'm on my laptop 9 to 10 hours a day, I prefer comfort over style and trend. So, these nails are one of my favorite. 
The best thing is that you don't need to visit the salon and pay extra pennies as they can easily be created at home with minimal effort. Start with a blue base that gradually fades into white to create that gorgeous ombre effect. The design reminds me of the blue sky with a white cloud here and there. And I love laying on my blanket outside, looking up, and appreciating the gorgeous sky. So I'm definitely not going to say no to nails that are the perfect length and represent the gorgeous sky. 

I would give a big Y-E-S for this nail look because of the girls' all-time favorite color, pink. Due to the pink color, I can overlook that the nails are super long. It is the perfect set to get for a gender reveal party. As the nail design contains pink and blue. All the nails have the pink and blue ombre effect except the ring finger nail. 
The ring fingernails are covered in tiny little pearls and small rhinestones here and there. It just gives the nail look a cute and classy look. When my husband and I are pregnant one day, this is definitely a nail set I would love to get for our gender reveal party. I would just go to my nail tech to achieve this look. As I know, if I try to recreate this look, there will be tiny little pearls lying around all over the floor. And we really don't want a slip and slide-in the living room. 

Aaah! Glitters! I love adding glitter to anything and everything. Especially when it comes to my nails. Start with the blue as a base, then let your nails gradually fade to white at the tip of your nail. You will do this on all your nails except for your ring finger nail. Your ring finger nail you are going to paint a plain blue and decorate it with some golden glitters. Don't forget to add your glossy top coat, girls. To give your nails that shine. 
The nail set gives me mermaid vibes. Maybe it is because of the color and the golden glitters. But I'm definitely getting this nail set when I'm going to the beach. I want to feel like a mermaid and rock these nails! 

Summer is here, and it's time to get creative with your blue ombre nails. What about adding some line work to one or two nails? 
Capture this look by starting from a simple nude base that fades into a blueish-white tip. Then, you must draw a creative line that intersects your nail into two halves. I prefer to draw on my ring and middle fingernails, the most dominant part of my hand. You can paint the linework with a blue gel. Because the blue is so light in color and so subtle, it makes the nail set appear classy and elegant. And suited for any event or occasion. Happy summer, girls!

I never thought I could pierce my nails just like you would pierce my tongue, nose, and eyebrows. I hope many of you thought the same thing. This idea compels me to think out of the box and try to pierce acrylic nails. I must say, it was a fabulous experience. Moreover, the glitters are just icing on the cake. It looks so beautiful, charismatic, and eye-catching.
Start this incredible look by creating an ombre style on your stiletto nails. Then add a thick layer of blue glitters. Do this with your middle and little fingernails. Done? Let's move toward the index finger. Start with your nude base color and let it gradually fade into royal blue. Then add a cute little rhinestone to the nail. Now for the ring finger, you will do the same but just add a little more detail to it. The detail is the golden piercing. Yes, I know this sounds scary but don't worry, this doesn't hurt. 
I think this nail look is stylish and unique. Will I get it? No. And this is only because I have a clumsy butt, and the piercing will get attached to everything, and I will lose my nail. 

Here is another short nail design for my short nail queens out there. This blue ombre nail design is sure to always put a smile on your face. The nail gradually fades from a light blue to a darker shade of blue. Smileys, rainbows, hearts, clouds, stars, and moon stickers are then added to the nails to give them some character. 
I think they are super cute! It is definitely a nail set I would love to get as my birthday nails or my nail set when I go on vacation. I love how the nail set has such positive energy to it. I feel we all need some rainbows and smiles in our life. #Staypositive

Is your baby shower around the corner? Are you expecting a baby boy? Well, Mama, look no further as I have the perfect nail set for you! The nails have nude as their base color that fades into a gorgeous baby blue. Little bows, bears, hearts, and bottles are hand painted on the blue ombre nail. But baby Mama, you will need to head to your nail tech to achieve this look as the designs are very detailed. 
I would love to get this set for my baby shower one day if I were to expect a baby boy. I think it is the cutest nail set, so it gets a big yes from me!

I think this nail set is so pretty and unique! To me, it represents a windy day where flowers are moving, and dust is falling from the blue sky. The colors in the design move from white to a light blue to a slightly darker blue to form that ombre effect. The middle and ring fingernails have gorgeous flower designs on them. They are in the colors blue, green and black. 
If you want something different, I suggest getting this nail set. This nail set is definitely on my list of nail looks I want to get. I love it! 

I Smurfin love this nail design! The Smurfs were a big part of my childhood. I would watch the Smurfs every day after school and even on the weekends. I had Smurf bedding, pencil cases, clothes, bags, you name it. So, of course, a Smurfette nail design is everything.
The index finger has a blue ombre effect where light blue fades into white. It has a blue line detailing down the nail with 3 rhinestones added to it. The middle finger nail has the beautiful Smurfette hand painted on it. The ring finger is in n plain light blue color with added rhinestones in a circle design. And lastly, the little fingernail has the same blue ombre effect as the index fingernail. I adore this nail design! But I'm definitely going to my nail tech for this design. 

Are you looking for a luxurious blue ombre nail design? Well, you have come to the right place, honey! This nail set looks classy, elegant, and expensive. It is definitely a nail set that I would wear to a fancy event or occasion. The nail set is easy to achieve if you know how to create an ombre effect. 
You just need to create an ombre effect using nude and blue colors. And then add golden letters to the index fingernail that spell out Chanel. And then add the white Chanel logo to the ring finger nail. It is as simple as that, and you have a gorgeous and luxurious nail design!
Frequently Asked Questions
Question: What Looks Good with Blue Nails?
Answer: Blue can go with any color, depending on where you want to wear it. It looks fresh with navy, denim, and white. Moreover, light pink is great with sky blue. Blue can also work very well with yellow and orange. 
Question: What are Ombre Nails?
Answer: Ombre nails are a type of multi-colored and layered manicure. It is where a color transition takes place that can be from dark to light. Or from light to dark colors. I absolutely love this trend. 
Question: What do Blue Nails Mean to a Girl?
Answer: In many parts of the world, the blue color on nails indicates that they are not available for any relationship. Women use it as a signal or hint to tell other people that she is not free and has a boyfriend.
Conclusion
Congratulation! You have completed a list of amazing blue ombre nail ideas. I hope you have found the perfect blue ombre nail set that matches your style and energy. I love blue ombre nails as it always reminds me of the gorgeous sky or the sea. My favorite blue ombre nail set is the Blue Ombre Smurf Nail Design. As it brings back so many childhood memories, and I find the design super cute. 
What was your favorite blue ombre nail design? Let me know in the comments below. Have fun, ladies, and enjoy your new stylish nails!
Continue reading:
Royal Blue Nails Inspiration and Ideas: Nails That Will Always Put a Smile On Your Face
Light Blue Nails Inspiration and Ideas: Find Your Dream Nails
Navy Blue Nails Inspiration and Ideas