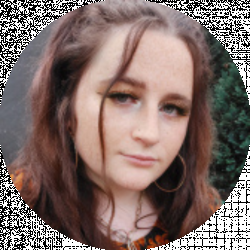 Latest posts by Lou Siday
(see all)
If you need to feel sassy, extra, and bold, there is nothing like getting yourself a manicure. I always feel better after getting my nails done – it is an instant confidence boost!
I want to create this list article on sassy nails inspiration and ideas, so you can find the kind of manicure that will give you that boost.
Sassy Nails Up Front
My favorite sassy nail design has to be the Boy Bye nails by Nuka Nails. They encapsulate the word 'sass' and will definitely make you feel very confident when wearing them. I love the color and the lettering – it is a super fun design!
My other top picks for sassy nails include:
Red Sassy Nails

Sassy Rainbow Nails

Sassy Studded Nails

Love Heart Sassy Nails

Gold Rose Sassy Nails
Selection Criteria
When I looked at designs to include on this list, I considered what the word 'sassy' means. For me, sassy is bold and lively. It is a word full of confidence and energy, and I wanted to find nail designs that encapsulate this feeling.
I made sure all the designs on the list were done by the best nail artists worldwide, with the proper tools to the highest standards.
I also have included bold, sassy designs that are easy to do at home. I love DIY manicures, so I love finding nail designs and ideas I can recreate at home.
So, let's begin! What are my favorite sassy nails out there right now?
Simple Sassy Nails
Let's begin with a few simple sassy nail designs for when you are looking for something bold but not too OTT.
If the word 'sassy' had a color, it would be red. It is a classic nail color that oozes confidence and energy, and this deep red color is stunning.
Because of the simplicity of this manicure (you just need the gel color), this is a great go-to sassy nail design if you want to do your nails at home. Remember to apply a top and bottom coat, so your manicure lasts.
Sass is all about being bold, right? So, what is bolder than a rainbow manicure?!
I love the colors used in this manicure. They are playful and fun. If you like to keep your nails short, you can still get your sassy manicure! Simply choose the best bright colors that represent your identity and confidence.
This manicure uses sass and sophistication with its simple yet bold design. The nail artist has opted for a long, almond shape with a nude base coat. They then created the studded effect by adding dots of metallic gold paint.
What I love about this design is its versatility. It is a great manicure for so many occasions and so many outfits!
Oh, and it can be recreated at home with a steady hand. Get yourself a nail dotting tool and your favorite bold metallic nail paint, and apply the studs onto your nails.
Bold Sassy Nails
Now it is time to get even bolder! This is what sassy nails are about: bold, out-there designs that bring confidence and energy into your life.
I love these sassy nails that incorporate a retro love heart design! The nail artist has kept the nails short, but there is still a whole load of sass to the manicure. It shows us that we can be sassy without getting extra-long acrylics.
I love the range of shades used in this manicure. It really makes the love heart design pop.
This design mixes two things I love in nail art – animal print and 3D embellishments. I love the striking zebra print in the nail art and the cute gold rose embellishments used.
The long coffin length takes the manicure to the next level and simply screams sass!
If you like this design, you can pick up a range of nail art embellishments online. I swear by stickers and decals when it comes to DIY manicures, as they are super easy to use and look fabulous.
This bold shade of blue is trending hard in the nail art world, and I feel I am seeing it everywhere! However, I can totally see why many people are opting for this beautiful color. It brings so much energy to a manicure and looks great.
It goes so well with the zebra print feature nail, which is beautifully painted. Oh, and zebra print is actually pretty easy to recreate at home (after a few test runs). If you have a thin nail art brush, have a go at this manicure at home!
The coffin shape. The jelly rainbow base. The chrome smileys. This mani is AMAZING! I am obsessed with the jelly nail trend. It is super fun and bold. The nail artist has done it so well, using different colors across the nails to create an eye-catching design.
Want to incorporate your favorite brand into your sassy nails? Nuka Nails has you covered! They picked two neon shades of orange and pink (a stunning contrast of colors) and left a few nails nude except for the outlines. They then added the iconic Nike swoosh to the feature nails.
These nails are amazing, and I wonder if I have the skills to hand paint that little swoosh onto my nails. Worth a try, right?!
Not gonna lie, if I had this manicure, I would probably be constantly singing that 'tell him, boy bye' bit in Sorry by Beyonce (amazing song). That may start to annoy my boyfriend!
These nails are the definition of sass. Super cool, super iconic, and super bold. The bright green color is very cool, and I love the font used for the lettering.
Another sassy slogan to incorporate into your next manicure, these nails remind us (and everyone around us) to chill out.
I like the trend of lettering and phrases on nail art, especially when considering sassy nails. The lime green color is very cool, too. I am a big fan of anything green!
I am a big lover of anything animal print, especially when it comes to nails. The nail artist has put their own twist on the leopard print design, using pink and red colors for the artwork.
If you want to recreate these at home, nail art dotting tools are your best friend.
These yellow nails are super fun and bright, and I am kind of obsessed with them! The stunning shade of yellow is gorgeous, and I love how one hand has the French tip design with a bold orange pattern.
Super summery, very playful, and definitely sassy!
Glitter Sassy Nails
If you want some sassy nails, you can't go wrong with a bit of glitter. Glitter makes everything better (that is a fact) and always takes a manicure to the next level.
Let's look at my favorite glitter sassy nails trending right now.
This manicure embraces the sass of rock and roll heroines with a beautiful design. The silver glitter ombre effect used as a base for the design is super chic and a great contrast to the deep red.
I have a soft spot for flame patterns as a child from the nineties. The lightning bolts are very cool too, and I really like how the nail artist has applied a thin white line around them to create a 3D effect.
Abstract nail designs are really popular right now, and I love all the swirls I see on Instagram! This manicure incorporates those abstract swirls into a glittery, sassy design, and the end result is beautiful.
The colors are gorgeous, and I really love the length of these nails!
This stunning manicure mixes glitter, sequins, and gemstones to create an extra sassy design. I love the tones of purple used and the gemstones around the cuticles.
The milky purple has very subtle flecks of glitter, which I think is the perfect balance to the extra glam sequin nails.
Long nails = immediate sass. Plus, the glitter used in this manicure is beautiful, and I love the spacey effect. The effect was created by using an airbrush, and it looks fantastic!
Sassy French Nails
French manicures are the definition of sophistication. But, they can get a bit boring if you stick with the classic French manicure design.
So, how can we change the game for French nails and bring some extra sass to them? Here are my favorite designs out there right now!
This manicure doesn't move away too much from the traditional French nail design. But, by playing with angles and lines, the nail artist has added some extra sass to the nails.
If you want to recreate these nails at home, I recommend buying some nail art tape. This allows you to section the nails to create clear, straight lines.
I am the proud mother of a tortoiseshell cat. She is cute, snuggly, and very, very sassy. Tortoiseshell cats are infamous for being sassy girls (it's known as tortitude!!!), so I had to include these French nails to pay homage to our furry friends.
Oh, and the nails are properly stunning. I love this take on the French manicure, and the shape really elongates the nails.
These nails bring me back to my ninty's emo days. The bright pink French tips and the black designs are super cool and retro, and each design is really well done. I love the cowboy boot!
Metallic gold is very sassy, and these nails ooze class and confidence. I love the thin blue line that frames the French tips; it is a nice contrasting color.
Showstopping Sassy Nails
All these nails are pretty sassy, but how sassy can we go when it comes to manicures?!
Very sassy!!!
Let's look at my favorite out-there, OTT, sassy nail designs that will make you book your next manicure straight away!
I can't get over the skill of the nail artist who created this set. Each nail is a work of art, and I am in love with the bright, bold colors. The eyes, the mushrooms, and the lips are just fabulous.
Another set full of stunning designs, this manicure is totally extra, and I am here for it! I love the length (although I could never get my nails this long myself), and each design is so interesting and fun.
Tiger prints, flames, eyes. This manicure has everything.
This manicure is incredible. The nail artist has a lot of talent and mixes different trends into the manicure.
The marble effect is beautiful, and I love the bright firey colors used to create it. Oh, and the glitter and gemstones. Amazing!
Sassy Nails FAQs
Let's look at some questions you might have about sassy nails.
Question: What Colors are Best for Sassy Nails?
Answer: If you want to get yourself a sassy manicure, I would go for bold colors. Bright reds, pinks, and oranges are perfect for creating sassy nails.
Question: Do you Have to get Extra Long Nails When Wanting Sassy Nails?
Answer: Long nail shapes are pretty sassy, but there are loads of options for sassy nails if you like to keep your nails short! Think about the colors and trends you can incorporate into your manicure.
Question: Can I do Sassy Nails at Home?
Answer: Yes! Get yourself your favorite bold colors, decals, gemstones, and glitter to recreate your favorite sassy nails at home.
Bring Some Sass Into Your Life 
I hope you have enjoyed my list of sassy nails inspiration and ideas. I had a lot of fun looking at all the bold, fun designs out there! These manicures are all about confidence and energy, and there are so many beautiful ideas to try out.
My favorite sassy nails are the Boy Bye manicure by Nuka Nails. A brilliant design! Which is your favorite?
Continue reading:
Cat Eye Nails Inspiration and Ideas: Try Something New With Your Nails
28 Stunning Oval Nails Inspiration and Ideas for 2022
Light Pink Nails Inspiration and Ideas: Big Barbie and Y2K Vibes