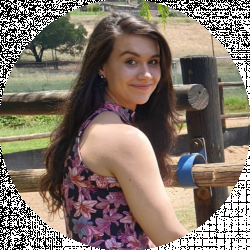 Latest posts by Christine Kent
(see all)
Everyone celebrates Christmas differently according to choice and culture. You can decorate your home (as most do) and organize a theme party. Or watch some Christmas movies with your partner on repeat. Girls! Let's start with nails this time to bring all the associations and vibes of Christmas.
Honestly speaking, I love seeing decorated homes around Christmas time. But I prefer to go out and see other people's decorations instead of decorating my own home. Decorating a home needs a lot of effort, and after Christmas, it is very hard to remove all decorations. But, at the same time, I still want some kind of decorations around. And that is why I choose to decorate my nails with Christmas designs. Guys, trust me! I can bring you some quality Christmas nail inspiration and ideas. So that you can enjoy every essence of this most awaited festival. 
Bottom Line Up Front
Christmas is all about enjoying and celebrating happiness with family and close friends. And my Christmas motto is to do what has never been done before. Christmas allows us to celebrate all our incomplete wishes. So guys, let's start fulfilling wishes with nails.
My all-time favorite nail idea is  Reindeer and Rose Gold Long Nails. As it is cute and elegant at the same time. It is something that I would like to wear even when Christmas is over. Because I know this set will look cute no matter what outfit I wear. Let's dig deep into the article to explore some fascinating Christmas nail ideas.
My Top Picks
My Selection Criteria
I chose the Christmas nail ideas in this article based on the following criteria: 
Christmas nails that are effortless to create.

Christmas nails that you will need to visit your nail tech for.

Christmas nails that you can wear even after Christmas is over. 

Christmas nail sets that are suited for Christmas parties, as well as New Year parties.

Christmas nails that are elegant, attractive, and sophisticated.
Christmas Nails Inspiration and Ideas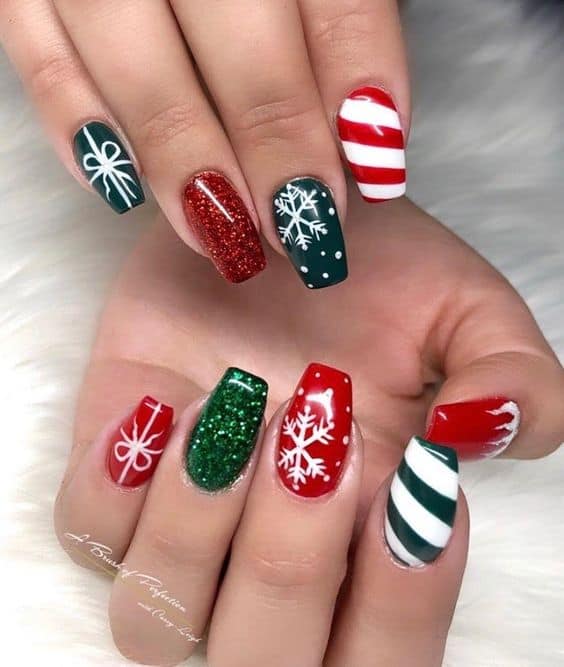 Green and red are the most common colors on Christmas. Green represents eternal nature, and it is the color of holly and mistletoe. While red represents health, life, and courage. These colors are almost mandatory for Christmas. Last year, I decided to create this nail set that contains both colors green and red.
Wow! It was a wonderful experience, bringing me into a festive mood. The green and red color combination gave a lot of positive vibes. The nail set contains base colors of red and green. And designs of a little bow that presents a gift on the little fingernails. The ring fingers are decorated with gorgeous red and green glitters. While the middle finger has a gorgeous snowflake design on them. And the index fingers have red and green candy cane designs. 
This nail set is the definition of Christmas as it makes my heart feel warm and festive. I can imagine a cold Christmas morning by just looking at the nails. Where you look outside the window. And see the snowflakes falling outside while you are drinking your hot cup of cocoa. This nail idea is also so easy to achieve. All you need is your red and green base colors. And white gel and a stencil. And you are ready to celebrate Christmas to the fullest with this cute nail set.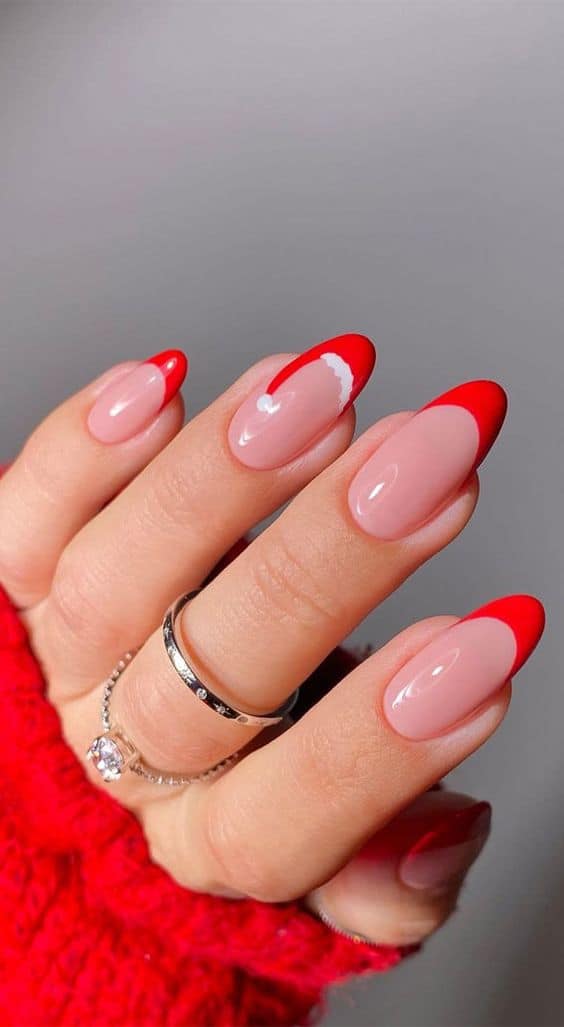 OMG, What a nail design! I love it as it is so elegant and attractive. I'm obsessed with nails that look minimalistic and elegant simultaneously. And red french tips are perfect for Christmas. As they bring the association of Santa. Especially with the little Santa hat detail on the ring finger nail. It makes your nails look extra special for Christmas. 
The best part is that you can create it at home with nude and red colors. Start with the nude base. Allow it to dry, then paint the tip of your nails red. Add a little white detail to the ring finger to create a Santa hat design. I love this nail look as it is subtle, which makes it perfect for the office. But at the same time, the little Santa hat detail gives it that oomph to carry the Christmas spirit.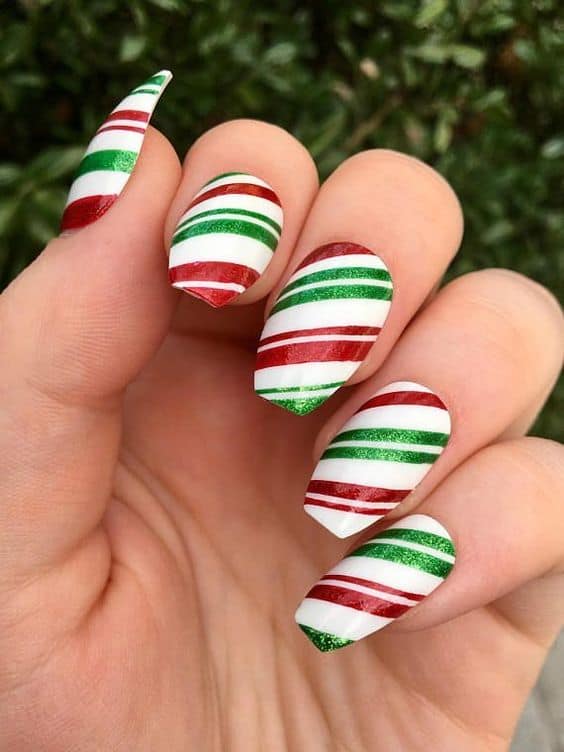 Candy canes have been part of the Christmas celebration since the 18th century. So you must consider them while designing your Christmas-inspired nails. This candy cane nail idea is so different that I am sure you will be the only person with this elegant set. 
This nail idea reminds me of candy cane sweets I used to eat when I was little. They were so hard that I almost broke my tooth by eating them. And my parents would scold me and tell me that the tooth fairy would not bring me money. Or won't use my teeth for her house if I continued to eat those sweets. Did I listen? No ( But shhh… let this stay between us, please). 
Different colors of candy canes have different meanings. For instance, white represents purity. Red shows Jesus's blood that was shed for us, and green eternal nature. You can add other colors to your candy cane nails as Christmas is about your happiness. Right? 
If all the nails were white and only one or two had the candy cane design, it would be perfect for me. But unfortunately, this is not the nail look I would go for as it is a bit too busy for me. This nail set is easy to achieve if you have a steady hand. And if you want to achieve the candy cane nail design by painting it freehand. But there is also the option of using a stencil if your painting skills aren't the best.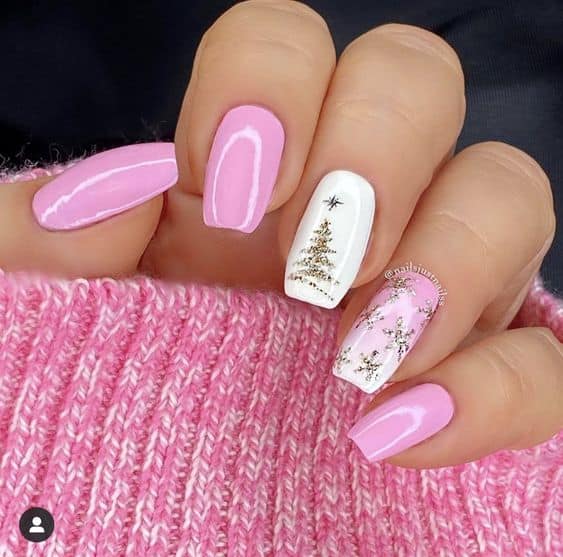 Who said you can't be a Barbie around Christmas time too? I am not a person who is just stuck at two or three basic colors for Christmas celebrations. I am rebellious, so I always think out of the box. And it is the same when it comes to my nails. I have always been obsessed with baby pink. Jip, I'm a typical girly girl. So, I tried the baby pink nail idea for Christmas with some golden glitter. It was a great experience.
These nails are super easy to create at home with zero effort. Start with the world's most elegant baby pink base on the thumb, index, and little finger nail. Then for the middle finger, you will paint it a white base color. And add some golden glitter to form the Christmas tree. And lastly, for the ring finger, you will do an ombre effect with the pink and white base colors. And then add some golden glitter snowflake details. I think this nail set is truly adorable!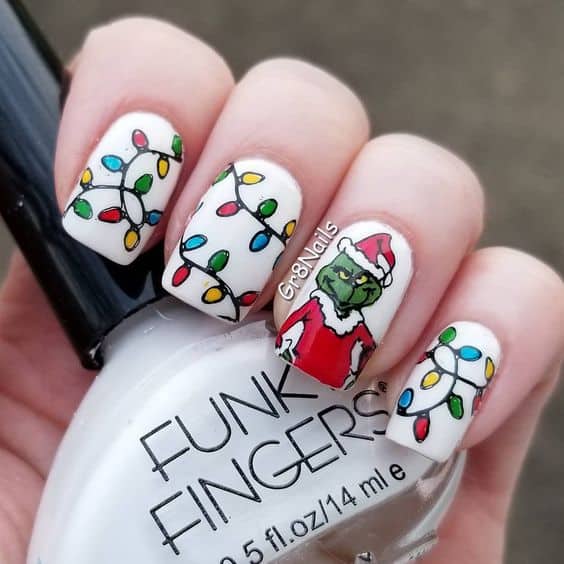 Christmas, a season of happiness and celebration, deserves something extraordinary. People use their savings, do extra shifts, and get company bonuses. So that they enjoy every essence of Christmas. And why not enjoy Christmas even more by getting a super creative and fun nail set? 
Don't let the Grinch steal Christmas; let him steal the people's hearts by putting him on your nails. And let the little Christmas lights detail be the light and positivity during Christmas time. This set is truly something I would wear. Because I used to love the Grinch Movies when I was younger and still do. And I'm obsessed with white nails, so this is just the perfect nail set for me. 
But I have a bit of bad news. Since this nail set has so much detail, you will not be able to achieve this nail look at home. And will need to visit your nail tech. This nail set might hurt your pocket because a lot of detail and effort goes into it. But hey! It's Christmas, and I promise this set is all worth it!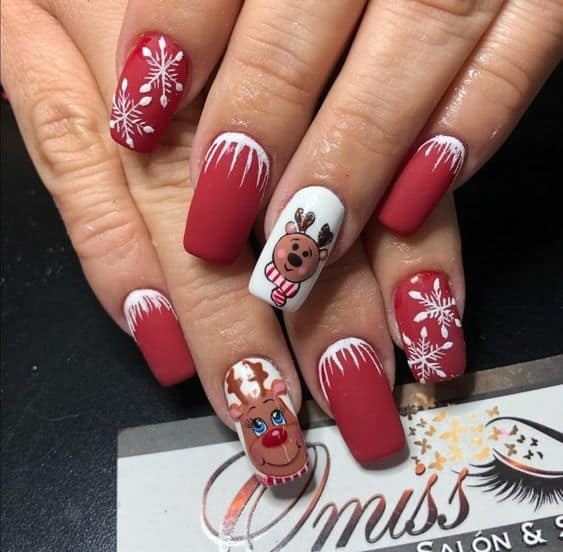 This nail set reminds me of staying up all night waiting for Santa. And his reindeer to come to deliver my presents. I would get excited, put out the milk and cookies, and wait by the window. I would imagine hearing the bells jingling all the way. But I would fall asleep each time and wake up to a pile of presents. My cookies and milk were gone, and crumbs were lying on the floor! It must have been the reindeer! 
This nail set is in a gorgeous red color with the cutest reindeer and snowflake details. Unfortunately, the nail set is a bit too complicated to achieve at home. But it is Christmas, and you can treat yourself to going to the nail salon. I would wear this nail set to a Christmas party as I know it would be a great conversation starter. 
The burgundy and silver glitter of this nail set complement each other perfectly. I know it would look gorgeous with a black or brown body con dress and some knee-high black boots. And don't forget your black fur coat. Moreover, the color burgundy is associated with "Power, ambition, and wealth." So you just know that you will make a statement wearing this gorgeous nail set. 
And the great part is that if you take care of this nail set, it will also be perfect for New Year's. The look has quite some detail, so I would rather head to the nail salon to achieve this look to perfection. I love this nail set as I love to wear dark colors on my nails. It always makes me feel sophisticated and put together.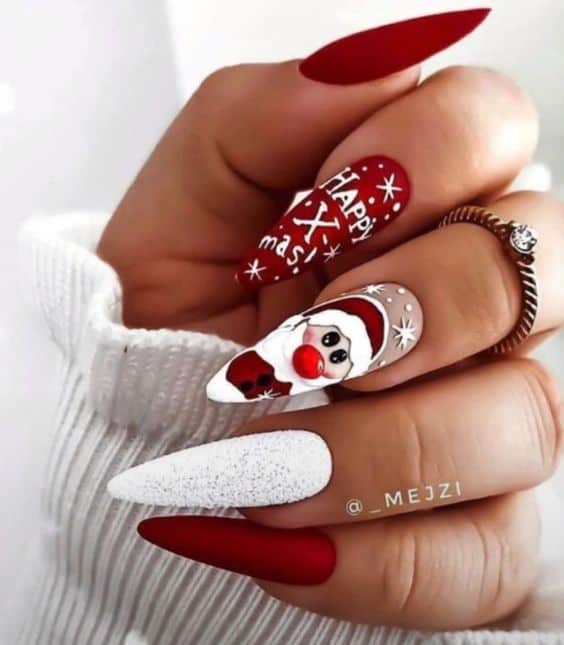 OMG! Long red nails are so beautiful. So beautiful that I want to create them for any occasion rather than only on Christmas; # obsessed. I opted for this beautiful Xmas nail set for my family's Christmas party last year. And I must say I have never received so many compliments on my nails before. Everyone loved the little Santa on my middle finger, my favorite part of the nail set. 
But the detailed adorable Santa Claus on the middle finger. And the Happy Xmas on the index finger makes the nail set a bit difficult to create on your own. So you will want to visit your nail tech for this one. But babes, it is totally worth it! If you have some big plans for Christmas, just opt for this idea. It won't let you down.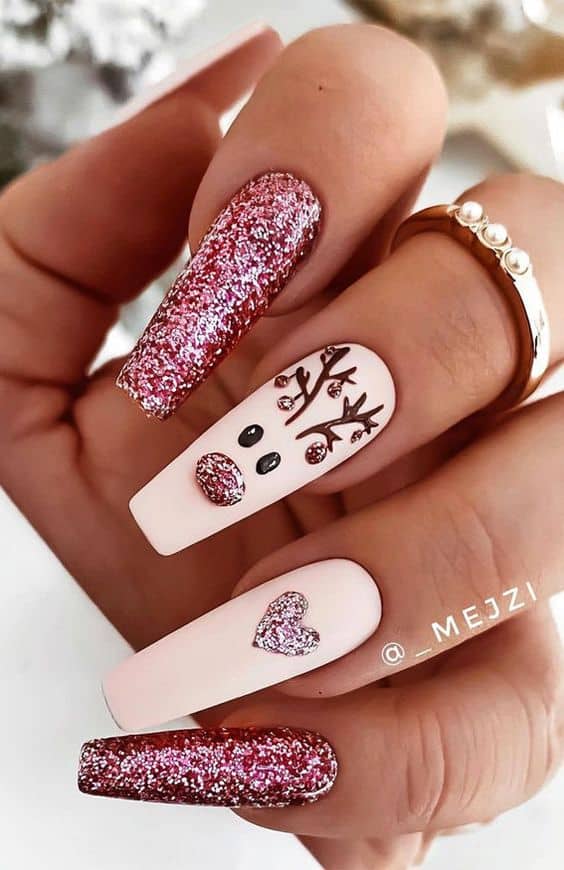 How can I forget to mention glitters? Especially rose gold glitters? Glitters are the most popular option for girls when it comes to fashion and style. And, of course, nails. Whenever I'm indecisive about what nail set to go for next (Which happiness 9 out of 10 times). I just add glitter to my nails without a second thought.
I added this design for you because I just know you were dying to see a rose gold glitter Christmas nail design. Am I right? All you have to do is to start with nude pink matte on the thumb, middle, and ring finger. Once dry, you can add some reindeer and heart details in rose gold glitter. Cover the 2 remaining fingers in rose gold glitter to finish the look-off. This is the perfect nail set to go for if you want to be girly but festive at the same time.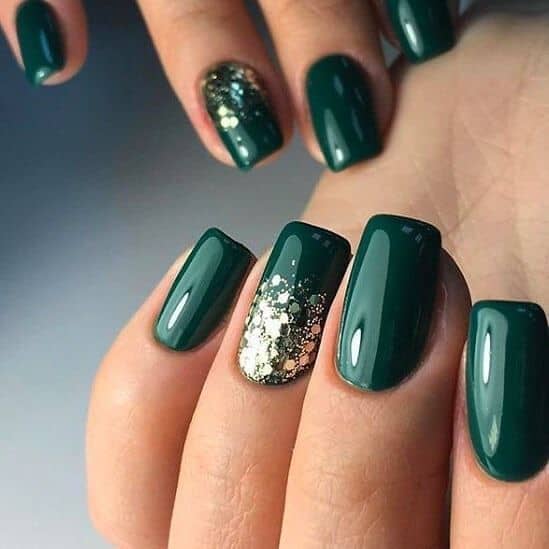 Christmas and New Year parties go hand in hand. That's why I prefer those nail ideas I am comfortable with for both events. Emerald nails with golden shimmer are so versatile that you can wear them on any occasion. From birthday parties and night-outs to New Year parties and even Christmas. The green and gold combo never loses its magic, and they fit with every outfit.
So, guys, this idea is perfect if you are looking for a cheap yet elegant manicure. Moreover, you can achieve perfection in it at home with minimal effort. Start with an emerald base, and add some golden shimmer. And finish it off with a glossy top coat. Jip, this is a Christmas nail idea I'm going for this year. Because just like I'm lazy to take down my Christmas tree, I'm lazy to take off my Christmas nails too. And with this set, I can wear it without anybody knowing it was actually my Christmas nail set. Genius? I think so!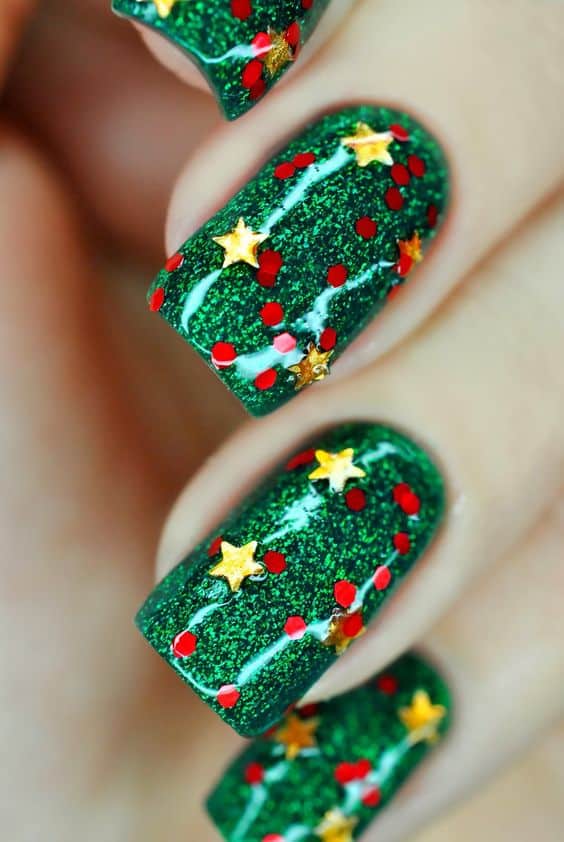 If I am talking about Christmas nail ideas, how can I forget to talk about the Christmas tree? The Christmas tree and stars on this nail set symbolize the birth and resurrection of Jesus Christ. 
The lights on the tree represent the importance of knowledge and family love. There isn't really a Christmas tree design, but you can see the entire green nail as the tree with its decorations. To buy and decorate a Christmas tree at home is a little expensive. But you can bring this association with your nails. Sound fun? Trust me, it is!. 
Moreover, it looks so beautiful and spiritual. And once you can create them. You can attend all Christmas events without worrying about your outfit. Trust me, your nails will make your outfit. This nail design is easy to create at home. As it only requires some green glitter, golden stars, red sequences, and a glossy top coat.
This is not a nail look I would go for. Because to me, the green glitter on every nail is a bit overwhelming, but that is just my opinion. If you love this nail idea, go and create this nail look and have fun! 
I am obsessed with red and want to add it to everything. Christmas gives us a great opportunity to celebrate our happiness in whatever manner we want. I add red to my life as much as possible, from room decoration to my outfits and, of course, to my nails. That is why I love Christmas time because I get to wear red freely.
Moreover, this nail design is so simple that you can create it at home with minimal effort. The glittery stars add more eye-catching elements and positive vibes to the beautiful set. So if you want something more minimal and not overwhelming, this nail set will be ideal.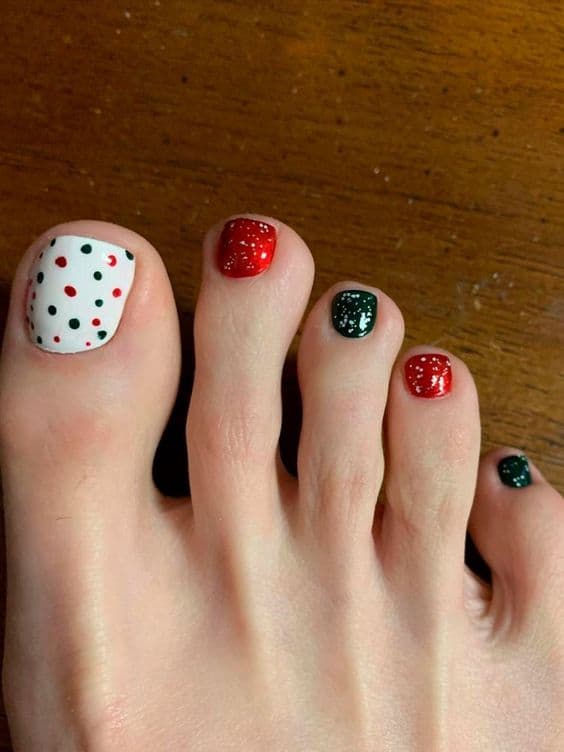 Because it is Christmas, it doesn't mean you need to forget about your piggies. They also need your love and care. And that is why I added this toe nail design so that your nails and toes can be in top shape this Christmas. It looks cute and minimal. And it is super easy to create at home. All you need is white, green, and red base colors. A gold glitter top coat and a dotting tool to create the dots on the big toe. 
I think this nail design is very cute and definitely something I would go for. I love it if my toes and nails match in color or theme.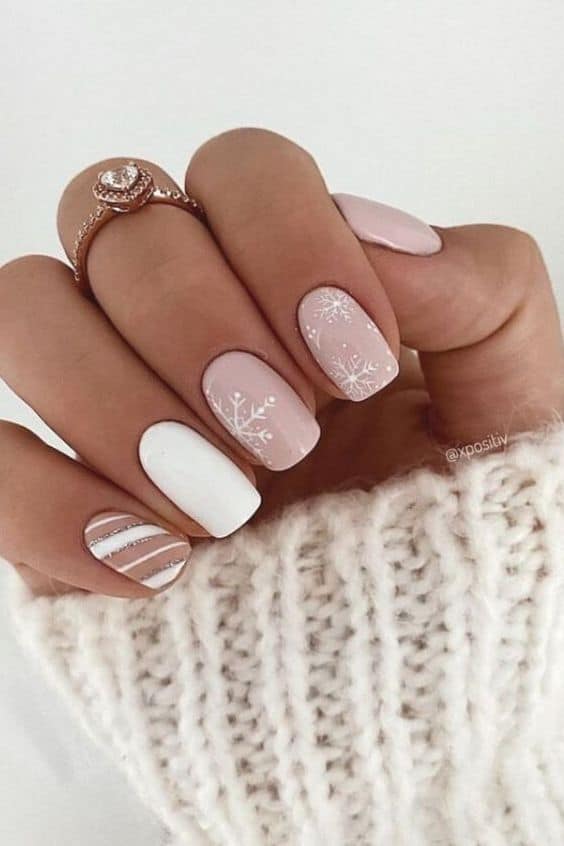 Sometimes you don't want to go all out with your Christmas nails. And just want something subtle and neutral. I can understand that girl! Sometimes you just seek elegant and sophisticated nails. Not those that are loud and scream, "I want attention." So this is why I included this Christmas nail idea for all my minimalist girls. 
This nail set is easy to create at home. All you need is your white and nude base colors, some snowflake stencils, and line art nail stickers. I love this nail set as I can still wear it after Christmas and New years and still look fashionable. That is definitely a win! 
Frequently Asked Questions
Question: What Color Should I get my Nails Done for Christmas?
Answer: Traditionally, Christmas is all about elegant green, gold, and red colors. But Christmas is also about happiness and celebrating what we are thankful for. And we can showcase this by using any color, in my opinion. If you want to create something totally different, go for it. 
Question: How Long Should my Christmas Nails Last?
Answer: Well, it depends on how you take care of them. But on average, 2 to 3 weeks. This means that if you get the right design, you can wear the same nail set for Christmas and New Year. 
Question: What Nails Should I get for Christmas?
Answer: There are many options for Christmas nails, but it depends on what you want. After all, Christmas is all about enjoyment and celebration. You just need to listen to your inner voice. So get the nails that will make you happy and make you want to celebrate. 
Conclusion
"Congratulations and celebrations, lalalala." You have reached the end of my Christmas nails inspiration and ideas. I hope you found a nail idea you would like to wear for Christmas, New Year's, or both. My favorite nail idea is Reindeer and Rose Gold Long Nails. Because of its cuteness, girlyness, class, and elegance. 
Let me know in the comment section how your experience was after creating my ideas. Eagerly waiting to hear from you girls. I know It is only July, but I want to be the first to wish you a Merry Christmas! Because when you open your eyes again. It will be Christmas time and time to decorate your nails with these fun nail designs. Have fun!
Continue reading:
Red and Gold Nails Inspiration and Ideas: Bring Out Your Inner Goddess With these Red Nail Ideas
Green Nails Inspiration and Ideas: 20 Ideas for 2022
White Nails With Design Ideas: Nails That Are Simple and Chic