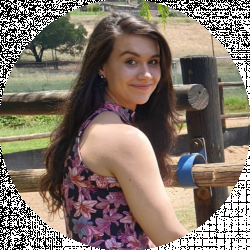 Latest posts by Christine Kent
(see all)
Feeling bored of your old-school brown nails? Looking for some new, unique, and stunning nail ideas? Then take your next inspiration from these fantastic Black Ombre Nails Inspiration and Ideas.
I was one of those people who always stuck with the same nail colors, and I had never thought that I'd be able to pull off this crazy idea of getting a dark ombre. I get most of my inspiration for nail art from other art forms, like paintings, sculptures, and even tattoos. I've also created and loved the minimalist look with simple graphical designs. 
Whatever source I'm drawing from, I try to develop my unique spin on things to make my nails stand out. Have you tried creating some cool ombre nail designs? If not, then it's time to give it a go. Check out these Black Ombre Nails Inspiration and Ideas that will surely make you change your style.
Bottom Line Up Front
There is something about black nails that makes them so edgy and cool. Black ombre nails are all the rage right now. Ombre is a nail art design where the color of the nail changes as it moves from the tip to the base of the nail. The dark or light color(s) at the nail's bottom end is usually a contrasting color or the nail's natural or base color. This art is classy, sophisticated, and can be dressed up or down depending on the occasion. 
While they may seem a little intimidating at first, they are actually effortless to do, even if you are a beginner. I got my ultimate favorite gel black ombre nails for my graduation party, which had a perfect shine to them and were super easy to create at home. I also received a lot of compliments from them. 
Whether you are looking for a way to mix up your usual nail look or want to try something new for an upcoming special occasion, read on for some inspirational black ombre nail ideas.
Top Picks
Selection Criteria
The ideas in this article are based on the following criteria:
How you can incorporate the nail art in various styles

Nail art that can be done effortlessly at home.

How you can utilize this nail art for different occasions

Ombre nail designs that are affordable and beautiful.

The use of glitter or rhinestones to look more graceful.
Nail art is a form of adornment that complements a woman's personality, and adding gems or crystals to it enhances its appearance. There are endless possibilities for creating expensive black ombre nail art. Try incorporating more creative elements like crystals or rhinestones to add a touch of glamor and sophistication to your nail art. This art is simple but striking and can be customized to suit your personal preferences.
This look appeals to me because it is simple to recreate at home using my favorite sparkly elements. Although simple black ombre nails are also attractive, placing shiny rhinestones will definitely make a more stylish impact. Rhinestones have always been one of my favorite nail designs. This nail look is all I need to steal the show at a party. 
This is my favorite nail art. Gel nails are known for their natural appearance and glossiness. That's why I prefer them more than acrylic nails. The lovely combination of black and nude shades on top of these gel nails adds even more elegance. This look can easily be achieved at home by following the steps below:
Apply a nude shade to your gel nails that you like.

Dab black nail polish onto the tips or half of your gel nails using a sponge or a brush. Repeat this step until you get the intensity of the black shade you want.

Apply the finishing gel on top of it and let it dry.
 This nail art is simple yet elegant, easy to create, and visually appealing.
Black and white monochrome is timeless, simple, and concise. White and black have a long history of symbolic use and are explicitly mentioned in the Pythagorean Table of Opposites. The contrast symbolizes the moral difference between good and evil in Western culture and Confucianism.
Using this contrast in nail art is inspiring too. You can achieve many designs with it, but some dreaming moon and stars designs will make you float in the clouds. You have been making stars and moons since childhood as a school drawing, and now it's time to use your skills in nail art. You can draw them on your black ombre nails with the help of a thin brush using white nail paint effortlessly at home. 
This is another nail look that I'm totally obsessed with as I just love to stare at the stars at night and see which new stars I can spot, and with this nail look, I can look at the moon and stars whenever I want. Love it!
In today's ever-changing beauty trends, ombre nails seem to stay. There is something about gradually fading from light to dark that adds an element of elegance and charisma to your nail art. And if you're looking for a way to make this classic look even more unique, why not try incorporating some holy icons into the mix? These creative ideas will inspire you, from crosses and halo designs to stained glass-inspired nail art.
These holy icon charms are handy; you need to grab them, add them to your nail art, and add peace and devotion. The long square-shaped nails are perfect for these sacred icons. Let the world be hypnotized by the lasting effects of this look for the Halloween season.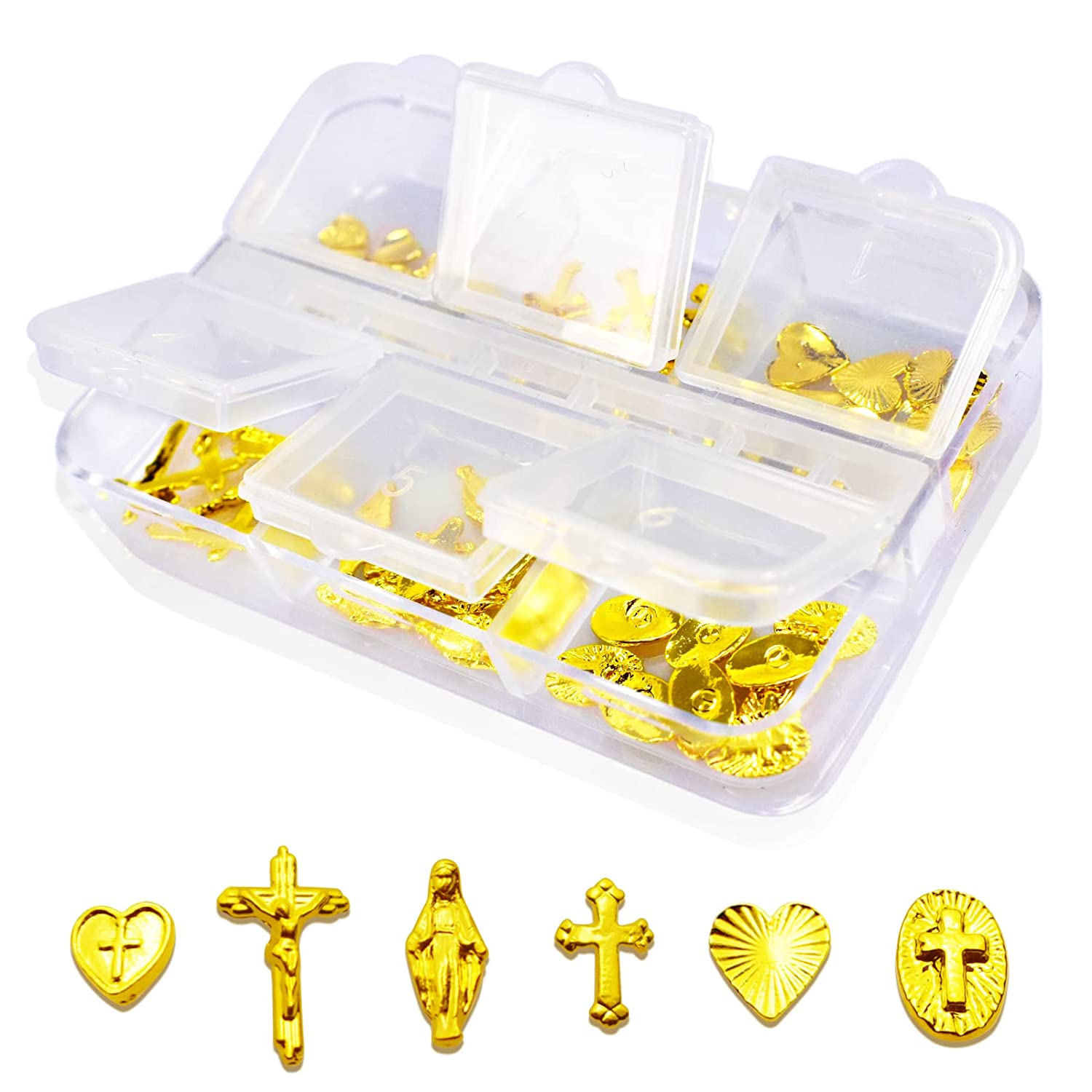 Even though I think this nail look is unique and fun, it is not something I would get as the length is way too long, and there is something about the design that freaks me out.
The red shade evokes a physical reaction, whereas black adds gravity and authority. Combining these bold colors can be a traditional way to change your look and make a splash—especially if it's been a while since you've done some nails.
I have experimented a lot with this mixture of colors in different ways. Red is my all-time favorite. I rarely use black nail polish on my nails, but I prefer it for color-blending nail art. I've always found this look to be very enticing. This nail design is a sign of courage, boldness, and bravery. The extra-long length of stiletto nails gives a more sassy boss vibe.
If you are an expert, you can achieve this look without trouble in the comfort of your home. Take a look at this easy tutorial, apply this art in distinctive ways, and be your own boss.
What comes to your mind first whenever you think of Valentine's Day? Love, romance, hearts, or sentiments? All of these are symbols of love and ways to express your feelings. This time, consider a slight change in expressing your feelings. Spend some time doing this lovely nail art with cute little hearts on black ombre nails and shower your love for them.
I would suggest picking gel nails for this art. The glossiness of the gel nails adds a shimmering scene to the heart and makes it look extra cute. You don't have to go to a salon asking someone to draw your heart on your nails; you can do this independently. Follow this super easy tutorial and let your nail art say what your heart says. I think this nail look is fun and cute and puts a twist on the regular Valentine's day nails. 
Nails are often considered an extension of the personality. From simple designs to ombre and patterns, they can be customized to reflect any look or mood. Gothic black ombre nail art is one of its unique art styles, perfect for rocking every season. You can also have this art during the Halloween season if you are one of those who want to complete their traditional gothic look.
Coffin nails and stiletto nails are perfect to showcase your love for this nail art. The ideal combination of white, black shades, and a hue of gray is exceptionally gorgeous and deserves to be acknowledged. 
It is quite an exciting art, for which I'll surely hire a professional artist. If you are also looking for exciting nail art, you should go for this rocking one to recreate, perfect for keeping your dark spirit alive.
Okay, can I be honest with you? This is not one of my favorite nail looks as it reminds me of a vulture's nails, and it scares me, but this doesn't mean you shouldn't get this nail design. The nail design is creative and something else; it is just not for me. 
Who says that you can not get matte and gleaming nail art simultaneously? This nail art will change your perspective and inspire you to get this gorgeous look at least once in your life.
I occasionally use matte nail polish, but I always sprinkle some glitter over it to add some shine whenever I use it. This nail art has given me a new idea of adding reflecting glitter on matte shades in some different styles. I followed some simple steps to create this look at home.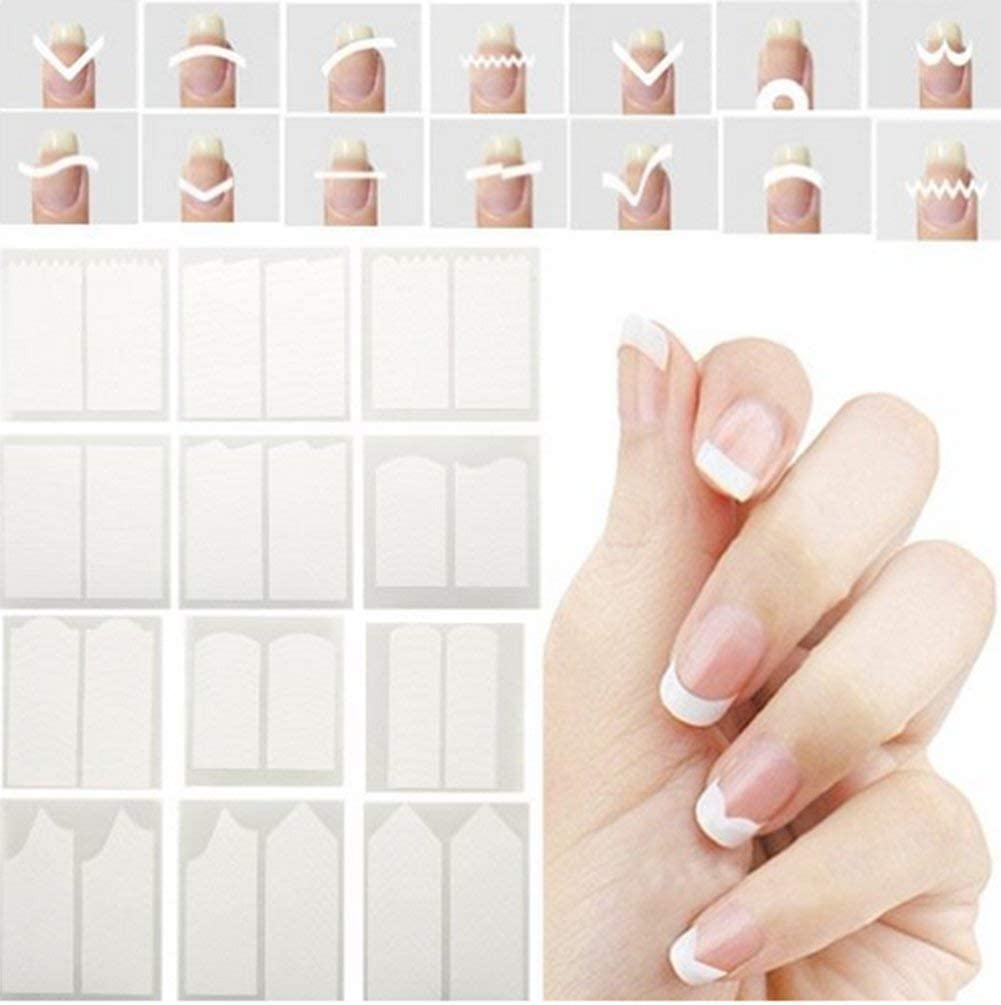 Apply a base coat and allow it to dry.

Attach

 stencil stickers

 of your favorite design on your nails before applying nude nail polish and let it dry.

Layer a generous amount of black nail polish at the end of the disposable sponge. Dab it onto your nail tips. Let your nails dry thoroughly before going to the glitter step.

Remove stickers from your nails. With the help of a nail brush, put some

 glitter

 on the empty sticker area.

And lastly, apply a top coat layer to secure the design.

The galaxy look of this nail art is so mesmerizing that you won't be able to stop yourself from adoring it. You can use any color combination you want, but I recommend sticking to shades that will look like the night sky. 
There is no better way to demonstrate this nail art than through galaxy black ombre nails. This design is out of this world. It will make you feel like you are a part of the cosmos. The classic and elegant combination of black ombre with gray shade and shiny emergence on top is all that you need to create your own galaxy on your nails. 
While galaxy nails have been popular for a few years, it's hard to find tutorials showing how to do them justice. After a lot of struggle, I managed to find this tutorial that can give you an idea about how to create this look. Trust me, creating them is a lot of fun, so give it a go. 
Beautiful hues of red, yellow, and orange flowers adorn the landscape. Don't limit holding them in your hands or for decoration purposes only; try them on your nail art. From the reminiscent of a multicolored flower meadow to the flowery designs, make the perfect choice for nail art for your next get-ready-for-summer look.
The art of creating this floral design on your nails is extraordinarily tempting. You've probably seen a lot of flowery nail art designs, but this black ombre with a white flower on the side of the nail is stunning. If you are a master of paintbrushes, the craftwork would not be challenging to create.
Blooming flowers always look pretty. Draw them in any way you want. You can also prefer multi-color art on these black ombre nails to make a more brilliant and vivid appearance and brighten a day.
I was definitely in awe when I saw this tutorial and instantly fell in love with this nail look. This is a nail design that I would love to get for my next birthday nail set. But I'm definitely heading to nail tech to achieve that perfect white flower art. 
The matte black trend is still strong and shows no signs of slowing down. This look is perfect for anyone who wants to add a touch of edge to their style. Whether you're looking for a new mani for a special occasion or want to switch things up, this is the hottest flat black ombre nail design!
The matte-ness looks superb on square nails. The art is tricky, but there won't be any problem if you are an expert. An ombre look demands the perfect blending of black and nude acrylic nail paint. If you master the layering up technique, you will be unstoppable in achieving this hottest look. The matte top coat will enhance the matte finish look even more. Take it and set it to splash some heat on the environment. 
This is a nail set that I would love to wear with my new red slinky cross-back dress, as I know I will feel confident and unstoppable. Come on, ladies, get this nail look today and unleash the power and fierceness inside of you. 
The most popular nail art craze is both classic and striking. The fusion of purple shade with the black ombre nails is perfect for extinguishing with all its inner grace. This hue transits a rich and charming gamut from warmer tones to cool. These ombre nails look seductively best in a high gloss.
The shades' combination, incorporation, and bold nature are extraordinary. I found this look too adorable because it illuminates the exceptional beauty of art and gives me royalty vibes.
I like the shine over these square-shaped ombre nails. By following the simple steps in this tutorial, you can create this art at home with a classy yet bold look to steal the spotlight.
It is one of my favorite nail art styles as it looks beautiful and awe-worthy. The design is easy to pull off, affordable and looks great if you tie it into a black or blue outfit for a perfect night out. It looks stylish and can be accessorized in a variety of ways.
This Ombre art takes a little more effort, but it's entirely worth it. Rather than going from a natural base, I'm going with black to blue shades for some atmospheric look. Apply the blue and black nail polish on a sponge. Dab it onto your nails to create an ombre effect. 
Apply a gel top coat for a finishing look. These shades must merge enough to complete this colorful nail art which is cool and classy and will make you wish for it daily.
What a killing look this is! The perfect blending of these two shades is so fascinating that it reminds me of the Bioluminescence beach in Puerto Rico. The long stiletto nails are perfect for this nail design. The glaze of gel nails burnished with a high shine top coat looks stunning. This art is definitely on my following go list. 
You can also modify the art by adding some other structures like the shiny little stars, resembling precisely the night view of Bioluminescence beach. I would love to slay with this look and outshine among others.
You can quickly transform your dull, simple nails into stunning deep purple-black ombre nail designs without spending too much. This is quite a popular color in winter weddings and fall seasons. It symbolizes royalty, mystery, and fantasy, and the black shade adds a more sophisticated and striking look.
I am truly not a fan of matte nails, but this art has taken my heart. The nail shape settles great with this nail art. I can create this look at home without struggling too much. The most important aspect is flawlessly blending these shades to achieve the desired intensity, and applying a matte top coat will further enhance the art.
Frequently Asked Questions
Question: Do you Always Have to Visit a Salon to get Ombre Nails?
 Answer: Ombre nails can effortlessly be created at home if you know the proper technique for its application. Nail polish and sponges are all that you need with some flexibility.
Question: What is the Best Way to Remove Glitter from Nail Polish on your Nails?
Answer: Soak cotton balls in nail polish remover and press the cotton ball to the nail for a few minutes. The glitter will wipe off with ease.
Question: Is it Always Necessary to use Professional Ombre Nail art Brushes for Nail Art?
Answer: For a person's own comfort, it would be better to use these professional brushes. They come in various shapes to help you draw your favorite art easily.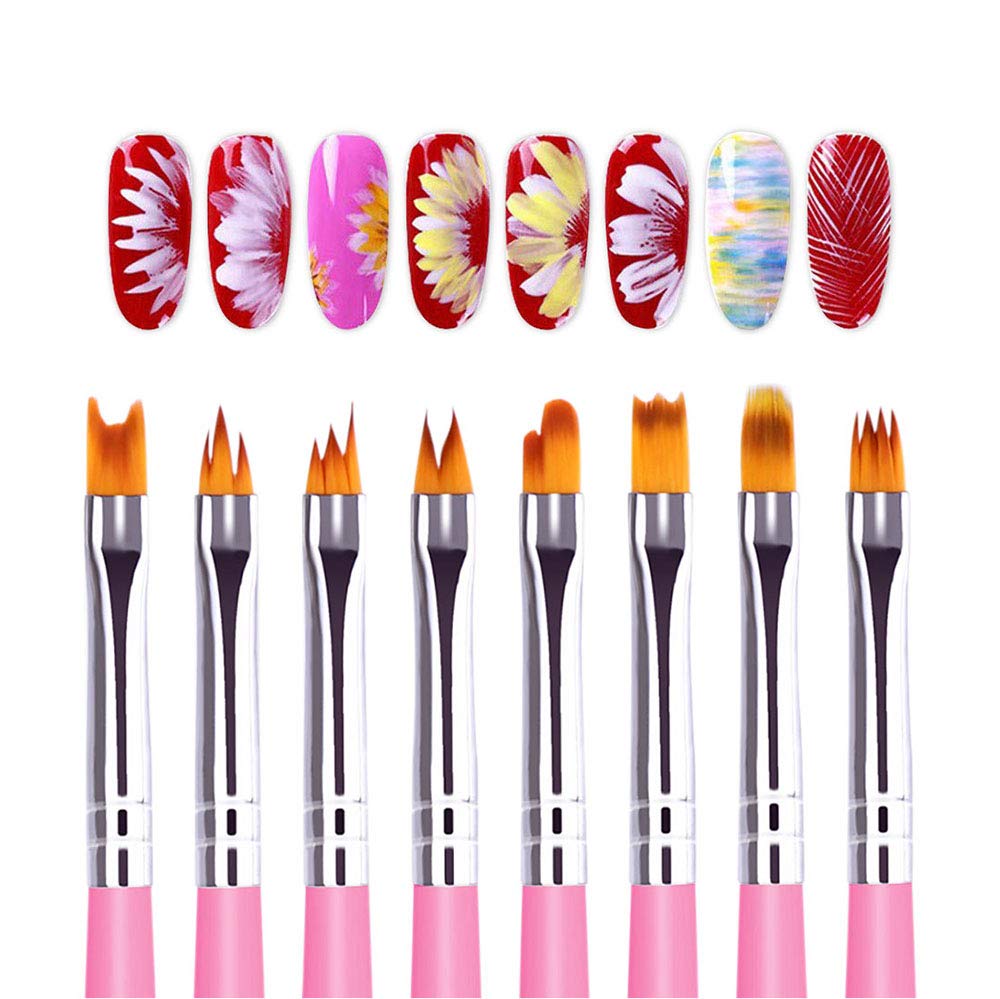 Conclusion
Nail art is becoming an increasingly popular way to express oneself, with people experimenting with designs and colors. It is a fun way to express your personality and style. Black ombre nails are every woman's love or hate. If you like them, go ahead and try them out. If you don't like them, don't be afraid to experiment and change them to find something you love!
Black is the shade that blends with every color so naturally enough to establish a new art. If I had to recommend a black ombre nail design, it would be the Gel Black Ombre Nails, as they are so easy to create and just look flawless with any outfit I pair them with.
I hope my black ombre nail ideas above inspire you and help you achieve a stunning look. Good luck!
Continue reading:
Black Coffin Nails Inspiration and Ideas: A Guide to Dominating the World With Your New Nails
27 Fun and Stylish Black Nails Inspiration and Ideas