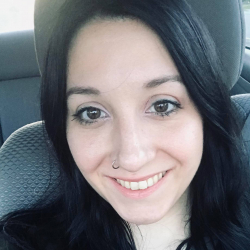 Latest posts by Stephanie Jensen
(see all)
Black French tips (also called black-tipped French manicure) are a massive trend right now. One look at the Instagram hashtag and you'll see this look everywhere. I've personally had this look a dozen times and it's still one of my favorite nail styles ever.
Whether you go to your nail tech to get this look or do it DIY, you're likely looking for some inspiration. Here are some of the best black French tips I can find on Instagram, as well as the shape of nails you should get and the different style options you have available.
Shapes of Nails That Look Great With Black French Tips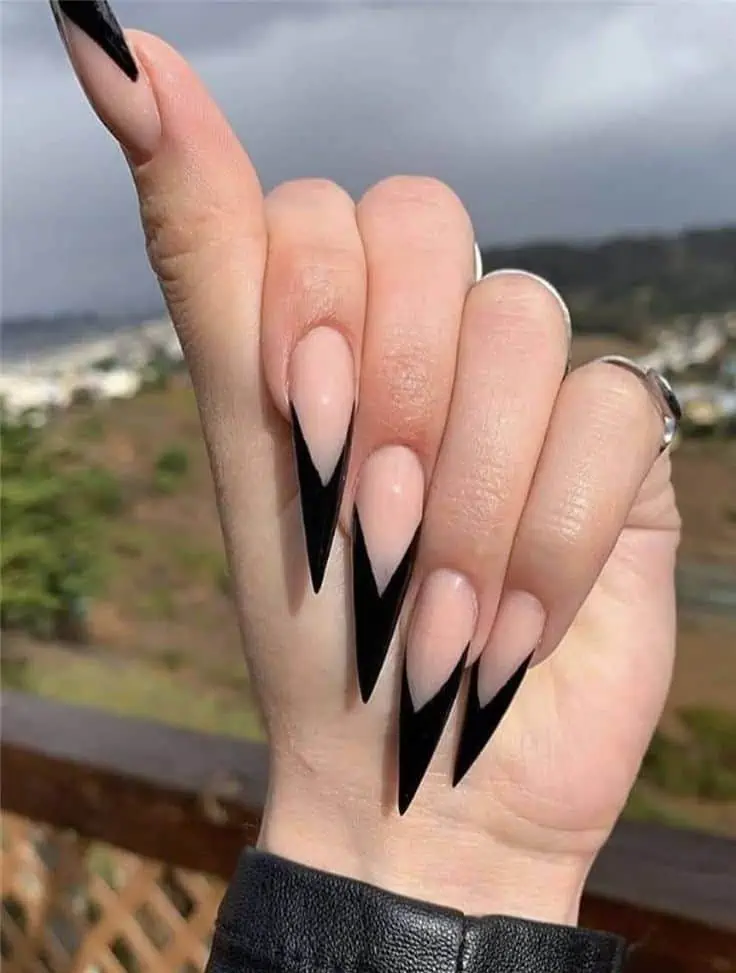 The shape of your nails can impact the way French tips look. If you want to get black French tips, what shape should your nails be?
Stiletto
I had stiletto-shaped acrylic nails for a long time! Stiletto nails are long and rounded nails that are very thin at the ends and sides, looking like a stiletto heel. They look fiercer than your average nails, and the black tips make them look even more dramatic. Since the stiletto shape is so long, you can get really artistic with your nails and add different gems and other fun styles to your nails.
Almond
If you don't want super rounded nails but not the fierceness of stiletto nails, almond-shaped nails are a beautiful middle ground. As the name suggests, they're shaped like an almond. You can get super long or super short almond nails. Black French tips look especially trendy on this nail shape.
Round
If you're not sure what nail shape you want, round nails are always a popular choice. Like almond nails, you can choose short or long round nails. But unlike the other shapes, round nails are not thin. Almond nails are a great choice if you would rather get press-on nails — I often see this shape when I shop for press-ons.
If you do get them done at a salon, the wider shape can give you more stylistic options. I personally love gold added to black French tips!
Square
Square-shaped nails are always a classic for French tips, especially black French tips. I love square-shaped nails because they're simple and cute. You can get square-shaped nails in all lengths. If you get longer ones, you can add the gold detail I mentioned previously or any other color. I also see press-on nails that are square-shaped, though you can easily get this look at any nail salon.
Black French Tip Styles
The best part about black French tip nails is you don't need to choose the classic look! There are so many black French tip styles out there. Here are some of my favorites.
Classic
Of course, I have to mention the classic look. The tips of the nails are colored black and the rest of the nail is nude. Classic black French nails usually don't feature additional designs or art. While you get the best results at a salon, you can find black French tip press-on nails or you can even try doing this look yourself!
Wavy
Classic black French tips are usually perfectly shaped. While wavy nails may look flawed, I personally think they give the French tips a cute look! To achieve this look, outline a wave design on the tips of the nails and fill it in with black. You can also opt to add the wave effect at the bottom or sides of the nails!
Swirls
Do you want something more abstract than the wavy design? Opt for a swirl design! Kind of like the wavy look, swirls give a more artistic flair to this look. You can also add this design to the sides instead of the tips.
I personally think the swirls give a more modern edge to the classic French tips, though it's still such a minimalist design. For a more unique look, add other colors such as white to the swirl design. You can also add gem accents to make your nails look fiercer. If you struggle to do a full black tip swirl, add a single black swirl to the tips of your natural nails.
Patterned
If you can find black nail art, why apply it to the whole nail? Cut the nail off at the tips for a unique black French patterned look! There are so many cool looks you can do. Since spring is here, you can find lots of cute springtime inspiration! Are you eager to experiment with different patterns? If so, I suggest asking your nail tech for advice.
Half-Moon
Kind of similar to the classic French manicure, the black-tipped part is more curved, looking like a half-moon. It's an unexpected look that will seriously elevate your nail game. Instead of doing the rest of your nails in nude, opt for a midnight blue so your nails can look like the night sky! You can also opt to add the nail detail to the sides rather than the tips.
Curves
Rather than random swirls, curves are super abstract and trended in the 60s. I especially love this look when combined with other colors, such as white. Instead of adding the curves to the tips, you can add the curves to the sides and even down the middle. The curves can also be subtle or accentuated.
Inverted
There are a couple of ways you can do inverted black French tip nails. You can either add the black part to the cuticle instead of the tips. Or, you can paint all of your nails black and add nude-colored tips. It's a minimalist yet unique nail look. You can achieve this look with all nail shapes and lengths. This is also a cool nail look to add different designs.
Colored
Who said black has to be the only color you choose? Black French tips look great mixed with other colors! White, pink, blue, green, yellow, red, and nearly every other color looks great with black. No matter which color you choose, it will surely look pretty. This small detail will surely catch the eye of any onlooker.
Black French Tip Ideas
Are you still not sure about the black French tip look you want? Here are a few ideas!
1. Fierce Black French Tips
I absolutely love this super intense look! These nails are long and square-shaped. The black part goes down the sides of the nails, not just at the top. I also love the square coffin look, it makes the nails look very classy. These are clearly acrylic nails, but I'm sure you can do this will gel nails or find similar press-on nails. Credit: @nailedbymele.
2. Pearl and Gem Black French Tips
If you truly want to be extra, I suggest trying this style! These nails feature chunky pearls, charms, and gems covering the nails. The nails also feature art details such as hearts. A few of the nails have black French tips but others feature clear glitter. These are acrylic nails and it would be hard to achieve this look with press-on nails. Not sure about gel nails. Credit: @lovebun_nail.
3. Black Tip Almond Nails
What I love about almond nails is how they look edgy but classy. I absolutely love this nail look by @getnailedbristol. The nails are medium-length so they're not crazy long.
You can add art or other details to these nails. but I think they look beautiful without the flair. Because of this, I suggest achieving this look with gel instead of acrylic. If you don't want to go to a salon, you may be able to do this look yourself with black nail polish. Just make sure you use cuticle oil on your natural nails so they look as clean as these nails.
4. Out of This World Black French Tips
I love this celestial look! The black French tips feature twinkling starlight and a flying saucer gem on the middle finger. I think it would look cooler with more star details or even planet gems on the black part to better convey the universe; otherwise, I love these nails! If you want this look, I suggest choosing long acrylic nails to perfectly convey this outer space look. Credit: @setsbyjaquelin.
5. Pink, Purple, and Black French Tips

This look is so cool! Some nails have black French tips but others have pink and purple. The colored accents are all different, but I especially love the trippy and wavy ones. The color combination is really cute and looks great with black. Several gems grace these nails, giving these nails a more artistic look. Credit: @mel.thenailtista.
6. Square Black French Tips
I think the small square nails look best with a black French tip, and this look is the perfect example. The short look is so subtle yet so intense. They're also perfect for daily wear. I also love the cross accent on the one nail, makes these nails look more artistic. I suggest achieving this look at a salon over DIY. But if you don't need the gem, you can find similar nails as these in a press-on. Credit: @_nailedbyjayy.
7. Textured Black French Tips
I love this textured nail trend that I've been seeing lately! And this has to be my favorite example of the textured nail look. It's simple but still striking. These nails are a super cute example. The textured print here looks like a crocodile print, but I can't really tell. A flying saucer gem gives these nails a cool 3D look. Credit: @bytanzia.
8. Cow Print Black French Tips
Awww I love cows! That's why I love this cute nail look. These nails are all black French tips, except the one nail is in cow print. Another nail features rhinestones designs around the French tip part. I love the black and white color combination so this look is especially adorable. I definitely suggest going to a professional for this look. I doubt you can find press-ons or gel in this style. Credit: @nails_byyulisa.
9. Black French Tips With Red Bottoms
Okay, this look is cool! The top of the nails are black French tips with pearl accents, but the bottoms are sparkly red! I had to give the picture a second look when I saw it, I thought they were two different sets of nails! Doing a quick search, I guess coloring the bottom of your nails is a trend right now. I think it's a super cute and unique look! Credit: @xo.acrylics.
10. Black French Tips With Leopard Print
I love leopard print and I absolutely adore these nails! The nails feature short square-shaped black French tips. One of the nails has a leopard print design painted on them. While I think you'll get the best results when you get them done professionally, you can do them yourself if you have any artistry skills. Just keep in mind that it looks like the person here has acrylic nails. Credit: @aclasscosmetics.
11. Abstract Black French Tips

This is such a unique take on classic black French tips! The design is in black and white and it almost looks abstract. Not sure what the print is but it looks like a crocodile print. The nails are long, acrylic, and square-shaped, so I recommend only getting this look done professionally. You might be able to find a similar product as a press-on nail, though I doubt it would be this pretty. Credit: @m_a_naiils.
12. Black French Tip Nails With Space Vibes
I'm not sure what to call this look, but it gives me space vibes. These nails are acrylic and are either coffin or ballerina shaped (I can't tell). A couple of the nails have black tips but they're all in different trippy blue designs. They also feature various gems and accents. The one gem on the middle finger looks like a planet, which is why I said these nails have space vibes. Credit: @_nailsbymaddiee.
13. Black French Tips With Glitter Swirls

I appreciate this beautiful yet subtle look! These nails are long, square acrylics with black French tips. However, the middle and ring fingers have a gold glitter swirl that makes these nails look so much more amazing and slightly abstract. I definitely recommend going to a professional nail tech to get this look, but you can do a simpler look yourself. Credit: @teetee.nailss.
14. Black French Tips With Pink
Black and pink is such a great color combination. I absolutely love this look! Here, we have beautiful square black gel (or maybe they're acrylic) tips. But the index finger on both hands have neon pink tips and not black.
To finish the look, the nails feature art details in crosses and planets. Since these nails are long and acrylic with gems, I suggest getting this look from a professional. However, you can also opt for a simpler DIY look without the long shape and the gems. Credit: @beautifiedbytate.
15. White and Black French Tips

If you want to get the color blocking effect but don't want a look that's too extravagant, I suggest trying this look. Had hand has black tips but the other hand has classic white tips. The nails are square-shaped and long, making this look extremely fierce. The ring finger features a Louis Vuitton charm, making these nails truly exquisite. Credit: @nailzzbyval.
16. Black Tips With Gold Flakes
Remember how I was saying I love the black and gold color combination? I'm seriously loving this look! These nails are black French tips but a few of the nails feature gold flake accents. According to the user @pressedbykate, these are press-on nails! I would never have guessed! However, you can easily get this look by going to any nail tech if you don't want to do this look yourself.
17. Black French Tips With Skull Charms
This has to be the best look on the list! The nails here are square and acrylic with black French tips. But the nails feature little skull and cross-bones charms!
It's absolutely precious and unique. It looks like something I would get, even though I think the round pearl gems are a little too much. While it's best to get these nails done professionally, I am finding skull nail charms on Etsy so you can also do this look yourself or with press-ons. Credit: tookie.clawz.
18. Tiny Black French Tips

If you want a minimalist nail look you can do yourself without press-ons, I suggest this look. @jennieshaw painted her nails in a sparkly white and only featured a thin black French at the tips. She also painted skinny cuffs at the cuticle in different holographic colors. It's such a simple yet creative look and nearly anyone could do this.
19. Black and White Swirl Tips
If you want French tips that are different and can be done DIY, I love this look. However, if you're unsure about your nail artistry, then go see a professional. Three of the nails are in classic French tip and the other two nails feature swirls going down the middle of the hand. One hand is black and the other is white. These nail swirls are a serious trend now and I'm really digging this look! Credit: @nailsbyhannahedmonton.
20. Glittery Black French Tips
I love black glitter and I'm seriously in love with this look! As the name suggests, these are classic French tips in black glitter instead of matte black. Plus, the pinky finger is in full black glitter. It's a simple yet beautiful look, perfect if you want something different but not too fierce. I also love the gothic and rock chicness of these nails. Credit: _nailvana_.
FAQs
Question: I Love French Manicures. What Does that Say About my Personal Style?
Answer: French manicures are classic, so that tells me you have a very antiquated and retro style. Plus, I find this look very sophisticated. But what about black French tips? This is a more exotic look and it tells me you like exploring different styles and trends.
Question: How can I do Black French Tip Nails DIY?
Answer:
https://www.youtube.com/watch?v=9R_vnLT054Y
I think this video describes it best.
Question: I Don't Want Black French Tips or Even Classic White. What are Some Other French Tip Ideas?
Answer: I love the reverse French tip! It features pink at the tips and white at the bottoms.
Bottom Line
Black French tips are a serious trend and are an edgier version of the classic French manicure. In order to get the perfect French tips, there are many things you should consider. First, think about the shape of nails you want. Square and round nails are popular options, though I also love almond and stiletto nails.
Next, decide if you want a classic look or a fiercer option. From here, take a look at the ideas we found and get the option that fits your style and personality the best!
Continue reading:
Black Coffin Nails Inspiration and Ideas: A Guide to Dominating the World With Your New Nails
Red and Black Nails Inspiration and Ideas
French Nails Inspiration and Ideas
Pink French Tip Nail Inspirations and Ideas: A Guide to Awe-Worthy Nails