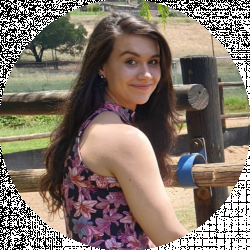 Latest posts by Christine Kent
(see all)
Although the symbolic meaning of the color black depends on society's interpretation and their culture, no color can make such a long-lasting statement as black can. Color psychology associates it with dominance, sophistication, power, elegance, authority, professionalism, etc. You just need to add the color black to your life and feel its dominance and power. Girls! Let's first start with nails.
When I had an office job, I had to choose a color for my workplace that made me feel comfortable and sophisticated and a nail set that looked formal. I have literally been obsessed with the color black since childhood, so much so that my wardrobe now as an adult is 90% black clothes. So, of course, I chose black for my nail color without a second thought. Guys! I have been getting a new black coffin nail design every two weeks for years. You can trust me when I say that I have some fascinating Black Coffin Nails, Inspiration, and Ideas for you today.
Bottom Line Upfront
In the fashion industry, seasons, trends, and colors come and go, but as Coco Chanel said, "black has it all." Black color is such a versatile color that you can wear it any time, on any occasion, and even with any color. From workplaces, dates, parties, and night-outs to wedding ceremonies. So, how can I forget to wear black when it comes to my nails. I can't imagine forgetting. And today, I bring you a variety of black coffin nails that will bring class and elegance to any outfit you wear. My favorite Black coffin nails are the Matte black coffin nails with some added shimmer, and why not? Just look at them, how gorgeous and eye-catching they are. So if you want to see my other top picks, let's read on!
My Top Picks
Selection Criteria
These black coffins nails in this article are based on the following criteria:
Elegant nails that are super easy to create at home without spending much.

Complex nails that you need a nail tech to achieve their perfection.

Nails that look so classy and sophisticated for formal or informal meetings.

Nails that are suitable for every outfit.
You often hear that people match their outfits with their nails, but I am lucky enough to create a print on my nails of one of my favorite coats. Yes, you heard right. I have perfectly created my favorite coat's print on my nails. It is a little tricky to create myself, and I need my nail expert so that every detail is covered. But this is just a nail design that you need to get at least once in your life as it is sure to boost your freedom and confidence.
The thumb, index, and little fingernails are glossy black, while thxe middle finger and ring finger nail have a white and black checkered coat-inspired design. I see this nail design going perfectly with a gray pleated skirt, a black coat, and some white knee-high boots with some stockings. And don't forget the little black bag that always makes a statement. These black coffin nails are a great set to get for everyday wear, whether you are working from home or at an office. Because it is formal but has just the right elements to make it chic.
Whether it is a night-out, formal function, family get-together, or theme party, my priority is always matte black coffin nails with some shimmer. My friends would often get irritated with me as this is the only nail set I would get all the time. And when my nails grew out, I would just get a fill. They begged me to get a different design, but each time I refused. 
But why should I change them? Look at them, they are so classy and sophisticated, and the shimmer makes them even more beautiful. Moreover, this set is super duper easy to create at home. You have to paint your thumb and middle finger nail a matte black. And then your index fingernail is a glossy black. Lastly, paint your ring and little finger nail a matte black put a top coat over it, and let it cure till you see that it is sticky, and then you can sprinkle your black glitter over the nails. You can then brush off the excess glitters. And there you have it, girl; you have your matte black coffin nails with some added shimmer. 
Whenever I want attraction or want to be in group discussions, I try something new and crazy. This time, I selected zebra print detail on my black coffin nails. The zebra print represents a sense of individuality, freedom, and intelligence. What makes this look fun is that I can easily achieve it at home. I have to paint all of my nails a glossy black except for my ring finger nail. My ring finger nail will be painted white, and I will use a black gel to create the black stripes representing the zebra print. Lastly, I will finish the look with a matt top coat to seal those stripes. This nail look will look great paired with black, white, or neutral outfits. 
I would love to get this nail look for a party or a casual event. As I can be casual but with a twist.
Wow! I am a crazy fan of these black french coffin nails as they are so elegant, charismatic, and classy. But, the sad thing is that these long nails will just not work in my daily routine. I can guarantee you that I will spend an extra 2 hours on my laptop just to get all of my work done as typing would just be awful. 
But I would definitely get this set for my birthday party. This nail set would be easy for me to create at home. All I have to do is to start with a nude base, and once dry, I can paint on my black line detailing with a thin nail brush to form the black french tip. And lastly, add some gems to them. Because you know life is boring and you need to add a little sparkle to it. 
What happens when you mix spring with black coffin nails? This masterpiece! OMG! What can I say? These nails are absolutely gorgeous! I am sure that most ladies will adore this nail set. I mean, who doesn't love flowers? Even though I have become a pro with creating french tips, I will head to my nail tech to achieve this look. As I just know that I will get irritated with creating those flowery details with the gold bead center because I just know that they won't come out perfect as I want them. And jip, as you might have guessed, I'm a perfectionist. So to save my time and frustration, I'm heading to the salon for this one. 
But this is definitely a nail look that I would go for in the spring and summer season, as I just think that it would add cuteness to every outfit I wear, whether it is jeans or a summer dress.
I don't know what it is about this nail look, but it gives me magical and mysterious vibes. Normally, I am inhumanly busy in the office and, after that, with house chores. So, I pay less attention to my manicure, but I still want to look beautiful while being busy, do you know what I mean? Then, my friend suggested to me this nail set. And the best part is that it is super easy to create at home. 
All I have to do is paint my nails in glossy black color and then add simple and elegant butterfly stickers. And, yes! It works, and thank you, my dear friend. But I just opt for a shorter length as this length is way too long for me and will make my day-to-day life a bit challenging. I have styled these nails with a white summer dress and my brown ankle boots, put my hair up in a messy bun, and styled it with a cute little bag. I must say I felt super cute!
Black and red- what a deadly combination. No one, literally no one, can deny the fact of how hot, attractive, and elegant this combo is. This is my favorite contrast so far, and I love to get creative with this nail look when I have some free time on my hands. Both red and black represent sophistication, energy, and quickness in releasing emotions. However, I prefer to visit my nail expert for this look as it is tricky to bring neatness to this set. Because this look is quite busy, you will want to keep your outfit choices neutral. Girls! Get ready to attract your partner with this combo. 
I am not really a fan of sailor moon; forgive me for that. My younger cousin is a huge fan of sailor moon, and she often teases me over this. But, I must say, after I saw this Sailor Moon's black coffin nails, I instantly fell in love, and it changed my mind. I just knew that I needed to get it. And so I did for my 23rd birthday party. Of course, I headed to my nail tech to achieve this look, as there was no way I could achieve those finer details. This nail set was really the highlight of my party as I received so many compliments. Are you happy now, cousin? 
I wore a little plain black off-the-shoulder dress. Because every girl knows that a little black dress is just a must-have in your closet. As you can dress it up with heels or down with sneakers. And it complimented this cute nail set perfectly. So I encourage you to get this nail set as it will bring you a lot of joy, happiness, and compliments.
Valentine's day and red shape hearts go hand in hand. The red heart always expresses love, greeting, and gratitude towards your partner. On Valentine's day, I prefer, as anybody does, to use red hearts everywhere, from shirts to cakes. So, how can I forget to use these hearts on my nails? To keep it simple, I just started with a black base on all my nails except for the ring finger nail. On the ring finger nail, I go for a white base, and when I'm feeling creative, I will hand paint red heart details with cute little eyes on top, or on those days that I'm in a hurry, I will use a heart stencil or some heart nail stickers that I get from Amazon. 
I love to pair this nail set with red, black, white, and pink outfits as it adds to that romantic lovey-dovey look. 
Okay! I am not a die-heart fan of heart flames on black coffin nails. To me, you may disagree, but they just don't look attractive. They are also very difficult to achieve to perfection as the flames may go the wrong way. But, once you create them, they give the significant message that you have a deep passion for love. But sadly, this nail look gets a no from me as I also feel that the heart flames and the glitter clash with each other. But hey, if you are into this look, go for it! 
You can create this nail look at home if you have the required tools to hand paint the art, or you can use a stencil. But if I were to get this nail look which the chances are very slim, I would head to my nail tech for this one. I think a black tank top with a grey and white flannel over the shoulders with some skinny blue jeans and black knee-high boots will perfectly match this nail look.
Glitters are always trendy in the fashion industry, and on black coffin nails, it is just the icing on the cake. I love gold glitter on black french nails, their vibes, association, class, etc. As a teenager, I used glitters on everything from eyes-shades, lips, hair, and of course, nails. Now that I'm older, I still love glitter but instead of putting it on everything, I only add them to my nails. 
For this nail look, all I have to do is to start with the nude color; once dry, paint the tips of my nails black to achieve the elegant black french tip. And then create a beautiful lining of gold glitter on it. Next, I add some rhinestones close to the nail bed on the middle and ring finger nail to add some pizazz to the nail look. This nail look is perfect for an elegant night out, a party or event, and even a wedding if it fits into the color theme. 
If class and sophistication had a face, it would be these elegant black coffin nails. The best thing about this nail set is that I can wear it any time, from weddings to formal meetings. I once wore this set to an office meeting and felt confident and like a boss babe. And yes, I did receive a lot of compliments from my colleagues at the time. 
This is easy to create at home as I just need some black and nude gel and then add some glitters. Glitter is not compulsory as elegant black coffin nails stand out on their own. Hurry up, Girls! Don't waste time; try this nail set. I am sure you will just love it.
After an entire year of tension, stress, and hard work, all of us deserve to enjoy and celebrate Christmas eve. I give extra attention; hopefully, all of us do, to my appearance as it's a memorable night. Typically people think that Christmas is all about red, green, and gold. But, from my point of view (you may agree or disagree), Christmas is all about celebration, positivity, and the re-creation of joy regardless of any special color. That's why this time, I chose black and white for my nail set- what a lovely and eye-catching contrast. Girls! Trust me, try something new, try something crazy. I know you will love this! I'm definitely heading to my nail tech for this look because this has so much finer detail with the snowflakes and reindeer. 
Wow! This nail set is perfect for a sexy girls' night out. I admire leopard print on black coffin nails as per its vibes and association. Whenever I feel low and stressed, I just opt for this idea to bring its fierce, dominating, and limitless vibes. This is definitely a nail set that I would need my nail tech's help with because I'm not that good at creating the leopard's spots. But if you are in the mood to get creative and want to try this look yourself, you can easily achieve it at home. Come on, ladies, unleash the animal inside of you with this nail set. 
Last but not least, polka dot black Coffin nails are perfect for me as I'm someone who is obsessed with all girly and cute things. And I feel like this is exactly what polka dot nails are. 
I love this idea as not only am I obsessed with the shape, but the length is also perfect for me as it is not too long and not too short. Moreover, it is super easy to create without a nail tech. You have to start with a black base, then grab your dotting tool and add some white polka dots. 
I have the perfect top to match this nail set. It is a little black crop top with white polka dots that crisscrosses and ties super cute at the back! And I will pair this cute little top with some white flared jeans and some black heels. 
Frequently Asked Questions
Question: Are Black Nails Elegant?
Answer: My answer is a big "Y-E-S." Of course, they are elegant, and on top of all, they are so versatile that you can wear them on any occasion and with any outfit and still look stylish.  
Question: How Long do Coffin Acrylics Last?
Answer: It depends on how you maintain your nails. If you do0000n't give your nails extra care, you may lose them in two weeks. But, the fact is that acrylics will not last more than three weeks as they will all be grown out and look rough.
Question: What do Black Nails Say About you?
Answer: Again, it depends on society and culture. But, typically, the color black portrays that you are professional, a risk-taker, authoritative, and dominant. And that you have no care about what people think of you.
Conclusion
And that is it for my black coffin nails inspiration and ideas, girls! I hope you enjoyed it and that you find many ideas that will match your style and personality. Remember, the color black never lets you down, you just need to create black coffin nails neatly and smoothly, and you have the recipe for success, baby. 
My favorite is Matte black coffin nails with some added shimmer just because of the color, the simplicity, and of course, the shimmer. Let me know in the comment section which one is your favorite idea and why? Have you created something similar? And if you are still not sure about which nail design to get, go through my guide again and start trying each of them. I know you will find your black coffin nail soulmate. Girls! "Life is too short to have naked nails."
Continue reading:
Red and Black Nails Inspiration and Ideas
27 Fun and Stylish Black Nails Inspiration and Ideas
Black Acrylic Nails Inspiration and Ideas: Cute Looks for Your Black Claws