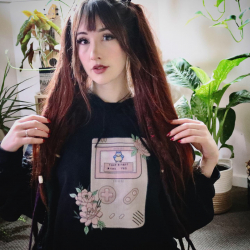 Latest posts by Laura-May Randell
(see all)
Having the perfect manicure at all times is a brilliant way to boost your confidence and mood, but if nail products aren't applied or removed properly, things can go very wrong very fast.
Your nails are just as susceptible to fungal infections as any other part of your body, and your toenails are even more at risk. Part of being a nail connoisseur is recognizing when you might be at risk and knowing how to take action so you can get your nails back to a healthy state and continue forward in your nail journey.
If you have ever been personally victimized by a fungal nail infection and would like to avoid another one at all costs, you've come to the right place.
Here, you will find suggestions for brilliant nail polish brands that not only look amazing but are also infused with anti-fungal ingredients to help keep fungal infections at bay, so you can rest assured knowing that your nail health is in safe hands (pun very much intended).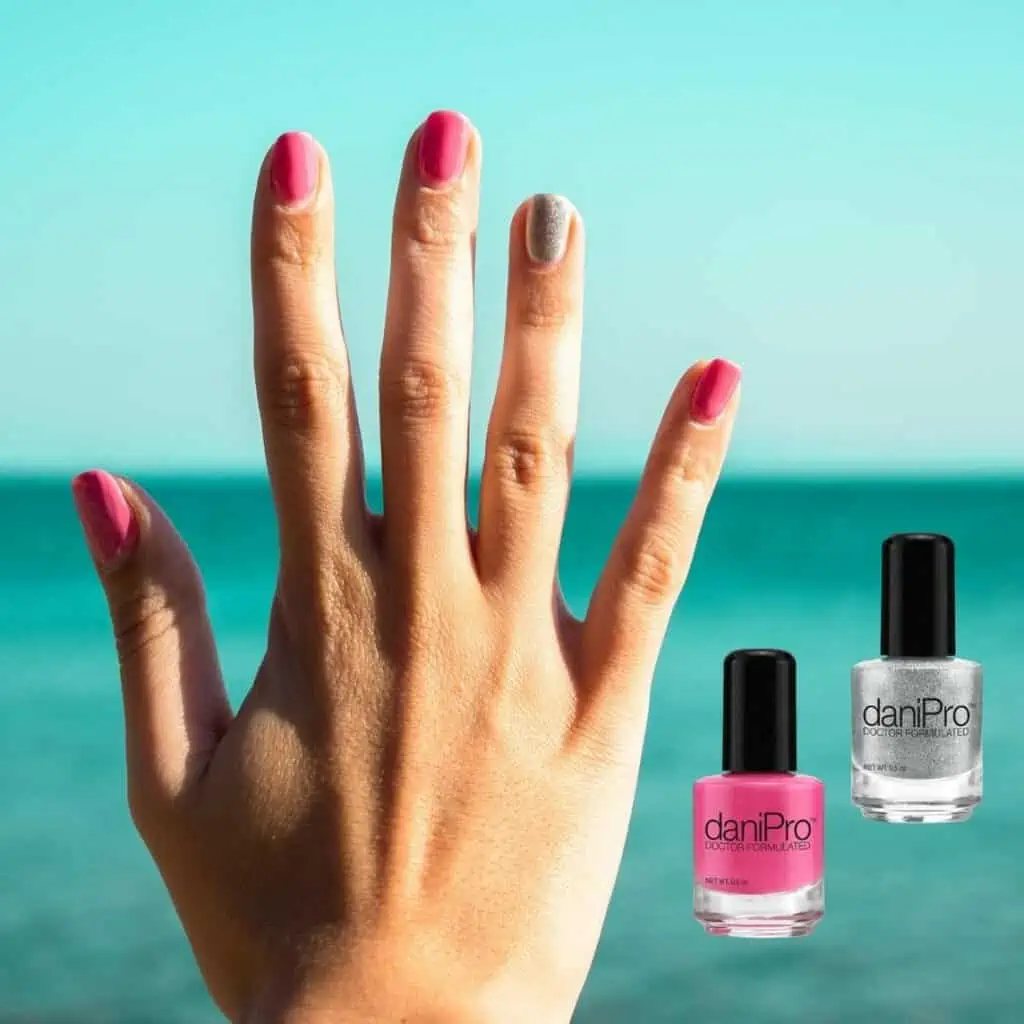 Bottom Line Up Front
Fungal nail infections are easy to contract and spread vigorously, causing serious damage to your nails and nail beds. In this guide, I will tell you the most common ways to get a fungal nail infection and provide you with a list of the best anti-fungal nail polish to treat or stave off your infection should you ever need to.
If you are in a rush and you just want to know the best of the best right off the bat, pick up the Excilor Nail Fungus Ultra Color or the Imperial Feet Anti-Fungal Nail Treatment.
Those products are the only ones on this list that are strong enough to actually cure your infection while also providing a beautiful polish finish for your nails to cover up any unwanted pigmentation caused by the fungal infection itself.
The Best Anti-Fungal Nail Polish at a Glance
If you're eager to treat your fungal nail infection as soon as possible, here is my no-fuss list of the best anti-fungal nail polish summed up in a quick and tidy list. Feel free to take this list and race off to your nearest chemist or jump online to solve your problem as soon as possible:
Selection Criteria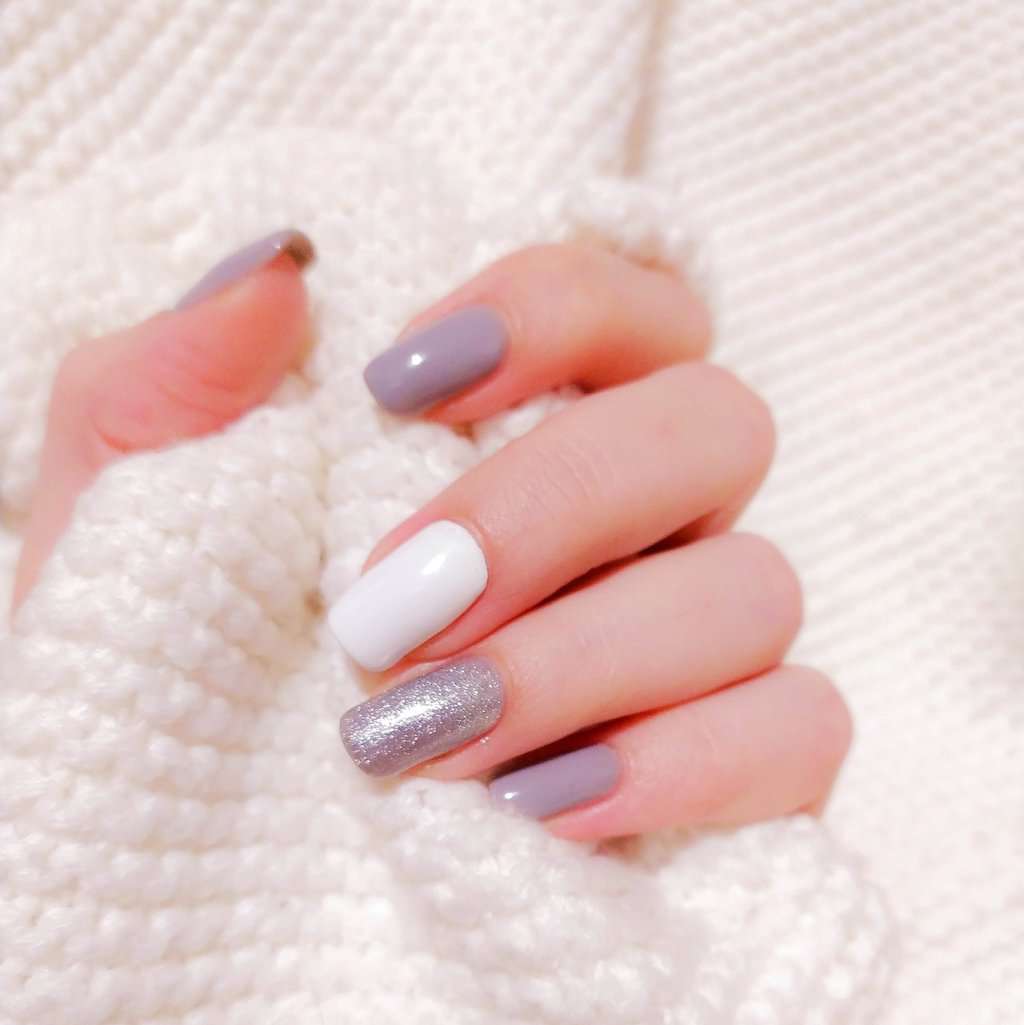 I didn't want to include any old nail polish in this list and call it a day. If you're reading this guide, you either have a fungal nail infection right now or you have in the past and are looking for ways to avoid it in the future. Leaving any infection untreated can be dangerous, so I wanted to create a list of polishes that will provide actual results.
This list contains nail polishes designed to prevent a fungal infection from beginning in the first place. The preventative products I chose had to be permeable or contain actual anti-fungal ingredients, and apply smoothly and evenly, leaving you with a result that looks just like a regular polish.
Disclaimer: It is important to note that all of these products are traditional nail polishes in traditional nail polish packaging. That means a bottle and a brush. This is part of the reason why it is important to clear your infections up before resuming your regular mani/pedi schedule.
When you paint your nails and there is fungus present, it will transfer to the brush, which will then transfer to the product, and transfer back to your nails the next time you paint them. This is a recipe for cross-contamination and you could end up re-infecting yourself the next time you do your nails.
How Do Fungal Nail Infections Occur?
Fungal nail infections can occur just like any other fungal infection can. Fungal infections are contagious, so you can pick them up from other people in communal areas that stay warm and damp. Some of the most common places to pick up a fungal infection can be swimming pools and gym showers, for example.
Fungal infections such as Athletes Foot can be picked up in areas like this that remain damp for long periods of time. These fungal skin infections can then spread to your nails, causing a fungal nail infection.
Fungal nail infections can also occur when nail products are not applied correctly. If your nail base lifts or separates from your nail plate, water can seep underneath it and keep the nail moist for extended lengths of time. This can also cause a fungal nail infection.
How Do I Know if I Have a Fungal Nail Infection?
If your nail changes color and becomes itchy or painful, you may have a fungal nail infection. In mild cases, your nails can appear red. In more serious cases, your nail can appear green, yellow, black, or brownish in hue and even fall right off. I wish I was exaggerating.
You may also experience some distortion in the shape of your nail. If it starts growing in a different pattern than it usually does and you start to experience pain or discomfort when cutting your nails, it is time to visit your local chemist or schedule that doctor's appointment you have been putting off.
What Should I Do if I Have a Fungal Nail Infection?
The first thing you should consider when you have a fungal nail infection, or any other type of infection for that matter, is to see a doctor.
I have supplied many different treatment options on this list that will definitely help your fungal nail infection, but they are all topical treatments that are applied to the nail like polish. These products are always more effective when used in conjunction with an oral medication that can be prescribed to you by your doctor or purchased over-the-counter at your local pharmacy.
If you try any of these treatments and your symptoms persist, see your doctor immediately.
The Best Anti-Fungal Nail Polish
You know what they say. Prevention is the best cure. So, let's kick things off with the best nail polish brands to stop a fungal nail infection before it starts. These nail polishes all contain anti-fungal ingredients and can help prevent an infection from taking hold in the first place.
These are preventative measures and will not treat a fungal nail infection if you already have one.
1. Danipro: Doctor Formulated
Price: $18.00
Accessibility: Available at selected Podiatrists and online.
Active Ingredient: Undecylenic Acid.
Pros
Danipro's formula was created with the help of real doctors.
Contains undecylenic acid.
Polishes provide a smooth and even finish.
Cons
Danipro polish doesn't cure fungal infections.
Danipro polish can require multiple coats to reach full opacity.
Not widely available at retail stores.
Danipro nail polishes look great while also using the power of undecylenic acid to combat fungal nail infections, making them perfect for those who are in the late stages of recovering from an infection or trying to eliminate the chance of one setting in.
Danipro polishes are the only nail polish brand that contains the active ingredient undecylenic acid, which has been clinically proven to treat fungal infections.
Shop Danipro Nail Polish here.
2. Dr.'s Remedy Enriched Nail Polish
Price: $17.99
Accessibility: Online and at selected pharmacies and doctors' offices.
Active Ingredients: Tea Tree Extract
Pros
Formulated, trusted, and sold by doctors.
Cruelty-free and vegan.
10-Toxin free.
Cons
A fungal preventative, not a cure.
More pricey than other polishes on the market.
Limited range of finishes.
Dr.'s Remedy is yet another nail polish formulated by doctors to support the health and well-being of your nails. Dr.'s Remedy polishes don't contain undecylenic acid like Danipro polishes do, but they do contain tea tree extract, biotin, and wheat protein.
These aren't quite as effective, but tea tree has been proven to have anti-fungal properties, so it is definitely a lot better than any other nail polish you can find on the shelf of your local Walmart.
Biotin and wheat protein also moisturize and strengthen your nails. Removing any nail polish requires harsh chemicals like nail polish remover or acetone, which dehydrate your nails. With Dr's Remedy, you know you're giving back what the acetone is taking away as well as combating the dreaded fungus, which we all know, is not very fun at all.
Shop Dr's Remedy Nail Polish here.
3. Excilor Nail Fungus Ultra Color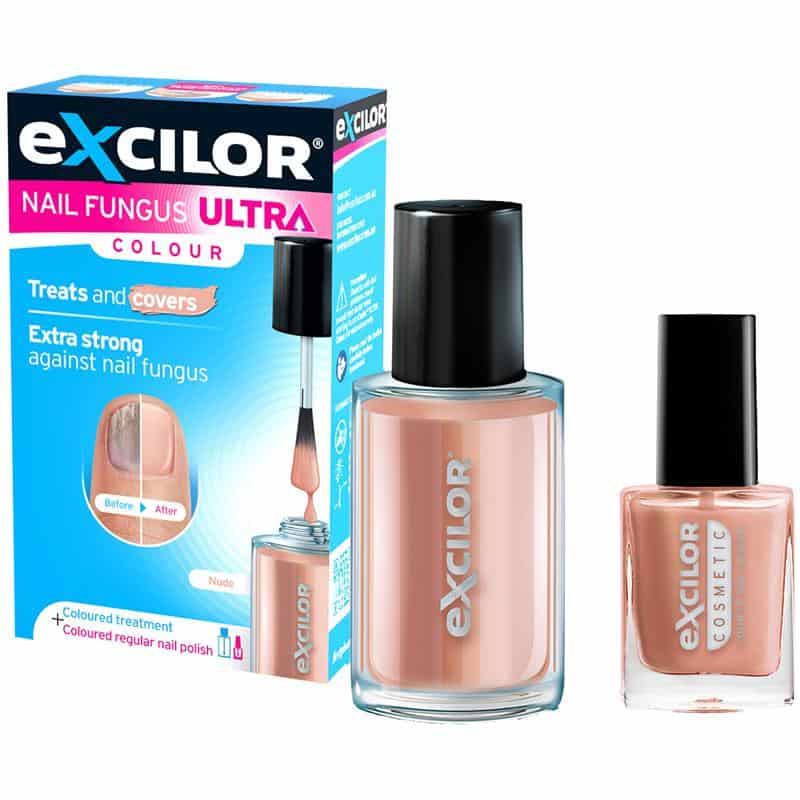 Price: $40.00
Accessibility: Online and in selected pharmacies.
Active Ingredients: Acetic acid, amorolfine, and ciclopirox.
Pros
Excilor is both a treatment and a polish.
Excilor contains three active ingredients.
Penetrates into the nail rather than lying on top.
Cons
Very expensive.
Excilor polish isn't as long-lasting as traditional polish.
Only comes in red and nude.
Excilor Nail Fungus Ultra is a unique case since it is, first and foremost, a treatment, but it is disguised as a nail polish.
There are a couple of different forms of Excilor Nail Fungus Treatments to choose from, and they all work brilliantly to penetrate the nail bed itself and lower the PH to create an environment that is inhospitable to fungus. But one of their products, in particular, is a life-saver for nail polish fans.
One of their brush-on solutions is colored, so you can treat your nail fungus while still having a great mani or pedi. Many fungal nail infections discolor your natural nails, making them look green, black, and generally unpleasant. It is great to have an option that treats your fungal issues while also covering the damage so you can still wear sandals and walk around with full confidence.
Shop Excilor Nail Fungus Ultra Colored here.
4. Mavala Permeable Nail Polish
Price: $9.95
Accessibility: Online and in-store availability.
Active Ingredient: Tea Tree Essential Oil.
Pros
Cheaper than other options on this list.
Allows the nails to breathe.
Halal-friendly.
Cons
Won't cure your fungal nail infection.
Not as many active ingredients as other options or treatments.
Mavala Nail Polishes are great for combatting fungal nail infections for multiple reasons. The first is because many of their formulas contain tea tree oil. But the real place where these polishes shine is due to the fact that they are permeable.
Most nail polishes create an impenetrable layer on top of the nail. This is what traps any moisture that may be present inside and causes the fungal infections you are actively trying to avoid.
Having a permeable formula means your nails can still breathe, and there will be no nasties trapped underneath. Mavala also carries the broadest range of colors and formulas on this list, so if you've eradicated your fungal infection and want to keep it that way, Mavala polishes could be our best bet.
Shop Mavala Nail Polish here.
6. Poderm Color Care Nail Polish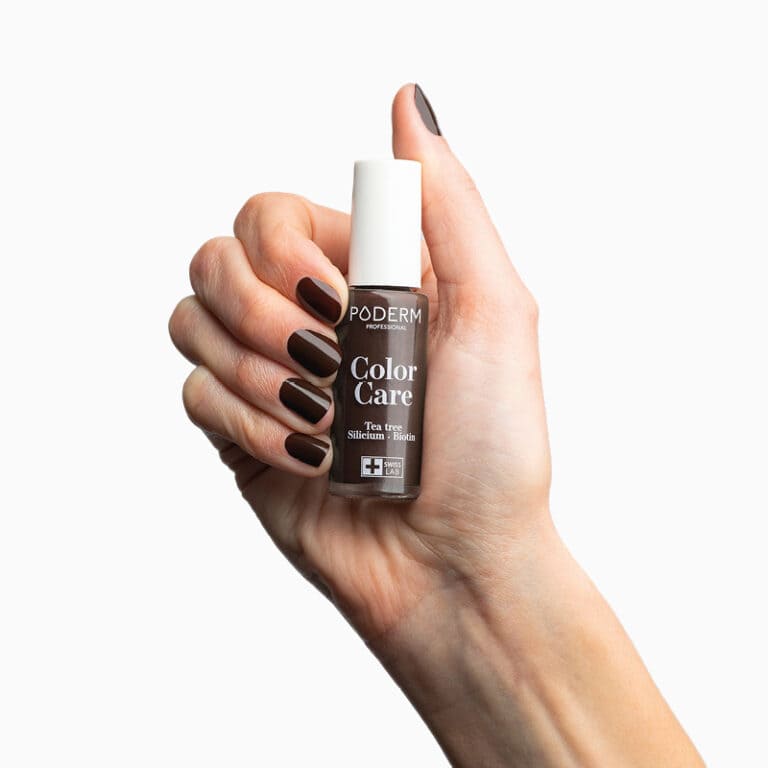 Price: $17.40
Accessibility: Online and in-store in European regions.
Active ingredients: Tea tree, biotin, silicon.
Pros
Highly pigmented formula.
Infused with anti-fungal ingredients to support and enhance recovery.
Wide range of treatments available as well.
Cons
Only solid color finish available.
Doesn't actually cure infection.
Poderm are experts on all things fungal. They offer a number of different treatment options so you can eliminate your fungal nail infection in the first place, along with a range of nail polish to help you continue to stave off infection while also looking pretty.
Offering a way to both treat and support healing after a nail infection is extremely important because as beautiful as nail polish is, it's more of a bandaid and isn't strong enough to actually cure a fungal nail infection.
Thanks to the unique blend of tea tree extract, biotin, and silicon, however, Poderm polishes are definitely well equipped to resist the recurrence of another infection. They also feature a permeable and breathable formula, so your nails can still breathe.
Shop Poderm Color Care here.
7. Nailtopia Nail Polish
Price: $10.00
Accessibility: Widely available both in-store and online.
Active ingredient: Glycerin.
Pros
Extremely accessible.
Very affordable.
100% cruelty-free and vegan.
Cons
Doesn't contain as many anti-fungal ingredients as other polish brands on this list.
Nailtopia polishes aren't incredibly long-lasting.
Some colors require several coats to build up opacity.
Nailtopia is a brand that many of you may already recognize or even own. Nailtopia polishes are a great alternative to regular polish for those who suffer from fungal nail infections due to the addition of glycerin, which contains anti-fungal and anti-microbial properties. The formula is also breathable, which is yet another great big anti-fungal box that Nailtopia ticks.
Permeable and breathable formulas are key when fighting any sort of infection because both water and air are able to penetrate that top layer of polish and reach your nail, allowing the surface of your nail to remain clean and dry at all times.
Shop Nailtopia Nail Polish here.
8. Nailberry L'Oxygene Nail Polish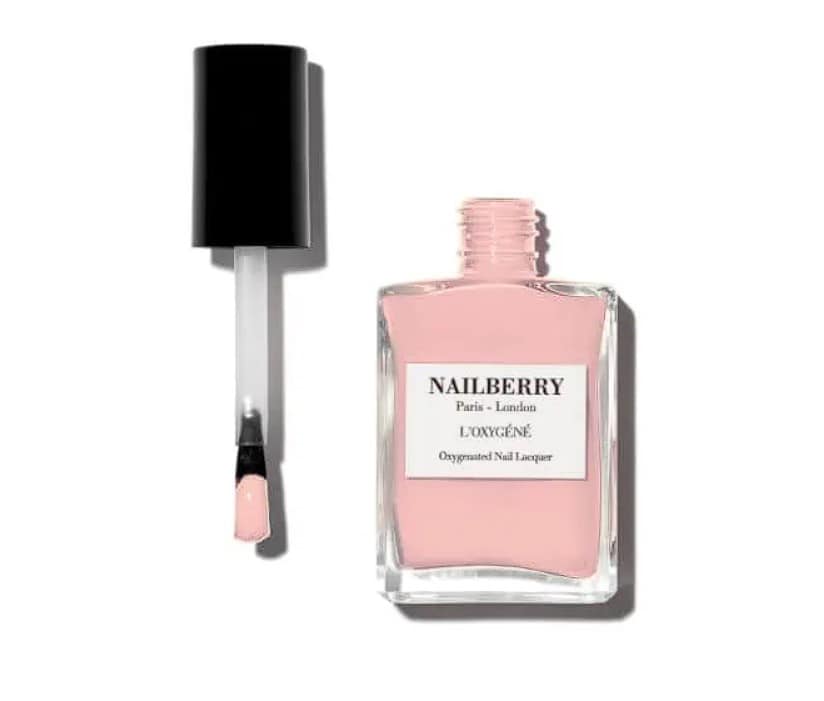 Price: $21.00
Accessibility: Available online and in some selected stores.
Active Ingredients: N/A.
Pros
Luxury look and feel.
Very high quality polish.
Cons
More expensive than many other options on this list.
Doesn't contain ingredients that directly target fungal infections.
Nailberry L'Oxygene Nail Polishes aren't as active in terms of combatting fungal nail infections as many other polishes on this list are, but they do have one massive green flag when it comes to nail health, and that is a permeable and breathable formula.
Nailberry polishes can provide you with a luxurious mani that is perfect for those who are almost ready to transition back into regular nail polish use. There is no tea tree oil or wheat germ to be found in Nailberry L'Oxygene nail polish, but the breathable formula is still enough to ensure your nails will remain safe and healthy for as long as your Nailberry mani lasts.
Shop Nailberry L'Oxygene Nail Polish here.
Nail Polish Will Not Cure Your Fungal Nail Infection
We all love a good mani. And it is incredibly easy to want to just cover your infection up with a fully opaque coat of your favorite nail polish and pretend it's not happening. If you're anything like me (and I know there are plenty of us out there), you will ignore any sign of sickness for as long as you possibly can before heading to the doctor or doing anything remotely proactive about it, hoping it will go away on its own.
But, unfortunately, things like a fungal nail infection don't just go away on their own. And as uncomfortable as it might be, it is definitely best to say goodbye to nail polish until your infection is completely gone.
Nail polish can create a barrier between your nail and the treatment you need to use to banish it for good, so I definitely urge you not to use any of the products I have listed for you above until your fungal nail infection is cleared up. It's for the best!
Here are some brilliant treatment options you can use to get your nails back to polish as soon as possible:
Give Your Nails a Well-Needed Break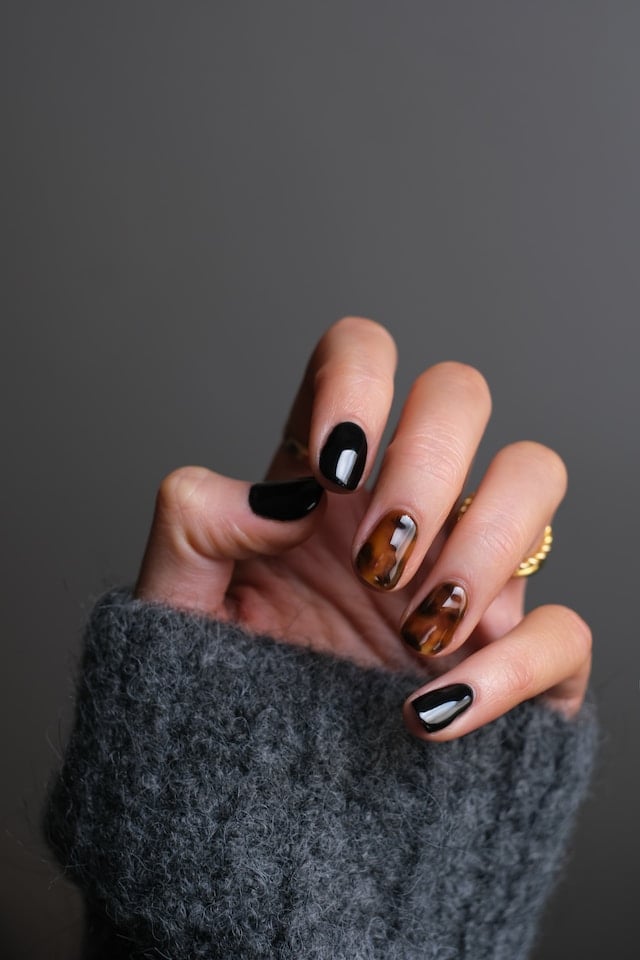 While covering your fungal nail infection up with nail polish is tempting, I would definitely recommend sticking to the treatments and giving your nails a much-needed break if you are dealing with a fungal nail infection or you've just managed to clear one up.
But if you do feel like you have to cover up any discoloration you may have developed during a fight with nail fungus, try to stick to the breathable or protective products on this list rather than your usual polish. The last thing you would want is to contaminate your favorite polish, after all!
Frequently Asked Questions
Question: Is it bad to wear nail polish while I have a fungal nail infection?
Answer: Absolutely. Nail polish creates a barrier over the nail that prevents treatments from working and also traps fungus in a damp environment. Regular nail polish will only make your fungal nail infection worse.
Question: How bad can a fungal nail infection really get?
Answer: Fungal nail infections can get so bad that the nail separates from the nail plate and can fall off entirely if left untreated.
Question: What other treatments can I use for a fungal nail infection?
Answer: You can get laser therapy for a fungal nail infection, and in some cases, your nail may have to be removed and treated with a combination of laser, topical, and oral treatments if it is severe enough.
Read More:
• Best Quick Drying Nail Polish: Do Your Nails DIY in a Pinch!