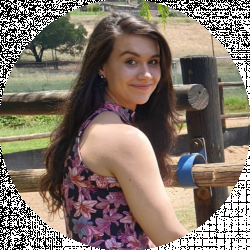 Latest posts by Christine Kent
(see all)
Rose gold is such a gorgeous color! It brings femininity, class, and elegance to anything you pair it with. Whether it is an outfit, bedroom décor, or even nails. 
Since my teenage years, I have been obsessed with rose gold. I remember for my sweet 16th birthday, my mom decorated my bedroom in white and rose gold. There were rose gold balloons, pillows, and even my birthday presents were wrapped in rose gold wrapping paper. It was such a special day! Since then, my love for rose gold has just increased. I don't have a rose gold room anymore, but now I have an obsession with rose gold nail designs. 
Over the years, I have experimented with different rose gold nail designs. Today I'm here to share my favorite rose gold nails inspiration and ideas. So let us get to it, ladies! 
Bottom Line Up Front 
Have you always been obsessed with the color rose gold? Same girl, same! Today I bring my favorite rose gold nail ideas. They will work for any occasion and make you feel confident, stylish, and classy. My favorite rose gold nail idea is the Rose Gold French Tip Nail Design. I just love how sophisticated and luxurious it looks. The set matches most of my outfits and makes me feel like a queen. Let us look at my other top picks. 
Selection Criteria
I chose the rose gold nail ideas mentioned in this article according to the following criteria:
Rose gold nails that you can style up or down.

Rose gold nails that are super easy to create on your own.

Rose gold nails that you will need an expert to create.

Rose gold nails that have an artistic look.

Rose gold nails that are perfect for your big day or bachelorette vacation.

Rose gold nails that are suited for your birthday.

Rose gold nails that are simple and minimalistic. 

Rose gold nails that are great for Christmas.

Rose gold nails that are ideal for everyday wear. 
Rose Gold Nails Inspiration and Ideas
Wow! I could stare at this nail design for hours! The sparkly rose gold dip powder nails give chic and elegant vibes. I like that the thumb, index, and little fingernails tone down the sparkle with the subtle nude color. It makes the entire design look classy and expensive. 
I love this rose gold design because you can wear it to any occasion. You can style it up and wear it for your big day. Or you can style it down with jeans and a t-shirt. Super cute! Even though this nail set is easy to achieve, I'm heading to my nail tech. I'm very clumsy and have small little doggies that knock over everything. So between the dogs and me, the whole house will be covered in rose gold sparkles. I won't mind it, but my husband will not be so happy. 
The nail set has such a gorgeous and artistic look to it. This design is perfect for those who like getting creative with their nails. I feel that it will be a great set to get if you are attending a fashion show or a classy event.
The best part is that this rose gold set is easy to achieve. All you need is your nude-ish pink base, some rose gold foil paper, and some black gel. What makes this design great is that it doesn't have to be perfect. You can just get creative and have fun with it. To finish the elegant look off, you can add a matte top coat. Trust me, it looks stunning! 
My mother-in-law's wedding is coming up, and I'm considering getting this set. I know it will look amazing with the light pink dress I plan to wear. 
The combination of nude and rose gold on nails is stunning! The two colors complement each other perfectly. What I like about this rose gold nail set is that it's subtle and not over the top. It is elegant, stylish, and sophisticated. This is another nail design that is perfect for your big day. Especially if your rings are gold and you are planning to wear more gold jewelry. 
You can even wear them days after the wedding with casual outfits, and no one would know it was your wedding nails. Don't you just love a nail set that can do both? 
This nail set is also easy to achieve! So you don't have to worry and run around looking for a nail tech before your big day. You can achieve this pretty nail set in the comfort of your own home. Talk about convenience! 
This is the perfect nail design for those who love short nails! It is actually one of my favorites. Despite the short length of the nail, the design is still beautiful.
The nail design uses pink, white, and rose gold nail glitter. All my favorite colors in one design! This is a set that I can wear to the office and as my everyday nails. The design is cute and classy, which is why I think this would also be nice to wear to important events. 
The nail set would also be a great choice for uni students who want to look cute and stylish but still wants to be comfortable. It is easy to achieve, and you can create this design with natural nails. Love it!
This is another design that is perfect for those who love short nails! It feels great knowing there are plenty of wonderful options for short nail lovers like me.
I love that it consists of 3 different feminine colors that are elegant and classy. It also gives me Barbie vibes with the rose gold glitter and pink polish. This is a design you can wear to any occasion, formal or informal. You can even wear this to the office. 
The nude, pink and rose gold glitter look fantastic together. It is definitely a nail design I would go for. I'm trying this set after we are done with this article. My nails are in urgent need of some TLC. Pink and glitter always make everything better and prettier, right, girls?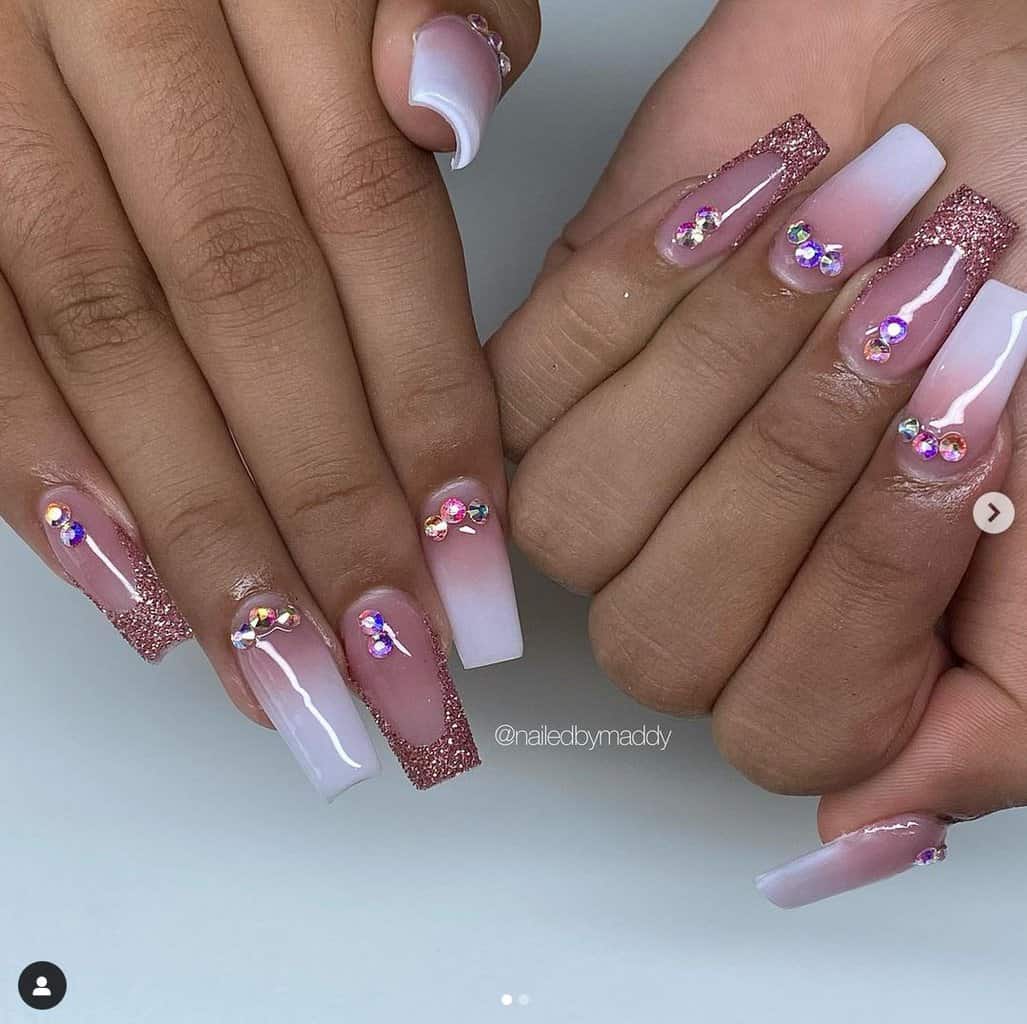 This design is my absolute favorite on the list. I may not like wearing long nails, but I would make an exception just so I can wear this set. You can say that the ombre and glitters are the ones that really pulled me to this design.
Whoever thought of rose gold glitter tips is a genius. The rose gold glitter French tip with the ombre design makes the entire nail set look sophisticated and luxurious. The added rhinestones on each nail just add more class to the design. My birthday is in 3 weeks, and I'm definitely getting this set. I'm going to my nail tech to create this look, as I want it to be perfect for my special day. I know this set will make me feel stylish and confident. 
This nail set is also a great option if you are a bridesmaid or the bride herself. The nail set will definitely sparkle some positive vibes on your big day. So get it, girl!
One of the most timeless designs in the world is animal print. Animal prints are so beautiful that we often mimic their prints on different things, like clothing, bags, and even house interiors. So it is no surprise that we would also put it on our nails.
This design's rose gold glitter, light pink, and black look stunning together. The design is minimalistic but still stylish and classy. You can easily style this nail design up or down for any event. This set can also be worn daily. I am not a big fan of animal prints, but this is a design I would wear. It is feminine and chic. I can easily achieve it on my own by getting the desired colors and a thin nail art brush to create the art. 
Due to the nail set being so subtle, I won't have a hard time choosing my outfits. I think my clothes, closet, and bedroom floor will thank me for this.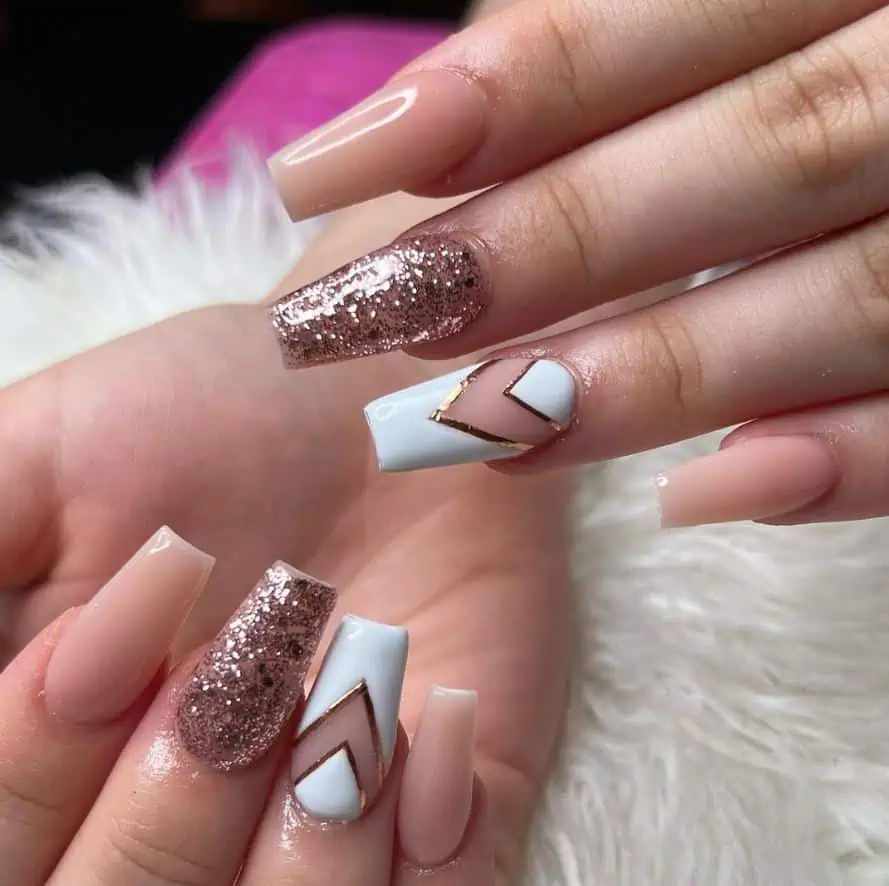 This gorgeous nail design has a feminine vibe. It is perfect for young ladies looking for ideas for their first set. The design is classy and elegant perfect for a Quinceanera and birthday parties. 
The nail design uses nude-ish pink, white, and rose gold glitter polishes. It also uses gold nail tapes. I love this nail design because of how youthful and feminine the design is. It is fun and elegant, which is why this would be perfect for those young ladies attending formal events. They could even wear this to informal parties or lunches with family. 
Would have loved to get this as my first nail set. It is simple but still chic and classy. Girls! If you have a younger sister or cousin, show her this nail design. I know she will love it! 
If you are looking for something sophisticated and mature yet minimalist. This design would be perfect for you. The marbled design looks so magnificent because of the added rose gold foils.
I love the shape and length of this nail set. It makes it look elegant and majestic. The marbled design created with the white and nude colors reminds me of a milky white gemstone. I'm obsessed with gemstones, so this nail set is very special. This is a nail set that I would say is perfect for your bachelorette vacation. It will match all the white outfits that you have planned. This beautiful rose gold nail set will portray you as a classy and stylish woman. So don't walk, run and get this nail set, girls! 
This is another nail design for my short nail lovers! I just love how there are plenty of options for us! The design would be perfect for those who love French nails but are contemplating if the design would look good on short nails.
This beautiful nail design comprises nude-ish pink and rose gold chrome polish. The design is incorporated into a French manicure design with the nude pinkish color as the base color. The design is chic, clean, and very feminine. This makes it perfect for those who are girly but still want clean and tidy-looking nails.
This nail set is perfect for any occasion. Whether you need to attend a formal event or meeting or are going out with friends for a night out. I would love to wear this set as my everyday nails. The perfect set to make you look stylish and professional in the workplace. 
If you are looking for something edgy and cool that is still girly. Then this nail design will be ideal for you! The rose glitter on the black nails looks like stars in the night sky. I think the rose gold chrome with the glitter on the black nail looks stunning! It gives off some sexy and dominant vibes. 
This is a nail design I would love to wear to a romantic candlelight dinner. A little black mini dress with gold lace-up heels and this amazing nail set. And, of course, my husband's amazing company will make the night unforgettable. Rose gold and chrome are my husband's favorite when it comes to my nails. So I just know he will love this set on our date night. I'm definitely heading to my nail tech to create this set. I want it to be unforgettable. 
These milky white nails with rose gold glitter tips are simple yet chic. They say simplicity is beauty, and with this nail set, we can clearly see so. I would say this is a nail set suited for formal/ fancy events. It is so easy to achieve! Paint your nails with a milky white base color and dip them in rose gold glitter. It is as simple as that! This nail set takes your nails from boring to glam in under 10 minutes. 
I love the rose gold glitter and the color of the nails. I'm just not a fan of the shape or the length. I would have loved it if it was in a coffin shape and a bit shorter. I could see myself pairing the set with my white blazer dress and some nude heels. I also have a rose gold bag that will look stunning with this look. 
Ladies! Christmas is a little over 3 months away. I know it's scary! If you have been stressing about what Christmas nail design to get. Worry no more, as I have the perfect nail design for you. This rose gold Christmas nail design is a great way to get you in the Christmas spirit. I love the little rose gold glitter reindeers. They look so cute on the light pink base. The white snowflake art on the rose gold base adds to the classy Christmas vibes. 
I'm definitely getting this set for Christmas this year. Who said I can't have my little pink moment over Christmas time? I'm heading to my nail girl for this set. I just know my reindeer won't come out as a reindeer if I try to create this look. 
For my ladies who want to be girly and goth at the same time, this rose gold nail set is for you!
The index finger has a more glittery rose gold look to it. Whereas the middle finger has a smooth rose gold look, but you can still see some sparkles here and there. The little fingernail has a black base, and it looks like a fine line of a rose gold Christmas tree is painted on it. The ring finger is my favorite! It looks like a gift with the rose gold line detailing and the little bow. Super cute!
This rose gold nail set is suited for any age and can be worn to any occasion. You can even wear it to work because it is simple and sophisticated. I think the design is very pretty, and I would love to create it for my everyday nails. 
Frequently Asked Questions
Question: What Color Goes With Rose Gold Nails?
Answer: In my opinion, pink, purple, white, and black look stunning with rose gold. 
Question: Why is Rose Gold Popular?
Answer: Rose gold is popular because it looks stunning, sophisticated, elegant, and sexy. The color looks good on anything, whether it is clothes, home décor, or nails. 
Question: What Does Rose Gold Symbolize?
Answer: Rose gold can symbolize elegance, luxury, style, and even romance. 
Question: Can Men Wear Rose Gold?
Answer: Hell yeah! Rose gold is a gender-neutral hue, so everybody can wear it. 
Conclusion
There you have it, girls! That's it for the rose gold nail ideas. I hope you enjoyed the article and that you found a nail set that ticks all your boxes. 
If I could choose only one nail color for the rest of my life. It would be rose gold nails, without a doubt. I just love how feminine, classy and sophisticated it looks. You can also wear it to any occasion, which is a big bonus. Whether you are getting married, have an event to attend, or need a nail set for Christmas. Rose gold nails are the way to go!
What was your favorite rose gold nail idea mentioned in this article? I would recommend getting the Rose Gold French Tip Nail Design. It is suited for any occasion and will always make you look classy and put together. 
Try out these nail ideas and add some class to your look. Have fun, girlies!
Continue reading:
Sassy Nails Inspiration and Ideas: 23 Bold Designs To Boost Your Confidence
Light Pink Nails Inspiration and Ideas: Big Barbie and Y2K Vibes
Red Valentines Day Nails Inspiration and Ideas: Fall in Love With Your Nails