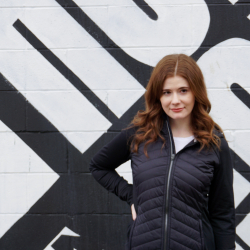 Latest posts by Kelsey Purcell
(see all)
The Little Mermaid is the best Disney movie – I and many others spent our childhoods wishing mermaids were real and hoping we could transform into one. As I grew up, I had to abandon my hope of becoming a mermaid, but I'm embracing my inner water nymph with mermaid nails, inspiration and ideas.
Living above water means I have to get mermaid vibes wherever I can, and nail art is one of the most creatively expressive ways to infuse the mythical world into the real one.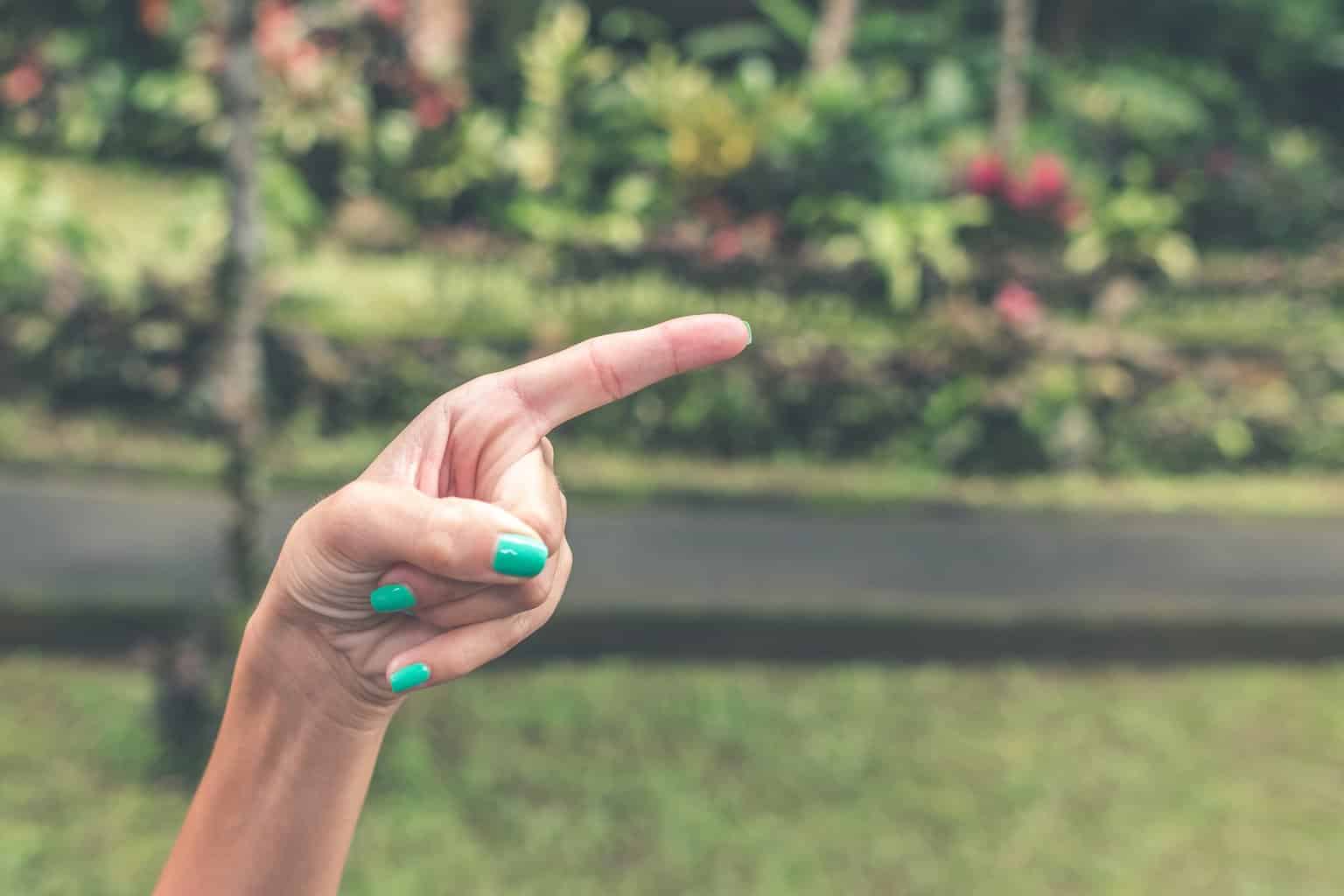 Bottom Line Up Front
I love every nail design on this list. Still, my favourite has to be the Ocean Blue Mermaid Nails – they have the colour of the sea, all the identifiable symbols, and patterns that make the mermaid inspiration obvious. Even though I could never do these nails myself and would likely take a ton of time in the salon, to have these stunning nails would be worth every minute!
Criteria for This List
I made the choices for this list based on a few factors:
Multi-Dimensional
I've included options with 3D elements, slight texturization, and simple flat nails with glitter and shimmering dimension. No matter where you fall on the scale, there are options for every mood!
Colours
When you think of mermaids, blues and pearls come to mind. But there is a whole world of colours inspired by the sea that I wanted to represent! From pinks, purples, greens, and dark blacks, mermaid nails are not just one thing! The colours are open to interpretation, so I've included options to help you visualize your next manicure!
Do-It-Yourself vs. Salon Nails
Some of these styles can be simple at home on a Sunday nail project – but some of the more involved details on certain manicures need the sharp eye and steady hand of a professional. I've included a little of each type so you can try a little bit of each!
1. Ocean Blue Mermaid Nails
Everything about this manicure is swoon-worthy – from the blue shades with glitter to look like water shining from the sun to the scale-like texture in the design. I love how this set pulls aqua, turquoise, royal blues, and baby blues to create a dynamic oceanic look! With the appearance of shells and bubbles overlaid with a glossy topcoat, these are a call to the ocean waves.
I would wear these on my next beach vacation to live out my mermaid fantasies! I even love the stiletto shape – it reminds me of the fish shapes in the water.
2. Bright Pink Mermaid Nails
Mermaid nails can be any colour – just like Ariel's sisters whose fins were all different colours, it's not about the shade, it's about the details! This shade of bright, bold pink is the complete opposite of rich blue, but the glitter flakes remind me of other living creatures of the sea.
The bonus of this design is that it's easy to do yourself at home! Whether you're land-locked or constantly on the water, this is the summer manicure you need to try next.
3. Shimmering Gold Mermaid Nails
In mermaid-inspired nail designs, gold is a call to the rich, warm sand on the beach! This manicure reminds me of the shoreline and the stunning changes in colours as you move further out to sea. This is what I imagine the ocean looks like from overhead!
Creating the swirly pattern on your own can be simple with dotting tools or even toothpicks! If you want to add more glitter or the scale pattern design, those are good features to leave to the professionals.
4. Aquamarine Fishtail Mermaid Nails
A more softened take on the brilliant blue aquatic nails, these nude nails with aquamarine accents will be my go-to for a simple manicure this summer. The minimalism of this design lets the glitter accent nail and fishtail pattern stand out, while the v-tip nude nails create the perfect backdrop to the overall style.
The classic shape and modern twist on the French tip make these mermaid-inspired nails incredibly adaptable to even the most serious occasion.
5. Purple Mermaid Nails
Purple is one of my favourite colours! This manicure takes the best light hue and reminds me of the cartoon muscle shells crafted by Disney. I love that this nail set embraces the texture of seashells to create some dimension – it's difficult to emulate on your own, but you can skip this feature on your at-home manicure.
The mix of painted scale pattern and iridescent polish beautifully captures every aspect of the sea and its creatures. I love the simple ballerina-shaped nail because it makes the whole style look delicate and dainty – that's exactly what I imagine mermaids to be!
6. Black Fishtail Mermaid Nails
The dark depths of the sea need to be represented on this list, too! I love how the black matte polish makes the chrome-like teal scales pop through. When the sunlight hits, it's going to reveal its secrets. I imagine a dark mermaid's fishtail would look exactly like this!
The stiletto shape is the perfect amount of edgy for the dark, gothic colour palette. But if you want to soften the look, going to a different nail shape can completely transform the overall feel, so experiment with the options!
7. Glitter Mermaid Nails
I'm obsessed with this mermaid look, and I'm not usually the biggest fan of pink shades. The blue ombré-style glitter is an artistic use of the glimmering product, and the pink and purple sparkle look totally glamourous! I love the pink and purple nails where the black looks like ink spreading out in liquid – the way the artist captured this look is amazing to me.
The ballerina shape is perfect, and I wouldn't change it. The femininity of this manicure will suit all of my summer sundresses!
8. Iridescent Seashell Mermaid Nails
Iridescence is an essential finish on mermaid nails! The colours change as the light hits it, almost like a pearl in the water. I love the simplicity of the light, cool pastels with a shimmering finish, and the accent nail that looks like a sea shell ties it back to the sea theme.
When you're trying to make the water droplets on the nail, you'll definitely need a UV light to speed up the curing process if you do these nails yourself. But to get the length and elegant shape of the nails, you'll need a nail professional to do gels or acrylics.
9. Chrome Mermaid Nails
This colour reminds me exactly of Ariel's fishtail shade, which is probably why I love this manicure so much and think it's the perfect embodiment of the mermaid nail style. You can wear these simple chrome nails anywhere, for any season, but I will definitely be sporting these at the beach or pool to channel my inner mermaid!
The oval-almond nail shape is functional and classic, and these are a simple style to do at home if you're familiar with chrome finishes.
10. White Shell Mermaid Nails
Find inspiration from the pearls of the sea – this manicure's shell texture, sparkle, and jewels are all minimal enough to not feel overpowering. I love a white manicure, but this ocean-themed rendition reminds me of collecting shells on the beach and margaritas by the pool.
These long almond nails fit the dress code of a summer white party – even if there's no occasion, embrace the elegance of this manicure while it lasts.
11. Matte Appliqué Mermaid Nails
These nails are the ultimate themed dramatic nails! Colour blocking with shades of water and using a matte finish for a contemporary feel, this nail set uses appliqués of pears, seashells, and starfish to make it fit for a mermaid. The stiletto shape gives your nail professional a lot of room to add designs.
You can do this manicure yourself once you find press-on appliqués like these, but you likely can't achieve this length on your natural nail and will need a fake nail to strengthen it.
12. Neutral Pastel Mermaid Nails
This manicure is what I imagine Princess Ariel would wear – from regal silver and gold art and stunning pastel shades, it's a refined and graceful set with iridescent overlays and scale patterns! The short nail makes this style wearable for every day and is elegant for any above water events.
The intricate details in these features are tough to emulate, so if you want an exact replica of this manicure, leave it to a professional to pamper you!
13. Dark and Dramatic Mermaid Nails
If Ursula had her nails done, this is the design she would wear. With dark green scales with black glitter, these shadow-like nails are perfect for your dark moods. I love the iconic pattern and the move away from bright colours – under the water has some of the most brilliant colours, but also some of the darkest spots!
I have a love affair with monochrome black, but with hints of dramatic hues and sparkle, this is the perfect amount of colourful for me!
14. Poolside Mermaid Nails
The classic shimmering teal green blends with the pool-coloured hues to create this water-themed manicure fit for a mermaid. I love the little silver jewels as accents – they're subtle, but I couldn't imagine this style without them! If mermaids hung out poolside, this would be their go-to manicure, and I can't wait to wear this set on the hot summer days.
This style isn't as complex as it looks and is at-home manicure friendly! Use the shimmering teal as a base and use a dotting tool to create crisp pool-shade spots.
15. Pearlescent Mermaid Nails
The ultimate aquatic symbol is the pearl, so you can't have mermaid nails without pearl representation! These simple but impactful pearlescent nails fit right in with the water. It's not just a flat white shade – I love the shimmering surface that reflects so many colours! It's never dull.
The elegance of the stiletto nail is the cherry on top, and I'm definitely going to embrace the long, flattering nail shape with this style!
16. Coral Pink Mermaid Nails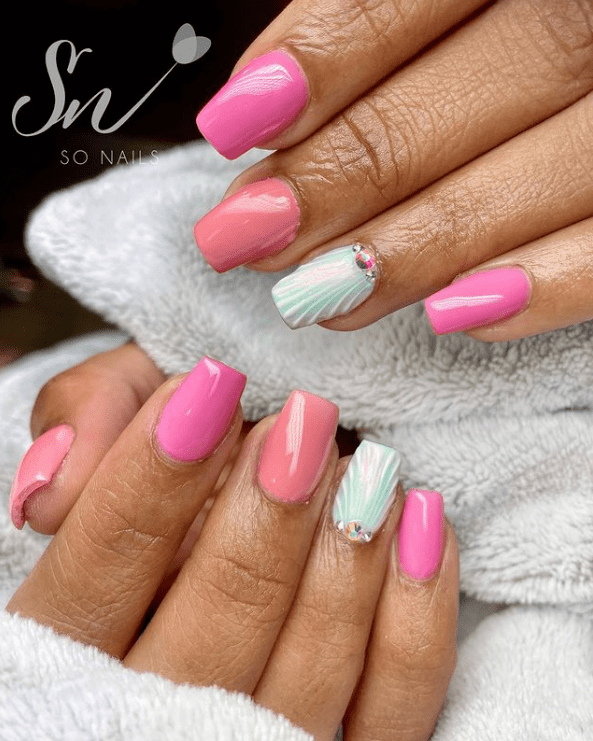 Love the coral reefs? This pink coral manicure pulls from the natural shades of the ocean with an iridescent seashell accent nail! It's the simple mermaid's style, and I love the soft jewels that make the set sparkle. My favourite thing about this nail design is that it doesn't matter if you're not on the beach. This style can complement any spring or summer event!
I would love to try this on a longer ballerina style or stiletto nail! If I wear it on my vacation, who cares about practicality?
17. The Little Mermaid Nails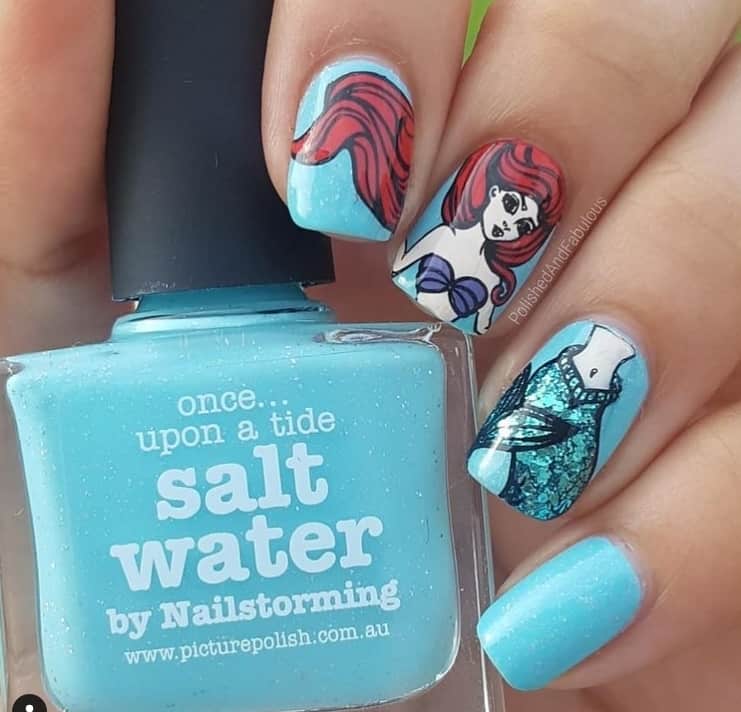 An ode to the original mermaid, this cartoon nail art of Ariel is the best playful and quirky option! If you have kids in your life, they'll be mesmerized, but I would love to wear these on my next trip to Disney. This takes the ultimate steady hand, so it's an art piece that will take time to complete, but the result can be as realistic as this set.
If you want the do-it-yourself version, there are endless choices of nail stickers of The Little Mermaid characters to choose from!
18. Green Glitter Mermaid Nails
This manicure is another one of my favourites where the colour palette just screams Ariel! From the glittery green of her tail fin to the white-pink of her human dress, this art hits all the notes without spelling out the inspiration. It's a refined option when you want to give a sly ode to the Disney princess.
I would love to see this in longer shades for a dainty vibe, but this oval-shaped nail hits every note.
FAQs
Question: What are Mermaid Nails?
Answer: When people refer to mermaid nails, they immediately think of the glowing iridescent, pearl-like finish on the nail's surface. With hints of chrome, shimmer, and glitter, mermaid nails are designed with the ocean in mind. I love mermaid nails free of iridescence for those who love mermaids but don't love the typical pearly finish.
Question: What are Iridescent Nails?
Answer: Iridescent refers to the opalescent, shimmering finish that beautifully reflects light to create the appearance of shifting colours. This finish is on-trend for 2022, and it appears that it's going to stay that way! It's a feminine, delicate touch on any manicure, and you don't have to be a professional to get a basic iridescent nail – you can get the finish at home with the suitable polish. OPI's Pearl of Wisdom is the essential iridescent nail polish.
Question: What are Seashell Nails?
Answer: A 3D seashell design is a popular addition to mermaid nails to get the whole oceanic vibe! Designing seashell designs on your nail isn't easy to do yourself, so I would go see a professional for this art. Nail technicians use acrylic to make 3D lines that quickly get cured for a lifted look. Using a long thin brush, they can get a seashell design super detailed or as simple as possible – the choice is up to you.
Bottom Line on Mermaid Nails
I'm letting my inner mermaid out and trying the manicures on this list, no matter the season! There are so many options to choose from, from bright colours to iridescent pastel hues – I certainly won't get bored.
Since the beach isn't in my near future and I need an adaptable city-appropriate look, the Green Glitter Mermaid Nails are going to be my new signature until I can get to the ocean.
Embrace the designs that suit your style and enjoy feeling like a sea nymph this season!
Continue reading:
Light Blue Nails Inspiration and Ideas: Find Your Dream Nails
Unicorn Nails Inspiration and Ideas: 10 Fun and Easy Ways to do Them