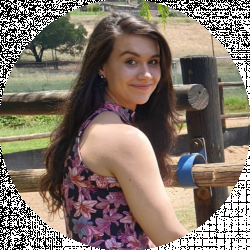 Latest posts by Christine Kent
(see all)
Nail art is a great way to express your personality. It helps many women stay inspired and self-assured. For me, acrylic nails are always a statement. They are durable and can easily be crafted into new unique designs every day. In comparison to doing my hair or makeup, I like how quick and easy they are to maintain and how much time they save. 
The colors of the rainbow serve as my primary source of inspiration. That is why I love to apply, mix, and match different colors on my fingers and toes. But, one shade that makes me feel cheerful and which I love the most is blue. I have used this color in various ways, such as acrylic, gel, glitter, and powder, but acrylic is my favorite. I have put together some incredible blue acrylic nails inspiration and ideas for you. These nails will be perfect for you if you love acrylic nails as much as I do! 
Bottom Line Up Front
The incredible blue acrylic nail ideas give me feelings of calmness or serenity. It feels peaceful, secure, and inspiring. I have tried various acrylic designs in this shade. The most exhilarating I found is White Floral Blue Acrylic Nails. The design is simple and unique. It gives me some tropical and cool vibes and is bold enough to make a statement.
Choose your favorite inspirational art from these blue acrylic nail designs mentioned below. And start experimenting with them today! 
Top Picks
Selection Criteria
I chose the blue acrylic nails mentioned in this article according to the following criteria:
Blue acrylic nails that you can wear to elegant events.

Blue acrylic nails that are easy to achieve on your own.

Blue acrylic nails that you will need the help of a nail expert to achieve.

Blue acrylic nails that are suited for any occasion.

Blue acrylic nails that are luxurious and elegant.

Blue acrylic nails that are simple and minimalist.

Blue acrylic nails that remind me of the beautiful night sky.
Blue Acrylic Nails Inspiration and Ideas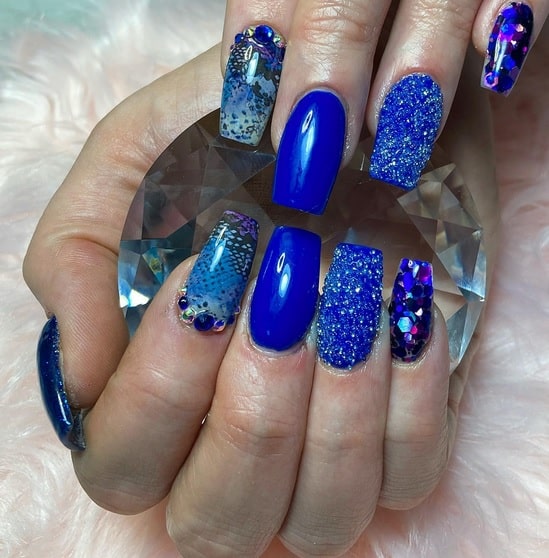 This is such a fun nail set! I love that each nail has a different design. The sparkly glitter and Swarovski crystals are stunning. It also brings class and elegance to the nail look. Okay, I must be honest with you guys, I hate snakes. They are scary, and just thinking about them gives me shivers. But I must say the snakeskin nail design on the index finger is exciting and beautiful. It is definitely a design I would get on my blue acrylic nails. 
I would get this gorgeous blue acrylic set for a fancy event. I know it will make me feel confident and sexy. The best part is that I have a black one-shoulder dress with some royal blue sequins. It will look perfect with this nail set. You can prepare this art yourself or hire a professional for a flawless look. I'm definitely heading to my nail girl for this nail set because there is just too much detail!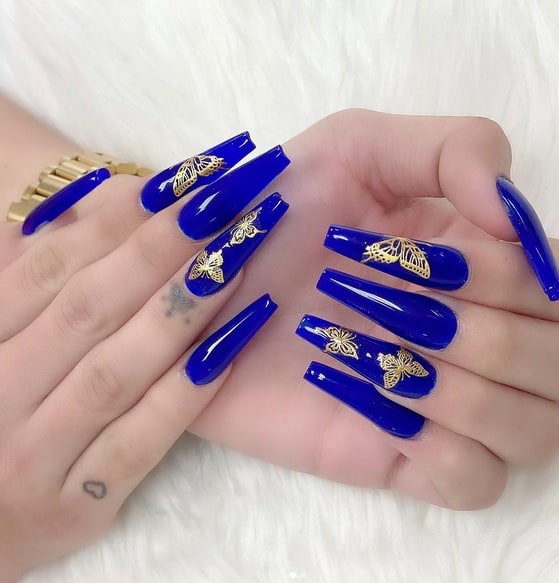 Some Native American tribes think, "Catch a butterfly and whisper your wish to it, then set it free; it will deliver your wish to the spirits, who will grant it." Who doesn't want these good luck butterflies added to their nails?  
I love butterflies, especially having them as a design on my nails. I think the royal blue shade looks gorgeous with the golden butterfly detail. It is definitely a set that I would wear to an elegant event. The exciting part is that this blue acrylic nail set is so easy to achieve! I can just paint my nails with the desired blue shade and add some golden butterfly stickers to them. I would just get a shorter length because these beauties are a bit too long for me.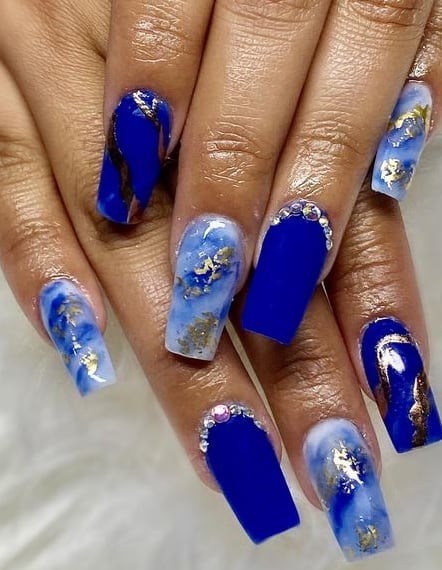 If you're a fan of marble, then you'll love this marble blue acrylic nail art! It's simple and elegant and perfect for any occasion. This stunning color will look great on any skin tone and add class to your look. If you are looking for some inspiration for your next marble nail art design, this is it, girl!
I'm obsessed with marble designs! And if you were to walk into my kitchen, you would see what I meant by "obsessed." This design reminds me of a night sky full of stars and swirling clouds. It looks as captivating as the galaxy is. The rhinestones and the gold flakes over the marble art add more elegance to the design. For me, it will be challenging to create at home, so I'll definitely visit my nail girl to get this done. #Excited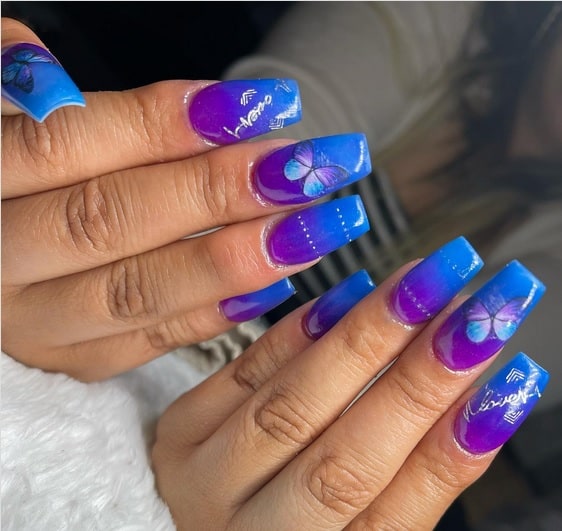 Purple and blue are those two colors popular in the nail world, which always go well together. I love the ombre effect on these nails. It makes them stand out and look unique. I also love the glitter finishing on these nails that adds some extra charisma.
The effect looks even more beautiful with the butterflies on top of the nail art. They are a nice touch to this color scheme, making these nails look feminine and elegant. Achieving the ombre effect may be hard. So I would suggest hiring a professional to achieve this cute set. I would like to get this set when my husband and I go on vacation. I have a cute butterfly bikini that will look adorable with this set!
I would describe this nail art as luxurious, expensive, and elegant. The nail art with heavy sapphires and crystals on them is a great way to show off your incredible personality as well as your sense of style. 
The nails painted in a royal blue shade look fantastic with the rhinestones. The diamond art is paired with classy French tips. It is then covered with blue and silver glitter for a sophisticated appearance. I found this pretty combination super feminine and luxurious. Ladies, this nail set is gorgeous but way too long for me! If it was half the length, I would get it. The glitter is also a bit much for me. I would prefer it to be on one or two nails. If you love this set just the way it is, go for it, hun! You might want to visit your nail tech to achieve the look to perfection.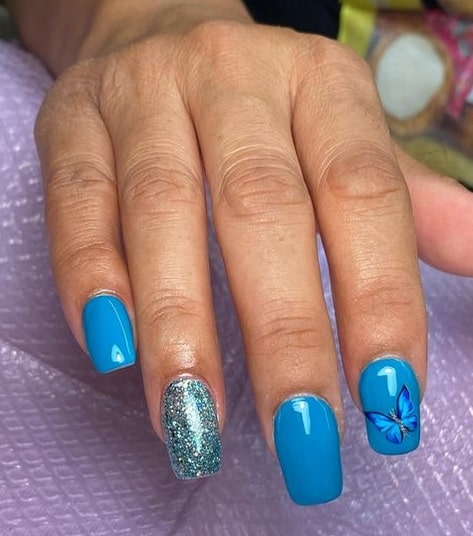 This nail art compliments every person with a soft and calm nature, whose soul and mind are as cool as the ocean. I absolutely love this blue shade paired with the silver-blueish glitter. It is such a calming color and makes your nails appear stylish and elegant. This nail set is for those ladies who prefer to keep things simple and formal. That is why I love this nail set so much. It is simple, suited for formal occasions, and has butterflies and glitter. The perfect combination!
This nail set is very easy to achieve! All you need is your blue nail polish, some glitter, and butterfly stickers, and you are all set, girl!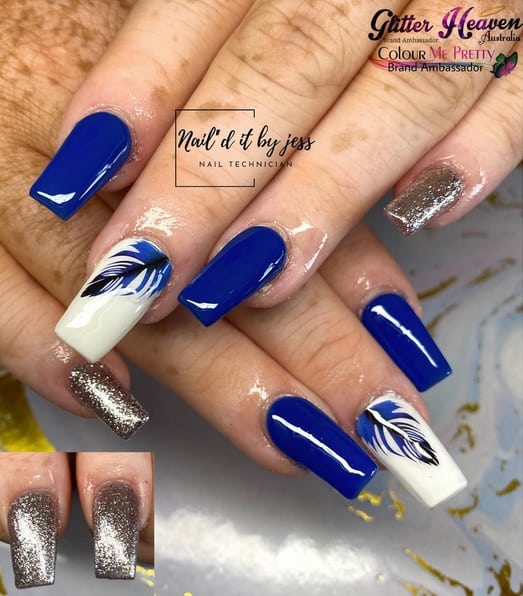 I would love to get this cute piece of art for a beach party. I found this art simple yet very elegant and graceful. No extra ornaments or complicated designs are required. 
The dark blue glossy nails look fabulous with a tropical tree sprig on the white nail base. The copper glitter tips are something new I have found. It is stealing the whole nail art look and making it the center of attention. The art is simple to make at home without so much effort, and I will surely give it a try for my next tropical theme party.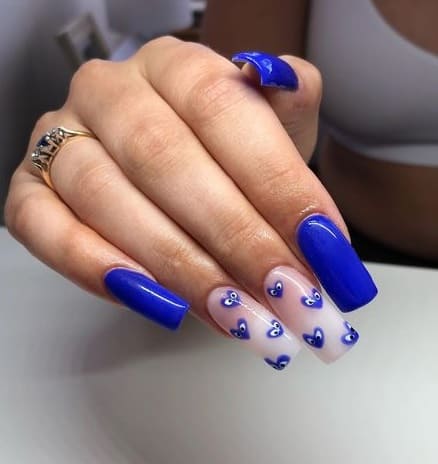 "Heart with eyes" is the most recognizable logo sign from a Japanese luxury fashion brand, Comme Des Garçons. The logo was originally black, but painting it in a blue hue for this artwork has enhanced its beauty.
I adore how these adorable hearts blend perfectly with the clear acrylic nails. It makes the art look elegant but cute at the same time. I can easily create this logo on my nails with the help of a dotting tool and blue nail paint. The black nail shade for the popping eyes will replicate the original logo. Girl, if you are not an expert, don't stress; stickers can also do the trick. This nail design will be perfect if you like incorporating little hearts on your nails. 
I love this nail set so much that I would wear it as my everyday nails. I would even wear it to the office; just opt for a shorter length. What are you waiting for, girls? Add some love to your nails with this cute design!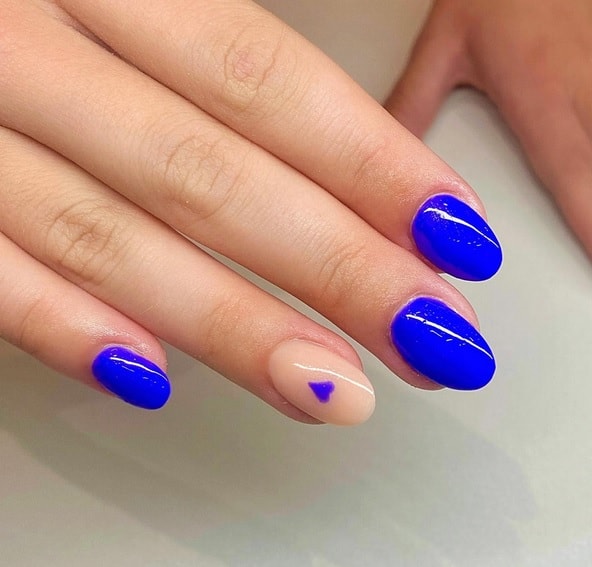 This art is the best picture of ideal blue acrylic nails. I love the shiny appearance of the blue nails. I think the tiny little heart on the one nail with a nude base is too cute to handle. This design is perfect for those who prefer a simple yet classic nail look and love to stay original. It is an effortlessly stylish look for every young and fun-loving girl. 
This is a set that I would wear every day as it will be suited for any occasion. It is simple, minimalist, and the perfect length! How can you not love it?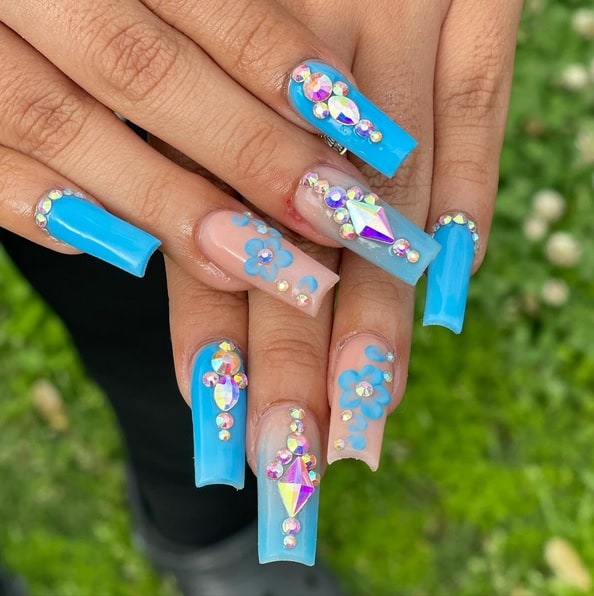 Any nail art that uses crystal ornaments always illuminates and elevates the entire appearance. I think that the light blue and nude nail colors make a decent and attractive combination. The nude shade has a delicate flower artwork. And the gems are organized neatly into a crystal fort pattern. These nails are perfect for any occasion and are sure to turn heads. Get started today with this artwork, and just see how amazing they can be! 
I think this is a gorgeous set, and it gives me princess vibes. But girls, the gems are a bit overwhelming for me. If I were to get this set, I would definitely opt for fewer gems, but I will keep the flowery detail. I prefer to follow the "less is more" strategy with my nails.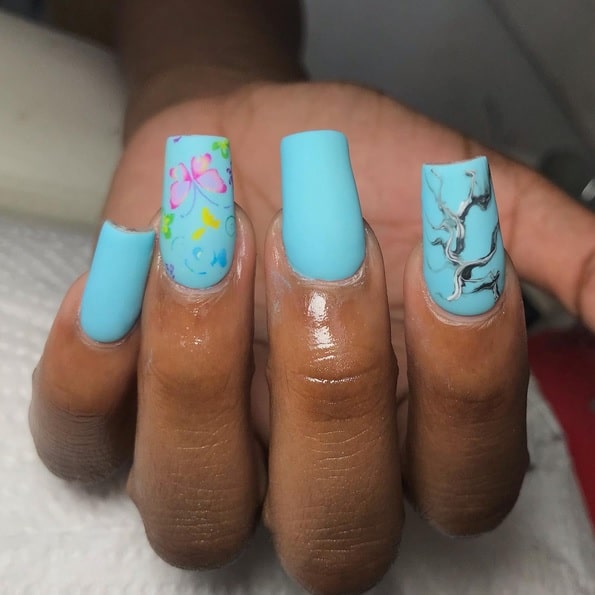 This magnificent art has acrylic nails smeared with a matte light blue shade. It feels very soft and relaxed, just like the ocean. I never thought that butterflies and marble designs could look good together, but it looks beautiful! This nail art will be perfect to wear every season, especially for those who don't want shiny, glittery acrylic nails. 
I love that this blue acrylic set is matte because I'm not always in the mood for a glossy nail look. I think this nail set is cute for summer. Just think of all the cute pictures you can take by the pool with these nails. You can even hold your cocktail to show off your nails and make it more aesthetically pleasing.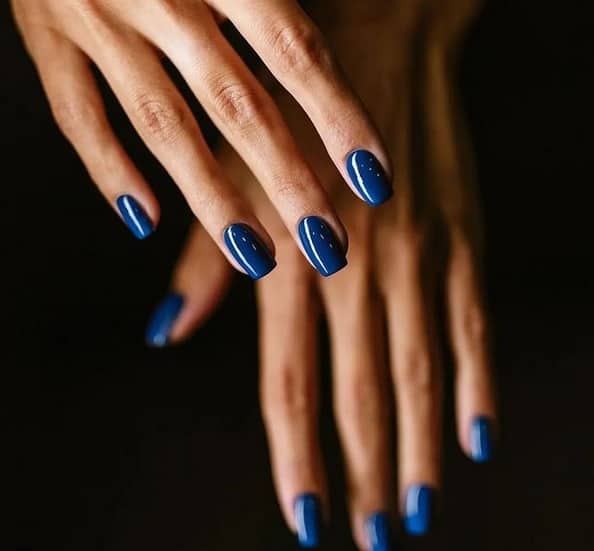 I am in love with this stunning set because this shade is simply gorgeous! The nail set is simple and minimalist. The shade allows the nails to give off dominating and edgy vibes. 
I would say this is the best blue acrylic set to get if you have an interview or an important meeting. As it always displays an outstanding impression. It also makes your personality stand out with confidence. The look is also super easy to achieve. So no more stressing about getting that last-minute appointment at your nail tech.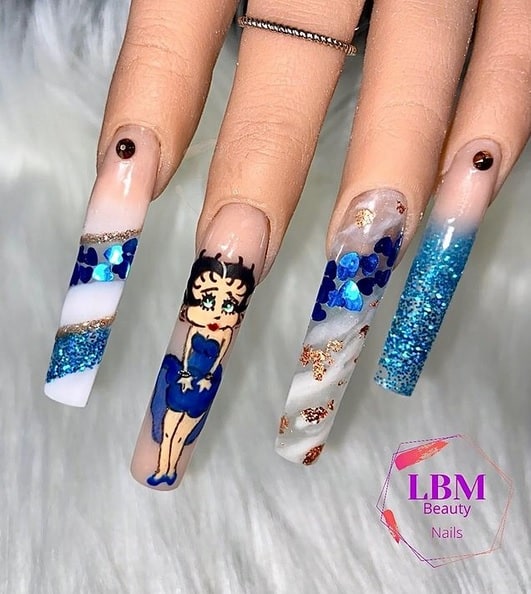 Well, this one is new for me. I have never seen Betty Boop displaying like this in any nail art before. Whoever created this art did a fantastic job! I have always loved Betty Boop. My Mom and I would watch the cartoon over the weekends and eat lots of popcorn. The sad part is that most kids today probably don't even know who she is, but that is okay because I'm bringing her back in this fun nail design!
I cannot resist Betty Boop's cuteness! The whole nail art looks incredible and is worth appreciating for exceptional creativity. I absolutely love the different designs used in this nail look. Not only is it cute, but it is also classy and sophisticated. Unfortunately, this nail set is a bit complicated to achieve on your own unless you are an expert. I'm definitely heading to my nail tech to achieve this look for my birthday.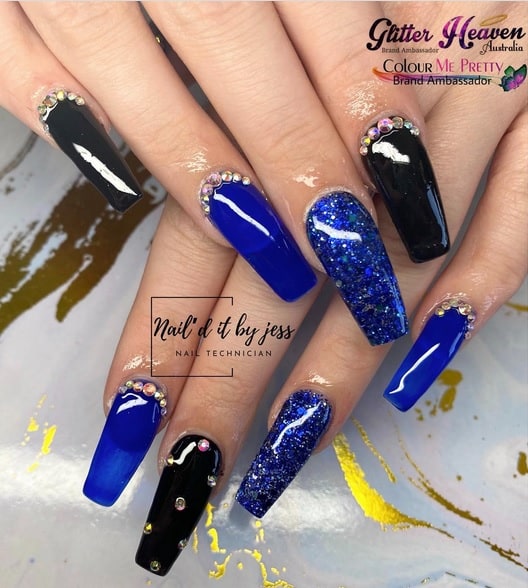 This nail set is gorgeous! The blue, black, and glitters remind me of the night sky full of shiny stars resembling galaxies! The colors look fantastic against my skin tone and are perfect for any occasion. The art is simply stylish and flawless and will be perfect for the winter season.
This is a nail set you can wear to important occasions, date nights — girl, you can even get it as your prom nails. Blue and black are my husband's favorite colors, so I'm definitely getting this nail set next.
Frequently Asked Questions
Question: Are Acrylic Nails Considered Better than Other Forms of Artificial Nails?
Answer: Unfortunately not. Acrylic nails have some serious cons. If they are not properly attached, they can damage the enamel. They are difficult to remove, often peel off natural nails, and can result in a damaged nail bed. 
Question: Is There Any Safer Way to Remove These Acrylic Nails?
Answer: If you try to pull them off yourself, you will hurt yourself. It's better to soak them in acetone first to remove them flexibly. Or you can also soak them in a mixture of vinegar and lemon in warm water to remove them. 
Question: What do People Say When Someone Wears any Shade of Blue on their Nails?
Answer: Well, every color has its representation, but what people say about it really doesn't matter. Like in some Asian cultures, only brides can wear red nail shades while single girls can't. (WOW). Similarly, according to social media trends, wearing a light blue hue is a code for being in a relationship. Though, like I said, it shouldn't really matter. Just wear what you like! 
Conclusion
The blue acrylic nail trend always goes strong, and the shade is always my favorite. It is bold, beautiful, and attractive. I love all the inspirational ideas for this color, and the opinions people come up with. Whether you want to go with a classic navy blue or something more daring — I've got you covered!
I would suggest starting with the Classic Blue Acrylic Nails if you want to keep your tips simple. If you prefer something luxurious, go for the Coffin Sapphire Blue Acrylic Nails. It will define your expensive choice and graceful personality. 
What was your favorite blue acrylic nail idea mentioned in this article? Let me know in the comments below. If you have been feeling a bit blue lately, cheer yourself up by getting a set of blue acrylic nails. I'm heading to my nail tech right now! Have fun, ladies!
Continue reading:
Blue Ombre Nails Inspiration and Ideas: Get Creative With Your Nails This Summer
Royal Blue Nails Inspiration and Ideas: Nails That Will Always Put a Smile On Your Face
Light Blue Nails Inspiration and Ideas: Find Your Dream Nails