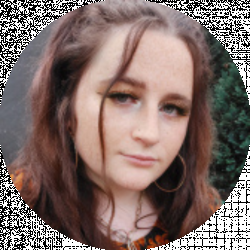 Latest posts by Lou Siday
(see all)
If there is one nail art trend that always grabs my attention when I come across it on social media, it is holographic nails. Holographic nails are becoming a favorite in the nail art world, with nail artists incorporating different colors and designs into the look.
Holographic nails make your manicure instantly look a million dollars. They are extremely cool, striking, and pretty extra!
So, what are my top picks for holographic nails inspiration and ideas??
Holographic Nails Up Front
My favorite holographic nails are the nails with flame designs! I think they're so cooling-looking. Whenever I get holo flame designs on my nail, I feel so confident.
Selection Criteria
When picking the holographic nails to add to this list, I tried to include a mix of different colors and styles. There is a range of different ways we can use the holographic trend, and it looks amazing in so many colors!
I wanted to include holographic nails that can be replicated at home so we DIY manicure lovers can have a go at it ourselves! I made sure all the manicures included are done to the highest standard.
Short Holographic Nails
If, like me, you need to keep your nails short, you can still get on the holographic nail trend. Here are my favorite short holographic nail ideas and inspiration.
Green Holographic Nails
I love these spacey green holographic nails, using glitter to make the nails really pop. These can be recreated at home by applying holographic nail gel and glitter.
Accent Nail Holographic Manicure
Accent nails are a great way of trying out trends and mixing up your manicure. This nail artist has opted to keep the holographic design on the two ring fingers, with a nude color on the rest. They have then added a matte top coat to the nude gel to create a contrast between the nude and the holographic nails.
Pink Holographic Nails
I love these short square nails, using a stunning pink color as a base for the holographic overlay. These nails properly shine, and 3D gems add another level of glam to the mani!
Blue Holographic Nails
This futuristic manicure is giving me major nail envy right now. I am obsessed with the colors used, and the mix and match nature of the design. The light blue keeps the manicure fresh, whilst the holographic blue adds some intrigue to the design. The perfect manicure if you are about to get on board a spaceship and explore the universe.
Mermaid Holographic Nails
I am sure it isn't just me who is seeing the mermaid nail trend all over my social media recently! This trend creates manicures that are akin to mermaid scales, and this design is a playful take on the idea.
The nail artist blended different holographic colors together on the nail before stamping on the crisscross design. The end results are simply stunning!
Light Purple Holographic Nails
These glitter purple holographic nails are girly and playful! The perfect manicure for summer parties and events, it keeps the trend light yet still creates a striking design.
Nude Holographic Nails
If you are looking for a holographic manicure that is a little bit more subtle, these nude holographic nails are perfect for you! The nail artist has opted for a pinky white color as a base, then added the holographic shimmer. They have then added silver glitter to each nail.
Red Holographic Nails
Red is a classy choice for your nails, and this nail artist has taken the color to the next level by adding holographic powder to the manicure. They have then added gold flecks to the rest of the nails, creating texture.
This manicure is super sophisticated and glamorous!
Long Holographic Nails
If you swear by long acrylic nails, there are so many great ways you can incorporate the holographic trend into your manicure. Holographic gel paint and powder instantly makes long nails sassy and extra!
Here are some of my favorite long holographic nails out there for ideas and inspiration.
Silver Holographic Nails
This manicure is stunning, using a classic coffin shape to elongate the nails. The nail artist has then applied a silver holographic gel onto the nails, creating a vibrant and interesting design. I love the way the nails shine under the sun, reflecting different colors into the manicure.
Dark Blue Holographic Nails
This unique manicure is ultra sophisticated, using a dark blue holographic color in the design. I love how the nail artist has played with shapes and lines to create an interesting manicure.
Dark Purple Holographic Nails
This manicure really shows off how cool holographic nails can be. The dark purple and blue holographic gel is stunning, and I love how the colors change in different lights.
This nail artist has used the Purple With Envy shade from Holo Taco. This company is really popular when it comes to holographic nails as they provide a huge range of holographic colors that are easy to use! Definitely check them out if you are wanting to recreate holographic manicures at home.
Holographic Glitter Nails
IMO, glitter and holographic nails go hand in hand. Probably because they both are pretty extra, and allow you to get dreamy, out-there manicures with ease. This manicure uses a classic coffin shape as a base, then added a stunning silver holographic shade with glitter.
Extra Long Holographic Nails
Because I can't really have long nails because of my work, I am kind of obsessed with extra-long manis. These long coffin nails are just so over the top, and I am here for it! The purple holographic shade is stunning, and I love how it reflects the light.
Negative Space Holographic Nails
Negative space is a big trend in nail art right now and refers to when some of the nail is left without paint. I love this take on the trend, where the nail artist has applied the holographic gel in swirling patterns across the nails. Big futuristic vibes!
Holographic Flame Nails
I cannot get over how cool this manicure is! The flame design is pretty in right now, and I love the contrast between the holographic flames and the matte black base.
3D Holographic Nails
These holographic nails are very cool, using a 3D water droplet effect on top of the holographic nail gel to create a really interesting manicure. The water droplet design can be replicated at home with clear nail gel. After applying the top coat and curing the holographic design, place a few dots of clear nail polish onto your nails where you are wanting the 3D design.
Then, build up the water droplet effect by applying more and more clear nail polish onto the nails. Cure or wait for the polish to dry before adding more.
Holographic French Nails
French nails are a classic manicure choice and refer to when the tips of the nails are painted, with the rest either left nude or in a contrasting color. Because of the rise of holographic nails, a load of nail artists have used this trend in French manicures with stunning results!
Pink Holographic French Nails
These holographic nails are super cute! The nail artist has applied a traditional white French tip, matching it with a contrasting holographic pink design. The end result is absolutely beautiful and very sophisticated.
Purple Holographic French Tips
This nail artist has chosen to apply the holographic gel on the tips of the nails with a matching purple gel on the rest. They are super fun and girly, and perfect if you are wanting to mix up the holographic trend a little.
Holographic Ombre Nails
Ombre nails are always in fashion and refer to when two or more gel colors are blended together to create a gradient of colors. Let's look at some amazing holographic nails that use the ombre effect in the manicure.
Silver Holographic Ombre Nails
These almond holographic nails are stunning, blending a silver holographic color into a nude, natural shade. The nail artist has then added stars to some of the nails to add a bit of extra glam to the manicure!
I love the flame design on the thumb, too. Flame designs are super cool, and I really like how subtle it is!
Square Holographic Ombre Nails
The square shape is a classic manicure, and it really suits the holographic ombre effect. I love the addition of glitter in the nails, too. Extra sparkly!
Black and Silver Holographic Ombre Nails
This striking manicure uses a black base for the ombre effect. The nail artist has dabbed holographic gel onto the tips of the nails, blending it downwards to create a stunning, spacey design.
Hot Pink Holographic Ombre Nails
This bright and bold design takes ombre to the next level by matching the holographic gel with a hot pink base color. It is a super striking manicure, and I love the purple shade of the holographic gel.
Mix and Match Holographic Nails
Do you love the holographic effect but want to incorporate other trends into your manicure? Check out these beautiful mix and match holographic nails for some manicure inspiration!
Pink Mix and Match Holographic Nails
I love the variety of designs in this manicure. By only having one nail in the holographic gel, the nail artist has been allowed to incorporate other unique designs into the manicure. Glitter, gems, ombre… This manicure has everything!
Holographic Nails With Gemstones
I love an accent nail, and this one is pretty extra! The nail artist has applied a beautiful holographic gel onto most of the nails, leaving the ring finger free to jazz up. I love the textures and colors of the gemstone accent nail. Kind of reminds me of a coral reef!
Blue Mix and Match Holographic Nails
This manicure is very cool, using shades of blue mixed with the holographic trend. The nail artist has then painted an eye on two of the nails.
If you are wanting to recreate these nails, I would recommend buying nail art tape in order to create the two tone effect on the pointer finger. You can hand paint the eye onto your nail, but you can also buy some cool nail art stickers that have eyes on! This allows you to recreate the design quickly and easily.
Gold Mix and Match Holographic Nails
This manicure is stunning and ultra sophisticated. I love how the gold holographic nail matches the gold lines on the other nails. A fresh and fun manicure that incorporates holographic nails and other nail art designs.
FAQs
Let's look at some FAQs you might have about holographic nails.
Question: How do you do Holographic Nails?
Answer: Holographic nails can be achieved using two different techniques. You can purchase holographic gel paint from a variety of online stores that can be applied to a prepped nail. This is a pretty easy technique that creates stunning results. You can also purchase a holographic powder that is dabbed onto a prepped nail.
https://www.tiktok.com/@nailing_painting/video/7042448578689715462?is_from_webapp=1&sender_device=pc&web_id=7085752219929413126
Question: How Long do Holographic Nails Last?
Answer: If you apply a decent top coat and look after your nails well, holographic nails can last as long as any other gel manicure.
Question: How Much do Holographic Nails Cost?
Answer: If you are looking to get your holographic nails done at a salon, the cost will usually be the same as a normal gel manicure. But, remember to check with your salon before you book!
Get Your Shine On This Season With Holographic Nails
I hope this article has given you a whole load of ideas and inspiration for holographic nails. This trend is stunning, plus it is super easy to recreate at home!
My favorite holographic manicure on this list has to be the holographic flame design. It is very cool, and I am definitely going to try and DIY it at home. Which holographic nails are your favorite?
Continue reading:
Silver Nails Inspiration and Ideas
18 Sea-Worthy Mermaid Nails Inspiration and Ideas
Neon Nails Inspiration and Ideas: Bring Some Color to Your Life