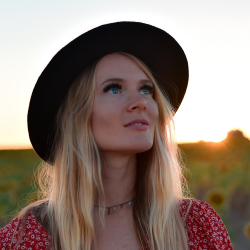 Latest posts by Haley Parker
(see all)
I have always been one to go for bright, colorful nails, and neon green nails are about as bright and colorful as you can get. I also understand that neon green can be a difficult color to figure out what to do with. However, do not let that deter you from trying this fun color. I have quite a few neon green nails inspiration and ideas for you to try below.
Neon green nails are a trend that only recently resurfaced since it was popular in the '90s. The color represents rave culture, punk style, and hippy culture from the '60s. It means freedom of expression and a break from societal norms. Everyone needs a break from routine, dull nails and should try a neon green at least once in their lives.
Neon Green Nail Inspiration Up Front
Glossy: This classic is the best way to go with neon green to make your neon green nails pop.
Matte: Using a matte top coat can make your neon green nails more intriguing for a little more edge.
Glitter: If you don't feel like neon green stand out enough, there is glitter polish in neon green.
Gel: To make your neon green nails last longer, look healthier, and have maximum shine, gel polish is the way to go.
Neon green nail designs: Neon green nails are meant to be fun, so why not add a little design with them.
Selection Criteria for Neon Green Nails
Trendy
Neons are in style for the warmer months this year. They are quirky, fun, and reminiscent of your younger years. You can do almost anything with neon green nails, and they will make heads turn in the best way possible.
Can Be Done at Home
Almost anyone can do all of the neon green nail designs and techniques on this list at home. You may need a few tools and some guidance, but with patience and practice, anything is possible. Even if you aren't the most crafty person, there are ways to achieve nearly all of these looks.
Can Be Worn By Anyone
What's significantly different about neon green is it is a warm, cool color, and what that means is it's a cool color(green) with a bit of a warm color(yellow) undertone. People with warm or cool skin tones can wear this color, and it doesn't matter if you have a darker or lighter complexion.
Neon Green Nails Inspiration
Glossy
Glossy nails are what you think of when you see the original manicure. Nearly all nail polishes have some shine to them, and you can make them even shinier with a good topcoat, such as OPI Infinite Shine, CND Vinylux Topcoat, or Sally Hansen Big Shiny. Glossy works well with neon nails as they make them shine brighter than a neon initially does.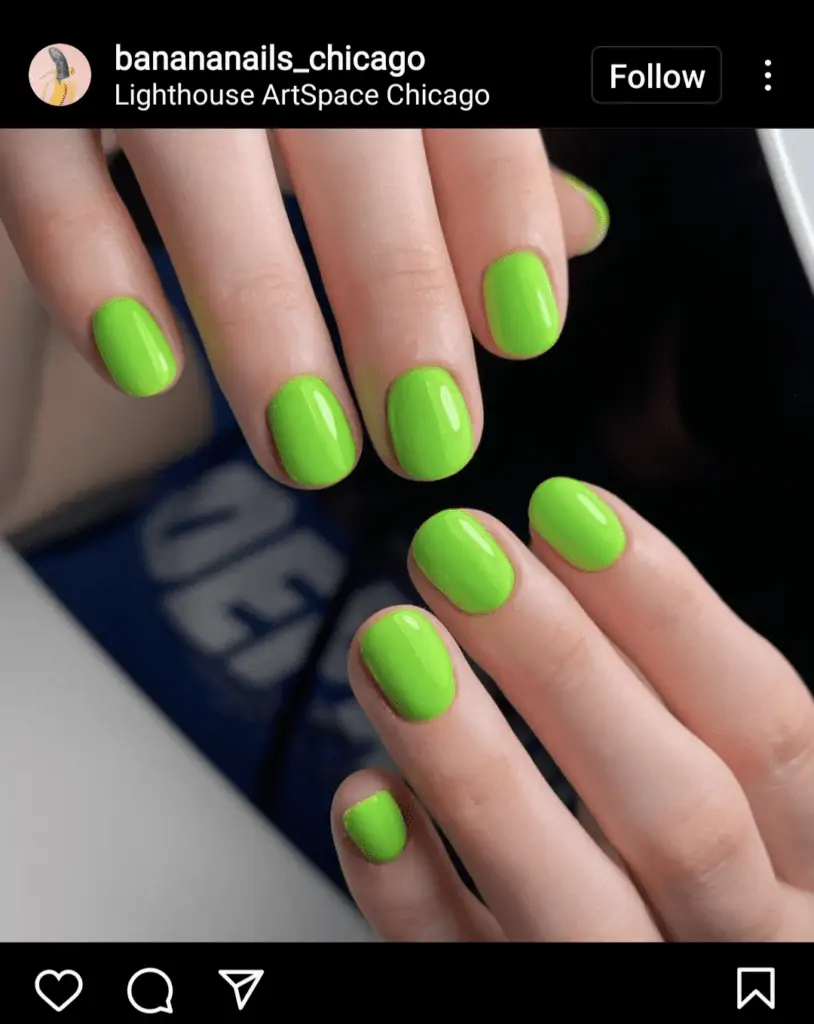 Matte
Make them matte to add even more edge to your neon green nails. There are not usually matte nail polish colors, so the way you make a matte nail is with a matte topcoat. Some great matte topcoats to go over your neon green nails are OPI Matte Topcoat, Sally Hansen Big Matte, or Essie Matte About You.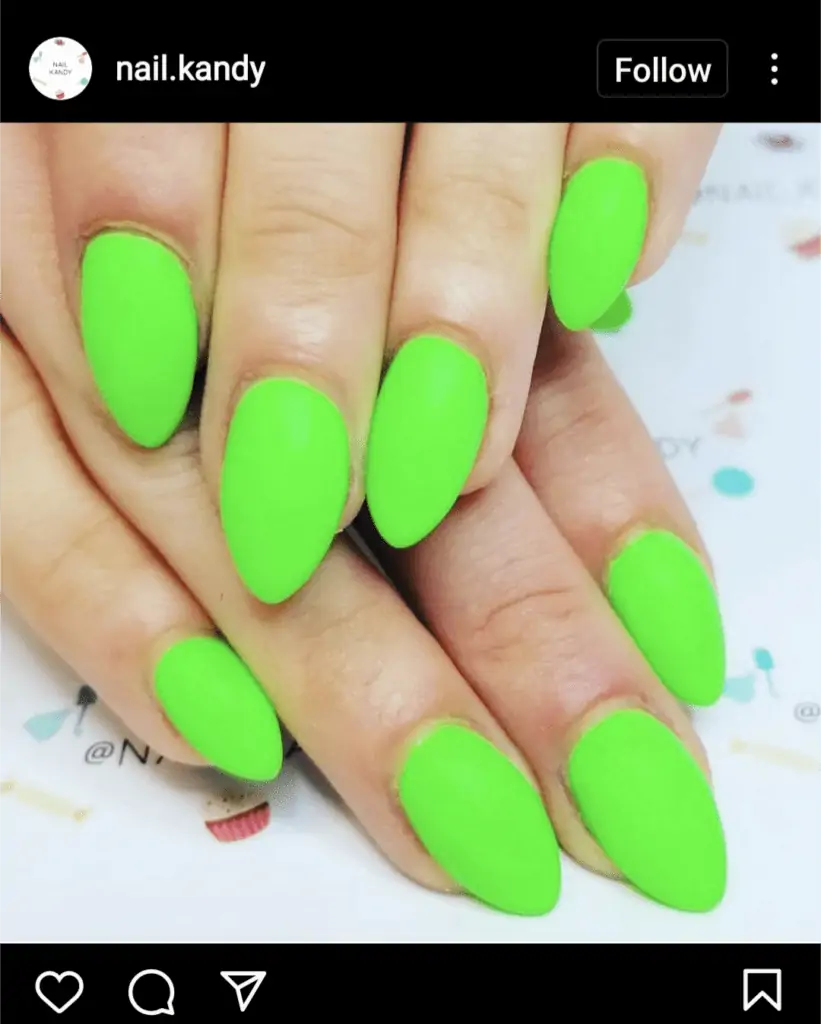 Glitter
If neon green does not pop enough for you, add some glitter to it. Doing an entire glitter nail can take away from some of the brightness of the neon color, so painting on your neon green color first and then overlaying it with glitter looks best. Some good neon green glitter polishes to try are ILNP Someday, Zoya Pixie Dust, or China Glaze a Grouchy New Year.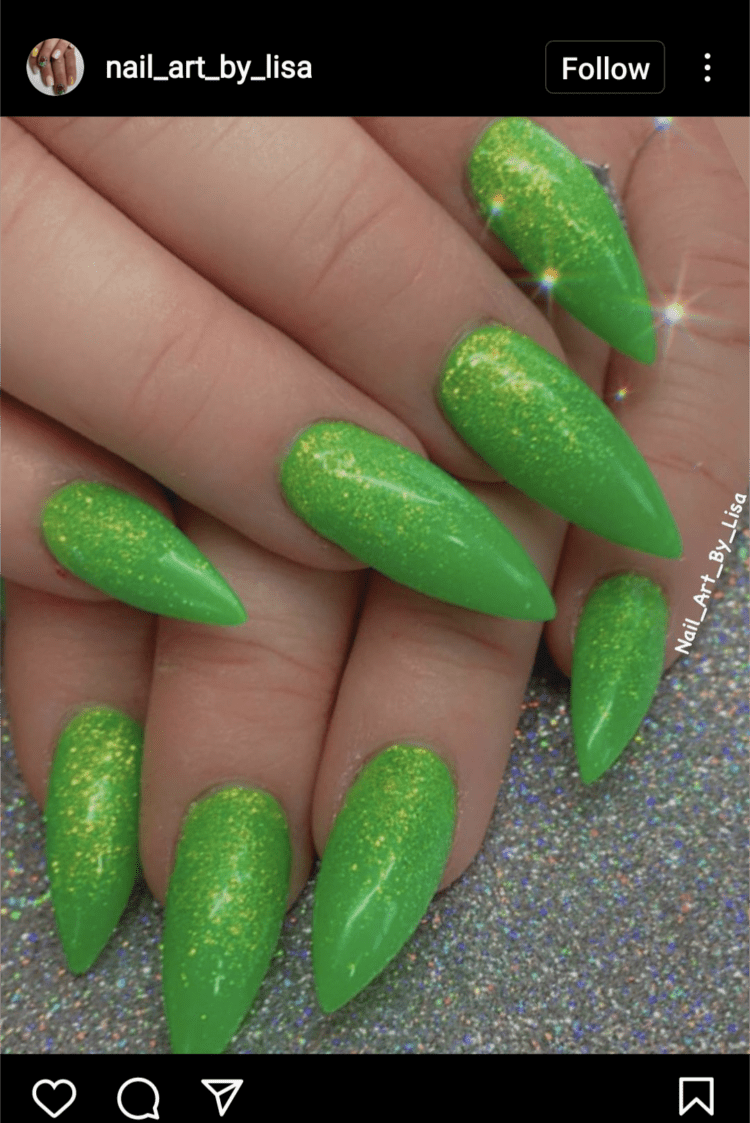 Gel
Gel polish is a thicker polish that lasts longer than regular polish and is shinier. You can get this in a UV curing method or non UV, and the gel polishes that cure with UV light last longer before needing a new set. For non UV curing gel polishes, Sally Hansen Miracle Gel and Revlon ColorStay. For UV light curing gels, try Gelish or Sally Hansen.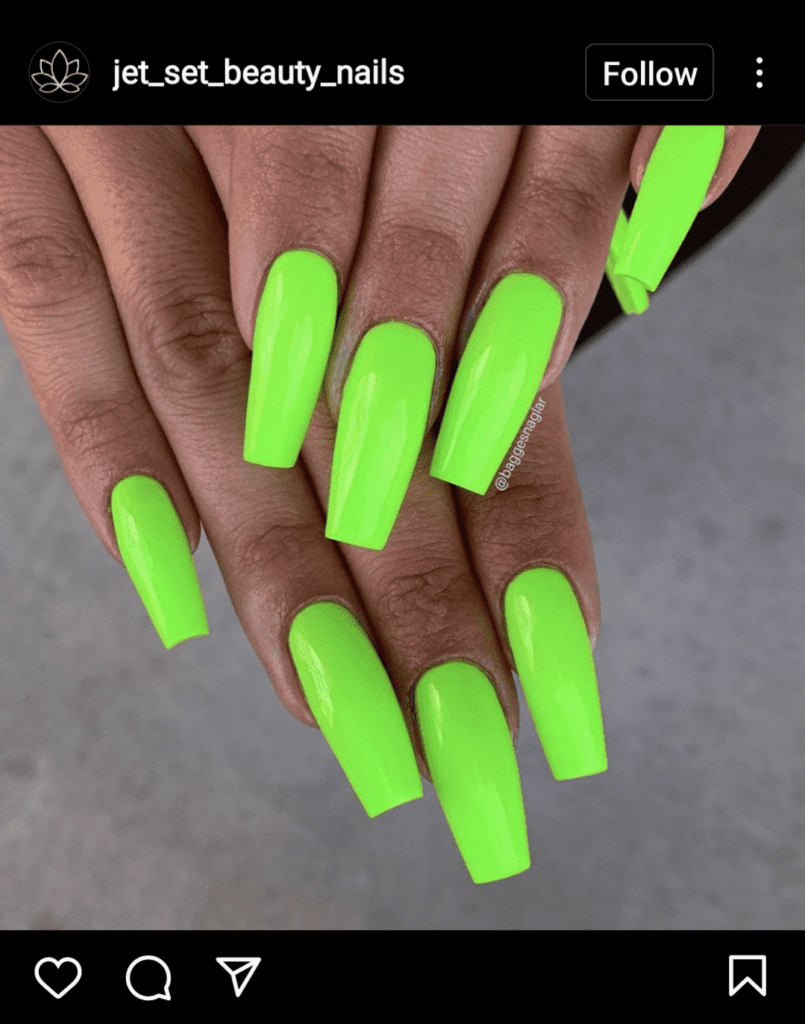 Neon Green Nails Design Inspiration
Geometric Lines
Geometric lines make lines into a shape that either creates something abstract or a bigger picture. This can be as simple as making one line through your nail's center or making your entire nail an assortment of lines. These lines look good with neon green nails because they have the same vibe.
To create geometric lines with neon green nails, you will want a thin bail brush. So you can see the lines you have made, you want to use another color that is the opposite of neon green, such as a neutral or hot pink. You can decide if you want the lines to be neon green, the base neon green, or alternate between the two.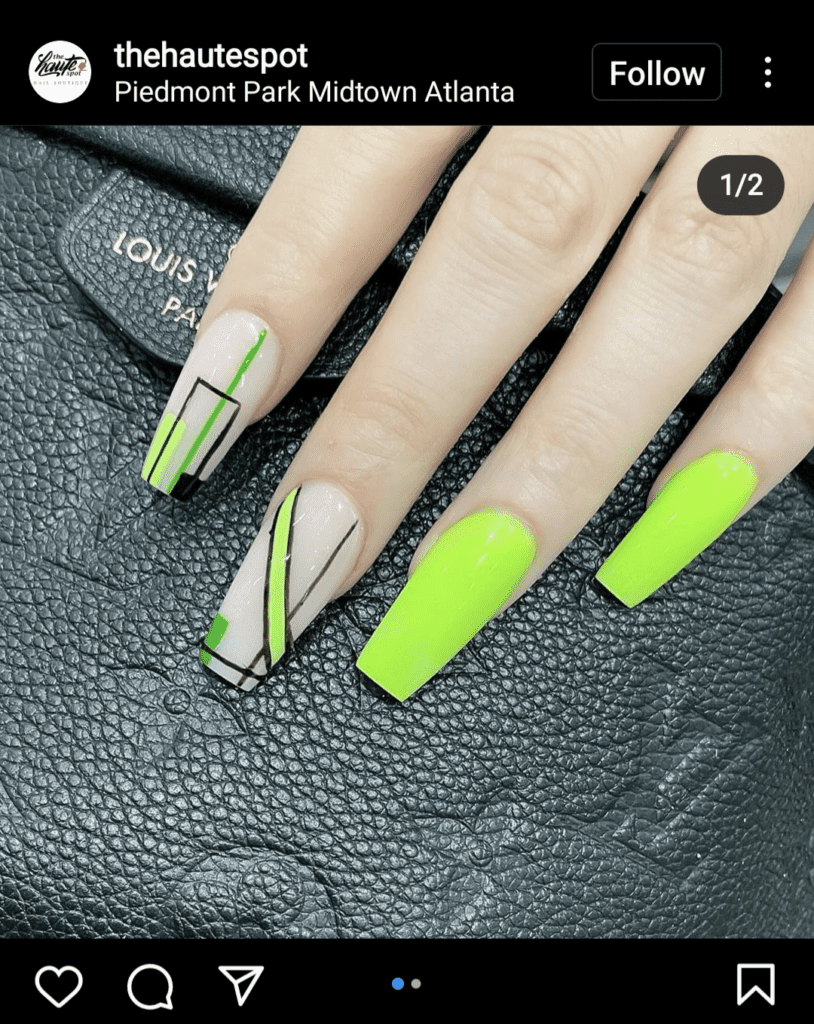 Ombre
Ombre neon green nails are an excellent way to subdue the look. I know it sounds impossible to calm neon green down a bit, but this technique does a pretty good job. It is like the modern-day french tip, so most of your nail is nude, and the tip is neon green faded in.
To ombre your neon green nails, you will need a makeup sponge, chosen polish colors, and liquid latex. Start by painting your whole nail with the nude base color. Then take your neon green and paint the tip to where you want your ombre to start. Dip your makeup sponge in a little bit of neon green polish and start dabbing it at the line until it disappears and finish it with a topcoat.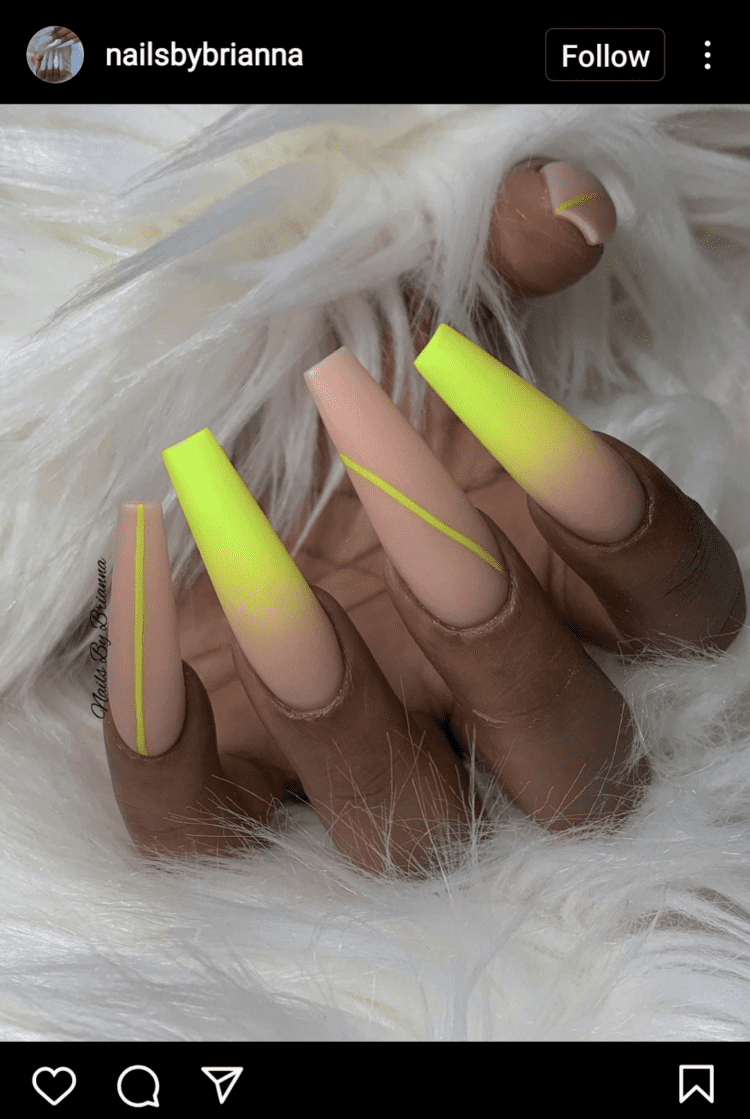 French Tip
If you love the color neon green but don't want to commit to a full neon green nail, doing a french tip is a good alternative. Even though french tips may seem outdated, doing them neon green revitalizes the look. There are also many trendy ways to do a french tip, like a triangular tip, a thin outline of the end, or only tipping one corner of the nail.
To do a standard french tip, do not worry about painting it on perfectly at first. Paint your neon green color on the end of your nail as neat as possible but slightly thicker than desired. Then take a dome-shaped nail brush dipped in acetone and carve out your curved line from the base. Try using a thin nail art brush for straight lines for the other aforementioned designs.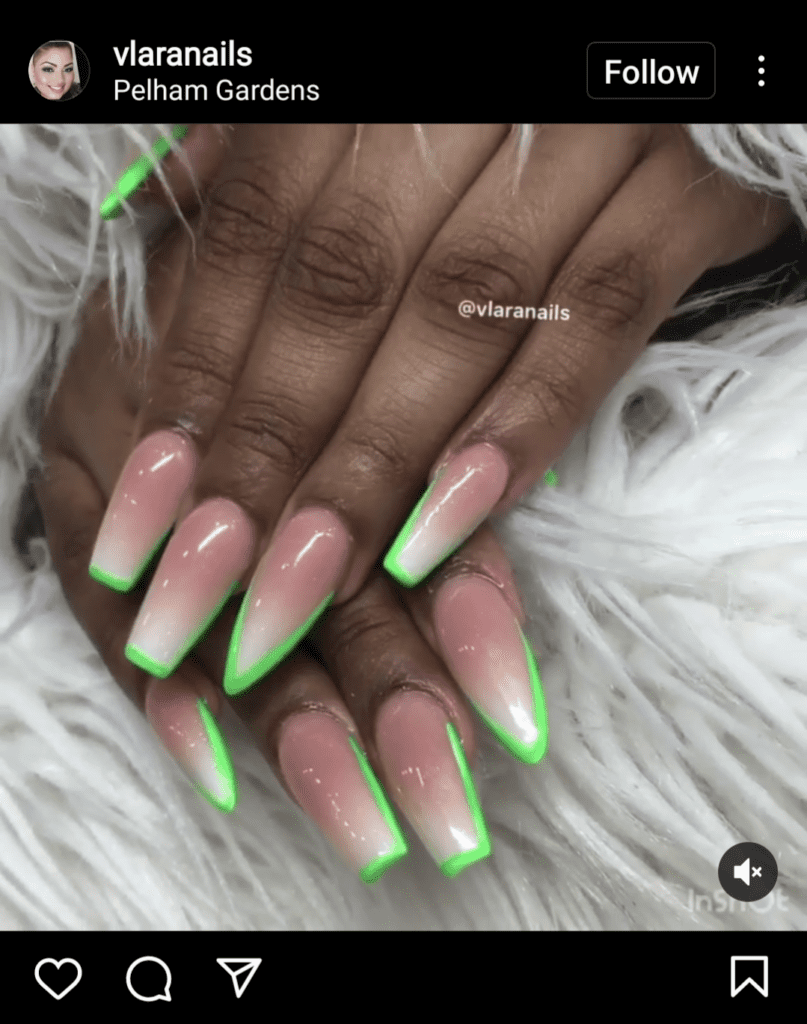 Aliens
Whenever I think of the color neon green, the first thing that pops into my mind is extraterrestrial beings. You know what I'm talking about, the little green guys that glow in the dark. You can paint your whole nail neon green and make the entire nail the alien's face. Another fun idea is to paint space on your nails with black background and glitter with little aliens on top.
To make your whole nail an alien face, paint the base neon green first. You can make your alien face look however you would like, but use a thin nail art brush to create teardrop-shaped eyes, two diagonal nose slits, and a slight smile for a stereotypical face. For aliens in space, it may be better to use alien nail art stickers.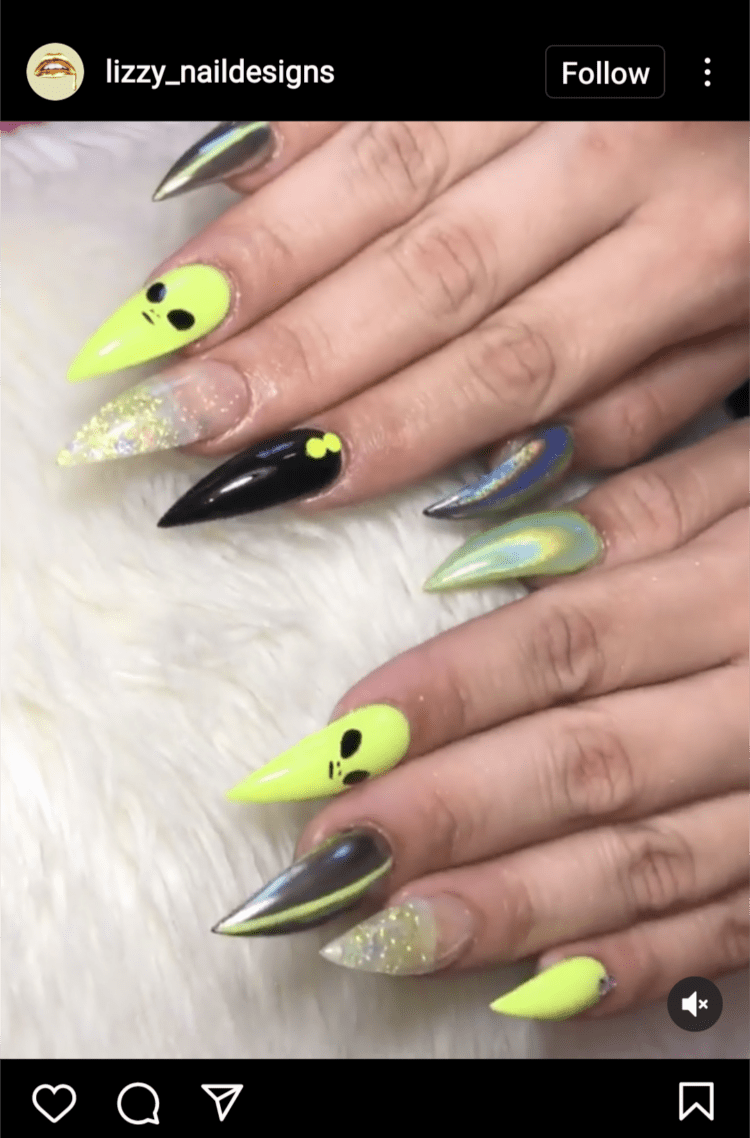 Monsters
Neon green is a fun Halloween color because most monsters are seen as neon green. You could also be super into monsters, in which case this is an excellent look year-round. You could make this as complex or as simple as you would like. Paint a whole Frankenstein, zombie, or boogeyman face on your nail or make a neon green eyeball.
If you decide to let your art skills go wild and paint your monsters, you will need liquid latex, a dotting tool, and nail brushes. Don't worry if your skills are not what you want them to be. You can still get monster nails with super easy nail stickers or nail stamps.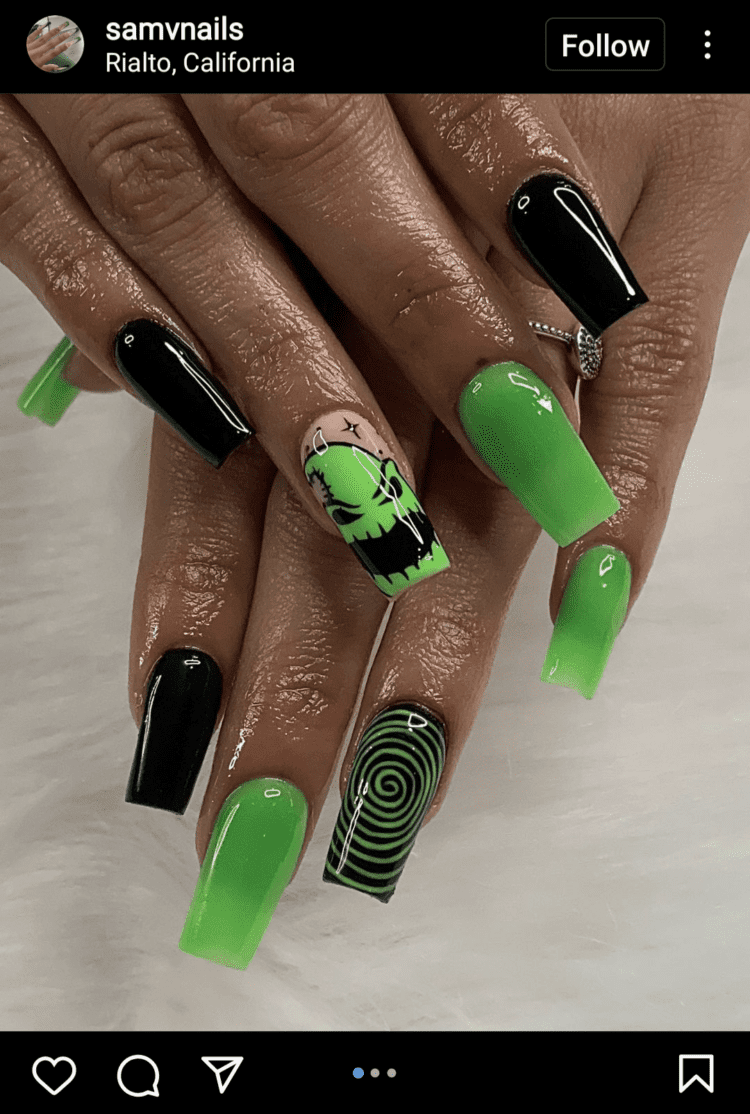 Smiley Faces
What better to go with a '90s color than with a '90s design? Smiley faces are fun to throw you back to the days when things felt a little more laid back and you saw smiling faces everywhere. Make them a more psychedelic design with melting smileys, or your whole nail a smiley face.
For a whole nail smiley face, paint the entire nails neon green first. Then take a dotting tool dipped in black polish to make the eyes. You will also need a line brush to create a smile. If you want more melty faces or multiple small faces on your nails, it is best to use nail stickers. Finish off your nails with a topcoat.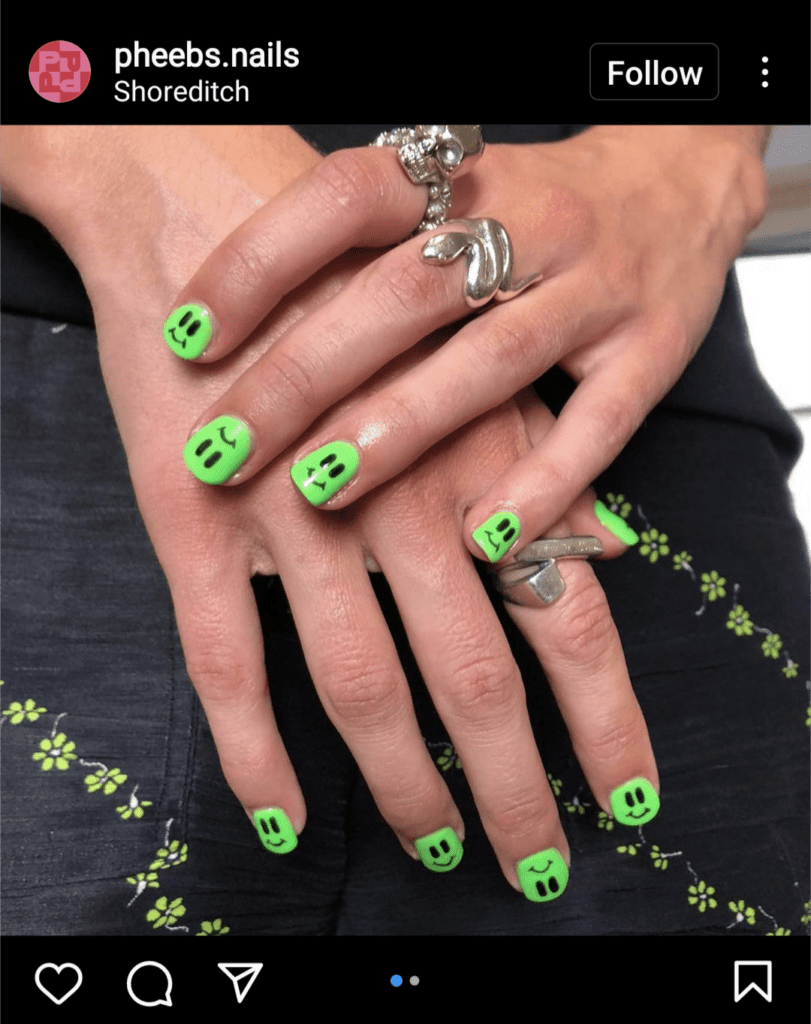 Slime
Slime is the most neon green thing that anyone could think of, and it can also make an excellent neon green nail design. Slime neon green nails are an amusing idea for Halloween. Do anything from a splat of slime in the middle of your nail to dripping slime from the base or tip of your nail.
Before starting your slime paint, choose a base color in high contrast with neon green. This could be a nude, black, or another neon color like neon purple. Then take a dotting tool and put dots of neon green where you want the slime to drip. Take a line nail brush and draw a line from the dots to where you want the slime to leak from.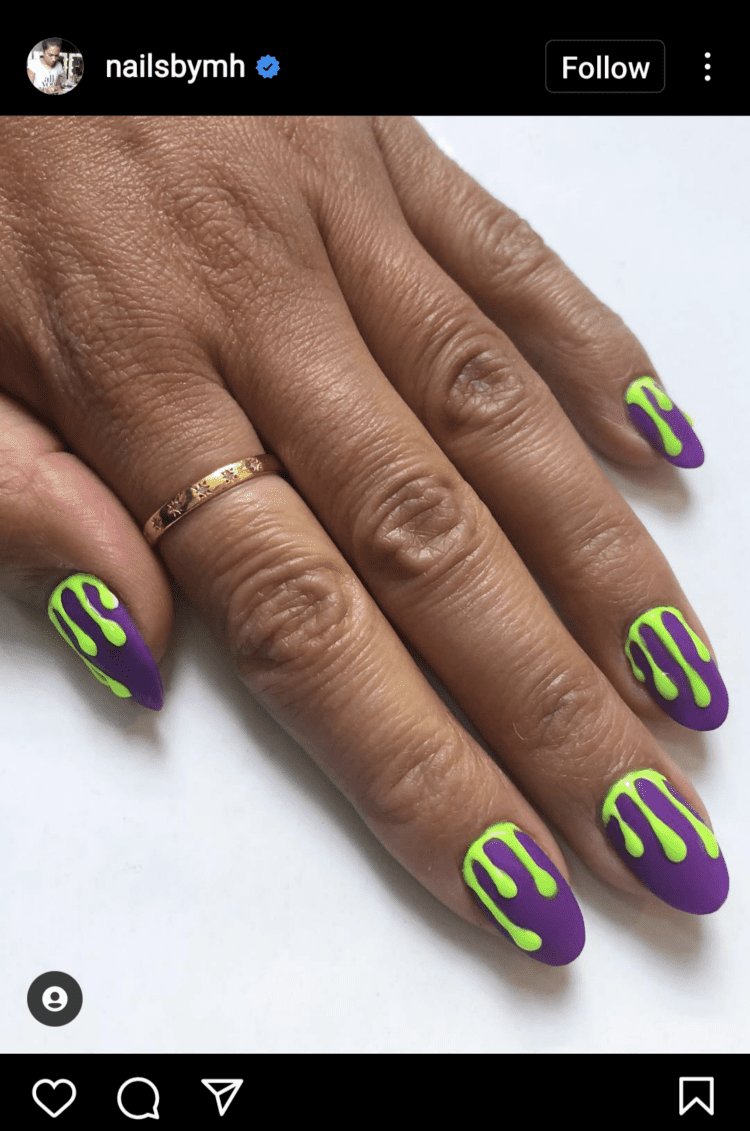 Lime Nails
Another common item that is neon green is limes, and what cuter way to kick off the summer. You can make this as complex or as simple as you would like. Paint half of the lime at the base of your nail using your cuticle as the lime's curvature, or paint a bunch of small limes all over your nail.
To free-hand paint a lime, you want green and white nail polish. Start by making a circle or half circle with the white and fill it in. Outline this circle with your green and add teardrop shapes of green from the center toward the outer edge. Try a nail stamp or nail sticker if you feel this is way out of your abilities.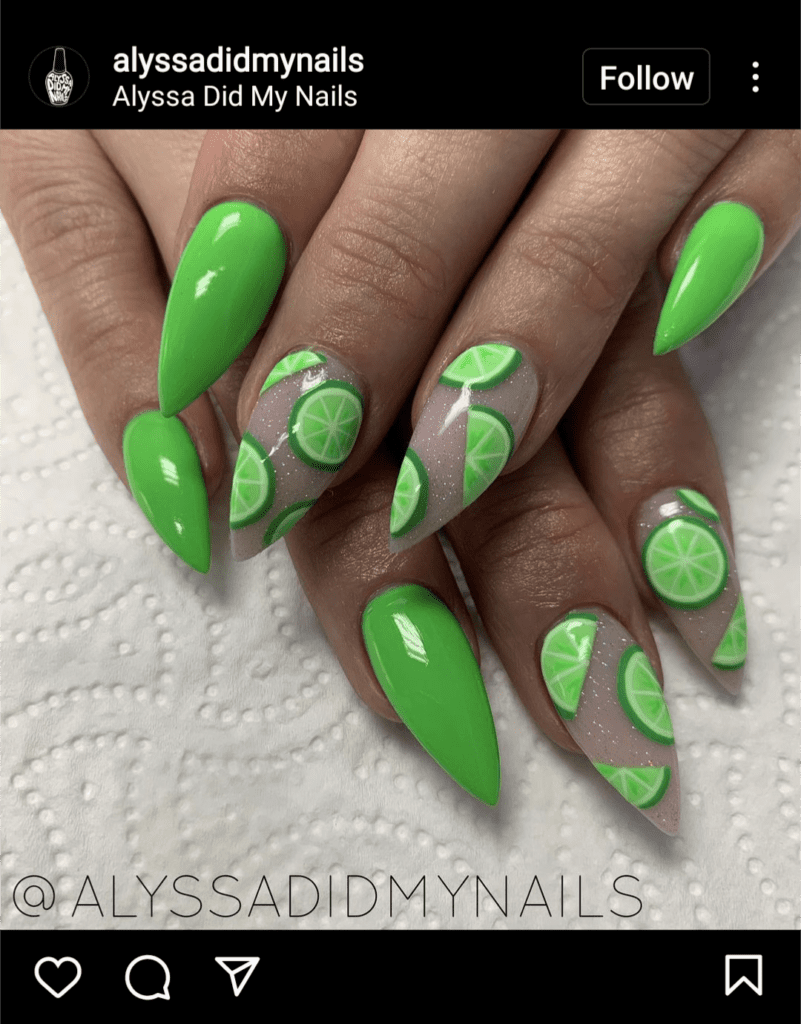 Color Blocking
Color blocking is when contrasting colors are separated by blocks, creating a modern look. This is so fun with neon green because many colors contrast with neon green. You can contrast neon green with a nude, black, or another neon color like neon purple or neon pink.
The easiest way to create color-blocking on your nails is to use scotch tape or painter's tape. Start by painting your entire nail a lighter color. Rather it's neon green or another color. Once that has dried, tape off where you want the other color to be and paint a couple of layers. Then remove the tape, clean up the line with a line brush, and top with a topcoat.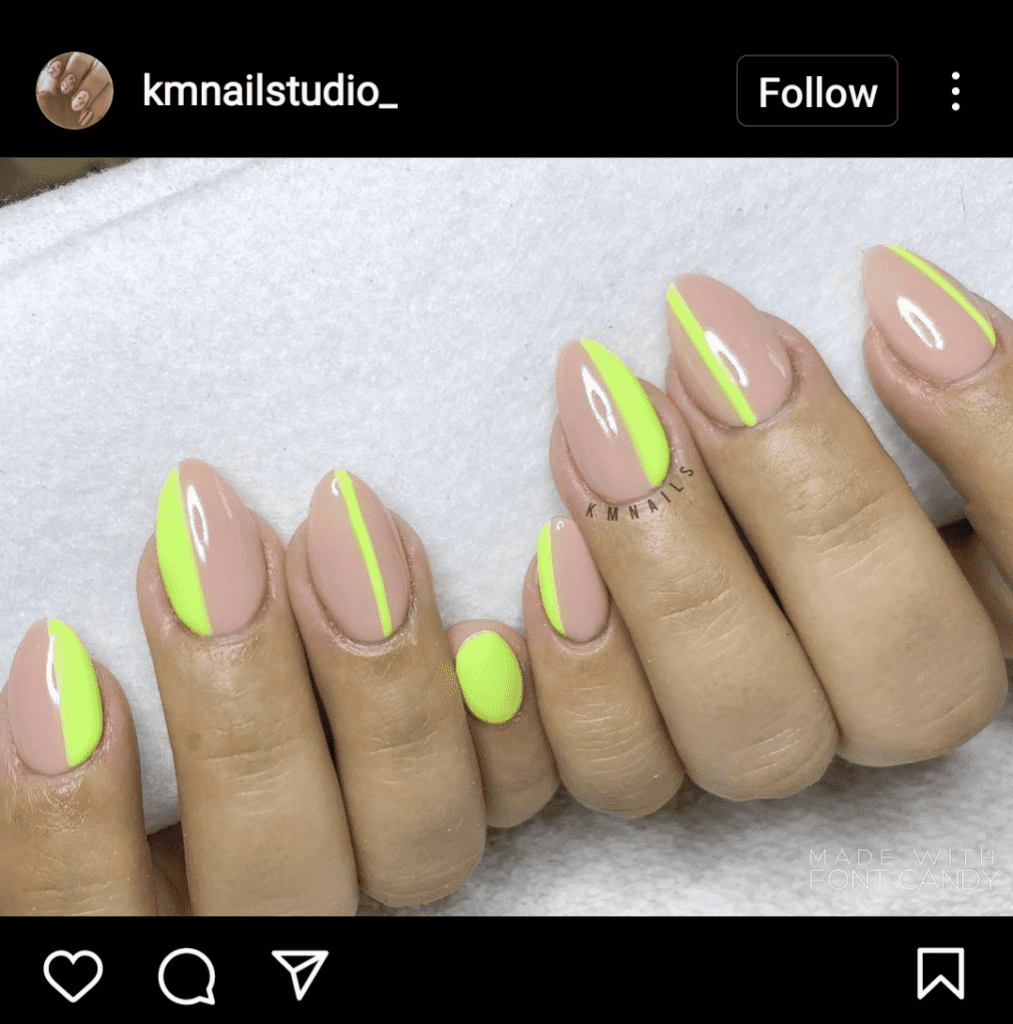 Marble
Marble has been a trend circulating in the fashion world for a few years now. There are even many ways to paint your nails with a marble texture. You can do the whole nail marble, ombre in a marble design, or a marble streak through the middle of your nail.
For a freehanded way to create a marble design, you will need two to three colors, a square nail brush, a toothpick, and a plate or some other disposable hard surface. Place a few drops of each color onto the plate, slightly overlapping. Drag the toothpick through the colors, so they slightly bleed into each other, and scoop up the nail polish onto your brush. Last, lightly drag the brush with paint over your nail in an S formation.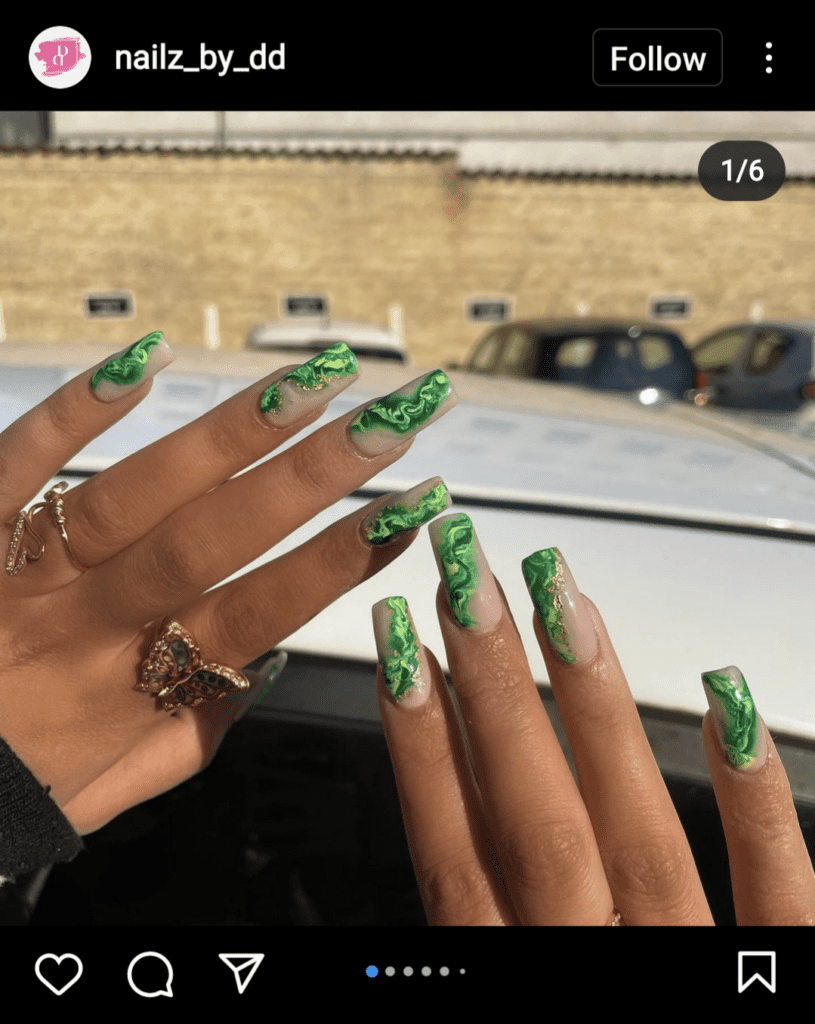 Gradient Nails
Gradient nails are different than ombre nails in that the color changes from nail to nail rather than along the same nail. This is a fun trend with neon green fading into another neon color, like neon yellow or neon blue. You could also have the color fade into white, black, or a darker green.
You will need to mix the two colors for this trend as you gradually paint your nails. Choose the color you want your neon green to fade into, and pour the lighter shade into a container. Paint your thumb or pinky with the lighter color and add a drop or two of the darker color. Paint your next finger with that mixture and add a couple more drops into that color. Continue this until all your nails are painted.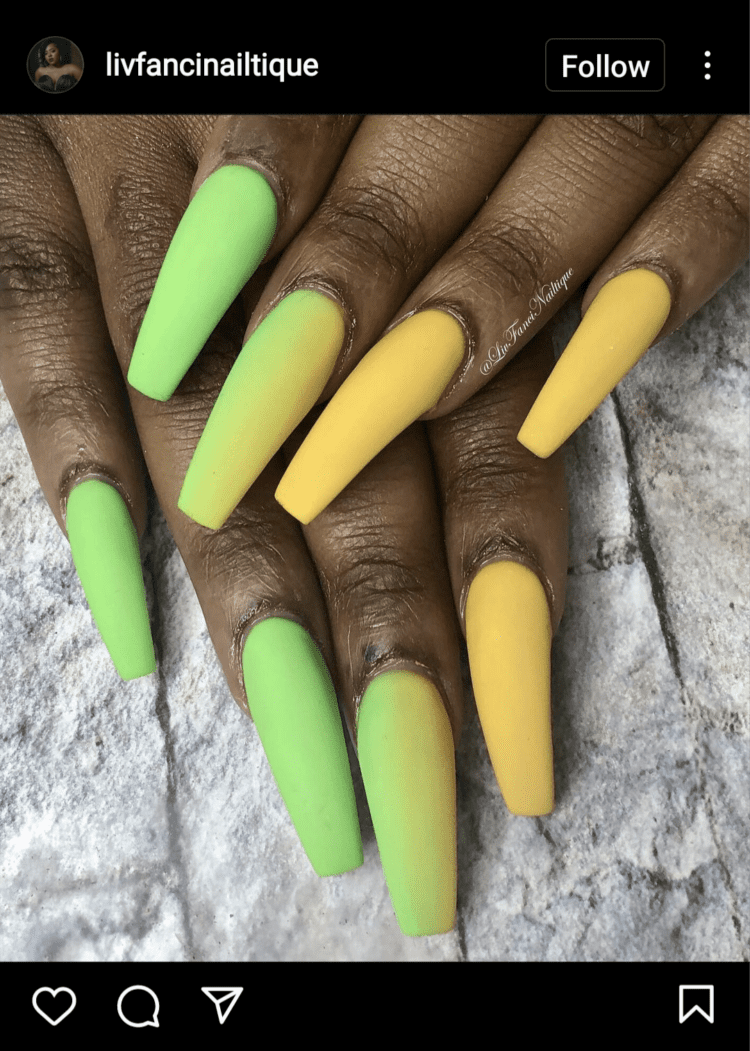 Tools Needed To Do Your Nails
If you decide to add designs to your neon green nails, you will need a few tools to help make the process easier. Below is a list of tools that you can use for multiple designs.
A nail stamping tool makes painting nail designs a hundred times easier. It comes with a stamp with a silicone tip, metal stencil plates, and a scraping board. You use a nail stamp by placing the desired stencil on a plate or cardboard. Fill in the stencil with nail polish and then scrape away excess polish with the scraping board. Then take your stamp and press it on the stencil to transfer it to your nail.
You can find nail stickers in nearly any design you desire, from glow-in-the-dark Halloween stickers to little smiley faces. They are thin enough to shape your nail without bends or cracks and can be easily placed with tweezers. Make sure you finish your nails with a layer or two of top coat, so the stickers do not fall off.
Makeup sponges are great tools for blending different colors of nail polish. They are used primarily for ombre nails but can be used to create galaxies, watercolor, or tye-dye. You want to make sure you are using disposable makeup sponges because you cannot use them again once they are used with nail polish.
Liquid latex is a coating that you can put around your nail to keep your skin from getting nail polish on it when doing specific designs. It comes in either a squeeze tube or a nail polish bottle with a brush and starts as a liquid. Once it hardens into a rubber, you can paint over it and peel it off once you are done with your design.
A nail brush kit is essential if you love to free-hand your nail designs. They come with a dome brush, line brushes, a square brush, a pointed brush, an angled brush, and dotting tools. These brushes are different than regular paintbrushes in that they are softer and more flexible, making it easier to paint with nail polish on a nail.
FAQ's
Question: Are Neon Green Nails Trendy?
Answer: Neon colors, including neon green, have made a comeback. You see this trend more in rave culture, but it can bleed into those that like things that are different and make a statement, such as punk style. Neon green is also a great color for spring and summer.
Question: What Skin Tone Goes With Neon Green Nails?
Answer: Neon green is one of those colors that can go with any skin tone. It is a warm, cool color, with it being a cool green with a warm undertone of yellow. Therefore, it adapts to both warm and cool skin tones.
Question: How do you Keep Neon Green Polish From Fading?
Answer: You can keep neon green polish from fading by using a UV-protecting topcoat. Neons always tend to fade over time, most likely due to the sun. Some topcoats with UV protection are Cacee, Tammy Taylor A+, and Mode.
Question: What Colors go With Neon Green Nails?
Answer: Neutrals, such as nude or black, go great with neon green as it is high contrast. If you want your neon green nails to pop the most, pair them with black. You can also pair it with other neon colors, like neon purple, neon pink, neon yellow, and neon blue.
Question: Are Neon Green and Neon Yellow the Same?
Answer: They are very close and can even be intermixed, but not the same. Neon green always has a bit of yellow, but neon yellow does not have green. There can also be neon colors that are very hard to decipher if they are yellow or green.
Should You Try Neon Green Nails?
Since neon green can look good on any skin tone, this solely depends on the style you are going for. Neon green is not subtle and will stick out, so make sure that it is something you like and want. If you are unsure if you like the idea of your nails standing out so much, you can try neon green ombre nails to test it out without it burning your eyeballs.
I love a nail color that stands out. My wardrobe mainly consists of black clothing, so one of the ways I add color to my style is through my nails. If you also feel like you need a bit more color in your life, you need to try neon green nails, and it is sure to give you the pop you desire.
Continue reading:
Dark Green Nails Inspiration and Ideas: Nail Ideas that Will Add Some Color to your Life
Green Nails Inspiration and Ideas: 20 Ideas for 2022
Neon Nails Inspiration and Ideas: Bring Some Color to Your Life