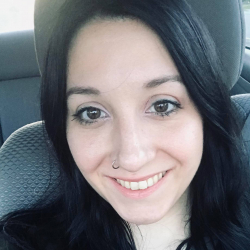 Latest posts by Stephanie Jensen
(see all)
The nail industry has expanded since I was first painting my nails. When I scroll on Instagram, I see cool nail art and jaw-dropping DIY manicures. But coming from someone who has been painting their own nails for years, I know the perfect manicure depends on more than the colors you use — the nail care matters as much, if not more.
That's why I always use a base coat before applying color. Like a primer under foundation, a base coat adds a protective layer so the polish doesn't adhere to your natural nails.
The problem is there are so many base coats out there, and it can be difficult to know the best one. And since I've been painting my own nails since I was far too young, I've tried nearly every base coat in existence. Read my best base coat nail polish guide for my recommendations.
Bottom Line Up Front
If you're looking for a base coat to extend the lifespan of your manicure, I suggest using Zoya Anchor. I've been using Zoya nail products lately, and I'm really impressed with this brand. That said, if you're looking for a base coat that is also a nail treatment, I suggest looking at the other base coats on this list.
How I Chose The Best Base Coat Nail Polish
Adding a base coat is an essential step in your manicure. They make your color pop and protect your natural nails. Some base coats are better than others, and I established strict criteria when selecting these base coats.
Quality: Ideally, the base coat will protect your manicure against scratches and chips, extending the life of your nail look. But not all brands uphold their promises, so I ensured these base coats were made with the best ingredients. I gave bonus points to base coats that worked as well as the ones available at my nail salon.
Shine: Sometimes, you want to add natural shine to your nails. Shiny nails look healthier and vibrant — as if you just walked out of the salon. If I'm in that mood, I always use my base coat. While you can find base coats in different colors, I at least ensured they have a shiny finish for a simple yet chic manicure.
Durability: The base coat is the ultimate secret to extending the life of your manicure since it adds a protective layer between your nail and the polish. But some base coats might as well be labeled as water since my polish still peeled and chipped. These base coats are durable, enhancing the longevity of your manicure.
My Favorite Nail Polish Base Coats
With so many base coats, it can be hard to find the right one for your nails. Don't worry, I got you. These base coats resist chipping, are made of the highest quality ingredients, and contain protective ingredients so you can wear them independently. These are the best nail polish base coats for all manicures and nail types.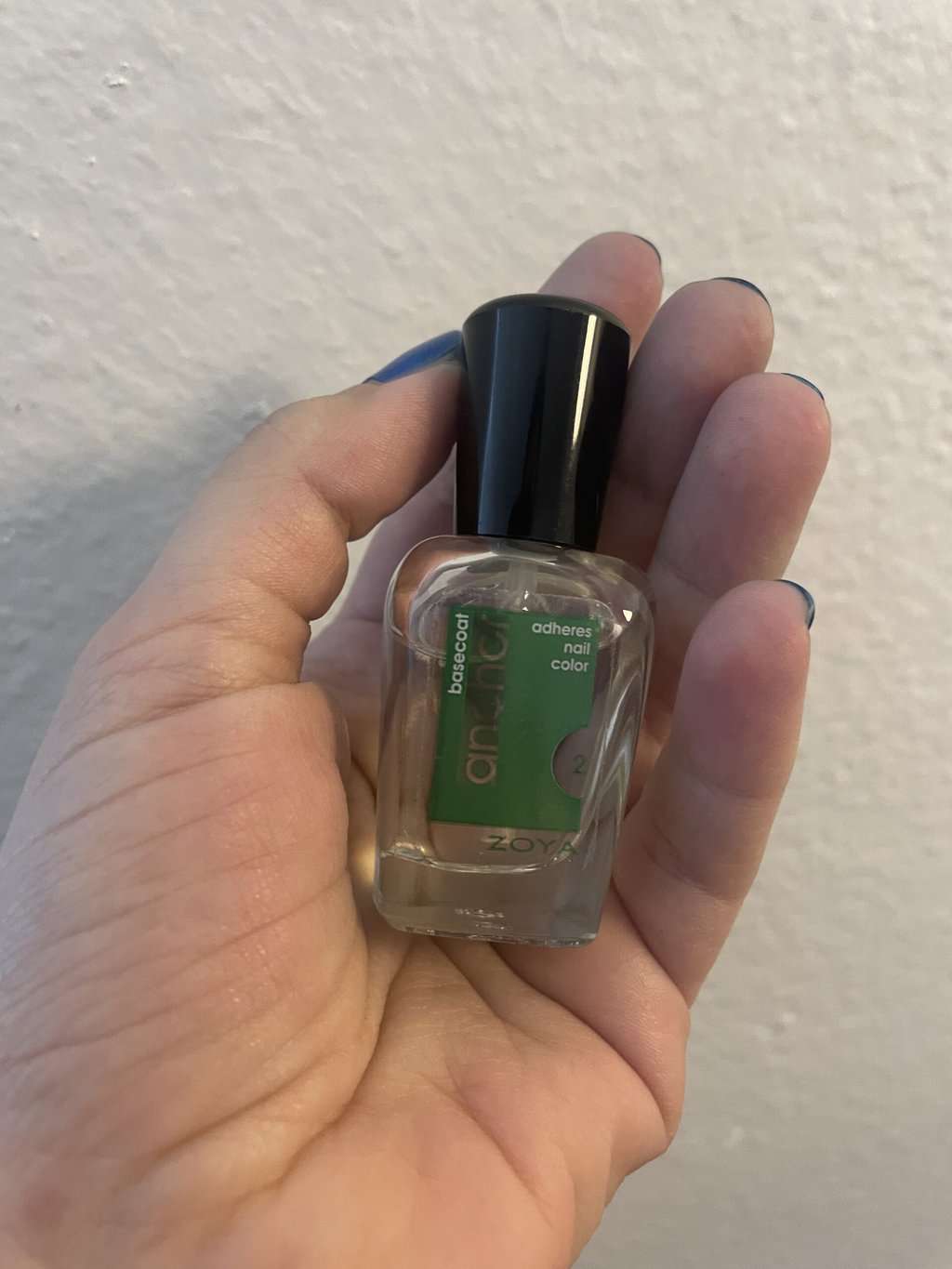 On average, my manicures last for days. I last painted my nails on Wednesday. Today is Saturday, and my polish hasn't chipped or peeled at all. Every single manicure is long-lasting like this, regardless of the color and brand I used. And I owe it all to Zoya's Anchor Base Coat.
Anchor is a clear base coat that leaves your nails with a subtle shine on its own. It applies smoothly and evenly. This base coat dries in about five minutes, so you never have to wait to paint your nails.
I have to say, I'm not easy on my nails. I type on my computer all day and night and do all the cooking and cleaning in my house. I also help out my mom and clean anything she can't. So when I say I'm impressed that my nails last this long, I mean it.
That said, I haven't used Zoya's Armor Top Coat, though I've been told that using both products will make your manicure unstoppable.
Pros
Durable base coat
Long-lasting effects
Relatively affordable
Holds up even when you're rough on your nails
Fast drying
Not made with big 10 nail polish ingredients
Strengthens nails
Cruelty-free
Cons
The formula is a little thin, so you may need two coats.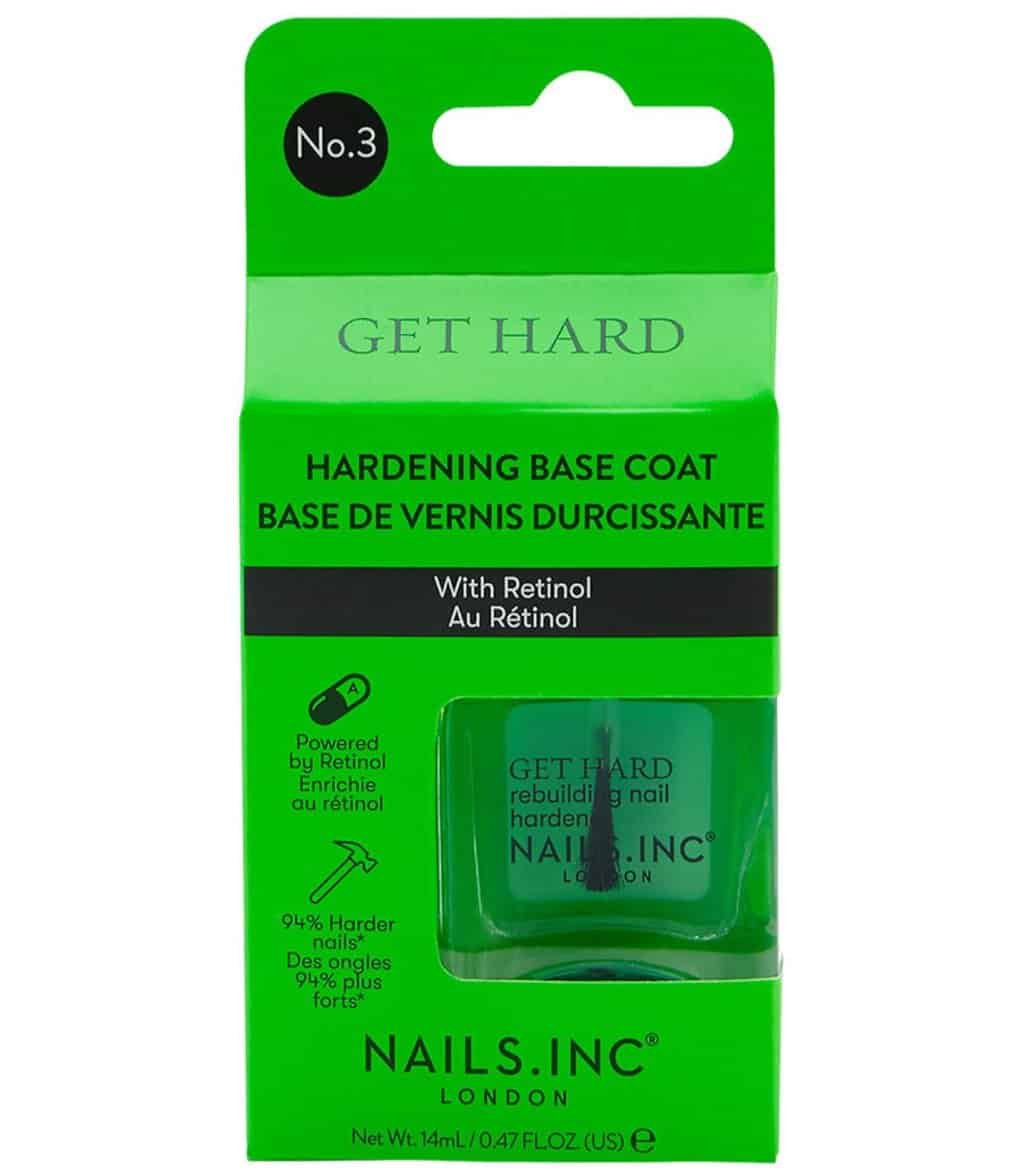 I always had strong nails, but I was wearing acrylics for a couple of years. They made my nails so brittle. And in no time at all, this product restored my nails to perfect health. I gave it to my mom when I didn't need it.
That said, I took a break from painting my nails during this time, so I didn't use this as a base coat. The product is clear and shiny, so it is perfect for wearing alone.
The Get Hard Hardening Base Coat is made with retinol to repair your nails. Unfortunately, I don't think this product is vegan. Nails Inc. is a cruelty-free company that carries 100% vegan base coats. The other downside is this does take a bit of time to dry. I also don't like the goopy texture.
Pros
Made with retinol to strengthen nails
Can be worn alone or under nail polish
Looks clear and shiny
Cruelty-free
Cons
Don't think it's vegan
Formula is thick
Takes a long time to dry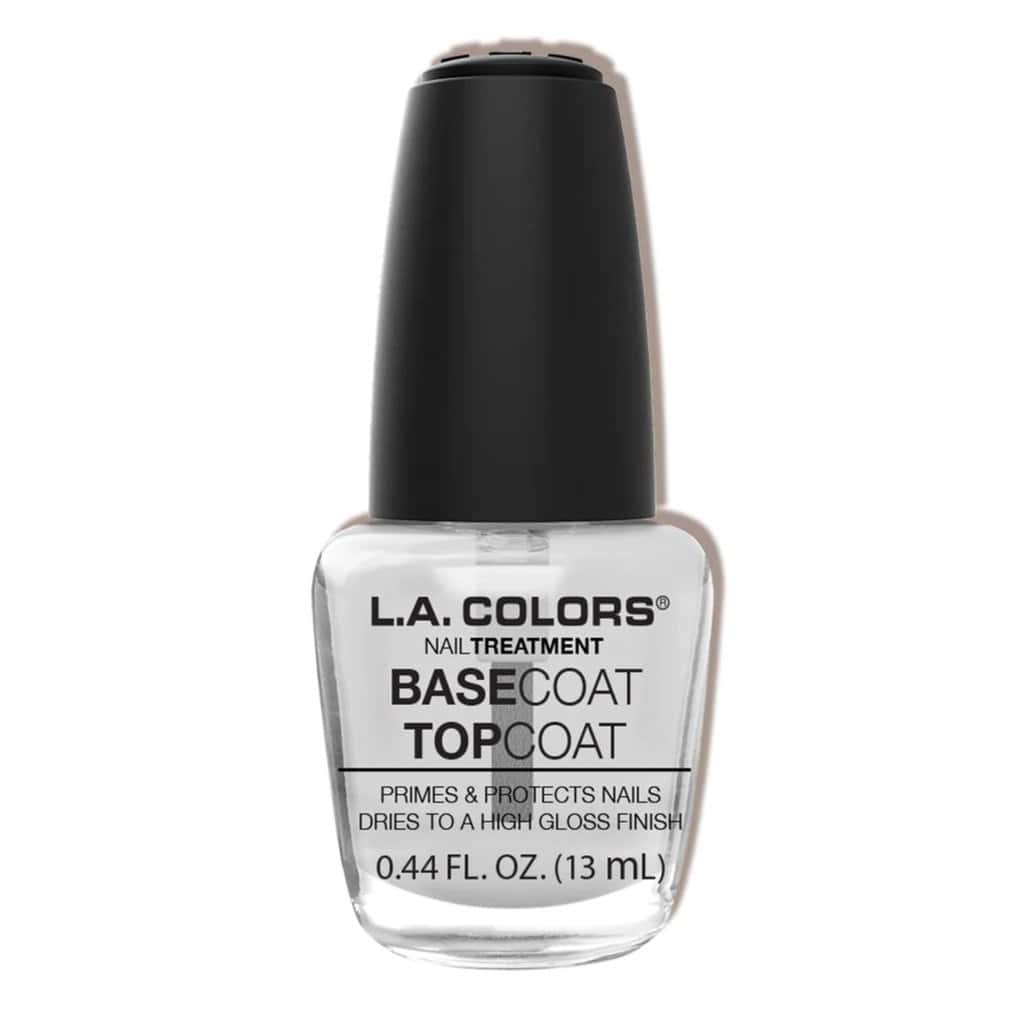 L.A. Colors is such an affordable brand, I'm shocked their products are so good. When I first discovered this brand, I thought they were too good to be true. But L.A. Colors keeps impressing me. This is a base coat and top coat in one, so you'll get double the benefits. And I kid you not, it only costs $1.59!
But does it seriously work? Well, if you think a no-chip manicure that lasts an entire week is good, then you can't beat the quality of this base coat/top coat duo.
As a top coat, this product has a high-gloss finish. But if you would rather have another finish, such as matte, you can always use this as only a base coat. The gloss finish looks amazing on natural nails, too, and the protective properties prevent your nails from splitting.
The only problem I experienced with this base coat/top coat is it takes a long time to dry. Compared to my Zoya Base Coat, which usually dries in five minutes, the L.A. Colors one takes 15 minutes. Fortunately, the formula is thin, so it's easy to apply. You can find L.A. Colors products at nearly every CVS or Walmart, and I also see them at the occasional Dollar Store.
Pros
Thin formula, easy to apply
Doubles as a base and top coat
High-gloss finish
Lasts several days to a week
Extremely cheap
Cons
Read More: Best Top Coat Nail Polish Guide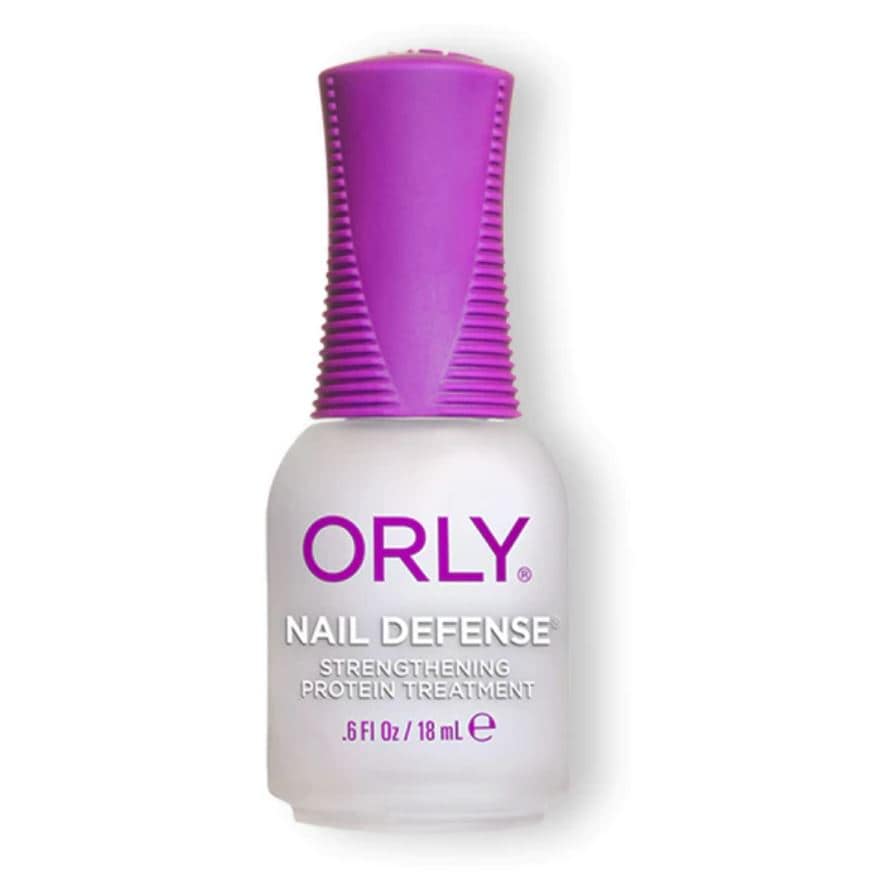 As much as I love the Nails Inc. Nail Hardener, it's not the most accessible product. You can find it online, but I haven't seen Nails Inc. at many stores in my area other than Sephora. If you want an alternative to the Nails Inc. nail hardener, I suggest trying ORLY's Nail Defense. ORLY is a brand I see at Ulta and Sally's Beauty, and they're also on Amazon.
This product strengthens nails, preventing peeling and splitting. It contains proteins to improve the bonds in your nails, so you don't have to worry about nail breakage.
No matter how brittle your nails are, Nail Defense will keep them healthy looking and beautiful, even without polish. Nail Defense dries quickly — it always dried within a couple of minutes for me. This is a big plus compared to the Nail Hardener and similar products.
I like how this is a three-in-one product. While you can wear this alone to improve your nail health, Nail Defense works as a base and top coat.
When you wear this with polish, it prevents chipping and flaking. It also fills ridges, so the polish applies smoother. The product is clear in color but isn't super glossy. This is the perfect product for those who don't want a shiny finish.
The only downside to this base coat is it doesn't prevent nail staining, which is a shame for me because I wear a lot of dark nail polish colors.
Pros
Dries quickly
Can use as a base coat and top coat
Is clear but not shiny
Contains proteins to repair and protect nails
Lasts a long time
Cons
The formula is a little thick
Doesn't prevent nail staining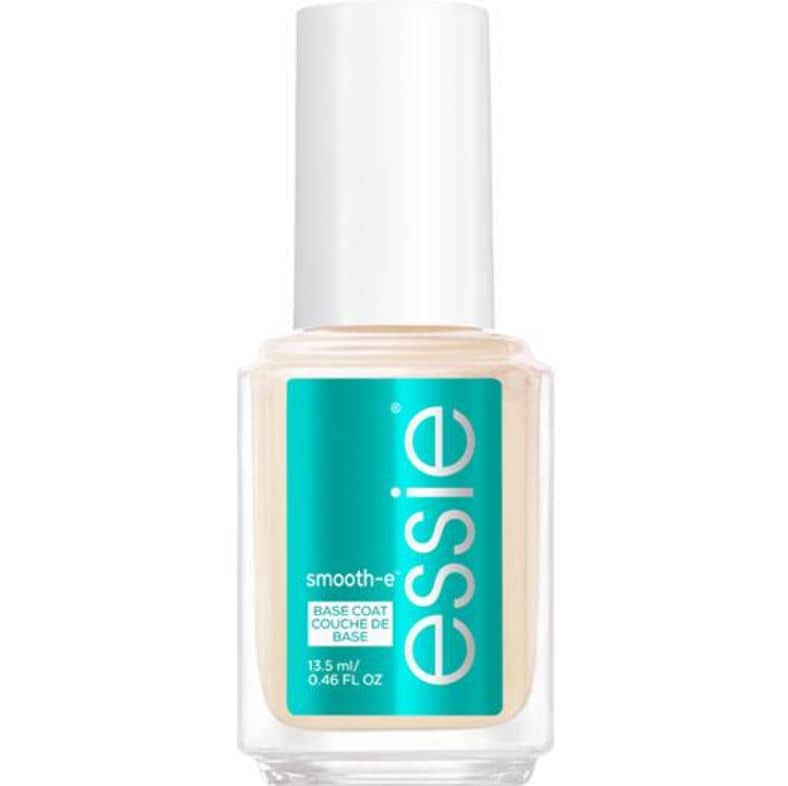 I'll tell you what — my skin is dryyyy. That includes my nails. If I didn't get a professional manicure every three weeks, I wouldn't want to know what my cuticles would look like.
Fortunately, Essie hooked me up with this Smooth-E Base Coat. It's infused with ceramides to prime and nourish nails. It also fills in lines and ridges in your nails. While I don't think this is a miracle product to fill in ridges, it does improve the appearance.
As a base coat, you can use this underneath polish for a smooth and seamless application and to prevent nail staining. You can also wear it by itself.
The only downside to this base coat is it takes a bit of time to dry — about 10 minutes. Keep in mind that this doesn't strengthen nails. If you're looking for strengthening benefits, check out the Strong Start Base Coat.
Essie has been one of my top-rated brands recently. I love their nail polishes, and they keep expanding their collections. Plus, their nail care is top-notch.
Pros
Vegan formula and cruelty-free
Moisturizing
Thin formula — is easy to apply
Improves the appearance of ridges
Can wear it alone or under nail polish
Prevents nail staining
Cons
Slow drying
Has a scent
Wears off quicker than other brands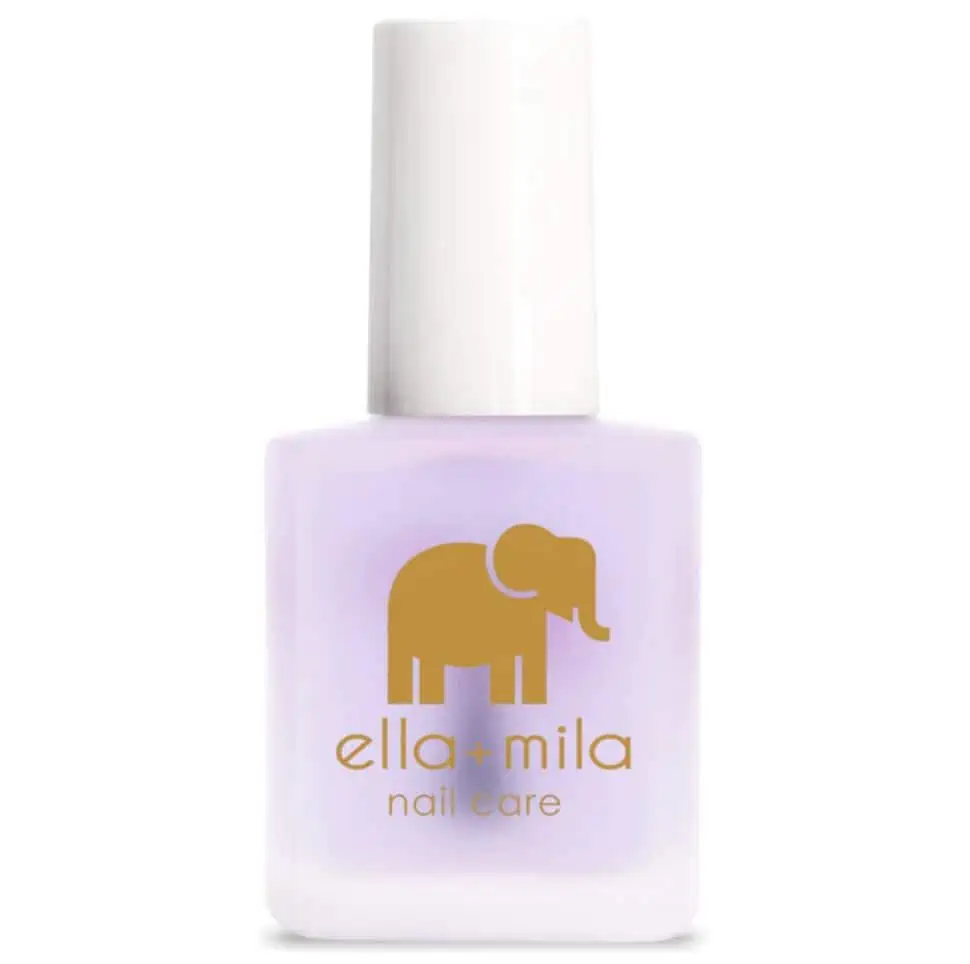 I must admit, I'm getting on this Ella+Mila hype way too late. I'm fortunate my nails are strong, but I remember looking for an affordable nail hardening treatment when I first discovered the Nails Inc. one. I wish I found Firm Foundation earlier since this was what I sought. I may pick this up for my mom since she has brittle nails.
As you can see, Firm Foundation acts as a nail-hardening treatment and a base coat. You can use this as a strengthening treatment two or three times per week. It has a natural, glossy look that can make your nails look amazing. Plus, it dries quickly!
Or, you can apply it before any nail polish color. I think this base coat is one of the best I used; after a week, my nails still looked great. However, I repainted them, so I'm unsure how long this base coat holds up. This base coat makes nails look smoother and reduces the appearance of any imperfections on your nails.
The only downside is the consistency is very thin. Be very careful when applying this product.
Ella+Mila is a 17-free brand, which means their nail polishes don't contain the most common chemicals. They're also a vegan and cruelty-free brand.
Pros
Strengthening treatment plus base coat
Only need to apply it 2-3 days a week for stronger nails
Smooths the surface of your nails
Lasts a long time
Can wear alone
Cons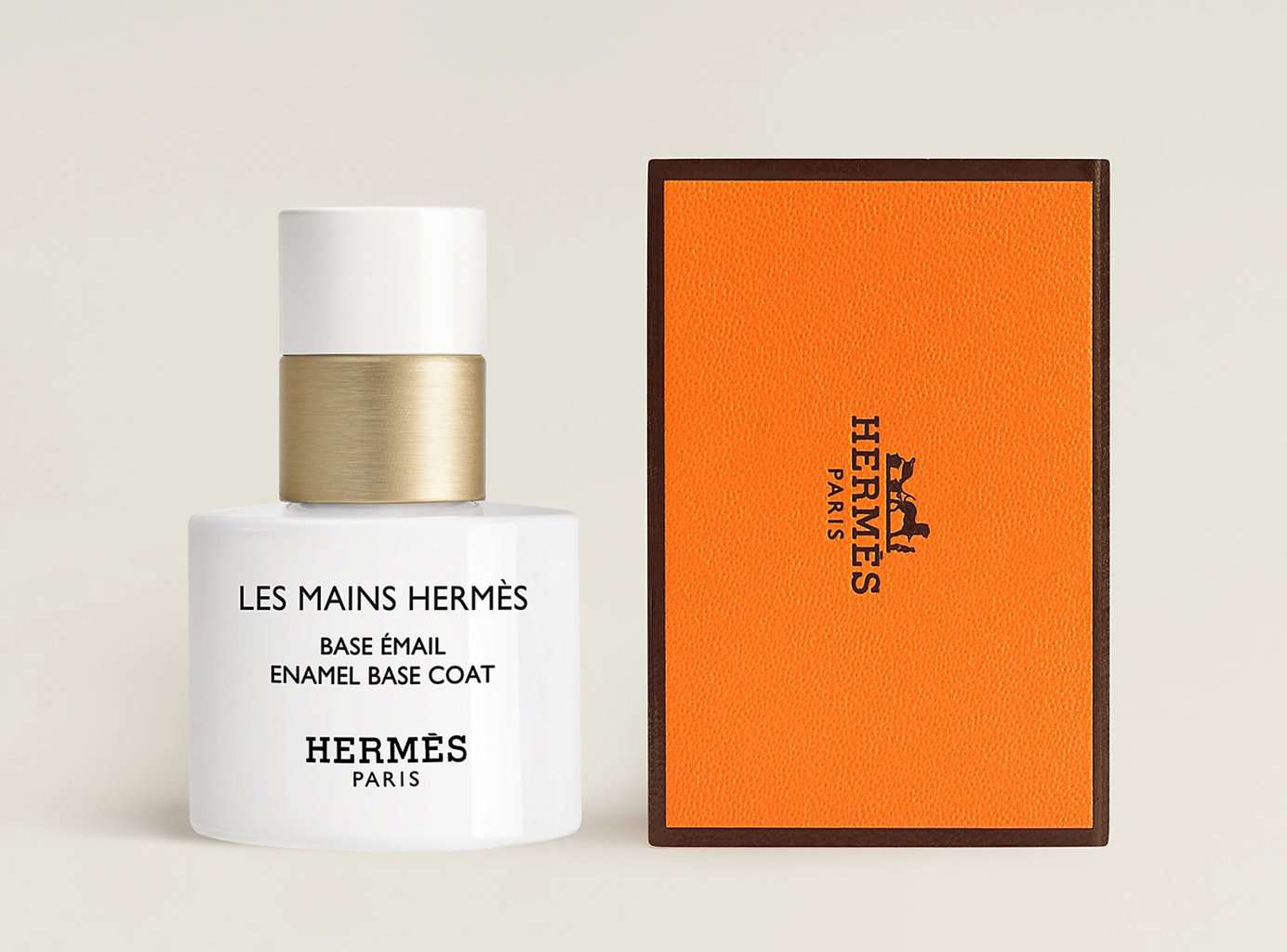 First, I have to say I love Hermes. I've used many of their fragrances — Un Jardin Sur La Lagune is my favorite. But it took me a long time to splurge $50 on a nail polish, let alone a base coat.
There are some reasons why you'll want to spend the money. First, this product doesn't have a clear or glossy finish. I best describe the color as translucent white, and it literally looks amazing on everyone.
That said, there's a reason this base coat comes with a massive price tag. It's infused with Pistacia lentiscus L., which has been shown to increase nail firmness. Plus, it includes seriously nourishing ingredients and prevents nail staining, so your nails will look and feel amazing.
I understand that this product isn't for everyone. The color can also look kind of streaky if you're not careful. I've been trying to find a good dupe, but I suggest finding a similar subtle white color nail polish with a decent base coat if you want the same effect at a lower price.
Pro
Beautiful sheer white color
Contains 69% natural ingredients
Nourishing formula
Improves nail firmness and appearance
Cons
Can look streaky
Is often out of stock
Expensive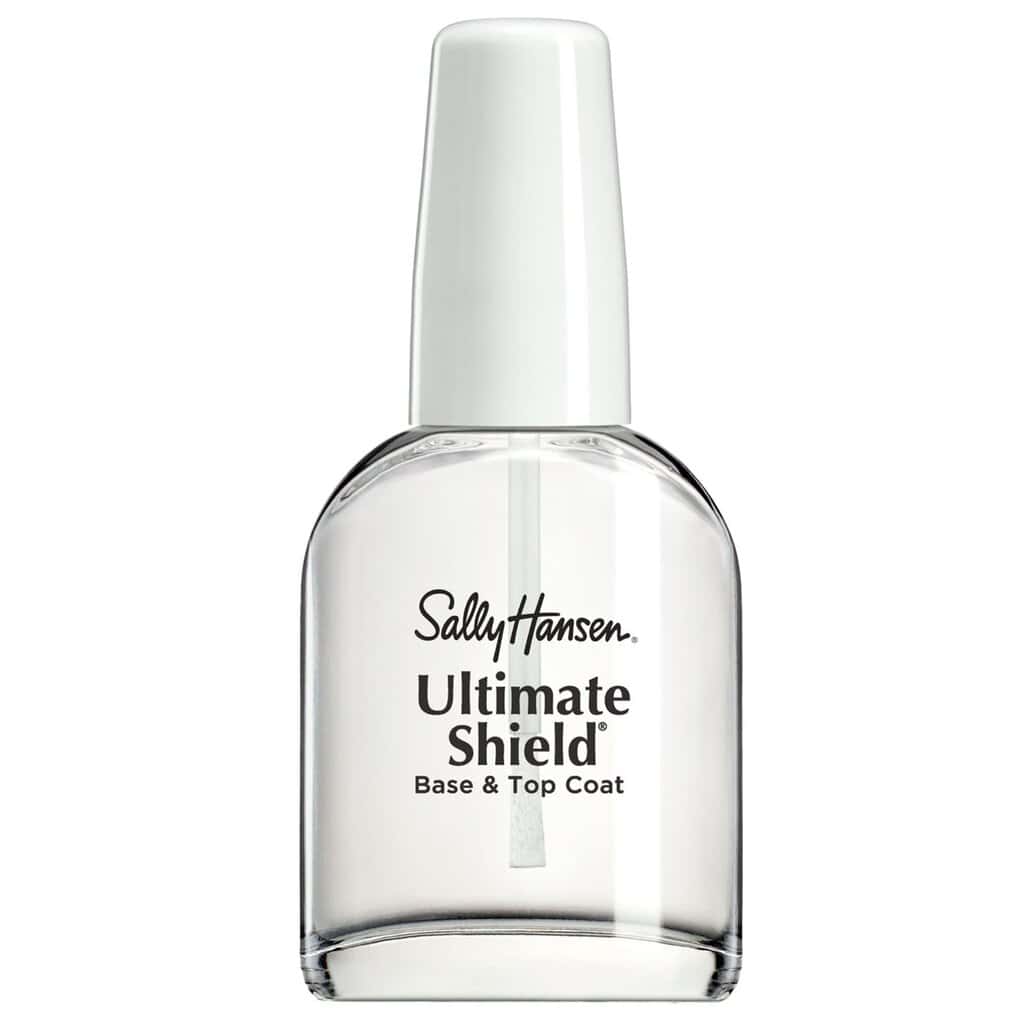 I think it's safe to say I've tried every Sally Hansen base and/or top coat they ever made. Out of all of them, this is by far the best.
They're not lying when they call it a "shield." It protects against peeling and chipping, resulting in a long-lasting manicure. It's perfect for brittle and weak nails; the product has a micro-polymer formula that increases nail strength and flexibility.
As with many of these base coats, this one is clear with a shiny finish. You can wear it alone to improve your nail health, but it's best used with nail polish. Regardless of how you use it, this product dries really quickly, so your manicure will be done in no time.
The one thing I hate about Sally Hansen's nail products is the smell. I don't know if it's just me, but Sally Hansen's products smell worse than any other nail brand I've ever used. I'm sensitive to scents, so Sally Hansen's products are too overwhelming. That's why I've been breaking off from this brand and trying other products.
Pros
Affordable
Strengthens nails
Use as a base and top coat
Protects against peeling and chipping
Cons
Strong smell
Has a thick texture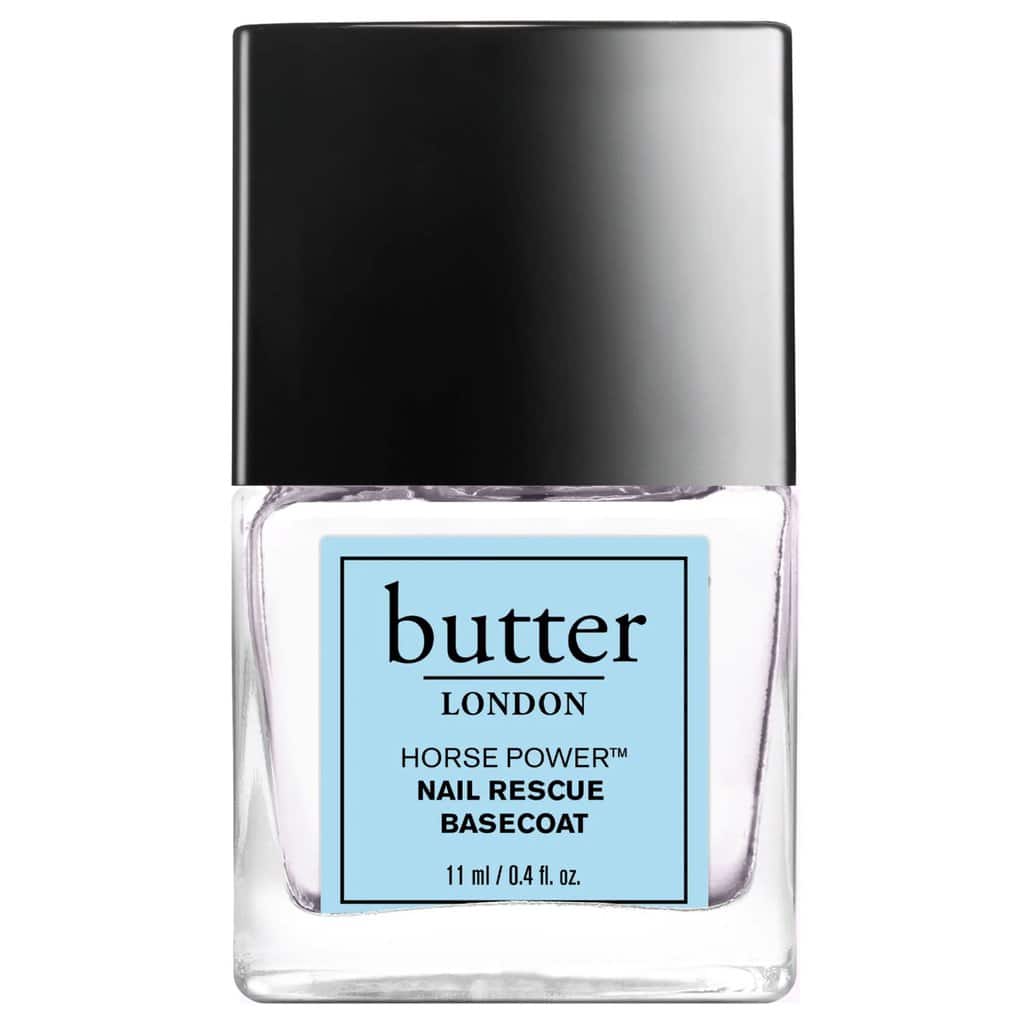 If you're looking for an all-in-one treatment plus a nail polish base coat, you'll love this product from Butter London. This top-rated product restores damage and strengthens weak nails. It's made with horsetail extract, which contains a ton of silica.
Silica is an ingredient that strengthens and grows our nails. This base coat also contains biotin and calcium, making your nails soft and smooth. I'm fortunate I have healthy nails, but this product is great for protecting already long and strong nails.
As a base coat, it really does grip the polish and prevents chipping. All Butter London products are made without the 10 most toxic ingredients, and this is a cruelty-free company.
Pros
Not made with toxic ingredients
Cruelty-free
Can use it alone or under nail polish
Strengthens and protects nails
Helps nails grow longer
Made with horsetail extract and other beneficial ingredients
Prevents chipping
Cons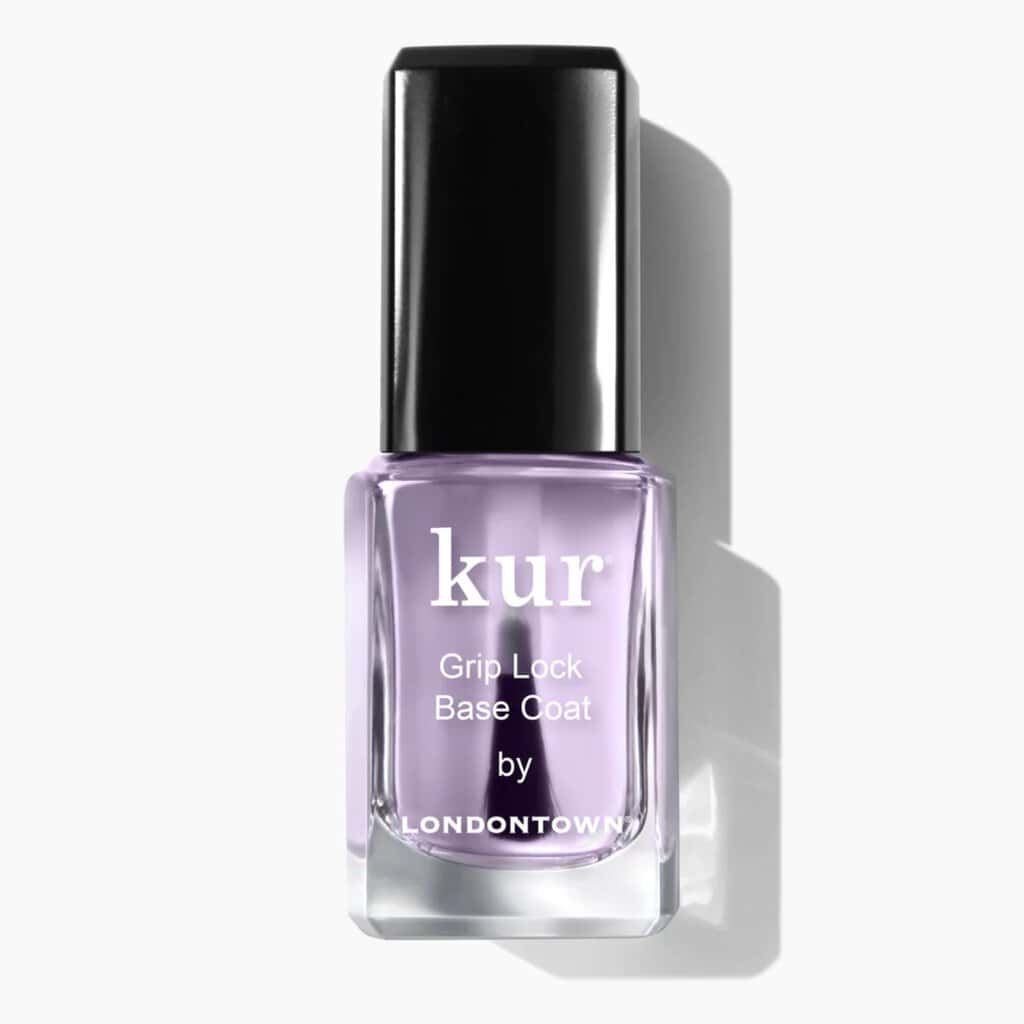 I'm not a fan of tacky base coats, but I know many people like the gripping action they have. If this sounds like you, I suggest trying the Londontown Grip Lock Base Coat.
This base coat works as an adhesive for nail polish, preventing chipping for several days. Since this is a tacky formula, it's very sticky. Just be wary that this comes with longer drying times than your typical base coat. The brush is also very thick, and you don't need more than two swipes to coat your entire nail.
The reason I'm recommending this is the plethora of nail-loving ingredients. This base coat features cucumber extract, rapeseed flower oil, evening primrose oil, garlic bulb extract, and vitamin E. With these healthy ingredients, Grip Lock will hydrate, strengthen, restore, and fortify nails, all while preventing discoloration and other common nail issues.
Pros
Grips nail polish color
Prevents chipping for several days
Thick brush, only needs one or two strokes
Cons
Consistency is tacky
Expensive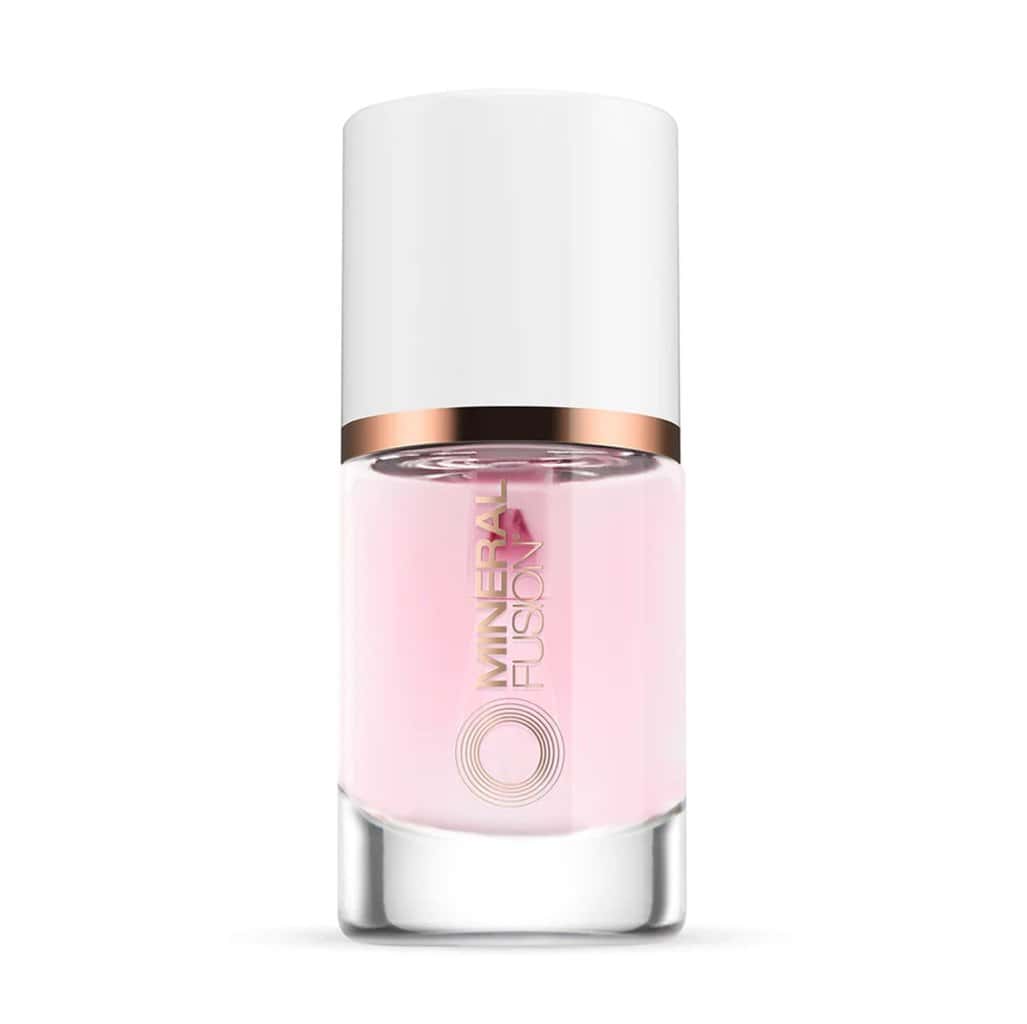 As a base coat, I like this better as a staining preventative. This polish won't stain your nails and also prevents discoloration. It also smooths out the nail surface, prepping you for polish.
I really like the angled brush, which prevents any polish from getting on your skin. The only downside is this base coat has a slight pink tint; while it looks natural, this is something to keep in mind if you prefer a clear finish.
My complaint with Mineral Fusion is it takes forever for them to ship if you order through the website. This product is on Amazon, but it doesn't qualify for Prime. Amazon still says it ships within 10 days, and they tend to offer better shipping updates than UPS. It's a shame since Mineral Fusion has such great products. I suggest ordering this in advance in case shipping takes forever.
Mineral Fusion products are free of parabens and gluten, and their nail care line doesn't contain dangerous chemicals such as formaldehyde. Plus, this product is vegan, and Mineral Fusion is cruelty-free.
Pros
Dries quickly
Not made with dangerous chemicals
Vegan and cruelty-free
Angled brush
Cons
Has a strong smell
Shipping takes forever
OPI is a reputable brand, but I'm not a fan of their base and top coats. That's why they're toward the bottom of this list.
Still, if you want to stick to the OPI brand, I suggest using a classic base coat like this one. They have specific formulas, such as for gel, but I find the classic base coats work the best. Using this polish and an OPI top coat will help your nails last a long time.
I also like this base coat to wear alone. It has a glossy finish, but it has a milky color that matches the shade of your natural nails. It's a nice product to apply daily if you love that iridescent look.
Pros
Has a neutral color and looks great on its own
Applies smoothly
Chip-free formula
OPI is a reputable brand
Can find this product nearly everywhere
Cons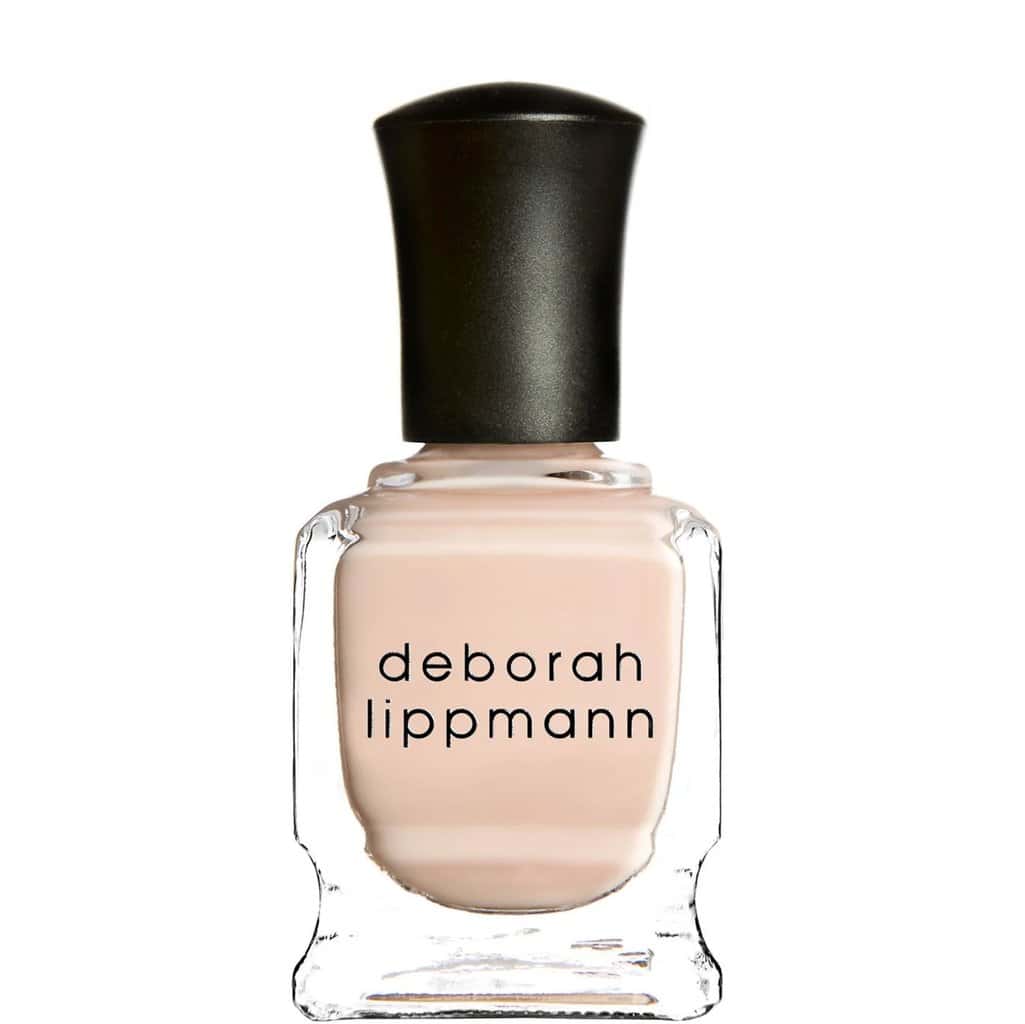 While Deborah Lippmann's products are expensive (this base coat is $22), all her products are worth it. She has some of the most eye-catching and unique nail polish colors that last a long time. Her products are also innovative, such as this color-correcting (CC) nail base coat.
With ingredients such as vitamin C, this formula targets nail discoloration. It's also made with other essential vitamins, such as vitamins B and E, to nourish nails. I also love the formula of this product; it applies smoothly and isn't too thin or goopy. This is a great product to wear as a base coat, but the neutral color is pretty enough to wear by itself.
Pros
Base coat and treatment
Color-correcting benefits
Made with essential vitamins
Nourishes nails
Strengthening benefits
Chip-resistant
Cons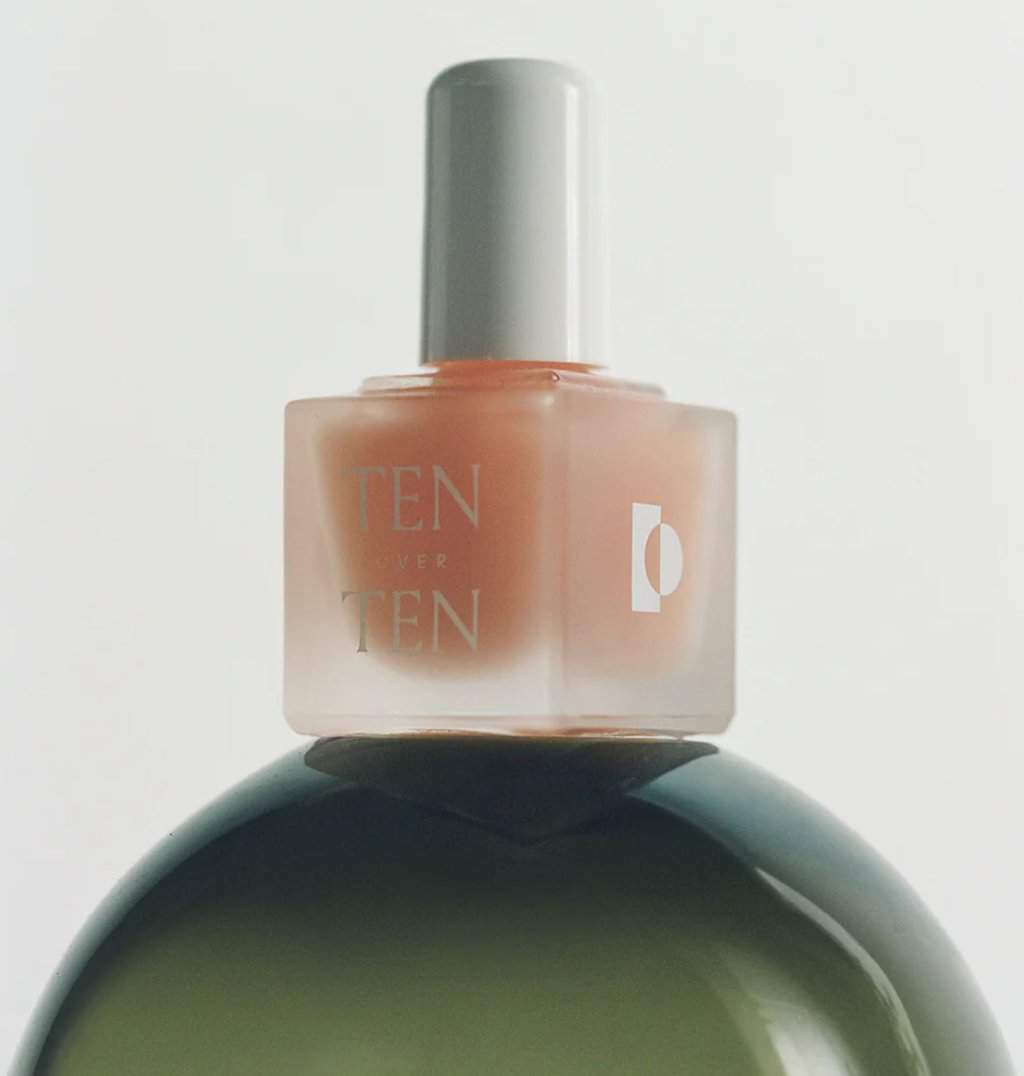 If you're looking for a daily nail-strengthening treatment, I suggest using this one. This product not only prolongs your manicure but also prevents ridges and cracks in your nails. I really like this base coat for mature nails. If age is causing your nails to become brittle, this one will bring your nails back to a healthy state.
Pros
Prevents cracking in your nails
Smooths ridges
Chip-resistant
Long-lasting
Strengthens nails
Non-toxic formula
Cons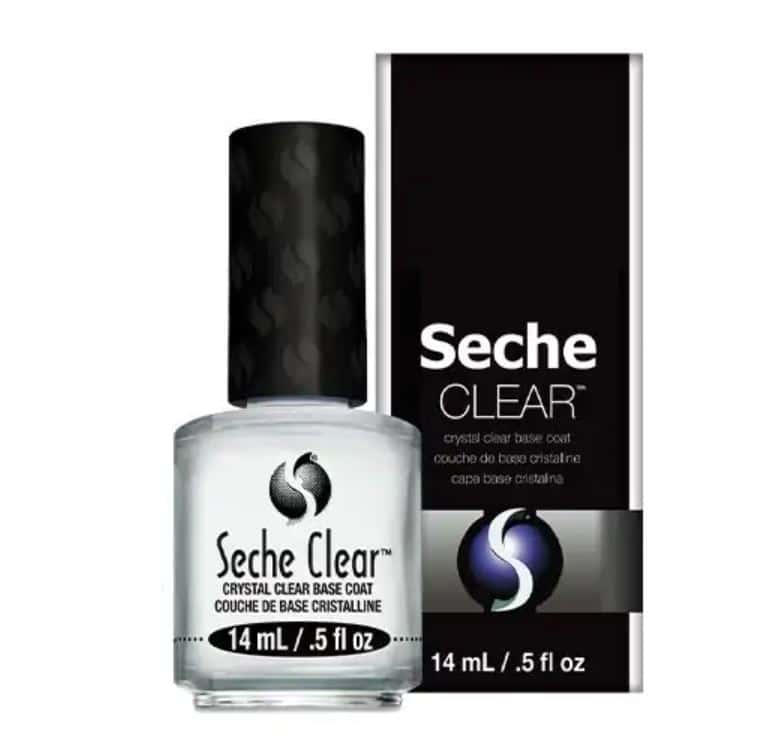 If you want that smooth nail look, this base coat by Seche is your best option. This base coat is very glossy and will give you that perfect salon-worthy DIY manicure. I also love how this product dries quickly –in about a minute or two — and has nail-strengthening benefits. If you do want to wear it under nail polish, this base coat is very long-lasting.
Pros
Dries quickly
High-gloss finish
Manicure-worthy look
Cons
FAQs
Question: Do I seriously need a base coat?
Answer: Yes. I will even argue a base coat is more important than a top cost (but this is up for debate). A base coat acts by adhering to your nails, creating a barrier between your natural nails and the pigment of the polish. This means your manicure will last longer with a base coat than without one.

Remember that a base coat is often confused with a nail primer. A nail primer is best used with gel polishes and acrylics since it removes natural nail oils. This allows the enhancements to adhere to your nails.
Question: I only have a top coat. Can I use it as a base coat?
Answer: It depends. Some brands create a two-in-one product so that you can use the one polish as a base and top coat. These products are pretty minimal, mainly preventing chipping and extending the life of your manicure.

But most brands offer separate base and top coats since they both add benefits. For example, many top coats add different effects, which won't create that strong barrier between your nail and the pigment. Numerous base coats improve your nail health, such as by strengthening the nails. If you use this base coat over nail polish, you won't experience the full benefits.
Question: My nails are turning yellow! What do I do?
Answer: First, let's understand why pigmentation issues, such as yellowing, occur. Some nail polishes stain your nails, but yellowing nails may have underlying health problems.

If your doctor confirmed you're healthy, your nail yellowing is likely due to over-polishing your nails. In that case, skip the pigmented nail polish and use a clear base coat. Make sure the one you choose is a non-yellowing one and offers plenty of nail care ingredients. I would also avoid any base coats that contain toluene and formaldehyde so you don't damage your nails further.
Best Base Coat Nail Polish: Bottom Line
Zoya Anchor is the main base coat I recommend. I've never used a base coat that prevented my nails from chipping for DAYS! I can easily go four or five days without any chips in my nail polish. This base coat is $12; while it's not the cheapest on this list, it won't break the bank. And it's worth every dollar. I also have many Zoya nail polish colors, and this is becoming one of my favorite brands right now.
However, there's a chance that Zoya Anchor isn't the right one for you. Instead of a base coat to increase the lifespan of your manicure, you may need a product to improve your nail health, such as a nail hardener. That's why I suggest considering all of these base coats.
Read More:
• Best Quick Drying Nail Polish: Do Your Nails DIY in a Pinch!