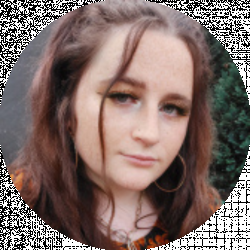 Latest posts by Lou Siday
(see all)
I am not going to lie, I rock a silver manicure a lot. Silver is one of my go-to colors when it comes to manicures. It is fun and bold, yet a color that seems to go with most of my outfits and styles. Plus, there are so many different ways we can incorporate silver into our manicures!
From holographic silver to glittery silver, short nails to long coffin tips… There is so much choice out there with silver nails, so check out my silver nails inspiration and ideas!
Silver Nails Up Front
There are loads of ways we can use silver in our nails, and it was so hard for me to pick my favorite when writing this article.
This is probably why my favorite silver manicure is the icy mix and match silver nails. The nail artist has incorporated holographic silver, glitter, and stars into the design to create a beautiful manicure that celebrates all things shiny and silver!
Selection Criteria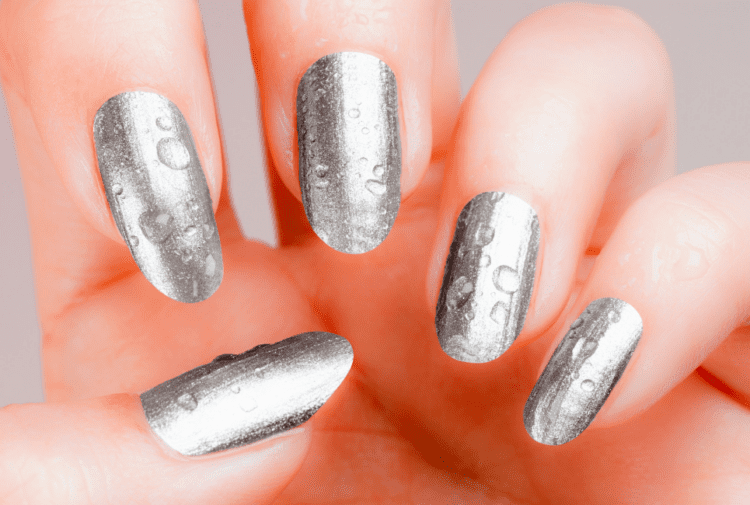 When picking the silver nails to include on this list, I wanted to showcase the range of manicures we can have with this color. I made sure there was a big choice of designs and trends to have a look at.
A lot of these silver manicures can be recreated at home, too! I always do my gel nails myself, so I am forever looking online for fresh ideas and trends to try out.
All the manicures on the list are done by reputable salons, to the highest standard.
Enjoy!
Simple Silver Nails
Let's begin by looking at a range of simple silver nails. These are great choices if you do your manicures at home, and are looking for something easy to replicate.
Silver Coffin Nails
These silver nails are beautiful. I love the metallic shade of silver used, and the length of the coffin nails. Going for a more metallic shade of silver is a great choice if you want something sophisticated and intriguing.
Glitter Silver Nails
Glitter and silver go hand in hand, and this white-silver glitter manicure is simply stunning. I love the brightness of the color, and the sophisticated coffin shape. This manicure can be recreated at home using a white gel color as a base, then adding silver glitter on top.
Disco Ball Silver Nails
This manicure is simple, yet properly extra. There are big party vibes with these nails, as you are bringing a disco ball around with you everywhere you go! I love the layering used, from holographic glitter to silver crystals around the tips.
Negative Space Silver Nails
I am a big fan of the negative space nail trend. It refers to when some of the nail is left without paint, and plays with lines and shapes. These negative space silver nails are very cool and interesting! I love seeing the different takes on this trend, and this simple silver outline design is subtle yet effective.
If you are wanting to recreate this manicure at home, get yourself some silver gel nail liner. This allows you to create shapes and lines onto your nails with ease.
Silver French Nails
The French manicure is always in style, and there are so many different ways we can play with this trend. IMO, the classic white French tip design is kind of boring. But, I love seeing all the different twists on the French manicure coming from amazing nail artists around the world.
So, let's look at some silver French nail inspiration and ideas!
White and Silver French Nails
I love this wintry twist on the French manicure! It feels festive and fun, and I really like the addition of the white designs on the ring finger. The nail artist has emphasized the French tips by adding a thin white line below the silver tips.
Holographic Silver French Fade Nails
Holographic flakes are always a super cool addition to nail art, and I am slightly in love with this French fade design! The nail artist has added holographic flakes to the tips of the nails and kept the rest of the nails nude to create a simple yet sassy design.
Holographic Silver French Nails
Holographic nails are everywhere right now, probably because they are so different from your usual manicure! These silver holographic French tips are amazing, fading the holographic color into a nude.
Another great thing about holographic nails is how they are so easy to recreate at home! You just need holographic powder that can be applied to any nail gel. If you are wanting to try out this French nail silver look, apply a nude bottom coat. Then, dab the holographic powder onto the tips and blend it down the nail.
Short Silver French Nails
Silver glitter or silver chrome? If you can't decide between these two trends, don't worry! You can incorporate them both into a French tip design.
I love these short silver French tips, that uses a glitter base with chrome tips. Super cool and futuristic!
Silver Chrome French Tips
Another fresh take on the French tip design, this manicure opts for a short square nail with silver chrome tips. I love the metallic look of the silver, it creates such a slick design.
Silver Nails With Designs
So far we have kept the nails pretty simple, but how can we incorporate designs and trends into silver nails? Let's look at my favorite ideas for silver nails with designs!
Silver Star Nails
I really like the use of the transparent coffin acrylic shape as a basis for this design. It feels really light and fresh, allowing the design to be the main focus. I love the silver stars! Glitzy, glamorous, and fun.
Stars and Gems Silver Nails
I love how over the top these nails are! I definitely would feel properly glam if I had this manicure, and I love the different shimmers and glitter incorporated into the design. The addition of the gemstones on the two ring fingers adds a really cool 3D effect to the manicure, too.
Silver Swirl Nails
These silver nails are very glam, using a range of swirls and shapes to create a really interesting manicure. The glitter is pretty extra, and I love how every nail also has a little gemstone!
Smiley Silver Nails
The nail artist has opted for a metallic shade of silver as a base for these nails, then added yellow smiley faces! This manicure feels pretty retro, with the faces a nod to the 90s.
If you like this design, get yourself some smiley face nail stickers to apply to your silver nails. Remember to put a top coat on after the stickers to make sure they stay in place!
Abstract Silver Nails
Abstract nails are pretty popular right now, with a range of designs and themes incorporated into manicures that reflect abstract art. These abstract silver nails are pretty simple, using a sparkly silver shade with a black tone.
If you want to recreate these at home, get yourself some nail art tape into order to section off the nails. This allows you to create clean, straight lines and shapes.
A nail art gel pen is also a great way to add the black lines and dots to the design. Oh, and what is great about abstract nails is that you can't really get them wrong! Have a play around with shapes and lines to create your own abstract silver nails.
Silver Square Nails
This manicure is fresh and chic, using a silver color as a feature nail. The nail artist has opted to match the silver with a light nude pink, then added lines of silver and white onto the middle nail.
It creates a simple and sophisticated look, perfect if you don't want to overdo the silver. It really suits the elegant short square shape, too!
Silver Chrome Swirl Nails
I am slightly obsessed with these claws! The length of them is just totally cool, and the chrome silver shade is really striking.
I love the swirl shapes used on the two middle nails, they kind of remind me of tree vines. Big Y2K vibes too here, which, as an aging millennial, I always admire.
Mix and Match Silver Nails
There are so many different ways we can use silver in our manicures, and we can incorporate different trends and styles together! Let's look at silver nails that have a mix and match quality, using different ideas and trends in the same mani.
Baby Pink and Silver Nails
Baby pink is a great color to match with silver, and this manicure mixes the two colors so well. The nail artist has used different techniques on each nail, from a marbling effect to glamorous silver glitter that just POPS.
Icy Mix and Match Silver Nails
This has to be my favorite manicure on the list, as it showcases the different ways we can use silver on our nails. The silver holographic coat is stunning, and I love the textured look of the silver glitter. Oh, and the stars! Super cool.
Blingy Silver Nails
This is another manicure that showcases the different techniques we can use with silver, and I really enjoy the range of styles incorporated in the nails. The 3D bling is just totally over the top, which I LOVE, and the holographic gel is very cool. A work of art manicure!
Silver Nails With Other Colors
Silver is a great shade to mix and match with other colors, as it is a neutral yet glamorous tone. It works well with a whole load of colors, so let's look at some silver nails with other colors to get some inspiration for your next salon trip!
Turquoise and Silver Nails
Adding turquoise to your silver nails lightens things up a bit, and this manicure is done so well! I love the chrome shade of silver used, and how the nail artist has used it as a French tip on one of the nails. The nail artist has then contrasted the chrome effect with a matte top coat on the turquoise. Very chic!
Red and Silver Nails
Red is a classic nail choice, and adding it with silver creates a very modern manicure. The nail artist has applied delicate swirls onto a few of the nails, matching the colors with the block shades on the rest of the nails. A subtle and beautiful design.
Dark Blue and Silver Nails
How cool are these nails?! The nail artist has used the Molten Metal Paint by Sissi to create this futuristic design. The effect is incredible, and I love the dark blue design underneath the silver metal paint.
Coral and Silver Nails
Coral is a color that is always popular in the nail world. It is a fresh and bright color, yet not too over the top. I love this manicure that uses coral and silver glitter, they go together really well! The ombre effect on the middle finger is a nice addition to connect the two colors together.
Neon Stars and Silver Nails
These gel shorties are very cute! I love the silver glitter, and the neon stars go so well with the color. If you want to recreate these at home, grab some nail art brushes and have a go applying the stars!
Silver and Green Nails
Silver and green always give me big spacey futuristic vibes, and this manicure is no different. The design is really interesting and unique, opting for just one nail to be done in the green shade. I really like the black line patterns on the silver, too!
Silver Nails FAQs
Let's look at some questions you might have about silver nails.
Question: How Much do Silver Nails Cost?
Answer: The cost of silver nails will mostly depend on the salon you visit. However, they are usually the same price as other gel colors.
Question: Are silver Nails Suitable all Year Round?
Answer: Yup! You may think that silver is more of a festive shade for your nails, but I hope this article has helped you see that silver can be worn all year round.
Question: Can I do Silver Nails at Home?
Answer: You can get silver nails at home by purchasing silver gel polish and a UV light. Before buying the gel polish, have a think about what silver you like. Are you into glitter, or is holographic silver more for you?
What Silver Nail Manicure Will You Go For?
I hope you have enjoyed this article on silver nails inspiration and ideas! I love the versatility of silver and how it can be used in so many different ways.
What silver nail manicure will you go for? Are you a glittery kind of person, or do you love the futuristic chrome look?
Continue reading:
Holographic Nails Inspiration and Ideas: The Only Inspo List You'll Need
23 Clear Nails Inspiration and Ideas: From Elegant to Edgy