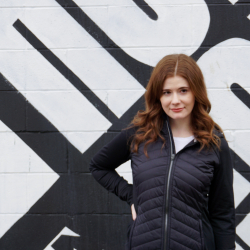 Latest posts by Kelsey Purcell
(see all)
Whether Easter comes in late March or in April, Easter is one of the best first indicators of spring we get! It's the beginning of the season of pastels, bright colours, green grass, warming air, and what better way to celebrate than with themed nails. These Easter nails inspiration and ideas will inspire you to treat Easter with as much enthusiasm as the Christmas holiday season and represent the festivity with playful and colourful nails.
Easter Nails: Bottom Line Up Front
Easter is also my birthday season, so I always try to pick nails that align with both occasions! I love to incorporate the playfulness of Easter with modern elements, so my top pick from this list is the Reverse French Tip with Pastels. The colours remind me of Easter, while the design is stylish and versatile for any occasion.
But another top design is the Easter Chocolate Inspired Nails – they're instantly recognizable with the unique mini-egg pattern. They may make you crave Easter candy, but the manicure's finished look will be worth it!
Criteria For This List
I made the choices for this list based on a few factors:
There are some intricate designs and minimalist styles to fit your preference and energy – from quirky and playful cartoons to modern abstract art.
Pastels aren't the only Easter colours, so some bright, bold colours are also incorporated.
You can do many of these styles at home, but if you want to be pampered, you can bring this list to your nail expert for inspiration.
1. Pastels and Daisies Nails
My favourite part of the Easter season is the return of grass and growing flowers! One of the most iconic Easter flowers is the daisy. With pastel tips and balanced nudes, the floral detail pop off the background.
This manicure is simple to do at home – all you need are your dotting tools with a few different sizes to create these florals. You can even mix up the colours of the flowers for a more festive look!
2. Baby Chick Nails
A hatching baby chick is an adorable way to add some Easter cheer to your manicure. These pastel tips create the illusion of hatching eggs and this cute baby bird is just like the emoji. I love that this design doesn't overwhelm the nail with colour! The nude backdrop lets the jagged tips be the standout detail.
If you want to do this design yourself at home, nail tape and dotting tools will be your friend. Want a perfect baby chick? This might be a look you want a professional to create for you. With either a matte or glossy topcoat, this nail is a modern twist on playful Easter imagery.
3. Cartoon Easter Nails
Feeling playful around Easter? Pastels are always a go-to, and by adding different art to each nail you're left with high-spirited nails that will boost your mood and exude happiness. The illustrations of bunnies, chicks, carrots, and eggs hit every Easter icon perfectly. I can't wait to embrace my inner child this Easter and display these nails like the art it is!
With whimsical polka dots and hearts, this unique cartoon-like design is the perfect spring nail. If you're spending the holiday with kids, they'll be totally enchanted by the Easter art you're sporting.
4. Easter Chocolate Inspired Nails
I don't know about you, but my Easter celebrations are not the same without loads of chocolate! From chocolate bunnies to Cadbury Easter Eggs, the more sugar I can get, the better. But to be honest, some of the best Easter chocolate you can find is mini-eggs. Using pastel tips and nudes, your nails can look exactly like the candied coating we all know and love.
Now that mini eggs are sold year-round, there's no need to save this style for Easter. When you're craving your Easter chocolate in the dead of winter, this manicure can adorably curb your cravings.
5. Dramatic Coffin Easter Nails
Just because we associate Easter with soft colours and delicate flowers doesn't mean you have to give up on bright and bold styles. These abstract nails with eye-catching pink, purple, blue, and yellow mixed with dramatic black and white lines and dots are an unconventional and modern take on Easter nails.
Mix this design with the modern stiletto shape and a glossy bold top coat – this artistic design will be your go-to manicure for spring. I'd probably go with a shorter version for a manicure that won't get in the way of typing, but the longer version offers more space for the design to shine!
6. Bright Floral Easter Nails
Love floral designs but want brighter colours? These flowers step away from the muted daisies and daffodils and embrace the beaming shades of tulips and marigolds. This playful bunny with a flower crown adds some vibrance to your manicure! I love the muted nude background – it really emphasizes the bold colours of the florals.
You're not limited to the yellows, pinks, and oranges either – pick your favourite flowers and add them to the design. Bright dahlias, purple lilacs, or blue hydrangeas are beautiful inspirations to add to your next manicure.
7. Polka Dot Bunny Easter Nails
For a simple Easter manicure that transitions beautifully into the rest of the season is this pastel polka dot design on this mauve-taupe backdrop. I love the contrast between the cool tones in the polka dots with the warm base. You can add this adorable bunny with enviable lashes for an extra festive feature.
If you opt-out of the bunny design, these nails are easy to do at home with some dotting tools and your favourite colour polishes. But unless you have a really steady hand and multiple brushes, the bunny may be tricky to accomplish yourself.
8. Easter Pastel Patterned Nails
Easter isn't all about bunnies, carrots, chicks, and chocolate eggs – using pastel shades and bold hues to create classic patterns can give simple Easter and spring vibes. With houndstooth, plaid, gingham, chevron, and more, you can create so many different aesthetics to fit any occasion. These colours create the most beautiful spring palette to celebrate easter.
I could never try this on my own with my shaky hands, but there are stencils and tape you can use to create whatever pattern you want at home.
9. Pink and Glitter Easter Nails
A textured twist on the daisy trend, this manicure stylized the centre of the flower to have a sparkling touch! The rose gold glitter goes with the stunning baby pink base and is the perfect Easter nail – you can also trade the rose gold for yellow gold or silver.
The feature I love is the bunny ears, where the inside of the ear is painted with glitter! It's a simple and elegant nod to the spring holiday.
10. Reverse French Tips with Pastel Nails
Reverse French tips are an ultra-modern nail trend – mix that with the small French tips and use of negative space, and you get this stunning fashionable spin on the traditional manicure. Using a mix of bright hues and pastel colours to frame the nail and a nude base, this style is a bold choice for an Easter celebration totally spring-appropriate.
I love the almond shape of this manicure! The way the colours frame the nail makes the fingers look longer and more delicate. And who doesn't want that?
11. Hyper-Detailed Purple French Nails
I'm in awe of the floral detailing in this nail design! With short nails, there is not a lot of space to do intricate art, but this style makes it happen. The negative space using nude background makes the design look less busy, and by breaking up the flowery nails with purple French tips, the manicure's elements look feminine and modern.
You can also try these nails for other seasons just by changing up the colours! Bold shades for summer and warmer hues for fall can completely transform these nails for any occasion!
12. Gradient Matte Easter Nails
These gradient pastel shades are a minimalist take on Easter nails reminiscent of Easter candy. The matte texture reminds me of the candy coating on mini-eggs, and anything that reminds me of chocolate is a winner. The peach, green, blue, and yellow pastels are airy and delicate, so if you prefer more subtle styles, this style comes out on top.
The short ballerina shape nail makes the classic style come across as super modern and glamourous. This manicure just goes to show that you don't need a ton of detail to look festive and fun!
13. Pastel Abstract Easter Nails
The stunning contrast between the bold green and blue and pastel pink, purple, and cream looks creates an artistic design that's hard to look away from. With hints of gold, it adds some luxury. I absolutely love these nails – they have the best of contemporary and retro mixed together to create a masterpiece.
The beauty of abstract designs is that they're straightforward to do yourself because there are no rules. Just find some similar colours in your collection, pull out your dotting tools, and make it your own!
14. Colour Block Easter Nails
Colour blocking is a huge trend, so bring it into easter with this bright take on the chic style. With a pastel pink to tie the nails together, the neon brights make it feel like spring. With the touch of gold separating the shades, there is a seamless transition that looks clean and stylish.
I love this combo – I tend to shy away from bright shades, but this one is on my list for the Easter season! The chic style is minimalist but still bold, making it perfect for the Easter season, even if you don't celebrate.
15. Gold Foil Pastel Easter Nails
This manicure reminds me of a painting – with a simple brush stroke with gold foil detail, these subtle pastel tones burst with shine from the glittering gold. With a pale beige base underneath the colour, the delicate swipes of minimal colour stand out despite its softness.
This manicure is an ideal transition from a daytime Easter celebration to a more subdued holiday evening. You won't have to sacrifice on fun nails even if there's a dress code. I'm very excited to try this design myself and maybe try black or white as the base colour!
16. Ombré Easter Nails
Not only are these nails ombre, but there is an ombré and watercolour accent nail that's unreal. These pastels are Easter essentials, and the coffin shape turns up the drama. The ombré nail is quickly becoming a timeless staple, and this springtime version is a must-try.
I love that ombré nails are super easy to do at home – by just dabbing a sponge of colour over a dry base nail, you can achieve amazing results. Just be sure to protect your cuticles and the skin around your nail from polish!
17. Gold Bunny Easter Nails
The bunny is an icon of Easter – we hunt for goodies from the Easter bunny, eat chocolate rabbits, and eat carrots (or at least chocolate shaped like carrots.) So it makes sense to represent them on your nails for Easter! But if you want to avoid colour and have a more mature design that still fits the theme, going for a gold metallic bunny gives you the best of both.
I would add little faces to the bunnies to make them more recognizable and cute, but it's just a personal preference. I would also love to have just the gold ears sticking up adorably!
18. Pastel and Gem Easter Nails
Not all Easter nails have to have animated drawings or floral details. For some elegant Easter nails, you can keep it simple with pastels and gemstones! I love the versatility of this look – it's perfect for any Easter events but also not too flashy for any Easter church services you attend.
I'm drawn to the silver glitter because gold doesn't work for my skin tone, so if you have cooler undertones to your skin, have some silver to break up the usual gold.
FAQs
Question: What are the Easter Colours for Nails?
Answer: Did you know the traditional Easter colours are purple, white, and gold? Violet shades typically are worn up to Easter, and then during the Easter season, white and gold replace them. In the world of aesthetics and fashion, those colours still make an impact, no matter how you choose to wear them. However, you're not limited to any particular colour for your nails.
All of your classic pastels are everywhere during Easter, with floral undertones that are perfect for spring. But bright coral, magenta, and metallics are everywhere for Easter. Whether you go bold and luminous or choose the delicate pastels, your Easter is all about colour to make any shade your own.
Question: How do you do Rabbit Nails?
Answer: Painting rabbits on your nail is actually not as difficult as the end result suggests. If all you want is a rabbit's head and ears on your fingers, you can tackle the design at home. All you need is to make a semi-circle at the tip of your nail. Then you take a paintbrush to paint the long, thin ears – depending on whether your ears are straight up or bent, you'll need some pink polish to draw the pink inner ear.
Once you put on a topcoat, you're done! It'll take practice to get perfect, but it's one of the most accessible animals to draw.
Question: What's the Best Nail Colour for Spring?
Answer: Spring nails are also adaptable to Easter! If you want an overall spring nail, there are some popular colours that are all the rage in 2022. Just to name a few:
Pastel pink, peach, purple, blue, yellow, and green
Rose gold
Magenta
Violet
Bright green
Marigold yellow
Bottom Line
We do our nails for a theme for a ton of events and seasons: Christmas nails, fall nails, Pride week nails, Halloween nails and more. Easter seems to fall to the wayside, but no more! Spring is a short season, and Easter is the only Spring holiday we have, so we should celebrate with nails. My top pick will always be Reverse French Tip with Pastels, it's so beautiful!
Once you try these Easter nails, you'll never forget Easter art again!
Continue reading:
18 Sea-Worthy Mermaid Nails Inspiration and Ideas
Red and Gold Nails Inspiration and Ideas: Bring Out Your Inner Goddess With these Red Nail Ideas
Unicorn Nails Inspiration and Ideas: 10 Fun and Easy Ways to do Them