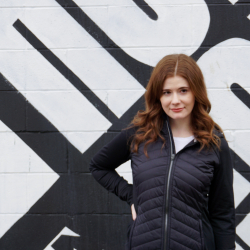 Latest posts by Kelsey Purcell
(see all)
When doing my nails at home, for some reason, I regularly reach for olive green polish. This neutral is one of my favorites – it's an alternative to blacks, nude, or greys that have a pop of color. I've cycled through several bottles of olive green nail polish to make my nails look uniform and minimal or add creativity with other shades blended in!
I always associated olive green with camo and cargo pants, and as a Kim Possible fan growing up, I thought of the shade as tough but pretty. The little details of your manicure can make the hue look edgy or feminine with just a few tweaks. My go-to olive green nails inspiration and ideas cover the entire spectrum and give me lots of variety to switch it up.
Favorite Olive Green Polishes
Some of the most iconic brands have an olive green shade making at-home DIY manicures as sleek as professional looks!
The staple OPI Suzi Shade is a dark, moody version of the olive green shade. With a glossy finish that lasts, this established brand guarantees a stunning at-home manicure.
Essie's quick-drying nail polish line has a traditional cargo shade that is true to the olive green color. Whenever I need a quick manicure on my natural nails, I reach for this polish!
For the at-home UV light manicure, this is the best polish! The classic glossy finish looks professional and can fool anyone. I think of this shade as olive green with a touch of grey tint that creates a smokier shade than other greens.
Bottom Line Up Front
I'm a minimalist at heart, so I love Clean Olive Nails for a simple look with high impact. But the Dark and Moody Olive Green Nails really stand out as one of my favorites! I love darker styles that are versatile and go with anything.
Selection Criteria
I chose the olive green nail inspiration on this list by considering a few factors:
Ease of DIY. I selected nail ideas on a spectrum of some that are easy to do yourself and some that need a practiced hand!
Different vibes and personalities. My selections aren't just nails I love, but they're also nails that are more playful and whimsical, along with others that are sassy and chic!
Subtle shade differences. Depending on the olive, not all shades are precisely the same. There's a variety of olive hues on this list, from dark to light, for your preference and style!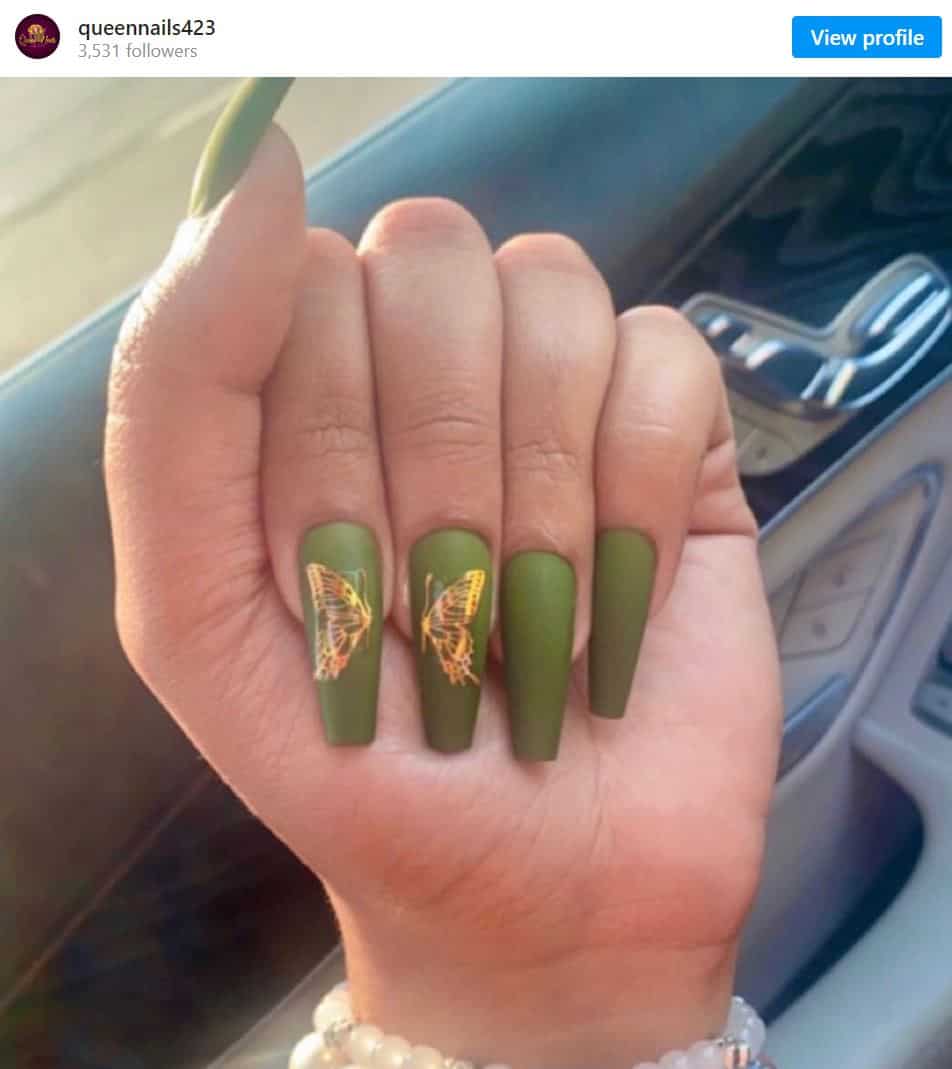 Olive green and gold go together seamlessly, and this light olive is a stunning backdrop for this gold butterfly! I love nail stickers like this because they're so easy to apply but elevate your manicure and make it look much more intense. Some nail stickers, like these, are highly detailed and look hand-done, but when rocking nail stickers, I keep the ease a secret – who needs to know!
The butterfly is whimsical and magical. The sticker will stay put through daily wear with just a sealing top coat. With the added ballerina-shaped nail, this is a perfect manicure for me.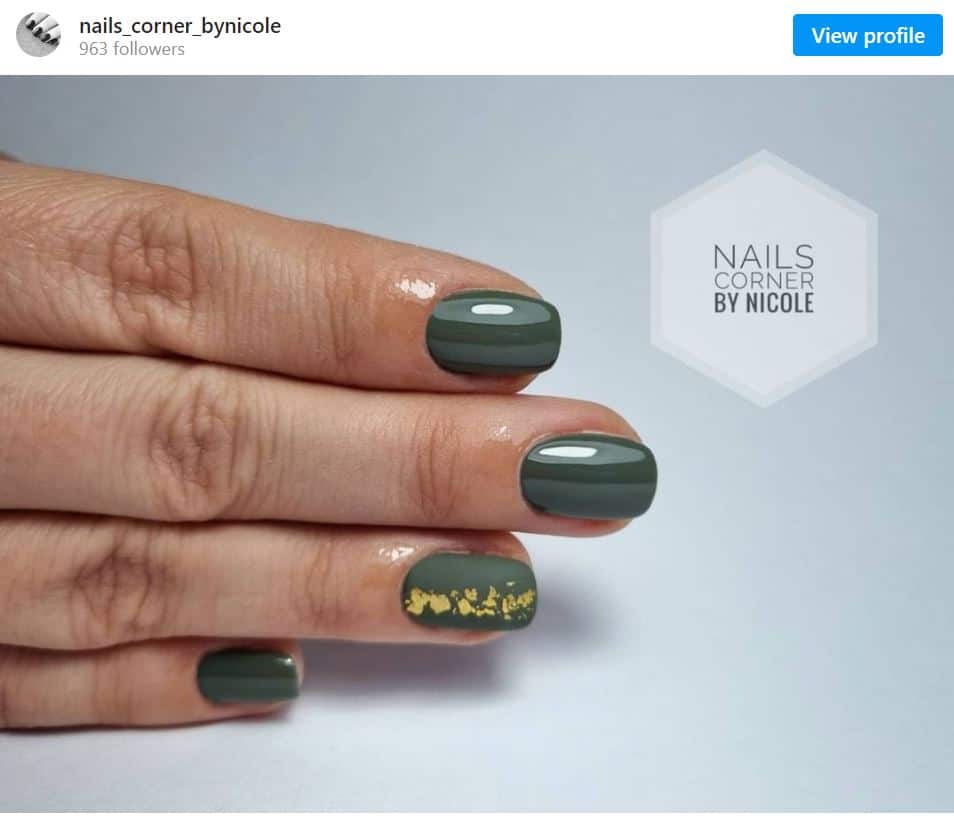 Including different textures in one manicure is modern and creative – even with a simple design, it makes the set eye-catching and exciting to look at. The high-gloss nails mixed with the matte accent nail would look great on their own, but the gold foil addition in this manicure adds a little sparkle that ties the nails together beautifully.
I love the simple shape of the nail – it's short, but I value the practicality! The slight squoval is ageless, but by changing up the shape, you can make the set fit your lifestyle.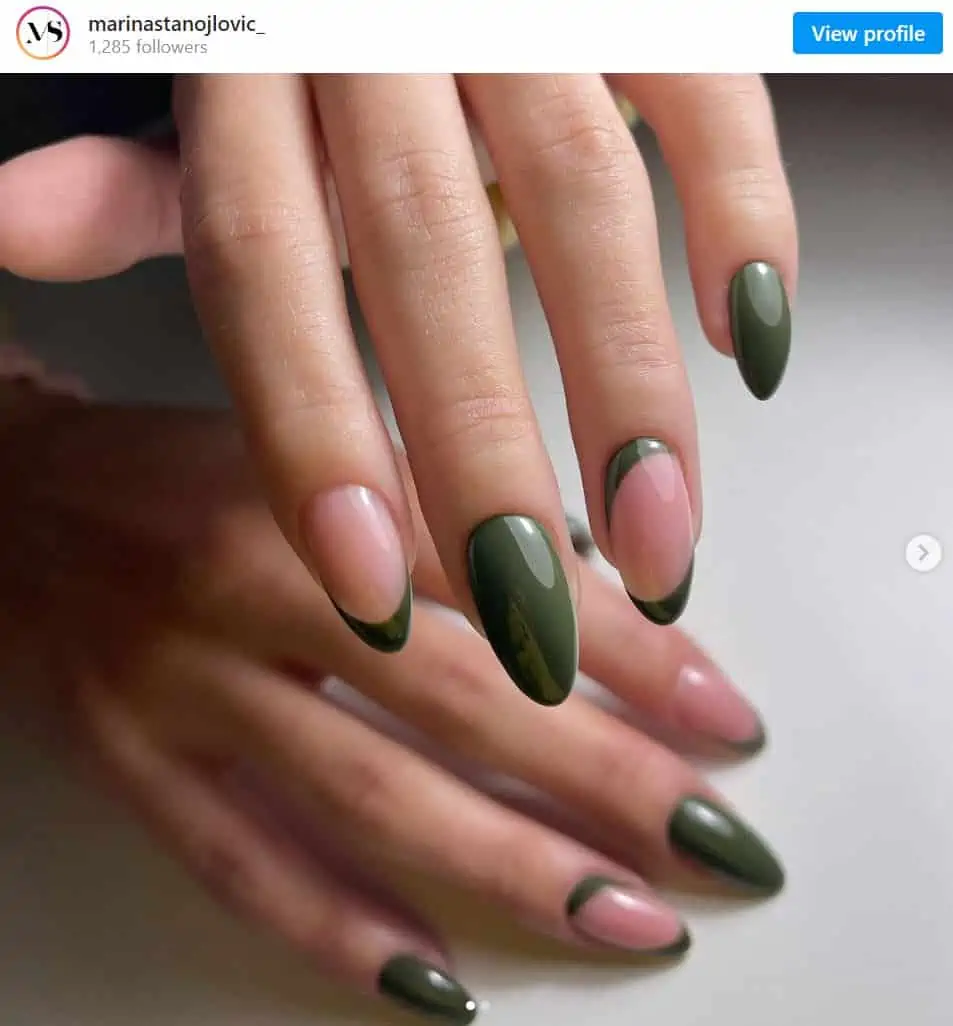 I love the reverse French tip look where the color is on the base of the nail. But this version with the modernized French tip mixed in is the style I never knew I needed! The French tip works beautifully as an accent nail, and the choice to make this style have negative space with the nude base was perfect!
I've saved this Instagram post in my nails inspiration folder for my next appointment. From the shape to the colors and the glossy finish, I will copy this nail design to a tee shamelessly!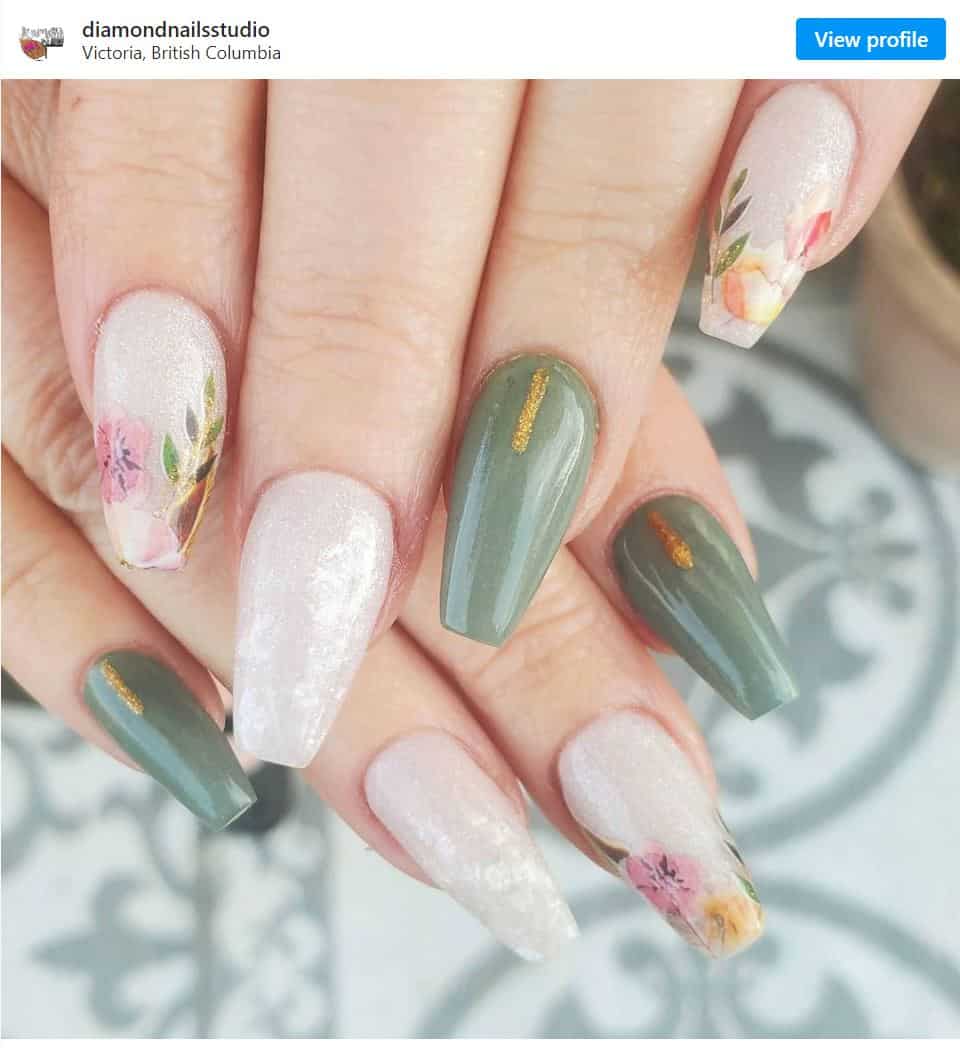 I've never considered pairing olive green with any florals, but this manicure shows how to do it right. Using a baby pink base for the flowers instead of the olive creates a softer, more feminine look. I love this lighter shade of olive green – it gives the set more of a spring vibe.
With the integration of another set of nail stickers, this manicure is easy to do at home since you don't have to paint flowers by hand. If you want to create a gold accent, dotting tools can be your best friend! I love my mid-thickness one to develop short, steady lines like this.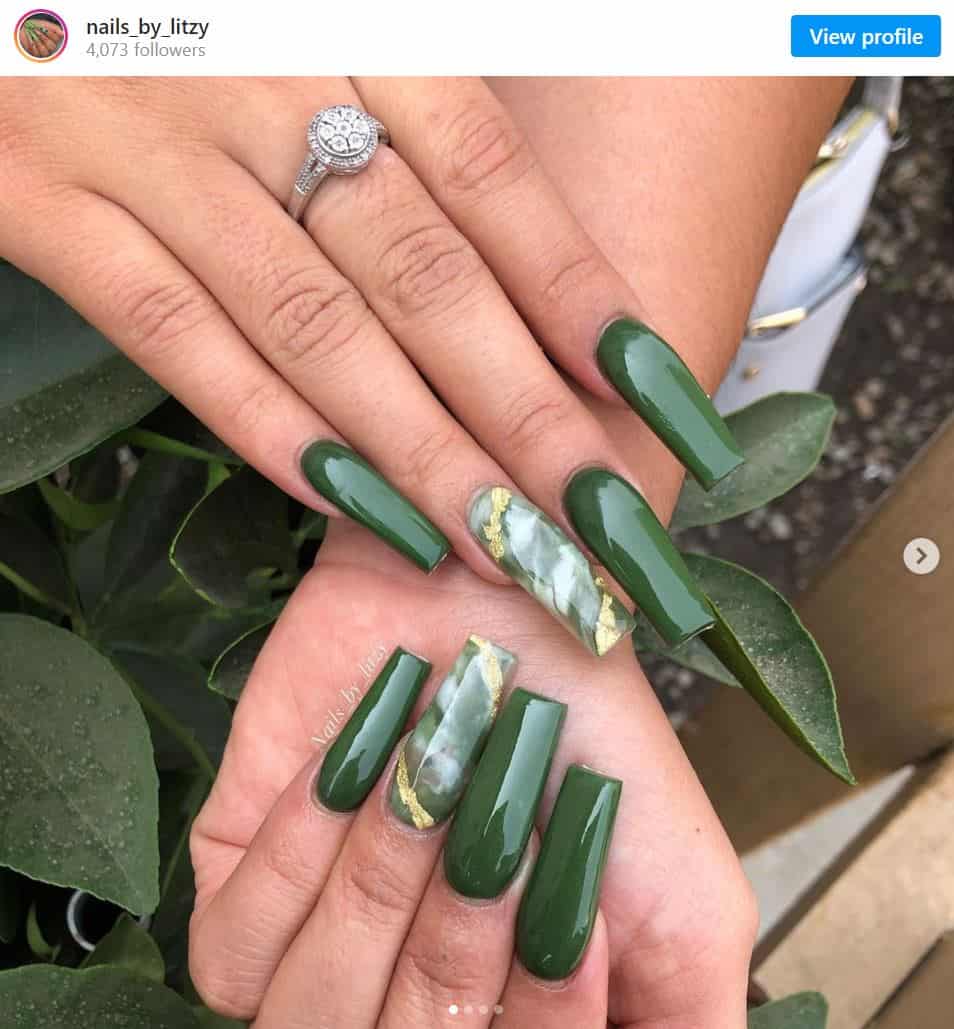 Marble is always in style, and adding the design to your manicure is an attractive way to add some features to a simple nail set! Making the accent nail even more detailed with the touch of gold is glamorous. This nail set is incredibly versatile – subtle enough for everyday wear and chic for more formal affairs!
This manicure is simple to do at home – since all the other nails are solid olive, you simply need a dotting tool for your marble nail to swirl around the mixture of olive green and white. I would also love to try the marble look with gold or black marble for an experiment!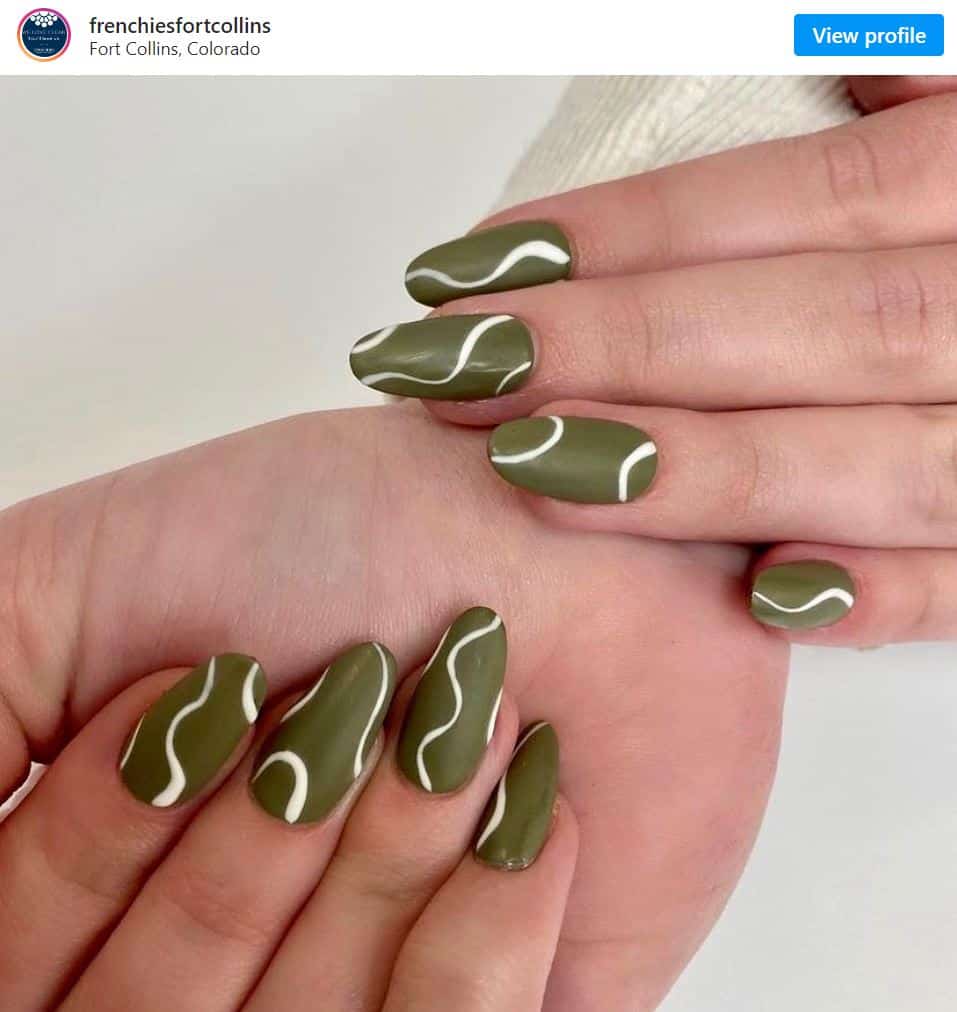 The swirl prints of the 1970s are back in 2020s fashion, and nails are just one place they're popping up! The psychedelic swirls are playful, and the white on the olive green backdrop stands out and makes the style more contemporary. While I'm used to seeing swirls in bright colors, this more muted version draws me in for its chic finish.
The matte texture brings the retro print into the 2020s, but if you want to keep the original ode to the 70s, I think a glossy top coat will keep the set's design reminiscent of its era.
This shade is the delicate balance between the two for an olive green-nude combo. This would be a stunning choice for a simple, minimal nail for daily wear for golden skin – it's even professional enough for work!
I think this hue is summer's response to an olive nail shade. Most olive nail polishes are dark and rich and are well-suited to winter but feel a little off in the summer. This lighter shade brightens up your manicure for the scorching summer months of summer.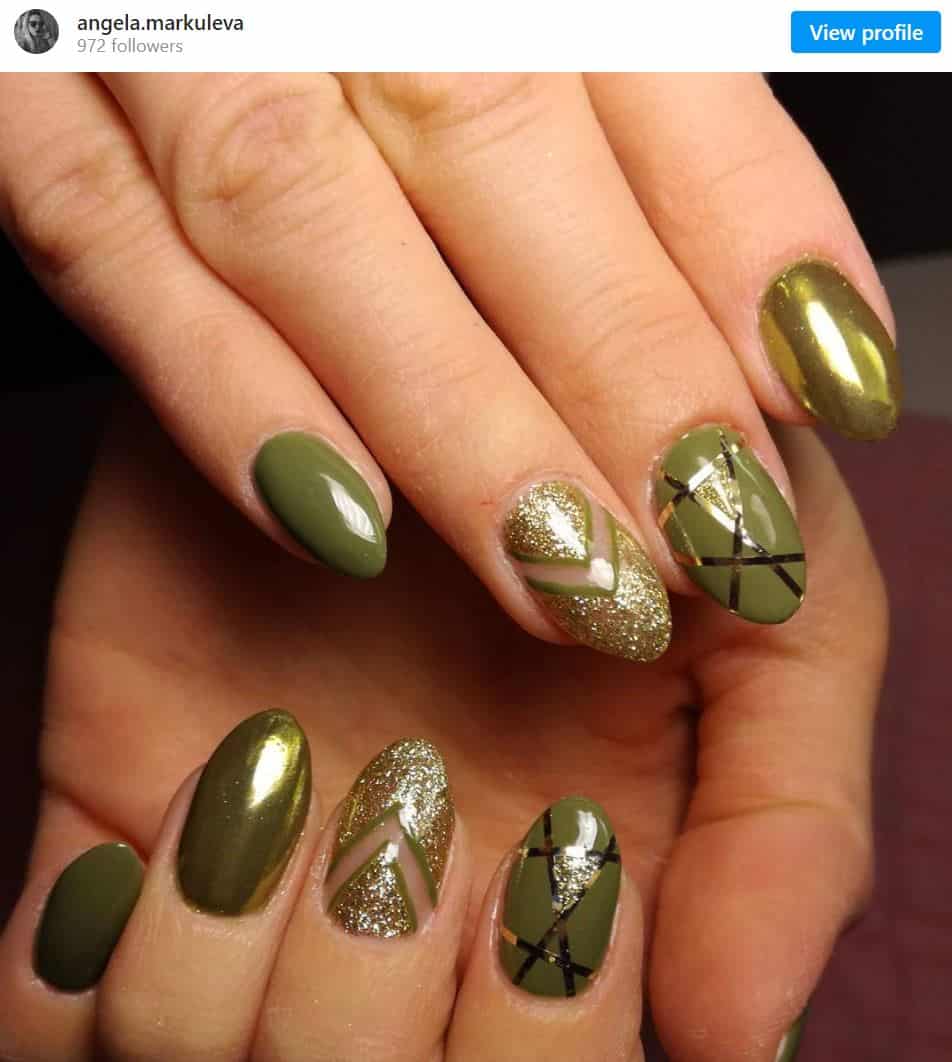 Geometric nails are a fantastic DIY option because there's no way to mess up – one manicure will always look different from the next! This manicure mixes tons of elements, from metallic chrome polish to glitter and glossy olive green. You can always simplify, but all of these features that would be overwhelming in another set work well here.
The magic ingredient in creating this manicure is nail tape. You can keep nail tape on as a decorative element and swipe a top coat over it like on the olive nail, or you can use it to create negative space like on the glittering nail! This is probably one of my favorites because it looks complex, but it's accessible for beginners.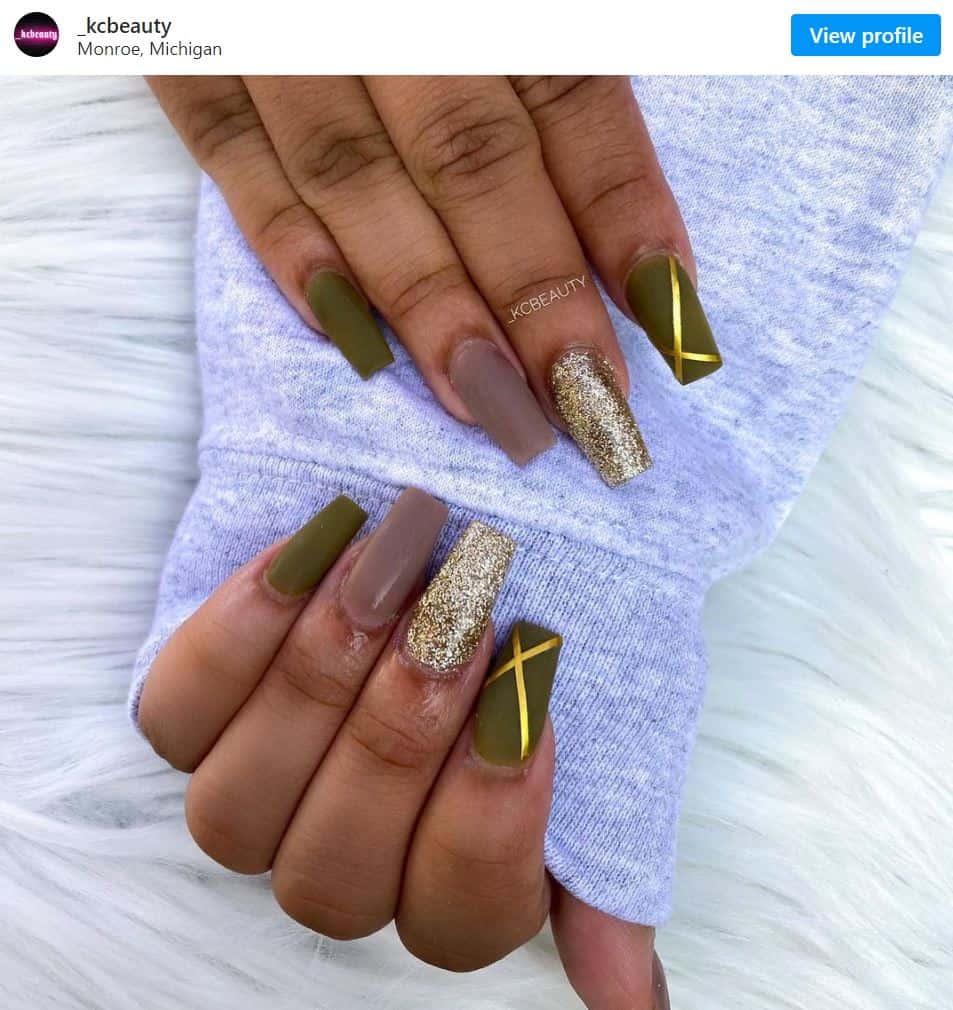 Mauve is one of my favorite neutrals, but I would've never pictured it with olive green. But adding a little touch of the muted purple shade with an accent nail adds an interesting contrast! It makes a significant impact, but it's also easy to do at home. This manicure is ready with a few bottles of polish and a matte top coat.
This manicure is another opportunity to try out nail tape to create crisp lines of gold without fighting with a dotting tool! I particularly love the elegant sparkle of the glitter accent nail – I would rock this manicure on a special occasion.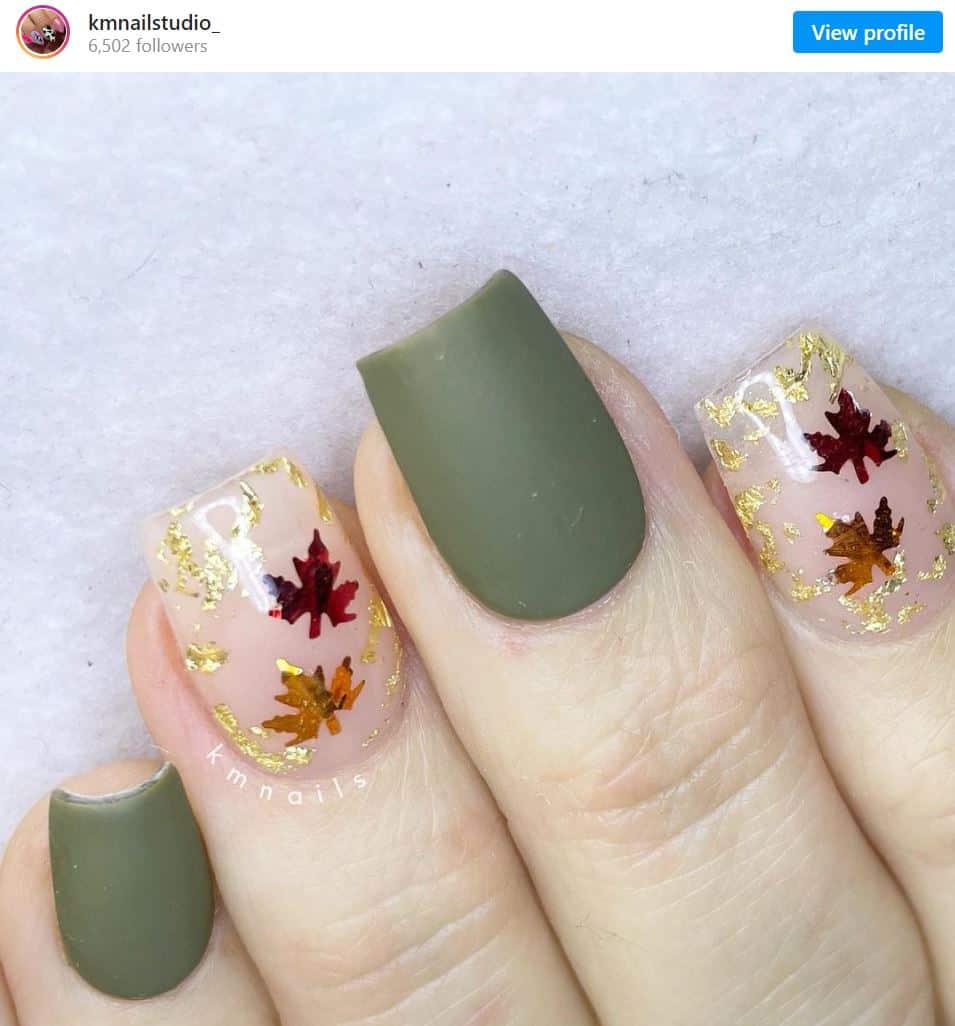 Autumn is my absolute favorite season – I wish it could be fall all year! So anytime I find a nail design for fall, I embrace it wholeheartedly no matter what the season. This light olive green shade is precisely the kind of shade I wear, and with the little glittering leaves and gold foil, this will stand out at the Thanksgiving table.
A steady hand is necessary for placing the glitter, but once it's sealed in with a top coat, it stays there. I would keep the maple leaves, but I'm sure there are other glittery options to mix it up!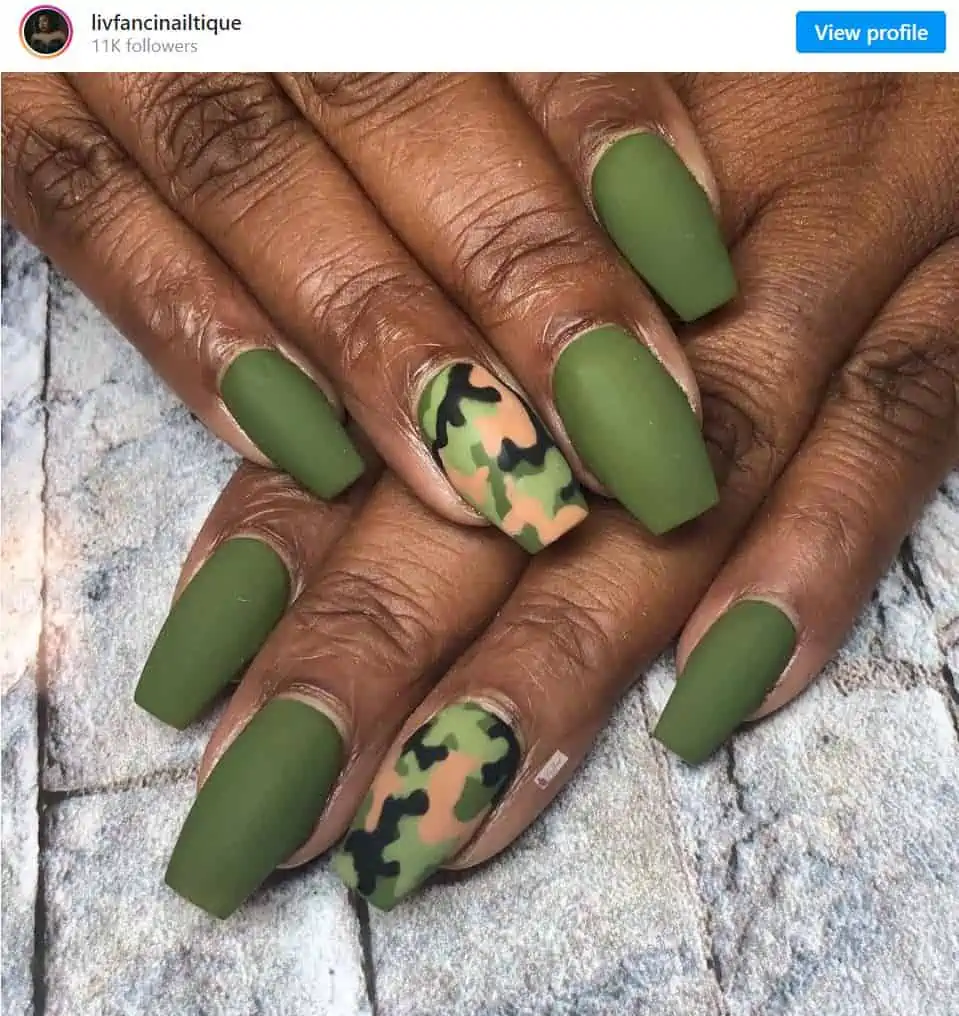 What is an olive green nail inspiration list without camo? This pattern is one of the first things I associate with olive green – it's iconic! The instantly recognizable pattern can be a little dominating, so I like it as an accent nail but not an entire manicure.
Camo pattern is relatively simple to copy at home. The only thing to think about is the layering of the shades – it can take a little brain power to work it out in your head. Otherwise, your dotting tools can make the sweeping pattern with ease.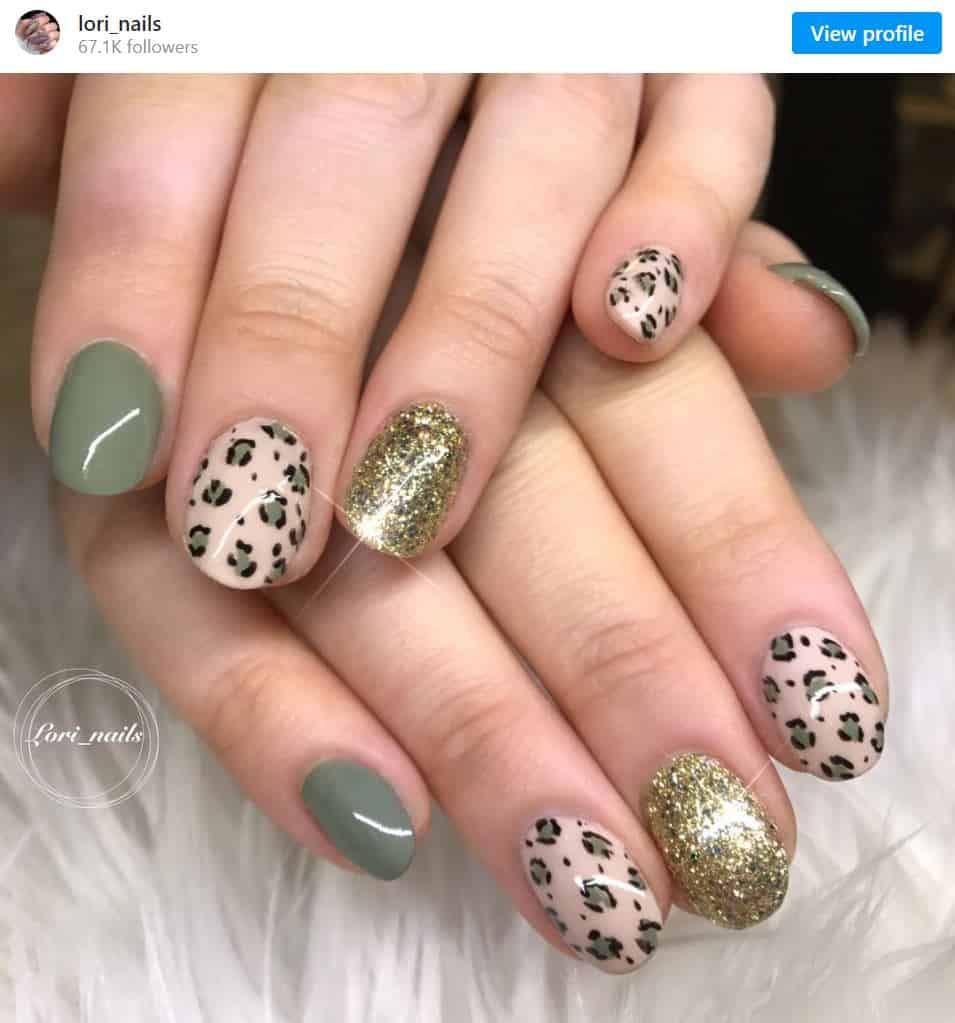 The beauty of animal print is that it looks beautiful in every color! This minimal design with the nude base coat lets the cheetah print shine. I love how the print uses olive green in the pattern to tie the set together, but it would also look cohesive with all black or some gold glitter.
If you love a fall nail design, the playfulness in this cheetah print makes for a unique set – while almost every shade of every color family goes with a cheetah print, olive green is one of my favorites!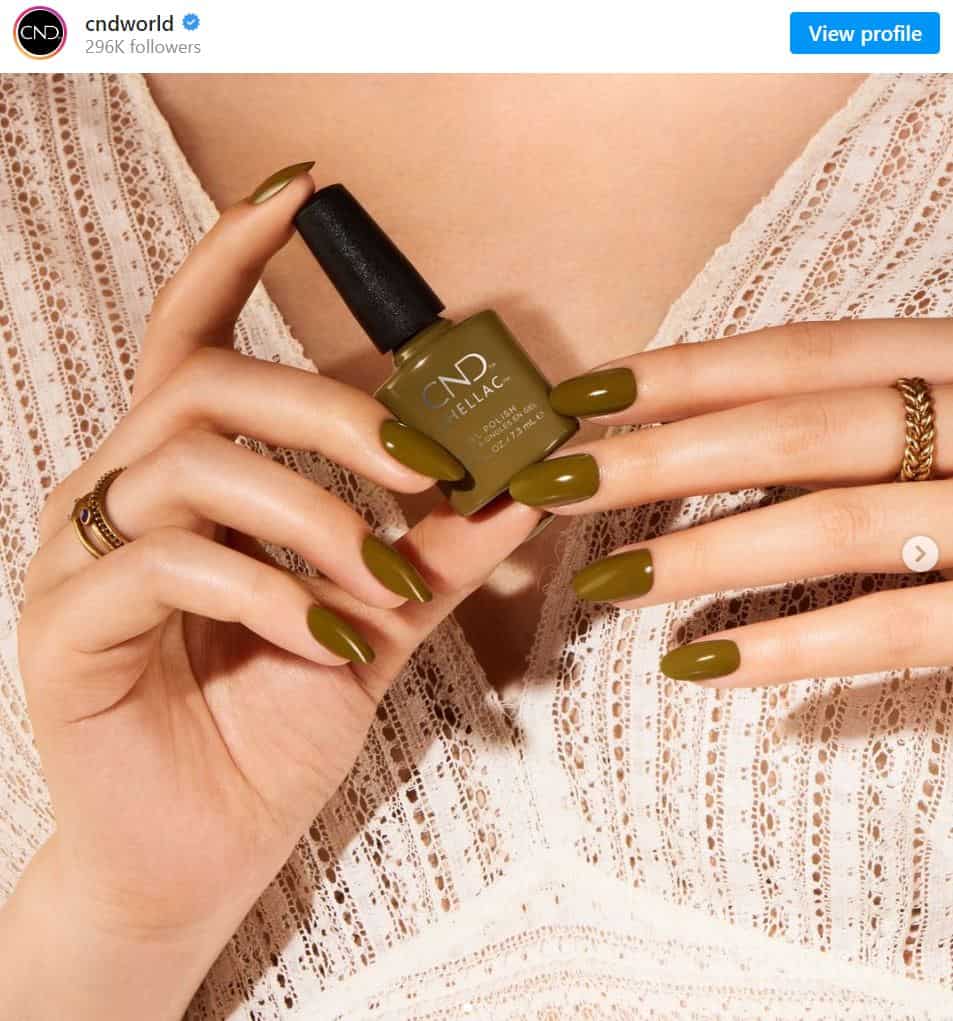 Single shade nails aren't dull – monochrome nails can be exactly what you need to let the rest of your style shine! A simple all-over polish is classy and elegant if you can't commit to a nail design because it clashes with clothes, makeup, or anything else in your wardrobe.
Doing a simple manicure is easy, and this shade is exactly what I imagine for olive green. It will match the olive in your martini perfectly!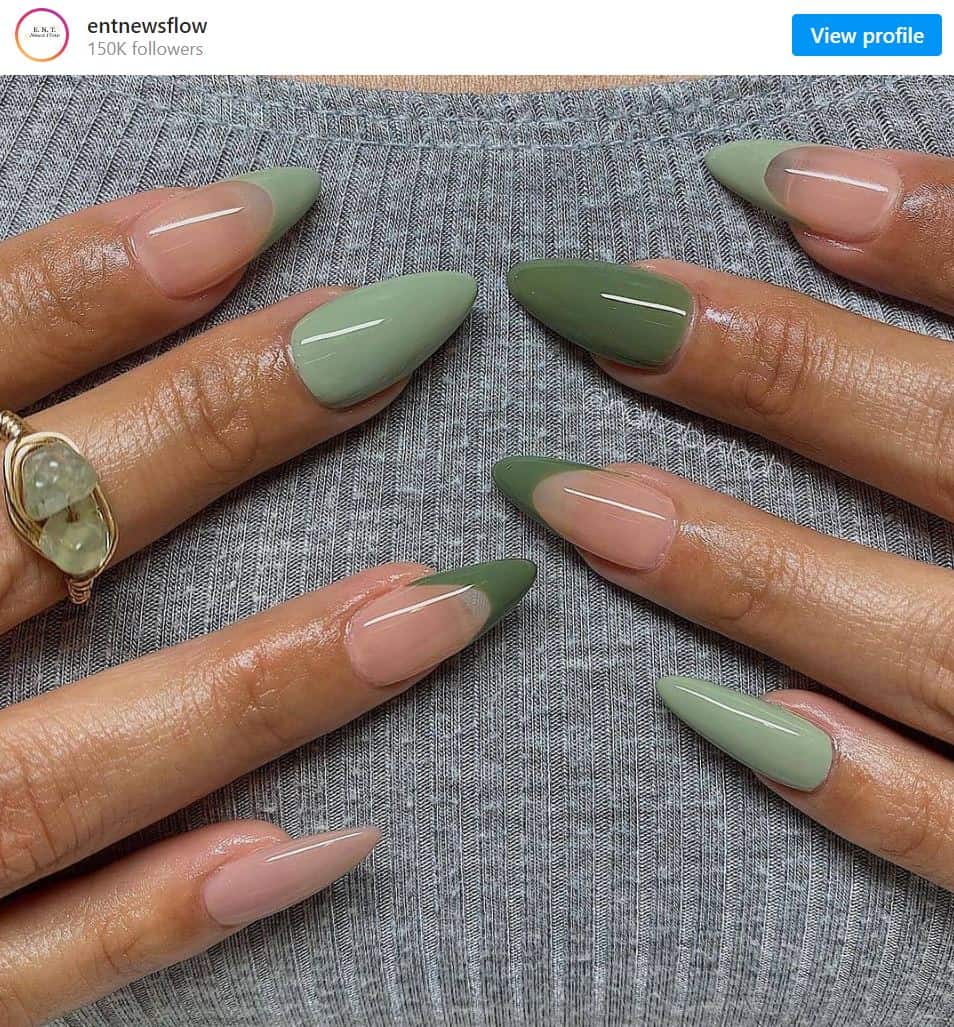 Using different shades of green creates a cohesive look for a manicure. The set isn't overwhelming or too busy by sticking to two shades and a nude base. I would wear these polishes if I want my manicure done but not have them be the focal point of my look.
If you're a lover of spring manicures, this is the design that makes olive green fit the warmer seasons. The lighter green makes for a bright manicure, but you can also go in the opposite direction. I would try to add darker shades to see the contrast in a different style!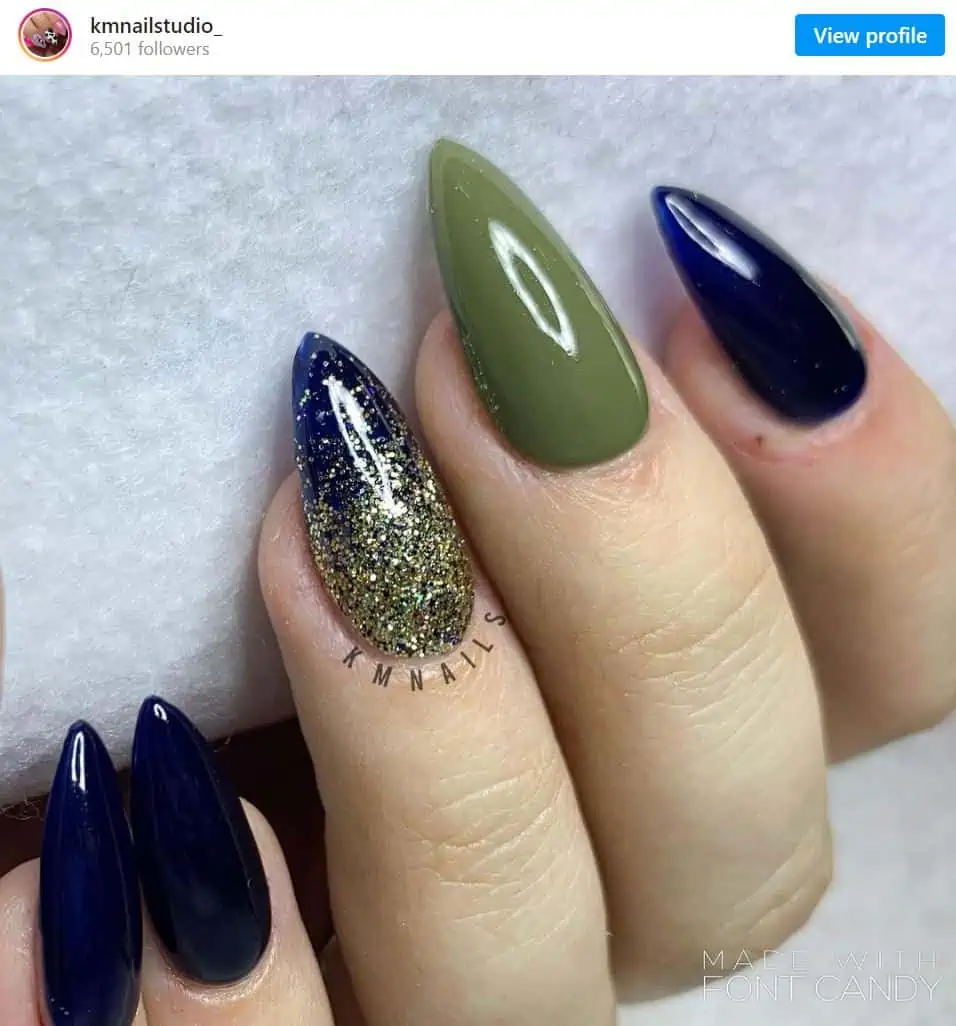 The ultimate manicure on this list for me is this dark and moody take on the olive green nails! The mix of deep navy blue with an olive green set is a vampy look whose contrast makes me do a double-take whenever I look at it. The gold glitter fade ties the opposite shades together with a dramatic flair.
The stiletto shape gives this manicure the attitude it conveys, and it's a shape that's tough to achieve without professional gel or acrylic nails. To me, copying this style is worth seeing a nail technician for the manicure – plus, who doesn't love to be pampered?
FAQs
Question: What Does Green Nail Polish Represent?
Answer: Green is the color of nature – it's the color of grass, trees, and other plants. It represents growth, and since it's the color most associated with spring, green is also considered the color of rebirth. Olive green, in particular, is an earthy tone and is interpreted as a sign of adventure and taking action. You're harnessing your power and positive energy by sporting olive green nails!
Question: What Colors Make Olive Green Nail Polish?
Answer: Are you planning on making your own olive green nail polish? Getting to the shades you need for these manicures is about the color wheel. To get to the green, you need three parts yellow paint and one part blue paint – but this will only get you to traditional green shades. To get darker olive green, you need to add a touch of red! Play around with the mixture to get to your favorite hue – you can always use some white to lighten it if you mess up.
Question: Is Olive Green a Neutral Color?
Answer: Most greens are not neutrals, and when people think about neutral colors, they likely don't tend to include olive green. But olive is considered a neutral shade. The earthy undertones warm the green to a mid-tone, where both darker and lighter shades can be a compliment! You can treat olive green as any other neutral – it likely goes well with anything you own and other nail polishes!
Bottom Line
Olive green is an underrated shade! It can do it all – act as green and neutral – to complement most other colors and patterns. This forgotten neutral is versatile and goes beyond the stereotypical camo print. Try out several different takes on the olive green nail with mixed elements!
For the warmer months, I love the Light Olive Green Nails! They're simple but elegant, making them adaptable to my everyday life. But my heart will always be with the darker and edgier shades – I'm not particularly tough, but I like my nails to look like it.
Continue reading:
Lime Green Nails Inspiration and Ideas: Bring Some Life to Your Nails
Dark Green Nails Inspiration and Ideas: Nail Ideas that Will Add Some Color to your Life