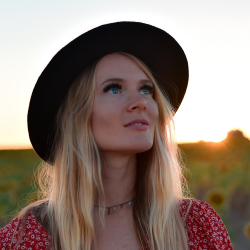 Latest posts by Haley Parker
(see all)
I am a huge fan of everything glitter and bright colors when it comes to nails and there really is no better way to embody both of those things than unicorn nails. Unicorn nails may seem overwhelming because there are so many colors and glitter involved, but do not worry. To make your decision on how to execute unicorn nails easier, I have made a helpful list of unicorn nails inspiration and ideas for you to try out.
I have seen unicorn nails done in so many creative ways that you probably would have never thought of unless you are constantly looking at nails. You can make it evident that you have those "unique as a unicorn" nails or make it subtle with an artful design. Below you will find all of the different ways to do this fun trend that will make your nails stand out as a unicorn does.
Unicorn Nails Inspiration Up Front
With so many different unicorn nail ideas, it can be difficult to decide what to go with. If you are someone like me who gets a little too excited about every option, here are my top three favorite unicorn nail designs and why:
Watercolor Nails: They are colorful, but not so colorful that you will blind people with their brightness. It is also a very unique design that you don't see many others walking around with.
Holographic Nails: I love a whole nail of shiny glitter, but this holographic glitter isn't too colorful that you have to worry about it clashing with every outfit. It is mostly silver and only looks colorful when you turn your hands in the light.
Unicorn Faces: Every once in a while, I like to stand out more than normal and that's when the painted unicorn faces come in. It's a fairly simple design to achieve and looks so cute over a white nail.
What are Unicorn Nails?
Unicorn nails are any nail design that involves pastel colors of the rainbow. The three primary colors for unicorn nails are pastel pink, lilac, and sky blue, but you can venture into pistachio, lemon, and peach colors. To get the true feeling of unicorn nails, you need to use a mixture of at least three of these colors but can use all of them in some way.
Selection Criteria for Unicorn Nails
Trendy
I love that pastel colors are in this year, especially throughout the warmer months. You can do so many different things with pastel colors, and you will see them all on one nail or a different shade from nail to nail. You can go bold with fairytale designs or keep it simple, with each nail being a different color.
Colorful
I can't say someone's nails are unicorn nails unless multiple colors are involved. When I think of unicorns, I don't think of one color. Instead, I think of a rainbow of pastel colors. All of these inspiration ideas involve multiple colors and are not very subtle.
Unique
When I want to do something as unique as a unicorn, I do something daring with my nails. Unicorns are not known for fitting in. No matter what you do with unicorn nails, they will be different from the subtle nail designs that you usually see people wearing.
Can Be Done By Anyone
Even though unicorn nails are made to be colorful and stand out, there are several simple designs that anyone can do. If you find a design you like on this list that is not so simple, there is most likely a trick to doing it yourself. You'll have to continue reading to see how you can do every one of these at home.
Unicorn Nails Inspiration and Ideas
Watercolor Nails
Pastel rainbow colors and watercolor go hand in hand and are a great look for spring. Watercolors are watered-down shades that bleed together to create unique designs. You can do a whole nail of watercolor or I like to only add bits of watercolor to the edges, leaving the center white.
You'll need white nail polish, acrylic paint in your chosen colors, a line brush, and a topcoat to do this design. Start by painting your entire nail white. Once that has dried, mix your chosen acrylic paint with water until it is runny and dot it onto your nails with your line brush. Add new colors around it until you've achieved the desired look, and finish with a topcoat.
Pastel Confetti Glitter
Glitter is another object that screams unicorns on top of pastel colors. This is a super-easy way to get unicorn nails and one of my favorite go-to's for a quick design that pops. There is no artistry to it other than being able to paint within your nails. Even that isn't a huge deal because you can remove any glitter that got outside of your nails with nail polish remover.
To make your pastel confetti glitter pop, you want to start by painting your entire nail white. Then go over the white polish with a confetti glitter in pastel tones, like Cirque Colors in Lullaby, Sally Hansen in Donut Shop, or Zoya in Monet. You can do as many layers of glitter as you like, and the more layers you do, the more opaque the glitter will be.
Rainbows and Clouds
How much more pastel rainbow can you get than an actual rainbow. Instead of using the typical primary colors in your rainbow, use pastel pink, purple, and blue. You can do a whole hand of rainbows or do one nail a rainbow and the rest with clouds and a pastel background. My favorite way to paint a rainbow is over the span of two different nails with the rainbow starting on one nail and arching over to the other.
To paint your rainbows, you'll need to start by painting your nails a pastel color. Then start with the clouds by using a dotting tool dipped in white and form a cloud shape. Take your rainbow colors and connect the clouds with an arch shape of each color. Try rainbow nail stickers if you don't want to free-hand paint your rainbow.
Pastel Lines
Try pastel lines across each nail if you want all of your nails to be a rainbow. You can use three colors and repeat them or use a whole rainbow of pastel colors. The lines can be painted vertically, horizontally, or diagonally on the nail. I love to add a small corner area of pastel lines to the tip of my nail.
The easiest way to do this design is by taking a long line brush and painting each color right next to the other. You can make the lines as thick or as thin as you would like them. Don't worry about making the lines too perfect because the lines in a rainbow are never that perfect anyway.
Unicorn Face
What says unicorn nails more than an actual unicorn face. You can make your whole nail the unicorn face with eyes and a horn with ears in the middle of a white nail or have your unicorn peaking from the tip of your nail. The most fun way to do this design is to have one unicorn face in the middle of rainbow nails, but you can also have a unicorn face on each nail.
The easiest way to paint a unicorn face is to paint your whole nail white and paint a gold triangle for the horn with two small triangles next to it for the ears. You can then add two small arches with eyelashes to create closed eyes next to each other. An even easier way to make a unicorn face is to use nail stickers or nail stamps.
Holographic Nails
Holographic nails are shimmer nail polish that changes colors as you turn them in the light. If you look at them in no light, they simply look like silver shimmer nail polish, which is why I love them. They're like a sneaky rainbow. When you are in the light, they can be pink, blue, purple, or yellow shimmers, depending on how you look at them.
There are many different holographic nail polishes that you can try, including Color Club, ILNP Mega, and Cirque Colors Subculture. You do not need to paint color underneath holographic nail polish because it is a very concentrated shimmer polish. However, I suggest doing two or three coats to get maximum color change.
Pastel Rainbow Ombre
If you aren't too sure about painting an entire rainbow of pastel colors on your nails, try it with ombre first. You can ombre each color pastel color into a nude base, so they blend into your natural nail. You can also add even more color by ombreing each pastel color into another pastel color.
To ombre your pastel color into a nude, you want to start painting your entire nail a nude color. Then take a makeup sponge and paint your pastel and nude color next to each other on the sponge. Dab the sponge onto your nail and repeat the process until it is opaque in color and blends.
Pastel Gradient
Gradient nails are when one nail fades into the next until the last nail on your hand is an entirely different color from the first. I like to gradually fade together three colors with unicorn colors, such as blue, to purple, to pink. You can also take five completely different colors, painting the closest matching colors next to each other.
To gradually fade together three colors in your nails, pour your starting color into a container and paint your first nail that color. Then mix your next color into that color in an even ratio and paint your next nail with that mixture. Paint the next nail the second color and continue the process throughout your fingernails.
Rainbow Tipped Nails
There are many different ways to do a tipped nail. You can only tip a corner of each nail, paint a thin line around the tip of your nail, or do a triangular-shaped tip. You can choose as many colors as you would like to do each tip with, but I would choose at least three.
To do a standard french tip, start by painting the tip of your nail with your desired color, and do not worry about perfecting the line. Once the end is opaque in color, take a dome-shaped nail brush dipped in acetone and carve out an arch shape. Finish it with a pink-tinted clear coat, like OPI Bubble Bath or Essie Pinks.
Pastel Tye-Dye
Another very unique, fun design is pastel tye-dye. You can use as many colors as you want for this look, but I think three colors look best. My personal favorite is to tye-dye pastel pink, blue, and yellow together.
To achieve this look, you'll be doing a water marbling method. You'll need a cup of water, your chosen colors, an orangewood stick or dotting tool, and liquid latex to protect your skin. To see how to do this water marbling technique, watch the video below.
Mix-N-Match Unicorn Nails
A unique way to do unicorn nails is to do a few of these designs on different nails. These nail designs go together since they are all centered around unicorns and are all the same type of colors. You can do a unicorn face on one nail, a rainbow on another, and confetti glitter on the rest. You can do all of these designs on each nail if you want to because there are ten here.
Tools Needed To Do It At Home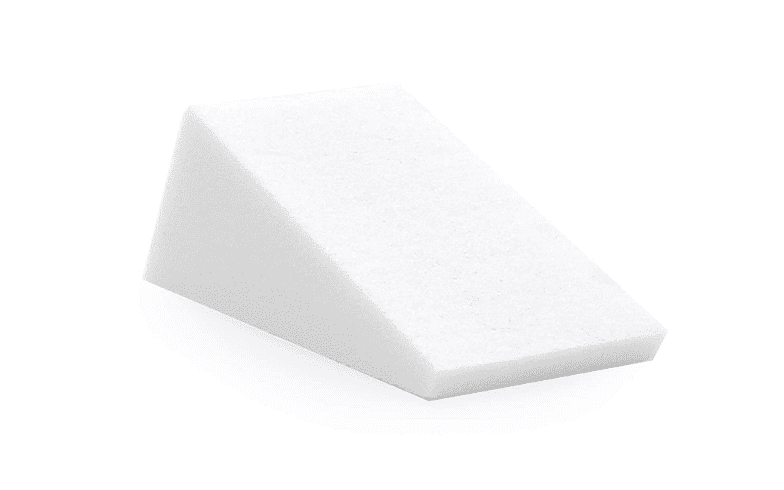 Makeup sponges are used for many designs as a blending technique. You can use them to ombre your nails and do watercolor nails. You want to make sure you are using disposable makeup sponges because they are not usable again after one use.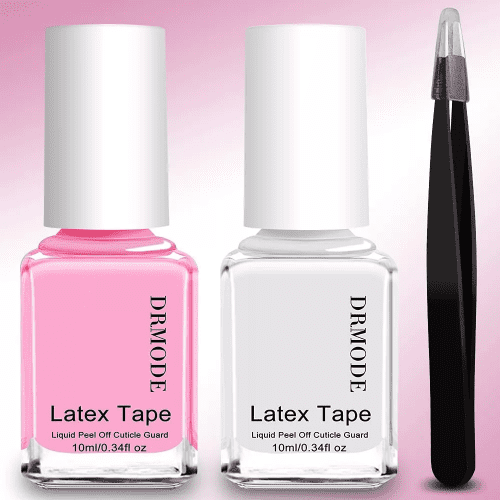 Liquid latex is a rubber that protects your skin from nail polish. It is either applied with a brush or through a squeeze tube. Once you finish your design, you can peel off the liquid latex, and the nail polish that left the nail will come with it. You can remove any other polish outside the latex with nail polish remover.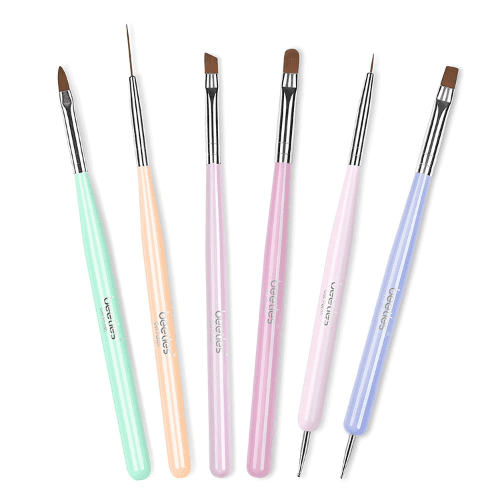 Nail art brushes are helpful for different nail designs, like rainbows, lines, and unicorns. You can purchase nail art brushes in a pack that includes a flat brush, a dome brush, line brushes, a pointed brush, and an angled brush. These brushes are different from regular paintbrushes because they are more flexible and smaller.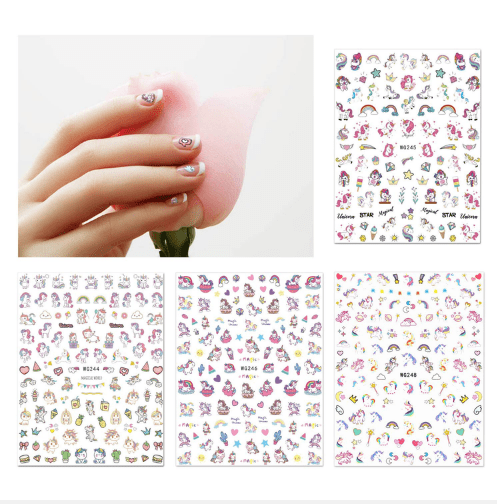 Nail stickers make nail designs ten times easier. You peel the sticker off its page with tweezers and apply it to where you want it on your nail. You can then finish it off with a topcoat to ensure it will stay put.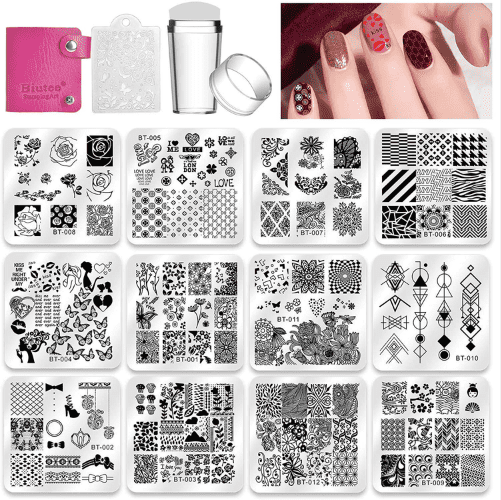 Try nail stamps if you want your design painted on but aren't confident in your free-hand painting abilities. This kit comes with a silicone stamp, metal stencils, and a plastic scraping board. You fill the stencil with nail polish for this design method, scrape away the excess, and apply the design to your nail with the silicone stamp.
FAQ's
Question: What Colors are Unicorn Colors?
Answer: The three primary unicorn colors are pastel pink, pastel blue, and pastel purple. However, unicorn colors can be any pastel color, including pastel green, pastel orange, and pastel yellow. If you count glitter as a color, this is also a unicorn color.
Question: Are Unicorn Nails Hard to do?
Answer: There are many different ways you can do unicorn nails, from painting each nail a different pastel color to painting a whole unicorn face on your nail. You can make this look as complex or as easy as you would like it to be, and there are also unicorn nail stickers and nail stamps to make designs easier.
Question: Do Unicorn Nails Look Good With my Skin Tone?
Answer: Unicorn nails are technically a rainbow of colors, so they can look good on any skin tone, depending on what colors you go with. Ther are usually pastel colors, which can go with paler skin tones, but some do not like to pair pastels with fair skin tones. Try a pastel pink, purple, or blue if you are a lighter skin tone.
Question: Are Unicorn Nails in Style?
Answer: Unicorn nails are always in style if you like them. The whole point of unicorn nails is to look different from the norm. Also, pastels are trendy this year, and Pantone has named periwinkle(a pastel purple) this year's color.
Should You Try Unicorn Nails?
If you like bright and unique nails, you should give unicorn nails a try. Even if you aren't too sure about having bright nails, there are ideas on this list that can give you a taste of it without going all out. My personal favorites to try out are watercolor nails, unicorn faces, and holographic nails.
Continue reading:
Butterfly Nails Inspiration and Ideas that Will Transform your Nails from Dull to Chic
18 Easter Nails Inspiration and Ideas for the Spring Holiday