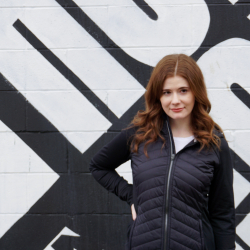 Latest posts by Kelsey Purcell
(see all)
Fall is the season of cozy knits, boots, hats, and scarves – all in the beautiful colors of nature. When the leaves turn and burnt oranges and burgundies replace the bright summer color pallets, that's when my heart sings!
I always associate fall nails with warm, rich tones, but nail trends for fall come in all shades and shapes to suit every style. With some of the best holidays falling into the autumn season – hello, thanksgiving and Halloween – themed nails come out for playful dedications to the best food holidays of the year!
Bottom Line Up Front
I wear fall nails all year – the colors and patterns make my heart sing! My list of fall nails inspiration and ideas will include all my favorite designs and some I've been dying to try.
The selections will include some of the most creative designs and some minimalist options that are easy to do at home.
This list will include:
Fall themed colors – burnt shades and the hues of the changing leaves
Fall holiday theme nails so you can playfully embrace the best parts of fall holidays, and
Some non-traditional designs that will make you think outside the box
Fall Coloured Nails Inspiration
Matte nails are made for fall, and you can't convince me otherwise! This version of burn browns and marble accent nails is a classic way to appreciate the beautiful falling leaves.
This style is simple and easy to do at home – just pull out your favorite burnt shades and use a matte top coat to finish the polish. If you love the marble and want it to be perfect, turn to a professional nail technician for a flawless accent.
When the yellow leaves finally fall, they look a little bit like gold – nail designs with gold details like swirls, polka dots, and lines bring cozy vibes that make you want to curl up.
Mixing gold with other warm nudes and browns pulls the design together is the perfect blend of tones that feel festive and chic. Gold is instantly glamourous, so these nails are perfect for all your fall fashion statements.
Not all your fall shades have to be muted and dark – add some bright yellow accent to play off your browns and oranges. I love that this gradient includes deep purples, too, hitting every note of fall shades.
The autumn mood is intense, and whether you keep your stiletto nails or shape them short, these colors will pop.
You don't have to completely give up your cool shades in the fall! Incorporating blues and greys with your rich fall hues create a stunning contrast that makes your nails stand out.
We all love a multi-color manicure, and you can do no wrong with muted blues and greys – play around with different shades and discover your fall mood board-inspired color palette.
Depth and dimension can completely change the vibe of a manicure, and these smoky greens, mustards, and nudes embody everything that fall should be – rich, unique, and daring.
No nail is the same in this design that uses sharp lines, curving shapes, and animal print to create a fresh manicure you won't see anywhere else!
This fall nail list wouldn't be complete without adding texture – emulate the authentic touch of fall with metallic glitter, a matte finish, and gold lines for an extra touch of detail.
Gold foil leaves on the accent nail really pull this design into the real world. Even if the snow falls early and covers the leaves on the ground, your nails can still represent.
Jewel tones are always in for fall – the rich colors always feel a little bit heavy for other seasons, but rubies, emeralds, and sapphires look elegant and sophisticated.
The gold foil accents add texture that looks like fallen leaves, and it's the element that pulls all the different shades together.
Fall Themed Nails Inspiration
Celebrate the holiday that's all about eating – the best holiday – Thanksgiving! These simple yet playful nails have a cute pumpkin accent to make you hungry for apple pie and nude background with polka dot details.
Add another accent nail with a cute turkey – though you might have trouble when it comes to dinner time. You can always replace it with more pumpkins or polka dots!
I have a love affair with burgundy, red wine tones that will never end. This is the ultimate cold-weather color on its own, but add in the leafy accent nails, and it's the perfect style for fall!
You can change the leave accents to burnt orange, deep red, or yellow for extra contrast, or keep the black and white for a minimalist vibe.
Didn't expect teal to be the base color for a fall nail? It draws the eye and is a leap away from the essential nude background for most fall designs. The deep teal makes the orange pumpkins leap off the nail and is an instantly recognizable design.
Add the leafy greens to tie it all together, or leave some of the teal nails free of Thanksgiving-inspired design to limit the pumpkin art!
For a twist on traditional pumpkins for fall, choose a sinister pumpkin design for Halloween! Creepy pumpkins mixed with oozing orange slime on a matte black base are about as haunting as it gets. You're still embracing the fall colors with a spooky-themed twist.
Glitter and glam are vivid details that make the design stand out and shine, fitting in perfectly at any Halloween party.
You can get witchy nails any time of year, but they make an impact during the Halloween season. Using celestial designs, recognizable Wiccan imagery, and a matte finish, this manicure is ready to put a hex on anyone who crosses your path.
The minimalist black and white palette fit the goth-girl aesthetic – you can rock it during the whole spooky season or save the design for your Halloween costume.
Not all Halloween nails have to be scary! These cartoony designs are a throwback to Halloween cartoons for kids and feature all the best parts of the season – cats, spooky ghosts, jack-o'lanterns, and of course, candy corn.
No need to draw on all these intricate designs! These are easy-to-apply nail wraps, and there are hundreds of patterns of nail wraps to choose from.
Unique Fall Nails Inspiration
Fuse the fall color palette with farm-inspired patterns to create a creative, rustic manicure! Play around with the accent nail placement, shades, and patterns to fully capture the rural life experience in the fall.
All you need to do this design yourself are some dotting tools – the polka dots and cow print don't need to be perfectly uniform. It's all up to your creativity!
After all this talk of deep, rich shades and dark designs, this light manicure may seem like a strange addition to this list, but small details make a significant impact. The crisp minimalist lines and copper features make these nails a delicate fall manicure choice.
Having every nail unique is creative artistry that you know will be one of a kind.
Plaid flannel is a signature layering piece for fall! You reach for a flannel when it's too warm for a jacket but too cool for no sleeves, so make it a manicure theme.
This design has some flashy glitter, but you can go without it. It's a flawless manicure for a transition between the seasons!
Not only is the color of this nail perfect for fall, but the texture is unlike any other design. The geometric lines are one stunning feature, but the knit sweater-like accent nail is so unique and cozy.
The matte finish on the rest of the nails fits with the unfinished texture on the accent nail to make them look modern and chic.
These nails are a moody dream, and if your mind doesn't immediately go to pink for fall, it will now! The dark and light-shaded blocks are the ideal balance that creates a daring, minimal look to suit your style.
Professional and elegant, this adaptable fall design is more subtle than others but no less bold.
A yellow-mustard shade tartan print is perfectly paired with cozy sweaters, combat boots, and your favorite coffee. The pattern is highly detailed, and you can change the base colour to any shade you'd like and adapt the design.
These hues play off each other and contrast really well with each other – the matte topcoat gives your manicure a contemporary vibe to bring out your preppy side.
Have you ever considered magenta for fall? It's a balanced mix between light and dark and is reminiscent of rich berries. With a neutral leopard print, this summer to fall transition nail is simple yet unexpected.
If magenta is still a little too bright, you can darken the shade to something more decadent to get you in the right mood for the season.
FAQs
Question: What are the Popular Fall Nail Colors for 2022?
Answer: Nail trends come and go, but some styles are enduring – the same goes for colors. Some of the most popular colors are staples, and a few might surprise you!
The most popular colors are:
Deep greens
Mustard yellows
Rich brown tones
Royal blues
Earth shade metallics
Merlot reds
Neutral beiges and nudes 
Question: Are Accent Nails Still on Trend? 
Answer: As manicures become more and more artistic, accent nails are only growing in popularity! The chance to do something completely different, in colour, texture, or pattern, within the same manicure is a chance everyone jumps for.
In simpler times, accent nails were on the ring finger – sometimes a sparkly, complimentary colour – and otherwise, manicures were simple. But with the creativity of nail art, there are no rules, and all nails can be an accent in their own unique way!
Question: Why is Nail Art so Popular?
Answer: With the rise of social media, Instagram and TikTok became visual platforms to share their art and designs in all mediums. Nails are like a blank canvas, so showing off nail designs became common and exciting.
We discovered that nail technicians are artists, and they can do amazing things with their tiny little tools. Sharing their art on social media became a way to connect, grow, and see the rise of more trends that – for better or worse – we wouldn't have without it.
Bottom Line
Choosing fall nails is next to impossible, and the season feels so short when you have a long list of nail designs to try, but I prioritize my favourite seasonal themed nails and then go wherever my mood takes me!
If I'm feeling incredibly light and crisp, I choose a gradient style to cover all my bases. When things are heavier, I go right to the dark neutrals or jewel tones to really pop against my all-neutral outfits.
Whatever nail designs you end up choosing, take the trends into winter and hold onto the fall aesthetic as long as you can! It's the best season, after all.
Further Reading: