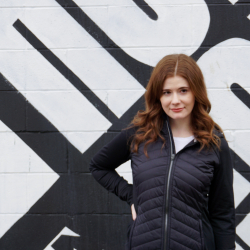 Latest posts by Kelsey Purcell
(see all)
Thinking of experimenting with new nail shapes? The ballerina's nail is the latest nail shape that celebrities leave long enough to leave tons of room for fun designs and embellishments!
As someone with a very active, dedicated nail-themed Pinterest board, I love seeing all the new nail trends. I used to work the cosmetic counter and would spend too much of my paycheck on nail polish, press-on nails, and nail accessories. But since those days, so many creative new nail shapes have been embraced as an art form.
Ballerina nails are gaining traction in the nail world because they elongate the nail, making your fingers look more dainty, slim, and graceful.
Bottom Line Up Front
There are various spins on the ballerina nail that you can adapt to fit your life and style. If you're like me and spend all your time typing, a shorter version might appeal to you – or if you love the look of a dramatic nail, you won't shy away from the most extravagant version of the ballerina's nail.
I'll guide you through all the ins and outs of ballerina's nails, including the multiple variations, do-it-yourself methods, and fun facts! I'll also offer some inspiration from celebrities and online nail experts to bring to your nail technician to try out!
I've split all the inspiration down into categories, from minimalist and casual ideas to more ornate and bold versions and everything in between, so you can find the right vibe for your overall style.
What is a Ballerina Nail?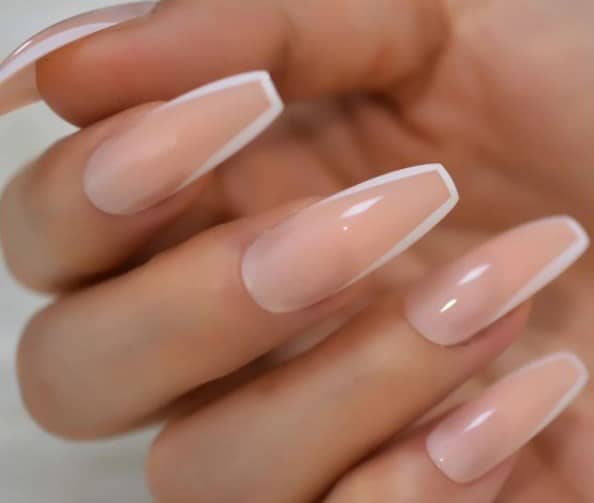 So, what exactly is a ballerina's nail? The primary feature of a ballerina's nail is the length – since natural nails are next to impossible to grow to this point, your nails will need a helping hand from the gel, acrylic, or some other type of false nail.
But the extra length can give you a lot of space to be creative designs to match your mood, style, or special event. On top of that, they give the illusion of longer fingers and more delicate hands. You'll have the fingers of a pianist, or at least it will look like it!
Why is it Called the Ballerina Nail?
If you look at the flat tip of the nail along with its length, the shape is reminiscent of a ballerina's point shoe. The blunt end is different than a typical squared-off nail – it's a softer version that tapers to the ends in a gentle finish.
Ballerina Nails or Stiletto Nails: What's the Difference?
Stiletto and ballerina are terms that are sometimes used interchangeably, but they are their own distinct styles. Over the past few years, as long nails grew in popularity, the stiletto nail reigned supreme.
Stiletto nails got their name from the sharp pointed tip, like your most dangerous stilettos. Ballerina nails trim that harsh point off, but the remaining nail shape looks the same. If you love stiletto nails and want to switch it up, the ballerina nail will be your new favorite!
Short or Long Ballerina Nails
If you love the look of ballerina's nails but live a life that demands shorter nails, you can adapt the style to be softer. It's no less dramatic but is a little more manageable if you're not used to super long nails. You can always start shorter and work your way up to more extended versions over time!
Long ballerina nails are the standard, but below, I will highlight some of my favorite short nail versions that you can try out for yourself.
Who Loves Ballerina Nails?
Chances are, you've seen elegant ballerina nails all over the celebrity award shows and not even realized it. My favorite artist of the moment, Dua Lipa, sports ballerina nails like it's her new signature. Rihanna and Cardi B also rock the ballerina nail shape, and it continues to sweep through the music industry.
You'll love ballerina nails if you want to embrace your inner diva and bring some excitement to your nail style.
At Home Versions vs Salon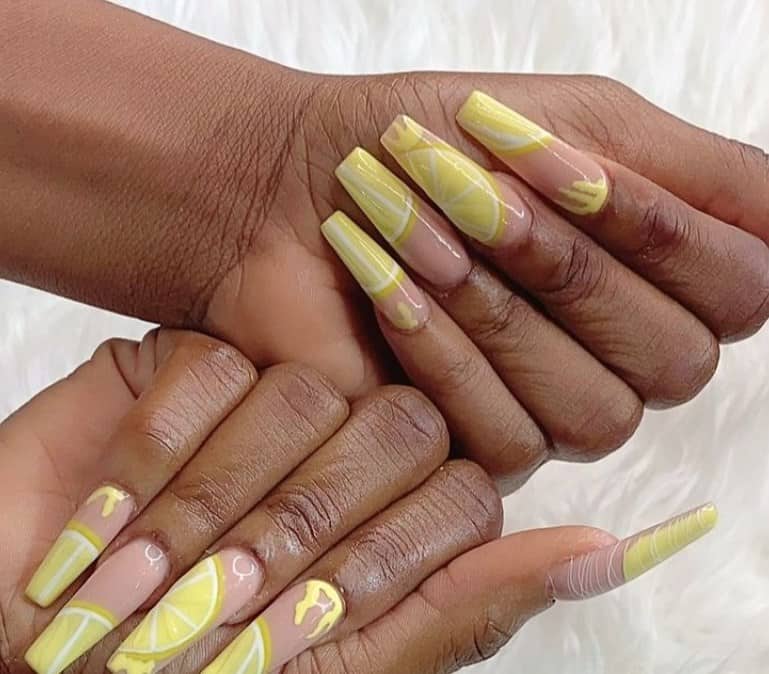 Going to the salon, for me, is the ultimate self-care day! I don't have the patience, dexterity, or skill to do my own nails, so getting to sit down and have a professional do them is a luxury that I grant myself.
But I also have friends who love doing their own nails – from prepping cuticles to nail treatments to shaping and design, they do everything themselves! I'm in awe of that. So whether you do your own nails or leave them in someone else's capable hands, here are the basics to getting a flawless ballerina shape at any length.
How to Shape Ballerina Nails
Creating a graceful and elegant shape that doesn't look too rectangular is a fine line to draw. Here are some tips for the best do-it-yourself ballerina shaping – and if you see your nail technician following some weird steps, don't be alarmed! You're going to get the most stunning results.
Ballerina Nail Shape Using False Nails
Unless you're genetically blessed with the strongest natural nails, getting length and shape to your nail that will last will need the help of an artificial nail. If ballerina faux nails aren't available to you, experts agree that using rectangle nails and filing them down is a great way to get the flat-tipped ballerina shape without any rounding.
The focus should be on tapering off the corners above anything else. If you're new to shaping your own nails, stay away from the edge of the fingers and cuticles. It's better to be slow and gentle to preserve the nail than over-file.
Ballerina Nail Shape with Professional Tools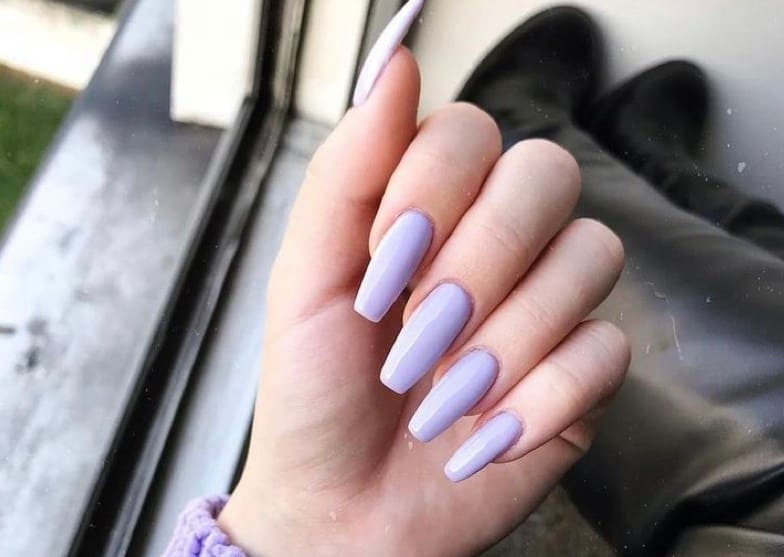 Do you do your nails at home a lot and invested in high-quality nail tools? Breaking out the nail drill instead of the file can save you time and make you feel more in control. All you need to do is start at the corners to get the narrowing effect, and you'll end up with a perfect ballerina nail.
Below is a video that walks you through the basics of creating the flawless ballerina nail canvas to then paint and draw upon!
Ballerina Shaped Nail Art
The most fun part of doing your nails is deciding on the design and style you'll rock for the next six weeks. I tend to go simple, with a touch of an accent nail, but the world of nail art is getting more and more creative. You can draw intricate designs, add patterns or texture to the nail, and even add gems and crystals.
Ballerina nails tend to be long enough to explore more significant designs that take up space and make a big impact with elaborate details. If you're doing your nails at home, having some basic tools on hand to take your designs to the next level is essential!
Dotting Tools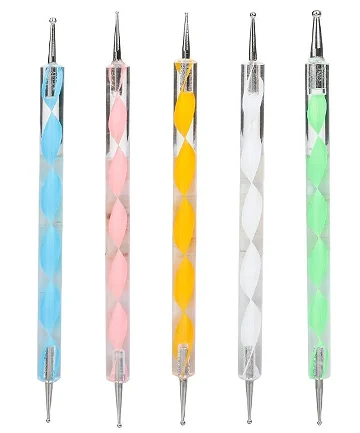 Dotting tools are for more than making dots and flowers – different styles and sizes can help you create straight lines, intricate patterns, and incredible detail work. On a ballerina nail, this is a must because you have a lot of nails to cover with precise features. They're helpful when experimenting with unique styles and techniques!
Thin Nail Tape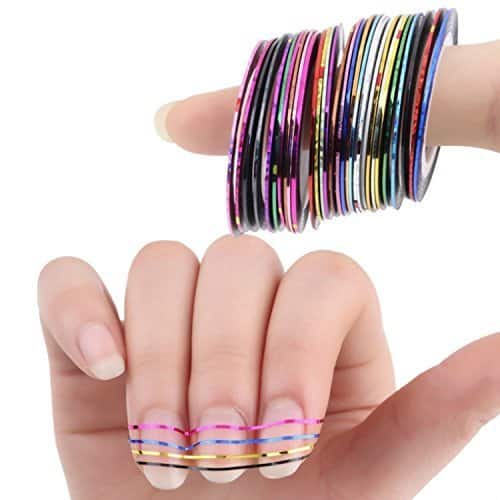 Are you making a checkered or plaid design and need precise lines? You can polish over this thin nail tape to get the flawless lines you could never achieve by hand. This tape can also be left on the nail for a pop of color, texture, and personality with a variety of colors to suit your mood. With all the space on your ballerina nail, you can have fun with different styles – just be sure to lock it in with a clear topcoat.
Cuticle Care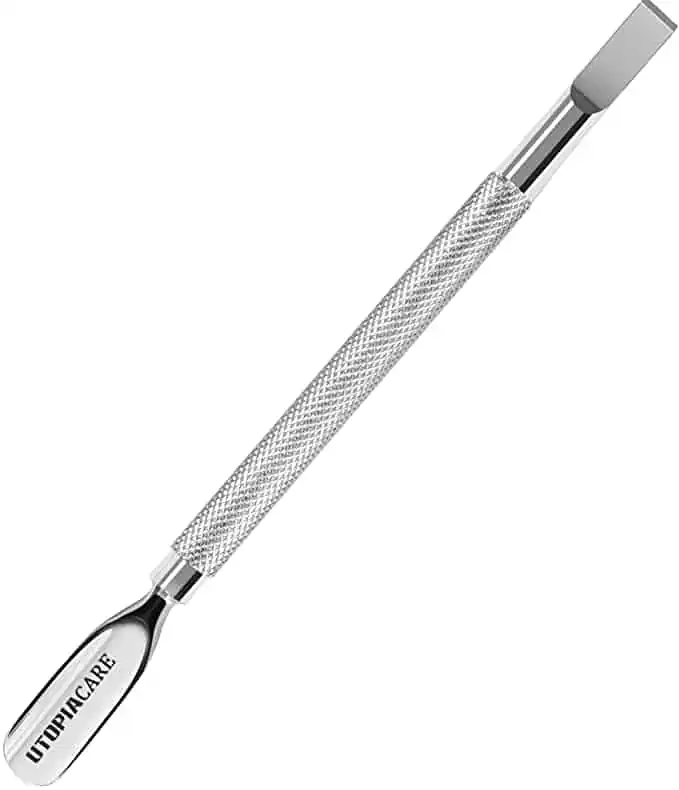 No matter what shape your nails you're aiming for, you need to take care of your cuticles before starting your manicure. A cuticle pusher helps keep your cuticles healthy and safe from tearing while also keeping the nail looking clean and polished.
Cuticle Guard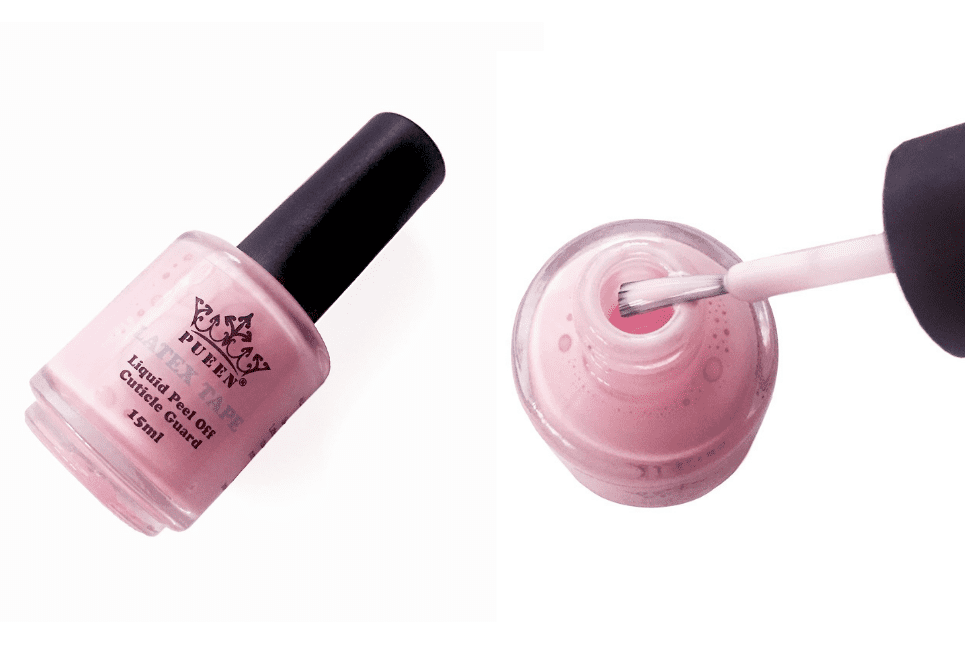 Save yourself the hassle of trying to catch polish before it hits the skin, and focus on your nail art. With a peel-off cuticle guard, you can get as messy as you want with nail stamps, tape, and color and easily clean up when you're done. You need this in your arsenal with painting your ballerina nail art. 
But you can have all the right tools and still struggle to decide what to do with your nails, and it's tough walking into the salon with no idea what design or style you want. There is a wealth of inspiration for nail art online, but it can be overwhelming! So I've broken it down into categories that will help you find some ideas you love based on your overall preferences.
Ballerina Nail Ideas and Inspiration
The fun part of getting your nails done is the individuality that can go into designs and décor. Even if you want to keep it simple, there are tons of variations of colors and art that can make your nail style one in a million.
I've captured tons of ideas of any ballerina nail style you can imagine to inspire your next nail design!
Minimalist Ballerina Nail Inspiration
Bound by a dress code or need to keep nails clean and simple? Even simple colors and accents look luxurious on ballerina nails.
Ballet Pink Ballerina Nails
Embrace the ballerina look with a simple, soft neutral evoking the traditional color we associate with the dance slippers. A beautiful shade for short, long, or mid-length nails, this timeless baby pink will bring out your inner ballerina.
Modern French Tip Ballerina Nails
Say goodbye to the French tips of your mom's old manicures – French tips are becoming more and more exciting. From bright colors to unique asymmetrical nail designs, French tips are not bound by any rules, and for modern French tip-inspired nails, anything goes!
Ballerina Accent Nails
You can keep things simple while still adding a pop – the accent nail is the perfect way to add some dimension to your manicure. These mid-length ballerina nails show the simplicity of what an accent nail can be, but there are also more extravagant versions. The ballerina shape makes your nails look refined, even at shorter lengths.
Neutral Ballerina Nails
The ultimate minimalist nail design is a neutral – whether you go for a nude nail, black, white, or grey, neutral nails go with everything. The beautiful simplicity of a neutral nail is what draws me in every time. Adding glitter or matte texture can add a little something extra and turn it up a notch.
Bold Ballerina Nail Inspiration
Pops of color and dramatic effects look stunning on a ballerina nail. The timeless shape with trendy colors and designs can result in some of the most creative products. Bold ballerina nails are all over the red carpet, Tik Tok, and Instagram. There is no shortage of inspiration to absorb!
Neon-Glitter Ballerina Nails
Dive deep into the world of bright neon color and use this modern design for encouragement. Neon colors on ballerina nails are attention-grabbing, and the accent nails that are sparkly like a night sky are the perfect contrast. Be bold and go all color or add some darker muted tones like this style.
Glamourous Ombre Ballerina Nails
Nails don't have to be highlighter yellow to be bold. For dramatic ballerina nails in ombre, you can pick your favorite shades to add personality and individuality to your nails. Longer ballerina nails have a more gradient effect because of the length, but shorter nails can have ombre, too!
Mix Up Nail Shapes
Be playful with your nails and mix up different nail shapes in one manicure. Alternate nails with almond shape, stiletto, or any other shape that you love. It's a style you don't see everywhere, but if you love a unique set of nails, this can be the perfect statement. Add in your favorite colors and designs to further personalize it to you!
Fancy Ballerina Nail Inspiration
With ornate decorations and designs, ballerina nails be a central feature of an outfit or your most luxurious accessory. Whether you go big with crystals and pearls or keep the details light, you can make your nails as fancy as you want to feel.
Crystal Accent Ballerina Nails
Jewels go with everything – whether you keep it to one nail or adorn your whole hand in decorated nails, your nails will sparkle and shine. With lots of room for intricate designs, ballerina nails are a canvas for your creative mind to let loose. Nothing is too crazy or exaggerated to try!
Asymmetrical Embellished Ballerina Nails
These nails are some of my favorites – not only because it reminds me of the Little Mermaid and the ocean. The glittery accents, holographic effect, and carefully placed gems pull this look together and show how creative and fun manicures can be!
Long Dramatic Ballerina Nails
Sky-high nails are dramatic and awe-inspiring. They take some getting used to – if you're new to long nails, it can feel like they're getting in the way, but once they settle in, your long nails will be the most vivid aspect of your style. Keep it simple or add embellishments and nail art to take advantage of the nail space!
Fierce Ballerina Nails
Your nails can never be 'too much', and these nails prove it! With a mix of glitter, color, and animal print, these nails blend all the elements seamlessly to create a fierce ballerina nail. The gold and shimmer make the nails look regal, but the modern pattern ties everything together to make this a nail to rock on a night out.
Short Ballerina Nail Inspiration
You can still enjoy the beautiful ballerina nail shape with a more functional length. The trick is to make sure the tip isn't too square and that there's still tapering along the edges.
Whimsical Short Ballerina Nails
I see these nails as an excellent fit for the grade-school classroom, but even if you like a quirky touch to your nail designs, using the precious space on your nail for a pattern like cow print is peak creativity! The black and white works well with your choice of accent nail color, and the print is easily recognizable, so be ready for compliments!
Baby Pink Short Ballerina Nails
Subtle and polished, short pink nails can't fail, and they look delicate and classic in the ballerina shape. You can keep it simple with a single shade or add something extra with an ombre style or accent nail. Short nails can be just as impactful as long nails! Just play around and experiment with different details.
Short Dramatic Nails
Just because you want to keep your nails short, you don't have to settle for a simple style. You aren't limited to basic, solid color – you can have texture, gems, and other embellishments to your manicure. They may be smaller designs, but they can make a big impact.
Bottom Line
These ideas are just a taste of the endless variety of nail art you can try! Use these ideas as a springboard to find more and more styles you like and keep experimenting! You'll soon have a backlog of nail ideas inspiration to carry you into every nail appointment.
Try out minimalism, bold colors, and trendy textures and check out celebrity nails to loosely copy designs. Your six-week nail fills will never be the same.
FAQs
Question: Do Ballerina Nails Look Good on Chubby Fingers?
Answer: All our fingers are different, and there are life circumstances that make your fingers swell and thin out. Pregnancy, hormonal changes, weight gain or loss, can completely transform the look of your fingers.
If you're a little self-conscious about your fingers, getting your nails done is a great way to give you a confidence boost and create an optical illusion where your fingers look slimmer. One of the best nail shapes to accomplish this is the ballerina nail – it creates the impression that your fingers are longer and, therefore, thinner. The elongated shape and tapered tip help make your fingers look less full and more graceful.
To keep your fingers from looking thicker than they really are, avoid square or rectangle-shaped nails. Unless you have naturally delicate hands, they can make the tips of your fingers appear bulky.
Question: What Is the Most Popular Nail Shape of 2022?
Answer: Nail trends come and go, but some shapes are universally flattering. Nail professionals place ballerina-shaped nails at the top of the list of most popular nail shapes for 2022. It's a modern version of a stiletto nail that creates length with a contemporary feel.
Celebrity manicurists have embraced the ballerina nail trend, and some of the most popular stars are sporting them. The fact that celebrities like the Jenners, Lizzo, Dua Lipa, and JLo clearly love the shape makes them a highly requested nail shape for 2022.
Question: Should I Get Almond or Ballerina Nails?
Answer: Almond nails are a universally flattering, classic shape that never goes out of style. If you're unsure which nail shape will look best on you, choosing an almond shape will never be wrong.
The ballerina nail is like the almond nail's trendy younger sister – they are both lengthening shapes that look elegant and graceful, but the ballerina is more modern and slightly edgy. Chances are, if you're worried about what form will look good, a ballerina nail is a good fit because it's flattering and slimming.
If you like the ballerina nail but find the length intimidating, you can go for a shorter variation. The size of the almond nail is beautiful, and adapting the ballerina shape to roughly that length is totally possible. It's an excellent opportunity to try something new while still taking baby steps.
Continue reading:
Almond Acrylic Nails Inspiration and Ideas: 25 of My Favorite Designs
Square Nails Inspiration and Ideas