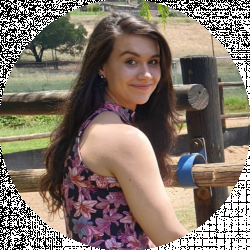 Latest posts by Christine Kent
(see all)
Women make a point of finding out if people around them appreciate what they've got. Compliments, gestures, and a little bit of attention mean a lot to them. Beautiful nail art is another tool that can help them get more compliments. A woman's look is unfinished without perfectly shaped and colored nail paint.
I've always taken good care of my nails and try to keep them in good shape in any way I can. My nail art obsession started as soon as I was old enough to wear nail polish on my nails. I had a small French manicure set in my baby blue and white bathroom growing up. Still, I remember sitting on the counter playing with my nail polish and wanting more elaborate designs. Red and gold nail paint have always been my favorite, uniquely inspiring me. Today, I am going to give you the best Red and Gold Nails Inspiration and Ideas that you will find extremely attractive and exciting.
Bottom Line Upfront
The intense red nail trend will help you stand out from the crowd, and the golden shade will add a shining luster to it, making you look more stunning. The red color symbolizes action, strength, energy, and passion, whereas gold symbolizes prestige, success, wealth, and prosperity. The red and gold nail art will blend colors to develop the perfect nail design that draws attention and makes you stand out in a crowd.
There are so many different versions of this look that you can easily create at home, and you won't get bored quickly.
Depending on how much time you have available and how much effort you want to put into it right now, it can be as simple or as complex as you want it to be. My favorite red and gold nail set is the Red and Gold Snow Flake Nails, as it gets me in the Christmas mood. And it looks stunning with all of my outfits which is a bonus.
My Top Picks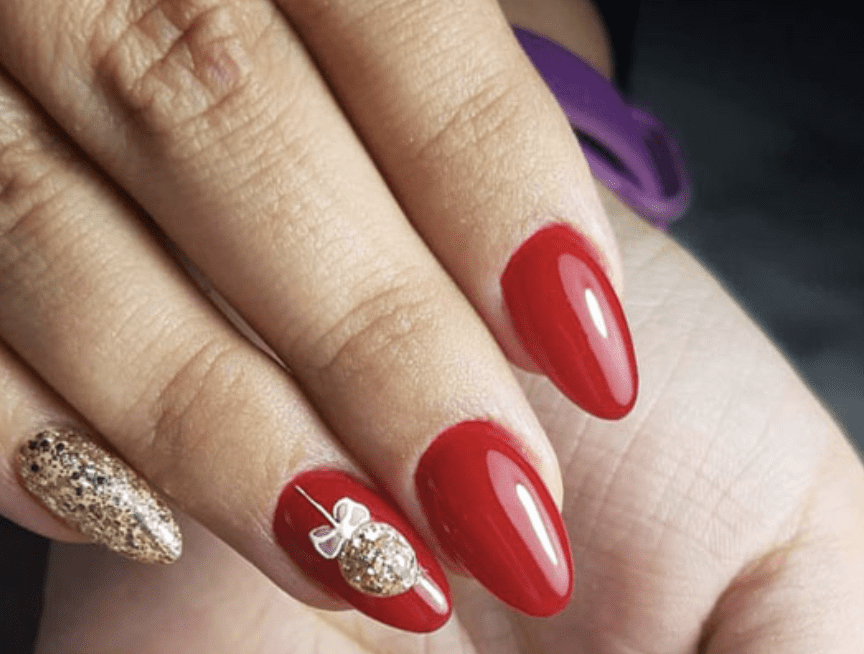 Discover some of the best red and gold nails ideas:
Selection Criteria
The red and gold nail ideas in this article are based on the following criteria:
A simple and quick way to get your nails done.

Unique ways to incorporate red and gold nails for a special occasion.

Nail art that can assist you in expressing your cultural values.

Tricky but affordable nail art that can be done in salons by professionals.

Nails that will highlight your personality and give you a bold, beautiful look.

Red is always a classy color, while the gold glitter adds more elegance. Even if you don't have time for your nails or aren't in the mood to spend time decorating them with intricate designs, you still can steal the show with this nail set.
Red suits every nail shape, whether it is oval or square, and every nail length, either long or short. No matter what you are wearing or how you are dressed up, these hues will always slay in every way. Apply the red shade to all of your nails except one, which will be covered with gold glitter. Alternatively, you could paint all of your nails gold and leave one nail red.
You can achieve a more appealing and refined appearance with just these two colors. Even if you aren't someone who regularly wears nail art, this effortless look is fun to recreate.
I adore red nail polish with some gold glitter on it. These colors have ultimately become enslaved to me. I believe that solely wearing these shades will enhance the beauty of your hands and give you a more assertive personality.
Do you have a colorful personality? Do you love to do your own nails, but you are not that great at creating finer details? If so, you might love this nail design, which combines half red and half gold to accentuate the wearer's style. It is so easy to achieve!
Sometimes, seeing my nails painted in the same color on every occasion becomes tedious for me. But the easy tutorials always make me find a way to be in the spotlight.
One of the easiest and best ways to do simple nail art is with a half-red and half-gold nail design. I know many women dislike having their nails painted in a single color. Don't worry; this easy tutorial will assist these women in achieving beautiful nails.
Apply a red shade to your entire nail, then a gold hue to half of the red nail. And if you want some touch of gold, add a sparkly stripe on the side of each nail and then put glitter gold on it. You can style it in a diagonal, straight, or transverse pattern. the application of some glitter nail enamel or nail polish shiner over it will boost its shining effect, and you're ready to take on the world. Come on, ladies! "Who run the world? GIRLS! Who run the world? GIRLS!"
The beauty of French manicures is that they can work with any skin tone, hair color, and style. The traditional manifestation look of a French manicure consists of a nude color on the nail bed and other stains on the nail tip. Mainly, sheer white color is used, but you can use some different colors of your choice like metallic or glitter.
I came up with many ideas and artwork for ombre nail tips in a French manicure. I prefer shiny and bright colors like red and gold because I believe they enhance the effects of manicures and make your hands look even more beautiful.
At-home French manicure nails are also very simple to achieve. You can get your favorite nail tips in any color you want with the proper technique. I like square-shaped nails whenever I get a french manicure. I clean or buffer them before applying paint to achieve a clean and shiny appearance.
Apply your favorite color to your entire nail, whether nude or red. I prefer using a sponge to apply a gold shade to the tips of my nails. With the help of the end of a sponge, I gently tap a gold shade on my nail tips and repeat it if required. It is as easy as that, and I have gorgeous-looking ombre nails!
To make sure you're perfectly outfitted for this occasion, don't forget to get beautiful and inspiring Christmas nail designs that will complete your look.
You have many options to get your nails done according to the festival. Like having gold shining star stickers on your red-painted nails. The Santa nails are super fun. A marble Christmas tree and decorative bells are some other ideas.
You can still have beautiful decorative nails at home if you don't have time to go to the salon and get your Christmas nail art. Simply follow the steps in the tutorial and enjoy your day.
I absolutely adore this nail set as Christmas is one of my favorite holidays. When I decorate for Christmas, I always go all out, even with my nails. Because I need to get that Christmas spirit going! What better way than to get Christmas-themed nails as well. Can you believe that Christmas is only six months away?
Chinese New Year is full of colors with rich visual inspiration. During the Chinese New Year, red is the color to get for your nails as it is associated with good fortune and joy. In contrast, gold symbolizes prosperity and wealth in Chinese culture. The traditional dresses and rituals all light up this festival exquisitely.
Dragon nail art is my favorite as it indicates the rage and power inside you. The other designs I like are the Chinese letters, horse, and rabbit. This year (2022) is the year of the tiger, and I can't wait to have a beautiful tiger nail art.
This nail look is one of my favorites. When I first began painting my nails in my teen years, I experimented with various techniques to create some unique designs. Still, I always ended up completely covering my nails in a red shade. But, over time, I've mastered this art, and it's now my absolute favorite.
In my opinion, this design looks best on square-shaped nails. After painting them red, use a dotting tool to add golden dots to your nails. The red base with gold dots resembles a night sky full of gleaming stars. This art gives you a funky, girly look regardless of your age. You appear to be pretty and more youthful.
For every bride, her wedding day is the most memorable. She ensures that everything is in order and that she looks stunning on her wedding day. The combination of red and gold is a great choice for bridal nail art. Perhaps it's because these two hues conjure up images of royalty, love, and romance.
The tutorial shows you how to create the perfect red and gold wedding inspirational nail art. These bridal nails are sweet and playful without being too much. Everything from primary nail paint to diamond-studded nail art will serve you well.
The addition of studs and gemstones produces an extra sparkle and texture to nails. The beautiful, sparkling diamonds give the red shade a royal feel by adding an incredibly stunning hue. I love this nail set as I believe on your wedding day, you need to stand out and steal the show, and what better way to do so than to get red and gold nails? Oh, and not to mention the gorgeous rhinestones that are added. It gives me princess vibes. Every bride deserves to feel like a princess on her wedding day!

This matte look is popular among those who dislike applying glossy or shiny nail polish. There is no requirement that your nail polish should be gleaming and glittery. It's okay to have your favorite type of nails; just stick to your choice.
Matte nails are simple to create because they don't require special tools or techniques. All you need is a good base coat in the color of your choice. Even if you don't put any rhinestones or art on your nails, matte red and gold nails will look great. Add a few gold flakes or shimmer to a red shade if you don't want a completely flat look. Simply apply your favorite matte nail color; they are stylish enough to draw attention and will not go unnoticed.
I think this nail set looks stylish, elegant, and expensive, and I would love to wear it with some blue skinny jeans, a black coat, some red high heels, and some added gold jewelry. Fabulous!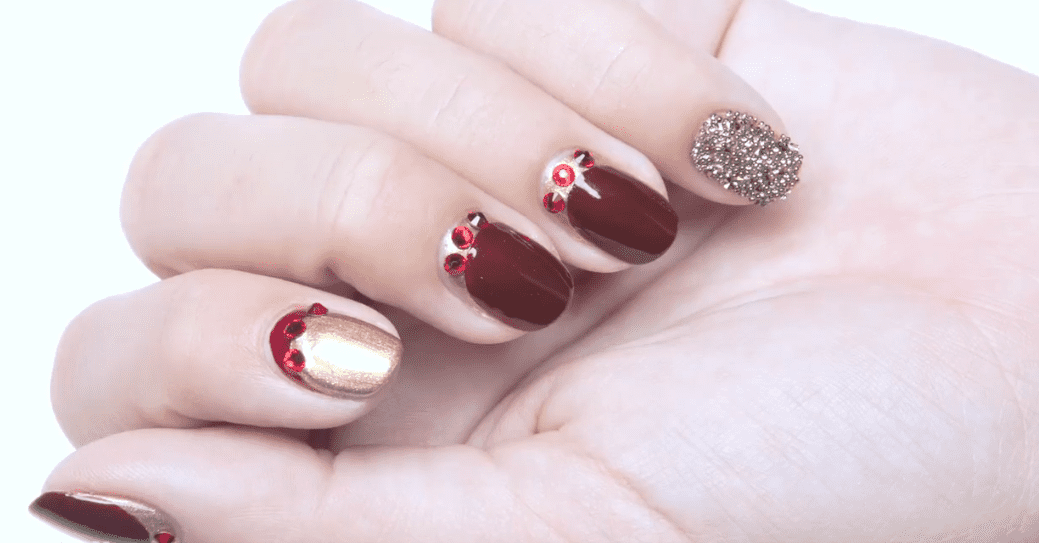 Which woman on this planet doesn't adore Swarovski diamonds? The glimmer and sparkle of diamonds around a woman's neck is a thing of beauty. But have you ever tried them on your nails? If not, now is the time to start incorporating them into your nail art.
A diamond is the most precious gem, adding radiance to your personality while also enhancing your natural beauty. Whether you wear it in your tiara, outfit, jewelry, or on your nails, it will make you feel like a queen.
I've found a stunning crystal nail art design for your inspiration. Because girls, although diamonds are our best friends, they are expensive, and we can't afford to lose one that is on our nails.
A wide range of nail embellishments is available, from simple rhinestones to Swarovski crystals. The red-hued nails with gold crystals are out of this world. I love assembling the shiny little crystals on my nails. By incorporating this combination, I feel no less than a princess myself.
You should try this art; I am sure you will adore it and not go back then after because these crystals will make you fall in love with them.
Your love for vampires will not let you give up your beautiful red and gold nails. This nail art is perfect for you if you are looking for some simple tips on how to create a vampire theme that screams creepy-crawly beings with an affinity for human blood.
The impressive Red And Gold Vampire nails are the perfect choices for Halloween.
The vampire-inspired red and gold Halloween nails, combined with fangs, dripping blood, and spider webs, will absolutely complete your Halloween look.
These creepy nails are perfect for those who love scary things on this ghostly holiday. This nail art idea will make you scream "vampire" even if you don't have fangs!
I'm not a fan of this look as it is a bit scary to me. But hey, if you are into these types of nail sets, get it! Trust me; you will be the center of attention at the next Halloween party!

Amazing red and gold zodiac nail art is super easy and also super impressive to create. These nails are perfect if you want to go for minimal but still have your nail look stand out. A little sparkle on your nails will make you feel and be seen as the fierce, regal, and amazing being you are.
I saw this beautiful nail art on Instagram and decided to get them for my birthday.
Red and gold shades both accurately and perfectly represent the element of my zodiac sign (LEO), fire, and the ruling planet, the sun. I used red nail polish and added a lion sticker to one nail and a zodiac sign to the other. The blending of red and gold gave the best illustration of fire.
The designs are perfect for anyone who wants to give their nails an exciting twist with a true identity of your zodiac. The attached link will direct you to buy the nail charms of your choice.
This is my favorite holiday nail set to get as it is simple yet so elegant. I feel that the red, gold, and white just go together perfectly. It is also very easy to achieve at home. All you have to do is paint your thumb, index, and little fingernail a glossy red. Your middle finger is a glittery gold so that you can flip off your haters in style( just kidding). And lastly, paint your ring finger a white with some glitter gold dot details and some red snowflakes with a white center. My definition of perfection! What do you think?
I love this nail art. Super cute yet very easy to do. Sparkly, dreamy look to have any time you want. The golden stars on red nail paint resemble a gleaming galaxy.
This design looks great on any nail shape, but my personal favorite is rounded. You can draw stars on your nails with star stencils and some glitter for added glitz.
This art can be created without the assistance of a professional artist. Simply learn how to apply it, and you'll be able to do it whenever you want a funky, adorable look. The only problem I have with this nail look is that the polish on the nail looks outgrown in this photo. But other than that, I really like this nail look.
Now for my leopard print lover ladies out there, this nail set is for you! Now you can rock your leopard print on your nails too! I love that the leopard print is toned down a bit with some red detail on the index and little fingernails. Those gorgeous added rhinestones just make this set even more awe-worthy. Don't forget the cute little red bow that is added to the middle fingernail. This set gets a yes from me! But you may need to head to the nail salon to achieve this nail set.

Okay, I'm sure you can see that I'm obsessed with Christmas with how many holiday-inspired nails I have included in this article. But doesn't this set also remind you of candy canes and gold-decorated Christmas trees? I love this set as I can easily achieve it at home with some white snowflake stickers and some red and white nail line art. I don't know about you, but I'm definitely set for this December when it comes to nail inspiration. Now I just need to get my matching ugly Christmas sweaters out!
FAQs
Question: Do you Always Need a Professional Artist for French Manicure Red and Gold Nail Tips?
Answer: No, you don't always need a professional to get such nail art. You can create this nail art yourself at home by watching tutorials.
Question: Does the Red and Gold Combination Look Good on Every Nail Shape?
Answer: Red is bold yet a traditional color, whereas gold is sparkly yet decent shade. You can create multiple nail arts with this combination for any occasion, no matter what your nail shape is.
Question: From Where can I get Nail Art Stickers and Stencils for my Red and Gold Nails?
Answer: You can buy them from cosmetic shops or online shopping stores like Amazon and Shopify.
Question: What do Red Nails say About you?
Answer: Red nails say that you are a confident woman who isn't afraid of getting what she wants. You like to be daring and bold and to make a statement. You go, girl!
Question: Do Red Nails go with Everything?
Answer: Yes, Queen! Red nails go with almost any outfit and any occasion except if you have a strict dress code at work and are forced to wear neutral-colored polish on your nails. Red nails make a statement and add that classiness and elegance to any outfit.
Conclusion
Who doesn't love combining the two most popular nail trends? It's probably not something that everyone loves, but it's a combination that works well. Red and gold nails are always on-trend, and they won't go out of style. The article has mentioned many ways to wear these colors on your nails. You don't have to stick with just one of them; try each of them for a fascinating look.
However, with such wonderful inspiration in this article, it won't take long for you to have these gorgeous designs on your nails. What was your favorite nail set in this article? Let me know in the comments below.
I would recommend going for the Red and Gold Snow Flake Nails,  as they just bring you in a happy mood and will definitely be a hit at the next Christmas party. Now you can go out and paint the town red girls and your nails too. And add some gold for that extra spiciness. Have fun!
Continue reading:
Red and Black Nails Inspiration and Ideas
Red Nails Inspiration and Ideas: 16 Bombshell Reds That Will Make You Swoon
Burgundy Nails Inspiration and Ideas
Red Ombre Nails Inspiration and Ideas: Inspo Before Your Next Salon Trip
14 White and Gold Nails Inspiration and Ideas That Anyone Can Pull Off