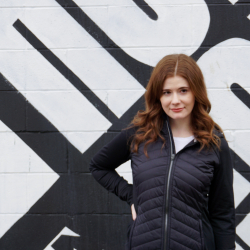 Latest posts by Kelsey Purcell
(see all)
Bold, sassy, and elegant, red nails make a significant impact. Perfectly matched with a crimson lip, red nails are a touch of glamour no matter what style you choose. It's the no-fail default colour for when you need an intense look that can go with anything. This red nails inspiration and ideas on this list cover everything from quirky patterns to dramatic, rich tones and modern twists on the classic red nail.
Don't think red nails are your style? This list includes things you never thought you could do with red.
If you're anything like me, you might shy away from the bright and bold tone – I was always worried it would overpower my redhaired self me. But red nails don't have to overwhelm your overall style. Instead, it can act as a perfect complement.
After dipping my nails in endless different red shades, textures, and finishes, I learned how adaptable red nails could be, and while all-over red is a powerful statement, it's only one style option in the world of nail art!
Bottom Line Up Front
No need to be a spicy vixen to pull off red – although there are some selections on this list if you want to embrace your inner sass. Is your style more delicate? You can draw inspiration from the designs and tone them down or try the more subdued options.
I gravitate toward the dark, gothic and black versions! So, the Gothic Red Nails are definitely going to be the next red manicure I rock – they're dramatic and bold but still temper the red shades, so I'm not too overpowered. As a redhead, I need to be careful about what reds I choose, so I have to live vicariously through all of you!
Criteria For This List
This list ticks a ton of boxes and includes:
Classic bold styles
Dramatic elements and shapes
Surprising designs, and
Detailed nail art to make you giggle and smile
1. Urban Stiletto Red Nails
Bring your manicure into the contemporary metropolitan aesthetic. The long stiletto shape and glossy, bright red are a modern and chic twist on the red nail. With black, white, and gold abstract art as a featured nail, these nails look like a work that belongs in an art gallery. I love the graffiti-like accent art! I think it adds a little bit of flavour and fun.
This version is bedazzled with ruby-like gems to tie the fiery shades together – but if you want to make this manicure a do-it-yourself version, you can skip the detail or put your steady hand to use.
2. Cherry Red Nails
Try out the adorable side of red nails with this cherry-inspired design! The simple cherry art on the nude nails is a perfect match to the solid red complementary nails to create a whimsical look for a casual manicure. I love the playful feel of this design and it somehow manages to still look mature and modern! I think the negative space aspect goes a long way in making this manicure feel more contemporary and not childish.
Switch up your fruit to include your favourites – like strawberries or red apples – and pair the style with a modern shape like these Ballerina nails to add some maturity to the quirky design!
3. Gold and Red Nails Combo
Red and gold are not just for festive Christmas nails. They go together for a glamourous bombshell style, and this manicure is a contemporary twist on the colour pairing. With glittering gold and red v-tips on select nails, these fiery nails are a bold choice. I think this is the perfect manicure for a classic glossy top coat to up the glamour factor.
You can choose this bright, shiny red or experiment with different shades to find the perfect match for you. But these beautiful Ballerina nails, in their glittering glory, will always have a dramatic impact.
4. Red Marble Nails
This manicure embraces several different elements, but the one that stands out separately from the rest is the red marble. We see marble nails in neutral colours, like blacks, greys, and nudes. But colourful marble is in, and it's well-deserved! I've always been hesitant to try out the marble design with colours, but this design just shows how to make the look work without creating a muddy shade.
These long Ballerina nails make the marble style stand out, and no matter what you choose to do with the other nails – keep them simple, try new elements, or do marble all over – your marble design will be eye-catching. Marble can be tough to do yourself, so perhaps leave this pattern to your nail tech.
5. Gothic Red Nails
For fall nails and beyond, these gothic-inspired nails have beautiful rose tones that look hyper-realistic! The black and red shades look rich and deep, and the metallic accents round out the manicure and make it look sleek. As I mentioned at the start, these gothic nails make my heart sing.
Maybe it's my general love of autumn and the rich dark tones, but no matter what it is, it's a stunning combination that I can't ignore. Keep it simple, or add the beautiful jewels for a luxurious twist. With the long Ballerina shape, these nails scream drama!
6. Black and Foil Red Nails
Black and red foil is a dramatic twist on the black and red nail aesthetic. The blend of red foil on a black backdrop mixed with the pearl finish of the solid red is a modern alternative to a glossy topcoat. Seeing inspiration like this reminds me how much more foil detailing I need in my life! This manicure reminds me of mid-2000s rock music and 2020s matte nail fashion.
The almond shape is timeless, classic, and practical – making this manicure easy to rock, no matter what your lifestyle. Depending on what you love, you can make the nails shorter or completely transform the shape to tone it down or turn up the excitement!
7. Animal Print and Red Nails
No red nail ideas and inspiration list would be complete without wild animal print nails. Whether you go for a fierce cheetah or leopard print like this manicure, or something trendy and playful like cow print nails, mixing these designs with bold red takes animal prints up a notch.
I love how much you can do with some simple animal print. With so many animals to choose from with cool textures and patterns in nature, the look will always be unique. You can keep your animal print on a neutral background or paint all your nails red and add the cheetah print on top for a modern twist!
8. Geometric Print Red Nails
Love a ton of colour and can't pick just one for your mani? Geometric prints are trendy designs that incorporate multiple complementary shades in one style. I love how modern and daring they are, but this version also feels soft. The beauty of geometric prints is that there are no rules, and no pattern will look exactly the same, even in the same manicure!
Using red as an accent colour makes a significant impact alongside the muted pinks, blacks, and whites. Love to do your own nails? Geometric designs are easy to do at home because they're so much creative license. Just pull out your dotting tools, and nail tape, and let your inner artist come out.
9. Bold Contrasting Red Nails
You don't have to give up bright colours to get a stunning red manicure! Go full contrast with bright turquoise – it's a perfect contrast and gives off tropical vibes you didn't know you could have with red! I'm definitely going to play around with other bright colours and red to find some more stunningly bright combos.
This version has some neutral animal print to tie everything together, but you can skip it for a more simple, vibrant style. This classic almond nail is simple and lets the design stand out the most.
10. Spicy Chili Pepper Red Nails
Go red hot in a playful way! A hot chilli pepper design is a quirky take on the red nail. With a nude background, these red peppers stand out. You can make pepper designs a little bigger if you want more impact on sight or create a few accent nails to turn up the heat. I think this is the perfect summer design to match the sweltering days!
The longer your nail, the more space you have to play around with the design – these almond nails can be adapted to stiletto or Ballerina shape to give you more room to display your art.
11. Magenta and Red Nails
Want a more muted colour palette? This deep red and smoky magenta colour-blocking design is a contemporary twist. Using fluid circles and ovals to create the pattern it's a softer alternative to sharp lines and edges. I would've never thought to use these two shades together, but this creates a retro vibe that I can get behind.
Bonus: if you love to do your nails yourself, this is a forgiving pattern – even if you "mess up" the blocking, who will ever know?
12. V-Tip Red Nails
Simple doesn't mean boring! An all-red manicure with a modern white v-tip accent is an eye-catching detail that creates the illusion of longer nails and slimmer fingers. Add some gemstones, too, and your nails will suit any glamourous party or event. I love this for a contemporary evening look, whether for date night or an evening out.
This style is easy to do at home with some nail tape, but acrylic or gel varieties would be a good choice if you want longer shapes, like a stiletto or Ballerina nail.
13. Glittering Red Nails
Red glitter is next-level elegance – no style icon can resist sparkles and shine! These sparkling French tips add a touch of dusty pink to modernize and soften the style. A snowflake design gives it a winter spin, but these nails are for more than just the festive season. I love the red and pink combo! Although these two colours are so similar, putting them together isn't something I've ever done, but now I'm tempted.
Glittering red nails can be understated with French or v-tips or have a full hand of sparkling fingers to draw attention and make you feel chic and fresh.
14. Pink and Floral Red Nails
A softer take on the red nail, this manicure takes floral elements and light pink to embrace the delicate side of red nails. The pink nails use red dots to pull the whole style together, and the neutral glittering accent nails add a touch of luxury. This dainty look is going to be a go-to style for the transition into summer.
The squoval nail shape plays to the simple and soft vibe of the design and draws more on practicality than it does drama.
15. Bold Texture Red Nails
Red nails are spicy on their own but add some fiery texture, and they become out of this world bold! Matte nails are having their moment, and fierce red suits the style so well. Add gemstones, jewels, and textured flowers on top of that, and you get dramatic, contemporary nails others will want to copy. I've always been intimidated by bright cherry reds, but this matte look makes me want to throw my caution to the side and try it anyway.
The long stiletto shape matches the vibe of this nail design, but almond nails or Ballerina nails would look stunning and edgy, too!
16. White Texture Red Nail
3D nails are everywhere this year, but if you want to start small, this minimalist textured rose design is a subdued feature that can make your manicure feel more romantic. Less is more, and with bright solid red as an all-over colour, the textured rose can really stand out. This look reminds me of Beauty and the Beast in the best way!
Since the texture is subtle, you don't have to worry about the nail getting in the way or potentially ruining or breaking the nail. It can adapt to your lifestyle whether you use your hands a lot or not.
FAQs
Question: Are Red Nails Professional?
Answer: Thinking about rocking red nails at the office but worried that they're a little too much? Just because it's a bold shade doesn't mean it doesn't fit well in the professional world. It's a classic colour, and there are so many different shades and styles of red to choose from.
If you need a power colour, confidence for your next meeting, or just want to feel like a boss, red is a passionate colour that can make you feel more courageous, strong, and energized.
Question: Are Red Nails in Style for 2022?
Answer: You should definitely expect to see all shades of red this spring and summer! From orange-tinted shades to neon to rose red and ruby shades, red nails will be everywhere in 2022.
They will be the go-to shades to show off sassy moods and strong emotions. Not only for Christmas cheer or Valentine's Day, but red nails are also a fiery trend that will endure every season!
Question: Why are Red Nails Classic?
Answer: From Marilyn Monroe in the '50s and '60s to the annual Met Gala, red nails are always all over celebrity nails. There's something about red nails that gives them the ultimate staying power in the world of fashion and aesthetics.
It's the ultimate colour and has been one of the most alluring, scandalous, fun, and sophisticated shades for a touch of class and drama. As a nail colour that can communicate so many different things at once and fit so many situations and contexts, red nails are here to stay.
Final Thoughts
Red nails are unique in that they can fit almost anywhere, and a bold red nail can kick up even the most conservative looks a notch. But the evolution of the red nail in the world of nail art means that it can do so much more than be a bold statement.
On top of the Gothic Red Nails I love, I also adore the V-Tip Red Nails for an elegant, simple twist on the gorgeous red nail. I can imagine myself wearing them for every day or a sophisticated soirée!
There are whimsical, understated, unique, and dark ways to use red to suit anyone's personal style. Even if you don't identify with the drama of red nails, there are so many undiscovered alternative designs that can make you a lover of red nails in no time.
Love this article? Read More: