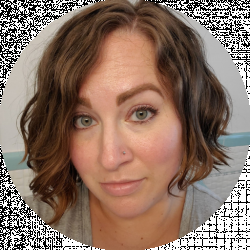 Latest posts by Elizabeth Ramos
(see all)
Let's just get this out of the way now: simple nail ideas don't mean boring nail ideas! You might prefer simple nails for the same reasons I do.  They're classic, they're understated, and they're easy to recreate at home.
Maybe you prefer a minimalist vibe, or your job allows polished nails, as long as they're simple. Perhaps you just want to switch it up and you're looking for inspiration.
When you think of simple nail ideas, think of other terms, like 'uncomplicated,' or 'effortless.' Basic nail styles are easier to pair with more outfits than busy or flashy ones.
If you work with your hands a lot, you don't want to ruin an elaborate design or knock a crystal loose from your nail! There are so many reasons to try simpler nails, and you can still have pretty hands!
Over the years, going to the salon or doing my nails at home, nail design has been a way for me to express myself. I just feel like me with a good set of nails!
From lacquers and gels to press-on nails and PolyGel, I've dabbled in many materials and techniques over the years. On occasion, I love using glitzy details like diamonds and foils! But I mostly I prefer a simple, or less complicated, nail style.
In this post, I'll share with you what I look for in simple nails, and then give you a full run down on different ideas to inspire you!
Bottom Line Up Front
Simple nails never go out of style, because they aren't just one thing. You can have simple nails in ever trend, color, nail shape, and design! We'll look at several examples of the following:
Simple and Neutral Nails – this is a classic pairing that works great for all nail shapes, lengths, and skin tones
Simple Color Palettes – go with a simple color combo and play up other elements of your nails, like design or length
Simple Designs for Nail Art – you don't have to skip a cute design just because you have simple nails
Selection Criteria
Variety
I looked for simple nail ideas in all different nail shapes and lengths, as well as different materials, from polishes to acrylic tips. I looked for ideas from both hobbyists and professional nail technicians.
Because 'simple nails' feels like an abstract idea to me, I looked for as many different ways you could interpret that idea. I wanted as many examples as possible for the most people. Depending on your taste, I hope there's something for you on my list!
Minimalist Designs
Simple doesn't mean your nails have to go undecorated. However, I didn't want to go over the top with designs in this list. Basically, if I chose examples with designs or design elements like glitter, it's the least amount. Think of an accent nail. However, I wanted to show ways that designs could still be incorporated into a simple nail look.
Color Palette
I wanted to reinforce that this isn't a neutral nail ideas list. I looked for ways to use color in simple nail styles. While most of the colors I chose are more muted or on the neutral side, I also chose bolder colors to show how keeping the whole look simple helps you pull off brighter colors from day to day.
Simple and Neutral Nails
Matte Nude PolyGel Nails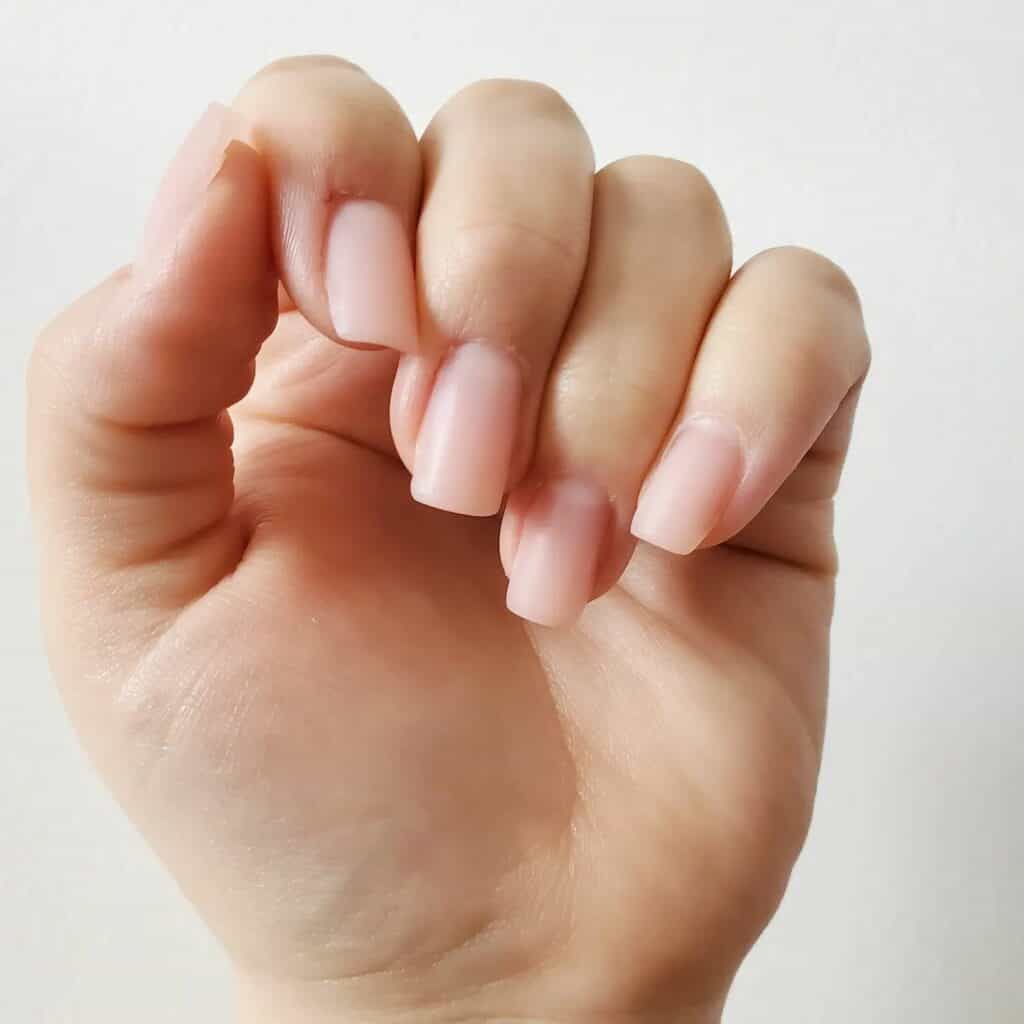 Sometimes a low-key classic set of nude nails is refreshing. This is a PolyGel set I did on myself when I needed a break from gel polishes and bright colors. PolyGel is great because it comes in a variety of colors and all you need is a topcoat.
I went with a square shape and a matte topcoat for a modern twist. This set was made with Modelone Poly Nail Gel.
Glossy Nude Mountain Peak Nails
So, I've heard short stilettos both mountain peak and short almond. Mountain peak makes more sense to me because almond nails have rounded points. I love the look of mountain peak nails!
They give you the drama of stilettos but are much more manageable. Pair them with a glossy nude finish and you can wear them for weeks between salon visits!
Simple White Acrylic Nails
There's nothing as simple and striking as white nails. For myself, I find stark white as intense to wear as gold nails. I prefer a warm or neutral-tone white with a shorter nail.
It just feels softer and more wearable with my skin tone. This set here is lovely with a thicker, medium-length square cut. I also love the look of a long coffin nail in white with a matte finish.
Versatile Gray Nails
Gray is one of my favorite neutrals! Gray is basically a mix of black and white, but it's much more than that! You can find warm, neutral, and cool tones of gray. Try going with a gray that pair well with the colors of your wardrobe.
This set is a dark cool gray which pairs beautifully with the wearer's skin tone. They went with a medium-length coffin or ballerina shape and a glossy finish. You can get away with wearing this kind of set in a professional setting while still being a little dramatic!
Matte Black Coffin Nails
I love black nails but rarely do I wear them. They are a bold choice even if they're neutral. Sticking to a simple nail design is a great way to try out black nails if you haven't before.
I feel like glossy long black nails can feel more like claws, but if that's your thing, own it! For me, I won't go longer than medium length and stick to a square or coffin shape, like this example. Matte is wearable for every day and makes the style feel simple while still being interesting.
Short Gel French Manicure
You can't go wrong with a classic French manicure! There are so many ways to do this look and I think it's done beautifully here with builder gel and gel polish.
It looks professional enough to work but still elegant enough for a wedding or other special event. Even if you add some detail to this simple nail design, like glitter or another a bold color, it still looks minimalistic and sleek.
French Fade or Baby Boomer Nails
This is the look that got me into PolyGel nails. I had been doing French fades for a long time with a sponge and lacquer, but I couldn't get it quite right.
PolyGel gave me the control I needed for the fading effect. While I haven't tried doing the style with gel, I hear it's pretty easy to do. Here, the nail tech once again does it with builder gel over the natural nail.
Iridescent Neutral Nails
If you want simple and easy to create nails that pack a punch, consider a metallic nail polish! I love iridescent polishes because they shift in the light, so sometimes you don't even notice the effect in the color.
This nail polish lover created this almond-shaped look with 2-coats on her natural nails for a sweet, subtle, and feminine look.
Simple Color Palettes
Color Block Nails
If you're craving color but want to keep things simple, try color blocking! You can play with the pattern but it never gets too busy. This is a great way to try your hand at adding design for the first time or incorporating a bright color to a neutral nail. Here you see it in gel on a short rounded nail, which also helps tone down the look.
Gradient Press-On Nails
When it comes to simple nail designs, I don't think you have to stick to just 1 color or even 2. Gradient looks simple because it's multiple shades of the same colors. You don't feel overwhelmed when you look at it. Also, if you like color but want something simple to create, try press-on nails.
I make my own with these forms. The set you see here are from a shop. Small creators make stunning press-on nails that you can take off and reuse a few times. They're great if you have a special event coming up but don't want to be stuck with a nail design for weeks on end.
Two-Toned Nails
Two-toned nails are a new trend from the last few years. It's subtle but makes a statement at the same time. I find that I don't really notice that both hands use different colors until they're both in front of me!
You can go super elaborate or super simple with this trend. Here, the wearer has short nails that look like a something between an almond and mountain peak shape. Keeping them short lets you to go bright with the colors! But notice that both colors are warm toned, which help the look stay simple.
Glossy and Matte Monochromatic Nails
What a fun look! This works because it's hardly noticeable until the light hits the design just right. I would do this look by painting the nail, finishing it with a matte topcoat, and then creating the design with a glossy topcoat. The gloss gives it that a modern monochromatic effect.
However, there are tons of techniques to do this. Don't go overboard with designs on every nail, though. If you're truly here for simple nail ideas, stick to no more than 3 nails on each hand, like they did here.
Vertical Ombre Nails
This is such a fun take the popular ombre nail trend! A vertical ombre lets you play with 2 colors. It's pretty easy to recreate, and you can go bold while still staying simple. I love the neon colors in matte on a natural, rounded nail. If you prefer longer, that'll work as well, but I love the balance of this whole look!
Solid Accent Nail Color Combo
Another way to play with color while staying simple is with an accent nail. You can see the glossy black mountain peak nails pair nicely with the glossy purple accent nail! It's a strong combination but not too much. The solid coloring means you can play with other elements of the look, like the trendy nail shape and a striking color combination.
Simple Designs for Nail Art
Simple Half-Moon Design
I love, love, love all of the simplistic, modern nail designs on this creator's account! However, this one knocked it out of the park for me. She recreates this look in a variety of base colors, design colors, and both glossy and matte finishes. Each look is completely different, but this half-moon design is what sells it! What a great way to add some interest to a simple nail.
Water Decal Accent Nail
This nail set couldn't be sweeter, from the almond-shaped acrylic nail to the intricate flower designs. I love that the nails look natural, even when they used acrylic. The nude color allows the flower decals to shine!
The flower design is actually a decal and it's super simple to try at home with water decals. When I discovered these cool nail art tools, I was blown away! So easy to use!
Glitter Accent Dip Powder Nail
Don't think you have to give up glitter if you want simple nails! The key is once again the accent nail. My example has white mountain peak nails and a purple glitter accent nail, all made by a nail enthusiast who loves dip powder. While I've never tried dip powder, I've noticed that glitters seem to have more depth when you incorporate them!
Gold Foil Dip Powder Nails
Use gold metallics in your simple nail designs by going super subtle. The artist here used dip powders to create a short nude square shape. In a very disciplined way, they added just a touch of gold foil to each nail. If you want to recreate this look yourself, it's super simple to do! I love how easy nail foils are to use, and they take seconds. These are the ones I use.
Simple Diamond Nails
Did I include diamond nails on a list of simple nail ideas? Yes! Because if you do it right, diamonds can accent a simple nail look. The key is to go super small (SS5 or SS6) and keep the nail nude. I went through a major diamond nail phase and I figured out that you must go with Swarovski crystals.
Also, you can't just buy them anywhere, because lots of places sell fakes. The fakes can be pretty, but they just don't shine the same way, and they fall off your nail. I've had a great experience getting Swarovskis at Michaels when they have sales!
Frequently Asked Questions
Question: What's the Most Common Nail Design?
Answer: That really depends on who you ask, but I see the French manicure the most. It's one of the easier designs to do, and there are so many different ways to have fun with it! You can really adapt the French manicure to fit almost any taste.
Question: Can Acrylic Nails be Short?
Answer: Yes, acrylic nails can be short! Acrylic is most often used for long nails because it holds up well, but it works really well with short nails, too. Use it to add strength, thickness, and durability to your natural nail.
Question: Which Nail Designs are the Easiest to Create for Beginners?
Answer: I think that the easiest ones are the flower and heart. So you have time to work with the product, use gel. Simple nail designs are a great way to dip your toes in nail art while still having nails you can be proud of! Try them on a solid-colored nail for a nice touch.
Question: What is PolyGel?
Answer: PolyGel is a great alternative to acrylic. The easiest way to describe it is that it has the best qualities of both acrylic and gel. But it's not a polish! Squeeze it out of a tube without any mixing or measuring. You mold it with a brush like acrylic, but it won't harden until you cure it under and LED or UV lamp!
My Final Thoughts
Lots of people think of neutral or nude nails when they hear 'simple nails,' but that's just the tip of the iceberg. When it comes to simple nail ideas, neutral is an elegant option.
You can also keep things balanced by playing up a dramatic nail shape or bright color palette with a simple pattern or design. A neutral or nude color palette also lets you have a more bold design without things looking busy.
Did my simple nail ideas inspire you to get creative with your next set?
Continue reading:
Cute Short Nails Inspiration and Ideas
Nude Nails Ideas and Inspiration