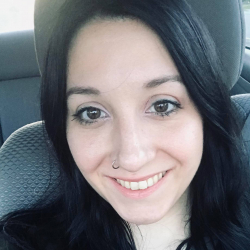 Latest posts by Stephanie Jensen
(see all)
When we think of a manicure, we often think of red nails. The earliest manicures in history used red nail polish. As the manicure evolved, so did the way we see red nails. Now, we combine different colors with red, such as black.
Red and black is my favorite color combination. It's such a vampy yet chic look, and seeing these two colors together makes my inner goth happy.
Do you want to rock a red and black manicure? If so, here are some of our favorite red and black nail ideas as well as other designs and tips to use as inspiration.
Red and Black Nail Design Ideas
Since red and black is such a classic color combination, there are many designs you can achieve with these colors.
Geometric
Geometric designs can vary between lines, dots, and shapes. Your red and black geometric look can vary between minimalist to intricate shapes. Geometric designs have been trending because they're eye-catching yet appropriate for most office settings.
Animal Print
Animal prints are one of my favorite designs ever. There are so many stunning prints, with leopard print being my favorite. I've also seen some cute animal prints utilizing red and black, such as the dalmatian print. If you're feeling artsy, I suggest trying to do animal prints yourself!
Ombre
If you're not sure what other way to use red and black in your manicure, I suggest trying a red and black ombre. This look is always trending and will especially look vampy. I also think this look is perfect for the goths who want to look grown-up (that's me). I especially love the way a black and red ombre looks with stiletto or almond-shaped nails.
I suggest getting an ombre from a salon for the best results. But if you want to do this DIY, I suggest painting one-half of your nails black and the other half red, then blending the colors with an old makeup sponge.
Gradient
You can also opt for a gradient. While an ombre blends two or more colors, a gradient shows the progression of light to dark. For this look, I suggest starting with a bright red and slowly blending it to black. With the right amount of contrasting colors, this look can be really chic.
You can easily do this look DIY. Start with a bright red at the tips, a line of medium red underneath, then a line of dark red, and end with black at the bottom. Blend the colors with an old makeup sponge.
Corset
Corset print is a zig-zag line print, similar to the corset ties. The corset print looks especially alluring on nails. If you do a red nail with a black corset print, you will have the perfect autumn nail look.
Hearts
Who said the red and black color combination has to be vampy? You can deck your nails out in red and black hearts for a cute Valentine's Day look. If you want this look, I suggest painting your nails nude or a subtle pink to emphasize the hearts more.
Floral
Floral nail art is always classic and romantic. There are many flowers you can do in red and black. Black and red roses are a staple, though you can also choose amaryllis, alstroemeria, chrysanthemum, anemone, zinnia, marigold, and poppy. Since I'm writing this in April, any of these flowers will be perfect for the season.
Flames
When you think of flames, what color do you think of? Red, right? There's no look more mind-blowing than red flames. And on a black background, this look will be even more intriguing. If you want a red flame manicure, I suggest going to a professional for a more detailed look.
Plaid
Plaid is a classic pattern where you can use red and black. While you may be tempted to get this look at a salon, you can easily do this at home. Start with a black base and apply red zig-zag lines with red polish.
Checkered
Checkered print is also a classic pattern that can use red and black colors. You'll get the best and cleanest look by going to a professional. But you can still get this look by taping a checkered pattern on each nail and coloring in a square with either red or black and alternating the colors.
Bandana
I've been seeing this look more frequently and I think it's so cute! Think of the classic 90s bandana pattern and apply that to your nails. Since classic bandanas had a red and black design, this is also a great look that uses both colors. I suggest getting this done professionally, though I wouldn't be surprised if there were press-ons or nail art available in this pattern.
French Tips
Red and black French tips look totally chic. The combination options are endless! You can do black tips on a red nail or vice versa. This is a look you can also do yourself.
Characters
Do you really want adorable nails? Think of your favorite cartoon characters. Are any of them red and black? Or maybe you can apply cartoon art on a red and black manicure? Some cute examples I've seen include Hello Kitty, Powerpuff Girls, Mickey and Minnie Mouse, and Winnie the Pooh.
Text
Calligraphy and text are interesting additions to any manicure. You can find text nail art, stamps, and stickers that you can easily attach to your red and black painted nails. You can use a nail pen and write your own messages if you prefer. If either idea is too intimidating for you, ask your nail tech if they can do a font for your next manicure.
Fruit
Think of all of the red fruit out there? Cherries, strawberries, apples, raspberries, and even plums make for cute nail art. You can easily add these fruit details on black nails. The result is not just a stunning look but one that looks delicious!
Halloween
Halloween is my favorite time of the year and no color combination is better for the season than red and black.
From vampire fangs to blood, there are so many Halloween looks you can do with the colors red and black. You can also choose precious designs, such as moons and ghosts, to fierce designs such as spiderwebs. If you want to have edgy Halloween nails all year round, I suggest choosing a spooky evergreen look such as scary spiders.
Swirls
Swirls are seriously trending right now. They add an artsy effect to any manicure. The red and black color combination will still make your nails look edgy. Your swirls can be as simple or abstract as you want. Plus, you can easily do this look DIY.
Other Tips When Getting Red and Black Nails
Are you not feeling any of these design ideas? I suggest looking in your closet and finding your favorite red and black outfits. See which patterns or styles are featured in the clothing. Take the clothes to your nail tech and see if you can replicate that look on your next manicure.
Our Favorite Red and Black Nails
Do you want more red and black nail ideas? Here are some of the best ones I found on Instagram!
These nails are perfect for Valentine's Day! Every nail is different — one is red glitter and the other is black glitter. A couple of hearts and one has a rose design. A couple of nails also have multi-colored foil. The model here has coffin nail acrylics, so it's best to take this look to a professional. Credit: @nailedbymary.
Okay, these are awesome! These nails are long stiletto acrylics and alternate between glossy red and black. But the best part of the nails is the piercing accents they have. Some feature barbells, studs, spikes, and one even has a chain! This look is super crazy, perfect if you love the goth look (like me). Alternative-style nails are becoming trendy and I'm loving this look. Credit: @finger_paints_nailart.
If you want to rock the red and black nail look but want more of an artsy look, I suggest getting these nails. These nails have a foil-like design, and some even have purple swoosh glitter. This look is more on the extreme side but is more appropriate for a special event. I also see this looking great as winter nails.
Because of the complexity of the look, I suggest going to a nail tech and getting acrylics for the best results. However, these nails are press-ons, so if you get the right set then you can put them on DIY. Credit: @bridiemoorenailartist.
If you want the geometric look but want something on the chic side, I suggest getting these nails. Most of the nails are full red with black lines and gems, though one nail features red tips. @lisa_kon_ says these are gel, though you can get the same look with acrylic. These nails are on the longer side but aren't crazy long. They're also almond-shaped, so they look lovely.
This is such an awesome red and black ombre! It's on the darker side, so it looks super gothy. I suggest this look if you want something red but not too red.
These nails are long and square acrylics. But since this look doesn't require a lot of colors, I can see anyone doing this look DIY. As an alternative, you can rock these nails with a coffin, almond, rounded, or stiletto nail. Your nails also don't have to be this long to pull off this long — I can see the ombre still looking stunning with medium or even short nails. Credit: @nailedbyjulieta.
If you really want to make your red and black nails artsy, this has to be one of the best swirl nail looks I've seen. The swirls are on the side of the nail and it looks super sexy. While the model here has acrylics, you can do this look DIY with the right polishes and skill. The model here has coffin nails, though I see this looking good with any nail shape.
This look will be perfect for fall and Halloween. But if it were me, I would get this look any time of the year. Credit: @nailswithmelissa_x.
Whether you do this with acrylics or with your own polish, you can easily do these red and black alternating nails. And I have to say, the lizard is precious! Credit: @wiccans_nook.
I love how this manicure has an accent red and black plaid nail! The rest of the nails are acrylics with red and black French tips. All of the nails have a matte finish, so they look even chicer. These would be the perfect Christmas nails, though you can technically do this look any time of the year. The model here has long coffin nails, but I can see anyone pulling this same look with any nail style.
I still do recommend you go to a pro for this look. Credit: @courtneycantwell_nails.
If you want something spicy and unique, I suggest going with this look! Some nails feature a corset print, some nails feature flames, and some nails feature both! These nails look sexy yet extreme at the same time. I definitely recommend going to a nail tech for this look. Credit: @daisysnailsandbeauty.
I'm calling these "floral nails" because a few of them feature roses. Otherwise, there's a lot going on here. All of the nails feature mind-boggling red and black designs with gold and gem accents. You can tell a lot of artistry and time went into this look. The press-ons are long and almond-shaped. Credit: @nailsbyshelly.a.
This is a cute look if you want a simple red and black look. You can take this idea to any stylist and you can do this look yourself with the right polish. I love these nails because they're dark and spooky, yet can also work for a special event. Credit: @nailsbyreese22.
If you truly want fancy Cruella nails, I suggest going for this look. One hand features black tips and the other features red tips. Because of the intricacy of the tips, I suggest taking this look to a professional. The model here has long stiletto nails. They seriously scream goth vibes, so they're perfect for Halloween. Or if you're like me and live for spooky vibes every day, this can turn into your regular nail look. Credit: @makeupbylouisahellyer.
If you want a simple yet artsy look, I suggest a look like this. @anastasia.2402 looks like she got a gel manicure in red and black with a middle line of silver glitter. The design is very simple but it's still chic.
Who said your red and black nail look has to be on your fingernails? I love this look on the toenails! The nails feature a red and black ombre with gold foil accents. With the right polish and artistry, you can do this look yourself. Credit: @loredana_nails24.
This look is beautiful and adorable! The nails are red with black dots. They remind me of a ladybug but the red color has a vintage look to it. These nails are gel but you can do this DIY with the right red and black polish. Credit: @thevintagenailshoppe.
I can't find anything else to call these nails other than "dark art." These nails feature a little bit of everything: crocodile print, all-seeing eye, heart, checkers, flames, a little devil, and even more.
These nails take the "baddy nail look" to the next level. This is definitely a beautiful yet scary look if you're into the darker things — or if you want a rocking evil look for your next manicure. The model here also has long and square nails. You'll definitely want to do this look on acrylic and by a professional nail tech. Credit: @nailedbyraymie.
@longprettynailsx did a cute red and black manicure with Taurus astrology themes! Examples include the word "Taurus" in gold and various other artwork and symbols. There are also gold glitter and gem accents. The nails are long coffin nails, though I can see any shape working for this look. You'll definitely want to go to a nail tech for a similar look. I'm a Capricorn, I wonder what my astrology red and black nail design would look like.
These are cute if you want a simple retro nail. The nails are red with a black 90s design in the bottom corner. I can see this nail look working for a big event or even for something like prom. Credit: @diva_hair_and_beauty.
These press-on nails are head-turners! I think this red and black marble design is stunning. And since they're press-ons, you can get a sexy nail look while attaching them DIY. These nails are classy enough for a big event; they're short and square, so you don't have to worry about the nails being too long. Credit: @nailsxxcass.
Last but not least, I had to include these super cute leopard print nails! Leopard print is my favorite print ever, so I'm in love with this nail look. All of the nails are in red and black with one leopard print accent nail. The leopard print accent nail is also red and black with silver glitter details. The nails are square and aren't too long. This is a nail look that I could totally pull off! Credit: @lausclaws85.
FAQs
Question: Do red Nails Symbolize Anything?
Answer: Red nail polish symbolizes glamour and always makes a statement. As a whole, red is a bold color that symbolizes fire, passion, and confidence. Red nails will make you look dramatic and daring. If you tend to go for red nail looks, you likely love the spotlight and are very outgoing.
Question: Do Red and Black Nails Symbolize Anything?
Answer: Red and black is a very sexy color combination. These two colors together represent mystery but also femininity. That's why this color combination is so popular among women.
Question: What Other Colors Look Good With Red?
Answer: Some other colors that match red include green, blue, and purple.
Bottom Line
Red is the quintessential manicure color. But if you want to take your red manicure up a notch, I suggest mixing black in. There are so many red and black nail looks and designs to try. From animal print to geometric, I tried to find all of the unique designs for your inspiration. And if you're not sure which look to try, I think the red and black ombre looks best. Some of these looks you can do DIY while others will require you to go to a professional.
I hope I helped you find your new favorite red and black nail look!
Continue reading:
Red and Gold Nails Inspiration and Ideas: Bring Out Your Inner Goddess With these Red Nail Ideas
Red Nails Inspiration and Ideas: 16 Bombshell Reds That Will Make You Swoon