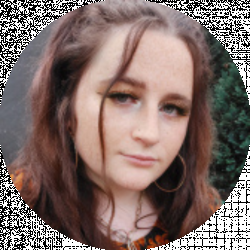 Latest posts by Lou Siday
(see all)
There is just something effortlessly stylish about matte nails. The no-gloss manicure instantly makes a look feel fresh and edgy, with celebrities and online personalities frequently opting for a matte finish. Plus, anyone can get matte nails by simply buying a matte top coat. Applying a matte top coat to a manicure instantly transforms the look.
Matte nails are great for darker colors, but they can also look amazing in lighter, pastel tones. In this article, I will look at different colors and trends that use the matte finish. I hope you get a whole load of matte nails inspiration and ideas for your next manicure!
Matte Nails Up Front
Matte nails create a flat, smooth finish to a manicure. There is no shine to the nails, and this brings something a little different to the manicure.
Matte nude nails are perfect for day-to-day looks. It is a classic choice of manicure and looks really sophisticated.
Matte black nails add a little bit of drama to your look. A bold choice of matte nails, it is a look that will always stay in fashion.
Matte red nails are glamourous and classic.
Matte blue nails bring a pop of color to your look, whilst still incorporating the matte nail trend. There are loads of beautiful blue shades to pick from!
Matte green nails create a fresh and fun look.
Matte pastel nails are a great way of celebrating the spring and summer seasons in a fun way.
Selection Criteria
When picking the matte nails to include on my list, I made sure to pick a range of styles and colors, so there is something for everyone! A lot of these manicures can be recreated at home, and they are all done by professional nail artists and to the highest standard.
So, let's get to it! What are the best matte manicures that are trending right now?
Matte Nude Nails
Matte nude nails are a classic and classy choice. It is a versatile look, allowing your manicure to go with any outfit you choose.
Let's look at my favorite matte nude nails.
Matte Nude Ombre Nails
The ombre trend is here to stay, and these nude ombre matte nails look properly stunning. They ooze glamour and sophistication, and are the perfect choice for a versatile manicure.
The long coffin shape really adds to the class of the look, and the matte top coat highlights the quality of the manicure.
Almond Nude Matte Nails
This nude color is a great choice for matte nails. It adds a bit of girly glam to your look, whilst not going too over the top. I really like the almond shape of the manicure, too, it is the perfect length for a more natural nail look.
Pink Matte Nails
This beautiful pink matte manicure is absolutely stunning! It's a real fancy look, and the color is super cute. The 3D effect is really cool and kind of looks like that textured wallpaper you get in old houses. I don't mean this in a bad way, either, I love old houses!
Nude Abstract Matte Nails
This manicure is super fresh and modern, using a nude base color with beautiful white detailing. If you are wanting to recreate this at home, get yourself some thin nail brushes or gel nail pens. This will allow you to add your own detailing to your nude matte nails!
Matte Black Nails
I honestly think that you can't go wrong with matte black nails. A matte black manicure is pretty dramatic, yet still incredibly sophisticated.
Let's look at ways to wear matte black nails to create maximum sassy energy.
Long Black Matte Nails
Black matte nails are just effortlessly cool, and the length of these nails makes the look even more dramatic! The addition of a line of crystals adds a little bit of extra bling, lightening up the manicure slightly.
As someone who does my own nails, I know the importance of always having some crystals and bling in my manicure box. You can pick up crystals for nails pretty cheaply, and they will definitely come in handy!
Matte Black Nails With Marbling
If you are hesitant to go full goth this season and have an all matte black manicure, you can mix things up a little bit by adding different effects to a few of the nails.
This nail artist has only painted two of the nails matte black but has matched the look with a beautiful marbling effect on the other nails. This manicure is really chic, and I love the silver flakes used in the marbling.
Coffin Black Matte Nails
I cannot get over the coolness of this manicure, and the use of matte and shiny polish to create a really interesting design. The coffin shape is properly sophisticated and edgy, too.
Thankfully, this manicure is pretty easy to recreate at home! After applying a black gel nail polish, apply a matte top coat to most of the nails, then use a glossy top coat for the tips. You may want to use nail tape in order to make sure your lines are neat and straight.
Black and White Matte Nails
Want a gothic manicure? These nails are a fresh and interesting take on the matte nail trend, using detailed artwork of crystals, snakes, and pentacles as a homage to the witchy, gothic world.
As someone who loves dramatic nails and has a keen interest in all things spiritual and paranormal, I am in love with this manicure.
Black Matte Nails With Flowers
Who said that black matte nails can't be summery?! This manicure is super cute (I love anything with flowers), and the short length means the nails aren't too over the top!
These flowers have been hand-painted with nail art brushes, but if you aren't up to that, you can get some nail art stickers to add flower details to your manicure.
Starry Sky Black Matte Nails
Ombre effect? Black matte polish? Crystals and gems? This manicure is ticking a lot of boxes in my mind. The artist has created a stunning ombre effect on two of the nails, then applied a range of gems and pearls to create a starry sky look.
Matte Red Nails
Red nails are a classic look. You really can't go wrong with a glamorous red nail manicure, and adding a matte top coat adds another level of sophistication.
Let's look at some matte red nails that will make you want to book a manicure ASAP.
Coffin Matte Red Nails
This look is super classy, and a great choice of manicure if you are wanting something that you can wear day-to-day without much thought about what it might match with.
The dark red color adds a pop of color to your look, yet still keeps it pretty neutral. The coffin length is very chic, too.
Bright Red Matte Nails
The matte nail trend looks amazing on brighter colors, too, with this bright red polish working so well with the matte top coat.
I am a big fan of animal prints, and this black and white leopard print is very cool. By only applying it on the tips or beds of the nails, it doesn't feel too over the top. This look can be recreated at home with nail dotting tools.
Burgundy Matte Nails
This dark red color is very sophisticated, and I love the flower designs on the middle nails. If you are not that handy with nail art brushes, you can add the flower designs by using 3D nail art stickers. Nail art stickers are a great way of recreating salon-quality looks at home easily.
Matte Blue Nails
Blue nails are trending hard right now (hello summer), and you can incorporate the matte nail look into this trend!
Abstract Blue Matte Nails
These blue matte nails are very chic and summery, and I love the choices of color and details. The nail artist has created a really cool abstract design on a few of the nails, matching the colors with the block color nails.
Abstract nails are pretty simple to recreate at home, as it is all about lines, dots, and shapes. Nothing really has to match or look neat, and it is a great way of expressing your creativity!
Have a go at recreating this abstract blue manicure at home using different colors and nail art brushes. Remember to finish it off with a matte top coat!
Electric Blue Matte Nails
Ah, cow prints. This nail trend is super popular right now, and I am seeing different takes on the cow print trend all over social media.
These matte nails mix cow print with a dramatic electric blue color, keeping the nails short and square. I love the bold blue color and the beautiful cow print designs.
Baby Blue Matte Nails
Matte nails look amazing in so many different shades of blue, and this baby blue color is super cute. Oh, and the cute little flowers are super cute and summery!
Matte Green Nails
Another popular choice for nails right now, green colors are great to matte, keeping the look fresh and on trend.
Matte Sage Nails
This sage color is absolutely stunning, and I am in love with the gold detailing. The gold flakes really go with the sage color, and the artist has opted to frame the gold flakes with the same color.
Adding a bit of gold into your matte manicure is a great way to still get a little bit of shimmer into your look!
Mint Green Matte French Nails
These extra-long mint green nails incorporate the French nail trend in a pretty dramatic way! A great color to use in your matte manicure if you are wanting to keep things fresh and bold.
Matte Pastel Nails
When we think of matte nails, we will typically imagine darker, bolder colors of reds and blacks. However, there are some amazing matte pastel nail trends right now that bring color into your look!
Swirling Matte Pastel Nails
These matte nails are super fresh and fun, and I love the colors of pink and purple used in the manicure. You can recreate this at home by using nail art brushes. Simply add the swirls onto your nails, and make sure you have applied a bottom coat in order to make the nails look healthy.
Then, add your matte nail top coat and you have a very cool set of nails!
Pastel Matte French Tips
I love this twist on the French manicure, using a range of pastel shades to add color to the tips of the nails. Because of the abstract splodges of the design, it will be pretty easy to recreate at home!
Mix and Match Pastel Matte Nails
Mix and match nails are pretty popular right now, as you can get loads of different designs in one! These nails are all handpainted, which is pretty impressive. The swirls and stars and super cute, and the cloud design gives me real Y2K vibes.
Simple Pastel Flowers Matte Nails
What better way to celebrate spring and summer than with cute pastel flowers? This artist has kept the nails nude, but painted little flowers at the base of each nail.
To recreate this at home, apply a nude color and cure. Then, using a nail dotting tool, add the flower details. Then, apply a matte top coat.
Negative Space Pastel Matte Nails
Negative space is a big trend in the nail art world right now, and these pastel matte nails are super cute.
After applying the matte top coat, the artist has then added a line of shine to each nail to enhance the abstract shapes in the design.
Showstopping Matte Nails
Want to go even extra next time you get your manicure? Let's look at some extra glamorous and extra fun matte nails that might be a bit difficult to recreate at home, but will definitely make you want to book yourself in for a mani at the best salon in town.
Summer Matte Nails
This orange color is absolutely stunning and the handpainted flowers are very cute. I really like the detailing on this manicure, using little pearls at the base of one of the nails.
Love Heart Matte French Nails
Instead of keeping the whole nail matte, this artist has chosen to paint little shiny love hearts on the exaggerated French tips of the nails.
The detailing on these nails is stunning, using an ombre effect on the French tips and adding pearls to the nail beds. Super cute!
Cheetah Matte French Nails
I love these animal print short French nails! The matte finish creates a classy look, and the artist has opted to keep this manicure short.
Leopard Print Flame Matte Nails
Two of my favorite nail trends are animal prints and flame designs, so I had to include this manicure on the list! The colors used are bold and bright, but the matte finish gives them a little bit of edge. I really wish I was talented enough to recreate this design at home.
Matte Nails FAQs
Let's look at some questions you might have about the matte nail trend.
Question: What are Matte Nails?
Matte nails refer to when a matte top coat is painted on the nails, creating a smooth and shineless look.
Question: How do I Make my Nails Matte Finish?
You can make any manicure a matte finish by applying a matte top coat. A matte top coat can be applied to most gel nail polishes.
Question: Do Matte Nails Stay Matte?
If you are looking after your nails a matte polish tends to last a few weeks. However, I will sometimes have to reapply the matte top coat to my nails in order to keep the shineless look.
Question: Can you Make Matte Nails Shiny?
Making your matte nails shiny again is as easy as matting them in the first place! Simply apply a shiny top coat to your nails and cure them.
Question: Can you get Matte Nails at a Salon?
Yup! Most nail salons will have matte top coats to choose from.
Go Matte This Season
I hope you have enjoyed this article about matte nails! I am a bit fan of the matte nail look, and I love how there are so many different options to choose from.
Matte nails are super stylish and fresh, whether you are opting for darker colors or choosing to get a matte pastel look.
Which matte style will you go for this season?
Continue reading:
Louis Vuitton Nails Inspiration and Ideas: Your Guide To Luxurious Nails
Red Nails Inspiration and Ideas: 16 Bombshell Reds That Will Make You Swoon
18 Easter Nails Inspiration and Ideas for the Spring Holiday