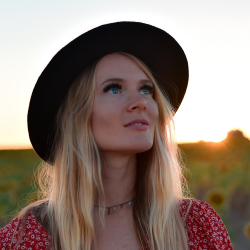 Latest posts by Haley Parker
(see all)
Trends and beauty are constantly changing, making it hard to keep up on what's new, so you may need a list of aesthetic nails inspiration and ideas to get you going. As a nail technician, people are always asking me for new things that I have never seen before, and it always excites me to get to change things up so often. Below you will see some of the recent designs that I have seen lately that make me incredibly excited.
Nail trends have recently been going to the 90s and minimalistic fashion. I grew up in the 90s, so people asking for cheetah print, smiley faces, and butterflies on their nails always make me happy. I also have become very minimalistic over the years, another aesthetic nail trend that makes me feel like the world finally gets it. Everything about aesthetic nails this year puts a smile on my face.
Bottom Line Up Front
It's so hard to say one of these aesthetic nail designs is better than any of the others because I love them all, but if I had to pick, my favorite is the half-moon cuticle nails. I love that they reflect what people see as a beautiful natural nail, but it can be designed into something colorful and unique. There are also many different ways to do this look, from painting the entire nail a color and leaving the half-moon at the base untouched to paralleling the arch of a french tip with it.
Top 10 Aesthetic Nails Inspiration Up Front
There are so many aesthetic nails inspiration that it can be challenging to pick one. Here are the top ten aesthetic nails inspiration and ideas that I have hand-picked for you to make your decision easier. These are some of the newest trends that have exploded and will be beautiful year-round.
Neon Nails
Velvet Nails
Minimal Nails
Flame Nails
Wavy Line Nails
Daisy Nails
Baby Boomer Nails
Half-Moon Cuticle Nails
Pearl Nails
Mix-N-Match Nails
Aesthetic Nails Selection Criteria
Trendy
Nails can not be aesthetic without also being trendy. All of the inspiration and ideas that I've listed will be popular designs that you will see on nails this year and some unique. On top of being trendy, I find them aesthetically beautiful, so it's a win-win.
Anyone Can Do Them
All the aesthetic nails on this list can be done at home by yourself, even for those not the most artistically inclined. There are multiple tools that I use to achieve each of these looks and tricks I am sharing that makes you seem like an artist.
Something for Everyone
Whether you like subtle nails or are someone who wants to stand out with your nails, I've included something for you on this list. You can have aesthetic nails either way as well as them being trendy. You will find something you love here, from the most natural-looking nail design you've ever seen to wild prints.
Aesthetic Nails Inspirations and Ideas
Now to the fun part! Below are 31 different aesthetic nails ideas that you can try this year.
Neon Nails
Neon has made a comeback in recent years and is those colors that feel so bright that they could put the sun to shame. I love that these colors may even glow in the dark under blue light. Some fun neon colors to try are neon green, neon yellow, neon blue, or neon purple, and you could even try a whole hand of different neon colors.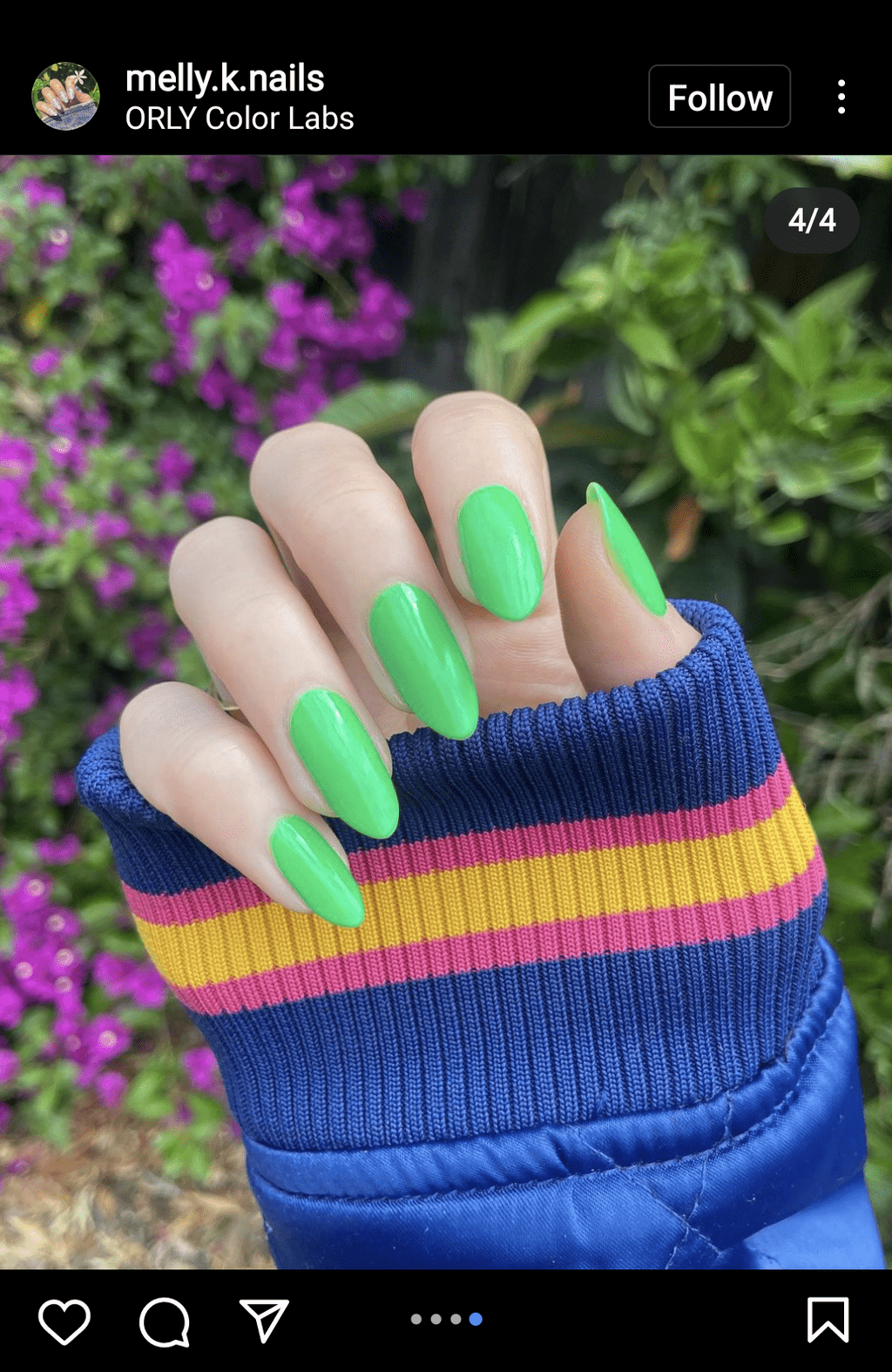 Velvet Nails
Mimicking the material velvet, these nails seem to change brightness in color depending on the direction you are looking at them. Velvet is one of the staple materials you will find  in my closet, so I am super excited that it's made its way to nail design. You need to use magnetic nail polish for velvet nails, like Born Pretty or OPI GelColor Velvet Vision. You then take your magnet and move it around the outside of the nail until the flecks move back and forth across the nail.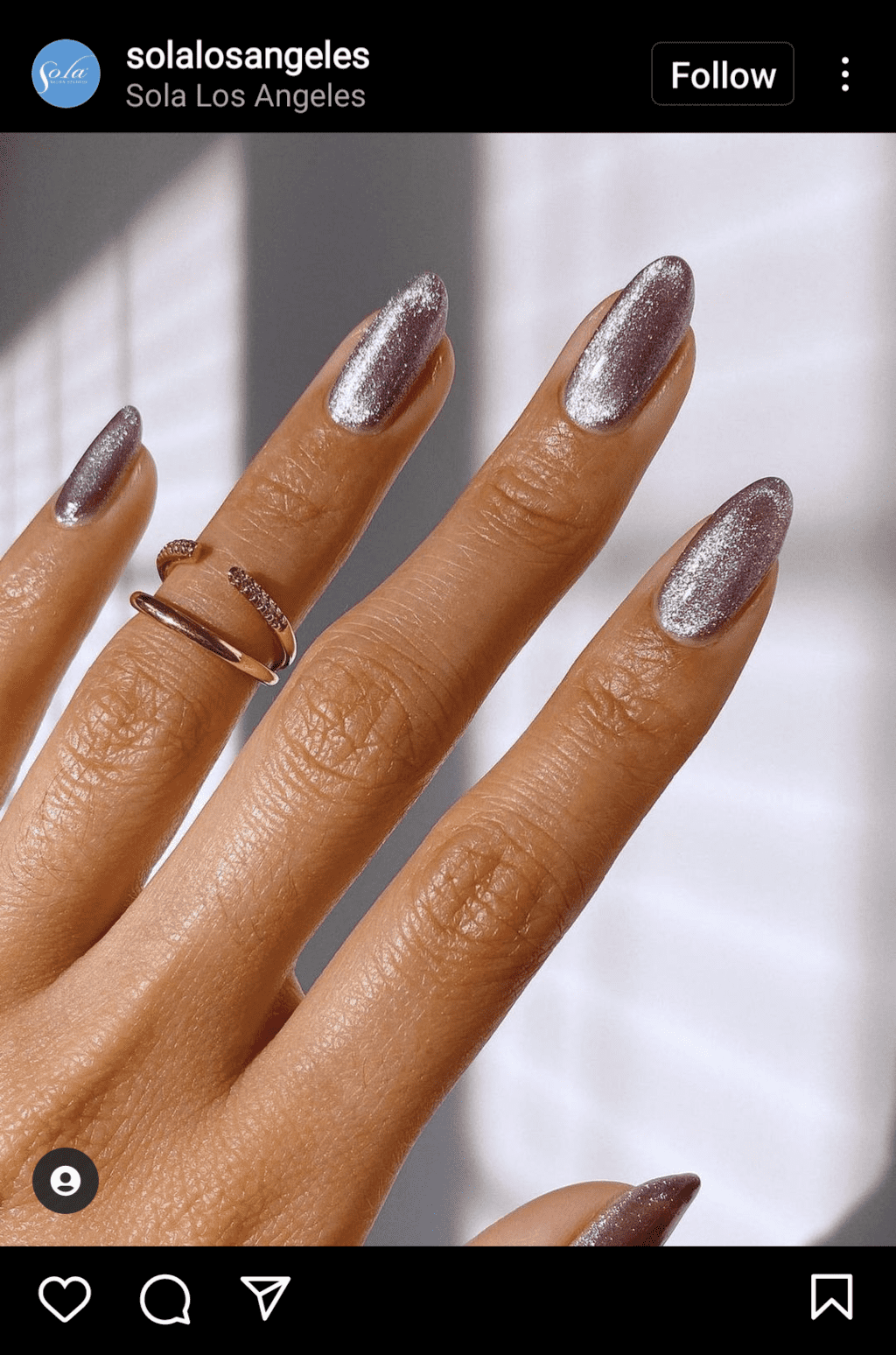 Minimal Nails
Nails that look like they have hardly anything on them are super popular this year. I think sometimes, doing something simple is the prettiest, such as one black line through each nail, a small jewel at the cuticle, or a couple of abstract lines over a nude nail. The key to these is to keep it simple enough to be unnoticeable, but when noticed, it makes them say, "Wow!"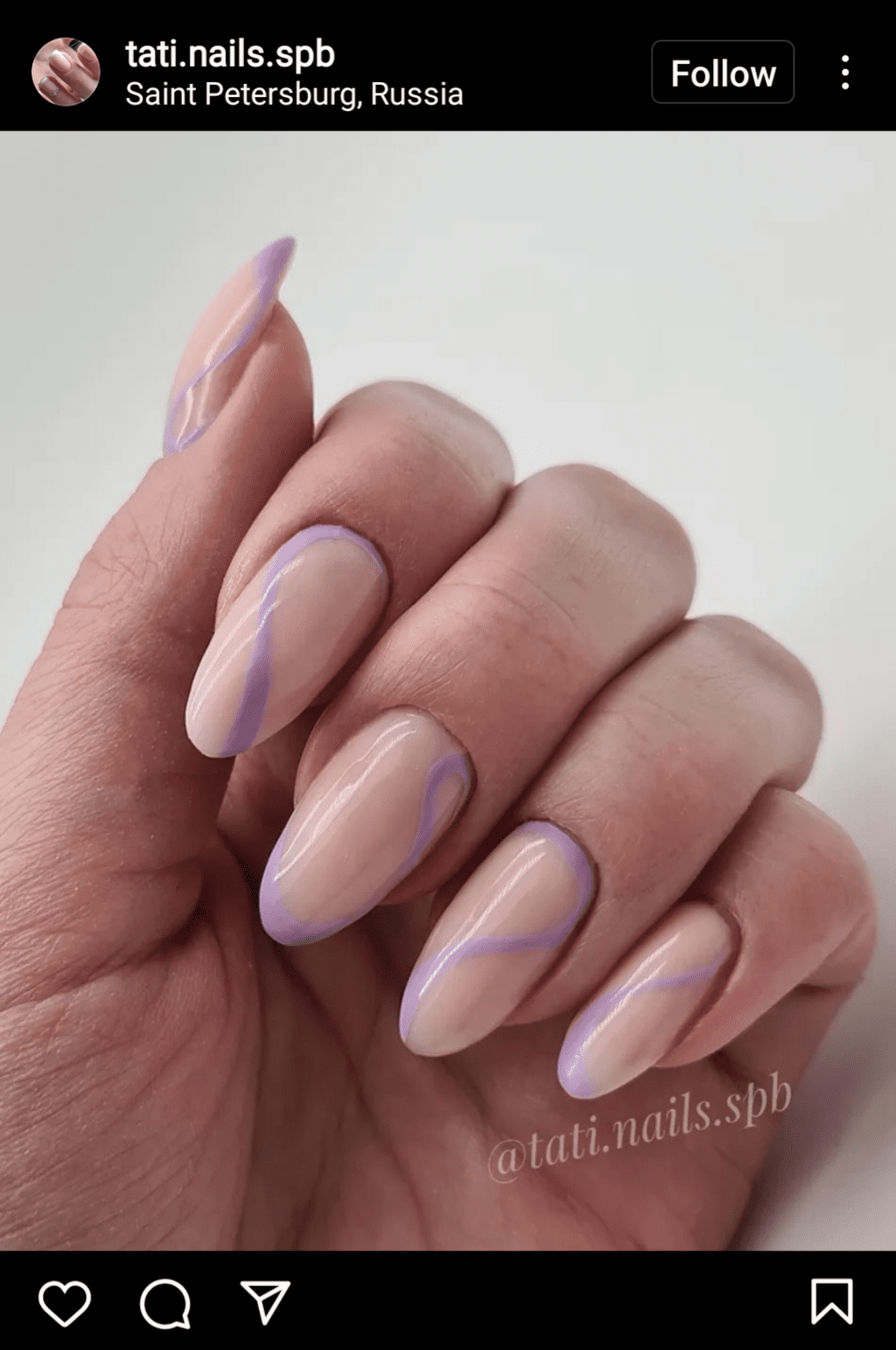 Flame Nails
The cartoon flames you used to see going down the side of fast cars are back in, except on nails now. This design brings me some major nostalgia because my first car had flames! There are so many fun ways to do this design, from a simple red flame coming from the tip of your nail to a neon outlined flame coming into a black nail. You could also ombre the end of your nail with a lighter color before painting on the fame to create a smoky haze effect.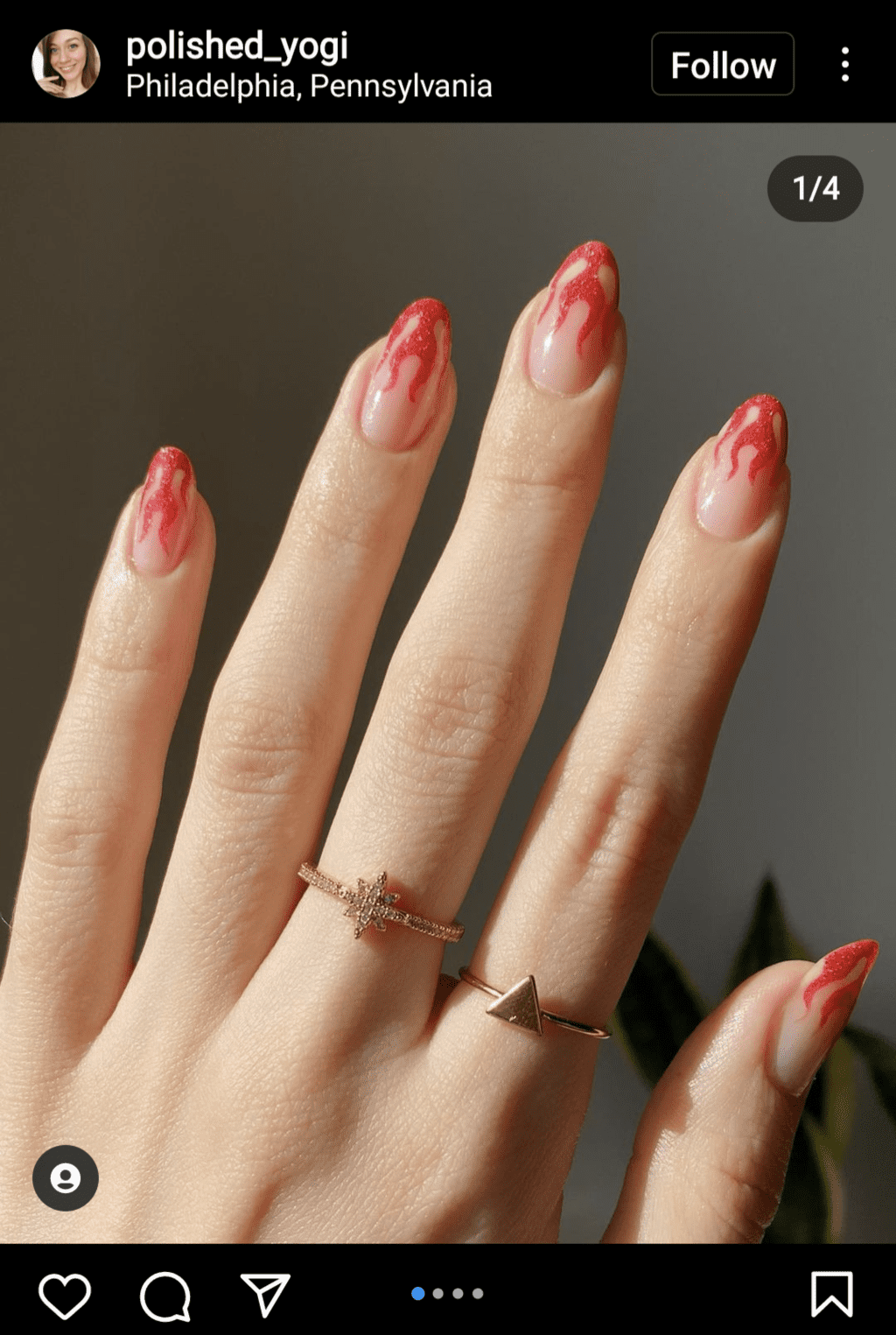 Yin-Yang Nails
Yin yangs are a symbol of harmony between two complementary aspects of life, and it is also a symbol that is in fashion right now. Paint your whole nail into a yin yang symbol with black and white, or what I like to do is use two of my favorite colors. You can do an entire hand of yin yang symbols or one nail that stands out.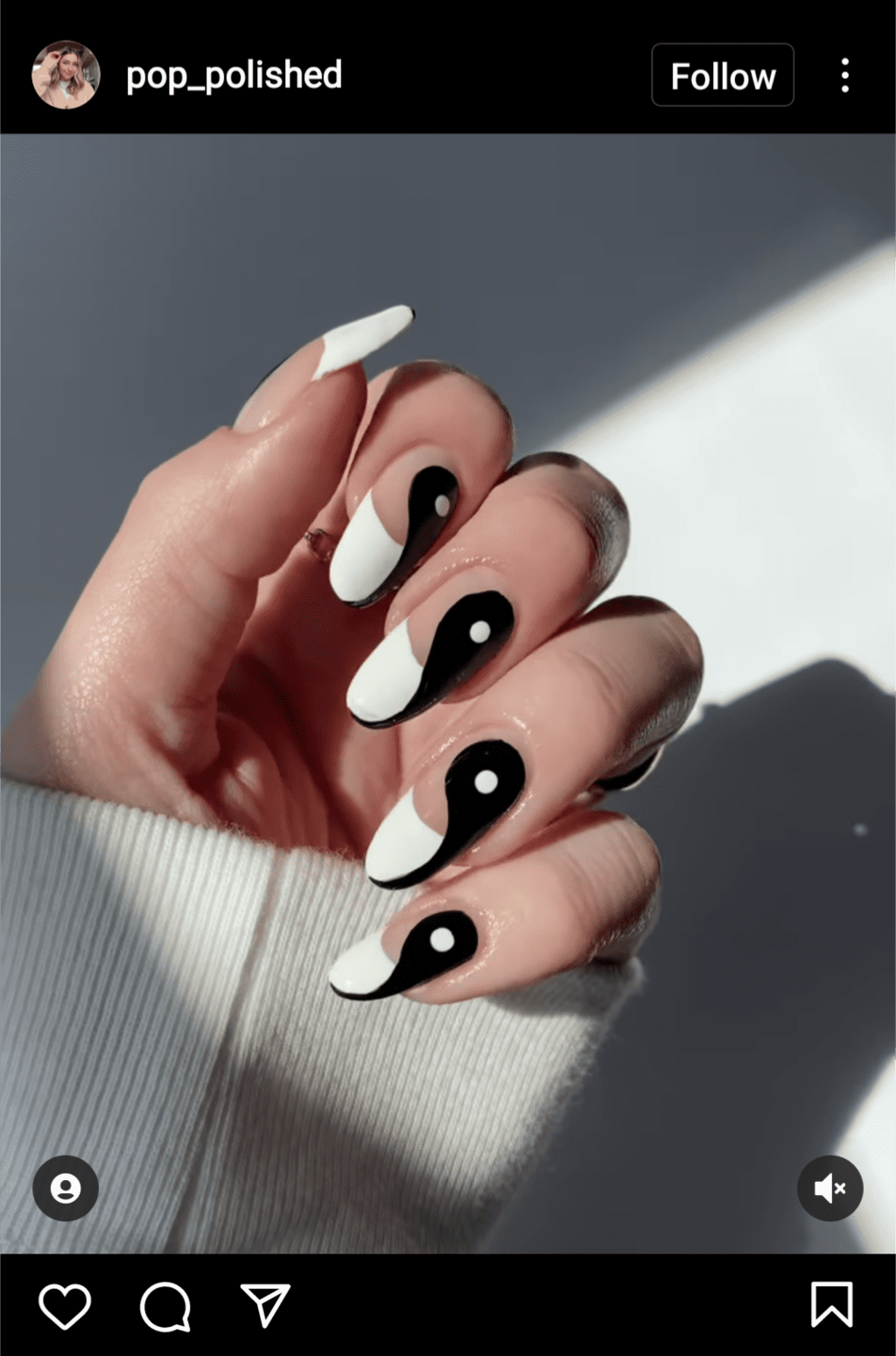 Abstract Nails
Abstract is a term used to describe art that is not realistic and depicts objects through lines, shapes, and colors. On nails, you can create abstract art by using lines and colors to create something close to an object, such as a face, body, or floral. The easiest way to do this yourself is through nail stickers or nail stamps, but it can also be created free-hand with a thin nail brush.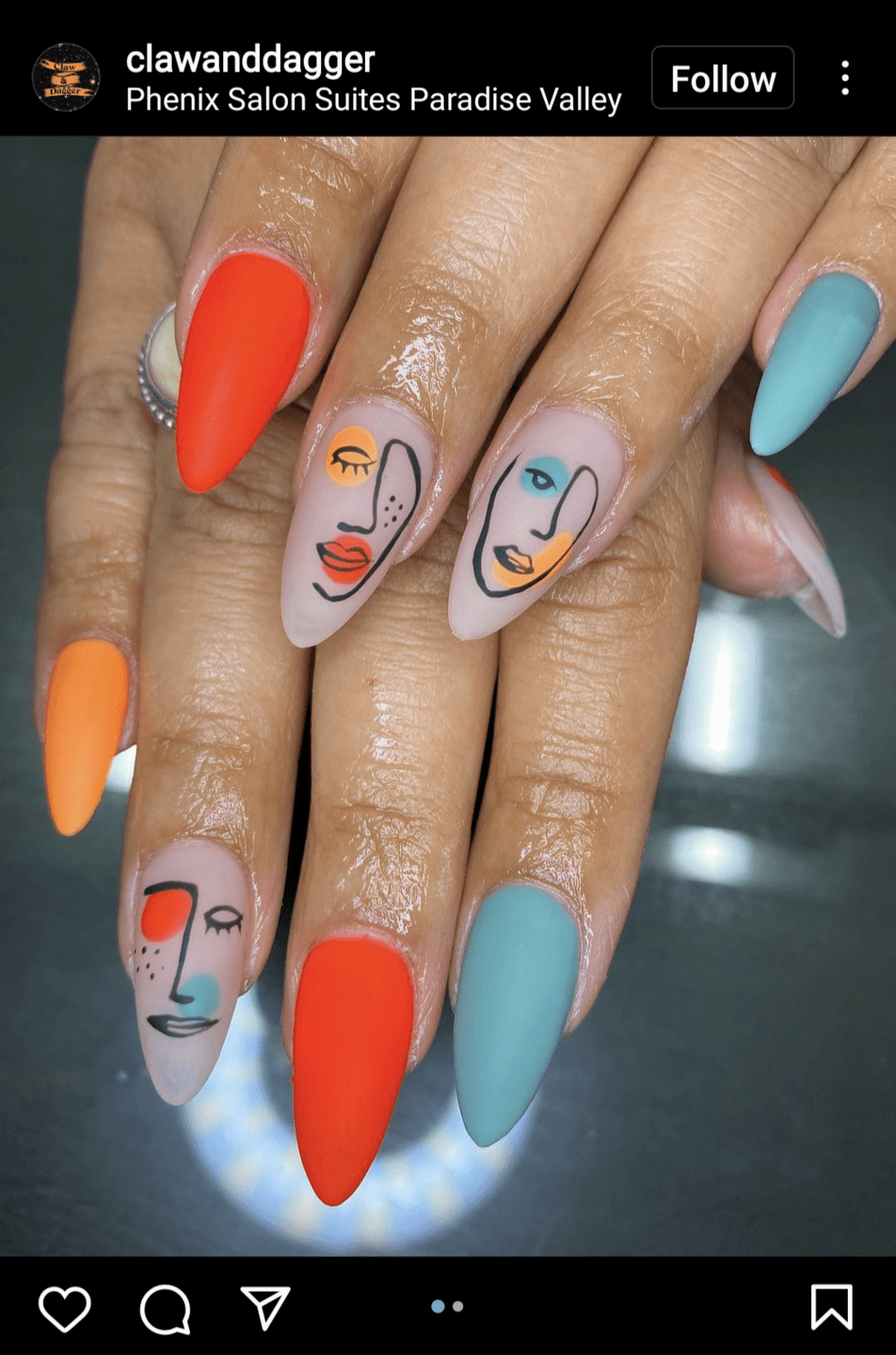 Wavy Line Nails
Wavy lines used to decorate things became popular in the 60s and have made a comeback in nail art. This can be as simple or as colorful as you would like. I think this design looks best when you use two or three similar colors. Use one or two colors to create one or two squiggle lines through your nails, or use a rainbow of colors to paint a whole nail of squiggle lines.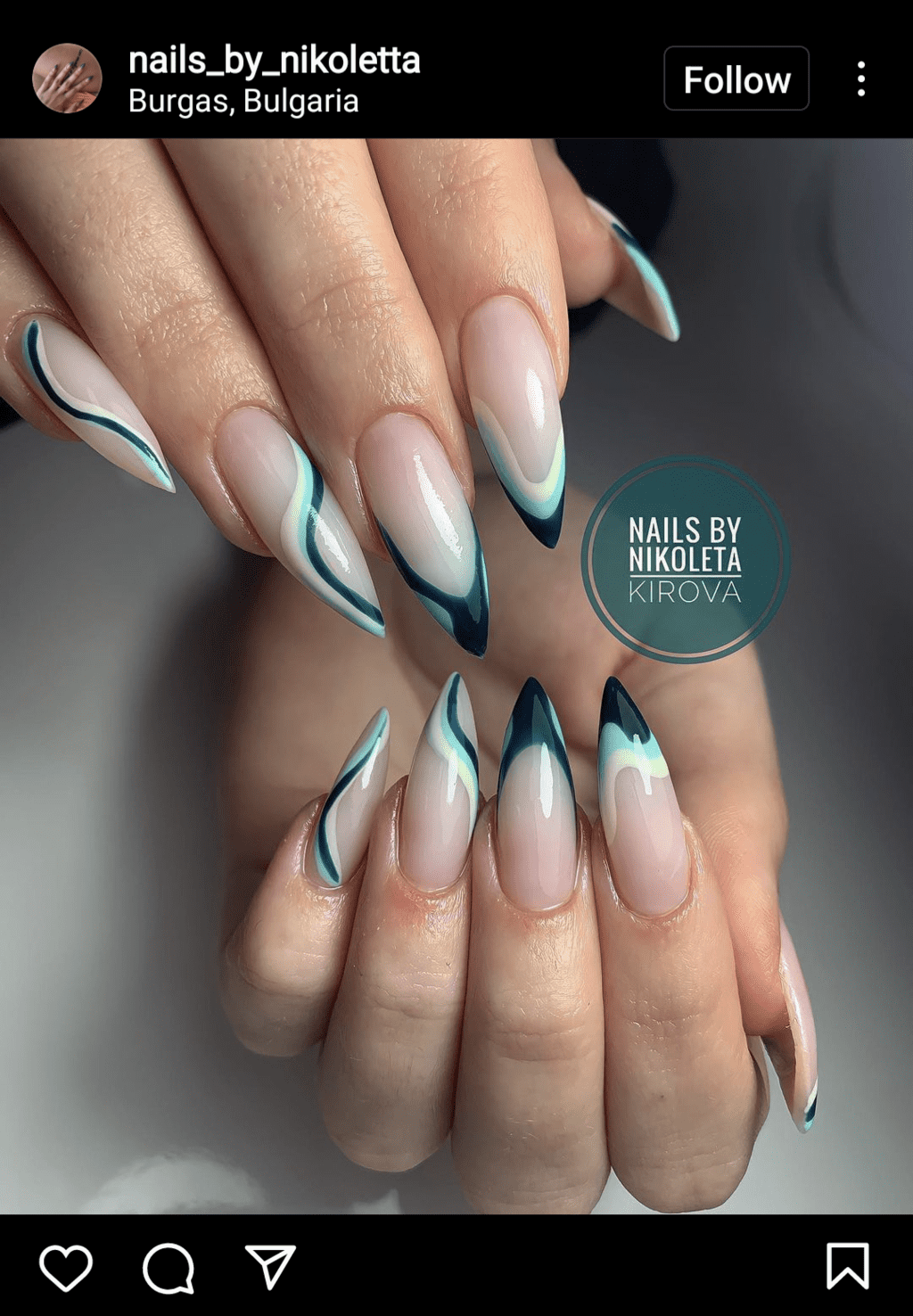 Layered Heart Nails
The heart is a design element that has been used in nail art for decades, so it only makes sense that there would be new ways of painting them. Usually, I don't ever go for a heart design, but this is retro and may be worth a try. This design gives the heart a 3D effect where it looks like the heart is popping out at you. Use three to four colors and a thin nail brush to outline a heart in the center of your nail until you hit the edge of your nail.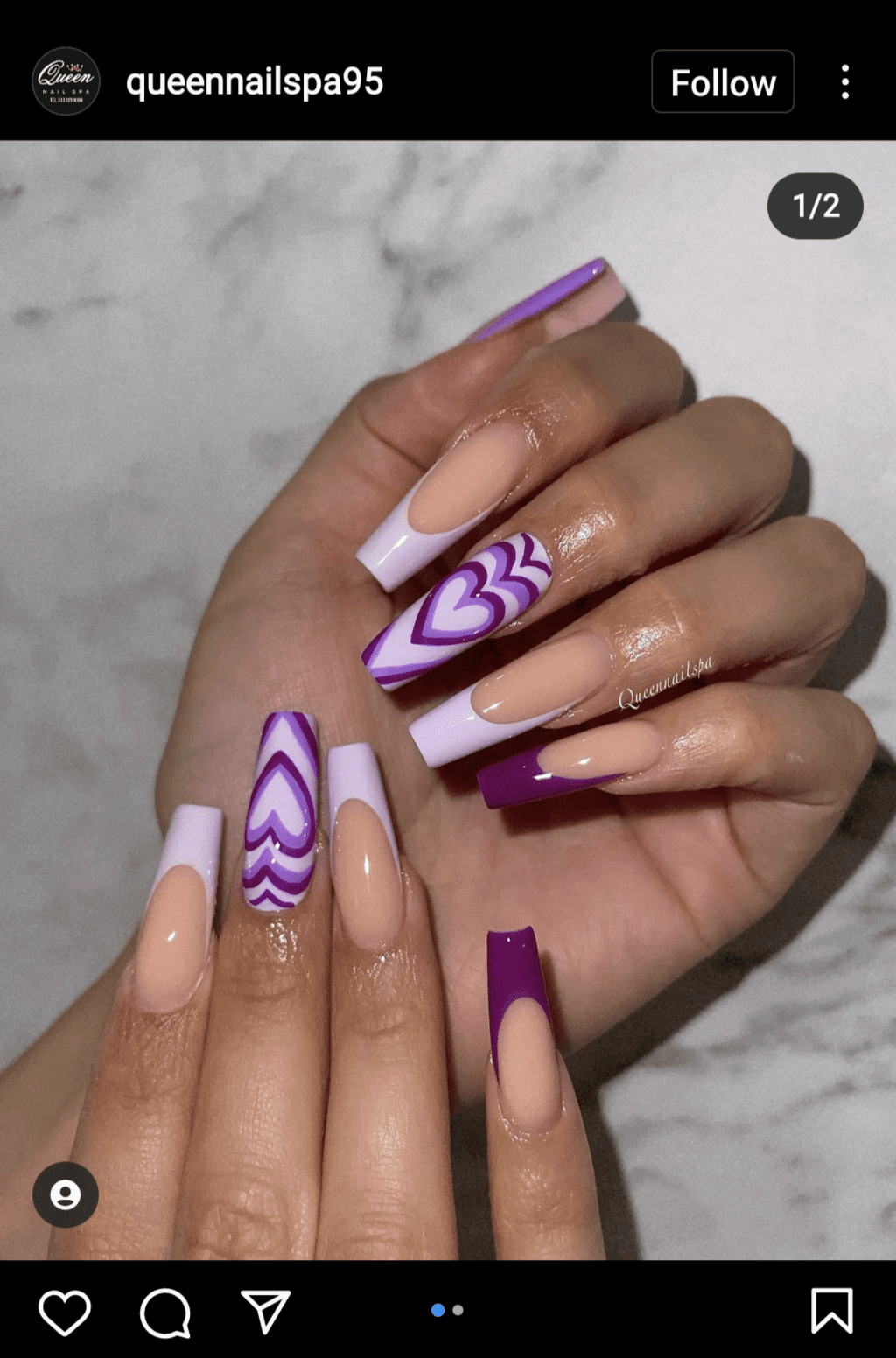 Ombre Nails
Ombre is when one color fades into another color and has been in the fashion world for quite some time now. There are many ways to do an ombre nail now, including a vertical ombre, using multiple colors to ombre, and glitter ombre. Choose what colors you want to use in your ombre, apply them to a makeup sponge, and start dabbing the paint onto your nail until the colors are opaque and blended.
Marble Nails
Marble is a texture that has been put on everything in the past few years, such as accessories, bags, and nails. There are multiple ways to marble a nail that can be super creative or very easy. The most popular way to do it now, and my favorite way is to paint it on by scooping up three or four different colors off a plate and dragging it along the nail in a wavy pattern.
Butterfly Nails
90s fashion is coming back in, which means butterflies on everything, including your nails. You can do a whole nail of butterflies, one giant butterfly that spans two fingernails, or an ombre in sequin butterflies. The easiest way to get butterflies is through nail stickers or nail stamps, but you can also free-hand paint your butterfly with dotting tools and line brushes. I like to use butterfly sequins to do many small butterflies across the nail.
Smiley Face Nails
Another 90s staple that has made a comeback is smiley faces. You can turn your whole nail into one smiley face with two dots for eyes and a curved smile in the middle of the nail. There are also nail stickers that you can use if you want a bunch of small smiley faces or melty faces.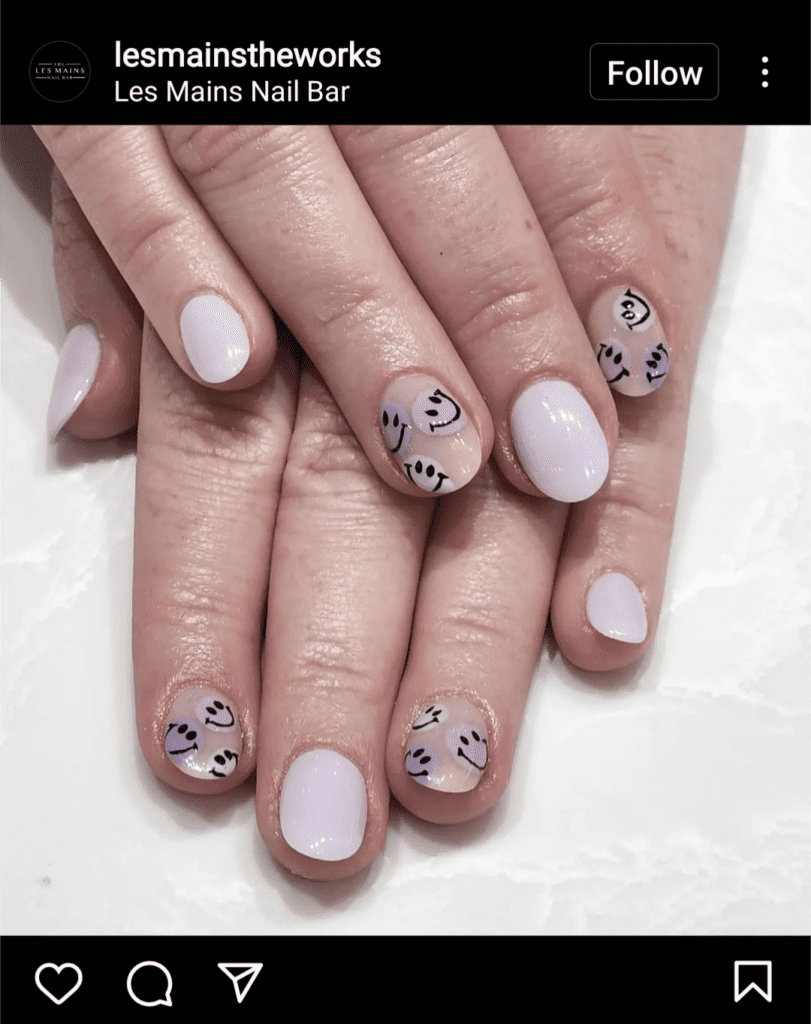 Daisy Nails
I am so excited that people get daisies all over their nails because it is my favorite flower. Daisies on nails are slightly different from the traditional dot flowers that we usually see on nails but just as easy to achieve. You put a dot in the center of where you want a daisy with a dotting tool and then draw thick lines out from that dot with a line brush tool. Put one big daisy in the middle of your nail or do multiple tiny daisies throughout the nail.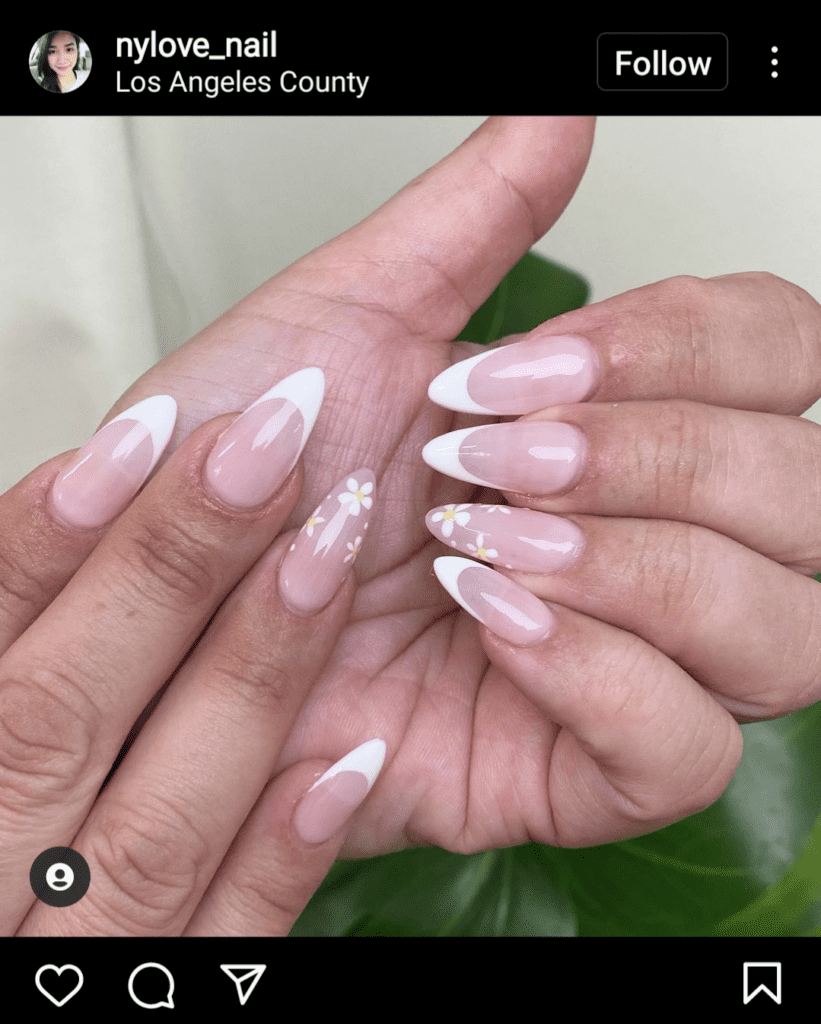 Gradient Nails
Gradient nails are when you start with one color on one side of your hand and then gradually fade to another color from nail to nail. I've never personally done this nail design because I like others better, but I think it looks cute on other people. You can do this with five different colors, but who has five similar colors? You can also do this with two colors, starting with the lighter shade and adding a couple of drops of the other color to a mixture from nail to nail.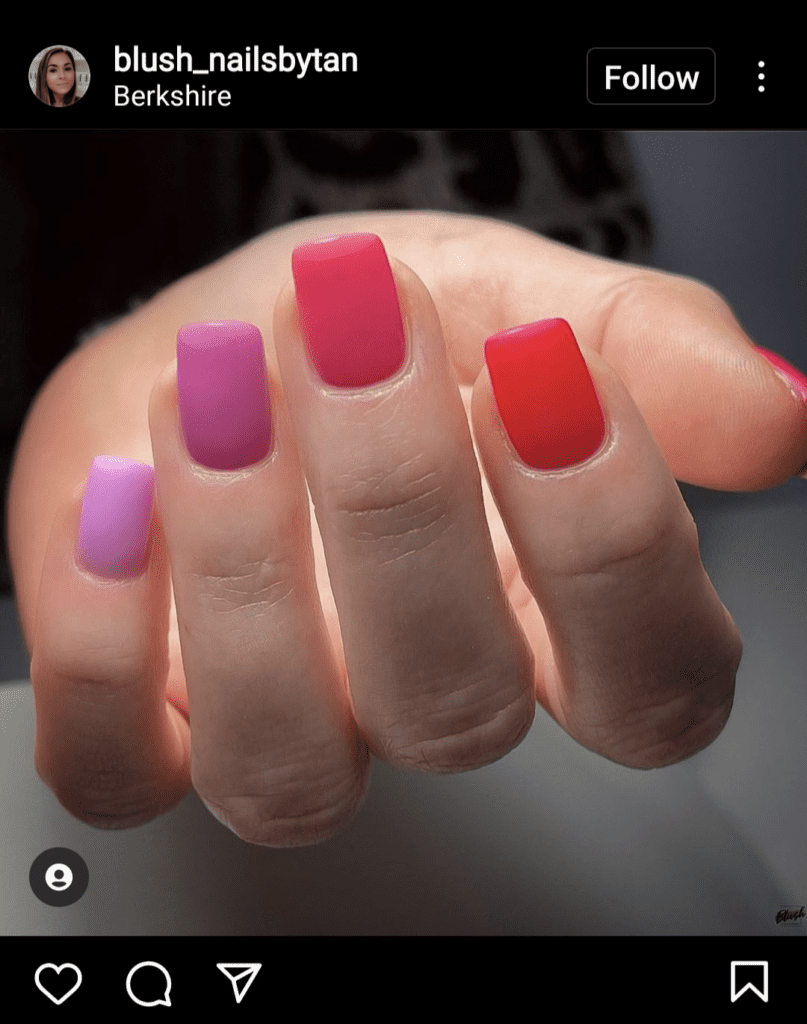 Baby Boomer Nails
Baby boomer nails get their name from the french manicure, which started in the 40s. This is a new take on the french tip with a white tip fading into a nude base. It looks more natural and has a unique spin that makes them more appealing to the younger crowd. I think that this type of french manicure is easier to do yourself than a standard french tip because you don't need to create any perfect lines.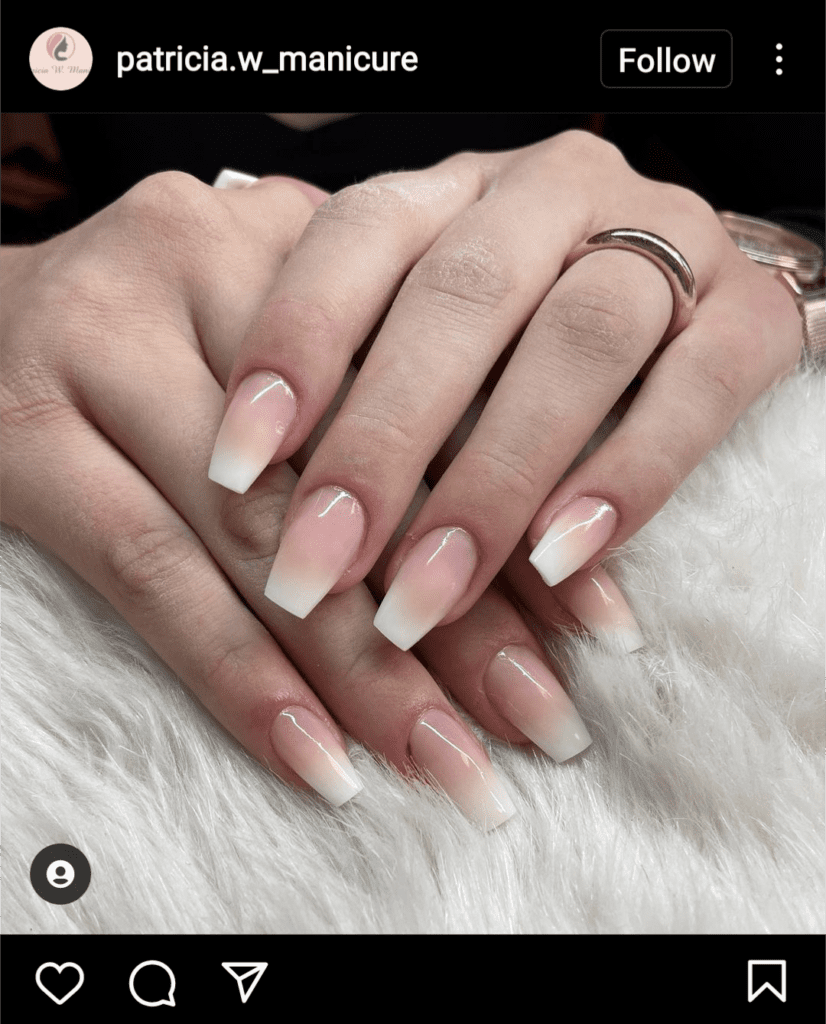 Corner Tip Nails
Instead of doing a french tip across the end of your nail, try only tipping the corner of your nail. To do this, loosely paint a line from the outside edge of your nail to the opposite corner. Then go back in with a nail brush dipped in acetone and clean up the line from the bottom. I was taught this method in cosmetology school, and there has never been a better way to do it in the ten years I've done nails.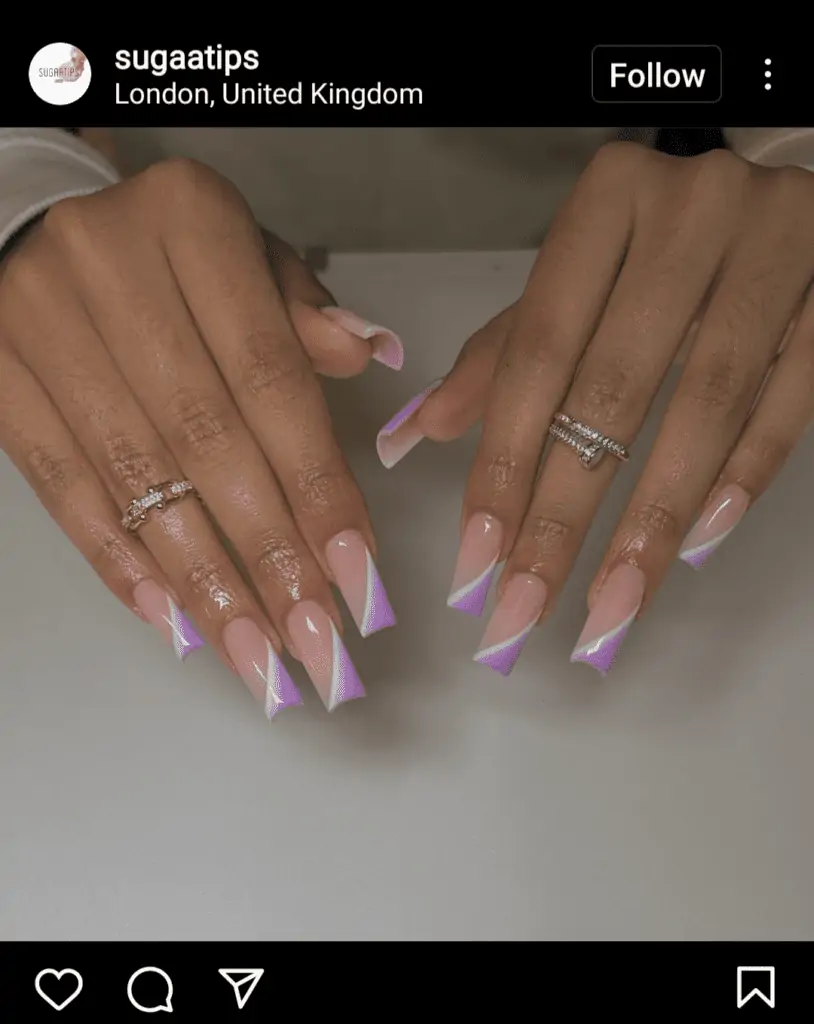 Triangle Tip Nails

This look is close to the usual french tip, except it has a triangle-shaped line at the tip instead of a curved natural line. Triangle tip nails give you a bit of a spin on the classic french manicure, and I feel like they make your nails look longer. You can also do this look with two different colors by having the two colors meet in the middle of the nail, with one color overlapping the other.
Outlined French Tip
If you love your traditional french tip but want to add a little bit of a modern spin to it, try outlining the french tip. You can do this with a similar color to your tip or a completely different color. I especially like these when the tip is only outlined with no fill-in color for a more minimal look.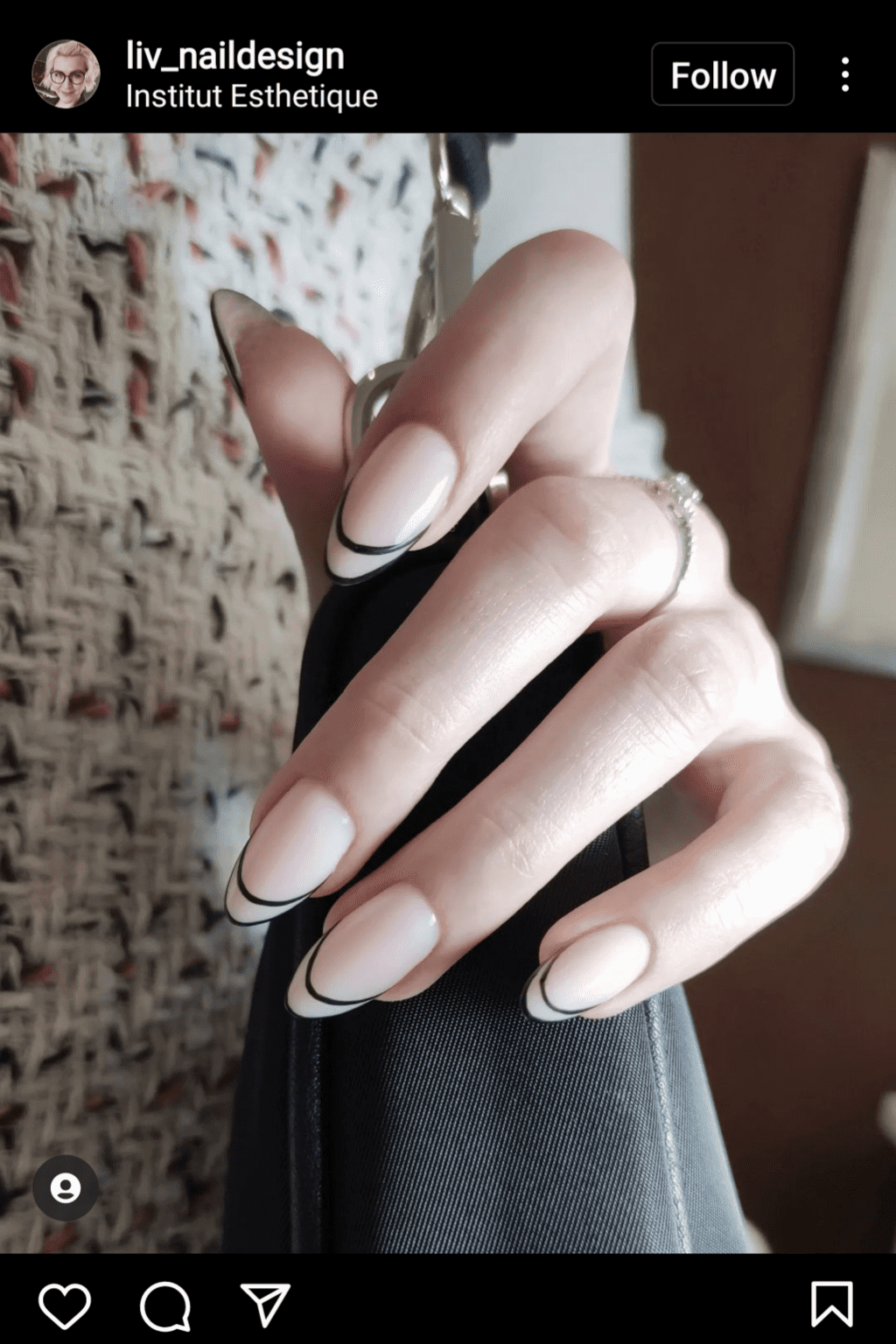 Color Block Nails
Color blocking is when multiple colors are blocked off into different shapes on the nail. You can do this with only two colors or with numerous colors. I feel that color blocking can become a bit crazy if you use too many colors, so I like to use three or fewer. The easiest way to do this look is to use tape to block off the areas you don't want to be painted with your second or third color.
Greenery Nails
For all you plant lovers out there, why don't you have your nails do the talking for you? With more and more people becoming at-home gardeners, you see it creeping into the nail art world. There are nail stickers and nail stamps that have vines, giant leaves, and ferns to make this design easy for you to do at home.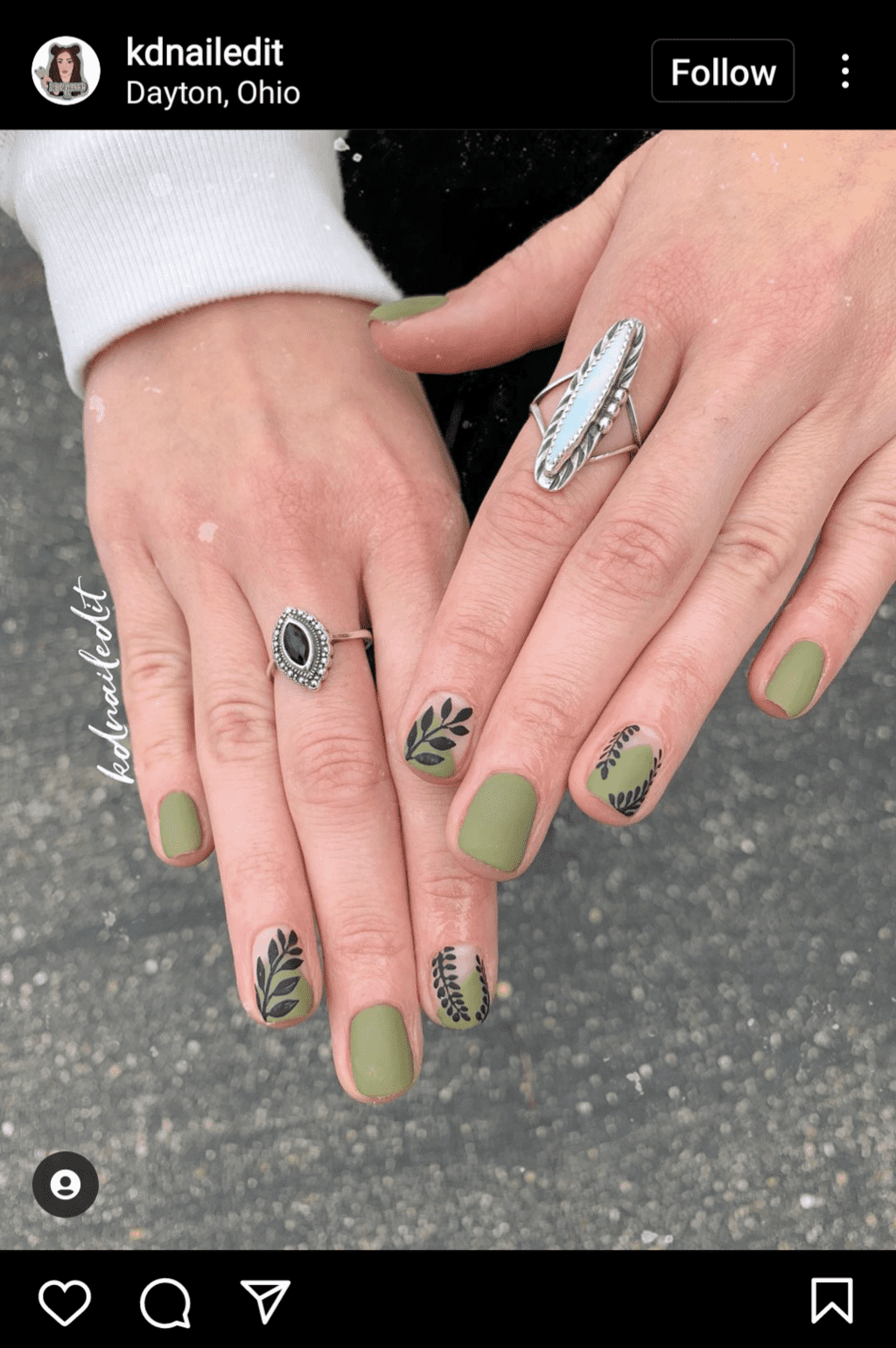 Witchy Nails
If you're like me, being called a witch nowadays is a compliment, meaning you are a rebel that stands against societal norms. Try some witchy nail designs, such as moons and suns, serpents, or the all-seeing eye, to show your inner witch. The easiest way to create these nail designs is with nail stickers and nail stamps.
Galaxy Nails
Galaxy nails are nails that mimic outer space. That could mean multiple things for you, like aliens, stars, and the milky way. The best way to make a galaxy nail is by painting the entire nail black and then dabbing on different galaxy colors in a line across the nail. Finish it off with a glitter polish to mimic stars.
Geometric Lines Nails

Geometric lines are lines done in a way that could create shapes or division. My favorite way to do this look is to create simple lines with one line through the center of each nail, or you could go complex with a whole nail of lines creating a shape. You can use a line nail brush or nail stickers to create geometric lines.
Cloud Nails
Painting clouds across your nails is a trend that has recently popped up in nail art fashion. You can make them look like the sky on a sunny day, a sunset, or right before it turns dark with a moon and some stars. The easiest way to make clouds is to dot white polish in an unperfect circle with a dotting tool.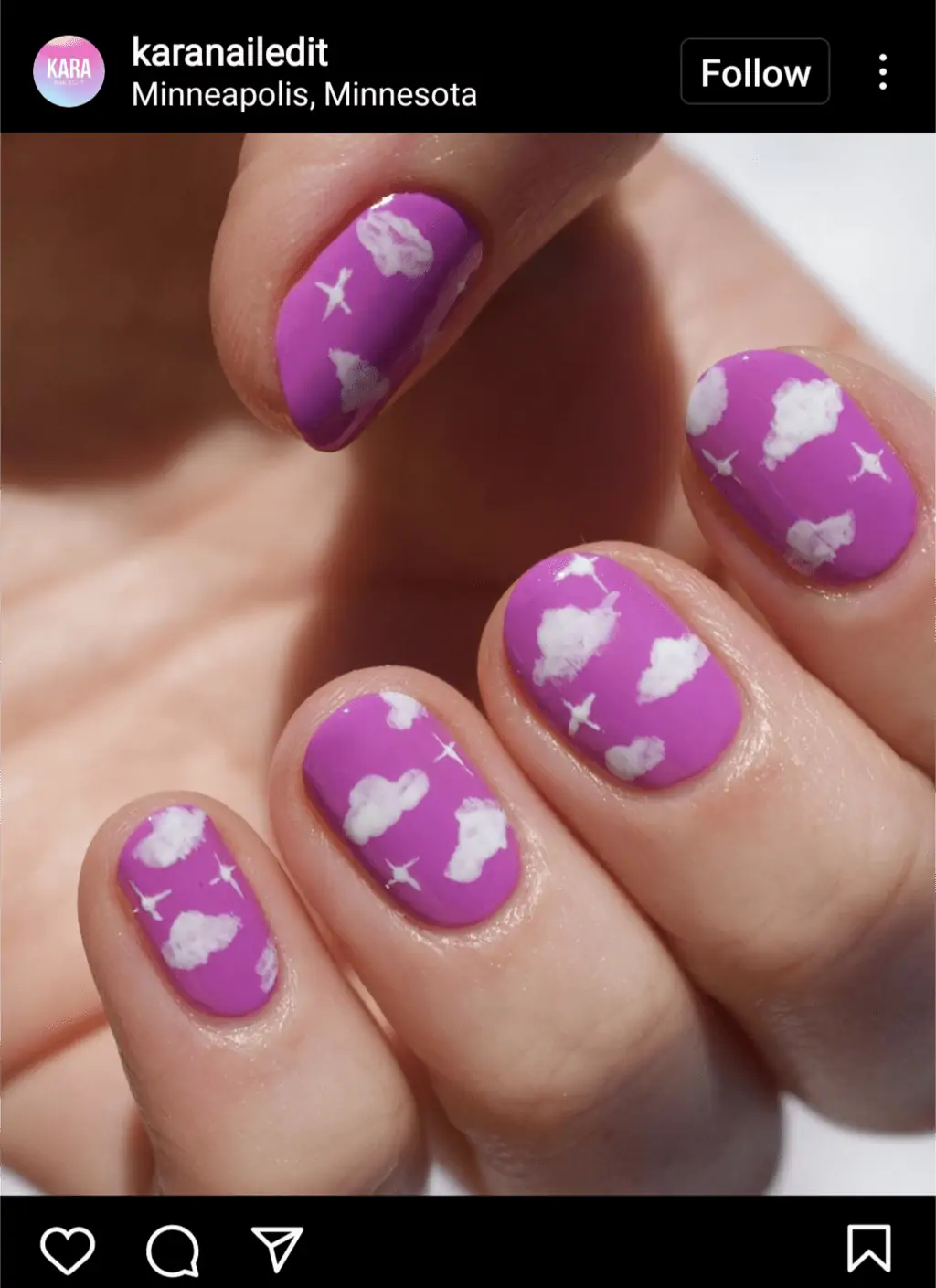 Fruit Nails
Painting different types of fruit on your nails is a cute summery look that can be as simple or as extravagant as you would like. You can make your entire nail a piece of fruit or put a bunch of tiny fruits on your nails. With such a complex design, I like to keep it simple by sticking to one type of fruit. There are nail stickers and nail stamps to easily paint your fruits.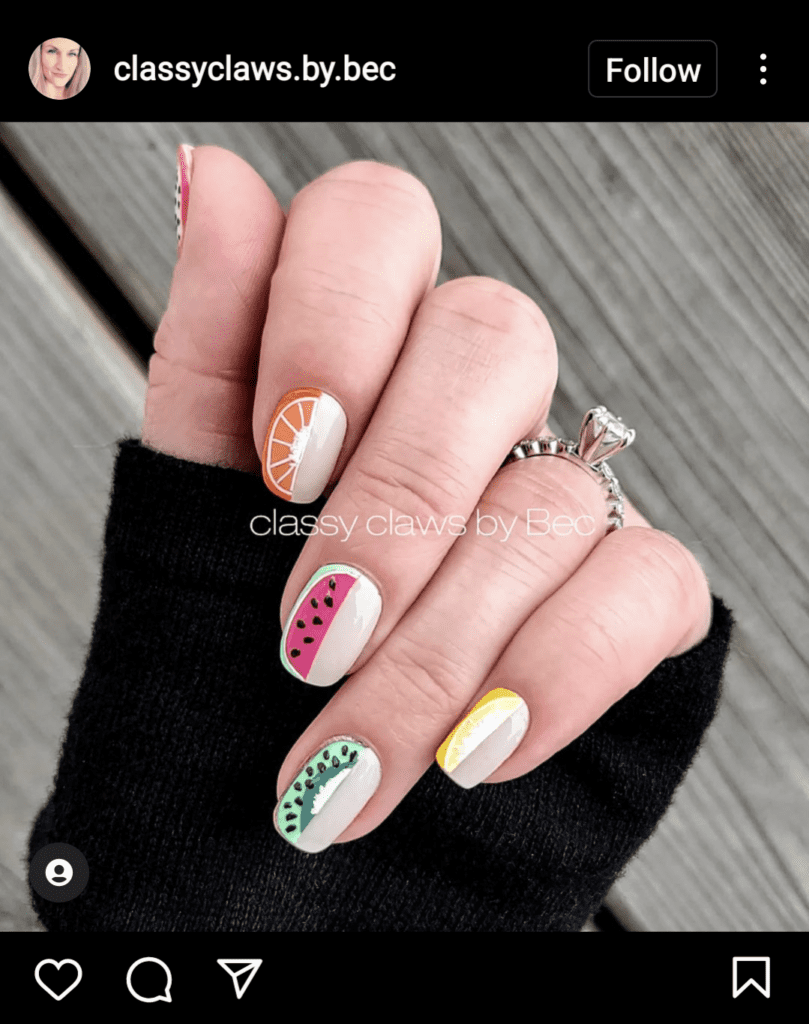 Half-Moon Cuticle Nails
The standard for beautiful nails is a clear tip and a half-moon shape at the base of your nail that is slightly lighter in color. A fun way to mix up this look is to create a half-moon shape on each nail colorful. You can use different colors or just one bright color for every nail. I love that you get the idea of a beautiful standard nail, but the individuality of a nail design.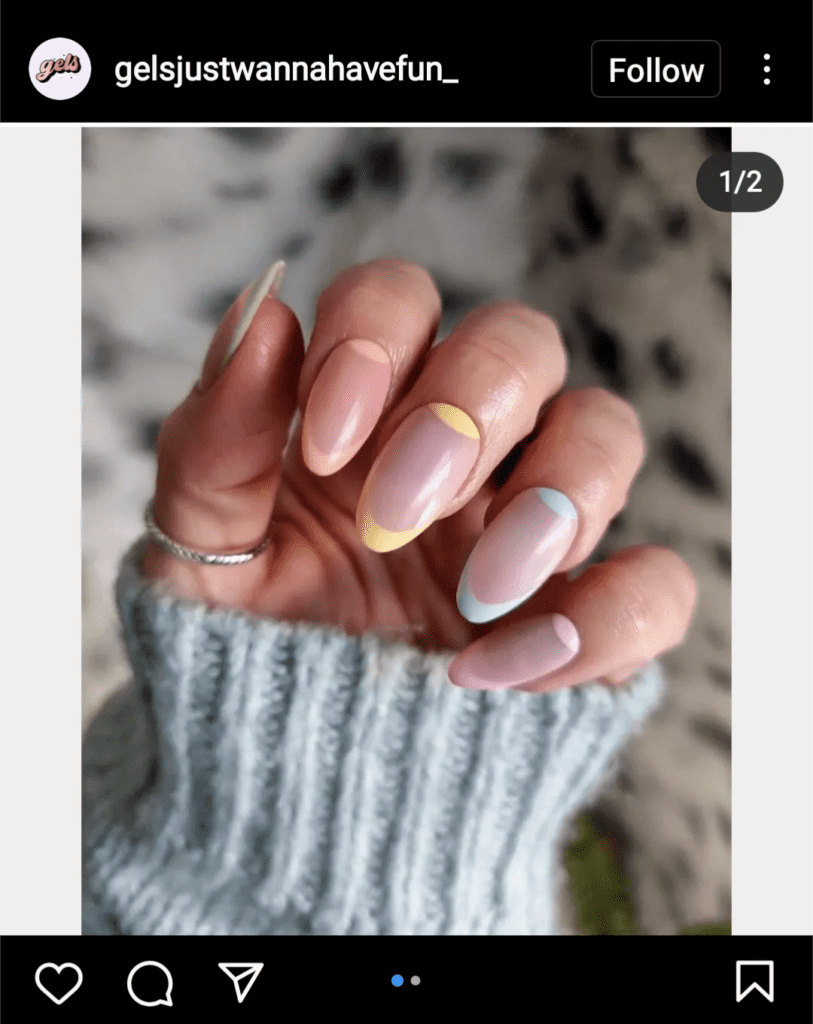 Pearl Nails
Try some pearls instead of putting those shiny jewels all over your nails. I've never liked the big jewels and charms that people put all over, but this is a more subtle, classy look. You can get pearl jewels that you lay into your topcoat with tweezers where you would like them to be and then layer another coat of topcoat on top to make them stay.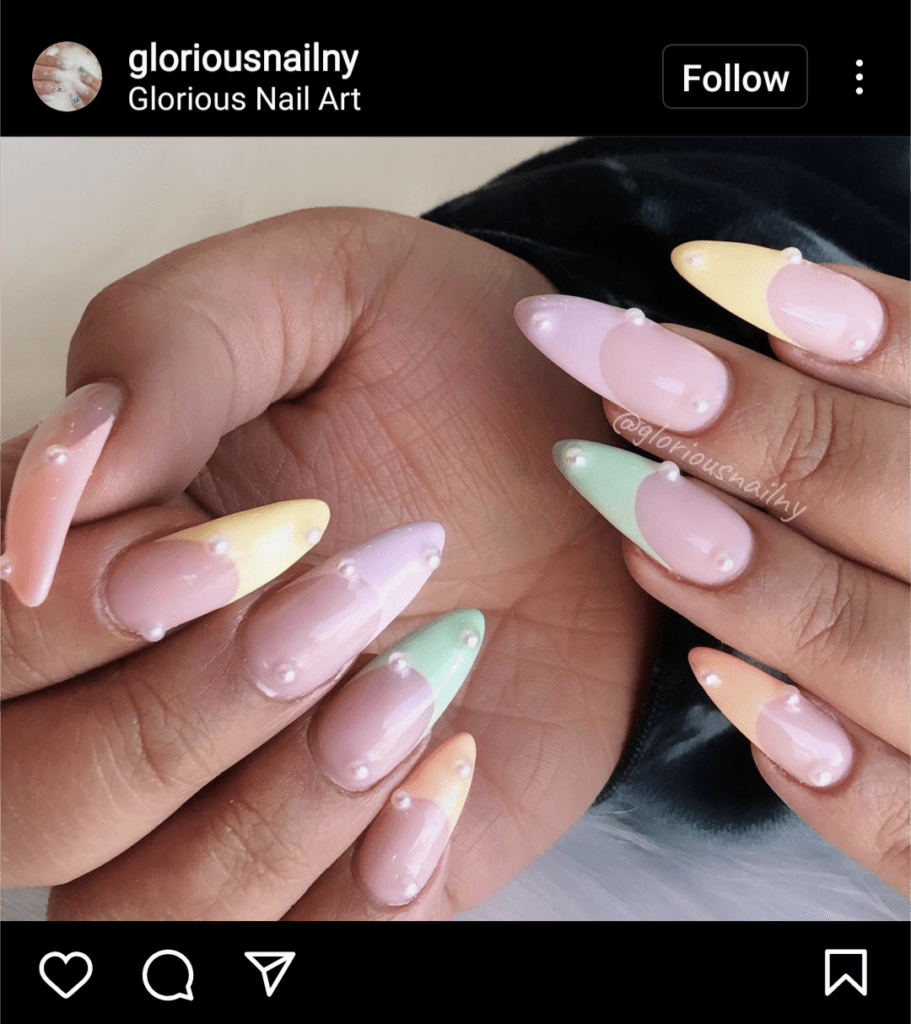 Dalmation Polka Dot Nails
Also known as cow spots, these nails put a twist on the classic black and white polka dot nail design. I'm so glad that polka dots are not a thing anymore. Instead of perfect circles aligned in a pattern, these dots are randomly placed in different sizes. You can use dotting tools in various sizes to create this look and drag the dots out to make them odd-shaped circles.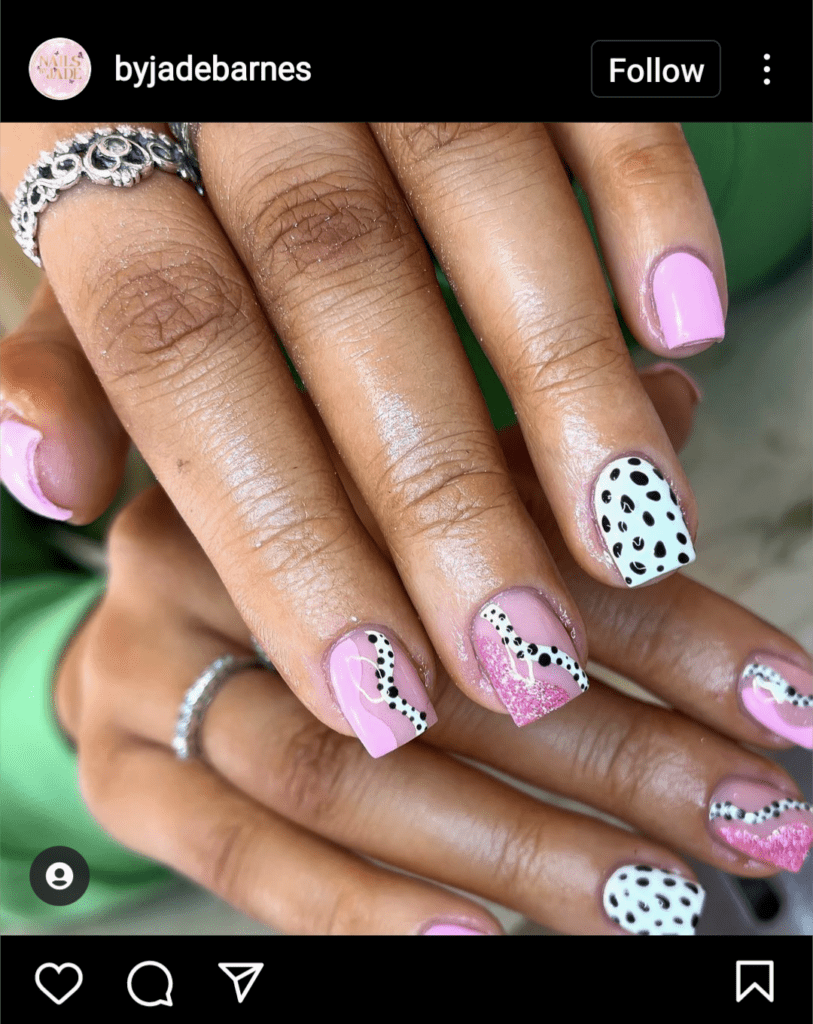 Cheetah Print Nails
Cheetah print is another 90s classic that has come back into style. You can make this look minimal with one nail having a black cheetah print over a nude color or do a rainbow of cheetah prints from nail to nail. If you feel artsy enough, you can free-hand this look or use a nail stamp for an easier alternative.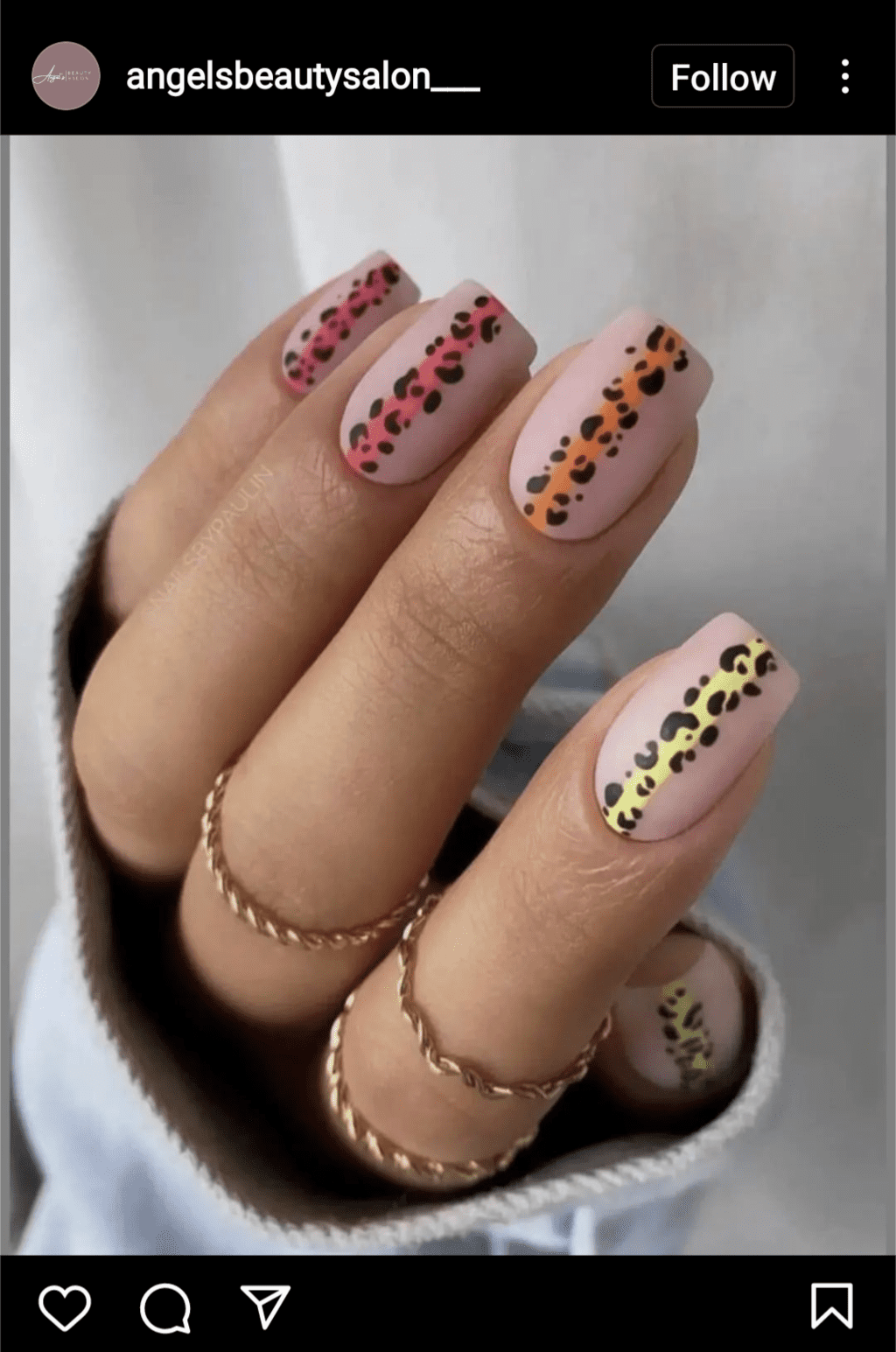 Tortoiseshell Nails
You can now create a tortoiseshell texture on nails! I have been sporting tortoiseshell sunglasses my entire life so I'm so happy to see them perfectly mimicked in nail designs. You will want at least three different colors ranging from light orange to dark brown for this look. You'll need to paint on thinned layers of polish in random nail spots, layering each color onto those spots. To see exactly how to do this, watch the video below.
Mix-N-Match Nails
Mixing designs amongst your nails is fun to design your nails if you can't make up your mind. You can mix-n-match almost any of the designs listed above. Some fun designs to do together are daisies and baby boomer nails, clouds and ombre for a sunset look, and wavy lines with smiley faces to throw it back a few decades.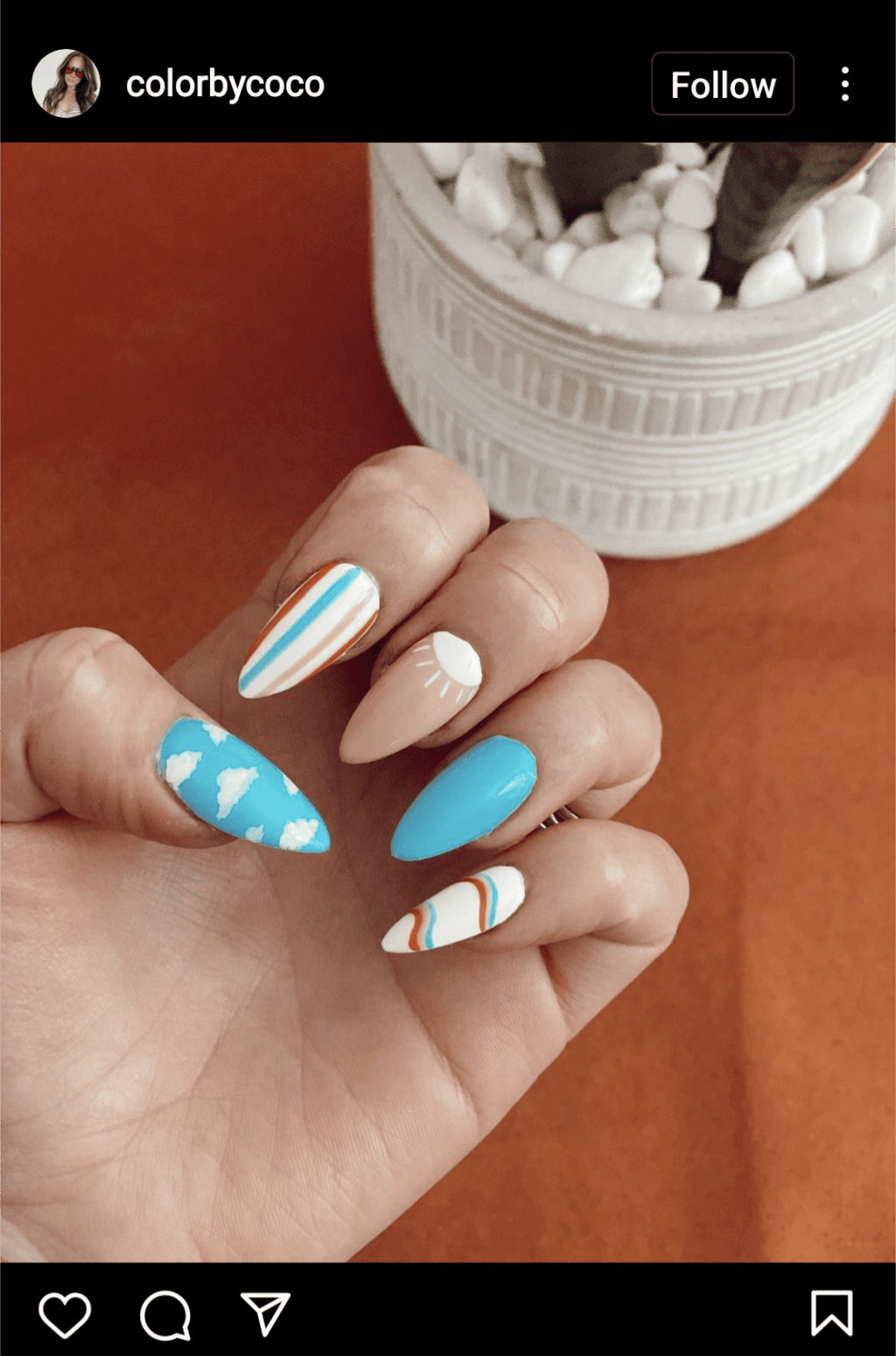 FAQs
Question: What are Aesthetic Nails?
Answer: Aesthetic nails are beautiful nail designs that are artfully done and trendy. Some great examples of aesthetic nails are velvet nails, minimal nails, and baby boomer nails. Any of the nail designs on this list are aesthetically pleasing, though.
Question: What is the Best Nail Shape?
Answer: The go-to nail shape this year is oval or almond. This elongates and thins out your nails, giving your whole finger a more pleasing look. They also tend to grow better this way because it is the natural shape of your nail, and there are no corners to break off.
Question: What Nail Colors are in this Year?
Answer: Pantone has announced periwinkle as the color for 2022. This color is a blend of blue and purple in a lighter shade, close to what you would call lavender. You can do nearly all of the aesthetic nails on this page in periwinkle.
Question: Are French Tip Nails Still in Style?
Answer: The classic french tip may be out of style, but there are modern spins that will give your French manicure a whole new look. These include baby boomer nails, triangle-shaped tips, corner french tips, and outlined french tips. You still get the benefits and feel of a french manicure but in a more up-to-date style.
Question: What Nail Designs are Trending Right Now?
Answer: Minimal nails are what's in right now. That means nude nails with a simple design over the top or no design bit a slight texture. 90s fashion has also come back, so think smiley faces, butterflies, and cheetah print. Which one you go for depends on how subtle you want your nails or how much you want them to stand out.
Bottom Line
Whether you are trying to have your nails stand out or want something minimal and subtle, there is something aesthetic for everyone. I love all of these aesthetic nails inspiration and ideas, saying that this year's fashion embodies the 90s and minimalism, especially the half-moon cuticle nails. They are minimalistic while also putting a fun spin on the traditional french manicure.
Continue reading:
Louis Vuitton Nails Inspiration and Ideas: Your Guide To Luxurious Nails
23 Stunning Swirl Nails Inspiration and Ideas for 2022
Pink French Tip Nail Inspirations and Ideas: A Guide to Awe-Worthy Nails