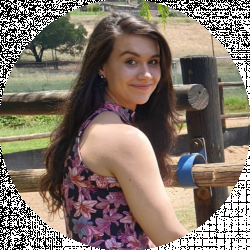 Latest posts by Christine Kent
(see all)
"We have an angel watching over us" is something my mother always said. This phrase always made me feel calm and protected. Since I was a little girl, I would always have angel necklaces, charms, or small angel figurines that I would keep with me. It was just a symbol for me of calmness and safety and that everything would be okay. 
As I got older and started showing interest in doing my nails, it became my and my mother's thing to add angel art to our nails. I'm excited to share my Angelic Nails Inspiration and Ideas with you. Trust me, with all the years of adding angel art to my nails, I can definitely tell you what will look beautiful and what will not. 
So come on, angels, let's fly!
Bottom Line Up Front
Are you obsessed with angels and like to add them to everything? Whether it is your home, cups, plates, phone covers, or even your duvets? What about trying something new and adding angel art to your nails? 
Angels bring such a positive and peaceful vibe to your nails. I love adding them to my nails! My favorite angelic nail design is the Classy Angel French Tip Nail Design. It is so easy to create, and I can wear it to any occasion, which is a bonus. 
Top Picks
Selection Criteria
I chose the nails mentioned in this article according to the following criteria:
There are short and long nails to choose from.

Some of the nails are simple and can be created in the comfort of your home. And then there are other more intricate designs that will need a professional's help.

There are nails with different colors and designs. Whether you want something subtle or something blingy and extra. There is something for everyone. 

There are nails for different occasions (daily wear, classy events, parties, etc.)

There are a few nail sets with unique designs if you want to try something different.
Angelic Nails Inspiration and Ideas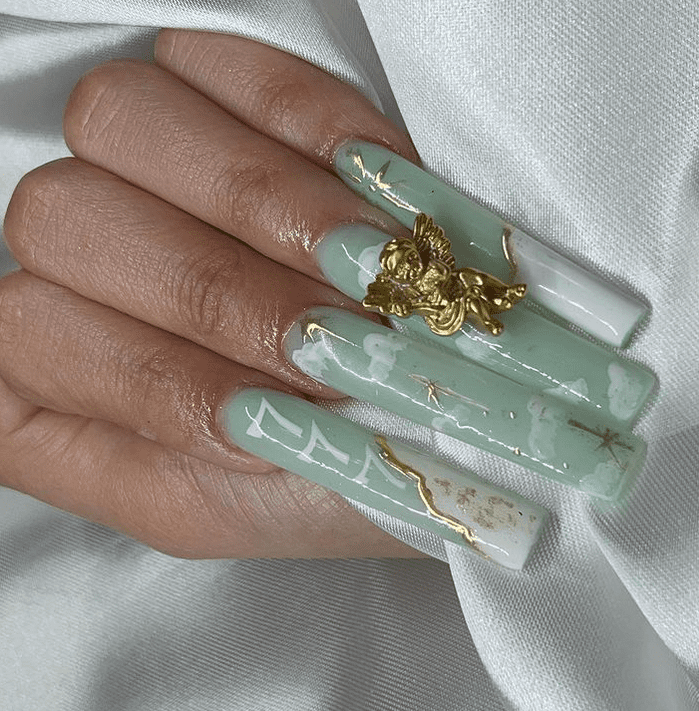 I love the color of this nail set. It is so soothing, calming, and soft on the eyes. The white cloud details, with the gold angelic charm, add such a peaceful vibe to the nails. This nail set has a spiritual meaning to me with the angels, the 777, and the clouds. It symbolizes to me that God and His angels are watching over me and giving me guidance. 
The only thing I dislike about this nail set is the length. It is just way too long! But if the set was shorter, I would definitely get it. I would even get it as my everyday nails. I would remove the golden angel charm and replace it with a gold angel sticker. So that everything doesn't get attached to my nails. This nail set is subtle, classy, cute, and easy to create. It gets a yes from me!
Wow! Now this nail set is something else! It gives me retro vibes. I love the added chain, angelic decals, charms, rhinestones, and pearl detail to the nails. But together, it is just too much. I know my hair and everything in the house will get attached to these nails. It would have been cute if one or two nails had these added details. Sadly it is too over the top for me, and it gets a no. 
Pink, glitter, and angels on nails? Now we're talking! I'm just in love with this nail set! It is soft, cute, girly, and glittery, everything I want in a nail set. I love how the baby pink looks with the clouds and the glitter. It is cuteness overload. The best part is that the nail set isn't that hard to create. All you need is angel decals, your desired pink gel color, glitter, and white gel. Remember your dotting tool and small nail art brush for those breathtaking clouds. 
The only thing I would change with this nail set is the length and that all the nails are not the same shape. I don't like that the little fingernails are different from the rest of the nails. But if you like having some of your nails a different shape, then you do you, hun!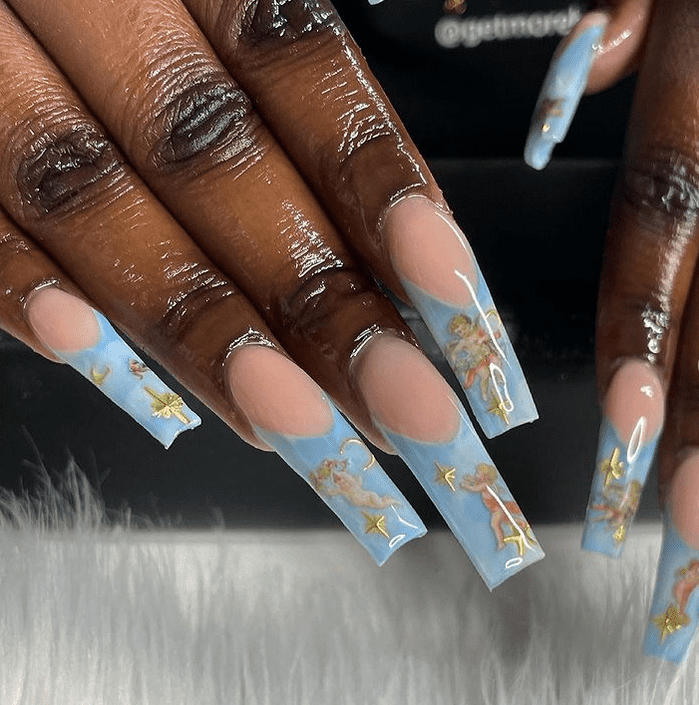 There is nothing more elegant than French tip nails. Don't you agree, girls? The gold details and angel decals add more elegance and class to the set. If you are good at creating French tip nails. This nail set will be a walk in the park for you. You need to create the blue French tip and add angel decals with golden stars and moons. It is as easy as that. 
This nail set is subtle and stylish. If this nail set was a shorter length, I would wear it as my everyday nails. It is so pretty!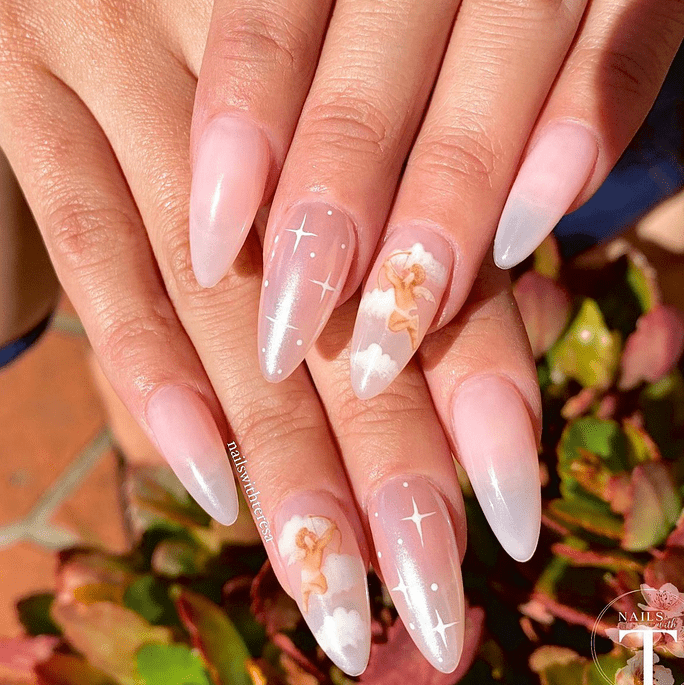 If you are looking for an angelic nail set that is more subtle, then this pink set will be perfect for you. The set is pretty and feminine. It is a nail look that can be worn to any occasion, whether formal or casual. The nail set also gives me Hailey Bieber's nail vibes with the color and shape of the nails. 
I'm a big fan of any nail set that is subtle and pink. This nail set will go with most of my outfits and give them a girly and aesthetically pleasing touch. It is one of my favorite angelic nail sets, and I love that it is easy to create. I only need my desired pink gel, white gel with dotting tools, nail art brushes, and angel decals to create the look. Love it!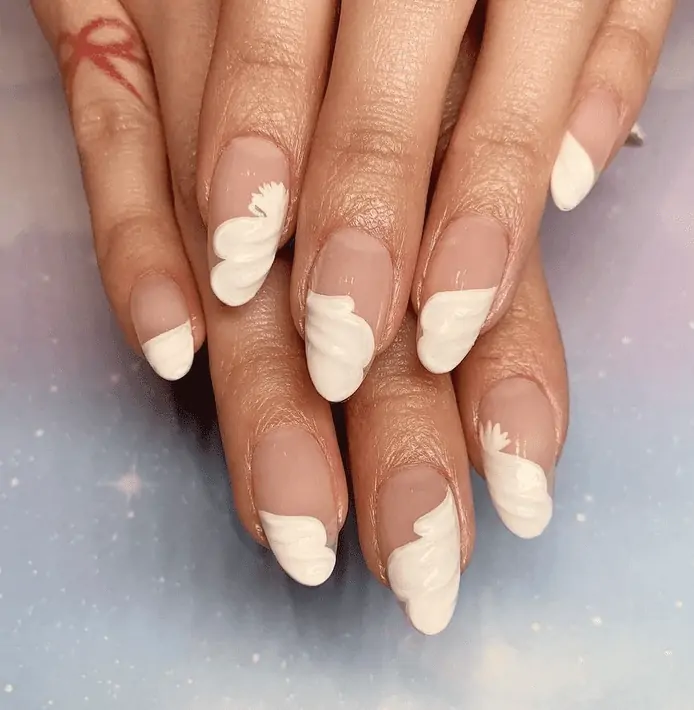 This is such a gorgeous nail set! Instead of your usual French tip nail set, the tips of this nail set are decorated with beautiful white angel wings. It gives the nail set a magical and elegant look. I love that the white wings appear in 3D. It just makes the wings appear more special. 
This nail set is perfect for a bridal shower or an engagement party, and you can wear it on your special day. It is also suited for classy events. I adore this nail set. Even Though this set is not that hard to create, I will still visit my nail tech for this look. I want it to look like angel wings, not white blotches on my nails. What are you waiting for, girls? Add some wings to your nails!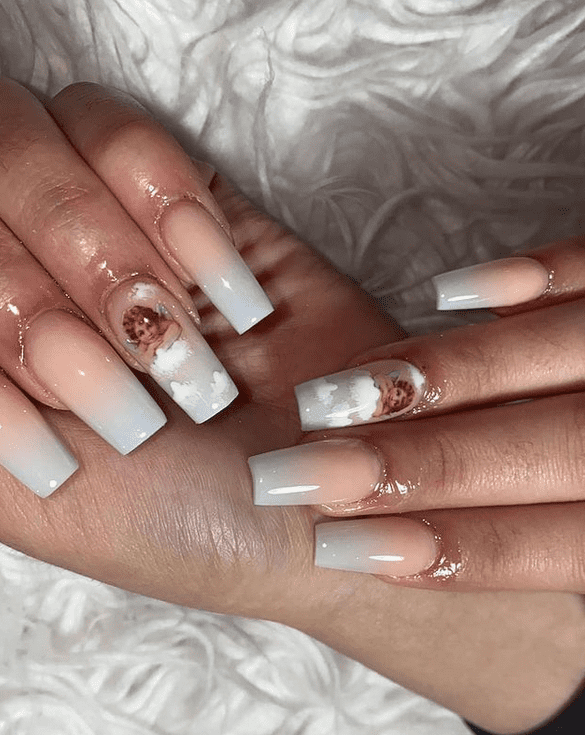 This ombre angelic nail set is perfect for my boss's babes who want a subtle nail set for the office. I love how the nude fades effortlessly into the light blue tips with all the nails. The ring finger has a cute angel decal with little fluffy white clouds added to the ombre design. If you know how to create an ombre nail look and cloud art, this nail set will be easy for you to create. I love this nail look so much that I will create it right after we are done with this article. Simple nails are not boring; they are practical and beautiful.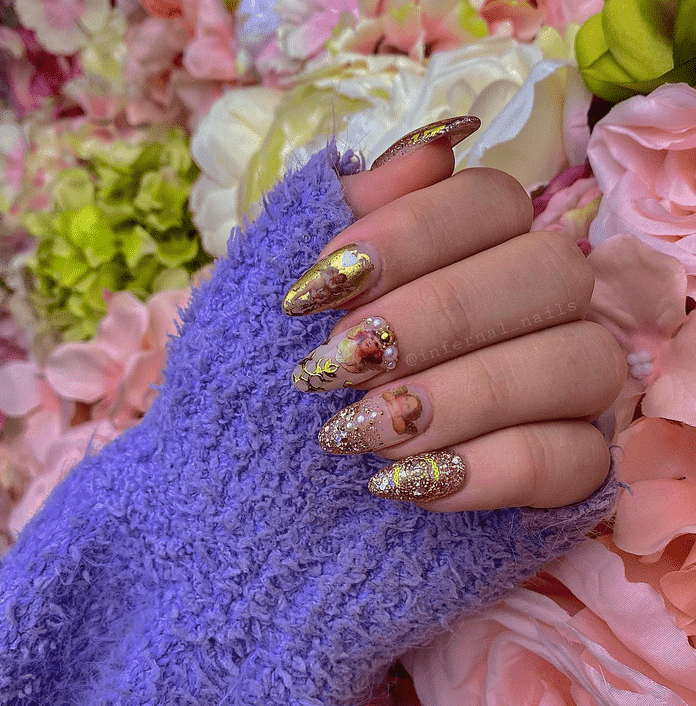 Now this nail set looks like royalty. I love the shape of the nails and the translucent nude color with the added gold detail. The nails look elegant and luxurious. I love the added gold foil detail, the angel decals, and the tiny pearls. The golden glitter complements the look perfectly. 
I would wear this nail set to a ball or a grand event. The gold will definitely make a statement. This nail look might look complicated to create, but trust me, girls with the right accessories it will be easy peasy. This is the perfect nail set to get if you love glitzy nails.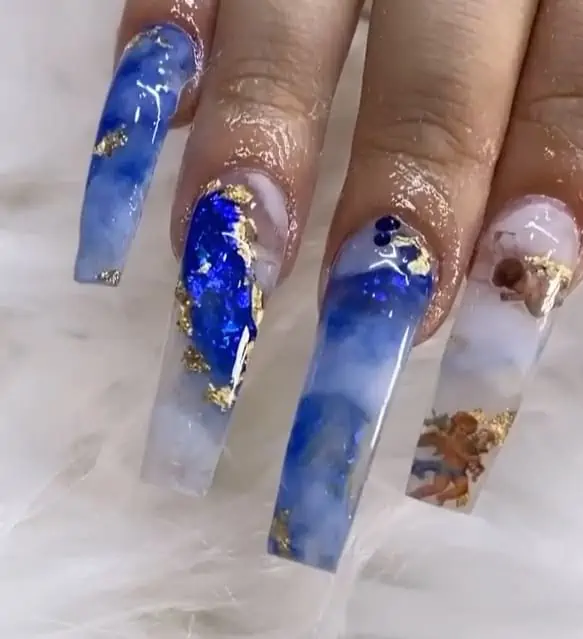 This royal blue angelic nail set holds a special place in my heart. I love the color royal blue, especially when it is paired with golden details. What makes this nail set special is that it looks like angels, golden flakes, and clouds are trapped inside the nail. 
I think this set represents what heaven looks like. Gorgeous blue skies with clouds and angels and golden roads. You will need to visit a nail tech to achieve this gorgeous design. It is a stunning set to wear to a classy or formal event. Just know that all eyes will be on you.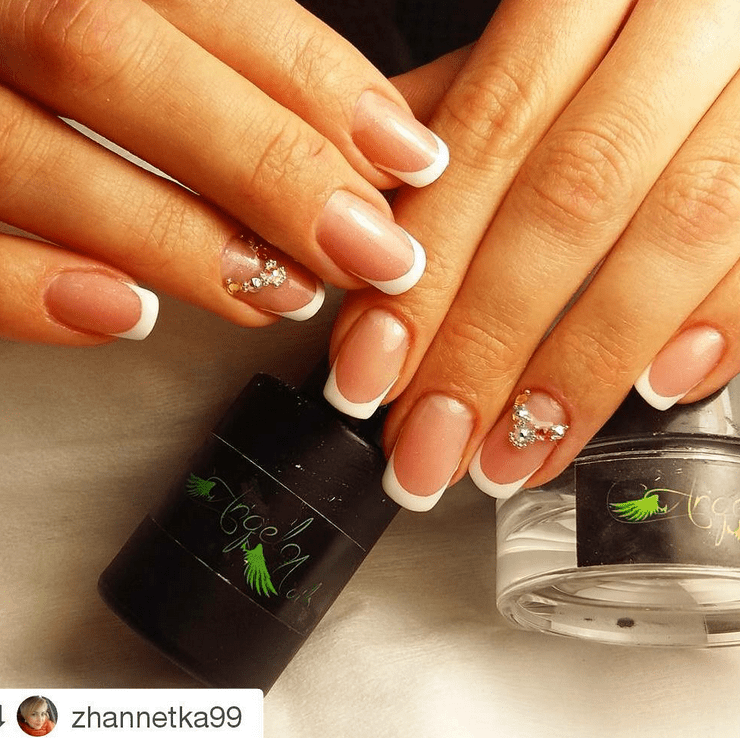 If you love adding angels to your nails but are looking for a nail set that is subtle, classy, and sophisticated. Then this nail set will be ideal for you. The nails are decorated with a stunning French tip design. The ring finger is decorated with pretty little rhinestones and beads that form an angel wing. 
This nail set is simple with a classy touch. I also love that I can create this nail set from home. So convenient! It is suited for any occasion, whether you are heading to a meeting or even your wedding day. I prefer a subtle and elegant nail set like this over a glitzy nail set any day.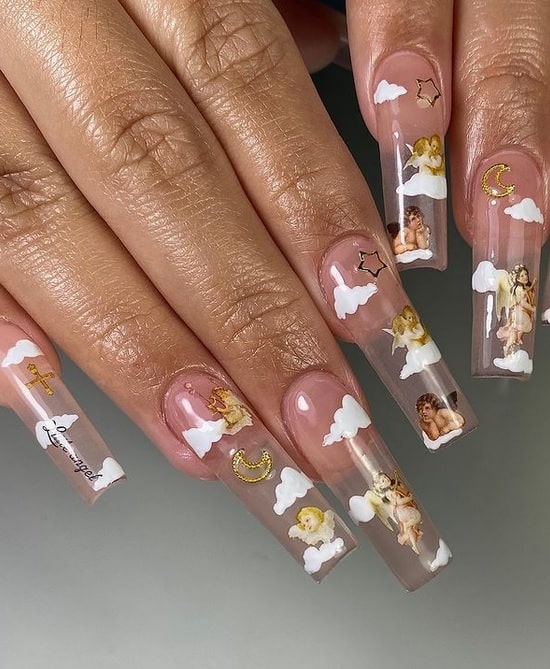 Who doesn't love a nude nail moment? These nails put me in nail art heaven! The best part is that it is so easy to create. Paint your nails a transparent nude, and then add some angels, clouds, and moon and stars decals to your nails. 
I would opt for a shorter length and wear these angel nails daily. What do you think about this set, ladies?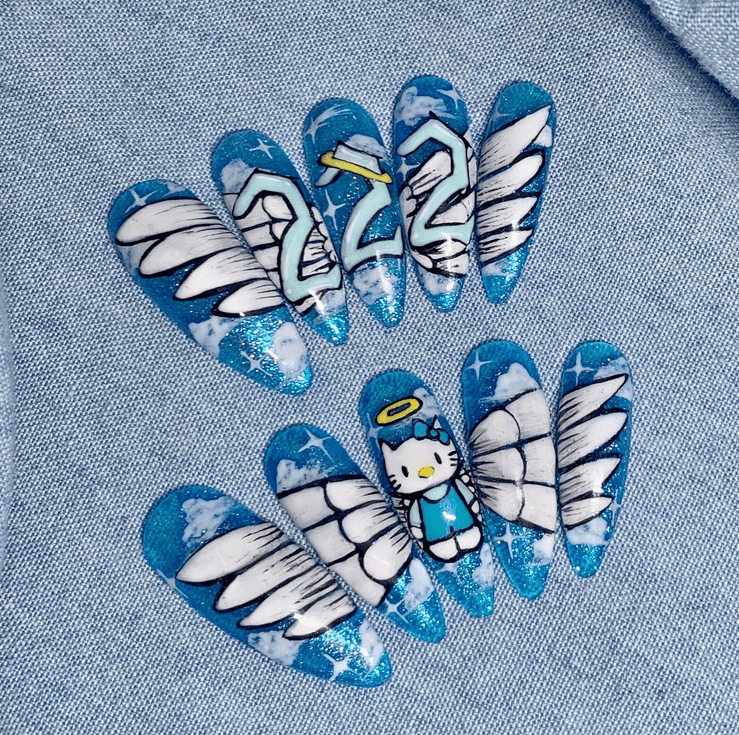 Now this nail set brings me nostalgic memories. I loved Hello Kitty when I was younger and still do. So adding Hello Kitty, especially this design with the angel wings and 222, to my nails brings comfort, joy, and positive vibes. 
I love how all the nails together form a picture. The set resembles Hello Kitty being an angel and being in the sky. I really like how the Hello Kitty angel wings and the 222 with its wings stand out on the glittery blue nails. The black gel that outlines the art makes it stand out even more. The little fluffy clouds and the yellow hallows add a special touch to the nails. 
This is a nail set that I would love to get as a birthday nail set or if I'm attending a comic con. I don't want to spoil its cuteness by doing the set alone. So I'm definitely visiting my nail lady for this one.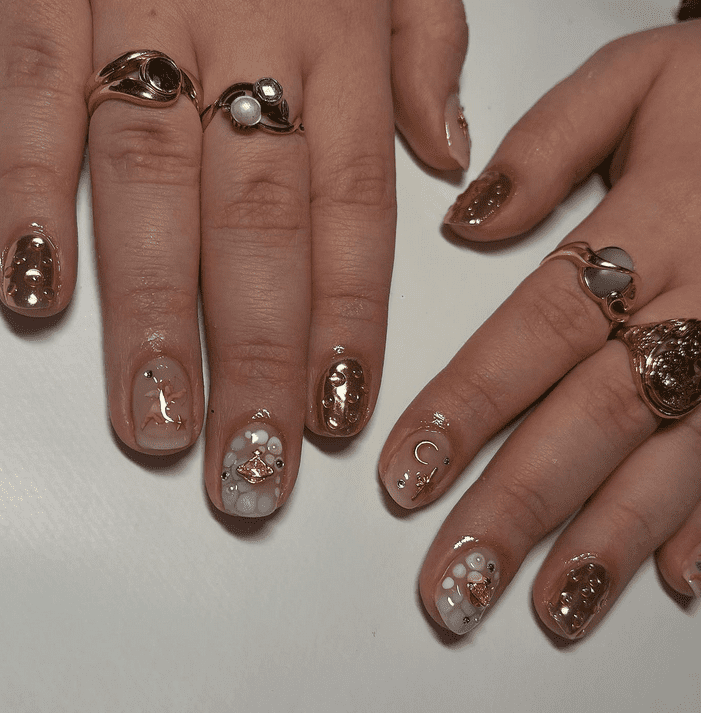 This nail set is so cute and chic. I love how the golden chrome nails are toned down with the clear nails. All the art goes together so well. The droplets, gems, and angel decals are my favorite part of this look. I would wear these nails to any occasion because they are elegant and sophisticated. 
What I like most about this angelic nail set is that it is easy to create, and you can create it on your natural nails. Now that's my type of nail set!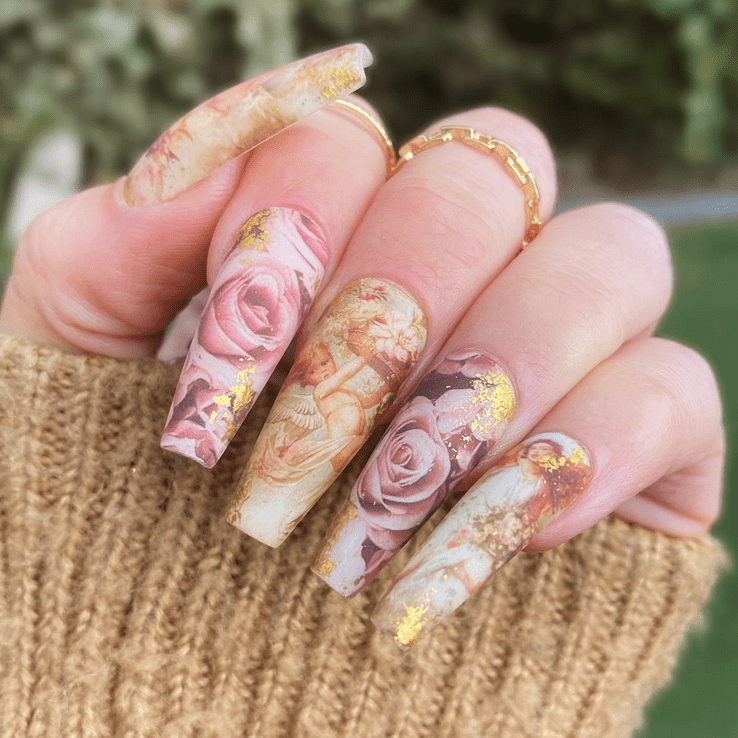 Roses and angels on nails? What a beautiful combination! This is something my Granny would have worn back in the day. When I was little, her room's wallpaper was similar to this nail look. And don't stress, girls, this nail set is not hard to create. You can get angel street-colored nails, peel them, and stick them to your nails. The street color strips allow you to have pretty angel nails in under 10 minutes. 
This set will look so cute with knitted jerseys in the wintertime. Love it!
Frequently Asked Questions
Question: Are Angelic Nails Hard To Create?
Answer: Ladies, this will all depend on the design you are going for. Some angelic nails have intricate designs. And then there are angelic nails that are simple. Here's a tip: If you are not great at creating nail art, you can always use nail decals for the angels. 
Question: Are Angelic Nails Expensive?
Answer: It is all about the design and length you choose for your nails, hun! If the angelic nail designs are simple and the length is short. The nail set will most likely be affordable. But if the nails are long and the designs are intricate with added gems or charms. Then the nails are most likely going to be expensive. Especially if the angel art is hand painted because it will take a lot of time to create. 
Question: Can Anyone Wear Angelic Nails?
Answer: Absolutely! Whether you are more of a soft, subtle, and girly girl or an over-the-top babe. There is an angelic nail set to suit everyone's needs. 
Conclusion
There you have it, angels! I hope you enjoyed my angelic nails inspirations and ideas. Angel art on nails means so much to me because it reminds me of my mom. I don't see my mom that often, so when I miss her, I go to my nearest nail salon to get an angelic nail design. I see the angel nail art as spiritual, peaceful, and a positive reminder that everything will be okay. 
Do you like adding angel art to your nails? Which Angelic nail idea was your favorite? Let me know in the comments below. My favorite angelic nail set has to be the Classy Angel French Tip Nail Design. It is so simple yet so elegant. It is also so easy to create, which makes me love it even more. 
If you still haven't found the nail set for you, go through my nail ideas again. As there is something for everyone. Have fun, angels!
Continue reading:
Nezuko Nails Inspiration and ideas
Anime Nails Inspiration and Ideas: Bring Character to Your Nails
Diamond Nails Inspiration and Ideas: Rocking Bling as a Manicure