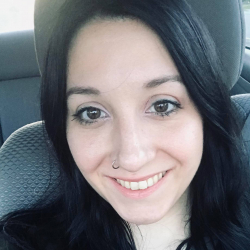 Latest posts by Stephanie Jensen
(see all)
If you truly want sultry nails, I suggest painting your nails burgundy. Burgundy is not only a sexy color but is a universally flattering shade; even though it's on the warmer side, it also looks amazing on cool undertones. It's a deep red color that looks amazing all year but is a popular choice for the fall and winter months.
The other amazing aspect about burgundy is there are so many looks you can do with this color. Here are some ideas for your next burgundy nail look!
Shades of Burgundy
Did you know burgundy is complex color? While it's a specific shade of red, burgundy can have more than one look.
Bordeaux
When I think of burgundy, I think of wine. And what better representation of the lovely wine color than Bordeaux? The Bordeaux color captures attention. Like burgundy, Bordeaux is in the red family and is a darker color with oak undertones. Getting your manicure colored in Bordeaux will surely make a statement!
Sangria
I personally think sangria looks similar to maroon. It's a purplish red that's on the darker side, named after the iconic wine. It's also called burnt red.
Chocolate Burgundy
What if you love burgundy polish but want to keep things simple? Chocolate burgundy is a muted shade that still makes an impact. As you can imagine, chocolate burgundy is a brown-based red that's very dark. It's a great fall or winter color.
Blood Red
Blood red may sound like a simple color but it's truly show-stopping when applied to your nails. Blood red is a darker shade of red but it's more of a crimson color. Blood red can vary between brown-based red and even black-based red. I've even seen some shades of blood red with an orange base.
Deep Red
Deep red is often called different names, such as wine red. It's a very warm color and oh so elegant. You can find this irresistible color nearly anywhere.
Designs for Burgundy Nails
You can't complete your burgundy nails without some cool designs. Here are some of my favorites!
Sparkles and Glitter
Not sure how to take your burgundy manicure to the next level? Sparkles and glitter are popular choices. You can easily blend your favorite shade of burgundy with a glittery topcoat.
Winter
From snowflakes to holly, there are many charming winter aspects you can add to these nails. Adding these winter designs to your next manicure is the perfect way to ring in the new season.
Christmas
Going on the winter trend, Christmas accents will get you ready for the holiday season! But Santa Claus and Reindeers on your nails can seem tacky. Instead, opt for holiday details such as presents, stars, Christmas trees, and candy cane stripes (this will especially look amazing with burgundy nails).
Leaves
Want to try a unique design on your burgundy nails? I've seen some really cool leaf designs!
Galaxy
Galaxy nails are what they sound like — they look like space. Your nail technician will combine different shades of blue and purple plus white star accents and swirls to complete the look. If you use the right shade of burgundy, you can achieve a unique galaxy nail.
Ombre
If you don't want a solid color, I suggest choosing an ombre. With an ombre, your nail technician uses multiple colors in a gradient-like effect. An ombre is a great way to combine multiple colors with burgundy for a bold look.
Geometric
If you truly want a complex and head-turning design, opt for a geometric look. Geometric designs resemble shapes that will elevate your nail game. You have so many geometric options to choose from and you can even do this look in different colors. Some looks, such as lines and circles, you can do DIY.
Rhinestones
Rhinestones are a way to make a bold burgundy manicure look softer and more feminine. Both gold or silver rhinestones could pair with burgundy, so you have many options when adding gems to your manicure. But make sure they sparkle!
Floral
Floral patterns are always gorgeous on any manicure. Roses and other flowers look especially cute on burgundy nails! You can either apply the floral designs on all nails or use them as an accent.
Lattice
Lattice is a criss-cross pattern, most commonly seen on pie crust. I personally think the right lattice pattern looks beautiful on nails. A burgundy lattice is a unique winter nail look. I suggest doing this look in Bordeaux for your next holiday party. Add some rhinestones for an extra touch of luxury!
Swirls
Swirls are very special designs and look lovely with burgundy. I personally think the color combination you choose matters the most. Choose a pale color with burgundy, such as rose pink, for the swirl design. Gold and green swirls with burgundy will also create a unique look that's perfect for the holidays.
Holographic
If you're not a fan of glitter, holographic designs still add glitz and glamour while offering a more unique look. I love the kaleidoscope effect that holographic polish gives off. This is also an easy look to do DIY if you can find holographic polish. You can either apply the holographic polish directly on your nails or add the polish alone as an accent.
Animal Print
Who knew burgundy animal print would be so chic? Whether you want zebra or leopard print, add burgundy to these traditional print colors. I personally think burgundy leopard or cheetah print is gorgeous.
Nail Shapes for Burgundy Nails
Now that you have the design basics down, you'll want to plan your nail shape to better match your burgundy nails. Here are some of my favorites.
Stiletto
Stiletto nails are my personal favorite and a shape I had for many years. As you can expect, the stiletto nail has a thin and fine point, representing the famous heeled shoe. It's an elegant shape and is usually very long, ideal for any accents you add. Because of this fine shape, this isn't a look you should achieve DIY.
Square
Square nails are a very classic look. This nail style is often on the conservative side, making it appropriate for most office environments. By choosing a bold color such as burgundy, you'll have a square nail manicure with a little more personality.
Short
Long nails are gorgeous; but let's face it, what can you do with those nails? Short nails are a classic choice because you still have plenty of functionality. Plus, anyone can pull off this look. The dark color of burgundy always looks amazing on a short nail; the deep color will make your nails stand out, no matter how short they are. For a more elegant look, file your nails so they're rounded.
Long
Long nails truly make an impact. And with the sexy look of burgundy nails, I think burgundy is the perfect color to wear on long nails!
Colors That Match With Burgundy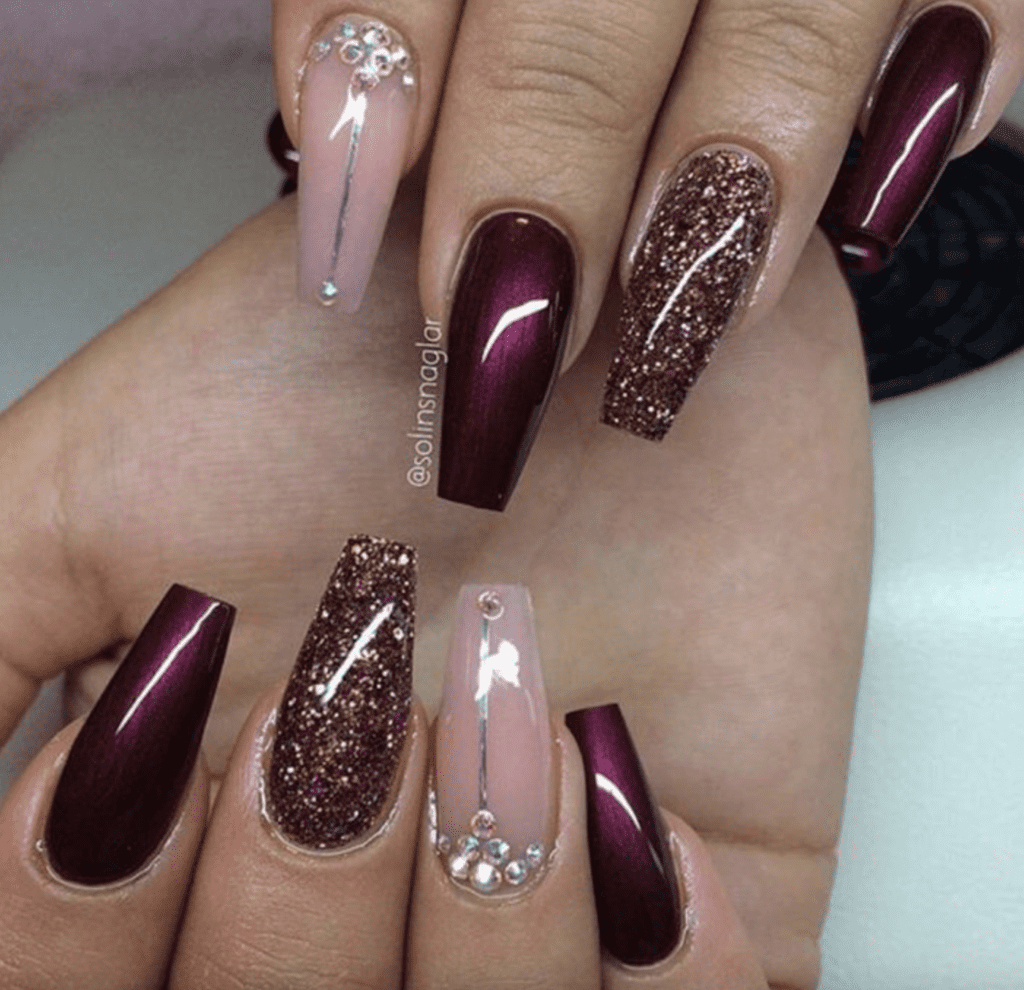 Don't want to do a full-burgundy manicure? Here are some colors that look beautiful with burgundy!
Nude
If you want a multi-colored look, nude is always the go-to. Nude looks good with nearly any color; nude is subtle enough to not take the drama away from the main color. I personally think the burgundy and nude color combination is very chic and matches nearly any outfit.
Purple
Even though burgundy is in the red family, it's dark enough to mix seamlessly with purple. Finding the right burgundy shade, such as Sangria, can make your purple/burgundy manicure totally unstoppable.
Gold
I personally think gold and burgundy is one of the most beautiful color combinations ever. For best results, I would suggest using Sangria or a plum-based burgundy for a super cute look.
Silver
Not a gold fan? Silver and burgundy are also a great color combination. For best results, choose a silver glitter that can shine over any burgundy manicure.
Champagne
Champagne is named after the famous drink and is traditionally a pale yellow-orange, though some variations are closer to beige. Champagne will illuminate any deep burgundy. I personally think both colors complement each other.
Black
Black is one of my favorite colors ever. It's so simple and matches everything. I could be biased but black and red is my favorite color combination ever.
Black and burgundy especially look chic and these colors are an elegant way to add some variety to your manicure. Since both colors are dark yet subtle, they're perfect for patterns or just the two colors alone. Since you can find burgundy and black polish anywhere, you can easily do a look like this yourself.
Pink
Since red is burgundy's base color, you would think pink wouldn't match well with this color. But I personally think a bright pink gives an interesting contrast. If you want something subtler, I suggest choosing rose gold.
White
White and burgundy is a sophisticated color combination that looks amazing during the holiday season. You can add white as an accent to make the nails pop out or even add some patterns and other colors to the mix.
Blue
Burgundy and blue aren't a traditional color combination. However, this color combination is surprisingly very lovely — especially if you want a unique nail look. Which shade of blue looks best with burgundy? A light, crystal blue will create an interesting contrast to the dark color of burgundy. Plus, the two colors together are very chic.
Burgundy Nail Ideas You'll Love
Want some more specific ideas for your inspiration? Here are some burgundy nails that I love!
1. Burgundy Nails With a Tortoiseshell Accent

The deep red shade of burgundy looks lovely with the tortoiseshell accent nail. And finished with gold flakes, this look is especially chic. This look uses gel nails and I would recommend using gel for your manicure unless you can find press-ons. Credit: @_alwbeauty.
2. Cherry Burgundy Nails

Ch-ch-ch-cherry bomb! These nails are so adorable! Some nails are a dark burgundy and the others feature a cute cherry design. The nails are also matte, making them look even more striking. If you do this look DIY, just know you'll need a matte topcoat.
If you don't like cherries, I can see this look with berries or strawberries. Maroon would also be a good color to use instead of burgundy. I can't tell if these are gel or press-ons, but I think they're gel. Credit: @the_tinypainter.
3. Burgundy Winter Wonderland

Are you not ready to give up winter? Sure, we're in April as I'm writing this, but I do love the colder months! You can always get those winter vibes with the right nails, such as this look. These stiletto nails are burgundy with white accents. The white nails have trees and reindeer painted on them. The nails are super long and feature gold gems and accents. These nails are so lovely and I can't get over them! Credit: @nailsaeko.
4. Autumn Glamour Burgundy Nails

These nails scream autumn to me and I'm totally in love! They're square acrylic nails. Two nails are full burgundy, one is full brown glitter, and one is brown glitter French tips. This is the perfect fall look if you're treating yourself to acrylic nails. I can also see this look working well as Christmas and winter nails. This is a gorgeous look but I recommend going to a professional for this look. Credit: @_nailsbyniamh.
5. Burgundy Matte Glam

Here's another fall look if you want to sparkle your way through the season! These nails are pointy but not too long. Half of the nails are full burgundy and the others feature gold French glitter tips. They're finished with a matte coat. The result is elegant nails that you'll love. Credit: @nailsbyryoko.
6. Burgundy Blood Red Nails

Blood red has to be my favorite color ever and I'm in love with this look. Dark burgundy graces two of the nails and the other nails are nude-pink with blood-red details. I definitely see this as a Halloween look (or an all-year look, in my case).
This look seems complex but it actually looks pretty simple. With the right colors and artistry, you can do this DIY. If you don't think you can do this yourself, I could do this look but with long stiletto nails. It looks like the model here has rounded gel nails. Credit: @n.badjuk.
7. Part Fuchsia, Part Burgundy Nails

This is such a classy and unique color! It's burgundy but has a fuchsia tone to it. The color is How You Dune and is from Life's a Beach Nails, posted by @lifesabeach_nails. Silver shimmer finished this color, making it even more brilliant. This is such a great color if you prefer to paint your nails DIY. Plus, by shopping at this brand, you're supporting a small business!
8. Perfect Burgundy Nails

It's easy to be distracted by all of the glitz and glamour of nail art. Sometimes, you just want simple and chic nails. I absolutely love these burgundy nails for fall! Credit: @medusaglow.
9. White, Gold, and Burgundy Swirl Nails

Oh man, where do we begin with these nails? First, each nail is different. One is a classic French tip with gold accents, another is nude with a gold line down the middle, another is a swirl of white, gold, and burgundy, and the last is a gorgeous cinnamon burgundy color. I definitely suggest going to a nail tech for a look like this. Also, this look is best for acrylic as opposed to gel. Credit: @aroyaltouchnails.
10. Deep Burgundy French Tip

This deep red burgundy color is drool-worthy! I also like how one nail is nude with the deep red French tip for a little more personality. I like these nails for an elegant event, specifically one in the fall. These look like gel nails but with the right colors, you can do this DIY. Credit: @alluremoi.
11. Shimmer Burgundy Nails

If you really want a sparkling look, I suggest nails such as these. All nails are a lovely shade of burgundy and one nail has silver shimmer accents at the top. The nails are square but not too long. I think this is gel but you could honestly do this look DIY. Credit: @Nails_by_katy1.
12. Springtime Burgundy Nails

I'm writing this during April. While we usually don't associate this season with the color burgundy, these nails prove that burgundy truly is a year-round color.
@lisasmithbeauty does a spring twist with these nails by adding white floral accents to a burgundy manicure. The burgundy she used is a darker shade and is absolutely beautiful. I can also see this look transitioning well into summer. I honestly can't tell if this was done DIY or with a pro, but I'm sure you can do this look either way.
13. Crocodile Burgundy Nails

I see this crocodile print look everywhere on the nail Instagram hashtags, but I really like this look that @itselliescorner has. All of the nails are white except for one nail, with burgundy crocodile accents and various gems. The acrylics are also seriously long. This look takes serious artistry, so I suggest going to a pro for this look.
14. 90s Burgundy Nails

Does anyone remember these nails? I think I got this nail look during prom one year! If you want to take a trip back to the 90s and early 2000s, this is the look to get. The nails are medium in length and square. They feature burgundy tips and…what would you even call that design? Abstract 90s nail salon chic? Random black and white lines with gems?
Obviously, these are acrylic nails and should be done by a professional. Credit: @nailsbyautumnraee.
15. Coffin Burgundy Nails

The best part about burgundy nails is this color looks amazing on every nail shape! I love the look of this burgundy shade on these coffin nails. The color is simple — just a dark almost black burgundy. If you love the color but don't want to go to the nail shop for acrylics, this should be an easy polish color to find and you can simply paint your nails. Credit: @getnails_byjen.
16. Perfect Prom Burgundy Nails

Are you looking for a burgundy nail look for prom? This is such a great look, especially if you're also wearing a burgundy dress! The nails have a French tip in burgundy with silver accents. It's a very classy look. If you don't want to go to a professional, you can get press-ons and do this look yourself. Credit: @steady.hand.
17. Nude and Burgundy Nails

There's a reason why I mentioned nude and burgundy is one of my favorite color combinations. Look at these beautiful nails! The nails are a peachy nude except for the dark burgundy accents. The pinky nail is dark pink glitter. If you don't want to go to a nail tech, you can do this look DIY with the right colors. Credit: @highmaintenancearies.
18. Glitter, White, and Burgundy Nails With Geometric Lines

I'm not crazy about geometric lines, but the trend looks very classy with the right look. This is the perfect example. Two of the nails are a lovely ginger burgundy. The pinky nail features silver glitter and the index finger has a geometric line design in both white and glitter. @nailed_by_daisy said these nails were done for prom, though I can also see these nails for a variety of other events, a vacation, and even if you just want to spoil yourself.
19. Burgundy and Gold French Tips

This is a cute look for New Years or another special event! The nails are burgundy but feature sparkling gold tips. There's also a sparkly gold accent nail on both hands. With the right colors and artistry, you could do this look DIY. Credit: @jo.nailsarts.
20. Sangria Square Nails

For the last nail look, I wanted to find a color in sangria because I realized I never included any. These are square nails (can't tell if they're acrylic or gel — they don't look natural) in a gorgeous matte sangria color. Credit: @inez.j_nails_lublin.
FAQs
Question: Is Burgundy a Classy Color?
Answer: I think so! Burgundy is a warm color and looks attractive. They do have a glamorous look, perfect for a special event. But burgundy is also a great choice for everyday color, especially during the fall and winter seasons. Plus, burgundy is usually an appropriate color at most businesses, so it should fit into your dress code.
Question: What Color Should my Accent Nail be?
Answer: Let's say you're doing a full burgundy manicure and want an accent color. What's the best choice? Since you want the nails to be striking, I say choose black. Plus, black looks great with burgundy! Glitter gold or silver is also a cute look as an accent nail.
Question: What are Some Trends for Burgundy Nails?
Answer: Minimalist burgundy nails are always in. And fortunately, red is seriously trending more now than ever! Just find a gorgeous shade of burgundy, paint it on your nails, and you're good to go! Other great burgundy nail trends include marble, rhinestone, velvet, and gold foil. Pink is still a trending color and pastels are also in style during the spring, so consider these colors if you want to mix colors or if you want an accent color.
Bottom Line
Burgundy is a sexy and sultry color, perfect for any manicure look. Not sure what the color burgundy is? Think of the color of wine, such as Merlot or Bordeaux. You can also opt for a Sangria color, which is a maroon-burgundy. There are also light and deep burgundy variations.
You have so many options for a burgundy manicure. A simple burgundy color looks classy but you can also choose show-stopping accents and designs. From simple glitter to intricate winter-inspired designs, you have many options to take your burgundy nails to the next level!
Continue reading:
Red and Gold Nails Inspiration and Ideas: Bring Out Your Inner Goddess With these Red Nail Ideas
Red and Black Nails Inspiration and Ideas
Red Ombre Nails Inspiration and Ideas: Inspo Before Your Next Salon Trip