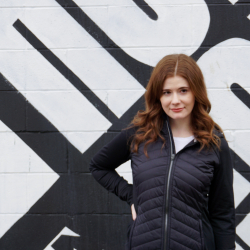 Latest posts by Kelsey Purcell
(see all)
Short nails are practical, but they don't have to be boring! You can achieve dramatic and fun nails to match your personality and style without adding length. Through designs, colors, and texture, you can embrace simple and minimal styles or turn up the glamour and make the most of your short nails.
I've learned to love short nails! Since my nails grow fast, it makes sense for me to start short, and by the time I get my gel fill, they're a medium length. While I don't have any rules imposed on me that I have to follow, I like short nails for their practicality.
When I had longer nails, they would always break while I was cleaning or doing dishes. I'm also a klutz, so my longer nails would break off if my hands hit a wall, a door, or anything else (not to mention the locker I painfully hit during my high school days).
As a constant typist, long nails would be frustrating if I missed a key or hit something I didn't mean to. As beautiful as long nails look, it's best I keep them on my screen rather than in real life.
Bottom Line Up Front
TikTok, Instagram, and Pinterest showcase the most stunning long acrylic and gel nails, but short nails are just as sophisticated, stylish, and classic.
If you're subject to work dress codes or regulations about how long your nails can be or what style you're allowed to have, I included a lot of options that can meet any rules you have to follow and some more detailed and bright versions for your off time.
Short nails don't limit your style and design choices – anything you can do on long nails, you can do on short nails, too!
Since "short" is entirely subjective, I've added a variety of short lengths for you to visualize and adapt to your preferred shortness!
At-Home vs. The Salon
Short nails are so much easier to shape and detail at home than longer nails. A do-it-yourself approach is safe for short nails if you're still a beginner at doing your own nails. Many of the ideas and inspiration on this list can be done at home, but some will be a little more difficult.
Going for gel or acrylic at the salon is your best bet if you love your nails to have a little extra strength. Plus, who doesn't love being pampered by nail technicians?
Simple Short Nails
I love keeping it simple and making my nails complement my outfits without being the star of the show! Here are some minimalist nail options that you can build on.
Dark Short Nails
Dark nails fit any season, and these dark, rich navy blue nails tick every box. Navy blue is a neutral, and it goes with anything and with a glossy topcoat, they look polished and sophisticated for any setting.
Nude Short Nails
Some industries demand clean, bare nails as part of the dress code, so a classic nude nail is perfect. Short gel or acrylic nails keep the polish looking sparkling and uniform, so even if nail polish isn't allowed, you can get away with hiding with a nude colour – we'll keep it a secret.
Earthy Tone Short Nails
A gradient neutral nail is a chic twist on the simple manicure. Earthy tones are versatile and muted enough to wear to even the strictest office. These nails are perfect for the transition to fall, but you can wear autumn nails any time of year!
Square Ombre Short Nails
Most short nails follow the natural shape of the finger, but you can still go for different shapes you typically find on longer nails. These square nails sacrifice length but not on beauty – the corners are slightly rounded to look more delicate, and the muted ombre looks modern and sophisticated.
Short Accent Nails
Accent nails will never go out of style – they add an eye-catching pop without being too overwhelming. These accent nails incorporate glitter, which feels like a glamourous element alongside the neutral nail.
Reverse French Short Nails
A spin on the French nails of the past, reverse French nails add the pop of colour to the base of the nail rather than the tip. Basic white isn't the only option; you can keep it simple or add some extravagance. With a pop of gold, you can channel your inner royal while still enjoying short nails.
Bright and Colorful Short Nails
If you're not bound by any style rules, and short nails are just a preference, you have a little more creative room to play around with bright colours and patterns that add individuality to your look.
Multicolour Dot Short Nails
Bright, cheerful, and perfect for spring or summer, these multicolor dot nails create a playful, eye-catching design reminiscent of bubble gumballs. You can customize this style to fit your favorite colors or add every shade of the rainbow. Just one look will brighten up your day.
Bright French Tip Twist
Another version of the French tip nail you didn't know you needed is this bright version with an accent nail. Because you're going for a short nail, your tips will be a little smaller than traditional tips, but this style will make your nails look longer. With a bit of design on an accent nail, this version can be adapted to your favourite hues to make it your own.
Multicolour Pastel Short Nails
Make every nail a different color and make the polish look like newly fallen raindrops. With a neutral backdrop and stunning pastel hues, these are the essential spring nail – the Easter bunny would approve.
Neon Short Nails
Everyone needs to try a neon nail at least once. If you shy away from bold neon shades, short nails are the perfect canvas – with less nail space, the neon won't be overpowering. They'll still catch attention, but they'll feel less bold. Add in some patterns or designs to take the style up a notch.
Watercolour Short Nails
Embrace your inner artist with watercolor nails that look like they belong to a painting. Experiment with different shades and colors to make your masterpiece. You can make this style fit any occasion depending on the shades you choose, and you can make the effect on any size nail, making them ideal for your short style.
Short Nails with Unique Texture
Texture is underutilized in the nail world, and while it's growing more popular with the use of gems and crystals, there are other, more budget-friendly ways to get the unique texture on your nails.
Tiffany's Short Nails
Inspired by the jewelry giant, this ornamented manicure draws on the gems and Tiffany blue to create a textured manicure for short nails. With rhinestones and glitter, these nails are a must for a special occasion or just to treat yourself.
Holographic Short Nails
Holographic nails jumped into the beauty blogosphere in the mid-2010s and haven't gone anywhere since. The futuristic design is mesmerizing, and you can customize it to suit your personal preferences.
Matte Short Nails
Matte nails are soft, stunning, and always on-trend. Take a break from the high-gloss finish and adopt the much-loved matte style. Experts say that matte finishes are better at covering imperfections on the natural nail. If you want to stay away from fake nails, a matte finish would be incredibly flattering.
Metallic Short Nails
Whether you choose to cover all your nails or just do an accent nail, metallic styles are edgy and dimensional. Otherwise known as chrome nails, this style is in its moment – slick and shiny; you can't go wrong with this style.
Glitter Short Nails
The most popular texture by far is glitter – it's for adults too! It's glamourous and alluring, adding sparkle and festivity to any random Monday. It's a great choice if you are doing your nails yourself because it's the most manageable texture to achieve. While it can be a pain to remove, it's gorgeous while it lasts.
Quirky Short Nails
Make your nails the focal point to really show off your thoughts, feelings, and moods. Your nail art is a fun way to express yourself, so make it your own and show off your new accessory.
Fruit-Themed Short Nails
Hand-painted fruit designs on your nails will keep you hungry, but these cheerful fruits are adorable for summer. Whether you love strawberries, apples, cherries, or pineapples, you have ten fingers to fill with all your favorite sweet treats.
Emoji-Themed Nails
Not only for smiley faces, express your mood with other emojis on your short nails. Happy faces will remind you to smile throughout the day, laughing faces will remind you to find joy, and the goofy-faced emoji will remind you not to take life so seriously!
Floral Short Nails
Turn your nails into a bouquet of your favorite flowers with this whimsical floral nail design. You're not limited to daisies – try sunflowers, roses, lilies, or any other flower your heart can think of. You can even wear them in the winter for a pop of color during the dreary days.
Animal Print Short Nails
Personalize your animal print to suit your personality – from a sexy cheetah and leopard print to a cute cow or zebra print, you can style your nails to be as chic or quirky as you want. Choose an accent nail or an animal print element, or do print designs on all your nails for impact.
Bottom Line
Anything you can do with long nails, you can do with short nails, too. Your nail expert may need to adapt designs and techniques to work for short nails, but you have just as much creative freedom with smaller nails.
Impact doesn't come from your nails' length, and practical isn't a dirty word. You can have functional and vivid nails simultaneously and have just as much fun with your imagination.
FAQs
Question: Can Short Nails Be Cute?
Answer: Short nails can be downright adorable, chic, or modern – it all depends on what you do with them. Use prints, designs, and colours to bring out your individuality and suit any occasion.
If you're forced to have bare nails, go for gel or acrylic nudes (who will know?) to remain subtle and clean. And if you want instant glam, a solid, deep red will always look sophisticated.
Having short nails for the first time can look and feel slightly different. The best thing to do to find out what you like best is to try out as many different designs, textures, and styles as possible before finding your signature.
Question: Are Short Nails in Style in 2022?
Answer: Many people with fake nails are starting over from scratch after nail neglect over the past two years, and starting over with short nails is typical. Whether you're ditching gels and acrylics for natural nails or keeping your fake nails simple, keeping your nails short is in style for 2022.
Because short nails are becoming a new classic, the rounded nail shape is coming back in style too. Short nails work best with round shapes that follow the natural nail, which makes growing them out easier as well.
Even if short nails are just a stepping stone until you get back to your long ballerina or stiletto nails, your short nails will still be on-trend.
Question: Is it Worth Getting a Manicure on Short Nails?
Answer: Manicures are about more than just nail art – there is cuticle care, nail care, and just general pampering. Getting a manicure helps shape your nails, and getting gel nails helps strengthen them.
Gel polishes also last longer than other nail polishes, so you can be confident that your nails will continue to look great between nail appointments.
Doing nails at home is easier with short nails, and as long as you're taking care of your hands beyond painting the nails, it's possible to get away with skipping the professional manicure every once in a while.
Continue reading:
Cute Short Nails Inspiration and Ideas
Short Almond Nails Inspiration and Ideas: The Hottest Designs for 2022