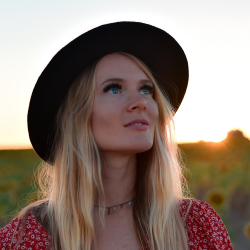 Latest posts by Haley Parker
(see all)
Acrylic is an artificial nail compound that has been around for decades, but acrylic ombre nails are a new trend. Ombre is a term nobody had even heard of until ten years ago. Once it did hit the fashion world, it spread like wildfire.
Everything started to become ombre, from hair to clothing to nails. I have indulged in every ombre thing that came out at one point or another. Furthermore, it is still a trend that I often see coming into my salon and spa, and it is a trend that I do not see going away anytime soon.
Acrylic Ombre Inspiration Up Front
Ombre Into Nude
Natural Ombre
Ombre Two Colors
Ombre Three Colors
Gradient Ombre
Glitter Ombre
Rainbow Ombre
Inverted Ombre
Barely Ombre
Vertical Ombre
Designed Ombre
Marble Ombre
What are Acrylic Nails?
Acrylic nails are a type of artificial nail that can create length, strength, and thickness. They do this by mixing a liquid monomer(a simple chemical) with a powder polymer(a larger molecule) to create a paste that molds into whatever shape you desire. Once the paste hardens, it can last 6-8 weeks, depending on how rough you are with your nails.
I recommend having a professional take care of your acrylic nails. Although they are generally safe and don't have many side effects, if improperly done or removed, they can cause nail damage. It would be best to take breaks from acrylic every 4-6 months to give your natural nails time to breathe.
What are Ombre Nails?
Ombre is a term used to identify the fading of one color into another. Doing an ombre with nail polish has only become popular in the past ten years, making it a relatively new concept. There are many different ways to have an ombre nail done, including a tipped ombre, barely ombre, a vertical ombre, a natural ombre, and more.
How you do ombre with acrylic is much different from how you would with regular polish or gel. Nail artists who use acrylic will paint on the acrylic ombre like the artists that they are. To do an ombre with regular polish, you paint the nails two different colors, divided where you want the color to fade. You then go in with a makeup sponge dipped in the darker color and pat the line out until it is blended.
Selection Criteria for Acrylic Ombre Nails
Trendy
Nearly any way you do ombre, it will be trendy because it is such a new technique in the fashion world. On top of that, acrylic nails are super popular because everyone wants long, healthy-looking nails. It is tough to find an acrylic ombre nail design that is not trendy.
An Ombre Design for Everyone
Rather you are someone who likes their nails to be a fashion statement or someone who wants to keep things neutral, there is something on this list for you. The nice thing about acrylic ombre nails is there are no harsh lines, and can you can do them with any color. So you can do crazy designs or keep them very simple.
An Ombre Design for Every Occasion
From your sister's wedding to an exciting vacation, you will be able to find some acrylic ombre nail inspiration that is right for every occasion. As mentioned above, acrylic ombre can be as tamed down or as wild as you want them to be. It all depends on the colors you choose and how unique you wish them to be.
Acrylic Ombre Nails Inspiration
There are so many ideas for acrylic ombre nails that I don't think you could fit every single one on a list. However, below you will find every general idea out there for this trend. You can let your imagination run wild and tweak it however you would like.
Ombre Into Nude
Ombre into nude is the standard ombre that everyone thinks of when someone says, "acrylic ombre nails." It's essentially the new, trendy way to do a french tip in a bright color. Ombreing a bright color into a nude nail is an excellent way to try a color for the first time that you aren't too sure about because it tends to tame it down a bit.
When asking your nail artist for an acrylic ombre into nude, first pick out the color you would like the tip to be. Tell your artist you want it ombre into your natural nail color and tell her how far down your nail you want the ombre to be. Don't forget to let her know how long and what shape you want your acrylic nails to be.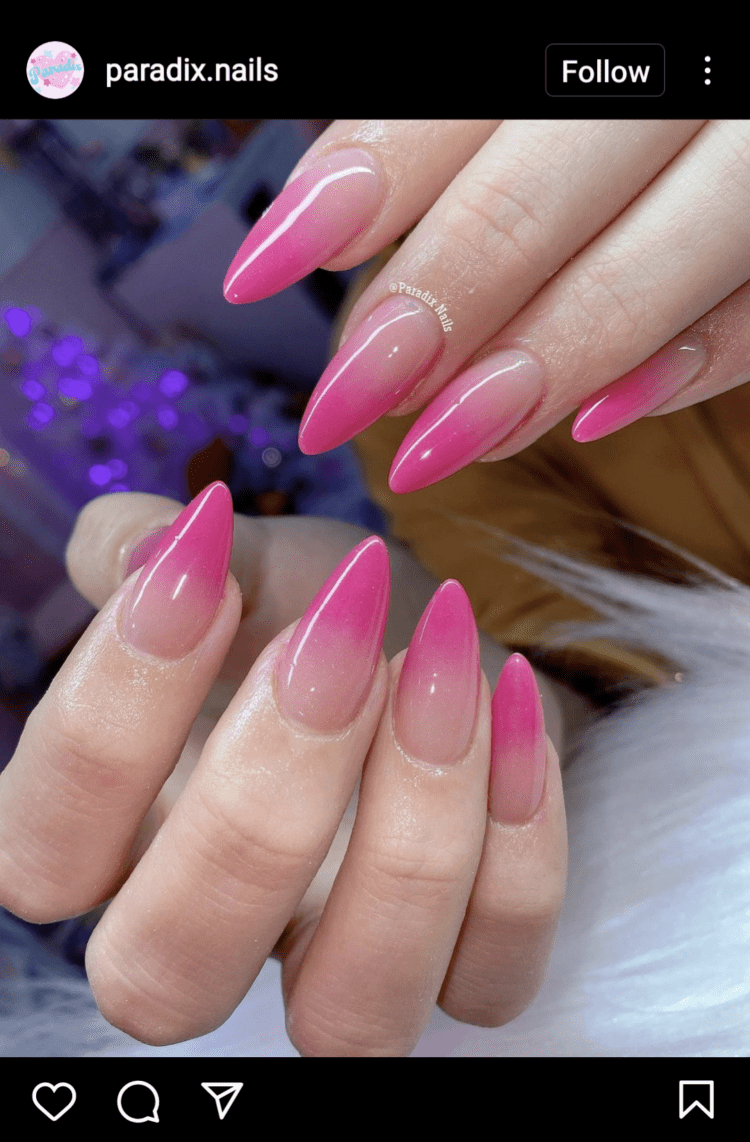 Natural Ombre
A natural ombre is the new take on an "American manicure." If you don't know what that is yet, it is essentially a french manicure without the harsh white line. It is the same thing as the acrylic ombre into nude, except you use white on the tip instead of a color.
Typically, you will see this look on shorter acrylic nails, but it also looks great on long acrylic nails. Natural acrylic ombre is excellent for special events, like weddings, anniversary parties, and family photoshoots. It would be best if you had your natural ombre start where the tip of your natural nail starts or closer to the end.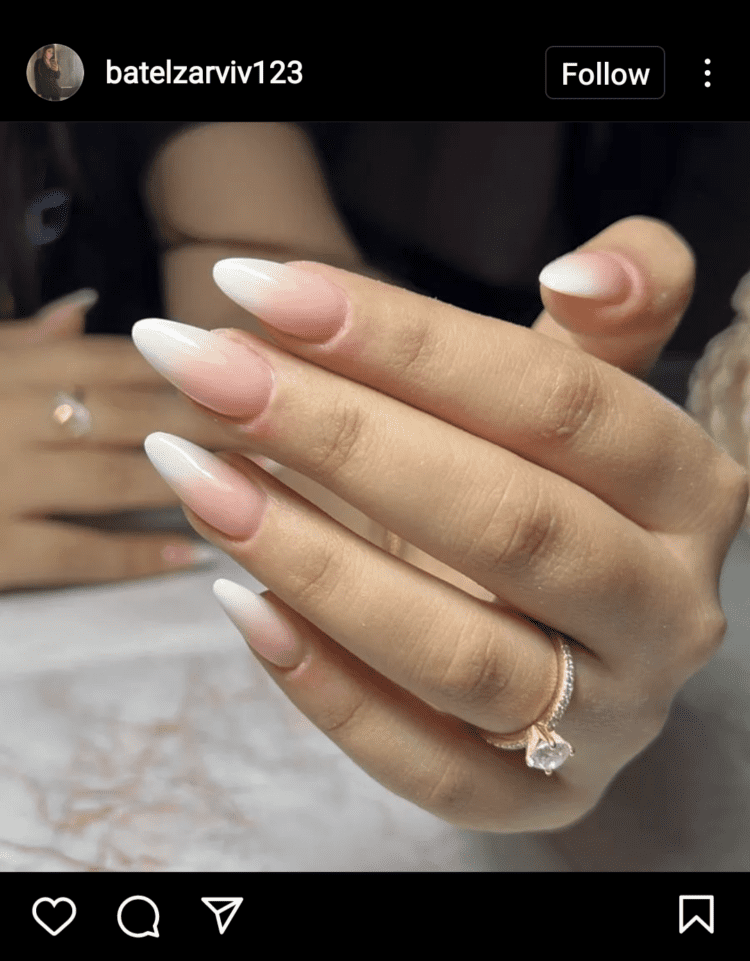 Ombre Two Colors
If you want more of a pop to your acrylic ombre nails, doing a dual-toned ombre is a great option. You can make it a subtle ombre with two shades of the same color, such as light purple into a darker purple. Another option is to have them fade into two different colors, like white into black or green into purple.
Like a natural ombre, you will see this look on a shorter acrylic nail more often than on a longer acrylic nail. Doing an acrylic ombre with two colors is great for holidays. For example, you can do a red ombre into green for Christmas or a pink ombre into red for Valentine's Day.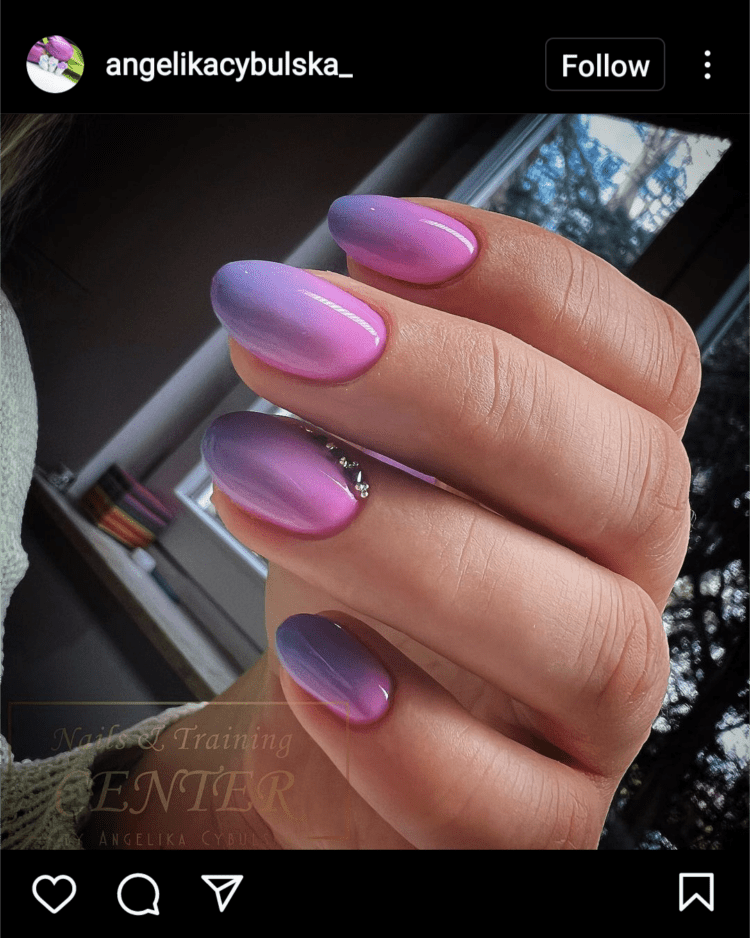 Ombre Three Colors
To top the last entry, you can also ombre three colors together. Three colors are generally only doable on longer acrylic nails due to your nail needing enough space for three colors to blend. However, depending on your nail artist's skills, three colors can be done on shorter acrylic nails.
This trend is super fun to represent your favorite sports team, a holiday, or an organization. You can ombre red, white, and blue for the fourth of July or red, yellow, and blue for the Steelers game. You can also ombre three similar colors, such as blue, purple, and pink, to create more of a rainbow effect.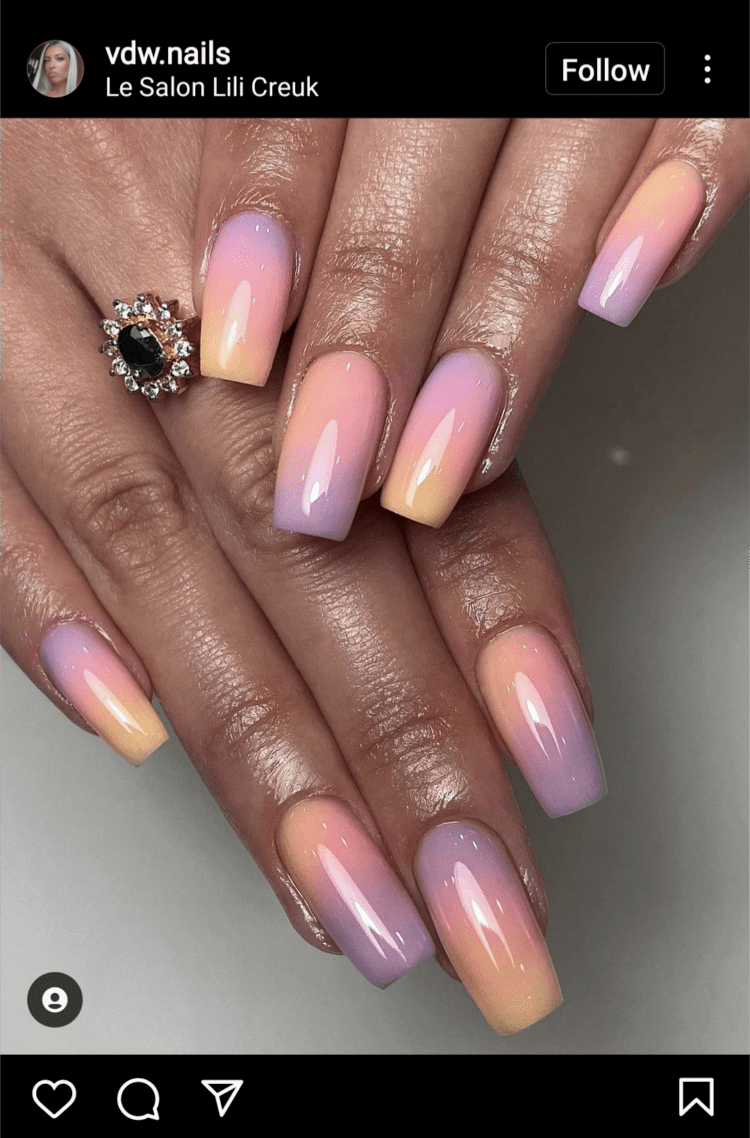 Gradient Ombre
This statement may seem confusing since the ombre itself is a gradient. What I mean by gradient ombre is the gradient trend of each nail is a different shade of the same color, with each nail having an ombre. This is an excellent way to spice up an already unique trend.
You can do gradient ombre nails with two different colors or one color faded into a nude. However, I would not do more than two different colors when attempting this trend. If you start throwing too many colors in, it may become confusing when they become darker or lighter from nail to nail.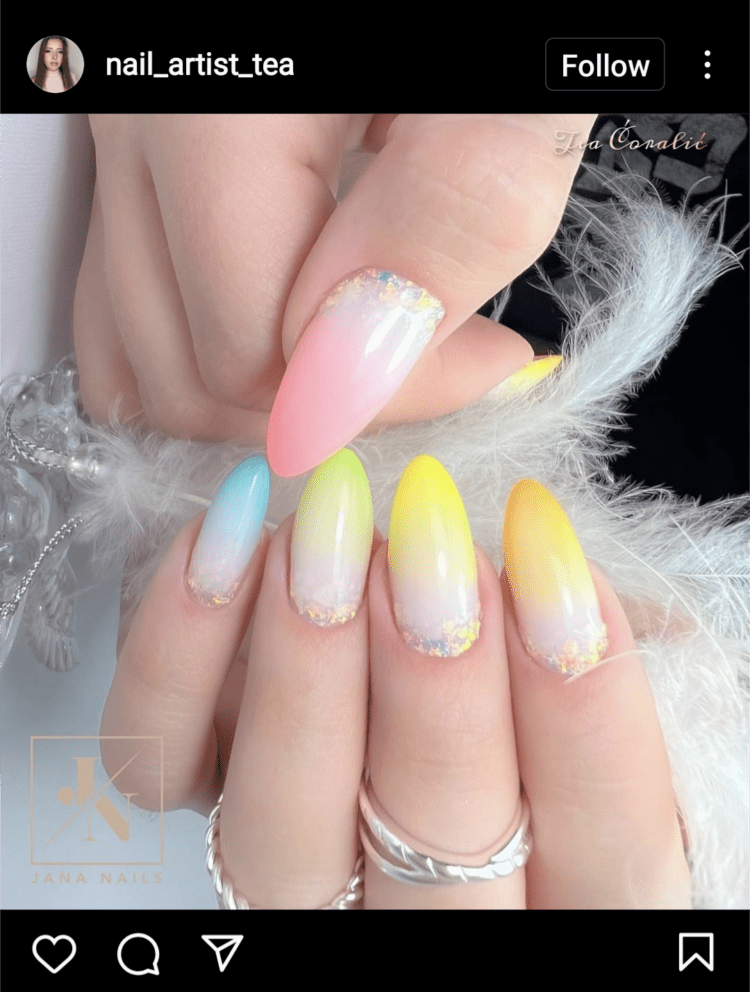 Glitter Ombre
You can also do acrylic ombre nails with glitter instead of color! This technique makes it look like the glitter is raining down on the rest of your nail. It is best to use chunky glitter instead of fine glitter to achieve this look.
You can have your glitter coming from the top down or the bottom up. You may also ombre the glitter into a white tip, another color, or your natural nail color. If you feel daring, you can even ombre two different glitter colors together.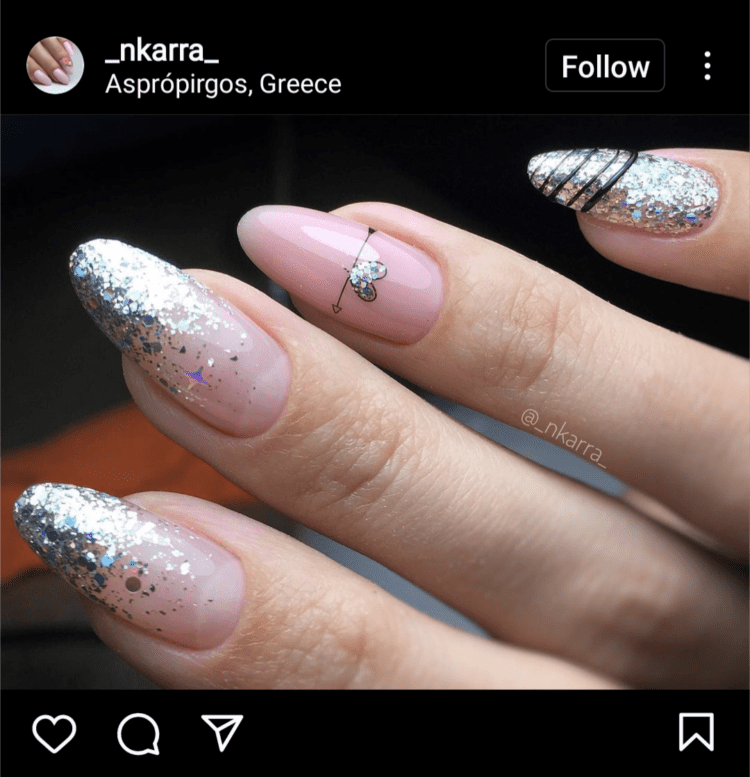 Rainbow Ombre
Yes, you can ombre a whole rainbow of colors together, but it is almost impossible to do rainbow ombre on short acrylic nails. You need the maximum amount of space to ombre this many colors together to get a nice blend, and the colors don't start mixing all together.
For this look, you can decide to have the whole nail ombre rainbow or take it a step further and ombre the rainbow into a nude. You could also have one nail rainbow ombre and then do the rest of your nails with a regular ombre into nude if you want to tone down the look.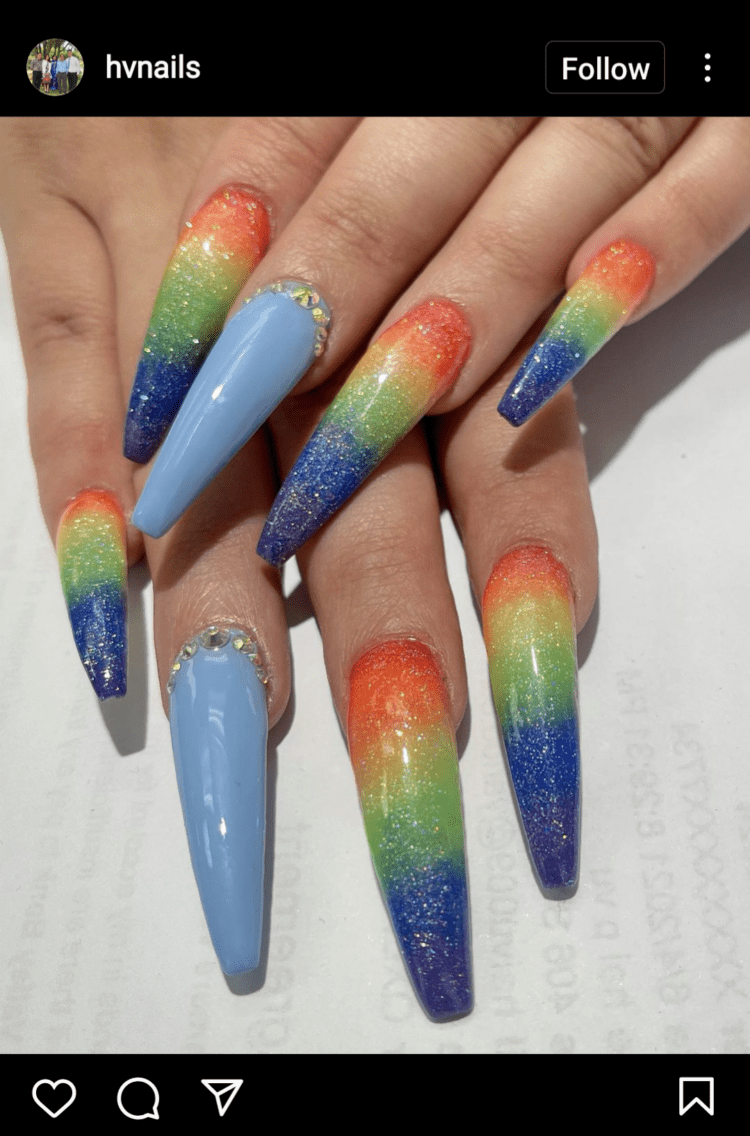 Inverted Ombre
When doing acrylic ombre nails, you usually have the darker color at the tip and the lighter color near the base of your nail. Inverted ombre is when the colors are flipped so the darker is at the base and the lighter color is on the tip of your nail. This is purely a personal style choice rather than one is better than the other.
A few acrylic ombre inverted designs that I like are vampire nails (red ombre into black), french tip ombre (white into a color), and a lighter shade ombre into a darker shade (light blue into dark blue). All of these would look good as a regular ombre, but give it a simple twist.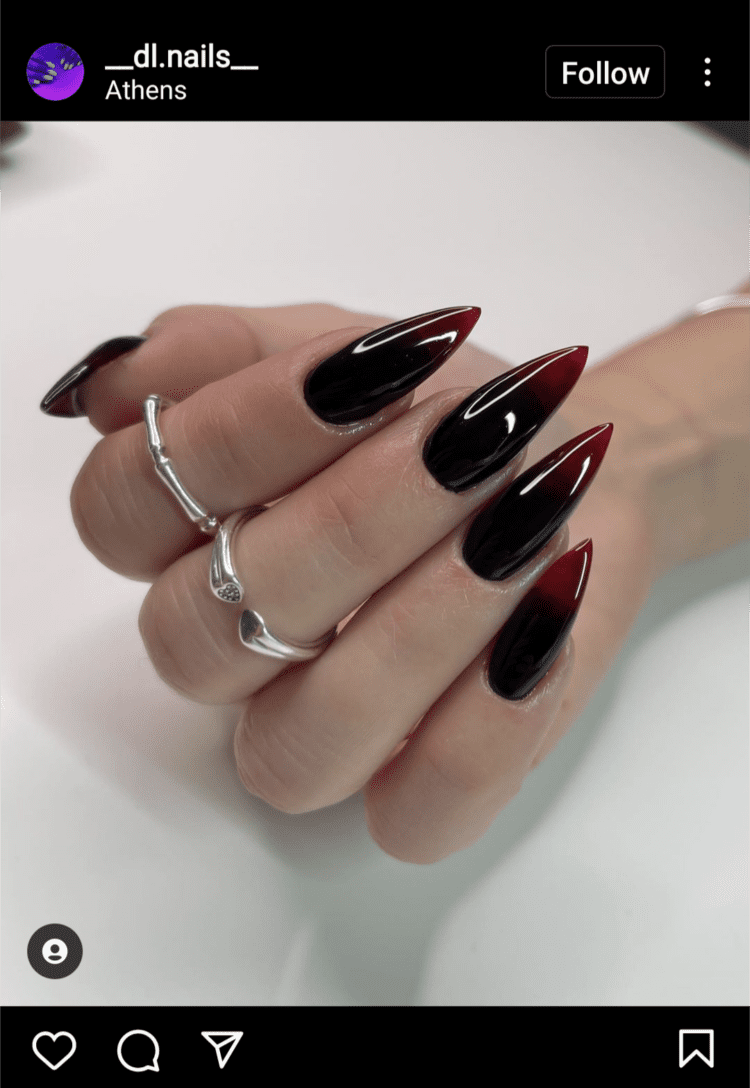 Barely Ombre
Acrylic nails that are barely ombre are majority one color and ombre into another color near the base or tip of the nail. Slightly ombre is an excellent design for those with short nails. You can also barely ombre long nails, but you may want to have a little more of the lesser color so that the ombre doesn't get lost.
This look is great for those that want more of the french manicure look where the tip color is only at the end of the nail. It is also great to create that half-moon shape near the base of your nail that people naturally see as beautiful. You can make this a more classic look or use high contrast colors to make it pop more.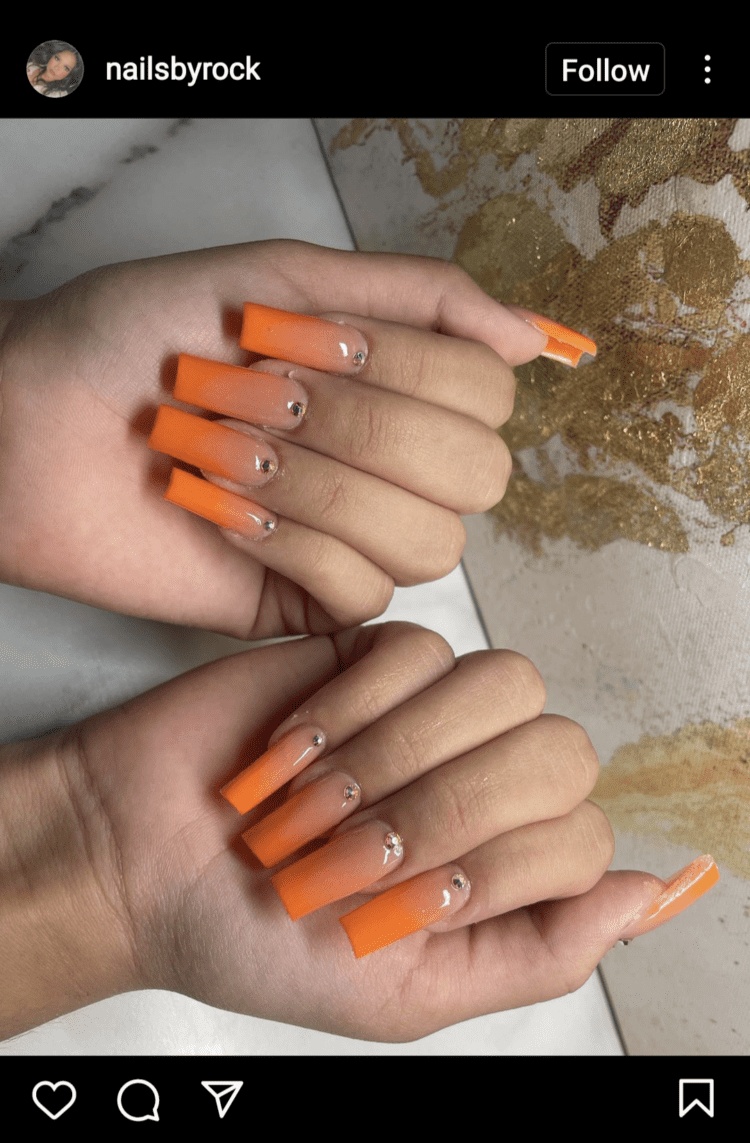 Vertical Ombre
Instead of creating an ombre horizontally across your acrylic nails, you can also do your ombre vertically along the length of your nails. This is a unique design that you can do with two to three colors. You can also switch between horizontal and vertical ombre from nail to nail to give your nails even more individuality.
A vertical ombre can give your nails a monochrome look if you do this with the correct color, such as different shades of the same color. For a more monochromatic look, you would want to put one color in the middle and a second color on the outsides and then blend them. You could also fade colors from one nail to the next.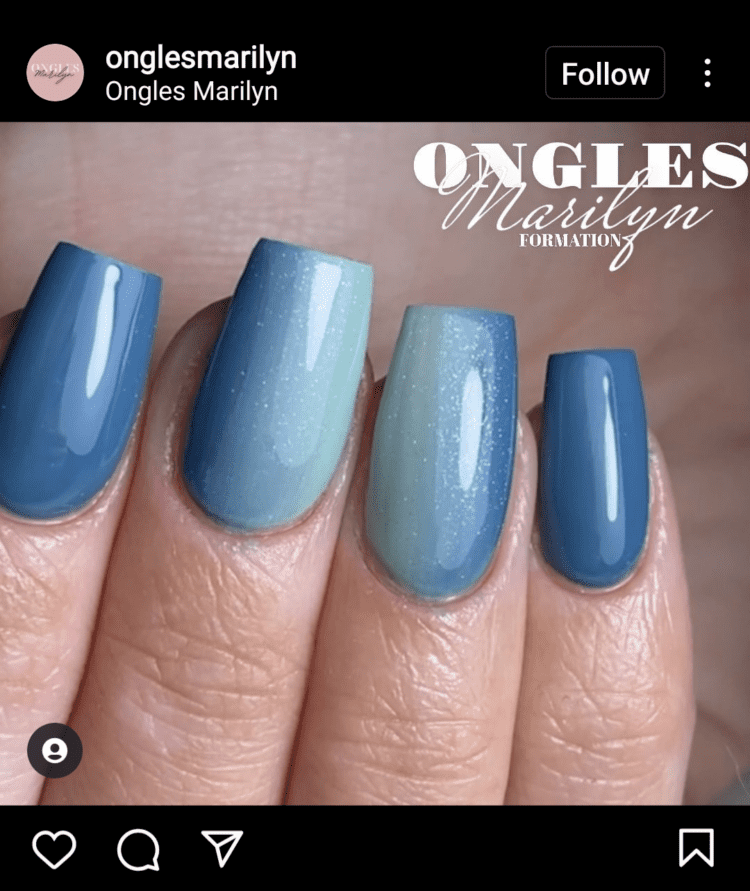 Designed Ombre
Nail art looks perfect over acrylic ombre nails and can give them a bit of character. Since there is no line where one color meets the other, nothing obstructs the design you put over it. You could also do one nail with a flat base color and design and ombre the rest of your nails to make the design pop.
Some cool design ideas to put over acrylic ombre nails are butterflies, flowers, geometric lines, cheetah print, and anything else. You could also add a design for whatever you have coming up, like a palm tree for vacation. You can flawlessly paint nearly anything over the ombre without obstructing it.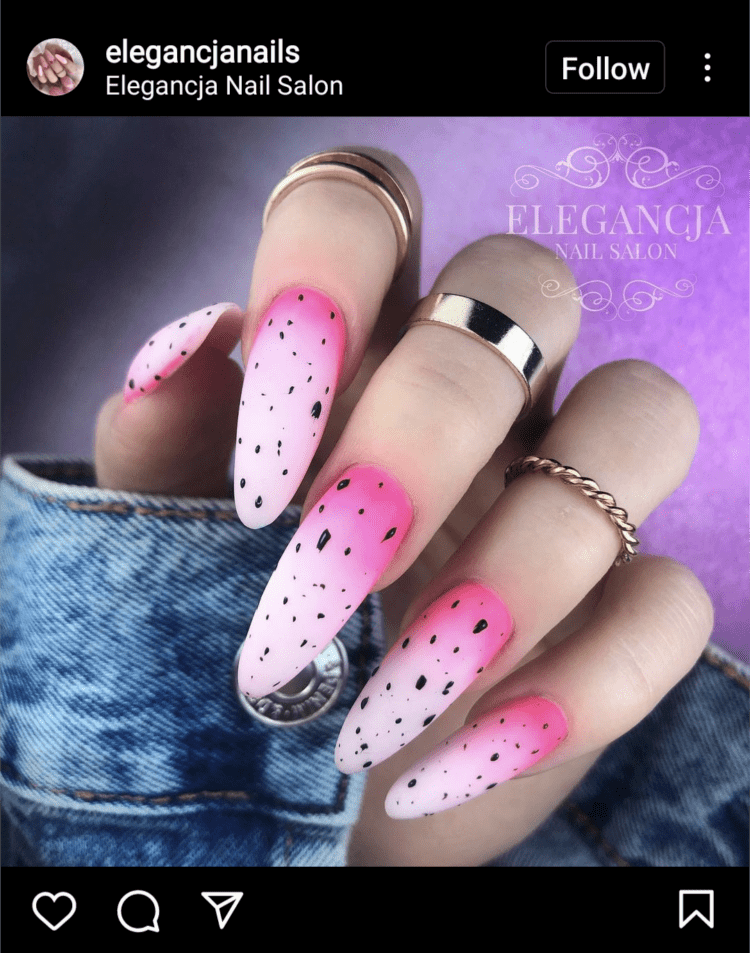 Marble Ombre
Nails that mimic marble are super popular now. If you aren't into your entire nail being ombre, you can marble the tip of your nail and ombre it into the base with a nude or matching color. It's an excellent way of getting the pizazz that marble gives without overdoing it.
There are so many ways to do a marble ombre. You can decide how much of your nail you want to be marble before the ombre starts. You could add gold flakes to your ombre to make them look even fancier. If you don't want it to stand out, you could do your marble with a white and a nude to create a natural/marble hybrid.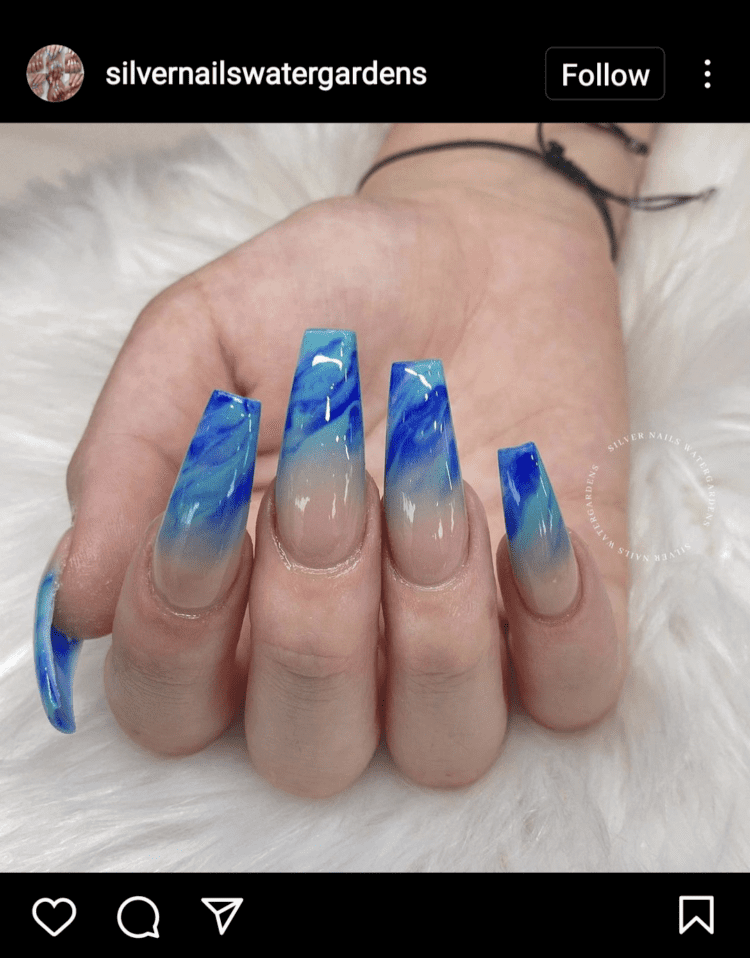 How to Make Your Acrylic Ombre Nails Last
Use a Top Coat
Layering a clear topcoat over your acrylic ombre nails between appointments can help your manicure last longer, especially if you added any cute designs over the ombre. Topcoat will help keep your nails strong and from discoloring. Some good topcoats to try are CND Vinylux Topcoat, Opi Infinite Shine Prostay, and Essie Speed Setter Topcoat.
Use Cuticle Oil
Contrary to belief, keeping your cuticles moisturized and healthy can make your acrylics last longer. When your nails are dehydrated, they shrink, which means your acrylics can lift on the edges. Try Cuccio Cuticle Revitalizing Oil for hydrated cuticles or CND Solar Oil.
Moisturize Your Hands
To go with the last tip, if your hands are dry, they aren't going to let your nails retain the moisture they need. Make sure you stay away from alcohol-based products, like hand sanitizers. Keep your hands moisturized and healthy with products like CeraVe Therapeutic Hand Cream, Burt's Bees Hand Cream, and Bella and Bear Hand Scrub.
FAQ's
Question: What is Acrylic?
Answer: Acrylic is a paste that makes your nails stronger, longer, and thicker once dried. The paste is made by mixing a liquid monomer and a powder polymer. It can be molded into whatever shape you want and comes in a wide range of colors.
Question: How do you Ombre Nails?
Answer: Ombre is a method of fading one color into another. With acrylic nails, one color of acrylic is painted on the ends and slightly faded toward the base. Then another color or natural color is painted on the bottom and faded up into the previous color.
Question: How Long do Acrylic Ombre Nails Last?
Answer: I recommend filling and fixing your acrylic nails every 6-8 weeks. If you ombre your acrylic nails into a natural color at the base, you can go on the longer end of this recommendation since you will not notice the grow out as much. Do not try to remove your acrylic nails yourself, as it could cause damage to your natural nail.
Question: How Much do Ombre Acrylic Nails Cost?
Answer: On average, it will cost anywhere from $50 to $70 for a complete set of acrylic nails with ombre. The price changes depending on colors, designs, and length. It is also cheaper to have your nails filled after your full acrylic nails are complete.
Question: Do Acrylics Ruin Your Nails?
Answer: Acrylic itself will not ruin your nails. If removed incorrectly or applied incorrectly, acrylic nails can cause damage to your natural nail. Make sure to see a professional for application and removal to ensure your nails' safety. You should also remove your acrylics every four to six months so your natural nail can breathe.
Should You Try Acrylic Ombre Nails?
Before answering this, there are a few questions you need to answer. They are "Have you had acrylics before?" and "Are you prepared to maintain your nails?" If your answer to these is yes, then absolutely! Long, acrylic nails are in right now, and the ombre trend has not gone anywhere. If anything, people have become more creative with it.
I also love that it's a newer, trendier way to have french tips. You can get the benefits of going longer between appointments, and it looks way better than french tips. There are many ways to do acrylic ombre nails that nearly anyone can do and love.
Continue reading:
Ombre Nails Inspiration and Ideas
Pink and White Ombre Nails Inspiration and Ideas
Purple Ombre Nails Inspiration and Ideas: Concepts to Check Out Before Your Next Salon Visit