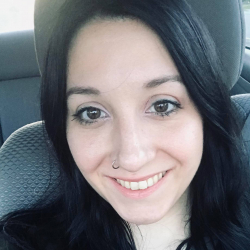 Latest posts by Stephanie Jensen
(see all)
So many people love doing a DIY manicure, but let's face it, we don't have all day to wait for our polish to dry. This is the case with me; I'm a full-time writer, and juggling multiple deadlines while looking cute is no easy task. I never used quick-drying nail polish until recently, and I'm crazy for not trying these products earlier!
Since there are other workaholics and busy people who also want to look chic, all the major nail brands have released quick-drying nail polish. But with all the options, it can be difficult to choose the best one.
If you want to do a DIY manicure without waiting forever, continue reading my best quick-drying nail polish guide to discover my recommendations!
Bottom Line Up Front
The Sally Hansen Insta-Dri Nail Polish is the best quick-drying option on this list. Your nails will dry in a minute, making this one of the fastest-drying polishes on the market.
How I Chose These Nails Polishes
While everyone looks for different qualities in nail polish, I weighed the most important factors when creating this list. This includes the color range, ingredients, and brand reputation.
Color Range
Everyone has their own personal style. I prefer wearing dark clothing, and I'm the same way with my nails. But others may prefer neutral and neon colors. I ensured the brand created a wide color palette for the quick-drying polish, especially if they sell the trendiest colors.
Quick Drying Ingredients
What makes a nail polish quick-drying versus normal-drying? The secret is the ingredients, specifically solvents. That said, these solvents can be harsh on your nails. I also read the ingredients to ensure the polish will prevent your nails from getting weaker.
Brand Reputability
Some of these are major nail companies, while others are niche and startup businesses. The one aspect they all have in common is they're reputable companies. Whether you buy these nail polishes in stores or online, you can trust them.
My Favorite Quick-Drying Nail Polishes
Waiting for your nails to dry is the worst! Do you want to paint your nails but avoid the bore of sitting and waiting? Whether you're busy or impatient (or both, like me!), you'll want to try these quick-drying nail polishes. There are also top coats and other nail polishes on this list, so be sure to look at all these options.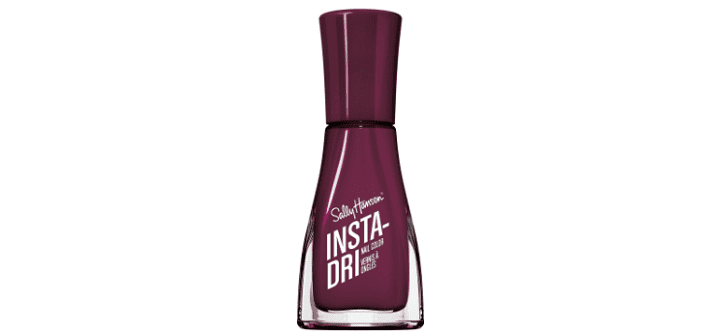 It should be no surprise why this nail polish is top on my list. This is a legendary quick-drying nail polish; this polish has one of the best color ranges I've ever seen (69 shades, to be exact) and is ridiculously affordable.
How long does it take for this to dry? My nails were always ready after a minute! And when I say this is quick-drying, that doesn't even come close to describing the benefits this polish boasts. The polish has a built-in bottom and top coat; you only need one swipe, and you're ready. I still use this with a bottom coat. That way, it will last longer.
With all these benefits, it's no wonder this is the go-to nail polish for so many people. As one of the biggest names in nail care, Sally Hansen is available at nearly every drugstore. You can also find this brand on Amazon, Walmart, and Target.
Read More: Best Drugstore Nail Polish Finds: Get a Stylish Manicure at a Fraction of the Price!
Pros
Is available in several colors
Different finish options
Easy to apply
I really like the brush
Dries in about a minute
Cons
Need three coats for the best results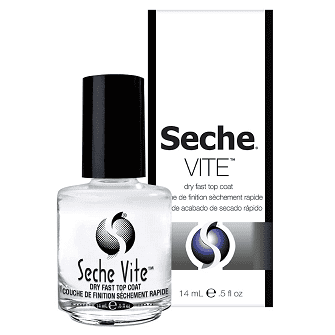 Seche Vite offers a top coat that dries quickly — less than five minutes, on average. In no time, the polish will adhere to the pigment and will start protecting your manicure and preventing your polish from fading.
One aspect I really like about this polish is the finish. While most top coats offer a glossy finish, I like to describe this as glowing. There are some things to keep in mind before using this product. Some customers have been complaining about discoloration when using this top coat. I don't suggest using this unless you want a fast-drying top coat over any nail polish.
Read More: Best Top Coat Nail Polish Guide
Pros
Quick-drying formula
Versatile — can use it with different nail polishes
Glowing finish
Cruelty-free
Free of harsh ingredients, such as sulfates, triclosan, phthalates, and parabens
Cons
Strong smell
Can cause nail discoloration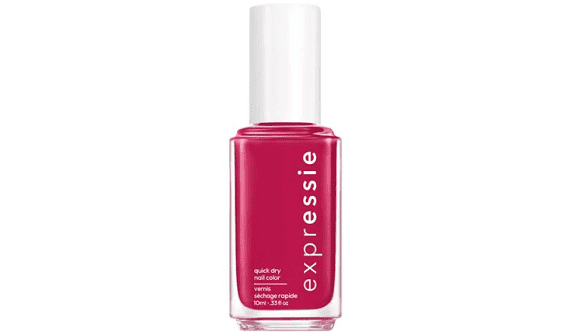 Essie is also one of the biggest names in nail care, so it's also no surprise that their quick-drying polish is also high up on this list. Like Sally Hansen, Essie Expressie is available in various colors, and they even carry translucent and glitter options.
As a quick-drying nail polish, the formula dries in only a few minutes. I suggest applying a second coat since the color can be streaky, but you can still get a chic manicure in less than 10 minutes with this polish.
But the brush is my favorite part of these nail polishes. The brush is flexible, making it easy to apply the product on the tips and edges of your nails. So not only does the formula dry quickly, but the brush makes it faster to get the perfect manicure.
Pros
Wide selection of pretty colors
Also has glitter options
All colors are true to the bottle
Angled brush
Dries quickly
Cons
Not the longest-lasting polish
Formula can be streaky, so I recommend using two coats
Thick formula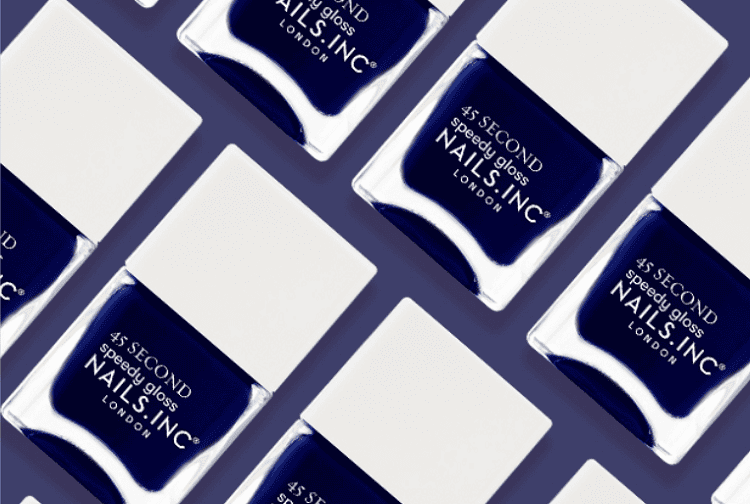 I discovered Nails, Inc. when I worked at Sephora, and I've been using this brand ever since. While these nail polishes are slightly more expensive than your average drugstore brand, these quick-drying polishes are seriously worth it if you have a busy life. These polishes usually dry in under a minute.
Not only that but there's a decent color range here, too. Just one scroll on the website, and you can see everything from neons to neutrals.
The main difference between these quick-drying nail polishes and the traditional ones from Nails, Inc. is that the quick-drying ones tend to have a color that looks different from the bottle. Otherwise, I highly recommend these quick-drying nail polishes.
Pros
Easy to apply
One of the quickest-drying nail polishes out there
Shiny finish
Also have sparkle effects
Cons
Chips easier than the traditional polishes
The color looks different from the bottle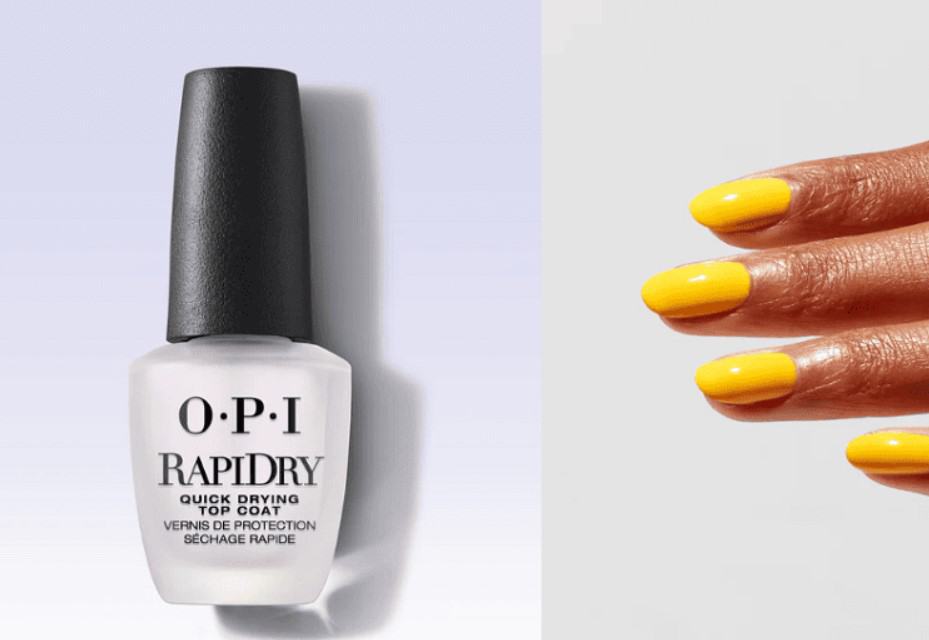 What if you need a quick manicure but also want to use a top coat? Try this one by nail care titans OPI. In a short amount of time, you don't have to worry about your manicure smudging.
This top coat has a shiny finish and will smooth the appearance of your nails. And not only does this top coat dry quickly, but it will also extend the life of your manicure.
The formula is also easy to apply. Some top coats are really runny and difficult to apply. OPI's formula is perfect, and I can apply it super quickly.
Pros
Prevents smudging
Makes your manicure last longer
The formula isn't too runny
Shiny finish
Cons
No nail protection benefits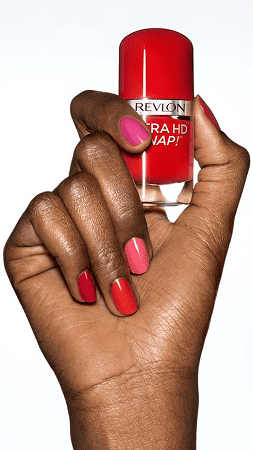 There are many reasons why I like the Ultra HD Snap line by Revlon. It's made without the 20 most common chemicals in nail polish and still is super pigmented. You only need one coat, and of course, it's dry within minutes!
The wear time on this is also impressive; the color takes a long time to fade, and the polish doesn't peel. I also love the formula. This polish isn't too thick or runny, and you can apply it to your entire nail in only a few strokes. My only complaint is I wish Revlon had more color options, but there's still a decent selection here.
Pros
Long-lasting nail polish
Won't fade or peel
Dries quickly
Pigmented
Revlon nail polish is found nearly everywhere
Applies smoothly
Cons
Not the biggest color selection
Stains nails without a base coat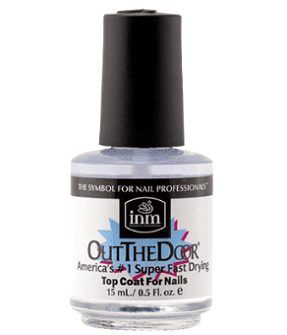 There are many reasons I like this top coat. It has a non-yellowing formula that dries in only 90 seconds. This top coat prevents polish from cracking, chipping, and peeling.
The result is a long-lasting manicure that yields professional-quality results. Out the Door has a clear color, but it's not too glossy. This is perfect if you're using effects and don't want anything too shiny over the actual polish.
INM is a brand made for nail professionals, but anyone can buy their products. Out the Door is available in different sizes, and you can even purchase larger quantities. This top coat ranges in price from $3.85 to $32.95, depending on the size.
Pros
Clear top coat
Dries in 90 seconds
Not too glossy
Non-yellowing
Prevents polish from cracking, chipping, and peeling
Cons
Contains chemicals, may irritate sensitive skin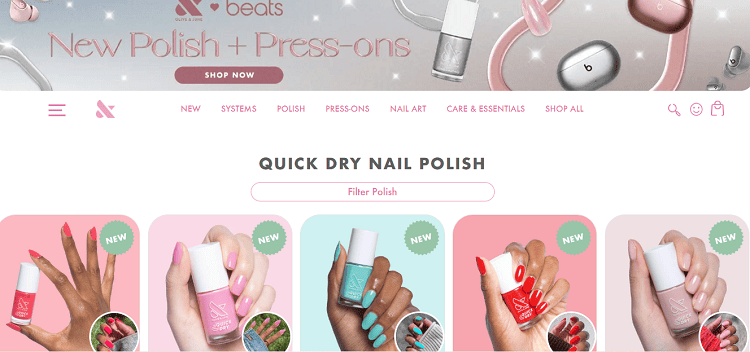 Olive & June is becoming one of my favorite nail brands. They have so many chic color options, and I can pick up their products at my local Target.
While I love all Olive & June nail polish, I'm really liking these fast-drying ones. One coat dries in about a minute, and the formula lasts longer than traditional nail polish — about five days, on average.
As with all Olive & June products, these have a huge palette of beautiful colors, and anyone can find a shade that suits them. Plus, these polishes have a vegan formula and don't contain 15 of the most common chemicals. Olive & June is also a cruelty-free company.
Pros
Wide color range
One coat dries in a minute
Vegan and cruelty-free
15-free
Cons
Some colors have a grainy finish
Best for UV Protection: CND Air Dry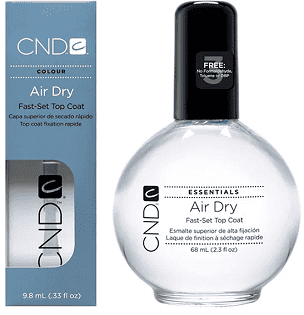 Air Dry offers many benefits to users. Other than the fact that it dries quickly, it's made with UV-blocking technology to prevent your nail polish from fading. It's also a protective top coat and prevents your polish from chipping.
I also love the glossy finish, and it's perfect for use over nail art and underneath rhinestones. I've even heard some nail professionals say they love this top coat. Because it's not made with three of the most common chemicals, this formula won't turn your nails yellow or cause any type of discoloration.
The only downside of this brand is it's hard to find. You can find this at Walmart and the occasional drugstore, but it isn't as readily available as the other brands on this list.
Pros
Made with UV technology to protect nails
Long-lasting — nails don't chip
Prevents yellowing
Glossy finish
Can be used with nail art and rhinestones
Fast drying
Fair price
Cons
Not as available as other brands
How often has your nail professional used this spray after your appointment? I always loved this spray but had no idea you could buy it over the counter. Sure enough, I found it while I was scrolling on Amazon. Don't you love the internet?
There are reasons why you see this spray in every salon. It not only helps your nails dry quicker but the spray is formulated with di-panthenol and mink oil to prevent smudging. You can use it on natural and artificial nails, which is perfect if you paint your own acrylics and can't use an average top coat. This spray also contains conditioning ingredients, so your nails feel amazing after using it.
Pros
Easy to apply — simply spray on your nails
Non-smearing formula
Moisturizing ingredients
Can use on both natural and artificial nails
Fast-drying
Cons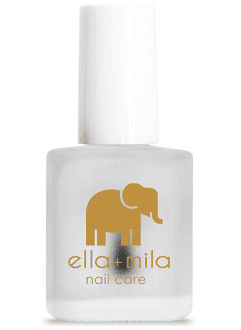 There are many reasons why this top coat by Ella+Mila stands out. It has one of the glossiest finishes I ever saw. Even though it's a quick dry top coat, the shininess will make your nails stand out. I also love how easy the application is. The brush is thick, and it doesn't leave any streaks.
Like some of the other top coats, it has a UV inhibitor so your polish doesn't fade, turn yellow, or cause any type of discoloration. This top coat also resists peeling and chipping. Ella+Mila products are vegan, cruelty-free, and don't contain dangerous chemicals.
Pros
Glossy finish
Vegan and cruelty-free
Doesn't contain dangerous chemicals
No yellowing or discoloration
Thick brush — the polish doesn't have a streaky finish
Cons
Doesn't last as long as other products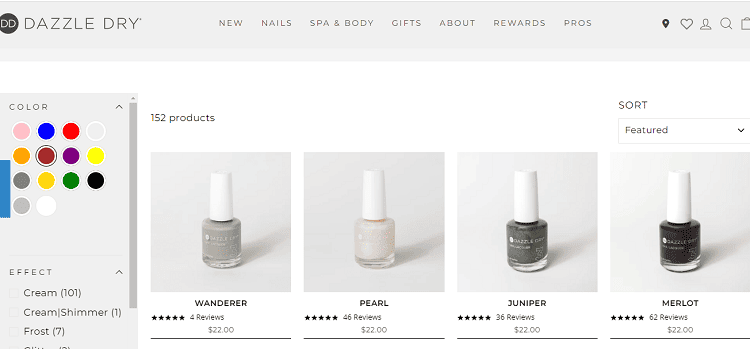 Many nail polish companies offer a fast-drying option, but few companies specialize in making fast-drying nail polish. Dazzle Dry is one of the few that do.
They sell an entire system that includes a nail prep, base coat, top coat, and their revive solution to restore the consistency of their lacquer and top coat. Or, you can use the nail lacquer alone to have perfectly colored nails in five minutes.
Is the hype real? You bet it is. I've been seeing Dazzle Dry everywhere, and they're always selling out of their shades.
There are some downsides to this polish. The polish works great on its own, but using the entire system will result in the longest-lasting home manicure you've ever done.
Still, using several products doesn't result in a quick manicure, either. The polish alone is pretty small, and they're expensive. I suggest buying a set of mini polishes to get multiple colors while saving money.
Pros
Best at-home nail polish brand
Easy to apply
Only takes five minutes to dry
Can buy a set to save money
Cons
Best to use the four-step system
Expensive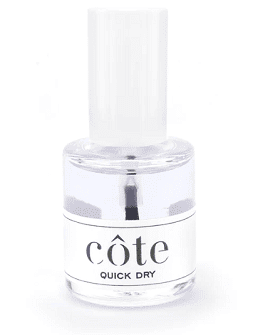 This top coat by Cote is perfect if you want a two-in-one formula. It dries in three minutes and offers professional-quality protection against chipping.
For example, it has UV-absorbing properties to prevent discoloration and preserve your nail polish color. This top coat has an ultra-shiny finish and moisturizing properties, so your nails look and feel beautiful even after your polish fades.
This formula is free of toxic chemicals and is vegan. Cote is a cruelty-free brand, and all products are made in the USA. Plus, this top coat is on sale now; the website's price is $13.65, compared to $21.
Pros
Professional-quality protection for your nails
Ultra-shiny
Free of parabens and glutens
UV protection
Dries in a few minutes
Moisturizing properties
Non-toxic formula
Cons
Expensive at normal price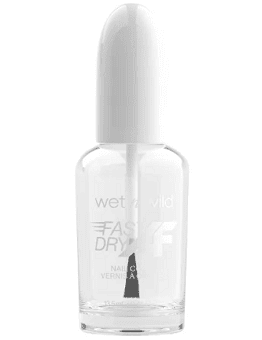 While all of these polishes and top coats dry quickly, none of them dry as fast as Wet n' Wild's. This one is groundbreaking, drying in 30 seconds!
Not only that, but this nail polish works well. It lasts for three to five days and has a built-in base and top coat. I would still use an extra base and top coat to ensure your manicure lasts longer.
But if you're really in a hurry, just swipe on a couple of coats of this polish, and you have a manicure in less than five minutes. There's also a pretty wide selection of colors here, and you can find Wet n' Wild at any drugstore. Plus, Wet n' Wild is notorious for its low prices; at $4.29, this polish won't break the bank.
Pros
Fast drying
Easy to apply
Base and top coat built-in
Lasts several days
Affordable
Cons
I still suggest using a separate base and top coat

Sinful Colors was the only nail polish brand I used years ago. That's because I love their huge color selection. They offer every shade under the sun, plus ones with sparkly and metallic effects. That's why I was so excited when I first saw Sinful Colors released their pigmented nail polish in a fast-drying formula.
These polishes dry in about one minute, and you only need two coats to get an eye-popping color. I also like how the polishes are infused with cherry oil to protect the nails from breakage.
The result is a super glossy finish that will look and feel amazing on your nails. I will say that Quick Bliss doesn't have the full extent of their color range, but there are plenty of shades here to appeal to all users.
My only complaint is the colors look different in person. I suggest buying these polishes in-store instead of ordering them online.
Pros
Eye-popping colors
Dries in a minute
Infused with cherry oil
Cons
The color looks different in person
FAQs
Question: Should I Use a Quick-Drying Nail Lacquer or Top Coat? Or Both?
Answer: In this list, I included both fast-drying lacquers and top coats. Which should you use? I suggest a top coat so you can use it with all nail lacquers. But if you seriously can't wait any longer for your nails to dry, then I suggest using the lacquer.
Question: Are Fast-Drying Nail Polishes Safe?
Answer: Since quick-drying nail polishes contain more chemicals, they tend to leave nails brittle. Even if they don't dry out your nails, I don't find these polishes as long-lasting as other types.
Question: My Nail Polish Takes Forever to Dry, Even When I Use Fast-Drying Formulas. What's Happening?
Answer: The problem may not be the polish you're using. Are you using a thick glob of polish? If so, wipe the brush on the rim of the bottle and only apply a little at a time. Many people also use too many layers, thinking the manicure will last longer when the opposite is true.

Only use two layers and wait plenty of time for them to dry. If you tried this and are still having problems, make sure the bottle hasn't expired. If there's no expiration date, throw out the bottle after three years.
Bottom Line
Out of all these polishes, the Sally Hansen Insta-Dri is the one I recommend the most. The polish dries in only a minute, so you can have a chic manicure and run back out the door quickly. I also love how this nail polish is available in so many colors, and Sally Hansen is one of the most reputable names in nail care.
I also included top coats and other nail polishes in this list. I suggest looking through all these products and using the best that best fits your needs.