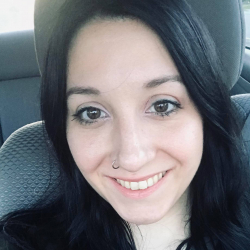 Latest posts by Stephanie Jensen
(see all)
Diamond and gem nails are one of the biggest trends I'm seeing now. With this manicure, the manicurist attaches diamonds or gemstones to your nails. You can apply these diamonds to an acrylic or gel manicure or your natural nails.
While the average person may get gems that look like diamonds, celebrities go all out with their diamond manicure. So much so to where Machine Gun Kelly was sporting a diamond manicure worth $30K at the Billboard Music Awards this year!
Do you want diamond nails but aren't sure how to go about a gemstone manicure? Fortunately for you, I'm a nail and beauty writer. I always pay attention to nail trends and have seen some incredible diamond manicures. Read my diamond nails inspiration and ideas guide to get your next best manicure!
Bottom line up front: My favorite look is the alternating purple and neutral nails with multi-colored diamonds. The nails are acrylic but are short and rounded. They look cute as opposed to long and intense. I would choose a darker purple instead of the Easter egg purple, but this is a good color if you're looking for a spring manicure. The multi-colored diamonds on the cuticles also add a bit of luxury without looking too dramatic.
How I Chose These Ideas
Before I share the best diamond nail ideas, I want to explain how I chose these different nail looks. Everyone has different preferences, so I suggest reading through this section. This way, you know what diamond nail look will suit your unique style and preferences.
Color
The first aspect I looked at was the color. Specific colors will help diamonds and colorless gems stand out, but this isn't the only factor one considers when choosing a nail polish color.
Let's first look at trends. Over the last couple of years, I have noticed nail polish color trends have been extreme. I see neutral and white-colored nails everywhere, but I also see dark colors emerging from the goth phase and into the mainstream.
Surprisingly, neutral colors are the ones that make a diamond sparkle more than other colors, so I put emphasis on these shades. Specific colors will also stand out every season, which I will cover in another section. This is why I emphasized neutral colors, dark shades, and seasonal colors and tried to include even more colors to fit everyone's preferences.
Acrylic and Natural Nail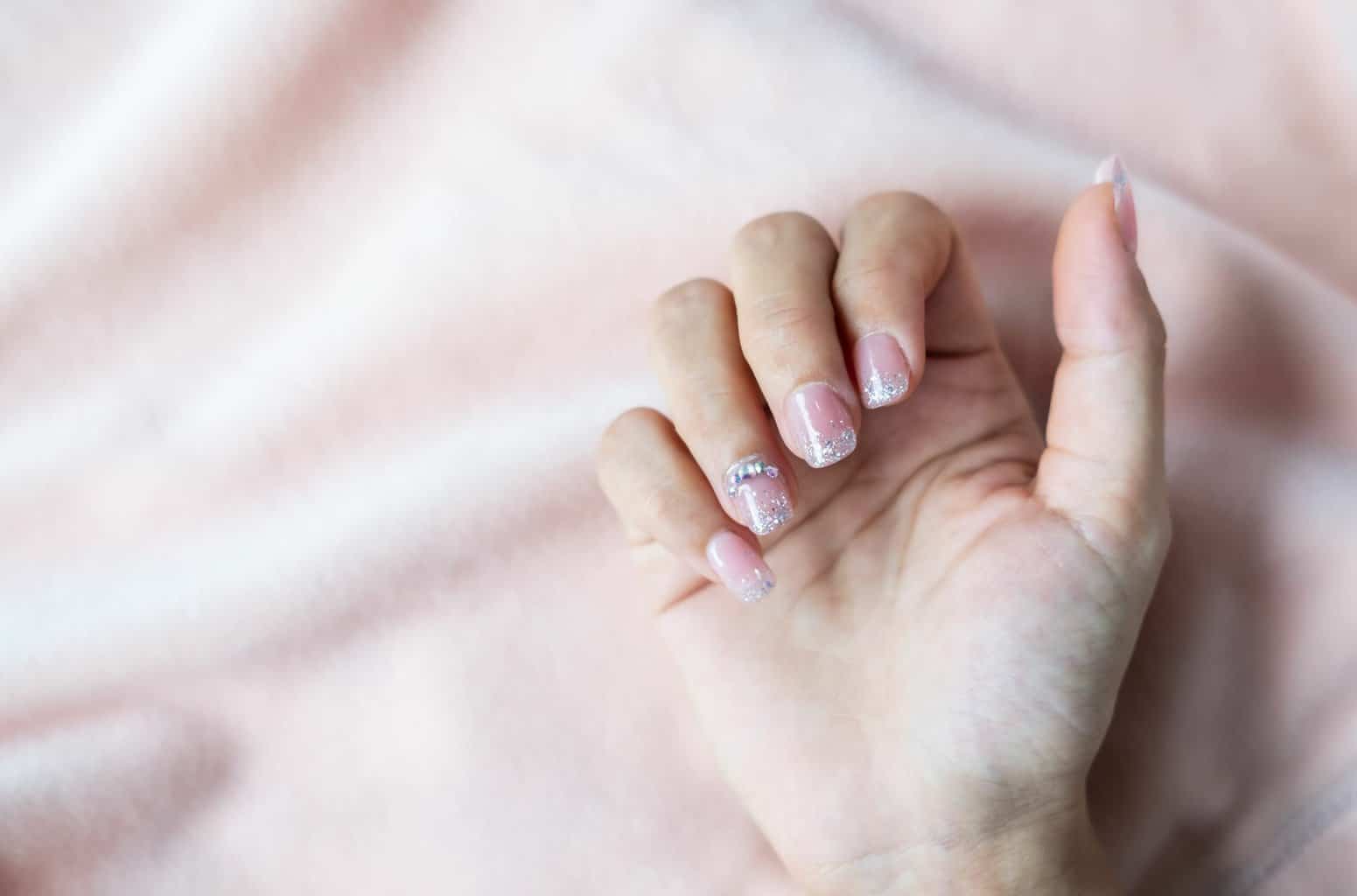 I used to get acrylic nails all the time. They look fantastic but are high maintenance, expensive, and damage my natural nail. That's why I prefer getting a manicure on my natural nails or, at the very least, getting a gel manicure. Fortunately, you can add diamonds to all of these nail looks. That's why I included all of these options in my guide to appeal to everyone.
Get acrylic nails if you want your polish and the diamonds to last longer. Because you're not working with a natural base, the color and gems will last longer on a fake nail. Acrylic nails are also best if you want long and durable nails.
I suggest a gel manicure if you just want your diamond nails for a special event. I usually do my own nails, but if I have to go to a wedding or another formal event, I will treat myself to a gel manicure. Gel polish also lasts longer than regular polish.
Otherwise, you can absolutely add diamonds and gems to your natural nails. There are countless polish colors you can choose from, and your creative opportunities are endless!
Nail Shape
I love all of the fabulous nail shapes out there. When I got acrylic nails, I opted for oval and almond nails because I loved how rounded the nails looked on my hands. I also love stiletto nails and often get that nail shape. When I get manicures now on my natural nails, I usually ask for a square shape. You can also choose a square shape for acrylic nails. A friend of mine does that, and they look so cute on her!
Seasonal Themes
We are officially in the fall season, and I'm so happy! This is my favorite season of the year! I will be listing some fall diamond manicures. Be sure to prioritize fall colors with your manicure, such as red, gold, brown, and yellow. But I understand you may stumble across this guide at any time of the year, so I tried to include manicure looks for every season.
The Best Diamond Nails Ideas for Your Inspiration
Are you ready to get a luxurious diamond manicure? Here are the best ideas that I found on Instagram!
Purple is a color that means a lot to me because it's a beautiful shade of purple. While I like Easter egg purple, I would choose dark purple instead if I were to do this manicure.
I also love how the model alternates purple with a neutral beige color. The neutral color balances out the manicure and looks sophisticated. Plus, the multi-colored diamond gemstones at the cuticle look flattering on the beige surface. I also like how the model's nails aren't too long. I can tell she has acrylic nails, but you can still achieve this look with natural nails. Credit: @nailsbypaulin.
Try this look if you want a chic way to express the white-nail trend. The nails are a very subtle French manicure and look like a white ombre. White diamonds coat an accent nail, and each nail has one diamond at the cuticle. This look is playful yet subtle. Still, this is a great nail look for all occasions because the diamonds are eye-popping enough to garner attention.
Plus, white nails and other neutral colors are great since they match every outfit. Suppose you're concerned that this manicure still won't be acceptable for a work dress code or a professional event. In that case, I suggest taking out the diamond accent nail and simply adding a single diamond to every cuticle. Credit: @diamondsanddolls.au.
If you prefer a more exquisite look, I suggest doing this manicure. The model has long, stiletto-shaped acrylic nails that are coated with chunky colorless diamonds of varying shapes and sizes. The base color of the nail is neutral, so these nails are trendy and don't take away from the chunky diamonds. I suggest getting this look professionally done to ensure you don't damage your nails or lose the studs. Credit: @hwynailit.
I love this look. The blue-colored diamonds remind me of a dreamy ocean. This is such a great summer diamond manicure, especially if you're about to go on a luxury beach vacation. I'm unsure how the model achieved this look, but the description states these are gel nails. Credit: @f.o.xnailsnl.
If you want to slay the nail game without getting a crazy look, I suggest doing a diamond design on your natural nails. You can easily find these gems and glue them on yourself in any design you want. The best part is that this look doesn't require acrylic nails, expertise, or nail polish. This is the ultimate no-maintenance diamond nail look and takes no time to achieve! I do suggest applying a clear top coat and filing your nails before adding the gems. Credit: @glowy.beauty.bar.
This pink French tip look is another excellent spring manicure idea. The Easter egg shade of pink here is perfect for springtime. Because the pink is only applied to the tips, this look is still subtle. If you prefer a classic French tip, then you can replace the pink with a traditional French manicure.
The small diamond gems make the manicure even more luxurious. If your nails are long enough, you don't need acrylics to achieve this look. Even if you opt for acrylic nails, the nails are still short, and you can still do daily tasks efficiently. Credit: @opi.
I would do this look if I were to do a diamond nail manicure. It doesn't have to be during Halloween, I just love spooky stuff! This manicure features Ghostface from Scream as one accent nail covered in diamonds. The rest of the nails are purple and black — some are black French tips on a purple base, and one nail has a purple base with black gems that look like they're dripping. The model here has long and square-shaped acrylic nails. Credit: @flexedbycici.
I'm not even sure what to call this extravagant manicure. First, every nail has a different pattern, but they all follow a purple and pink color scheme. I especially love the floral pattern the most! One of the nails features cluster diamonds in various shapes. The floral nail that I like also features one big cluster diamond with more at the tip. The nails are also acrylic and super long, so this is the look you should choose if you want something bold. Credit: @tairinieves_.
These orange nails are perfect for the season! While I would choose a black diamond accent nail instead of the multi-colored diamonds, this is still a great nail look if you want something fun. The cluster diamonds here vary in shape and size, making them the perfect accent nail. The acrylic nails are also very long and ballerina-shaped, which means they're shaped like ballerina slippers in an elongated and slightly squared style. Credit: @her_majesty_salon.
This is such a pretty fall look if you want something on the simpler side. The model's nails are painted a very pretty fall-time brown, and there's one gold glitter accent nail. Another nail has a cute diamond and gold gemstone design at the cuticle. Because of the gold accents, this look will also blend well into the winter season. Credit: @viviennnails.
If you want bold nails that are still on the simpler side, I suggest a look like this. The nails are long and ballerina shaped, but the V-shaped French manicure gives this manicure a look that falls between new-age and classic. The accent cluster gem and diamond nail make this manicure look extravagant. Credit: @jet_set_beauty_nails.
I suggest this look if you want to express your femininity with a diamond manicure. However, understand that this look isn't one for modest people. The nails are long and square-shaped, painted baby pink. All of the nails include a cluster diamond and gem design consisting of gems in different shapes, sizes, and colors. You can also experiment with this look in different ways. I personally wouldn't get pink nails, I would opt for red. Credit: @mikasnailspot.
This is another way to express the white nail polish trend. You can easily liven up a boring white manicure with a glitter accent nail and diamond clusters. I like how these nails have my favorite coffin shape. This means they're square-shaped but tapered on the ends, making them look like a coffin. Credit: @kreativ_nageldesign_wittek.
This manicure doesn't require much of an explanation. These are by far the most mesmerizing diamond nails on this list. If you want to wear diamonds and show them off in the girliest way, there's no better diamond manicure idea than this one. The only thing I will say is these have a lot going on. You can opt for a small diamond cluster on neutral nails if you want something more straightforward. Credit: @marmaladenails.
You wouldn't think turquoise and neutral colors would make a good color combination, but this look proves they do. I like this color combination because it can work in various settings. While I think turquoise is a summer color, this combination of turquoise and neutral can work at a formal event and in a professional setting. I also like how the model uses her natural nails.
The diamonds and gems make this manicure more exquisite. But they look neat, with one gem on each finger. They enhance the manicure rather than take away from the pretty turquoise color. Credit: @hiddenbeauty_pencoed.
I like this nude color trend. I feel these colors suit everyone and work for every occasion and season. Depending on your manicure, most nude manicures are office-appropriate. But your nude manicure doesn't have to be low-maintenance. The model here has long coffin nails and added glitter polish to each nail. There's a white and silver diamond accent nail and one diamond added to each cuticle to add a hint of dazzle to this manicure. Credit: @katienails2017.
I love glitter nails. They're so unconventional and looks vibrant. I especially love the holographic glitter polish. There's one diamond accent nail, but it doesn't take away from the holographic glitter polish. This is a good manicure if you want a fun yet basic look. Credit: @catalina_nailexpert.
With the holidays around the corner, are you looking for an extravagant yet traditional look? This look combines both. Snowflakes, ornaments, and other holiday scenes grace these nails, accented with diamonds and multi-colored jewels. The nails are also very long and stiletto-shaped. My only complaint is I wish the holiday themes were more detailed — the diamonds and jewels dominate this manicure. Credit: @heyitspheebs.
First, I love this nail polish color. I will best describe it as holographic pink. It's extravagant enough, so your nails get noticed but are modest enough for the workplace. To make the manicure ornate, one nail has a swirling design of pearls and diamonds. It's a low-key way to add diamonds and gems to a manicure. Credit: @diamondnails_hu.
FAQs
Question: Are Diamond Nails the Most Popular Design Now?
Answer: Actually, marble nails are the most significant trend right now. However, diamond nails are the next up-and-coming thing.
Question: How do I Attach Diamonds, Crystals, and Gems to my Nails?
Answer: https://www.youtube.com/watch?v=0Bdd4fGCaPA
First, start with suitable nail glue. The artist in the video mentions the one that she uses. She also uses a spray activator, a UV lamp, and a crystal application tool. Apply tiny drops of glue to the nail, depending on the design you want. Take the application tool and apply each crystal to each corresponding spot of glue, pressing the crystal into the glue. Follow up with the spray activator so the glue dries quickly.
For larger embellishments, the artist recommended using liquid glue. Use a brush and apply the glue to the nail. Use the same applicator tool and apply the crystals to the entire nail or where you applied the glue. Place your hand under the UV lamp for one minute. Apply a top coat to the areas between the crystals so they hold better. Place your hand under the UV lamp for another minute. Finish with the UV lamp and a gel top coat.
Question: The Diamonds Keep Falling Off of my Nails! What do I do?
Answer: If you're gluing gems on your own nails, make sure you only use a drop of glue. This way, it sticks to the gem and doesn't go all over your nail. If the glue goes all over your nails and can snag on things and make the gem pop off.
My Favorite Out of Them All
Of all these looks, I prefer the alternating purple and neutral nails with the multi-colored diamonds on the cuticle. While I would choose a darker purple over the Easter egg purple, this is still an excellent way to use the neutral color trend while also adding color to your manicure. I also love the way that diamonds look on the cuticles. It's different and adds bling to your nails without looking too extravagant.
While the model has acrylic nails, the nails aren't too long and are rounded, so they look really simple and cute. If you want other colors or different diamond looks, I suggest looking at the rest of the ideas on this list.
Continue reading:
Silver Nails Inspiration and Ideas
Cat Eye Nails Inspiration and Ideas: Try Something New With Your Nails
Lavender Nails Inspiration and Ideas: Bring Class and Elegance to Your Nails