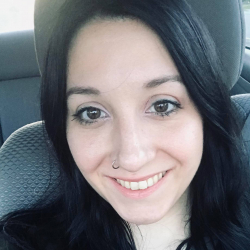 Latest posts by Stephanie Jensen
(see all)
Matte nail polish is a major trend, especially for fall nails. So many people are choosing a matte mani because this top coat is an easy way to make any manicure look edgy. Even though mattifying your polish will make your nails look more understated, I think this nail look is unique and eye-popping.
Do you want to achieve a matte nail polish look? Here are some of the best matte nail polish ideas. I chose different matte nail polish styles and looks for all seasons.
Bottom line up front: Even though there are many fun matte nail polish looks, I prefer matte nude nails. This look is a classic choice for a reason. Nude polishes look amazing on everyone, work for all occasions, match every outfit, and are perfect for every season.
How I Chose These Looks
First, I chose various colors. I'm more of a dark nail polish girl, but others prefer light-colored neutrals. I know there are many who love bright-colored nail polish. I also focused on looks that are appropriate for the office and others that are funkier. I prefer natural nails, so I listed a combination of natural matte nails and acrylics.
My Favorite Matte Nail Ideas
Now that you know some of the key guidelines I had when selecting these looks, let's have some fun with the best matte nail polish ideas!
Classic Matte Nude Nails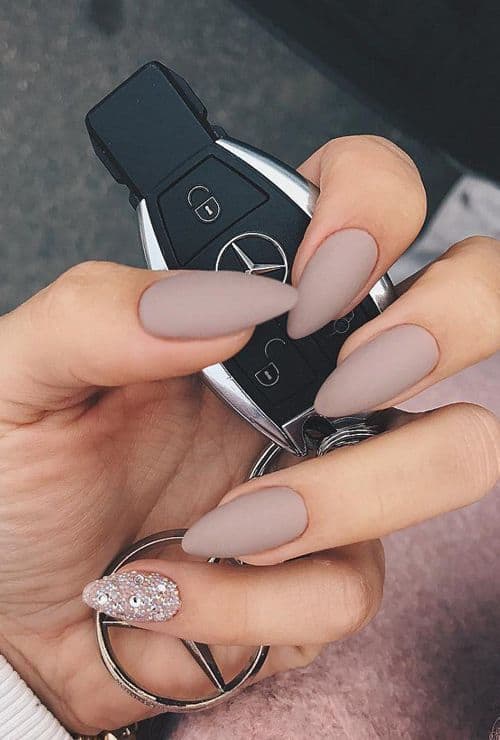 The first look I want to mention is the classic matte nude nail. I'm not the biggest fan of light-colored nudes, but even I would do a look like this. This polish will look amazing on anyone, and her stiletto nails aren't too long. Plus, the glitter accent pinky nail is adorable. If you want something other than glitter, this polish color will look amazing with any other design.
Black Matte Nails
This is definitely my kind of look! Black nails always make a statement, and black is my go-to color. The matte topcoat will elevate any black nail polish manicure. I also love how these acrylics are rounded and are not too long.
Navy Blue With Black Tips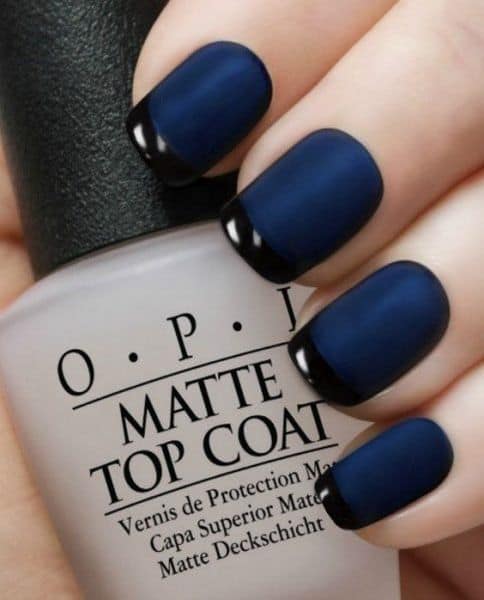 If you were to explain this look to me, I would never expect it would be that much of a hit. While I don't think I would do a look like this, I'm seriously loving that navy blue color. The best part? With that OPI Matte Top Coat, you can find any navy blue and black nail polish and do a look like this DIY.
Brown and Beige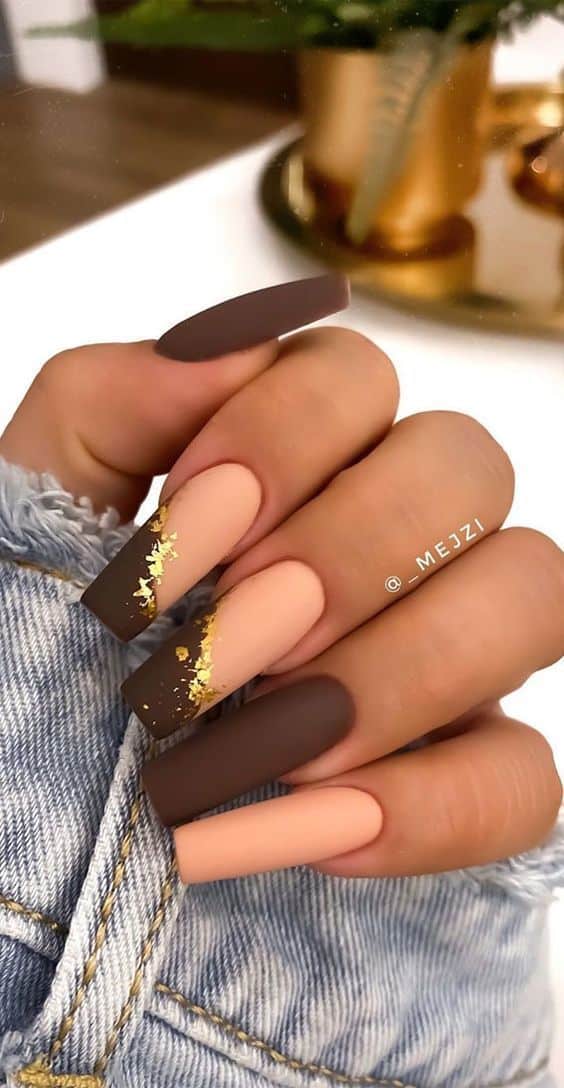 I love how simple yet extravagant this look is. The combination of brown and light beige nails, plus the two nails with brown tips and gold foil accents, make this the perfect fall nail look. This look is also a good choice for the office, just don't get your nails this long. I suggest getting this done by a professional, especially since the model is wearing long coffin acrylics.
Cobalt Blue With Glitter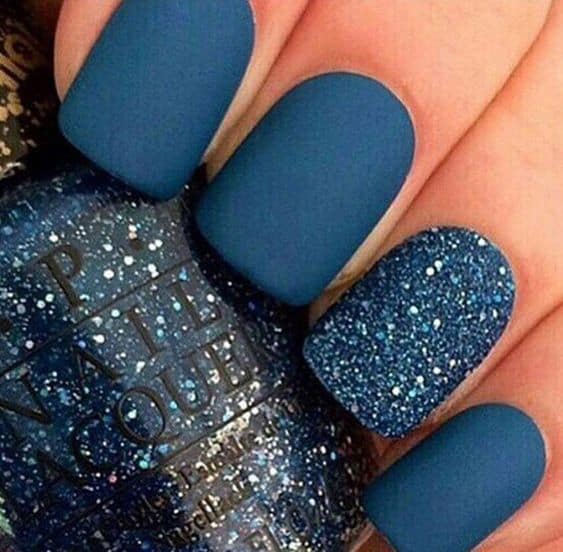 Remember that navy blue nail look I mentioned previously? If you're looking for something similar, look no further than this idea. This cobalt blue color is edgy, but the accent glitter nail gives this manicure a more elegant vibe. You can also do a similar look with any shade of blue. I also love how short and rounded her nails are. From the picture, it looks like this manicure was done DIY.
Gray With Marble Accent
I love this color. That light blue-gray is so pretty and even one I can see myself wearing. This color also helps accentuate the one marble accent nail. I recommend getting a look like this at a nail salon, especially since the model has coffin acrylic nails.
Pale Pink Acrylics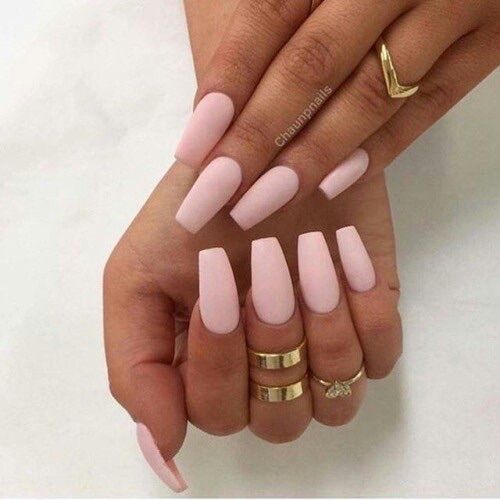 Want something light but feminine? Choose a pale pink such as this color. This shade of pink is very subtle and girly without being too pastel. I can see this color looking amazing on everyone. If you want acrylics such as the model, go to the salon and ask for coffin-shaped long fake nails. Otherwise, you can easily find this shade of pink and a matte top coat if you want to do this look DIY.
Aurora Berry-alis Coffin Nails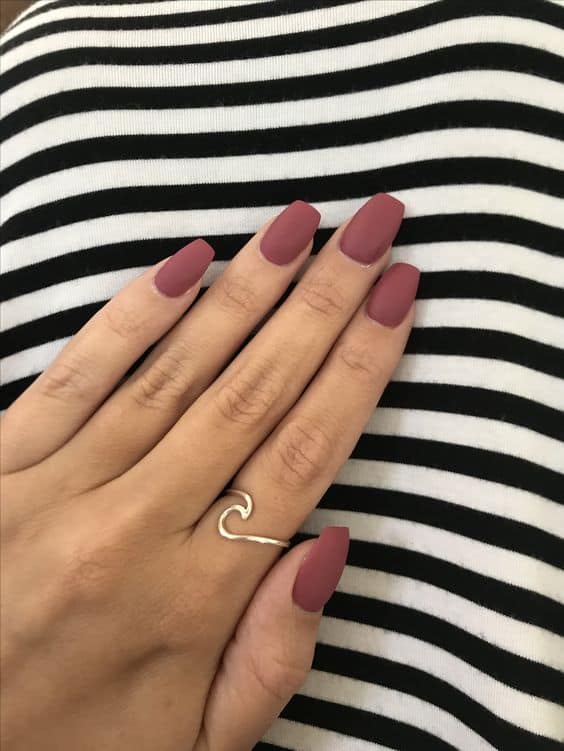 I'm not sure what this color is. This is an OPI color in shade Aurora Berry-alis. To me, it looks more like a burnt rose than a berry color. Like the last idea, this is a good option if you want a subdued pink color. As you can see, you can easily pick this shade up at any store that sells OPI polish plus the top matte coat. I also love the way these coffin nails look. The square shape looks amazing with this color, and the model's nails aren't too long.
Long Gray Matte Nails
This is another look I would totally do. That gray shade is beautiful, and I love the long stiletto acrylics. If you don't want the acrylics, you can recreate this look with a similar shade of gray and a matte top coat. That shade of gray polish is pretty easy to find — I have a polish in a similar color. The rings and henna tattoo makes the polish stand out even more. If the jewelry and tattoo are too much for you, you can add different accents to these nails such as designs, art, and gems.
Yellow Ombre Matte Nails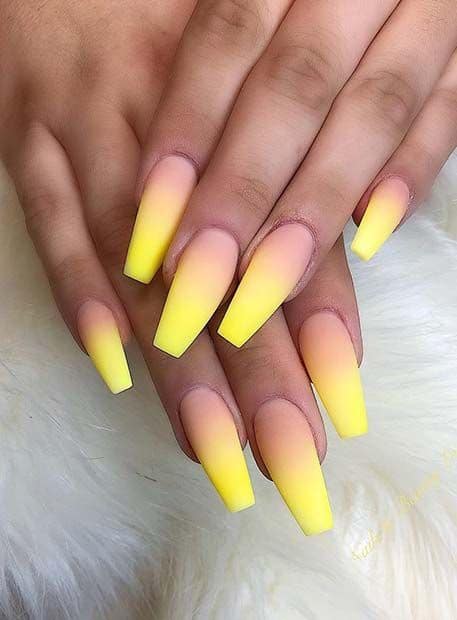 This is the most unique matte nail look on this list! The model's nails start out natural at the cuticle and then extend to a bright yellow ombre at the tips. If you do this look, I suggest going for long nails like what the model has. This will make the ombre even more intense looking.
Blue-Violet Matte Nails
I never know what to call this color, so I will call it blue-violet. I used to have an eyeshadow that same color. It's so beautiful and unique. If you don't want a matte polish look with lots of glam but still want something eye-popping, I suggest choosing a unique color such as this one.
Fortunately, this look is easy to replicate. If you don't want acrylics like what the model has, I suggest finding this color or similar and doing a DIY manicure with a matte top coat.
Watermelon Matte Nails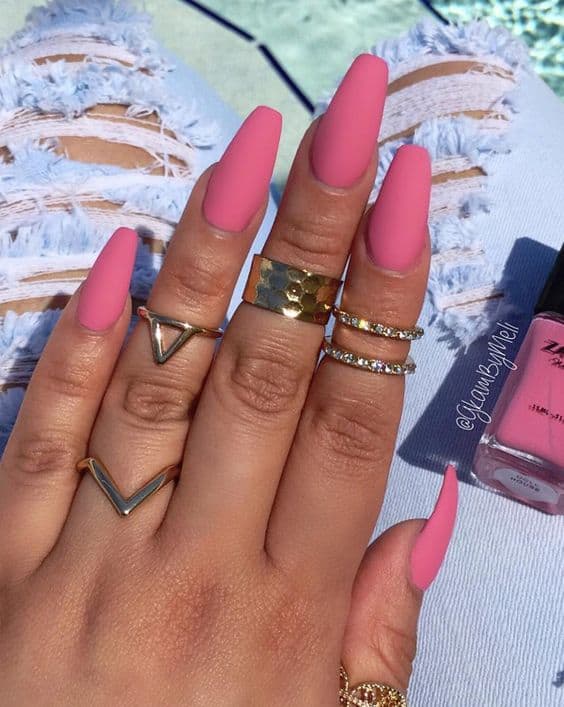 Even though I'm not the biggest fan of the color pink, watermelon is one of my favorite shades of pink. It's a warm-toned pink that's perfect for summer. This color looks amazing on anyone with olive skin tones, such as the model in this picture. The color also looks great on these long, acrylic ballerina nails.
Multi-Color Acrylic Manicure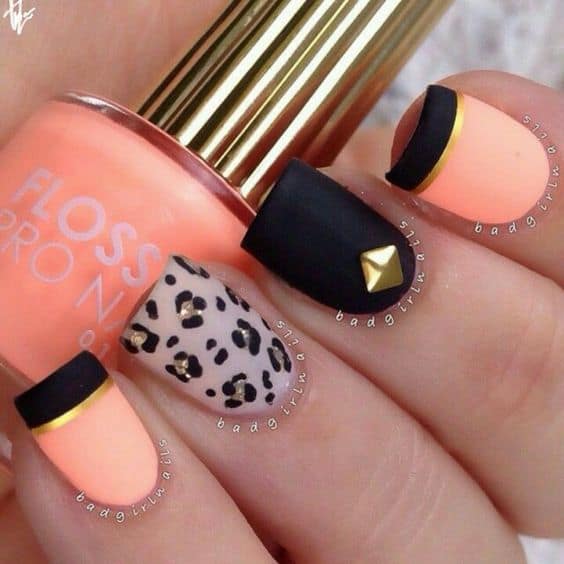 Not sure which color to choose for your matte manicure? Choose them all! This one features peach with black tips, matte black with a gold gem, and a gray leopard print. If you want to do this look DIY, I would alternate between the black and peach colors with a matte top coat. Otherwise, you would have to go to a pro for this look, unless you have amazing nail artistry skills.
Gray Ombre Nails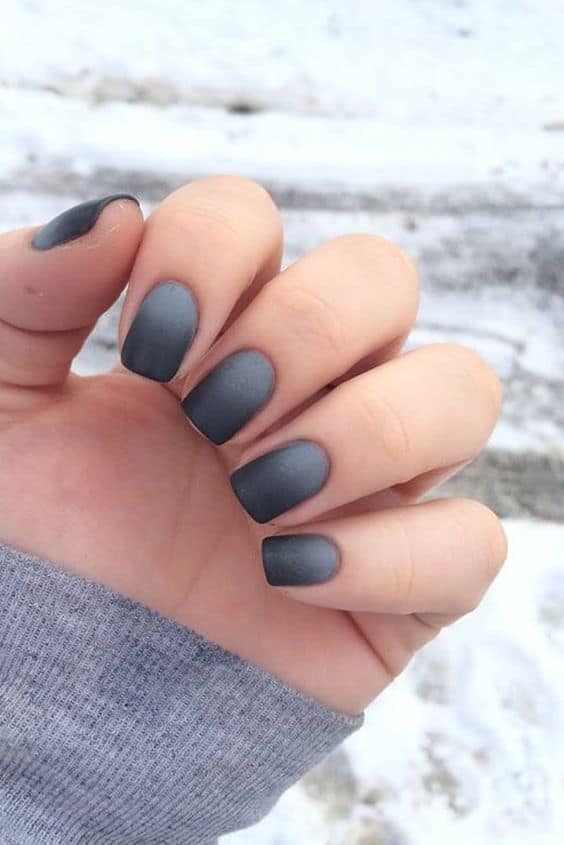 I'm in love with this look! The nails start with a light gray near the cuticle and flow to a darker gray at the tips, almost to black. If I were to get my nails done professionally again, I would ask for this look. If you want to try this, use at least three shades of gray and paint your nails starting with the lightest at the cuticle and going darker to the tip. Blend the colors using a sponge. Let it dry and apply the matte top coat.
Paint Splatter Matte Nails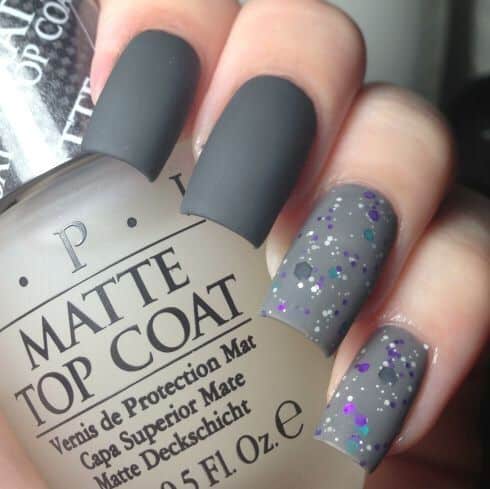 If you're looking for an easy way to amp up your matte gray manicure, I suggest applying this paint splatter effect. Paint your nails using a dark gray. Let your nails dry and take at least four different colors, applying a series of dots to your nails. Let dry and apply a matte top coat like the one pictured by OPI.
Pastel Teal Matte Nails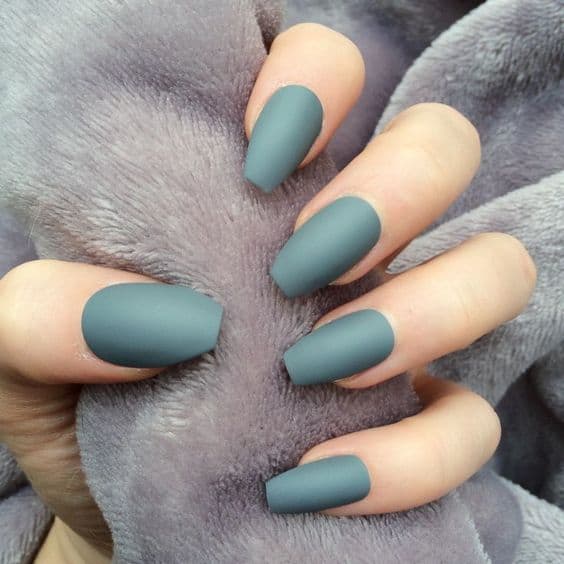 I have to admit, I'm not the biggest fan of pastels, but I do love this color. Using a unique nail polish color like this pastel teal is an easy way to make a statement without adding any extra designs or details.
Black Matte and Chevron Tips Nails
If I were still going to the salon for my acrylics, I would stop writing this article and run over to my nail lady with this Pin, begging for this look. The black long matte coffin nails are so me! I also love the one accent nail with the black tips and chevron design.
Summer Matte Nails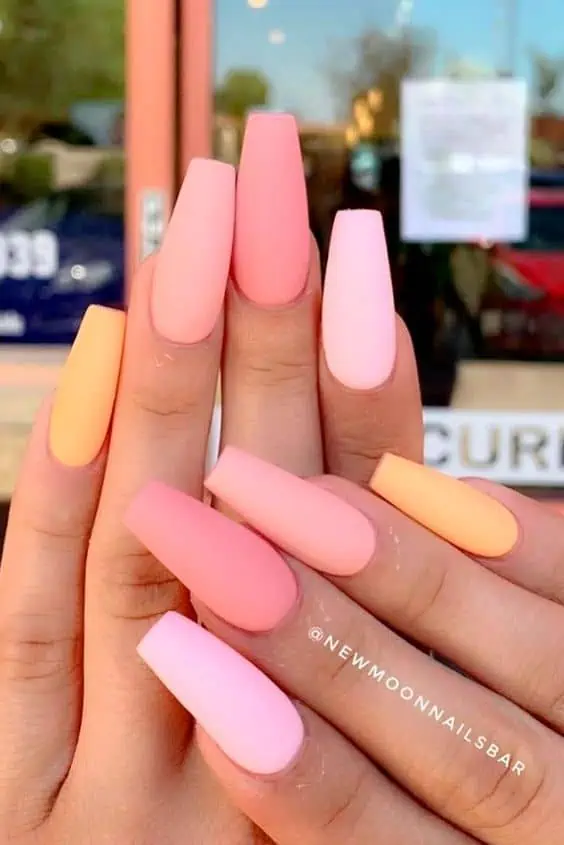 If you're looking for a chic matte manicure for the summer, look no further than these sorbet summer shades. Find a variety of bright pastels and paint each nail using a different color. While the model here has acrylics, I'm sure you can find these polishes anywhere and do this look yourself.
Burgundy Matte Nails With Floral Accent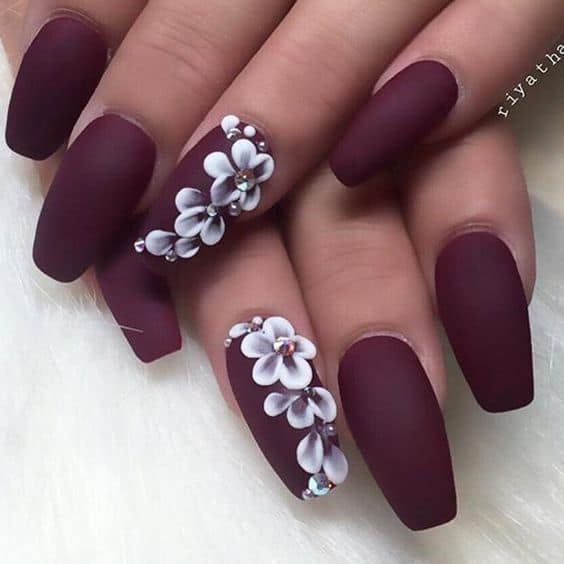 Do you want your nails to also have summer vibes but prefer a darker look? First, burgundy is one of my favorite colors of all time. The white floral accent nail is absolutely stunning and will add some brightness to any dark manicure. If you don't like these flowers, you can use any design you choose.
Clear Matte Nails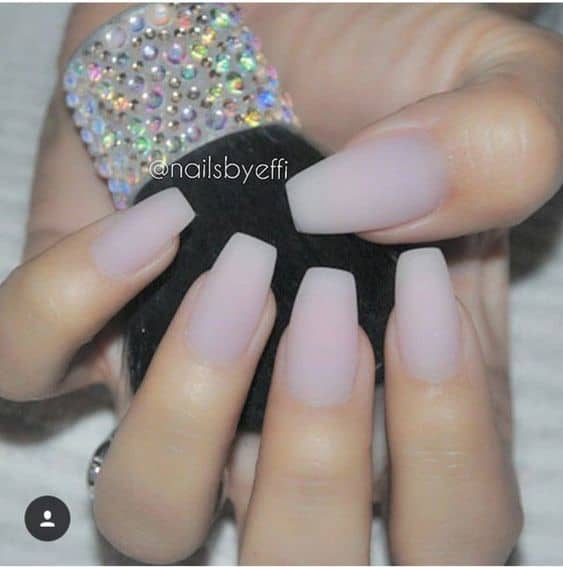 I love these nails. They have serious mod vibes. But how to achieve this look is the question. I'm unsure if the model applied the matte top coat to her natural nails or if she used a white underneath the top coat. You can always ask a nail technician for advice.
Purple Matte Nails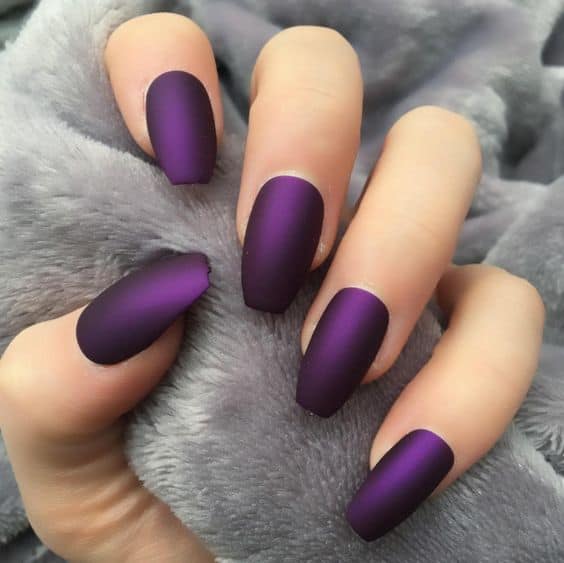 Purple is one of my favorite colors ever, and I especially love this vampy shade of purple. For a color like this, I would paint all nails in this color without any gems or accents. The color is eye-popping enough, you don't need anything else accentuating your nails. It looks like the model has acrylics, but you can achieve this same look with this shade of purple nail polish and a matte top coat.
Beige Matte Nails With Floral Accents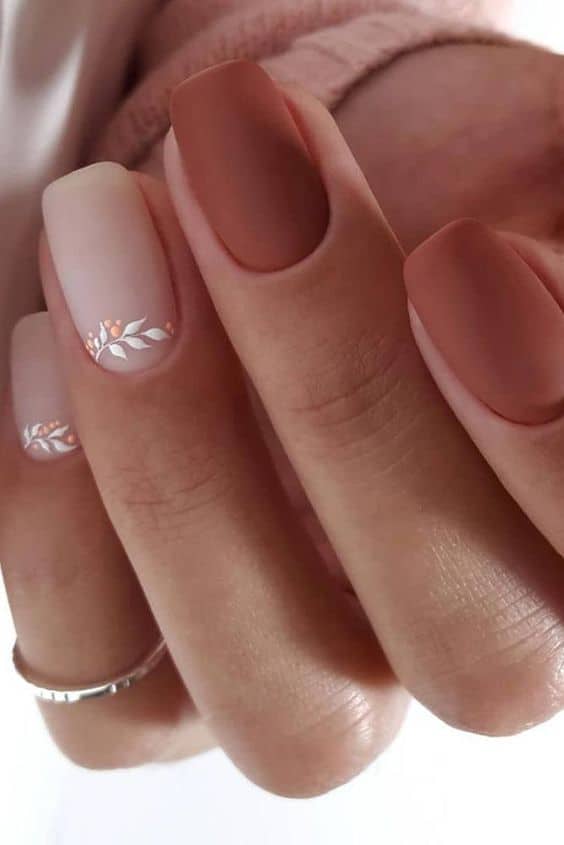 This is another subdued summer nail idea. The model uses lovely shades of dark and light beige with a subtle floral design on the bottom of the nails. If this were me, I would only do one beige color on all of my nails. Otherwise, this is still a beautiful look.
Dusty Rose Matte Nails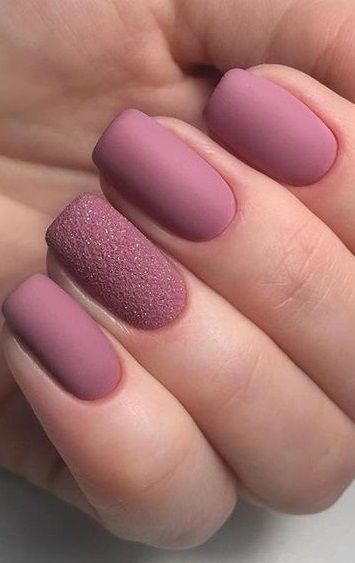 This dusty rose color is super stylish now and is the perfect color for your matte manicure. The best part? You can do this look DIY. You can find this dusty rose color and the glitter accent color nearly everywhere. Apply the dusty rose polish to your nail. Wait for the polish to dry and follow with a matte top coat, but leave one nail for the glitter accent nail.
FAQs
Question: Are Matte Nails Trending?
Answer: They are definitely trending! Matte nails not only add a pretty effect to any manicured. They are soft in appearance, making them a great choice if your workplace has a strict dress code. Plus, matte top coats are very versatile. You can apply the top coat to any color and nail style. You can always add art and designs if you want your nails to look eye-catching.
Question: What Nail Polish Colors Look Best With a Matte Top Coat?
Answer: I honestly think you can apply the matte top coat to any color! But I think this top coat looks best on edgier colors, such as black, since the matte top coat takes down the intensity.
Question: I Tried Matte Nails but I Don't Like Them. What Else can I do with a Matte Manicure?
Answer: I say experiment with different colors. Maybe you used a neutral or light color and the matte top coat didn't do anything dramatic. In this case, use a more eye-popping color such as blue or purple. You can also try any of the designs that I suggested.
Bottom Line
Of all the matte nail looks on this list, I prefer the classic matte nude nails. Though I would choose a darker brown over lighter nudes, this is a great color for everyone and can be worn during any season. You can also opt for other neutral colors. For example, I included many gray matte nails on this list, and that's another one of my favorite looks.
Continue reading:
Matte Nails Inspiration and Ideas
Blue Acrylic Nails Inspiration and Ideas
Brown French Tip Nails Inspiration and Ideas: the Best Brown French Tip Nails of 2022