Latest posts by Phoebe Berkeley
(see all)
Now that spring has sprung, there's no better time than to don some gorgeous purple nails! I have to say, purple is my favorite color, and it's by far my favorite tone to use on my own nails.
In fact, Pantone's color of 2022 was announced as Very Peri, which is a gorgeous blueish purple. There are so many hues of purple that the options are virtually endless.
The great thing about purple is that it complements many other colors, so no matter what you're wearing, you won't have to worry if your nails will clash.
In this guide, I'm excited to walk you through 18 unique purple nail ideas while offering some application techniques so you can recreate them at home. Let's jump into it, shall we?
Selection Criteria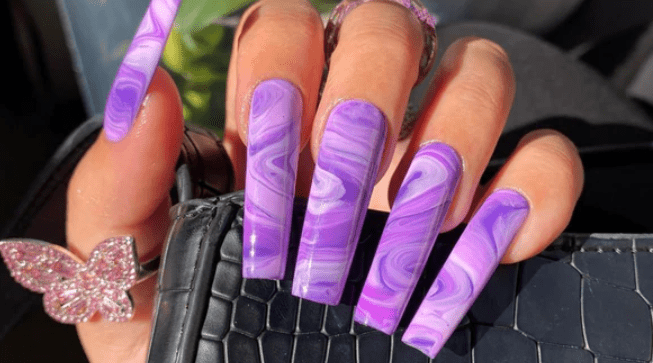 For this list, I wanted to choose nail looks that were a mix of difficulty from simple to hard, so that there are options for everyone, no matter their expertise.
Keep in mind that you might have to go out and purchase some items like glitter and nail art stickers if you hope to achieve some of the same looks.
If you're a beginner, my advice would be to start off with easier designs, and as you practice, you'll be able to do some of the more technical art later. Some of these ideas were created by experts or well-practiced nail technicians, so don't be discouraged at first. If anything, you can go to your local nail salon and have them recreate these for you!
Simple Solid Purple Nails
Deep Purple Nails

If you're not into super-bright colors for spring, then this is a great option for you! I love how the light reflections create the illusion of a few different purple tones.
To get this effect, make sure you use a good quality shine topcoat. If you want to make a different statement, you could always layer a matte topcoat on top!
Mid Purple Nails

This is such a gorgeous color from O.P.I! They have fantastic polishes that last forever and won't chip right away. This particular color is called 'One Heckla Of A Colour'. I personally think that this shade would look great on a longer set of false nails. However, you could pull it off at any length.
Lavender Nails

Another great shade from O.P.I! Lavender is probably one of my favorite shades of purple; it's perfect for springtime. I think that this shade would look great on shorter round nail styles. I would opt for a shiny topcoat to really make the nails pop!
These are a great pick if you're looking for something a little more on the neon side. I don't often see this color on nails, but I'm digging it!
If you really want to make a statement, apply this color on longer coffin extensions and apply a matte topcoat on top. However, a shiny topcoat would be just as pretty, as you can see in the photo.
Ombre Purple Nails
Nude to Deep Purple Nails

This is a bolder ombré look. Rather than transitioning from a lighter purple, the artist chose to work their way from a nude nail bed. What I like about the tips is the subtle glitter; it adds a little pop.
To create this look, I think it would be easiest to work with dip powders so that you can easily create the colour transition.
You should be able to find a dip powder with purple glitter. The other great thing about these nails is that the growth won't show up as much because of the nude colour.
Light Pink Lavender With Gems Nails

This is a bit of a subtler ombré look, going from a nude nail bed to lavender at the tips. To add some pizazz, some gems are added, which I think is a fun twist!
To get this look, it would probably be easiest to go to a salon and get them to do ombré airbrushing since the transitions might be a bit tricky to complete at home.
If you wanted to recreate this look at home, you could always do alternating nude and lavender nails and add some gems in.
Cool Lavender With Clear Butterfly Accent Nails

This is such a fun twist on ombré nails. Instead of having every nail painted ombré, you can create a nail extension using clear acrylic or clear bio gel. Between each layer of gel, place a few butterfly appliqués so you can seal them in.
This ombré might be a little easier to recreate at home with dip powder because the majority of the nail is lavender. I would start with a few layers of nude powder and then a few dips of lavender powder on half of the nail.
Glitter Purple Nails
A Little Pop Of Glitter Nails

If you're not into a full-on glitter look, then this is a great option for you. I think gel would work best for this manicure because it will create long-lasting shine and hold up better on longer nail shapes.
If these nails are a little too long for you, then you can opt for a shorter length or even your natural nails.
Purple Galaxy Nails

This look makes me want to explore the galaxy! If you want to achieve this look, I'd recommend actually layering two nail polish products on top of each other. I find that gel polishes that already contain sparkles don't have as much of a pop.
Start by layering a deep purple shade on the nails-I'd recommend two layers. Then apply two coats of glitter polish. It's best to look for a glitter that has many different colours in it because that will give you the galaxy effect.
Lavender With Dark Purple Glitter Nails
These nails remind me of confetti balloons! You can even get two manicures in one if you wear the lavender for a few days and then add on a glitter layer later on.
For this look, you want to find a purple glitter suspended in a clear polish. This will help the lavender peek through from underneath.
Purple and Green Glitter Nails

These glitter nails remind me of a galaxy as well! While you wouldn't think that green and purple would go well together, this combination is stunning!
If you're looking to recreate this look, I'd recommend using glitter polishes so that you can get that really great shine. Do a few layers of purple and then to create that glitter swirl down the center; use a brush to build thin layers until you reach the desired level.
Graphic Purple Nails
Purple Swirl Nails

These nails give me 70s vibes! You'll have to pick up three different shades of purple for this particular look. Another tool you'll need is a thin nail detailing brush, which you can find at most beauty supply stores, or even art stores!
To create this design, start by painting the bottom light lavender- I recommend using gel polish for this look as you can cure each layer to prevent smudging. Then, start by creating the dark purple swirls first. To create cleaner lines, work in small sections and then connect them. Seal it in with a clear topcoat, and you'll be rocking those 70s vibes.
Lavender With Daisies

This design is perfect for spring! While the daisies might seem a little harder, working with gel polish will allow you to cure the petals as you go, so you won't have to worry about smudging.
I would recommend a really thin brush for this look; make sure you get one of decent quality, though, as it'll just fray if it's super cheap. If you make a mistake on one of the petals, it's super easy to wipe it away and start all over. Don't get frustrated if it takes you a little longer; it took me a while to get better at designs!
Checkered French Tip Nails

This one is a little tricky! I would recommend going to a nail salon for this look as it may be a bit tricky for someone new to doing nail designs. However, you might also be able to find nail stickers that are checkered. In this case, you could cut them to the desired shape and stick them onto the tips of your nails. To seal them in, use a gel top coat and cure it with an LED lamp.
This look is so fun! I love the subtleness of the accent flame nail, and the lavender makes it work for springtime. If you want to attempt this look, you might find it easier to actually carve out the design using nail polish remover in order to create clean lines.
Try to create an outline as close to the flames as you can, so that you have less clean-up work to do. Using gel polish again here allows you to cure as you go to avoid any smudging. I would imagine that it would be very hard to do this design with regular nail polish.
Mix n' Match Purple Nails
Purple and Nude Butterfly Nails

This look is stunning. While it's not created using only the color purple, there are a ton of purple elements here that make this look a great choice for spring. I'd advise going to get this done at a nail salon if you don't have a ton of nail design tools.
It's definitely something to work towards; if you want to practice difficult designs like this, you can pick up a hand mannequin to practice on. The good news about this particular design is that the butterflies appear to be stickers, so you won't have to worry about mastering them.
Many Shades of Purple Nails

I absolutely love monochromatic nail designs! The good news is this one is achievable for anyone at home, regardless of nail design talent! All you need is a few different shades of purple to pull off the look!
You can even use any type of polish that you'd like, whether that is shellac, regular or even dip powder! I love the length of these nails, but you could pull off this look at any length!
French Tip & Swirl Nails

This look might be another one that warrants a trip to the salon. All of these elements are hand-painted, so you would need some good nail tools to be able to do this. Sometimes, even for experienced nail artists, it can be hard to paint designs on yourself, especially with your non-dominant hand. Using stickers and french nail tip guides can really help you if you plan to do this on your own though.
FAQ's
Question: What is the Best Type of Polish to Use for Purple Nails?
Answer: I would definitely say that everyone's preference is different regarding the kind of polish they use. My recommendation would be to use gel polish, however. It lasts a lot longer than traditional nail polish and created an all-over professional-looking manicure. You will need an LED lamp to set the polish though so make sure you have one before starting anything.
Question: Are Purple Nails Only for Spring?
Answer: Definitely not! There are so many different hues of purple that you can wear the color all year round. A nice deep purple would be great for winter and any pastel purple would look stunning in the spring and summer. I always say that you can rock any color at any time of year!
Question: Is it Better to get More Intricate Designs Done in a Nail Salon?
Answer: I would definitely recommend going to a nail salon if you're going to be getting a design that is a little out of your expertise. I've attempted to do designs that I wasn't ready for, and it's ended up in a big old mess. I would advise you to start slow and then increase the difficulty of your manicures as you gain experience.
Bottomline
Well, there you have it! I hope you feel inspired by this guide to go and apply a fresh purple set of nails. It's a great option as we move into spring and you can't go wrong because the possibilities are endless.
My personal favorite looks from this guide include the Purple Flame Nails, the Galaxy Nails, and the Pop of Glitter Nails. I would love to hear about the looks you recreated in the comments below!
If you want to read more nail inspiration guides, check out these articles below:
21 Fun Rainbow Nails Inspiration and Ideas
Green Nails Inspiration and Ideas: 20 Ideas for 2022
Dark Purple Nails Inspiration and Ideas: My Favorite Dark Purple Nail Designs
Purple Ombre Nails Inspiration and Ideas: Concepts to Check Out Before Your Next Salon Visit