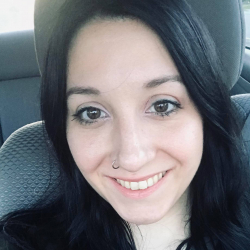 Latest posts by Stephanie Jensen
(see all)
Coffin nails are all the rage right now. The coffin nail design is not only beautiful but these nails are very versatile — you can achieve nearly any nail look you want. However, there are some downsides to coffin nails, such as the maintenance and the regular fills you'll have to get.
But if you 100% know you want coffin nails, you'll probably want some design recommendations. Here, I will offer you some advice and different ideas to get the coffin nails of your dreams!
Why Am I Giving Advice?
With the acrylic nail market expanding, there are so many looks you can get. I was a big fan of stiletto nails back in the day but always loved the look of coffin nails.
So, why am I giving advice?
Well, I understand the difficulty of choosing the best acrylic nail look! And with the edgy look of coffin nails, you'll want the best color and designs to ensure your nails stand out.
From super dark and mysterious looks to stylish and trending pastels for spring to simple neutrals, it can be difficult to choose the right look. My goal is to offer a few different suggestions so you can choose a great nail look that goes with your personal style.
What Are Coffin Nails?
First and foremost, what exactly are coffin nails? These nails are square-shaped at the top, similar to the shape of a coffin. Coffin nails are very distinctive and nearly any nail shop can do this nail shape.
Whether you have acrylic nails all year or just want them for a special occasion, coffin nails are trending and are great for a variety of people.
Coffin Nails vs Ballerina Nails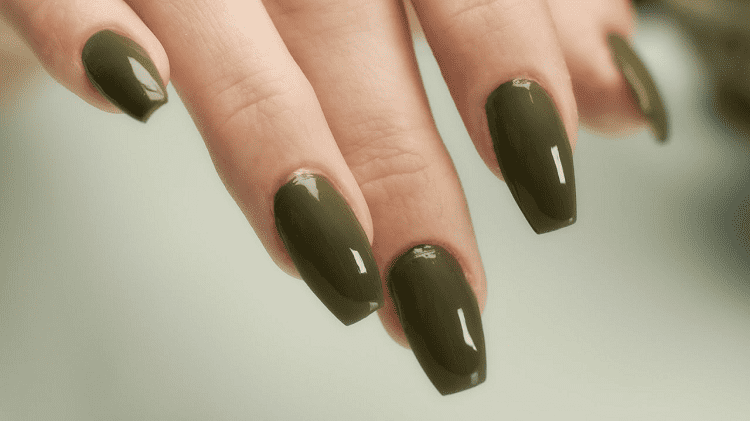 You may have heard coffin nails and ballerina nails are the same style. I even thought they were the same! Actually, the two styles have some differences.
Both look nearly identical because the top is squared. They're also longer than your traditional acrylic and gel nails. However, ballerina nails have rounded sides that better represent a ballet shoe. Coffin nails have straight sides to better represent a coffin.
Which style should you choose? I personally think ballerina nails look softer while coffin nails look fiercer.
Are Coffin Nails Right for You?
Coffin nails will look great on anyone! However, coffin nails look best when the acrylic nail is longer. If you want shorter nails, choose a classic square shape or even opt for gel nails.
Another reason why coffin nails look best on longer shapes is they give your nail technician more room to work with, so they can achieve a variety of great designs.
Some other signs that you should choose coffin nails include going to a special event, such as a wedding, and wanting a special nail look as well as wanting an everyday acrylic nail and you don't mind longer nails.
How to Get the Perfect Coffin Nails
First and foremost, I only suggest getting this shape done at a professional nail studio. Your nail technician will attach the acrylic nail and will file it down to get the perfect shape. This way, your nails will look super fierce! However, you'll need to go to necessary follow-up nail appointments, which can get expensive and time-consuming.
But what if you're the ultimate DIY person? You can find press-on coffin nails. Looking on Amazon, I found ones that are blank so you can paint your own designs. This is great if you have an artistic vision and the skill to pull it off.
You'll save lots of money this way! However, if you don't have the skill to do this yourself, then definitely go to a professional.
How I Selected the Perfect Coffin Nail Ideas
Here are the criteria I selected when looking at the perfect coffin nails:
Color
Design and style versatility
Solid colors, patterns, ombre, etc.
Seasonable and year-round designs
My Favorite Coffin Nails Ideas
Rose Dream Coffin Nails
Looking at these nails reminds me of a rose dream. I love the rose gold color of the nails and the artistry with the rose on the only white nail. The gold accents really make these nails stand out.
Other elements, such as the texture on the one nail, make these nails look even more magical. The subtle rose gold look makes this slaying nail design look more feminine. Credit: @nailsdual.
These Coffin Nails Are Miles Long
Holy cow are these nails long! If you're looking for a really intense look, then definitely go for this length (if you dare). What I do like about these nails is the claw-like fierceness is in the length, not the design.
Other than the gems on the pinky nail, the nude color gives these nails a more subtle look. I also like the versatility, such as the French tips on two of the nails and the butterflies on one of the nails. Credit: @naysbeautyspot.
Animal Print Coffin Nail Frenzy
These nails are just too cool! On the bottom of the nails are pink and black leopard print. At the top is a blue and purple ombre. Finished with bling accents, these nails look extremely unique. While these nails require serious specialty, you can likely find press-on nail art to achieve that leopard print look. Credit: @tnaildesign.
Rainbow Candy Coffin Nails
I love the multi-colored look of these nails but they're almost candy-colored.
The French tips are all textured and feature the shades purple, blue, green, yellow, and pink. The textured look reminds me of a crocodile or alligator print.
They remind me of those Nerd candies and this is such a cute look for the spring and summer! The nails are long but not as long as the others that I mentioned. Overall, these are very lovely and look unique. Credit: @beautyglam_bycelia.
Flames on Coffin Nails
These nails are fire (literally). I usually think flames are really cheesy but these look super chic! The flames start at the nail tip and are pastel shades of yellow, pink, purple, and blue. The flames extend downward to the finger, and the rest of the nail is nude. This is another cute look for spring and summer!
They're also not super long so if you already have coffin nails, you can easily replace your previous design with these. Credit: @serenasnails_.
Subtle Coffin Nails
Okay, I've been mainly focusing on the crazy and elaborate designs. But what about something simple? Looking at these nails, you'll realize you don't need color. These coffin nails are white with butterfly accents on one nail.
This look is still on fleek but is subtle enough for anyone to pull off. I suggest choosing this style or similar if you're not sure what design you want or even if you're seeing a new nail technician. Credit: @calvin_7592.
Easter Coffin Nails
I'm actually writing this article on Easter and I had to find some cute coffin nails with Easter colors. The nails are nude with Easter egg teal and purple accents on the sides. One nail almost looks like a watercolor painting with a mix of pastel purple, teal, and orange. A cute gem at the end of the nail finished this look. Credit: _setsbyshai.
Coffee and Cream Coffin Nails
I'm naming this look coffee and cream nails! The nails are a light mocha nude with a cream-colored swirl in the middle. This color reminds me of a latte or cappuccino! I also like how the nails aren't terribly long. These nails have a glossy look to them, though they could be matte or even super sparkly.
This is a perfect look for the entire year, but I would choose this look for fall if you want something outside of typical fall colors. Credit: @extendedbyari.
Bling Bling Coffin Nails
If you really want bling nails, look at these as an inspiration. From gems of various styles and sizes to the money symbol, these nails are as extra as you can get! The model is wearing rings, which makes this whole look even icier.
There are also subtle color accents here, such as a pink ombre. However, the nails are largely nude, which I would prefer for the serious amount of bling going on here. If you want this look, I suggest finding a nail tech who specializes in gems and bling to truly get this look. Credit: @_nailsbyzhy.
Dark Pink Coffin Nails
I have to say, looking through the #coffinnails hashtag on Instagram is exhausting. I had to find something simple. Since it's Easter, I was only finding bright pastels and wanted to mix things up with a darker look. This dark pink is the only thing I could find.
I'm not a pink fan but I do love this dark mauve color. It's soft and feminine but still dark enough to wear during the fall and winter. It has some subtle sparkles, which is ideal if you want your nails to look more interesting.
I like this look because any nail technician can pull this off or you can attach your own coffin nails and paint them yourself. Credit: @nailzzbyjessica.
Blue Dream Coffin Nails
These nails are perfect for a special event, such as prom — especially if you're wearing a blue gown! These super long coffin nails feature blue tips on all fingers except the index finger — it has a beautiful assortment of jewels instead. Even the nails that don't have bling have sparkly blue polish, making these nails sparkle and shine. Credit: @klawsbydiana.
Trippy Coffin Nails
I love this black chrome polish on these coffin nails. Makes them look super trippy! Looking at the description, @nailedbychristy makes press-on nails, so you can achieve this look without stepping foot in a nail salon.
I personally think press-on nails tend to look basic, so I love the artistic look of these nails. That and these nails are super long and expertly filed, so they look like professional nails.
Jade Green Coffin Nails
I love this shade of green! It reminds me of a jade gemstone. All nails feature this beautiful jade color, though one has jade tips instead of all-over color. If you're looking for a unique green nail look, I suggest doing this one. These nails are also gel, but I'm sure you can achieve the same look with acrylic and the right color. Credit: @polygelbykat.
Classic French Tips on Coffin Nails
Not sure what coffin nail look you want? French tips are always a classic. I love the glitter design around the tips. If you don't want this exact look, I personally love French tips in all colors. This is another look by @polygelbykat and she painted these nails perfectly. These are gel nails but you can easily achieve this look with acrylic.
Shorter Coffin Nails
Do you want coffin nails but don't want massive claws? I'm loving these shorter, lavender coffin nails.
They're long enough to achieve various cute designs but not so long to where you can easily poke your eye! That and I think these nails are more appropriate for an event such as a wedding and for daily wear since I can see these nails being accepted in a professional setting. The nails are a combination of full lavender and blush tips, with some glitter and gold accents on the nails.
You can achieve this nail look with both gel and acrylic. Credit: @blush_nailsartistry.
Dark and Unique Coffin Nails
I'm loving these nails! I love darker colors; if I had coffin nails, I would do something like this. These nails have black tips in almost a marble design, with copper flakes accenting these nails. They look so artistic and unique! The nails are gel; I'm not sure if there's a color like that marble one that you can do with acrylic. Credit: @heavenlynailsbyjsa.
Spring Coffin Nails
These nails are perfect for spring! They have pastel green tips with daisies and gold rhinestone accents. I also like how the nails aren't terribly long. These nails are acrylic, though I can see you achieving this look with gel. Credit: @marinas.nails_.
Nude Coffin Nails With Stones
These nails are subtle but there's enough bling to where they still stand out. The nails are nude in colors and feature several small yet luxurious gemstones. I love how these nails are almost bare; I personally think so many people go overboard with coffin nails, and this simplistic look is gorgeous. Credit: @pinnaclenailsparogers.
Stunning Nude Coffin Nails
Do you love the nude look but want something more striking than the one I mentioned previously? Try these nails! They're very long with nude and white lines. A line of gems is on the ring finger, making these nails look more extravagant. They're luxurious yet simple, ideal for year-round wear.
Reading the description, these are press-on nails! You can achieve this look in minutes without entering a salon. @avanitycollection also says they sell this same design in medium and long lengths, which is perfect for those who don't want long coffin nails. You can also reuse and reshape these nails!
Cherry Love Coffin Nails
Last but not least, we have these precious nails with cherry designs! The pink nails with cherries make me happy for some reason. It's this subtle art look that gives me joy. I also like how the nails aren't super long but long enough to accentuate the cherry design. This is the perfect summer nail look. Credit: pinnaclenailsparogers.
FAQs
Question: Will Coffin Nails Look Good on Me?
Answer: Coffin nails are flattering, and nearly anyone can pull them off. Since the coffin nail shape is typically longer, I suggest choosing this style if your fingers are on the shorter side.
Since coffin nails are edgy, I also suggest this nail style if your personal style is on the fun side. If you have long fingers, I would stick to shorter nails. If you love nail art, you'll want to choose a longer nail style like coffin nails, regardless of your finger length.
However, if you think coffin nails venture too much out of your comfort zone, I suggest sticking to rounded nails.
Question: I Want to Try Doing my Own Coffin Nails! How do You Get the Perfect Nail Shape?
Answer: https://www.youtube.com/watch?v=z4Cro2cxrEg
It's all in the way you file your nails! By watching this video, achieving this look is difficult to do yourself. But if you think you can do it, all power to you! This video definitely shows the best way to get this look.
Question: Do I Need Nail Guards for Coffin Nails?
Answer: First, let's first discuss what nail guards are. These are protective strips that protect your nail, whether from polish or any other type of overlay. They're often used when getting acrylics but can also be used with gel and more.
Now to answer the question. Do you need nail guards for coffin nails? I highly suggest it since your nails are susceptible to damage with any acrylic nail shape. The only time you don't need a nail guard for an overlay is for press-on nails. Still, I suggest asking your nail technician for their advice.
Question: What's the Best Way to Paint Coffin Nails?
Answer: First, line your fingers with vaseline to improve clean-up. This also removes the step to use polish remover to get off any color that goes on your finger and possibly ruins the polish you apply to the acrylic nail. When painting, be gentle. You don't want to break the nail.
As an alternative, you can paint the nail before applying them. Just make sure they're totally dry first!
Question: What's the History of Coffin Nails?
Answer: Coffin nails are actually a pretty recent trend. As with all trends, A-list stars such as Kim Kardashian and Rhianna were seen with this style. Soon, it took over the nail landscape.
Question: How do I Take Off Coffin Nails?
Answer: If you got them done by a professional, ask them to take the nails off for you. They will dip your nails in acetone to make the acrylic softer and they can easily remove them. You can do this yourself, but acetone is potent and not recommended to do this DIY.
If you used press-on nails, you can soak your nails in warm soapy water to avoid using acetone. Oil, such as cuticle oil, can loosen the glue that's holding the nail on. Peel slowly, ideally using a cuticle pusher instead of your fingers. NEVER force the nail off.
Bottom Line
Coffin nails are a serious trend right now. This nail style reflects the shape of the acrylic nail; they're filed in a square shape, not a rounded shape, similar to the look of a coffin.
If you want to achieve this look, know that you have endless design, color, and style options. Acrylic nail style also continues to expand and it can be exhausting keeping up with these trends. I hope my advice and recommendations helped you find inspiration for your next coffin nails look!
Continue reading:
Black Coffin Nails Inspiration and Ideas: A Guide to Dominating the World With Your New Nails
Short Coffin Nails Inspiration and Ideas