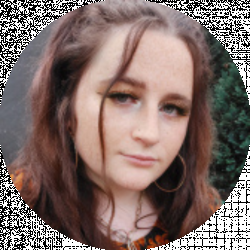 Latest posts by Lou Siday
(see all)
If there is one nail trend that seems to always be in fashion, it is the ombre nail. This nail art technique blends two or more different nail colors to create a gradient of tones that fade into each other. The end results always look amazing, and there are so many different ombre nail designs to try out, from french ombre nails to glitter ombre nails.
Oh, and one reason why ombre nails are super popular is because they are easy to do at home! Yup, this amazing look can be recreated with a set of gel nail polishes, a UV lamp, and a makeup brush (but more on that later).
Let's look at some of our favorite ombre nail designs that will give you all the inspiration you need for your next manicure!
Simple Ombre Nails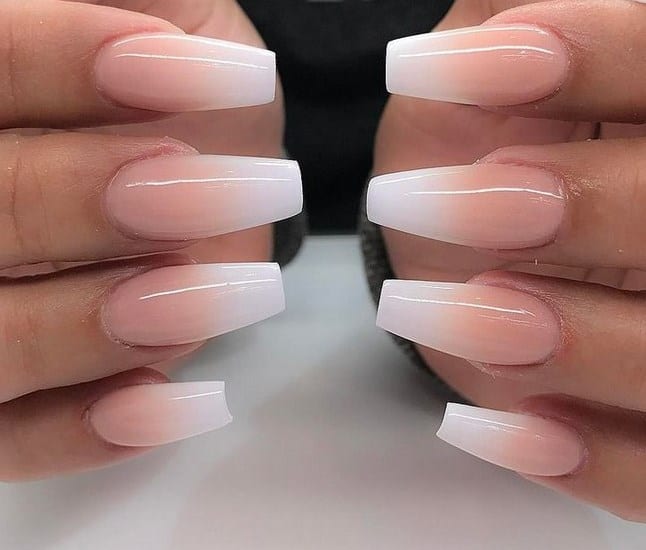 When picking out my favorite simple ombre nails, I tried to choose designs that are easy to replicate at home. I also made sure that the designs are of top quality, using all the proper tools!
So, what are some simple ombre nails that are perfect for both beginner nail techs and those of us who want a subtle nail look?
Nude Ombre Nails
The French manicure ombre nail look is classic and classy. It is effortlessly stylish and a great day-to-day ombre nail style. The nails are done to the highest standard, giving a long-lasting ombre nail look perfect for any occasion. Beautiful and sophisticated!
Nude Ombre Nails With Stickers

If you like the nude ombre nail style but are wanting to add a bit of your own personality to your nails, adding stickers or gems is a perfect way of mixing it up!
This nail artist used some beautiful stickers from the Home of Nail Art to add a bit of glam to the nude ombre nails. The nails are still pretty subtle and sophisticated but have a little bit of personality to them.
There are so many cute nail stickers for you to choose from out there, so have a hunt online to see what ones you want to add to your ombre nails!
Pink Ombre Nails
These ombre nails mix hot pink with baby pink, and I love the vertical ombre effect the artist has done. Instead of applying the ombre technique to all nails, they opted for just one nail, creating a gradient of colors along the hand.
If you are starting out with the ombre effect, this look is a great way to practice your skills. By doing the ombre effect on one nail first, you can test out different ways to get the look!
Orange Ombre Nails
I really love the summery vibes of these orange ombre nails. The artist has kept it simple here, but used two beautiful colors in order to create a bright design. Perfect for parties in the park and summer BBQs!
Shimmery Ombre Nails
These ombre nails use light blue and green to get an icy ombre look, with a layer of glitter to create a shimmery finish. I really like the subtle colors used, they look pretty different from other ombre nails but still stick to the classic design.
Adding a bit of shimmer to your ombre nails is easy with the right tools! You can pick up some nail glitter online or in stores that are perfect for adding that layer of shimmer to your ombre nails.
Purple Ombre Nails
These dark ombre nails give me big gothic vibes and I love their length and colors. The artist has started at the nail bed with a beautiful dark purple, which transitions to light pink towards the tip. There are quite a few different pink and purple hues used in these ombre nails, creating a beautiful gradient of tones.
Dark Blue Ombre Nails
I love the grungy twist these nails give to the ombre look and the sleek coffin shape. They are classy and sophisticated, using dark and medium blues to create a beautiful French manicure ombre nail effect.
These nails have a really glossy finish, which I love. However, dark colors can also look amazing with a matte finish. Whichever finish you go for is up to you, and have fun finding your perfect nail style!
Dotty Ombre Nails
These cute coffin nails mix the ombre trend with the dotty trend, creating a really stunning design. By keeping the colors simple, the artist has been able to make nails that are both interesting but subtle. You can recreate these nails at home by firstly creating ombre nails, then using a nail art dotting tool to add the design.
Coral and Gold Ombre Nails
Gold and silver glitter is a popular choice for ombre nails as the mix of color with glitter creates something a little bit special.
I love the choices of color and design with these ombre nails, with the beautiful coral color matching perfectly with the gold. The nail artist has chosen to do each nail differently, with only a few nails having the ombre design on them. I love the fully gold accent nail and the slightly lighter coral color on two of the nails. A really interesting design!
Neon Ombre Nails
These ombre nails are definitely ready for summer parties! The bright colors are super cute and I love the addition of the flowery decal. You can recreate these ombre nails at home by following the ombre nail technique, then adding a few white flowery nail art stickers.
Baby Blue Ombre Nails
These ombre nails are just flawless. The artist has used a beautiful baby blue color mixed with a baby pink to create a stunning gradient. They have then added small gold flecks to give the nails a little bit of shimmer. Super beautiful!
Purple and Glitter Ombre Nails
Getting big spacey vibes from these ombre nails, with the sequins and glitter looking like little galaxies. If you are wanting to recreate this out-of-this-world nail design (ha), simply add some sequins to your ombre nails before you put the final top coat on.
Gold Ombre Nails
I love the simplicity of these nails. Gold. You can't go wrong, right?! The artist has mixed up the nails, with a few having the ombre effect and others being solid gold shimmer. These nails are beautifully done in the classic almond shape.
Rainbow Ombre Nails

There are so many different possibilities when it comes to ombre nails! This design uses a range of rainbow colors to create breathtaking ombre nails that are summer party ready. Instead of going from tip to bed, the artist has created the gradient across each nail. Something a little bit different!
Extra Ombre Nails
Ombre can be the main event when it comes to nail art, but it can also be used as a background for other designs. Let's look at my favorite OTT ombre nails that may be a bit difficult to recreate at home, but will definitely heighten your nail envy!
These extra special ombre nails will make you want to book an appointment at the best salon in town.
Homer Simpson Ombre Nails

Okay, I had to include these ombre nails on the list because they made me laugh. The nail artist is obviously very talented to be able to create these nails, and I love the donuts dotted about on the nails.
If you are wanting ombre nails as extra as these, make sure you go to a reputable salon. Check out the artist's social media and their reviews before you book!
Are you up for having your favorite cartoon character painted onto your nails?!
Fruity Ombre Nails

One of my favorite things about nail art is all the unique and interesting designs out there, and I absolutely love this fruity ombre design! I am so impressed by the creativity of so many nail artists, and these are really special. I love how each nail is a different fruit. Perfect for the summertime!
Glittery Sunset Ombre Nails

These ombre nails are pretty extra, and I love it. Each nail has its own thing going on, and I love how detailed the artwork is. Pinks, oranges, and gold are all mixed in together … diamantes, sparkles, and gems are dotted across the nails … where would you start when wanting to recreate these nails at home?!
Flowery Ombre Nails

This nail artist has a fresh twist on the ombre nail style. They have mixed neutral colors to create the ombre background of the nails, then added these beautiful pastel flower designs on the tips.
You can recreate the pastel flowers by either using a dotting nail art tool or buying some 3D nail art stickers. Whichever way you do your pastel flower ombre nails, you are sure to get all the compliments!
Marble Ombre Nails

What I love about these nails is that they are pretty extra, yet they are also simple and neutral enough to allow you to wear whatever you want with them. How does that happen?!
The marbling effect that the artist has created is stunning, and I really like how only a few of the nails follow the ombre design. The splatter of diamantes on one nail adds a little bit of glam but still does not distract us from the interesting marble artwork of the nails.
Pastel Ombre Nails

Why just stay with two colors with your ombre nails, when you can go for as many as you want?! Ombre pastel nails are VERY in right now, and I have seen so many cute designs that incorporate a range of pastel colors. I really like the addition of the bold line, too, reminiscent of the French manicure.
Mint Green Ombre

So, I know that huge coffin nails aren't for everyone, but I had to include this stunning design. It is super simple, with a beautiful mint green ombre effect. However, the addition of the gemstones takes these nails to the next level.
Electric Blue Ombre Nails

By using gems and glitter, the creator of these nails has kicked the classic ombre nail design up a notch. These ombre nails are totally perfect if you are going on a beach holiday, or if you are just wanting to bring the holiday vibes home!
How Can I Do Ombre Nails?
You have probably had a lot of fun looking at all these amazing ombre nail designs, but did you know that you can recreate these at home?
The easiest way to get the ombre nail look is with a sponge. Firstly, apply a base coat of whichever color you want and cure it. It is best to use a lighter color as a base. Then, pick up a makeup sponge and put the two (or more) colors onto the sponge. Make sure all the colors are touching and the right size for your nails.
Once the sponge is prepped, carefully dab it onto your nails. Make sure the sponge doesn't move too much, but allow the colors to blend in by dapping the sponge gently.
Finally, apply a top coat to fix the ombre nails in place!
Ombre Nails: FAQs
Let's look at some FAQs you might have about ombre nails.
Question: What Does Ombre Mean for Nails?
Answer: Ombre is where two or more colors are faded into each other, creating a gradient along the nails.
Question: Are Ombre Nails Hard to do?
Answer: Ombre nails are pretty easy to do if you have the right tools. Follow the instructions above to create simple and easy ombre nails.
Question: Can you do Ombre Nails Without a Sponge?
Answer: Even though using a sponge is the easiest way to do ombre nails, there are other ways of creating the look. Cotton swabs can be used to dab the gel onto the nail.
Question: Are Ombre Nails Still in Style 2022?
Answer: Ombre nails are definitely still in style! Because of the versatility of the ombre method, they will be around for a very long time!
Question: How Long do Ombre Nails Last?
Answer: Ombre nails will last 4 to 6 weeks if they are done at a professional salon and taken care of well.
Question: Are Ombre Nails Gel or Acrylic?
Answer: Ombre nails can be done with both gel and acrylic. It really is up to your own preference which you choose for your ombre nails.