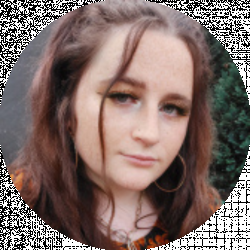 Latest posts by Lou Siday
(see all)
If I say acrylic nails, you probably imagine the long, totally extra nails that fill our social media feeds. The beautifully dazzling, pop-star acrylic nails are properly cool and very dramatic. But, just because acrylic nails can belong, doesn't mean they have to be.
I am a massive fan of the OTT acrylic nail look, but as a content writer, my manicure choices are limited. Unfortunately, I lack the skill set to type on my laptop with huge coffin acrylics (even though I have tried a lot). So, if you are like me, you might be wanting to get some short acrylic nails. They are tough, long-lasting, and give you that salon perfect finish. Plus, you can go around your day-to-day business with ease!
So, let's look at some short acrylic nails that will give you some inspiration and ideas for your next salon trip! The short acrylic nails I have picked are in a range of styles and colors but are all high-quality manicures. I have picked nails from reputable salons, done in the correct way.
What are Acrylic Nails?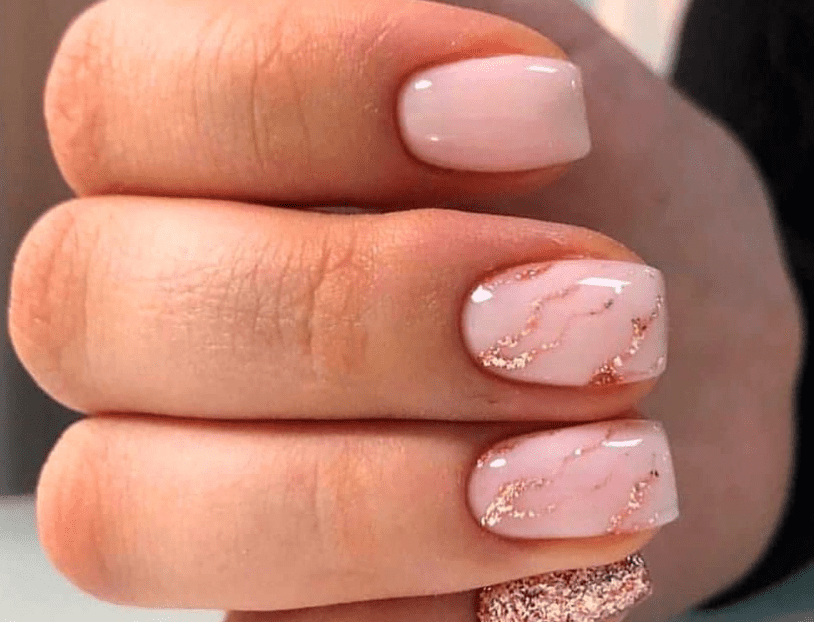 Acrylic nails are made out of powder and a liquid monomer. When mixed, it forms a kind of blobby paste that can be applied and shaped onto your nails. They are used to strengthen and lengthen the nail.
Neural and Nude Short Acrylic Nails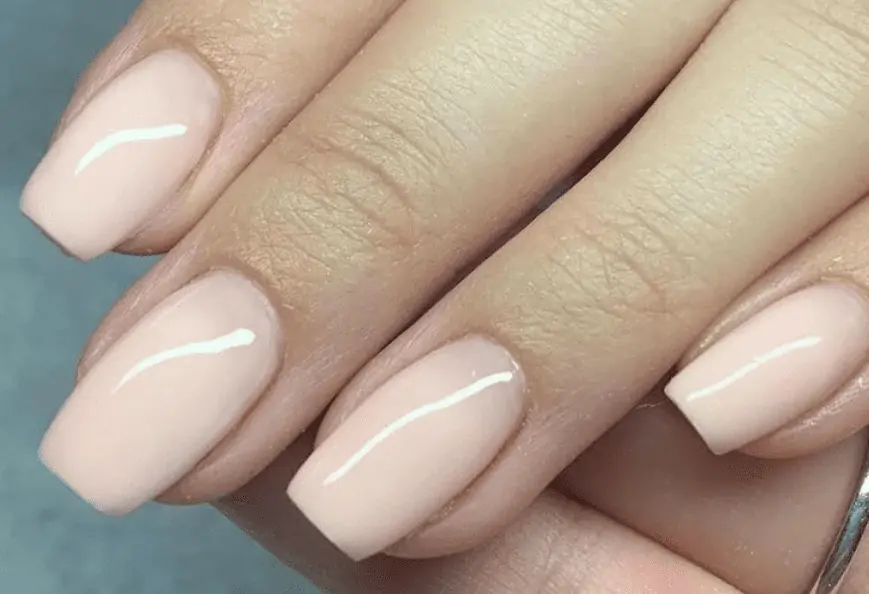 Let's first look at some simple short acrylic nails in neutral and nude colors. Perfect if you want high-quality nails that go with whatever outfit you pick!
Short Nude Acrylic Nails With Silver
These short acrylic nails keep it pretty simple, with a beautiful nude pink polish. However, adding the small silver details creates a little bit of intrigue to the manicure. I love how delicate the silver is. It doesn't stand out, rather just adds a shimmer to the nails.
These short acrylic nails are perfect if you want to keep your nails on the down low, but still like a little bit of glitter!
Short Brown Acrylic Nails

These nails are classy and classic. By keeping the nails short, this manicure is perfect for those of us who work with our hands. However, the brown color creates a healthy shine to the nails, providing strong and sturdy nails. They are totally sophisticated and I love them!
French Manicure Neutral Short Acrylic Nails

The French manicure is where just the tips are painted a certain color. A classic nail look, using the French manicure style with acrylics creates strong and durable nails that bring a touch of class to your look. These short acrylic nails are really well done and look amazing!
Neutral Short Acrylic Nails With Flowers

These nails use the French manicure look, but add a simple flower on two of the nails. I really like how subtle the design is, and the addition of a little diamanté on the flowers!
Glittery Neutral Short Acrylic Nails

I love this modern twist on the classic French manicure style, using two different colors on the tips of the nails. The different angles of the polish create a unique and interesting style that feels fresh and slick.
Autumnal Short Acrylic Nails

These short acrylic nails are absolutely stunning. By using a gradient of autumnal colors, the artist has created a really interesting look. I like how there is a mix of colors on the nails, but they are all neutral and therefore can be worn with a range of outfits.
Pink and Glittery Short Acrylic Nails

An accent nail takes a neutral short acrylic nail to the next level, adding a little bit of intrigue to the mani. Of course, we can use whatever we want for an accent nail, but a really common choice is glitter. Everyone loves glitter, and we all need a little bit of sparkle in our lives right?!
These pink and glittery short acrylic nails keep things pretty simple and neutral, but the pop of glitter makes these nails extra cute.
Bright Short Acrylic Nails
If nudes and neutrals aren't your thing, there is so much inspo out there for short, bright acrylic nails that add a wonderful pop of color to your look.
Let's look at my top picks of bright short acrylic nails!
Red Marble Short Acrylic Nails

Red nails always look good. It is a classic color for your nails and looks great with so many different outfits and styles. I really love these short red acrylic nails and the marble effect on the two white nails. It is pretty different, and still very classy!
Blue Short Acrylic Nails

These acrylic nails have a short oval shape with a beautiful light blue color. The color is giving me big summer vibes and I love the shape of them! The perfect manicure if you are wanting a bit of color, but nothing too extra.
Flowery Short Acrylic Nails

I love flowery designs, and absolutely adore these cute short acrylic nails! The design is pretty simple and subtle, yet pays homage to the natural world in a super beautiful way.
Green and Silver Short Acrylic Nails

These super cute and simple short acrylic nails are beautifully done, with an interesting mix of light green and silver. The oval shape is sleek and strong, finished to a really high standard. I get spacey vibes from these nails, which I really love! Perfect for nights out and parties, but also suits day-to-day looks.
Pink Short Acrylic Nails

Why choose just one shade of pink for your nails when you can have them all?! I love the mix of baby pinks and hot pinks on these short acrylic nails, and the cute heart decals. By using acrylic gel, the nail tech has created a square shape to the nails, but still kept them short.
Bold Short Acrylic Nails
Just because you are opting for short acrylic nails doesn't mean that you need to hold back on the glam! I love bold, artsy nails that bring fresh designs and ideas to nail art.
Here are my top picks of bold short acrylic nails that will make you book a manicure straight away!
Tie-Die Short Acrylic Nails

I am slightly obsessed with these amazing tie-dye nails and their retro vibes. The pastel colors are gorgeous and I love the contrasting designs of each nail. The art is super stunning and really reminds us of the diversity within nail art. There really is a design out there in any style!
Animal Print Short Acrylic Nails

These short acrylic nails are properly extra, and I am having major nail envy right now. Animal prints and mixing colors are two of my favorite fashion trends, so these nails are my dream. So bold and beautiful, and so brilliantly done!
Green Alien Short Acrylic Nails

I am a big fan of spacey vibes, so I had to include these alien-themed acrylic nails on the list. I really like the artwork on the nails, and they can be replicated pretty easily at home by using alien nail art stickers. The neon green nail polish used on these nails actually glows in the dark, which is super cool! I love the mix of French manicures within the nails.
Pastel Rainbow Short Acrylic Nails

Pastels colors are perfect for nail art, as they add a whole load of color that can match a range of outfits. Pastel nail art designs are super versatile and have big spring-summer vibes. I really like this artist's take on the pastel rainbow, creating a fresh twist on the French manicure, playing with patterns and angles.
Dotty Short Acrylic Nails

I really love these short almond-shaped acrylic nails that mix polka dots with pastels. They are summer-ready and perfect for any occasion, from parties to days out! If you do your nails yourself, get a dotting nail art tool in order to recreate this look at home.
Blingy French Short Acrylic Nails

If you are a fan of the classic French manicure look but are wanting to do something a little different, consider adding gems or crystals to your design. If you are doing your acrylics yourself, you can pick up gems pretty cheaply from many online retailers, and they always add a little bit of extra jazz to your nails!
Abstract Short Acrylic Nails

These short acrylic nails are super cute and I love the different colors and shapes used. The mix of designs is really cool, and the nail tech has really worked hard to create something that is a work of art that also looks cool on someone's nails!
If you are wanting to get your nails done like this, make sure you go to a reputable nail artist who will be able to recreate this or something similar. Always check out someone's social media and reviews before booking in for nails that might be a little on the complicated side!
Cow Print and Turquoise Short Acrylic Nails

The cow print is definitely having a moment in the nail art world, and I am here for it! The cow print is a bit out there, so I really like how this nail artist has opted to just put the print onto one nail, using a beautiful turquoise color on the other nails. Oh, and I love the mixing of whole colors and French style tips on these nails.
Western Vibes Short Acrylic Nails

I LOVE the number of different designs out there for short acrylic nails, and these Western vibes are just stunning. The sunshine, the cactus, and the use of colors… properly beautiful! I don't think I would be able to recreate these nails at home, but they are making me want to book a salon trip right about now…
Gold and Yellow Short Acrylic Nails

You can't go wrong with adding a little bit of gold to your short acrylic nails, and I love the subtleness of this design. The small almond shape of the nail is classic and sophisticated, but the colors used give the design an extra layer of glam.
Green Flowery Short Acrylic Nails

I love all the modern twists on the classic French nail manicure, and this one might be my favorite I have seen recently. The dark green French manicure creates a basis for art, with simple flowers scattered across the nails. I also love the cute little face on the ring fingers! A unique and interesting design that is giving me a lot of nail inspo for my next salon visit.
Pink and Purple Short Acrylic Nails

These short acrylic nails are very girly and I LOVE them. They have picked two lush colors that go really well together, and I love the marbling effect on the tips of two of the nails. They are simple yet glamorous, perfect for day-to-day wear as well as special events. Oh, and of course the glitter is amazing. Can't go wrong with a little bit of glitter!
Short Acrylic Nails – FAQs
I hope this list of short acrylic nails has inspired you! Let's look at some FAQs you might have about short acrylic nails.
Question: Can you Have Short Acrylic Nails?
Answer: Yes, you can get acrylic nails in any length!
Question: How Much do Short Acrylic Nails Cost?
Answer: The cost of short acrylic nails really depends on what you are wanting to get done. Typically, they will cost around 30 to 50 dollars. However, this can be much more if you are wanting intricate artwork or designs.
Question: How Short can Acrylic Nails be?
Answer: Acrylic nails can be done as short as your natural nails.
Question: Do Short Acrylic Nails Last Longer?
Answer: How long your acrylic nails last depends more on the quality of the manicure and how you look after them rather than their length. However, short acrylic nails will not suffer from catching and tugging like longer acrylics do.
Question: How Long do Short Acrylic Nails Last?
Answer: Short acrylic nails last around 4 to 5 weeks, however, you may wish to get infills after a few weeks as the acrylics will have started to grow out.
Treat Yourself to Short Acrylic Nails Today!
Whatever style you want to get for your short acrylic nails, I hope these designs I have shared today have given you a little bit of inspiration! Whether you are keeping it simple in nudes and neutrals, or going for something a little bit extra, there is sure the right design out there for you.
Just because you can't wear long acrylic nails doesn't mean that you have to miss out on the luxury of acrylic nails! These short acrylic nail designs and ideas are a great place to start when picking what you are going to get for your next manicure.
Continue reading:
Cute Short Nails Inspiration and Ideas
20 Cute Short Nail Inspiration and Ideas