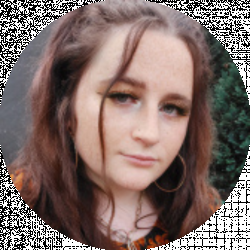 Latest posts by Lou Siday
(see all)
When I am scrolling through my Instagram feed, there is one nail color that I am constantly seeing and falling in love with. From bold electric blues to more neutral baby blues, blue is definitely making waves in the nail art world.
Blue is versatile and summery, with a whole load of different colors and styles to choose from. So, what are some of the best blue nail designs and manicures out there to inspire us this season?
When picking which blue nails to include on this list, I thought about what designs could be replicated at home. I also made sure they came from reputable nail salons and artists, providing the freshest looks out there!
Simple Blue Nails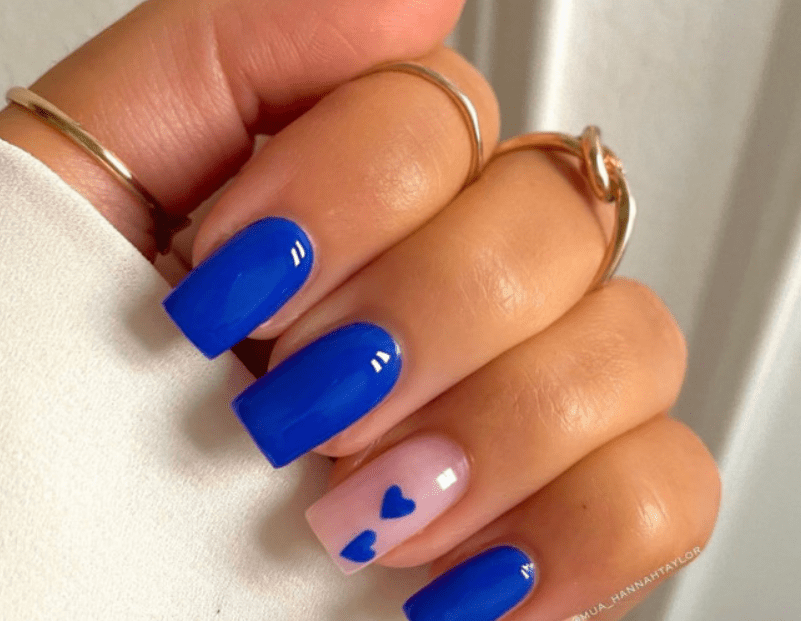 Okay, let's kick things off with some simple blue nails. Easy to apply and add that perfect pop of color into your look!
Blue Nails with a French Manicure Style
One trend that I really like right now is the modern take on the French manicure that uses angles to keep the look fresh. These blue nails keep it simple with a beautiful baby blue but add a little bit of intrigue with an angled French manicure style on four of the nails.
Royal Blue Nails

These square royal blue nails are very chic and on-trend. This blue is a perfect color for so many different occasions, from special events to day-to-day wear. The topcoat adds a beautiful shine to the nails, and I love the final look!
Blue French Manicure Nails

There is no manicure as sophisticated as the French manicure, and no color as bold as blue. So, why not go for a blue French manicure next time you go to the salon?!
I love the way the artist has used slightly different shades of blue in this design. The color changes ever so slightly over the nails, from a dark blue to a really light shade. They are beautiful nails that have been done so well!
Turquoise Nails

Can't decide whether you are wanting blue nails or green nails? Well, turquoise is the color for you! These nails are perfect for spring and summer, and look amazing in the long almond shape.
Sparkling Blue Ombre Nails

Ombre nails are when two or more colors are blended together to create a gradient. Here, the nail artist has taken dark and light blue to blend together to get these beautiful ombre nails. Then, they have added a layer of glitter to make the nails extra special!
Matte Blue Nails

There is something very sleek and stylish with the matte nail trend, and it looks fabulous with this blue polish. The nail artist has used the stunning color Michelle by The GelBottle, and has then put a matte top coat over the gel to finish off the look.
You can make any color you want a matte color – all you need to do is apply a matte top coat instead of a regular one! A matte top coat instantly changes the look of the polish, creating a sleek and sophisticated look.
Pastel Blue Nails

Pastel colors are always super cute, and I love these pastel blue nails. The nail artist has kept the nails pretty short, but with a modern square tip. This manicure is simple, yet bound to get all the compliments!
All The Blues Blue Nails

Choosing what shade of blue you want for your manicure doesn't have to be hard, because you can get all the colors you want!
This manicure uses a different color for each nail, but it isn't too over the top. As the colors are in a gradient of shades, there is still coherence in the nail design. By keeping the design free from patterns or gems, these blue nails allow for the different shades without looking too crazy.
Short Blue Nails

These short blue nails keep it simple by using a beautiful blue polish, then adding swirls to the color. This adds texture to the manicure, yet doesn't distract from the lovely shade of blue.
Arty Blue Nails
Are you looking for something a little special for your blue nails? Check out these beautiful, arty blue nails that are perfect if you are wanting to treat yourself to a manicure.
Flowery Blue Nails

For these nails, the artist has chosen to keep one hand totally blue, but hand-painted little flowers onto all the nails on the other hand. I love the cute little flowers, and the interesting shade of azure blue used.
If you want to recreate these nails at home, you can try to paint the little flowers on yourself if you are creative! However, you can pick up flower nail stickers pretty cheaply online if you are wanting a quick way of getting the look.
Evil Eye Blue Nails

The evil eye has been around for centuries and is thought to ward off bad vibes. I have been seeing a lot of evil eye nail designs recently, and I really like them! I am a big fan of history and the occult, so I love to see the modern world pay homage to our ancestors.
These evil eye blue nails can be recreated at home using different nail dotting tools. I really like the addition of the little gold flecks, too. Super subtle, but very effective!
Wavy Blue Nails

If you love the sea, blue nails are definitely a trend for you! These blue nails are really beautiful, and a wonderful nod to the ocean. I really like the simplicity of this design and the contrast between the shades of blue.
If you are wanting to recreate this design at home, you might want to buy nail art stencils to make sure the waves are perfect! However, this design can be done freehand, too.
Spotty Blue French Nails

Spots are a big nail trend, and I love this twist on the classic French manicure style. By using different shades of blue, the nail artist has kept the theme yet added diversity to the look.
Dots are pretty easy to do yourself if you are a fan of DIY manicures! All you need is a nail dotting tool and a steady hand.
Abstract Blue Nails

These blue nails remind me of those cool 80s and 90s abstract shirts you find in thrift stores, and I am in love. The shapes and angles are really interesting and create such a unique design for the nails.
These may be a bit difficult to do at home, but if you are feeling creative enough, have a go! By experimenting with lines and shapes, you can create your own abstract blue nails at home.
Swirly Blue Nails

Swirls and shapes add something distinct to a classic manicure, and I love the wavey vibes of these blue nails. Each nail has a slightly different design, creating a beautiful final look.
Holographic Blue Nails

This nail design takes the classic royal blue manicure and adds holographic foil to create a pretty special look! If you are wanting to recreate this look at home, you can buy some holographic foil that can be put on your nail just before you apply the top coat.
Sequined Blue Nails

These long blue coffin nails are super stunning, and I love the marbling effect on two of the nails. It is really subtle and counteracts with the sequins on the other nails. I really like the contrast of the different nails, using different techniques to create a beautiful over all look.
Sequins can be put on nails pretty easily, using nail glue and then applying a top coat. You can't go wrong with sequin nails (trust me, I am an expert).
Blue and Pink Flamingo Nails

Baby blue goes so well with baby pink, and this beautiful manicure has mixed the two colors so well. I love the little flamingos and flowers on the nails, which were painted freehand by the artist. Massive respect for that amount of talent, I know I could never!
Shades of Blue Nails

By using different shades of blue mixed with white, this nail artist has created a stunning manicure that nods to retro fashion and culture. Each nail has its own thing going on, and I love the details. My favorite design is the love heart, super cute!
Showstopping Blue Nails
Okay, we have so far kept our blue nails pretty chill. Yeah, there have been some interesting designs, but nothing too out there. But, we can't list the best blue manicures without including the properly OTT, showstopping designs, can we?
Let's take a look at some of the amazing blue nail artwork out there right now, created by the best of the best artists. These are probably pretty difficult to do at home, but they are sure to give you some inspiration for your next salon trip!
Blue and Gold Nails

I am a big fan of abstract art and nail art, so naturally, abstract nail art gets a whole load of love from me! I really like the different textures in these nails and the contrasting colors. The glamorously long coffin nails really enhance the overall beauty of these nails. I am obsessed with them!
Juicy Couture Nails

Juicy Couture is the epitome of Y2K fashion, and this homage to the iconic brand is just super cool! Using a coffin blue French manicure as a base, this amazing nail artist has hand-painted the Juicy Couture logo over their nails. Because, well, they can.
Up In The Clouds Blue Nails

These nails are also giving me big Y2K vibes, with a whimsical cloud pattern painted onto them. They are beautiful, with a bright shade of blue that will lighten up even the gloomiest of days.
Lightning Blue Nails

This artist has created a stunning weather-themed design by creating a blue and gray ombre effect and then painting on neon lightning bolts. This manicure is super interesting, and I haven't seen anything as cool as this for a while!
Extra Evil Eye Blue Nails

Another evil eye design on the list, but there is a reason for the popularity of these designs. Evil eyes are a simple spiritual way of warding off negative vibes, and there are so many different ways of incorporating them in nail art.
These evil eye blue nails are pretty extra, using the French manicure design with different textures and styles. The length is amazing, too!
3D Blue Nails

Accessorizing is important, even on your nails! This mega cool manicure takes blue nails to the next level, using glitter, ombre, gems, and 3D flowers to create something very special.
Blue Nails FAQs
Let's look at some FAQs you might have about blue nails.
Question: Can I Create Blue Nails at Home?
Answer: Of course! A lot of these designs I have included can be recreated at home with the right tools. I recommend getting a UV gel kit to begin with, then picking your favorite blue gel color to apply to your nails. If you are wanting to add decals and gems, have a scout online to get what you need to recreate your favorite blue nails.
Question: What Shade of Blue Should I get for my Manicure?
Answer: There are so many different shades of blue out there, and whichever you pick is down to you and your own style. A simple baby blue is a lovely shade if you are wanting a summery look. However, deeper blues do tend to look more sophisticated.
Question: Are Blue Nails in Style 2022?
Answer: Blue nails are totally in style this year! This is because of the versatility of the color, with so many different shades to choose from. Y2K designs that incorporate baby blues and decals are really popular right now, too.