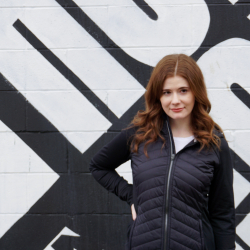 Latest posts by Kelsey Purcell
(see all)
I don't love flowers, mostly because I have the opposite of a green thumb and kill any and all plants I get my hands on. Everyone in my life knows not to get me flowers because they never last with me. But if I had to pick a favorite flower, it would be sunflowers.
These sunny sunflower nails inspiration and ideas are the perfect way to infuse florals into your style, no matter how bad you are with plants.
I and many others consider sunflowers to be happy flowers. If you can't bring sunflowers into your space, at the very least, you can have them drawn on your nails.
Bottom Line Up Front
I recommend trying out the V-Tip Sunflower Nails first! I love the simplicity of the white tips with the realistic flowers. The artistry really pops and looks like the real thing.
The Pastel Sunflower Nails are also a favorite – the stunning pastels contrast the flowers, and I can't wait to try these sunflower accents on my next spring pastel manicure.
Criteria For This List
It's tough narrowing down all the beautiful sunflower manicures. Still, these choices really capture the vast possibilities for sunflower representation on your nails!
Modern Designs
Floral doesn't have to be old-fashioned! There are many twists to sunflower nails to make them trendy and stylish.
Minimalist Nails
I'm a sucker for subtle backgrounds to make the flowers pop and not overwhelm the nail. Minimalist designs are fine and delicate for an everyday look.
Realistic Sunflower Art
As quirky and playful as cartoonish flowers are, ultra-realistic nail art is a marvel! Sunflowers that look like the real thing are a testament to great artistry!
Let's get into this list and discover your favorite sunflower nail designs!
1. Ombré Sunflower Nails
Ombré nails are a go-to style for a reason. They make nails look longer, and this classic version, where the color is concentrated at the tip and fades into a neutral shade at the base, is a stunning representation of the trend.
This design uses the same shade of yellow throughout, which I think makes the whole design look cohesive and modern.
I love that the petals and the center look so detailed! It looks soft and delicate with no outline on the flower in almost a watercolor style! The ballerina-shaped nail allows the flowers to be more complex so that I would stick to a longer style.
2. Sunflower Border Nails
I'm obsessed with this style of using sunflowers as a border around the nail. Designing small sunflowers mixed with purple florals on a simple nude background is such a perfect look for the spring season.
The glossy topcoat is the perfect fit for this manicure – I don't think a matte finish would have the same impact!
Doing this yourself would be difficult unless you have a steady hand and lots of time – eye strain is a concern, so I would leave this particular design to a professional.
3. Burgundy 3D Sunflower Nails
A bright sunflower nail design isn't just for the spring and summer seasons. This brilliant yellow design and 3D applications are balanced with rich red, and I love this manicure's autumn vibes. I'd be a little bit concerned about how 'wearable' the 3D flowers would be. Still, if flattened enough, they could be super comfortable.
I would also spin this design to have painted-one sunflowers and let the jewel details add the texture! Whatever the style, these ballerina-shaped nails are the ideal canvas, but stiletto nails would also be stunning!
4. Bold Blue Sunflower Nails
Draw from the inspiration of the bright blue sky with these contrasting nails! The bold blue makes for an unexpectedly beautiful background that I would have never thought to try, but the stunning mix of yellow and blue complements each other well.
I love that this design doesn't overwhelm you with sunflower design and instead keeps the floral detail to accent nails – less is more in this case!
5. Minimal Neutral Sunflower Nails
This is a toned-down version of the typically bright takes on sunflower designs. I love this taupe and muted yellow color palette.
The slight transparency of the petals looks really delicate for subdued everyday wear with a pop of color. Despite the softened hues, the sunflowers are instantly recognizable because of the rich brown center that other florals lack.
I can't wait to try these nails in the transition to fall – these neutrals will fit in with boots, scarves, and pea coats!
6. Hyper-Realistic Sunflower Nails
Nail stickers are the perfect way to get ultra-realistic nails with as little work as possible. I love the simplicity of nail stickers, and these sunflower fields are an ode to summer. It's impossible to get this much detail in a small space with nail polish and thin brushes!
I love the full-color nail to complement the intricate stickers. With gold dot details, it's the perfect happy manicure.
7. V-Tip Sunflower Nails
These white v-tip nails are my ultimate favorite sunflower nail manicure! They are a modern twist on the traditional French manicure, but the flowers take it up a notch. The sunflower designs look like an overlay and add depth to the style without completely dominating the manicure!
I can't wait to try this nail art this summer – they're perfect with the ballerina-shaped nail and look so elegant and sophisticated for a summer party or vacation!
8. Orange Sunflower Nails
The beautiful feature of sunflowers in the wild is the variety of bright shades they take. Not every flower is a bright yellow, but rich orange hues are in sunflowers as well – this manicure represents the burnt shades, and I love the obmré touch! The sunflower is a 3D design, but my favorite part is the jewel feature of the flower.
This design is joyful elegance that reminds me of the sunset hues.
9. Pastel Sunflower Nails
Pastels are a spring staple, and I can't believe I never thought to add sunflowers to brighten up the soothing shades. The blue and pink in this version remind me of Easter nails – the bright yellow flower brings the pastel shades to life, and the dimension in the petals makes the art look incredibly realistic.
I would love to try replacing the blue and pink with pastel greens and purples to see the different ways they complement each other!
10. Holographic and Gem Sunflower Nails
Mixing modern elements with sunflowers, I think this manicure is reminiscent of a magical forest where the fairies live! The holographic green mixed with pink gemstones is a twist on chrome nails – the sunflower appliqué ties in the bold yellows.
I think this is one of the most dramatic versions of sunflower nails I've ever seen, and I'm blown away by the stunning artistry! This is a nail look I would show off at events and nights out – they stand out from the crowd.
11. Black and Yellow Sunflower Nails
These nails are a unique, creative take on sunflower nails for the illusion of sunflowers in negative space. I think these are perfect for people who want a sunflower nail without the flouncy floral details that tend to come with typical designs – I imagine these are the rockstar version of sunflower nails!
The mid-length ballerina-shaped nails are the perfect length to show off the simple designs. The almost neon yellow reminds me of the bumblebees who feed on sunflowers so much!
12. Geometric Transparent Sunflower Nails
The bold neon is unlike any other style – I think the use of transparent areas is stunning and gives the neon the space to breathe, so it's more impactful. With the sunflower designs working within the geometric shapes, it's one of the most modern versions of sunflower nails!
Despite the bold color palette, the sunflowers are shockingly realistic, and that's what grabs my eye the most! I could never pull off nails quite this long, but I would rock a shorter stiletto or ballerina-shaped nail with this art.
13. Fall-Inspired Sunflower Nails
Fall is easily my favorite season, and sunflowers fit so easily with the autumn aesthetic. The glossy rich burgundy shade overlaid with sunflower art reminds me of warmth and coziness. I would even wear this manicure during the winter when the weather is dreary, and I need a boost of color in my life!
I love a squoval nail shape, and if I had to wear one nail shape for the rest of my life, that's what it would be. The art of this design is the perfect size and shape to fill out a squoval shape without making it look too busy and cluttered.
14. Glitter and Gold Sunflower Nails
What's an inspiration and ideas list without a bit of glitter? I think this black and gold honeybee-style glitter background is a glamourous base for overlaid sunflower illustrations.
All eyes are on the glitter while the sunflowers act as accent nails – my favorite part is that the yellow petals still manage to stand out against the gold!
I love the slight glittering ombré and will definitely emphasize that feature when I sport this style.
15. Lunar Sunflower Nails
Utterly unique, this manicure uses sunflower to emphasize a lunar theme, which I think is brilliant and beautiful! A sunflower moon isn't a real thing, but looking at this manicure makes me wish it were! The yellow petals make the moon look bright, and I can't imagine the creativity that went into this style.
I love that the sunflower is used as an accent and the starry nights act as a neutral to point to the central moon element. I think the whimsical modern take on the sunflower is the highlight of this manicure!
16. Polka Dot Sunflower Nails
Polka dots are everywhere! They're a classic design element that never goes out of style (thankfully!) because they act as a neutral in many artistic nail looks.
I love the black, white, and yellow palette! The polka dots are captivating, while the sunflower accent nails draw on the same shades as the yellow nail to tie everything together.
This version of the sunflower also uses burnt orange shades instead of just yellow, which I appreciate for its realism. It's recognizable on sight but still playful – it can pair well with any outfit and vibe.
FAQs
Question: How do You Paint a Simple Sunflower Nail?
Answer: The easiest and best way to do a simple sunflower design yourself is to start small. Take your dotting tool to do all the work once you have your brown, orange, and yellow polish shades. If you don't have dotting tools in your nail care arsenal, you can easily use a toothpick!
Start by making dots for the center of the flower. You can go smaller with a toothpick; otherwise, it will take forever, and once you're done with your circle, you can move on to the petals.
Take your dotting tool of choice and pull out your yellows and oranges. Start with a dot at the center of the flower and sweep outward to create a petal line. Keep going until you've gone around the circle with the colors you love.
Once you've painted on your simple sunflower, all you have to do is seal it with a topcoat to keep it looking glossy and fresh!
Question: How do you use Nail Wraps?
Answer: For floral designs, nail wraps can be the better choice if you want a lot of realistic detail without committing hours of your time to your nail appointment. It can take some practice, but once you get the hang of the application, it'll be a valuable alternative to polish!
You want to start with clean and dry nails – trim and shape to your desired length and use a nail buffer to buff the surface of your nail to create the smoothest surface for your nail wraps.
Once you have the best surface possible, pull out your nail wraps and examine which wraps best fit each nail. Some nail wraps are heat-activated, so keep a hairdryer close by.
Using a cuticle pusher, apply the nail strip and smooth it down so there are no bumps. Cut off the excess strip and file the nails so the wrap fits your nail perfectly. Finish with a topcoat, and you have your realistic nail art that only took minutes.
Question: What Colors go Well with Yellow Nails?
Answer: You'd probably be surprised by how many colors go well with yellow. It all depends on what sort of energy you want your nails to express. For bright, sunny feelings, you want to choose bright complementary colors – greens may clash, but magentas, pinks, and blues will look sharp and bold.
Choosing dark, rich colors will help show off those emotions if you want to give off a more moody vibe. Even the brightest yellows can be tempered with darker hues from burgundy, navy blue, forest green, or black.
Playful yellows go well with pastel shades and white – these hues make me think of flowers, so they come across as softer and more delicate than any other pairing.
Bottom Line on Sunflower Nails
Sunflowers are bright and happy, but they're not only for the cheery summer months! The Minimal Neutral Sunflower Nail and Fall-Inspired Sunflower Nail can easily transition into other seasons. They're another two of my favorites that I will embrace wholeheartedly in the colder months.
Try out some of these ideas to find your favorite – you might love a style you didn't even know you liked!
Continue reading:
Summer Ombre Nails Inspiration and Ideas
Holographic Nails Inspiration and Ideas: The Only Inspo List You'll Need
Butterfly Nails Inspiration and Ideas that Will Transform your Nails from Dull to Chic